Laundry Organizing Steps To Change Your Life
Let's be honest: we often despise doing laundry. We often dislike washing, sorting, folding, and ironing because of the time it takes, the disturbance to your day. Or, just because it is a tedious activity. So, it's important to know important laundry organizing steps to change your life. For many homeowners, the problem isn't so much doing the laundry as it is having a small, overcrowded, or unpleasant laundry room.
Learning how to arrange a laundry room, while it may appear to be an afterthought, is an important step in keeping your home clean. The laundry room in most households is a tiny space for shoes, towels, and stacks of clothes. But now is the moment to simplify. Here's how to turn your laundry room into a friendly, well-organized space.
1: Keep the wardrobe minimal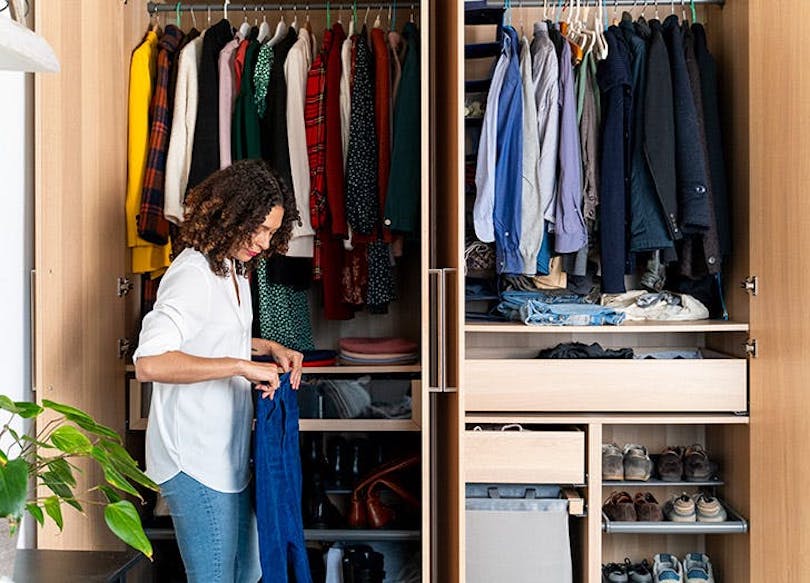 One of the best laundry organizing steps is to keep your wardrobe minimal. It is because it makes a laundry room appear organized and simple. If you have too much laundry at hand, you won't be able to learn how to arrange it. That's the reason why you need to reduce all the clutter that takes up a lot of space in your dresser and closet.
Less clothes mean less laundry. It also means that you have to deal with less hassle.
Here are a few things you need to keep in mind for avoiding wardrobe clutter:
* Reduce the amount of laundry you have to do:
Create a system (and a schedule) to wash different sorts of clothing instead of waiting until your hampers are full. Whites on Mondays, lights on Wednesdays, darks on Fridays, towels on Saturdays, and so on. Minimizing your loads will assist you in learning how to organize a laundry room and maintaining it for years to come.
* You can discard or donate old garments:
We all have some clothing pieces lying in our closets that we don't see for days. For saving space in a bedroom and laundry area, it is best to donate or simply trash the clothes you're not wearing for many years.
* Change out your seasonal clothing:
If off-season clothes are causing the majority of your organization issues, it's time to clean out your closets. And, create a way for the necessities. You can store your summer and winter clothes in bins or storage facilities until it's time to wear them for the proper season.
2: Make laundry stations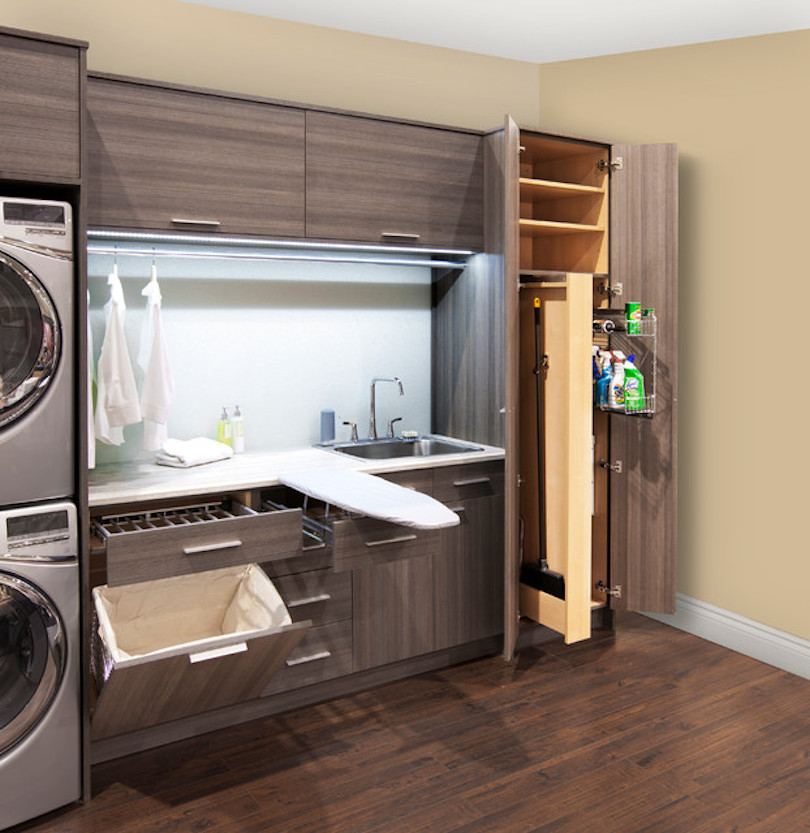 What do you do with your hampers? Do you have a designated area where you fold and sort your clothes? How often do you find yourself lugging stacks of clothes up and down the stairs because you can't find a place to put them?
Laundry stations that are well-organized can help with this. Create a strategy that allows you and your family to keep the area clean, spacious, and clutter-free before you start arranging.
When it comes to building a functioning laundry room, take into consideration the following items:
* Have ample counter space:
Having access to counter space or folding tables will make your life easier. You'll be more likely to hang, fold, and put away your clothes as soon as you pull them out of the washer or dryer if you have open counter space nearby.
* Rack for drying clothes:
Make one (or both) of these spaces available in your laundry room, whether you choose to dry your clothes on hangers or a drying rack. Tension rods are an excellent way to conserve space while drying garments.
* Board for ironing:
Keep an ironing board in the washing room so you may unwrinkle your clothes straight away instead of putting wrinkled clothes away and ironing outfits before you wear them. In the long term, this will save you time, space, and aggravation.
* Baskets for laundry:
Keep a hamper or laundry basket in the laundry room so you can load and unload fast while doing laundry. Ideally, these items need storage beneath counters or in an adjacent closet.
3: Maximize the existing laundry space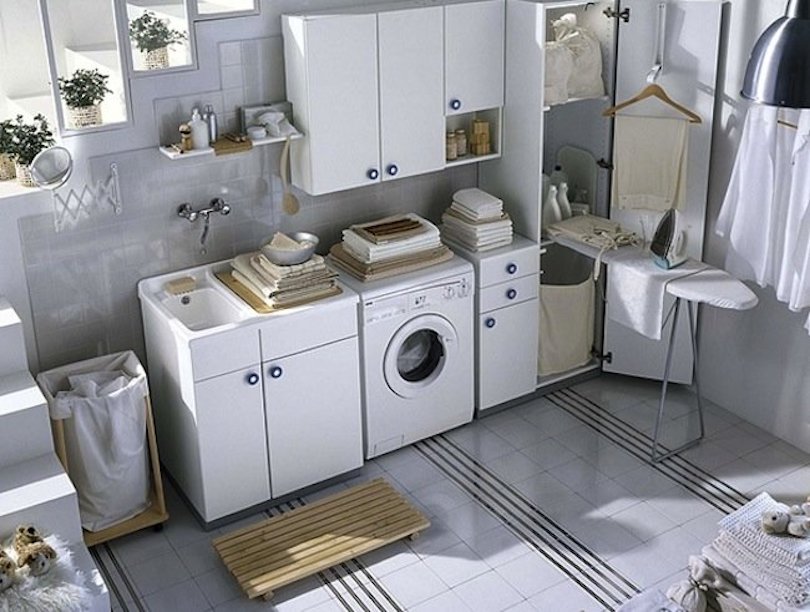 Maximizing the existing laundry space is also one of the crucial laundry organizing steps.
A laundry room is a distinct space for washing and drying clothes. But it frequently becomes our multipurpose room. You also store many other items in laundry rooms, such as coats, shoes, towels, pet supplies, children's backpacks, and a variety of other items. What's the best way to keep these things organized? Vertical storage! This organization system will help you make the most of your available space while also keeping clutter at bay.
Here are some ideas for getting the most out of your laundry room:
Organize your laundry room using racks and baskets to make the most of your space.
* Make use of the available wall space:
In some houses, laundry rooms are simply the gateways for entering their living space. As a result, it is essential to create designated shoe storage areas – no matter what's the season.  Even DIY shoe hangers are an inexpensive and simple way of keeping your family members from bringing in dirt or mud to your house. You may also consider using space-saving floating shelves, PVC tubing, or tension rods on an empty wall to put it to use.
* Hang from the doorframe:
Consider hidden storage that you may not have considered when it comes to utilizing your existing space. For example, the back of your laundry room door is an excellent spot to store your ironing board until you need it. Over-the-door organizers also make it simple to conceal your items.
* Purchase shelving, hooks, and baskets:
These straightforward solutions make it simple to keep your belongings while also reducing clutter. Place laundry detergent and dryer sheets above your washer and dryer on shelves or wire racks. Also, use wall hooks to hang jackets, hats, backpacks, and other accessories. Also, keep miscellaneous items in decorative baskets. It will keep the floor space clutter-free and clean.
4: Select the appropriate laundry storage options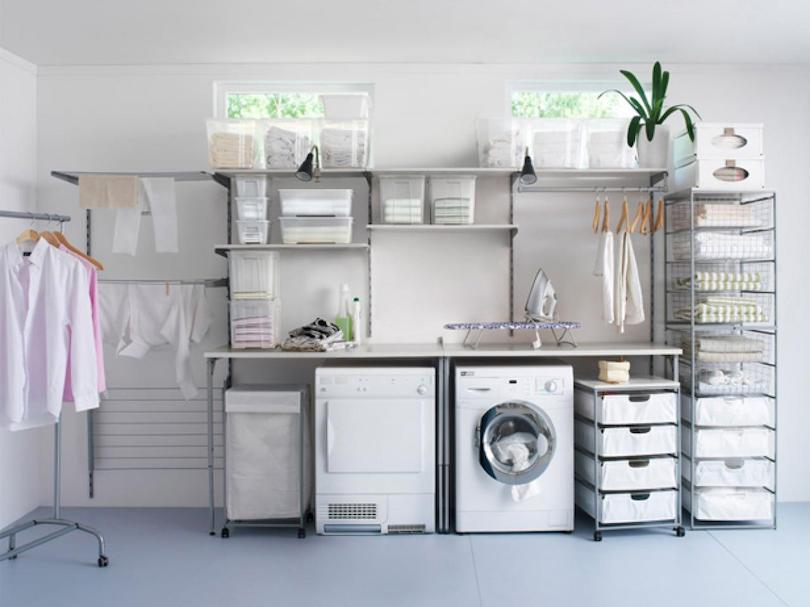 Cleaning and rearranging objects are only a part of learning how to organize a laundry room. Make sure you have the correct storage containers for your limitless laundry materials once you've figured out how to maximize your space and set up your laundry stations.
For the ideal laundry storage and laundry organizing steps, consider the following containers:
* Closed containers conceal your laundry essentials and give the area a more tidy appearance.
* To keep your detergent boxes and bleach bottles, use open containers.
* For simple cleanup after spills, use lined baskets or canvas containers.
* Little boxes are best for storing small goods such as stain sticks, laundry markers, pocket cash, or stray socks.
* Make sure you have easy access to these containers in your laundry area. They will not only assist in keeping your assigned space organized, but they will also assist in concealing all of your laundry essentials for when guests visit.
5. Perform a makeover in your laundry room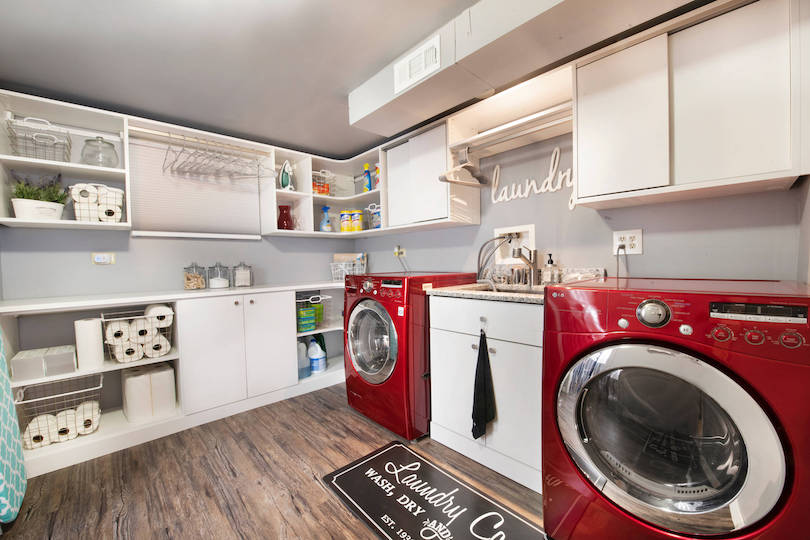 Another step in learning how to organize a laundry room is to make your place pleasing to the eye.
Many of us assume that the laundry room serves merely a functional purpose, so we overlook the fact that it should be a welcoming space that we can enjoy. Rather than seeing laundry as a task that we all detest, turn your laundry room into a place where you enjoy spending time!
Consider how you may make small but effective adjustments to the walls, flooring, design, and general feel of your laundry room. These adjustments often depend on the laundry room's location in your home. If you don't have a window in your laundry room, a simple coat of paint will suffice. Light and neutral colors tend to brighten a room and make it feel more open and large, so use them in your laundry room. If your flooring is old and worn out, try replacing it with a durable ceramic tile. Do you have a limited budget? It's amazing to see how a colored area rug can instantly brighten up a laundry room.
When it comes to giving your laundry room a facelift, here are a few cost-effective suggestions and methods to keep in mind:
* Update on the wall:
Give your laundry room's walls a makeover if they're dark and depressing. Choose a light or neutral hue for the walls and prepare to feel more spacious.
* Plants in pots:
Bring your laundry area back to life. To complete the aesthetic of your new laundry room, find a plant or two and set them in beautiful pots.
* Details:
Fill in the blanks! Whether you add a new shelf, get a new picture frame, or invest in a new area rug, each small change can help your laundry room seem more like home.
* Greenery:
Greenery is also a perfect addition to a laundry room to provide a relaxing ambiance.
* Curtains:
The addition of curtains to a neighboring door or window will help to spruce up your laundry room. You can utilize them to divide sections of your laundry area.
6. Take into account space-saving appliances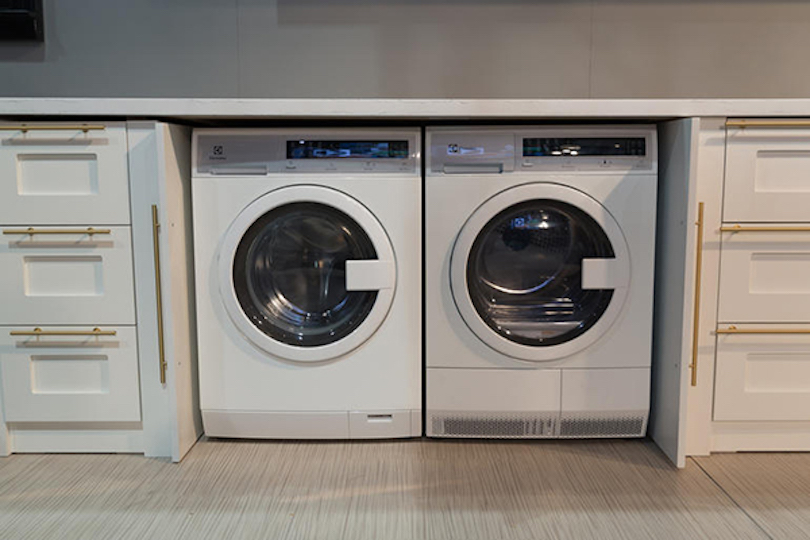 To manage the laundry room, use space-saving laundry appliances.
We shouldn't let washers and dryers take over our laundry rooms just because they're big space hogs. Keep in mind that less is more when shopping for a new washer and dryer (or simply downgrading to smaller, more efficient machines). Maintaining a smaller washer or dryer would provide you more square footage in your home. More space in your laundry room, and make your laundry room more functional for you and your family.
Advantages of all-in-one laundry unit:
* Stacking your appliances helps you to squeeze them into closets, limited areas, studios, and apartments.
* Washers and dryers that save space save more than just that. These compact appliances are frequently high-efficiency. Meanwhile, help in reducing your carbon footprint as well as your utility expenditures.
* Smaller washers and dryers are more likely to have pedestal drawers underneath. It provides additional hidden storage space.
Have you perfected the art of laundry room organization?
Rather than stressing yourself out with endless loads of laundry, use these simple storage ideas. This way, you can organize, improve, and simplify your laundry room. Who knows, you might find that your new and better space makes you more productive!
What is the best way to organize a laundry room? What are some of your favorite pointers? Please let us know in the comments section below!