20 Landscaping Ideas to Create an Enchanting Outdoor Space
Since most people don't have experience in designing a perfect landscape for the outdoor area of their home, it seems difficult for them to decide what they want. They even spend so much time indoors doing different activities than they go outside. So, it is essential to come up with a proper plat to set up priorities when working on a garden or backyard landscaping ideas. This way, you can assure to enjoy spending outdoors. Meanwhile, admire the features that your actually wanted to include in your landscape. Keeping that in mind, we though of sharing some inspiring landscaping ideas to create an enchanting outdoor space.
When looking for a new design inspiration for backyard or garden, it is important to know what sort of plants are best for soil in your backyard or garden. Before you invest in new plants, you need to check whether they are suitable for your garden. If planning to plant new trees, make sure to leave right space for them to bloom and grow. You need to be gentle with plants and garden to ensure they have ample time to grow. You also need to remember that a garden landscaping project may require a lot of patience and time for completion.
20 Landscaping Ideas to Create an Enchanting Outdoor Space
We hope the following 20 landscaping ideas inspire you to turn your simple looking garden area into a tranquil landscape:
1. Minimalist Garden Area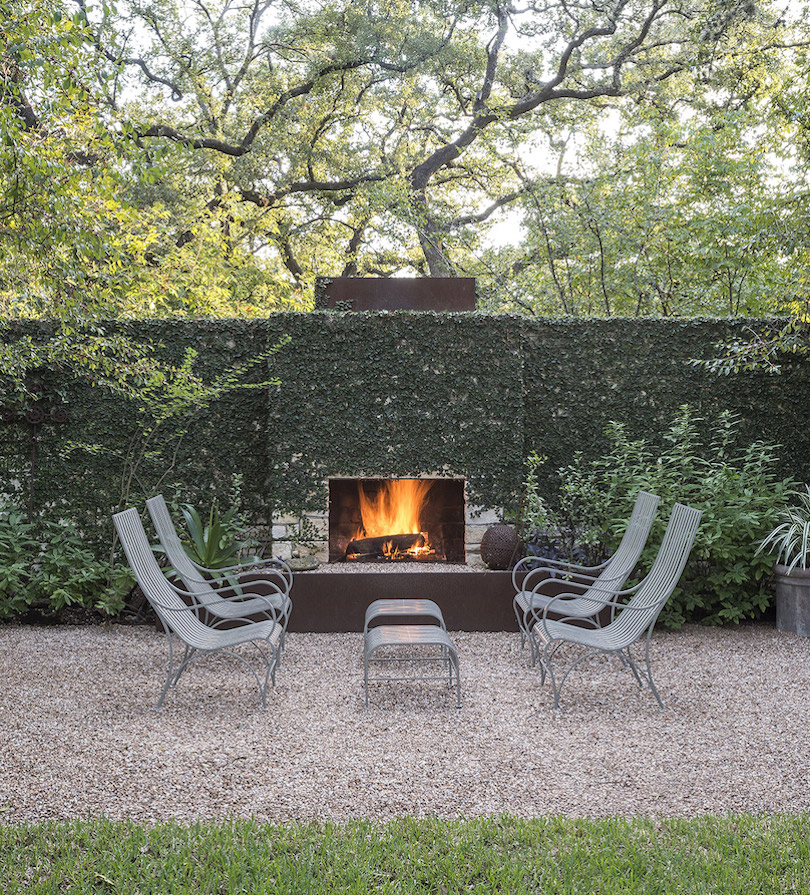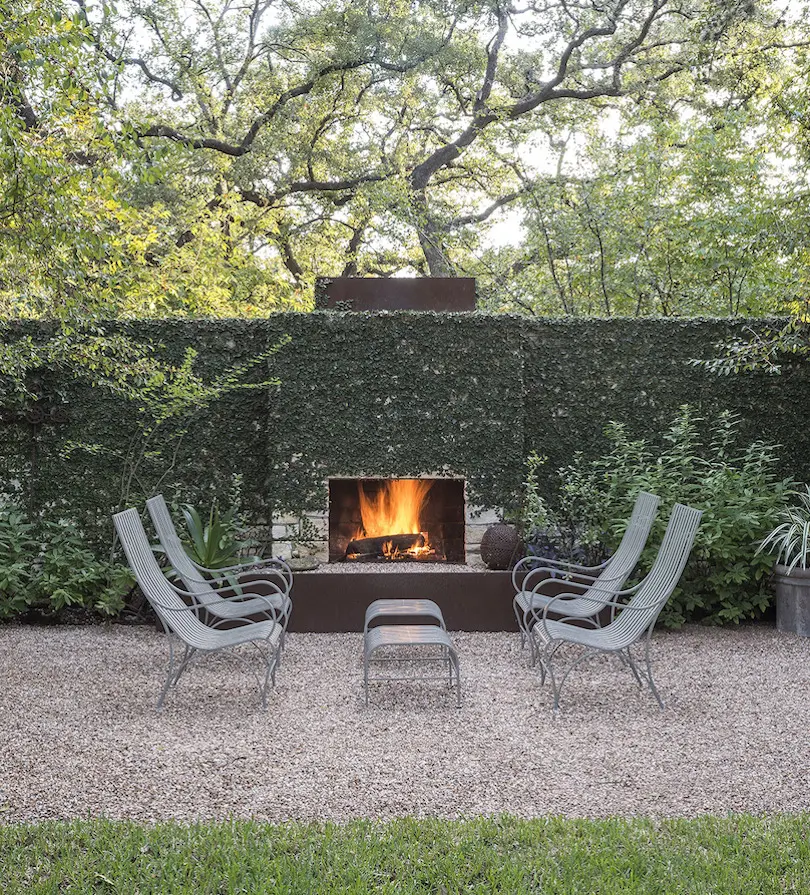 Have a look at this small and minimalist garden space with simple design. It shows that you don't require fancy things, like expensive furniture or plants, to create your dream garden. The fireplace can act like a centerpiece in a garden and a little border made of plants can separate the area, making it appear spacious than it is.
2. Garden Arbor Path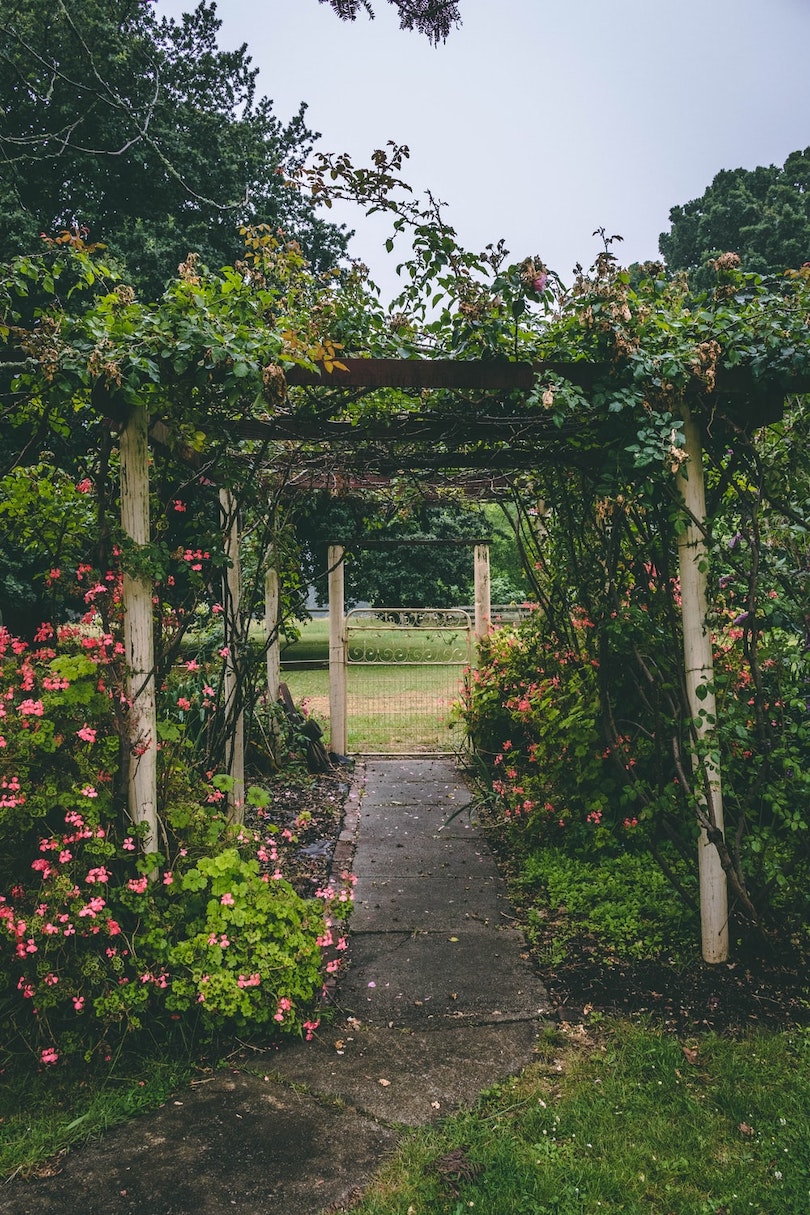 A garden arbor path offers an attractive way to divide a garden space into different sections or focus on a specific area. Here is a simple way to create an arbor path for an inviting entrance. An arbor overflowing with bright flowers can take the center stage at any outdoor space, like garden. Hence, making your outdoor landscape appear outstanding.
3. A Serene Garden Design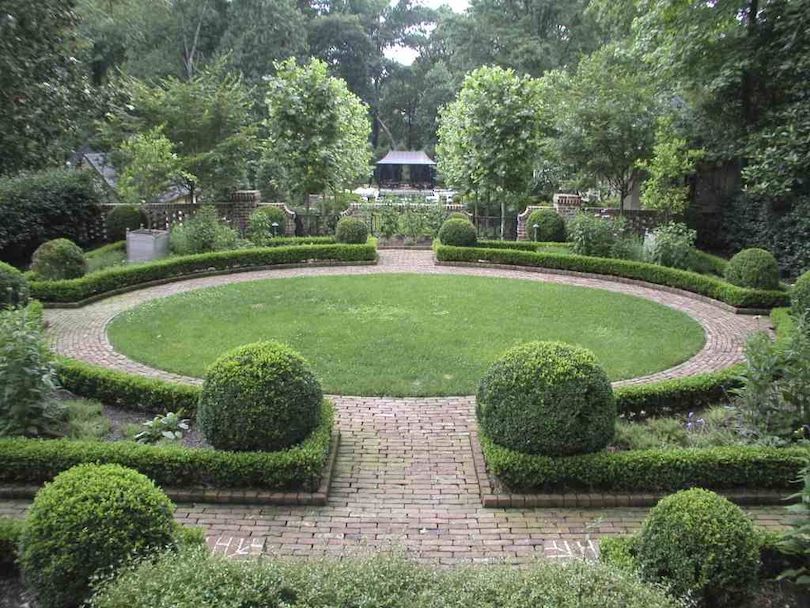 A meandering path with geometric stepping stones leads into this magnificent garden that further features a manicured lawn. This is a garden that thrives on contrast. On the one hand, it appears to be a barren, desert-like landscape that is dry and flat. The environment, on the other hand, is alive and well, thanks to the abundance of succulents, cactus, trees, and flora. This provides the garden a tidy and peaceful appearance.
4. An Outdoor Kitchen or Living Space
Some gardens intend to be decorative, while others are functional. The latter inclines toward amenities such as outside lounging areas, fire pits, outdoor kitchens, dining areas, and other such elements. In this scenario, one example is the garden shown in the image above. It has an eclectic style and incorporates a range of materials such as polished concrete, repurposed bricks, and sandstone into the furnishings, planters, and other elements.
5. A Diverse Small Garden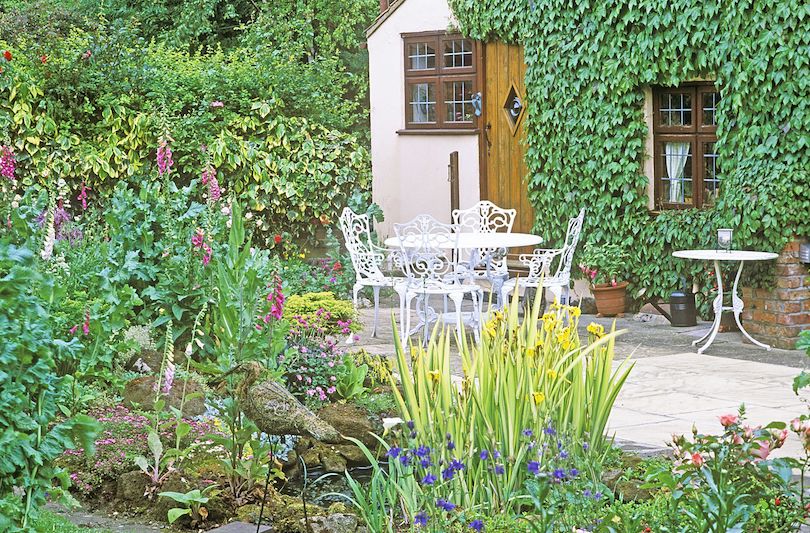 Small gardens may be really attractive, as this one in the given image exemplifies it. The key is to be diverse. The garden comes packed with a variety of plants of various colours, sizes, textures, and patterns. All this makes it a massive bouquet of greenery that fully covers the land.
6. Infuse Vitality In a Small Rectangular Garden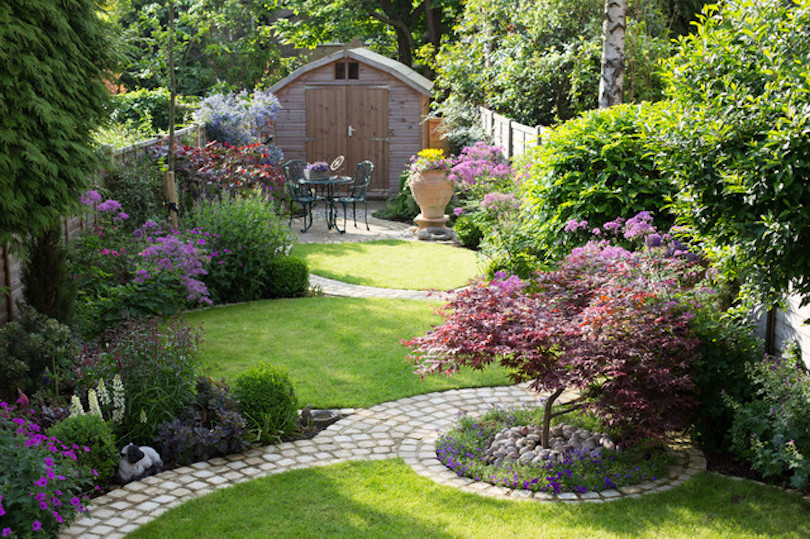 When it comes to gardens, this particular garden space is astounding and amazing. This area is able to infuse vitality into a limited rectangular space. It has layers, depth, and variety. Despite the fact that it here are huge wooden fences, it does not feel confining. The tree in the main planter box in the centre has the lowest half of its trunk totally hidden by the plants. In addition, despite its small size, this garden has enough space for a little sitting area among the plants.
7. Mystical Garden Area With Floor Slabs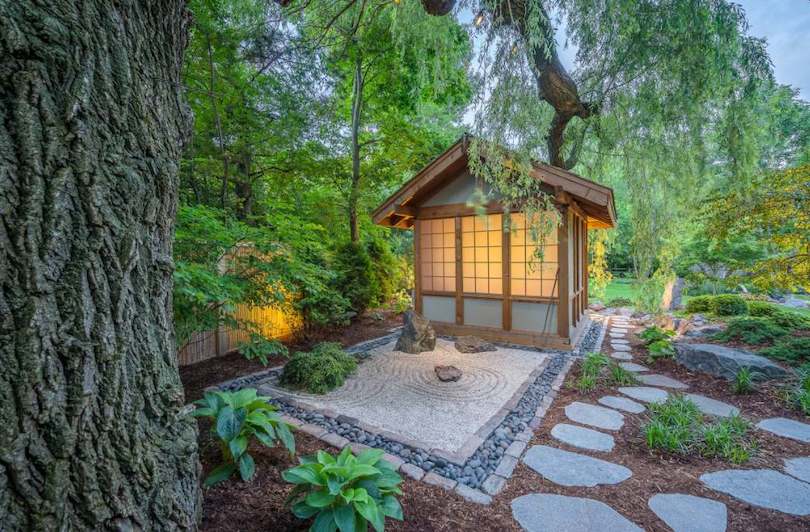 The yard of this house has an almost mystical feel to it. Greenery covers the tall fences as well as the spaces between the floor slabs, making it incredibly lush. The great tree in the corner has these lovely undulating branches as well as a canopy that reaches to the side. All of this lends the garden a mystical and bohemian feel.
8. Stunning Tropical Garden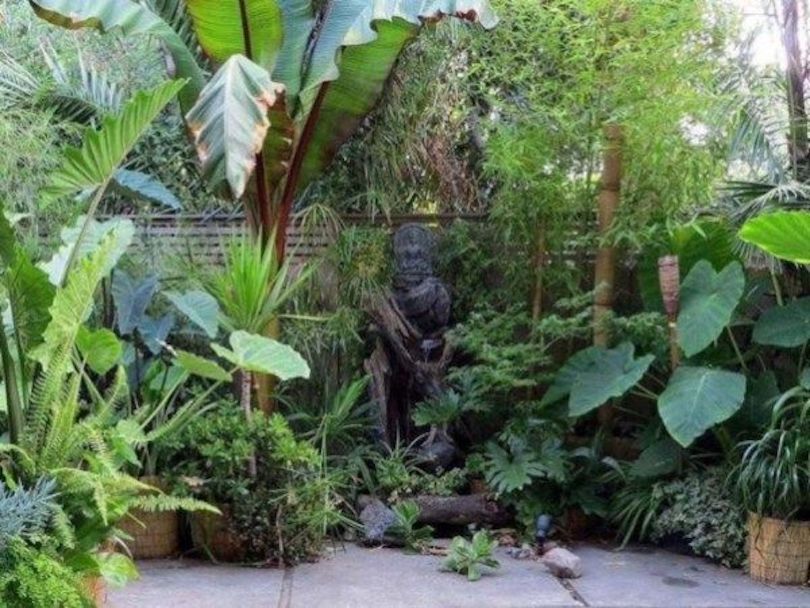 Consider developing a magnificent and extremely trendy modern garden area with a stunning design. One of the key focal points is a massive tree with broad branches extending in all directions. Its trunk is almost totally obscured by luxuriant greenery, and the entire area has a tropical feel to it. You may even consider adding some tropical plants in the garden area for calm vibe.
9. Well-Balanced Bohemian Garden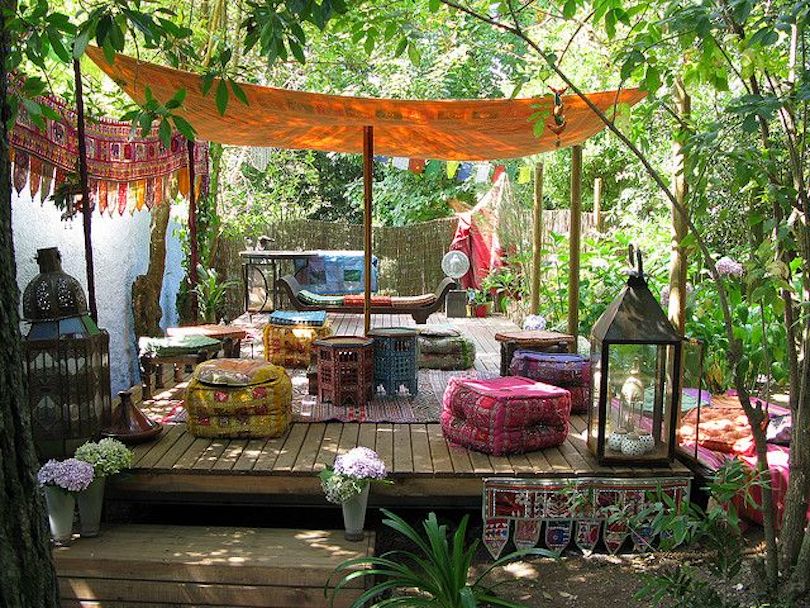 Our gardens change with the seasons. As the trees begin to shed their leaves and the brilliant green hues shift into yellows and reds, the transition between summer and autumn is rather lovely. A well-balanced garden, with types of plants and vegetation that compliment each other, will stay appearing full and bright throughout the seasons. We can't think of a greater illustration in this scenario than this stunning garden area in the image above.
10. Outdoor Living Space in Garden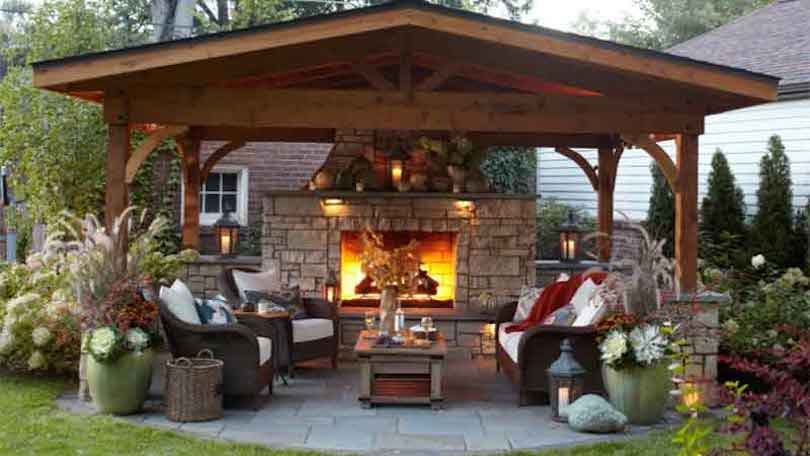 This outdoor patio is the perfect combination of practicality and aesthetics. The outdoor living space setup is ideal for the warmer months, with plenty of space to relax. The outdoor flooring is beautiful, especially the flora that has grown up around the living area. You can think of creating such outdoor living area outside your house to ensure there's ample relaxing space during the warm evenings.
11. Well Maintained Lawn With Swimming Pool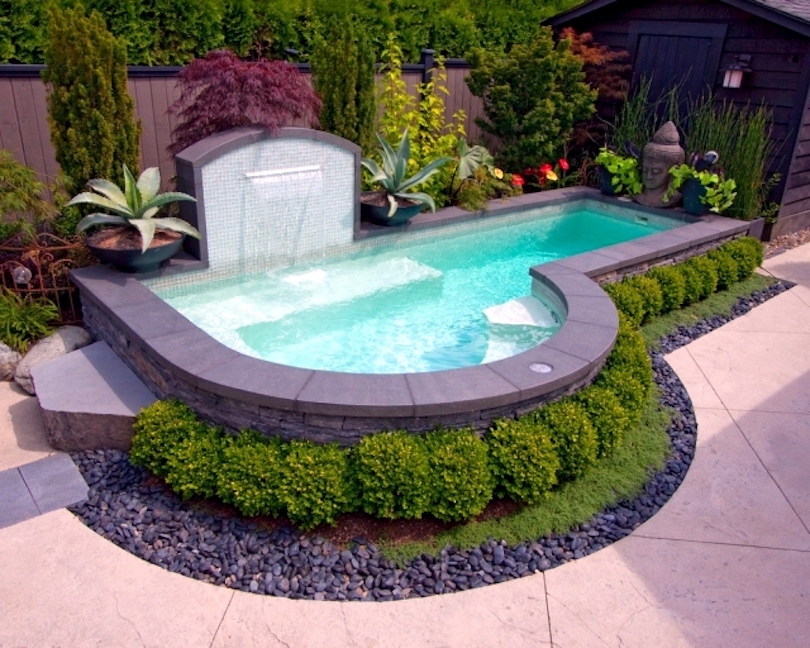 If you are fortunate enough to have space in your home for a swimming pool, a well-kept lawn will be the ideal complement. Thanks to the well-kept lawn, this specific garden space in this property appear even larger. In the summer, the pool will provide some shade, making it an ideal site for cooling off on a hot day.
12. Desert Garden Landscape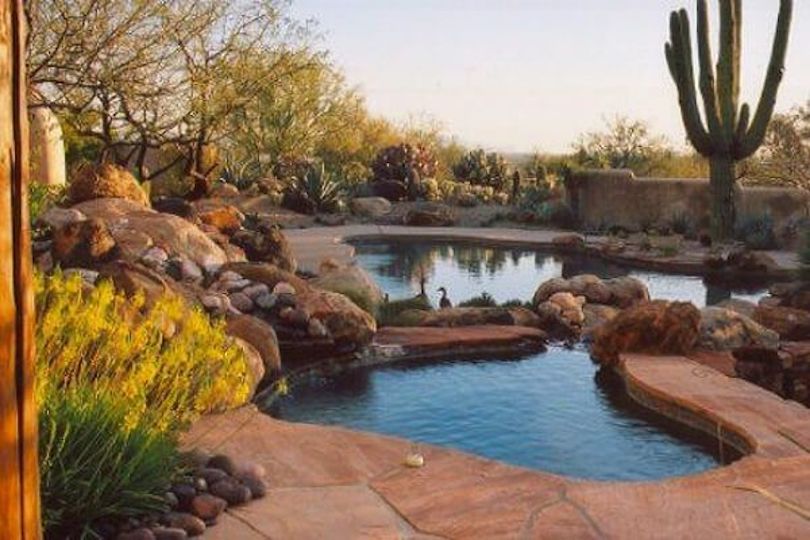 This beautiful sanctuary stands in stark contrast to the surrounding terrain. This pool surrounded by flora makes the most of the limited space. The pool and covered area will keep you cool when you wish to spend time outside during the hot summer months in this location, thanks to the scorching weather.
13. Tiny Garden Area in the City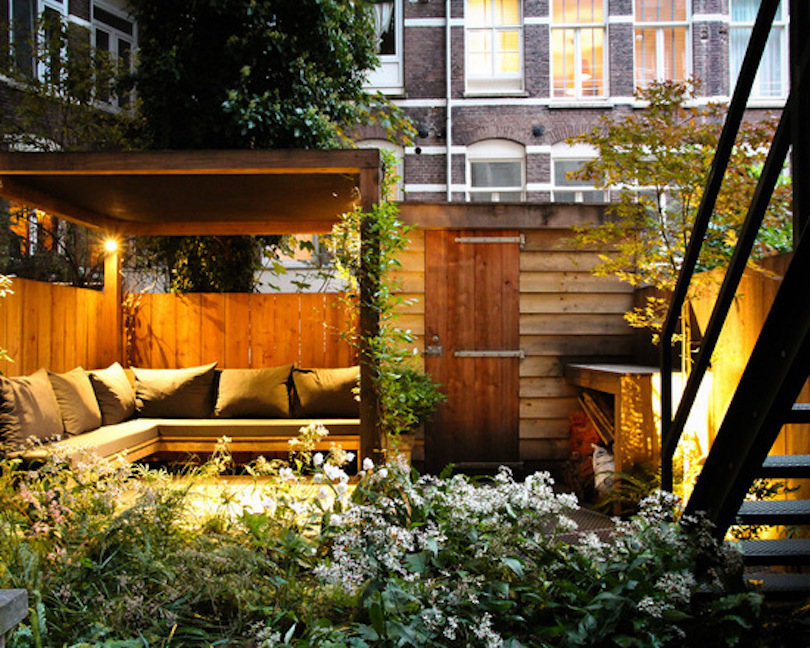 Simply because you live in a city does not preclude you from having the garden of your dreams. The tiny garden of this lovely house will delight you. It's the ideal blend of city and outdoor living, while still providing a respite from the hustle and bustle. You will certainly be grateful for this garden space in your city house.
14. Firepit Garden at Sideside House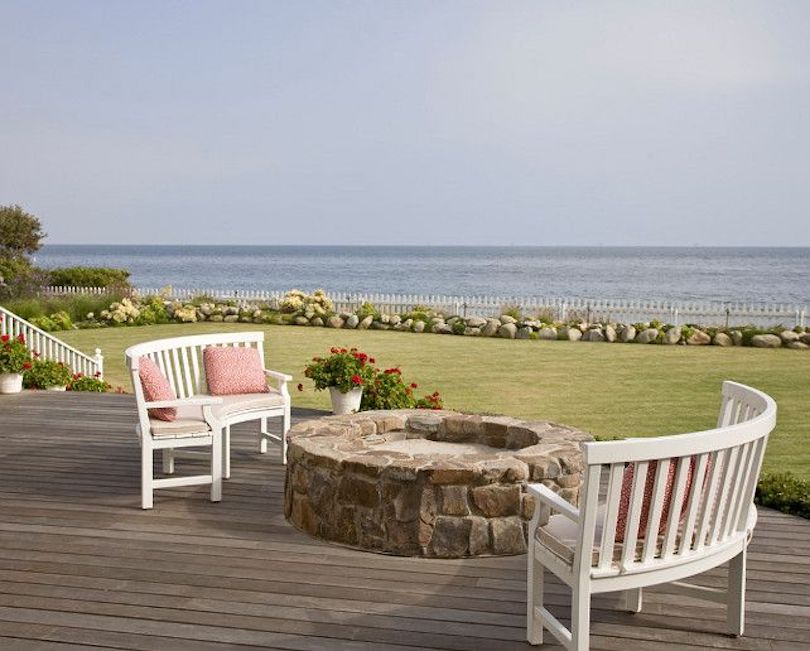 This magnificent seaside house, with its beautiful firepit to keep you warm on cold winter nights, is another one of the stunning outdoor landscaping ideas. It takes an unusual garden space and breathes new life into it, providing you with a warm and pleasant place to sit outside. To contrast with the beach behind the sitting, greenery in the garden area has a hint of vegetation.
15. Jungle-Inspired Garden Landscape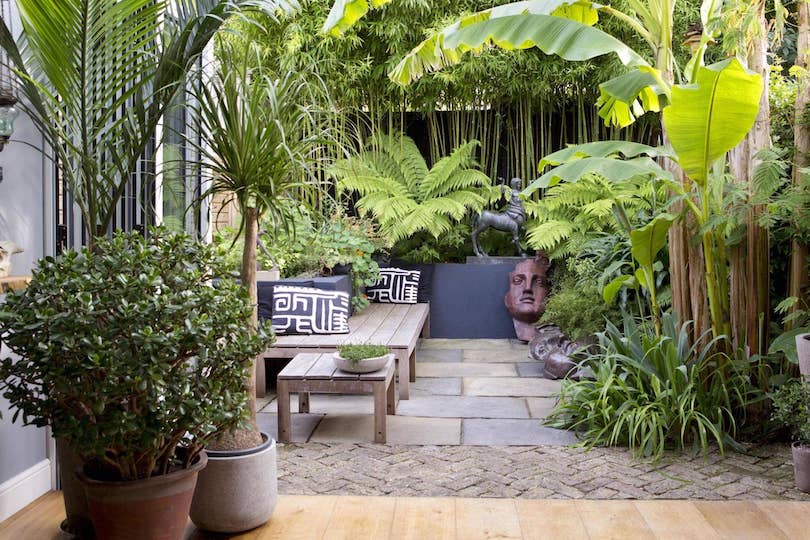 With its jungle-inspired plants, you won't believe this garden landscape. It's a far cry from usual metropolitan gardens, and it's the perfect spot for entertaining friends and unwinding. The campfire adds a cosy touch for the winter months and serves as a focal point for social gatherings. It is one of the best landscaping ideas to help you change the look of your exterior.
16. Outdoor Lounge Garden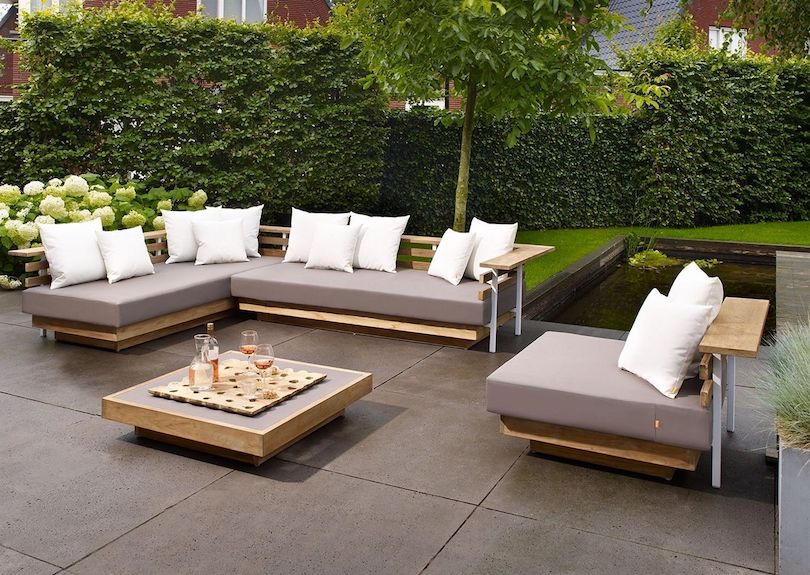 If you want to add more living space to your home, moving your furniture outside into an undercover area is an excellent way to do so. Your garden and living area can blend well in this landscape to provide a comfortable outside experience for the entire family. This landscaping idea creates one-of-a-kind outdoor environment that incorporates a wide range of materials, textures, and plants.
17. Enchanting Garden Landscape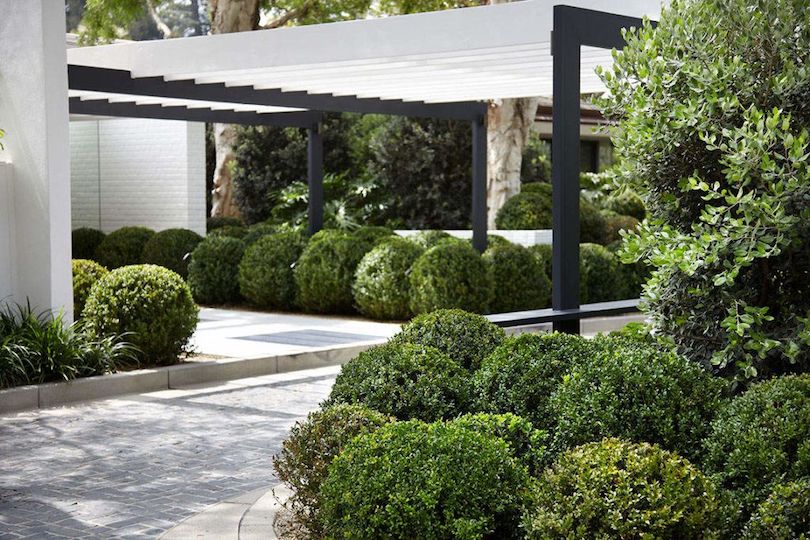 You can make the most of such garden landscaping ideas with ample plants and trees in a small area. It just serves to prove that you don't need a lot of land to turn your backyard into a beautiful outdoor spot. When you go out into a garden like this one, you'll feel like you've escaped the city, and it's a terrific place to relax in the summer.
18. Tree House Garden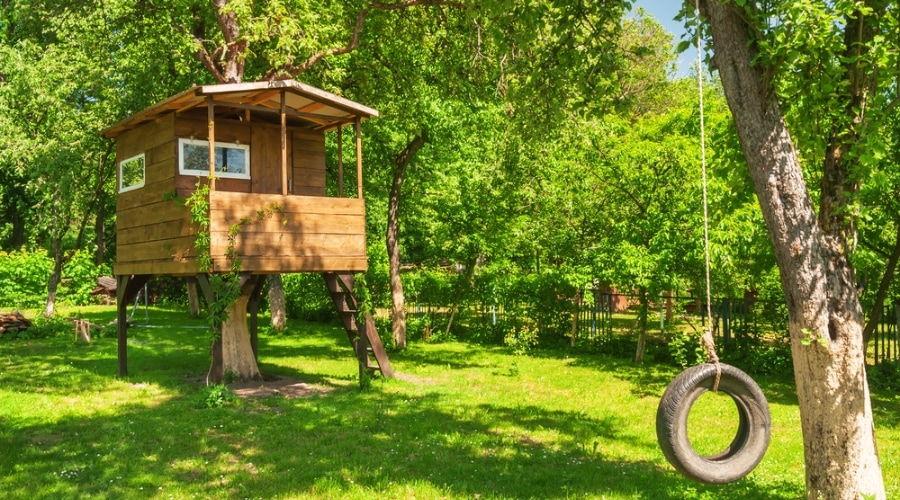 This magnificent garden is densely forested, providing some relief from the sweltering temperature conditions. The shape and hues of these trees combine to create a one-of-a-kind garden. It incorporates some of the land's existing features while also incorporating modern home design.
19. Creative Garden Design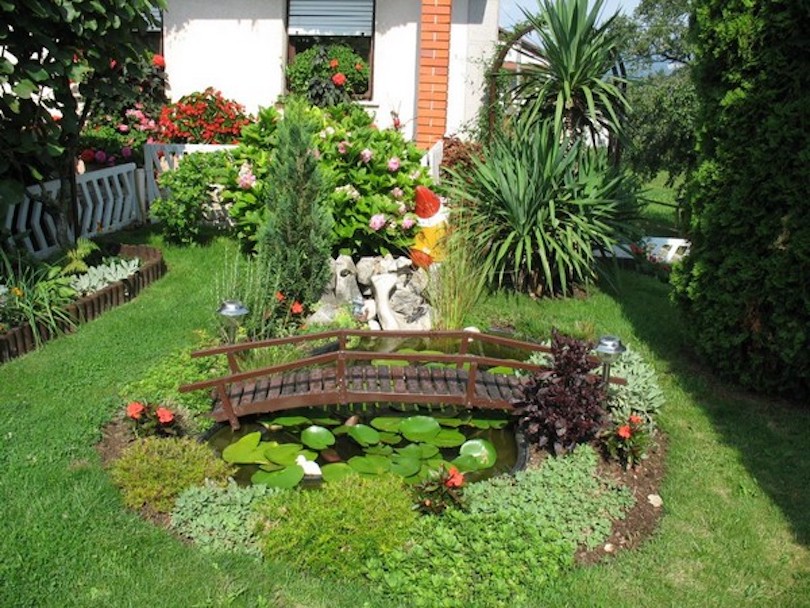 Another one of the magical landscaping ideas to consider is this creative garden design. The small bridge in the middle appears like it belongs in a hotel. It is a great place for kids to enjoy in the evenings. Plus, the flowers and plants lend a splash of color to the residence by providing a stark contrast to the building's architecture.
20. Modern Pergola Landscaping Ideas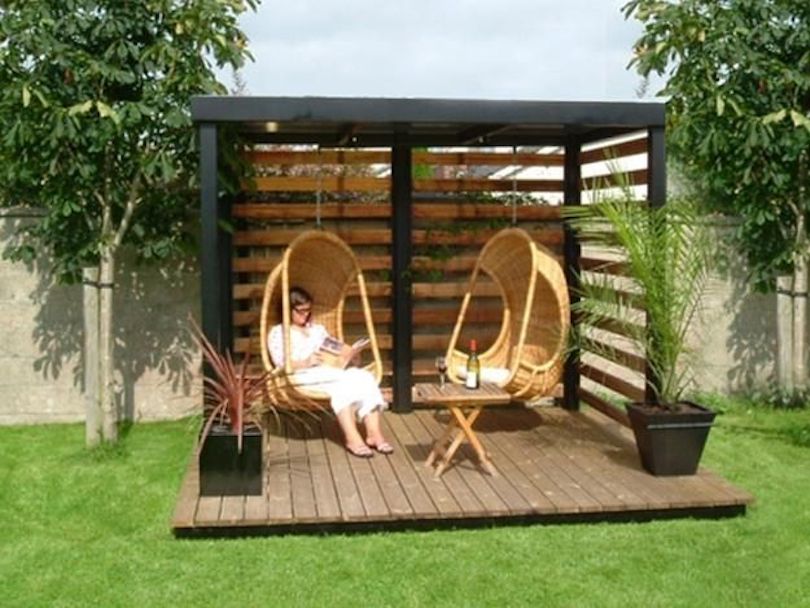 This particular garden creates a space that flows naturally. It feels organic and connects to the inside. The huge pergola is a structure that aids in making the transition from interior to outside feel seamless and natural. It also provides a sense of privacy to the garden and makes it feel less exposed.
All of these landscaping ideas are perfect to inspire your own backyard overhaul. Remember that when it comes to garden spaces, less is sometimes more, since you don't want your plants and trees to look overgrown and cluttered. You can drastically transform even the smallest of spaces in your yard with a few basic centrepiece pieces. Adding a few vibrant plants or trees to your home can truly brighten up the space and give it individuality. When summer arrives, you'll be grateful to us for providing you with such a nice, relaxing area to spend your time this year.