15 Unique Garden Decor Ideas For Year-Round Appeal
Looking for fun garden decor ideas to add an element of interest to your yard landscape? Original planters, exquisite garden borders, artworks, whimsical flower beds, and garden stands are some easy ways to accentuate your garden space. These elements can even make your guests amused with the unexpected details. The creative combination of texture and color, as well as innovative recycling, can give a new outlook to your outdoor space.
For unusual garden decor ideas, you can blend small decorative flowers, plants, and shrubs. It will help you create dramatic and fabulous garden landscaping. The fun containers and artistically designed flower beds let you experiment with modern and fresh ideas. You can even add unique artworks, and recycle useless items to your garden space.
Once it is setup, you'll witness how interesting flower beds can make your garden look. It is because it is a very captivating and beautiful element for a garden. Flower beds can add a touch of flair to your yard landscaping and also offer amazing inspirations for improving outdoor areas.
15 Amazing Garden Decor Ideas To Consider
Without further ado, let's jump into our top 15 garden decor ideas for accentuating your outdoor landscape.
1. Use Garden Ornaments
Garden ornaments are much more than afterthoughts; they may influence how you shape your outdoor space, as well as how it feels overall. A wrought-iron gate can lead a way to your green outdoor landscape, a few DIY ornaments can change the look of your entire garden area, and a unique garden element (like an exquisite tap-like lantern) can entice you to stay for a little longer. Or, a rusty iron pendant hanging from a tree above a bed of agaves with fairy lights can create a melancholy hue.
All these components are subtly yet effectively placed, attractive yet functional, and offer subtle but effective clues. They also offer a garden space with a polished appearance throughout the year. It's important not to overdo it.
2. Create Outdoor Rooms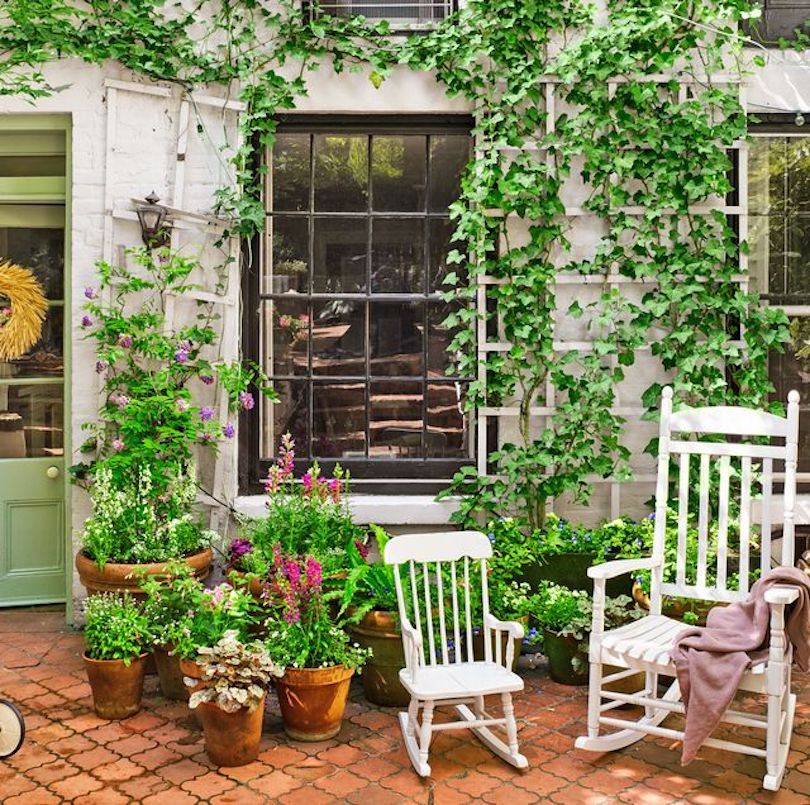 Your furnished garden space must not appear too contrived or perfect, as per expert designers. However, you still need to make it as comfy as any room inside your home. You can think of designing outdoor rooms (one or more) in your garden with succulents or other plants all around. Furthermore, add subtle furniture pieces with comfy cushions or throw blankets. It will make the area appear quite cozy and comfortable for relaxing.
3. Don't Fear Adding Patina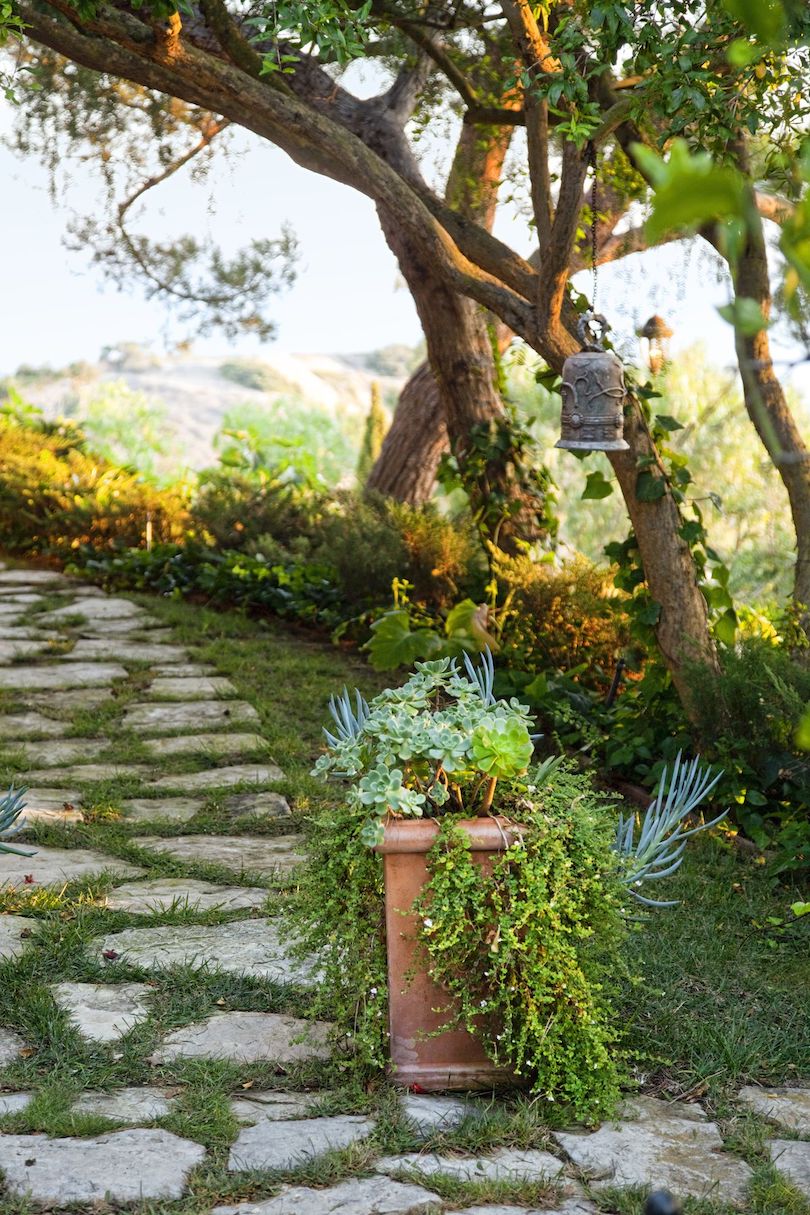 Do you want to create a vintage ranch house style feel for your garden space? If so, you may consider a landscape with a patina. For this style, it is best to adhere simple green palette of plants. You can choose cypress, pepper, and Chinese elm trees along with Virgina creeper, acanthus, rosemary, and white roses.
If you feel your garden decor may get lost in a very colored landscape, you can make green plants your background. And, pop some tinted stone ornaments against the green backdrop. For ornamentation, you can pick up on some travel finds – nothing very precious. You can even add an old lantern on a stone shelf for an exquisite rustic charm in your green world. It's crazy how such elements turn your regular garden area into a stylish outdoor space.
4. Repeat Home's Exterior Style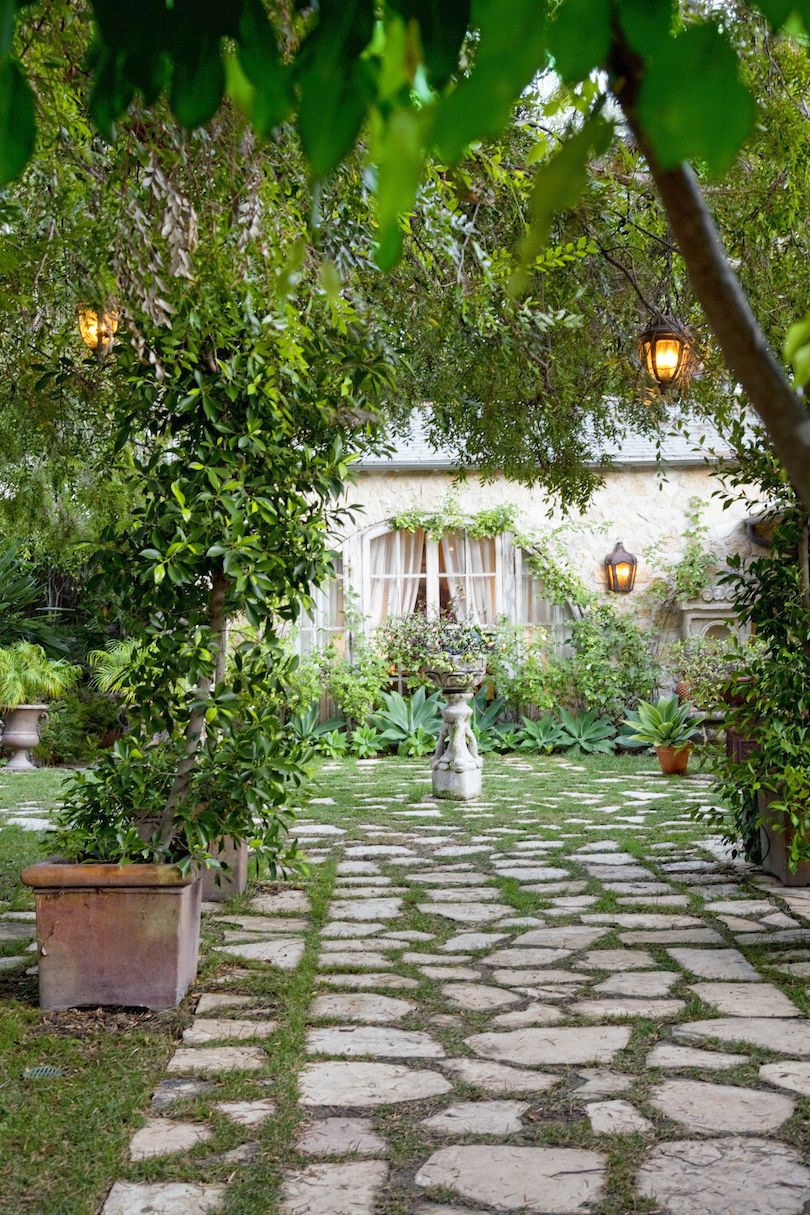 Another garden decor ideas to consider is with ornaments. Ornaments can transport your home's aesthetic into the environment. Meanwhile, it will anchor the structure in its surroundings. Iron urns on the top of matching terra-cotta pedestals complement the rustic stone-clad doorway. A pediment adorned with dolphins and housing potted succulents in the courtyard mirrors the theme and serves as a focal point. The stone of the home echoed in the pavers can intersperse with grass. It will soften the walk to the front door.
5. Decorative Garden Entrances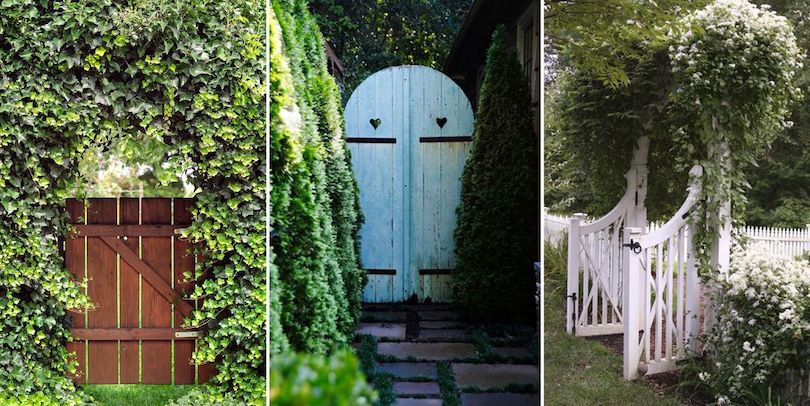 Even in a tiny environment, a series of isolated places connected by passages and roads gives an everyday stroll a sense of intrigue and expansiveness. Just look at this path that starts near the house with a wisteria-draped arbor and leads downward, across terraces, along pathways, and down steps that continue the concept of an eye-catching, weatherworn stone. Paths lead the route; iron gates and arches. Most of the gate and arch parts are easy to cover in vines, marking the transitions between different locations. Potted bougainvillea, palms, and citrus plants, as well as finials set on pedestals, add to the appeal of the entrances.
6. Tie Furnishings With Overall Scheme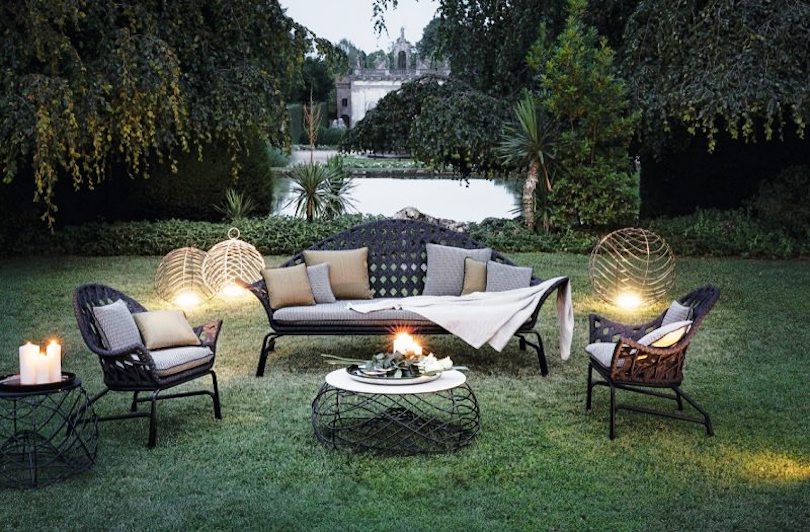 Of course, the style of furnishings chosen for space has a major impact on the overall look of the given area. They should, however, blend in with the rest of your ornamental items and materials. At this pottery yard, the designer discovered a pair of affordable iron dining sets in a rustic finish. They create an informal lounge area for refreshments and chat by scattering extra chairs about the paved "carpet.'
7. Select Decor That's Suitable to Outdoors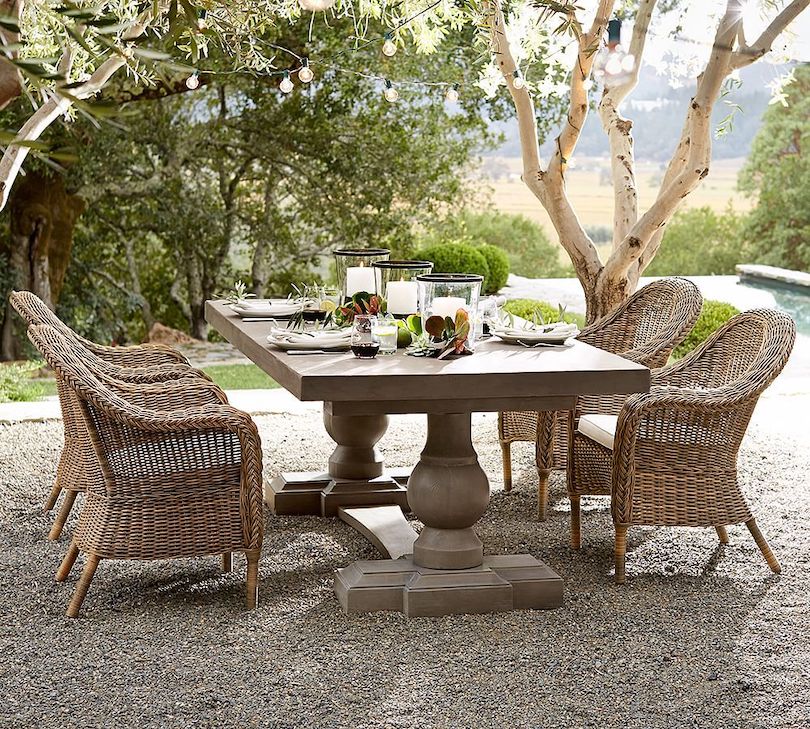 You may even think of establishing a stylish outdoor living room. But instead of spending a lot of money on all-weather wicker, you can go for roll-arm wicker chairs that are easily available in any import store. These chairs are easy to weatherize by spraying marine varnish on them. Extra cocktail tables and seating looks best with concrete pottery-yard pedestals. The main gather-around eating room can be set up with a black oval metal dining set.
For those looking for fun play equipment, consider adding a swing, slide, or climbing structure to the outdoor space, ensuring it complements the overall decor and provides a safe and entertaining area for children and adults alike.
8. Add Lighting – One of the Amazing Garden Decor Ideas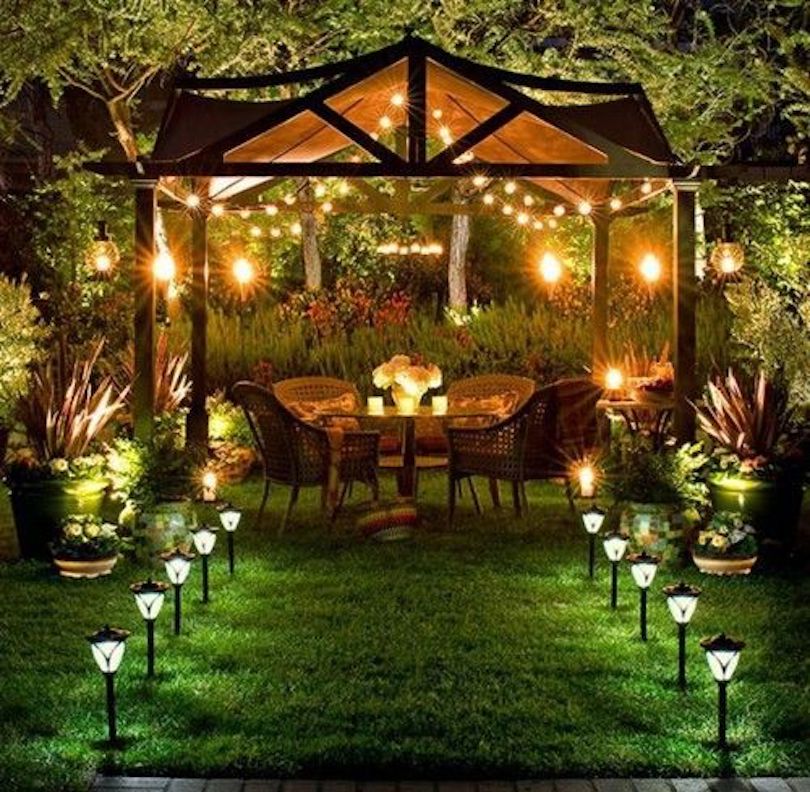 Many garden landscapes appear most romantic after dark when the moon glows and well-placed electric lights illuminate trees and roads. If you have such space, you can go a little farther with their lighting, suspending elegant patio lanterns from tree limbs. Patios and roundabouts were also illuminated by large streetlight-style bulbs. All of these fixtures are in sync with the outside lights on the house.
9. Display Your Plant Collection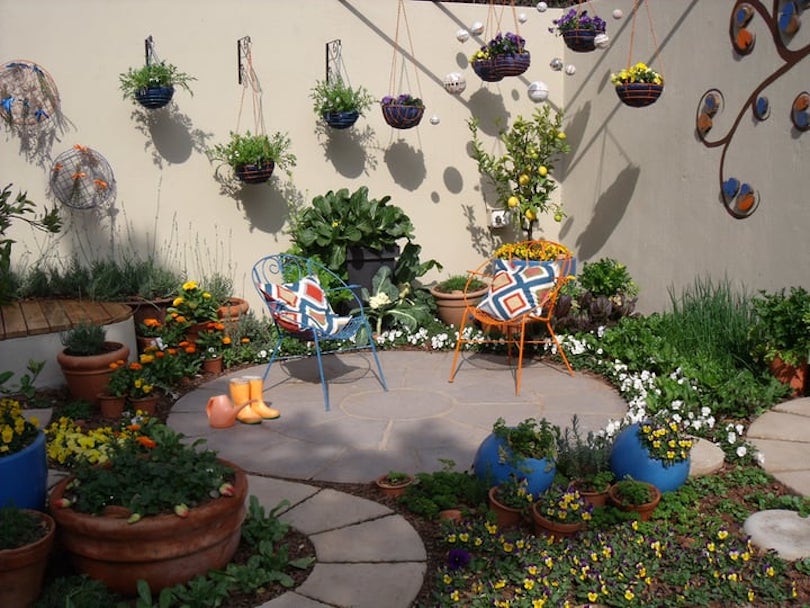 You can collect your container plants so you could see them at eye level, in addition to selecting preferred specimens for pots and pedestals. Consider exhibiting succulents— agaves, aeoniums, echeverias, and senecios – on a painted chest and vintage pine table of drawers. Further, waterproof the furniture with a wood sealer. Such plants may vanish if tucked in flower beds. You can also look at their distinct shapes when planted in proper pots.
10. Deck Up Front Porch With Wall Art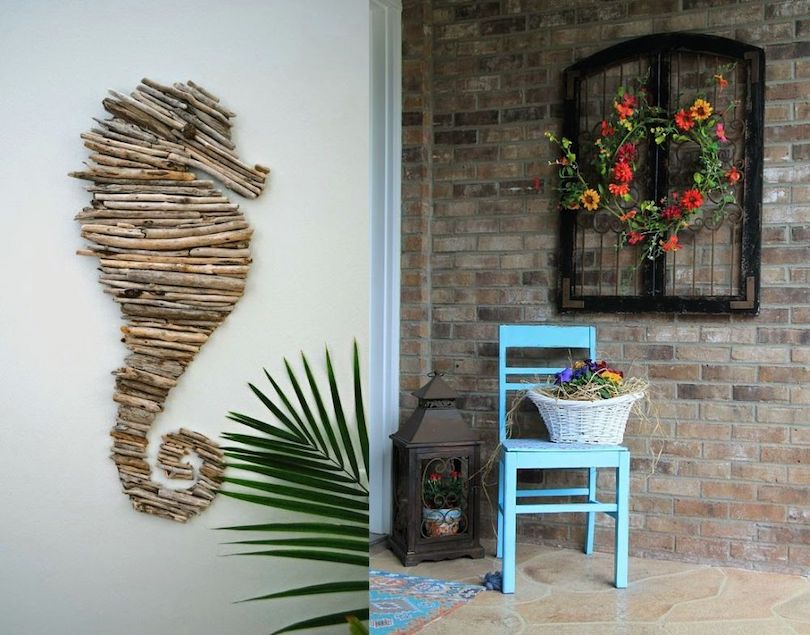 Art isn't just for the walls! Garden art is also a terrific way to decorate your home. Whether you showcase vintage ornamental art or select some lovely, new pieces, hanging wall art will elevate and personalize your patio.
For creative outdoor wall decor, some expert gardeners have had great success browsing garage sales, vintage shops, etc. Have a look at this excellent outdoor wall decor assortment in the image (given above). It will help you add something unique to your garden landscape.
11. Let Decorative Elements Play Up Sound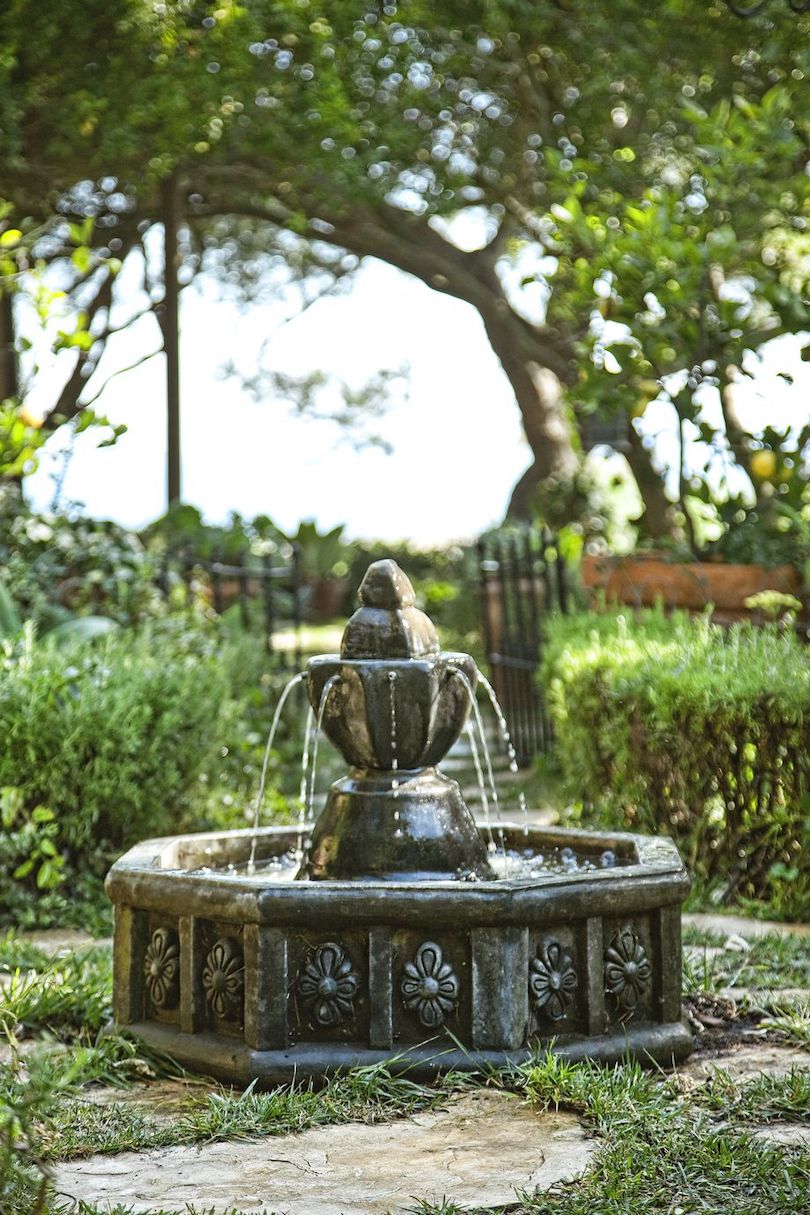 The sound of water trickling is an almost irresistible draw to a garden. When you hear its song, you want to find out where it came from, and there are a lot of them in the displayed terrain. The herb garden's liquid soundtrack created by a fountain with an octagonal basin. Another bubble among flower-like agaves, imitating the columnar shape of neighboring Italian cypress trees and attracting hummingbirds in droves. Both pieces look amazing in a ceramic yard.
12.Create DIY Concrete Mushrooms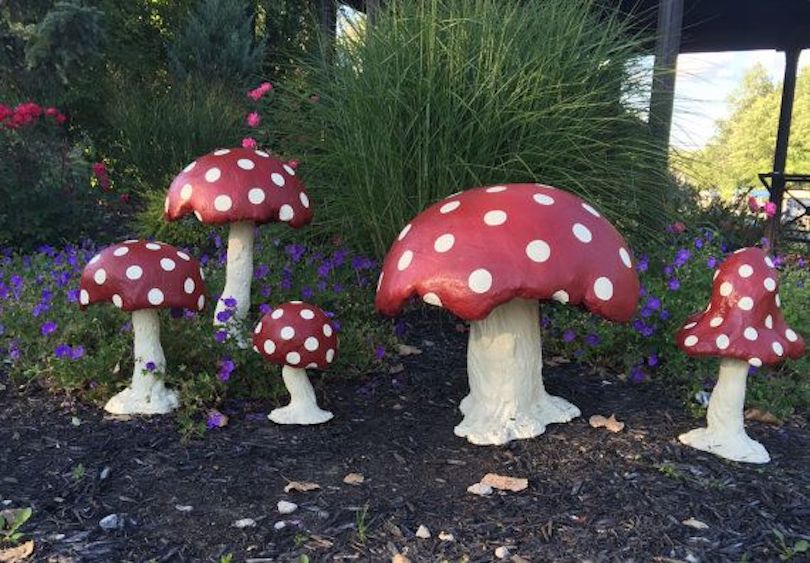 These colorful, bold small concrete mushrooms will add a splash of color and charm to your yard. Concrete, plastic wrap, water, small bowls of sand, and acrylic paint in the colors of your choice are all required to finish the project.
How to make these cute concrete mushrooms is as follows:
1. Mix concrete and create the stem
Mix concrete and water until it is stiff. Now, use hands (and gloves) to form a thick stem of mushroom under a plastic wrap sheet. Let it dry overnight.
2. Add more concrete to make a cap
After that, add waterier concrete mix and further place it in a sanded, small bowl like a mold. You may make use of plastic wrap for making the top smooth. Later, push the dry steam in the wet mix for creating a mushroom cap. And, let it dry overnight.
3. Now, paint mushrooms
After everything is dry, you need to paint mushrooms the way you like them. White and red is a classic and cute way to paint it. But don't be afraid to let your imagination go wild by trying different sorts of colors. If you want a glam mushroom look, you can paint them gold. And, for glossy appeal, spray the mushrooms with a premium quality varnish.
13. Use Plants Themselves as Ornaments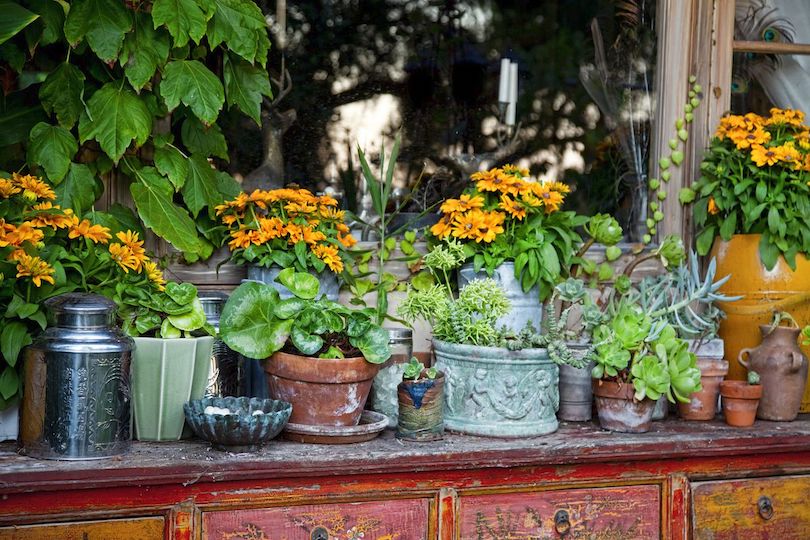 Certain plants are either architectural by nature or are simple to prune to get that effect. Italian cypresses, which soar like green columns against the hillside views, are among those organically sculpted to offer the gardens guiding lines. Even Agave attenuate rosettes are best to add around stone stairways and fountains, creating a lively contrast to the ramrod-straight cypress.
14.Install a Water Feature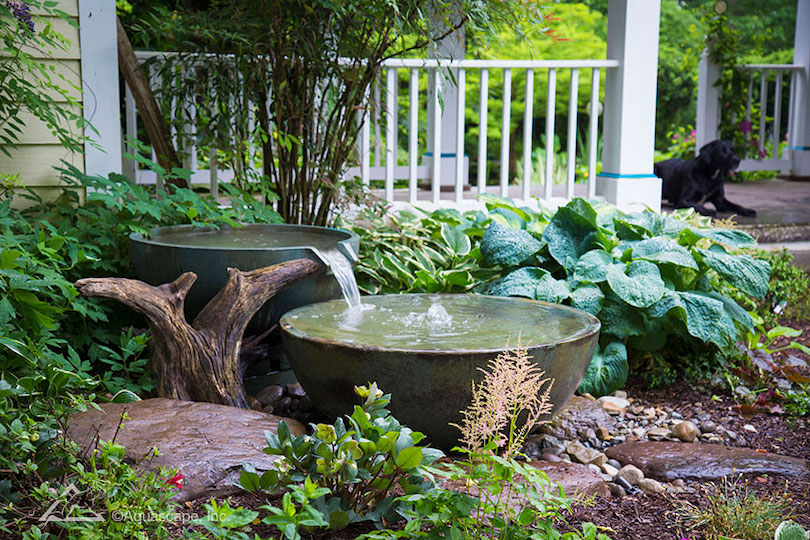 You may also consider adding an interesting water feature in your backyard or garden landscape. It will help you create a soothing and relaxing environment for your guests and yourself. Whether you purchase a ready-to-install colored birdbath or pay a contractor to create a custom koi pond, you will certainly enjoy the benefits of a stunning water feature in your garden area.
Here are various water features to consider for your garden space:
1.Bird Bath
A pretty tiny birdbath is a better alternative for most of us when it comes to our garden design budget. Birdbaths are typically available for under $100, and you can find such collections in stores with numerous lovely selections. A basic two-tier birdbath is one of the best bets to make any garden landscape appealing. It also comes with an extra tier where you may display a favorite potted plant.
Even the most inexperienced DIYers can make a birdbath out of upcycled items. Making a DIY birdbath is a terrific way to add personality, color, and character to your outdoor space. You can choose vintage chairs, rustic wood, old pots, or salvaged furniture to place near the water feature to enjoy witnessing its beauty.
2. Pond
Building a pond is one of the most effective ways to change the appearance and feel of your landscape. A gorgeous pond is always a fantastic idea, no matter what type of design you choose. Floating plants, waterproof lights, boulders, and stones are best to enhance the beauty, color, and light of a pond.
A word of caution: ponds are not a low-cost DIY project. Installing one is a major undertaking that might potentially exceed $10,000.
3.Fountain
A freestanding fountain is a timeless piece of garden decor that will instantly improve the curb appeal of your property. Any location, such as a patio or a peaceful part of your lawn, is easy to transform with a lovely fountain.
You may always add a fountain dripper to a birdbath if a full-fledged fountain is too expensive or extravagant for your tastes. For many years, our lotus flower dipper fountain has been a client favorite.
15. Create a Garden With Lived-In Look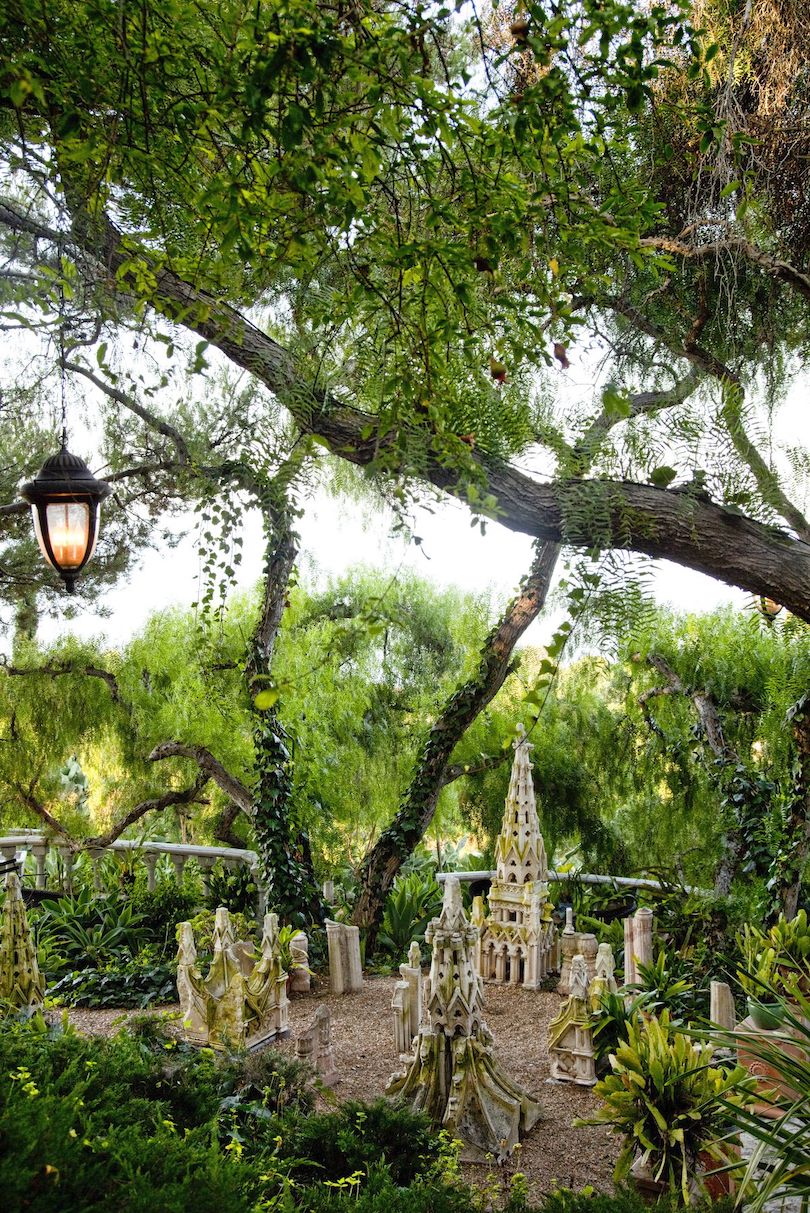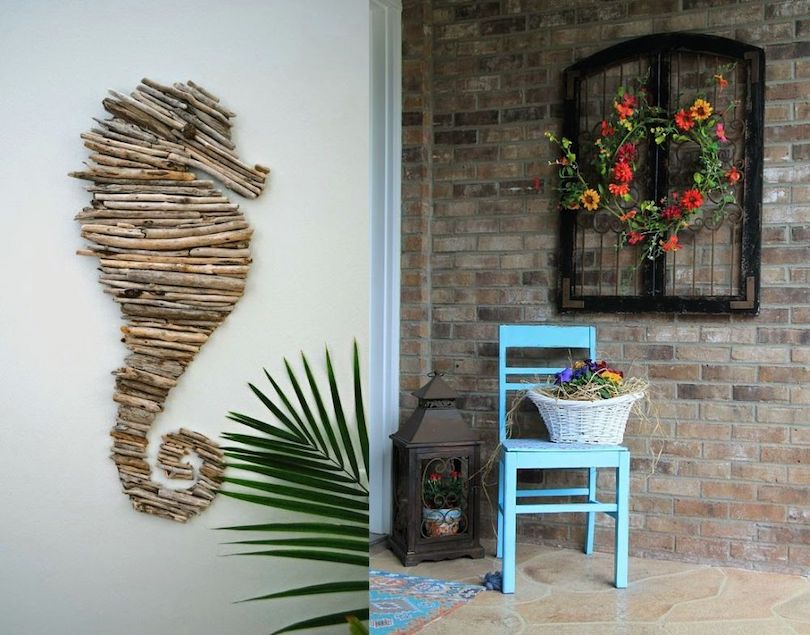 Antique-looking ornaments can give a new garden the appearance of having been there for a long time. To create this effect, have a look at the integrated items from their travels into their garden landscape, including Gothic church bits bought from a salvage trader. These stone bits and spires, set in a gravel clearing, give a garden constructed just a few years ago a whimsical, lost-city feel.