Outdoor Halloween Party Ideas 2022
Too early to think about Halloween? Well, there's nothing wrong if you like to plan for festivities super early. If you are looking for outdoor Halloween party ideas for 2022, we are here to help you. Your October 31st party will be a truly memorable occasion if you have it outside, the ideal location for a spooktacular. Continue reading for some simple instructions on how to organize the ideal outdoor Halloween party.
Creating the Mood for an Outdoor Halloween Party
When throwing the ideal Halloween spectacular, decorations and making your outdoor Halloween party event venue into a frightening, mysterious, and fright-filled place are essential. To prepare for your party, here are some fantastic methods to transform your backyard or other outdoor event space.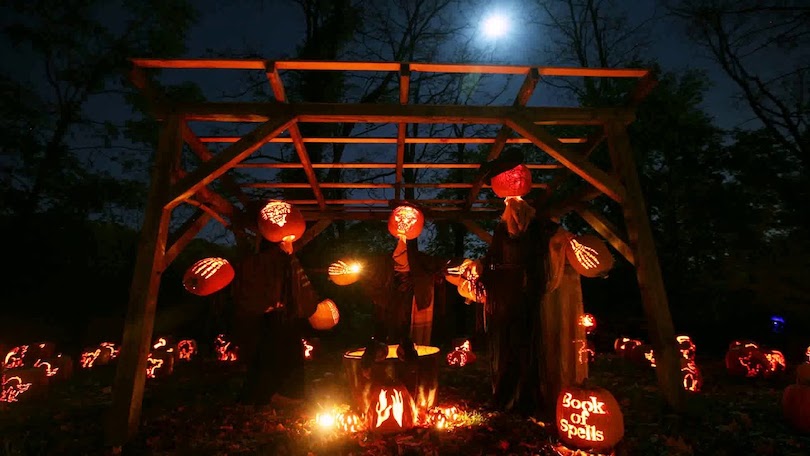 Orange, black, and white light cords and strands (more orange and black than white)
Gourds and pumpkins
Hay bales and dried corn stalks accentuate the autumnal ambiance Jack-o'-lanterns with carved-out cheerful, frightful, and insane faces
Fake bats were strung from tree limbs, balconies, and ceilings.
Plastic spiders and spider webs
Ghost window clings, ghost cutouts, and ghosts suspended from sheets from tree limbs
Cobwebs or fake spider webs to hang from trees, cover fences, etc.
Lighting up the eerie decorations using spotlights and torches so that the above lights can be turned off
Dry ice is used to generate mist and mystery everywhere.
All attendees should attend in costume to fully enhance the experience, thus there should be many costumes.
Tablecloths, napkins, cutlery, plates, mugs, and other items are all orange and black.
Cutouts of macabre characters such as Frankenstein, witches, werewolves, and mummies to hang or perch about your event
Black cats roam the area (so that they frequently step in the paths of visitors!)
Brooms, cauldrons, spellbooks, and other witchy items are scattered throughout the outdoor party space.
A strongly Halloween-themed dining and drinking area
Ideas for a Halloween outdoor party menu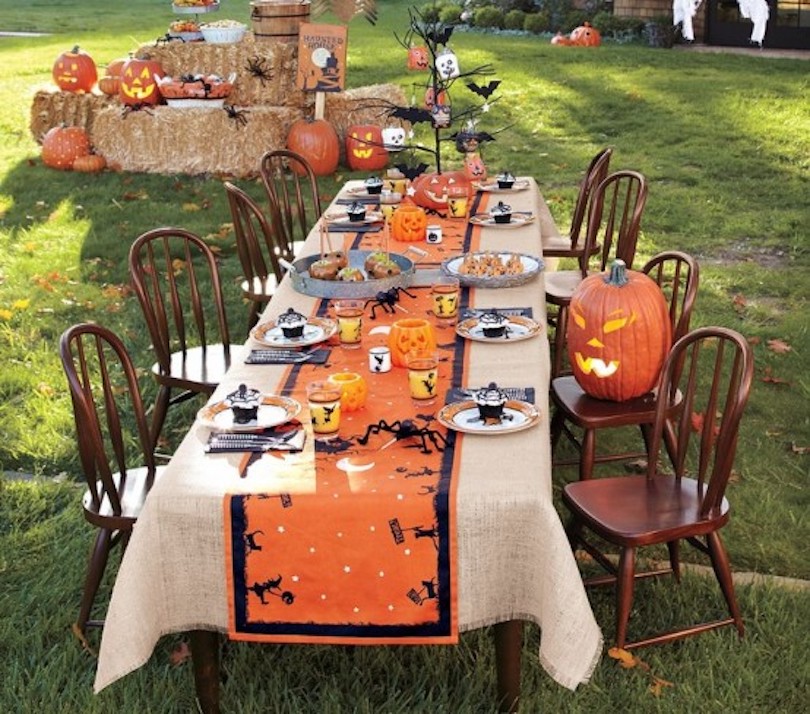 Keep the concept in mind and attempt to create a creepy-style spread while planning the meal for your outdoor Halloween party. You can keep outdoor Halloween party ideas for adults and kids separate to ensure everyone enjoys freely. This can range from serving eerie food directly to simply presenting typical party fare creepily. Nothing says "October 31st party" like finger sandwiches on a platter or deviled eggs in the shape of eyes or fingers! To keep your guests in the Halloween mood, try any of these suggestions.
Halloween-themed party foods:
Soups made with pumpkin
A pumpkin-shaped cheese log (with a celery stalk for the stem, and plenty of crackers and black tortilla chips for spreading)
Creepy Sandwiches made with the food of the dead
Haunting Veggies 'N Dip Sandwich with Deviled Ham Eyeball
Drinks for a Halloween:
Punch bowl with dry ice surrounding it for a creepy effect
Cocktails with cranberry juice
Apple cider
Wizard's Brew
Warm apple cider (also can be used as a mixer for cocktails)
Martinis with blood oranges (and other cocktails)
Bloody Mary drinks
Desserts for a Halloween-themed party:
Chocolate Spider cupcakes in orange
Caramel, chocolate, and Candy Apple Slimy Jell-O Treats
All forms of candy corn
Outdoor Halloween Party Activities & Entertainment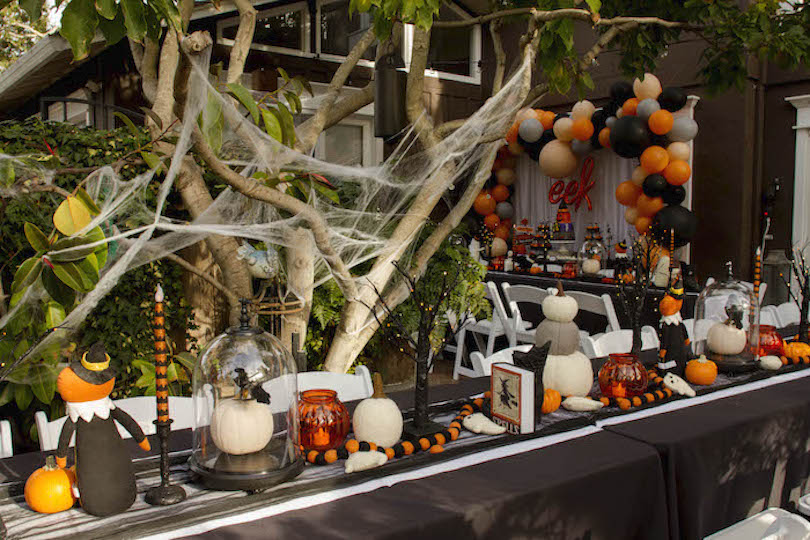 Without games and activities that have a Halloween theme, a party wouldn't be a party. All of these enjoyable activities are interesting, amusing, and fun for your guests to partake in.
Bobbing for Apples: It is a classic Halloween party game that everyone enjoys playing and watching at the same time. Participants attempt to snag floating apples with only their teeth while circling a sizable tub of water with their hands behind their backs. It is one of the fun outdoor Halloween party games for adults and kids alike.
Mummy Wrap Race: In teams of three or four, one team member is entirely wrapped in toilet paper or white streamers. Teams compete against one another to see who can wrap the package up first.
Pin the Wart on the Witch: It is a game similar to Pin the Tail on the Donkey, but instead of a tail, it has a huge poster of a witch's face and a wart! The group had fun while wearing blindfolds.
Monster Mash:  It is a dancing competition where brave participants dressed as monsters perform their best impersonations. The most believable, wackiest, scariest, etc., get awards.
Pumpkin Carving Station: Grab as many medium-sized pumpkins as you can, give your guests a tonne of carving tools, and watch what they can come up with. Even better, you can rely on Picnic People's Mobile Pumpkin Patch if you don't want to organize this part of your evening! We'll conduct the complete pumpkin carving event at your venue.
Now that you are well aware of the fun outdoor Halloween party ideas, you can easily make the arrangements for the celebrations. Hope, you and your family have a great time arranging everything.