15 Couples Halloween Costumes To Steal The Show At The Party
Ready to rock All Hallows Eve this year? Since October 31 is approaching fast, you may have started thinking about Couples Halloween Costumes to steal the show at the party. The fun part of this spooky fest is to dress up as a couple, recreating fun characters as per your choice. From imitating 'Harley Quinn and Joker' to copying 'Zombie Bride & Groom' get up, there are so many options to choose from.
Nothing has to be too perfect! Couples Halloween costumes are just about being creative, adorable, and spooky at the same time. So, let's not waste any more time and start looking for the right outfits to rock your Halloween party as a couple.
15 Couples Halloween Costumes To Consider in 2021
Check out the given couples' Halloween costumes and make this scary festival all about you and your lovely partner.
1. Harry Potter & Hermione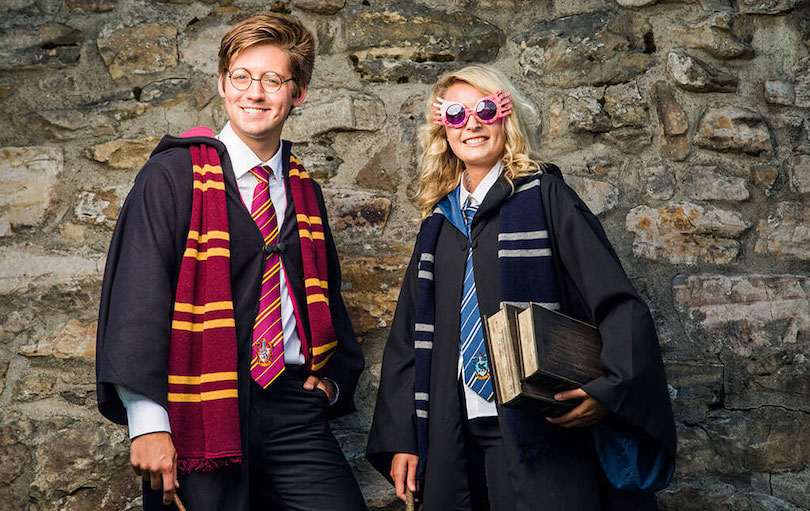 Dressing up as Harry Potter & Hermione is a great option for friends or couples who have recently started dating. And, of course, for those who love the Harry Potter series. We like such cute couples' Halloween costumes because these are very easy to DIY. But don't forget his signature glasses and maroon and gold tie to complete the look.
2. Vampire Couples Halloween Costumes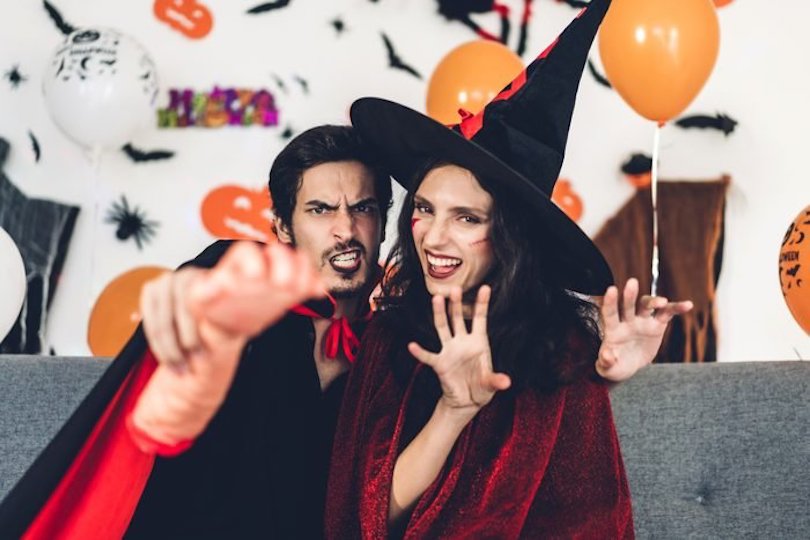 Now this one is a scary couples Halloween costume idea, which is also very easy to recreate. All you require is some old clothes that you won't mind staining. And, put some fake blood on those clothes for the perfect spooky feel. Also, do a decent amount of makeup to complete the scary vampire look. You'd certainly be able to scare a few people with this costume idea.
3. Clowns Couples Halloween Costumes
want some crazy couples Halloween costumes? Just have a look at this amazing clown's costume to create a scare factor. Dressing up as crazy zombie clowns is great for Halloween to give your party guests a little fright. However, you got to have some good makeup skills to achieve this complete look.
4. Skeletons Couples Halloween Costume
Keep all things simple by selecting the two skeleton bodysuits for yourself and your partner. For makeup, add a white color to your face and darken your eyes with black eye shadow. Or simply put a skeleton mask on your face, if you don't want to do such detailed makeup.
Such scary couples Halloween costumes may appear simple but creates a big impact.
5. Suicide Squad Couples Halloween Costumes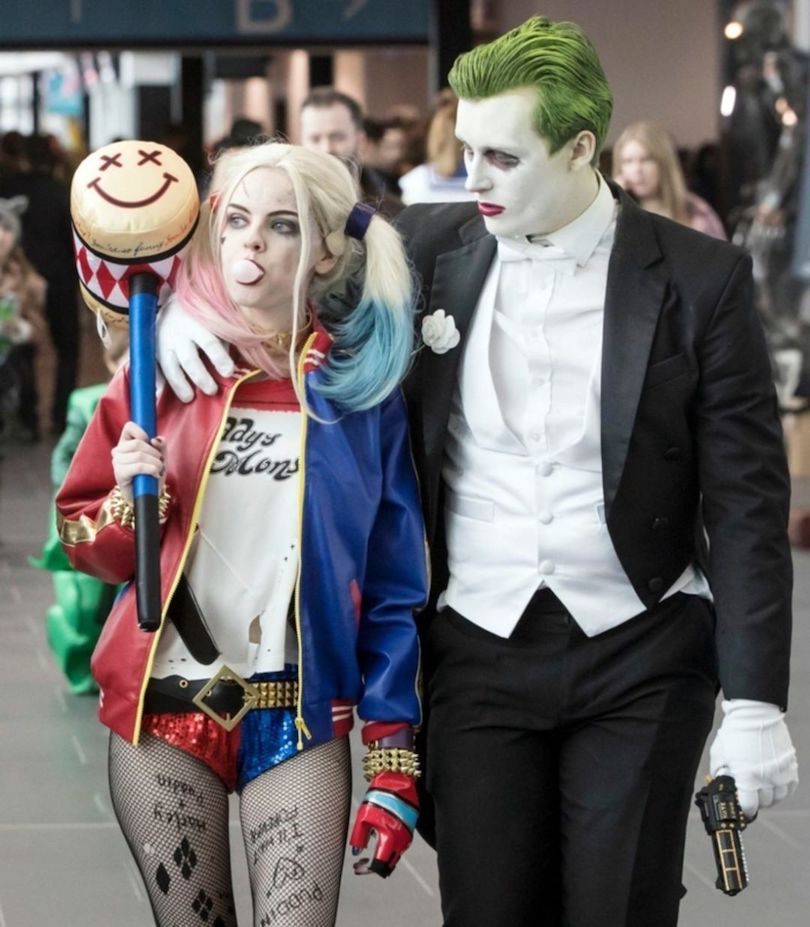 Get ready for the crazy night of fright by dressing up as a Suicide Squad couple – Harley Quinn and the Joker! It may seem a little outdated for some people. But we believe that it's a fun yet scary pair that you need to consider for the couples Halloween costumes.
6. Zombie Bride & Groom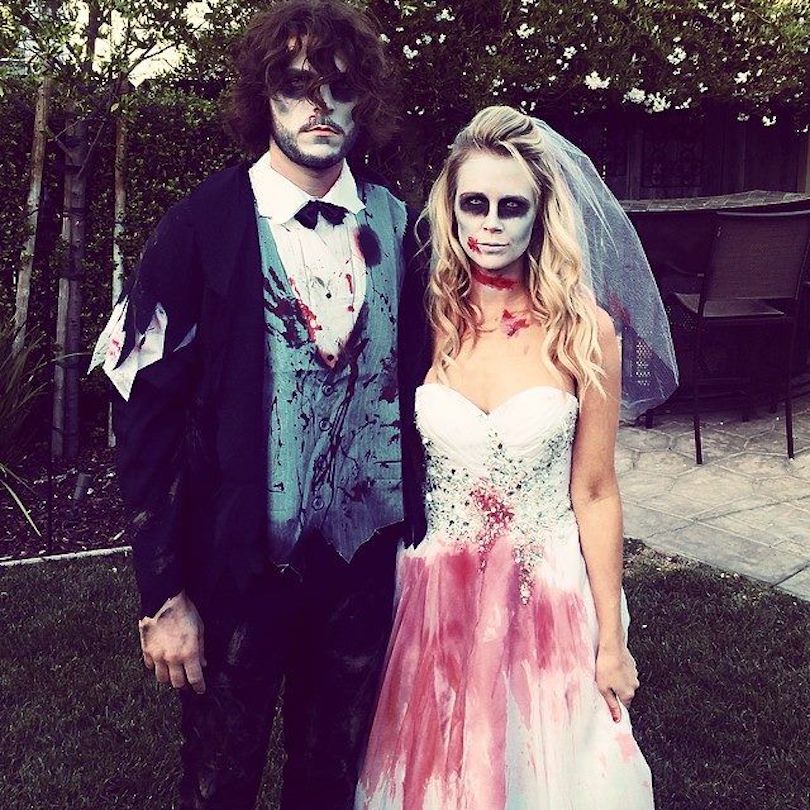 Zombie Bride and Groom Halloween costumes are also perfect for the ideal spooky factor. You can begin by collecting a basic wedding dress or old white gown to dress it up as a zombie bride. And, for zombie groom, an old suit splattered with red paint over it is perfect. Plus, don't forget to get your makeup right!
7. Frankenstein Couples Halloween Costume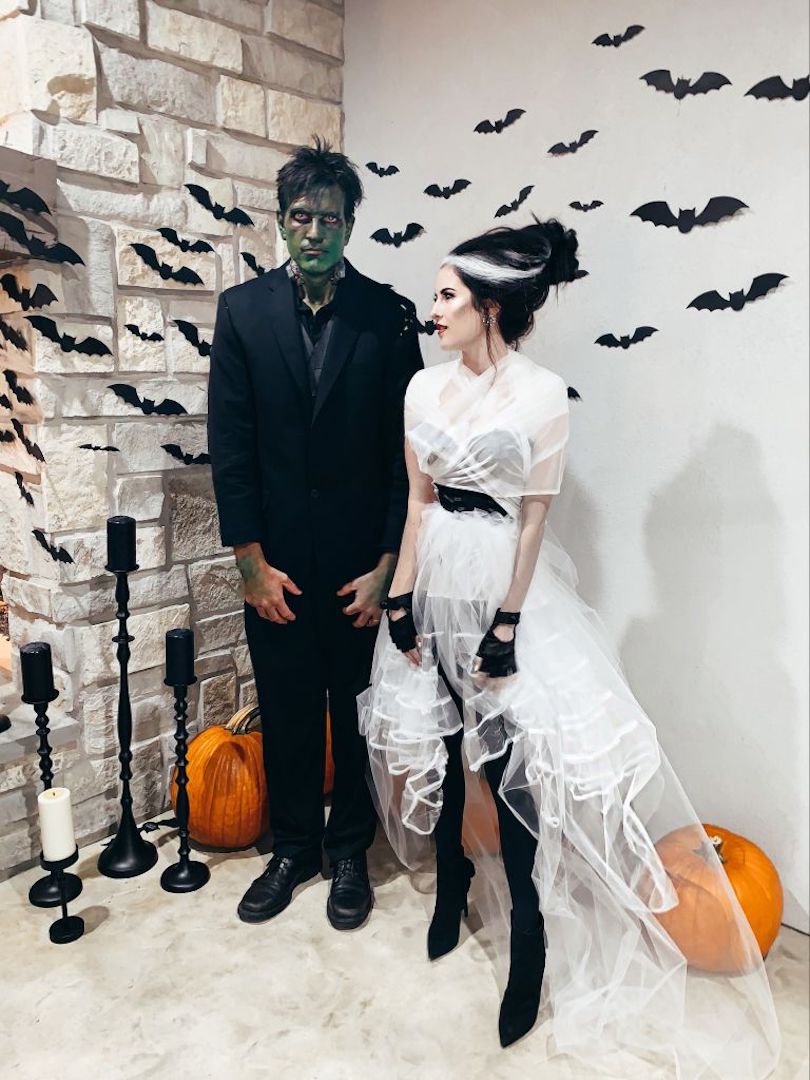 This couples' costume is also very easy to create. Plus, it will offer you a great shot at stealing the trophy of the best-dressed Halloween couple at the spooky party. Just give it a try, and you may thank us later!
8. Witch & Scarecrow Couples Halloween Costumes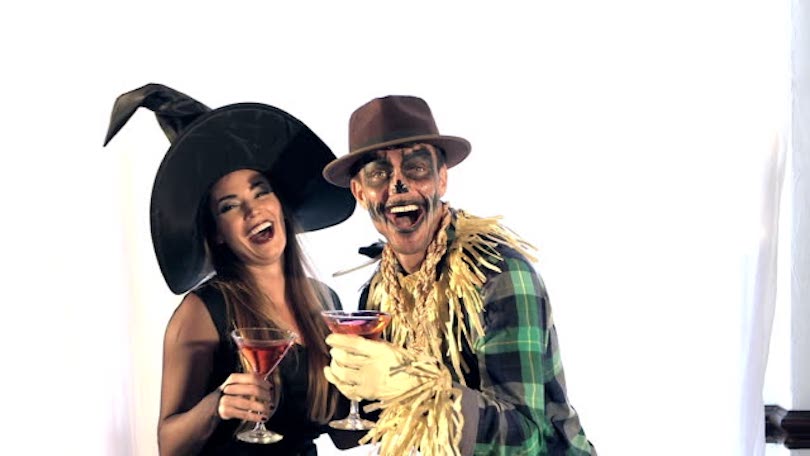 Have a look at this scary yet fun witch and scarecrow couples Halloween costume. It is one of the classic costume ideas but still so much fun for Halloween parties.
9. Mickey & Minnie Couples Halloween Costumes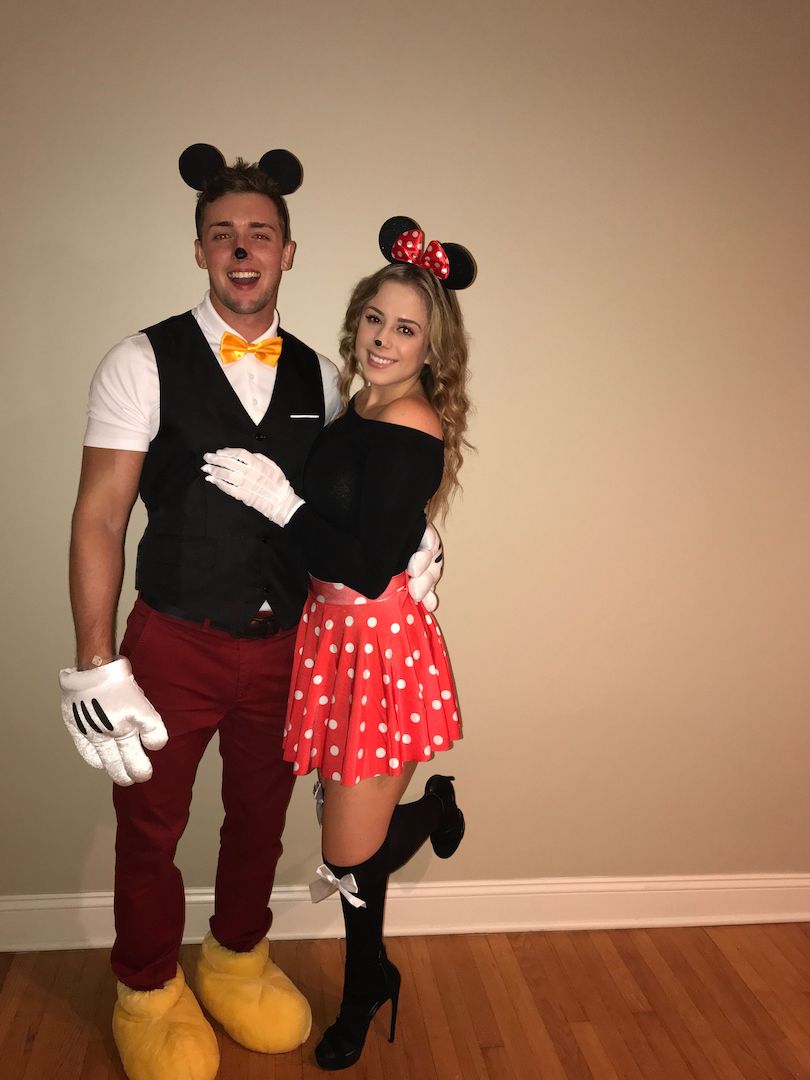 Any Disney lover out there? If so, they may consider the cool Mickey and Minnie couples Halloween costumes. Such costumes are pretty easy to DIY by creating your paper plate ears and cute bows.
10. Day of the Dead Couples Halloween Costumes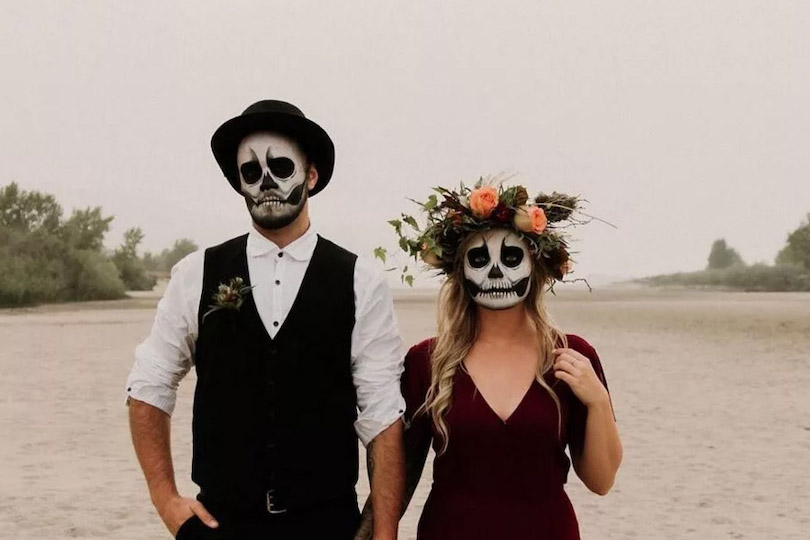 How about such amazing Day of the Dead-inspired couples Halloween costumes?
The devil in this costume is in the details, such as makeup and accessories! Plus, you can put on any dress that's already in your wardrobe to complete this look.
11. Carpool Karaoke Halloween Costume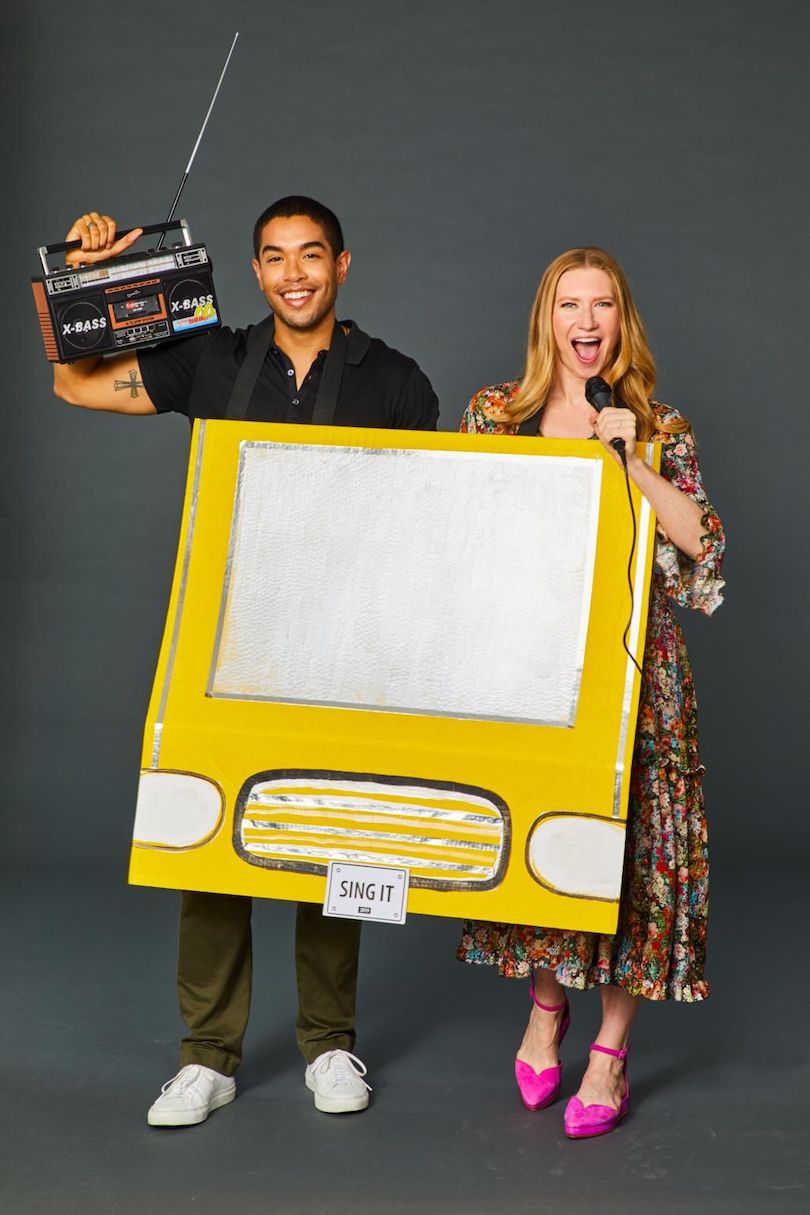 Be a crowd pleaser with this carpool karaoke Halloween costume. You can create this look by using washi tape and paint for transforming a presentation board into a taxi-like costume. Even use velcro strip on the back for easily putting the costume on.
And, when you head out to party, do make a good playlist and get ready to sing.
12. Greek Gods Halloween Costume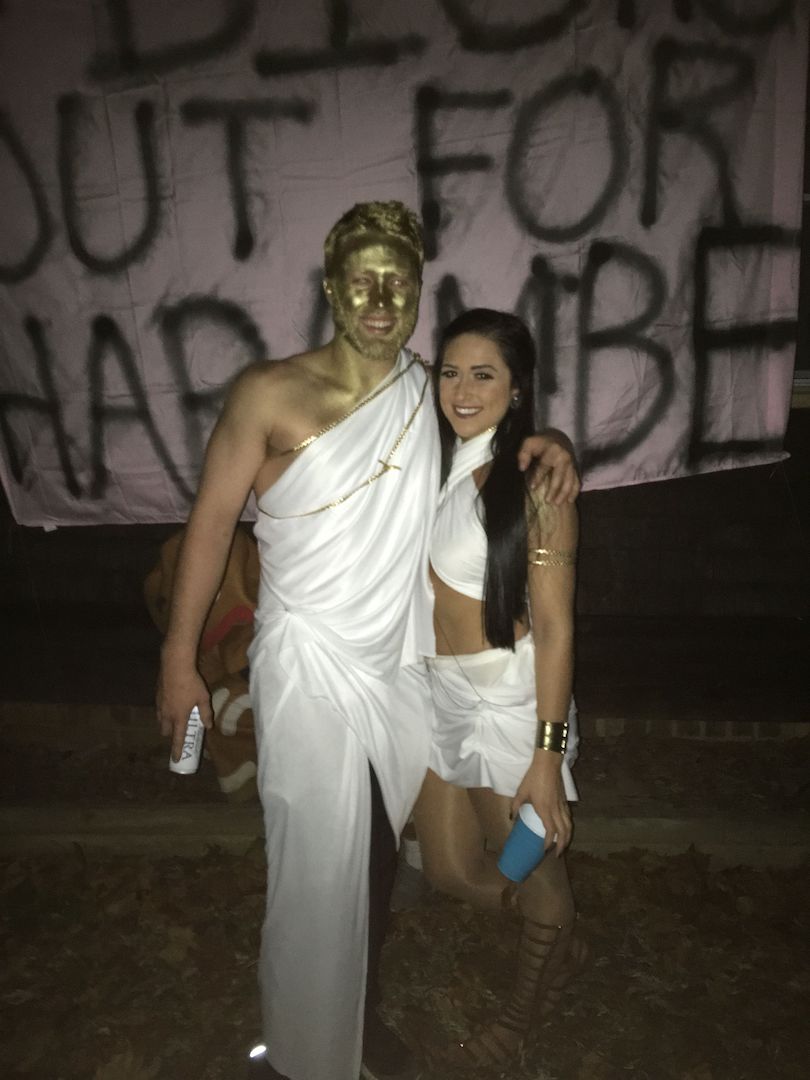 Want to go with something unusual but fun? You may consider dressing up as Aphrodite and your beau as Hermes. You will look like an elegant couple, dressed up as the ancient Greek gods.
13. Bacon and Egg Halloween Costume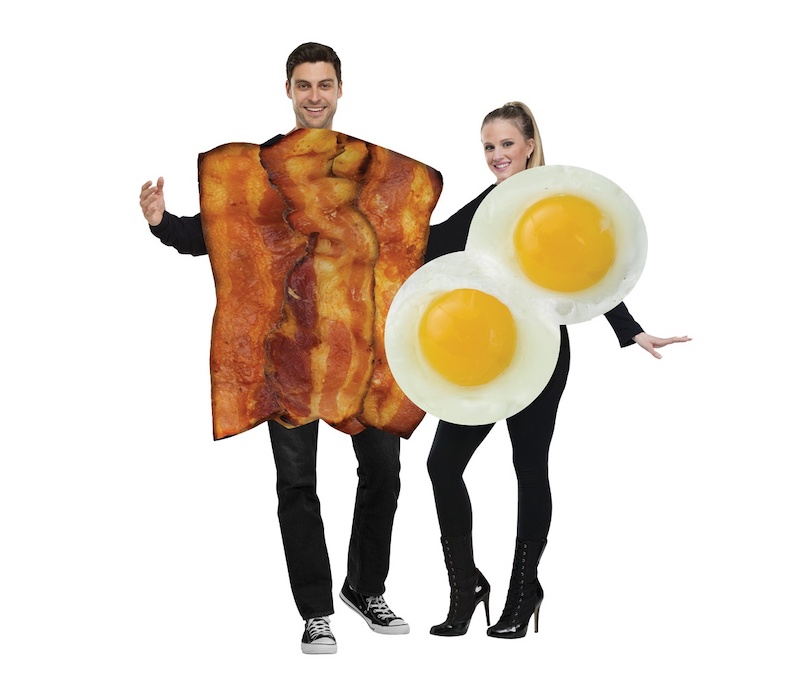 Love food too much? If so, what are the better couples Halloween costumes than the bacon and egg outfit? These costumes are easy to wear over any outfit. Hence, it is an easy and quick fix when you are running behind.
14. Barbie & Ken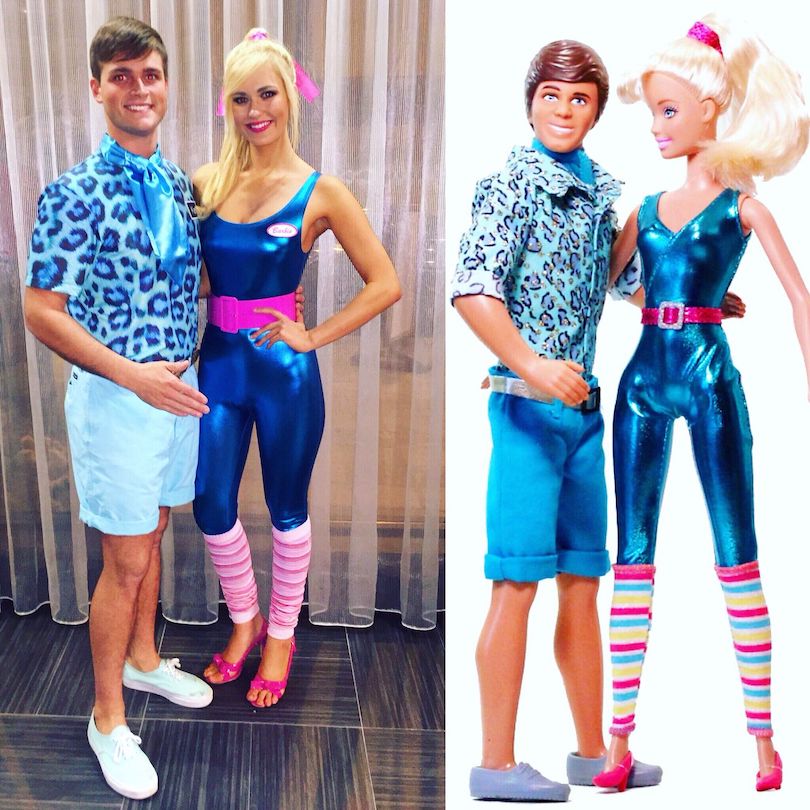 Barbie and Ken is one couple that's adored by many around the world. So, you can choose his outfit to add some fun factors to Halloween. You can find this costume in any online or offline store.
15. Bandits Couples Halloween Costumes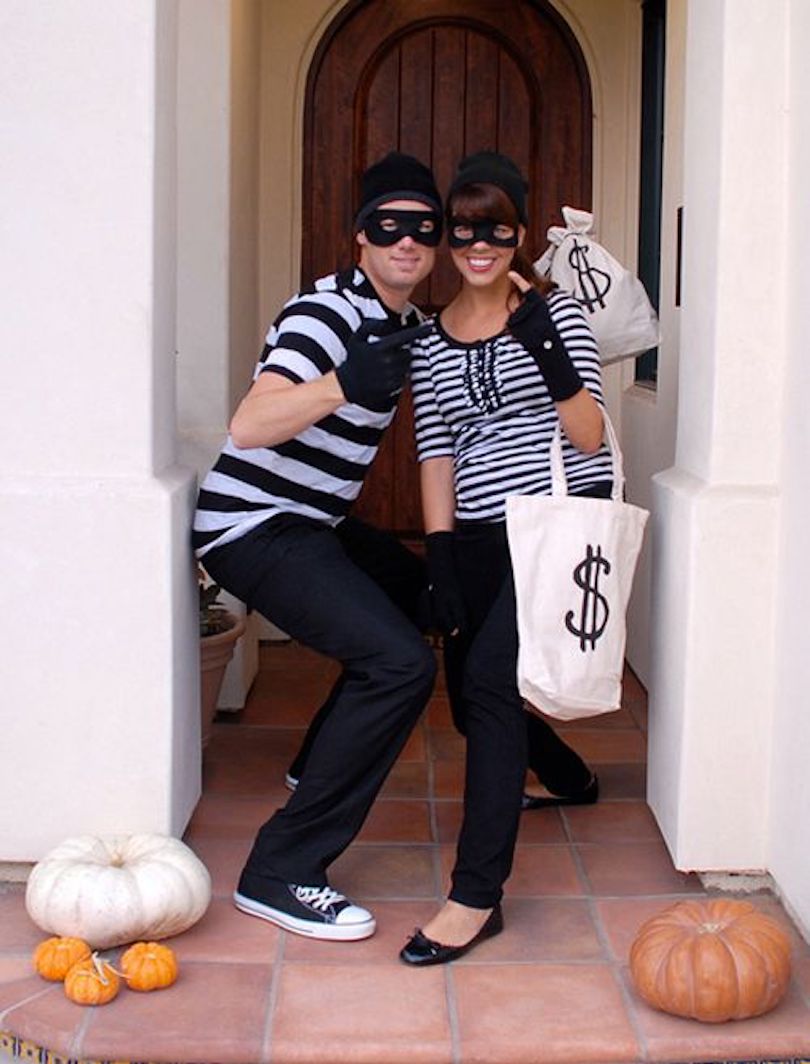 In childhood, you may have pretended to be one of the "bad guys" during playtime. Bring out that side by dressing up as cool bandits with your partner in crime.
16. Mummy Couples Halloween Costumes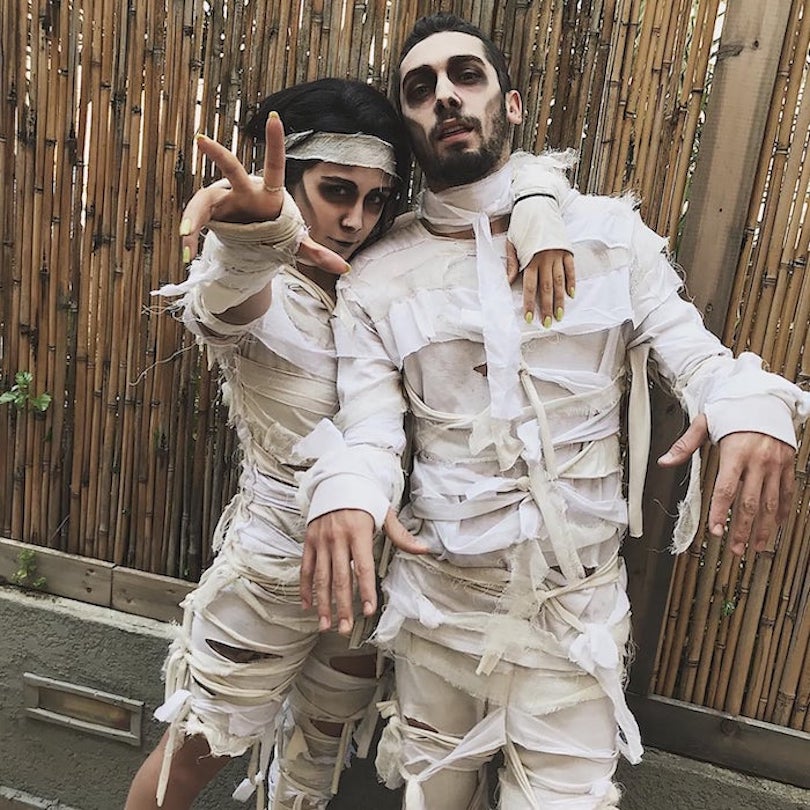 Have a look at this couple dressed up as mummies. With the right makeup, cotton rolls, and some accessories, you can easily create the look of a mummy couple.
17. Maleficent & Her Raven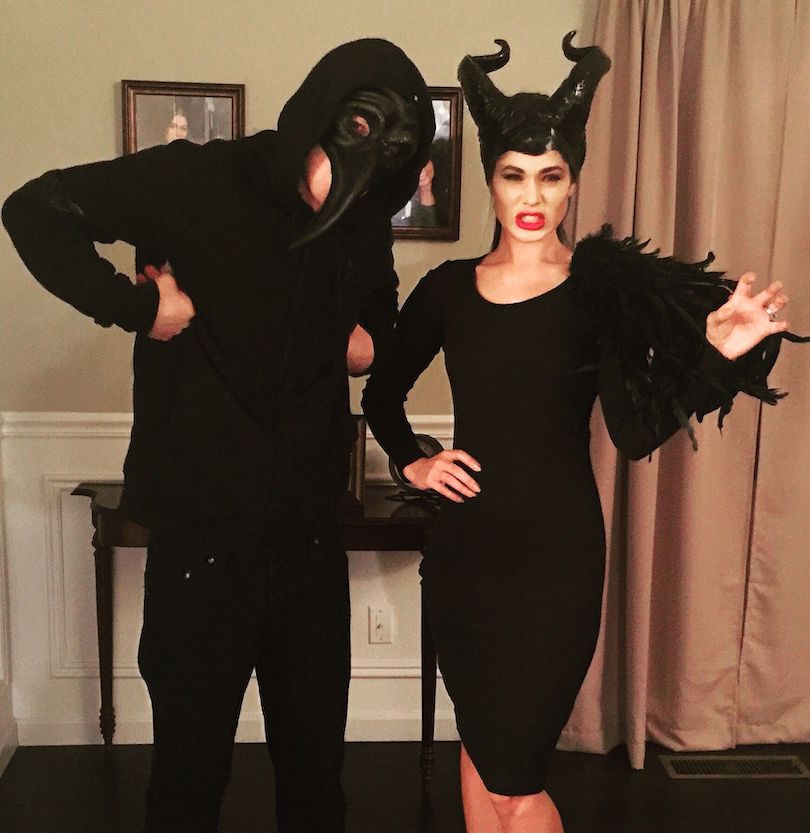 Want to play the wicked role at the spooky party? Try the Maleficent and Her Raven Halloween costume. While the Maleficent look will take more time to complete, the raven costume is easy to create with a simple black tee and jeans along with a black crow mask.
18. Wonder Woman & Cowboy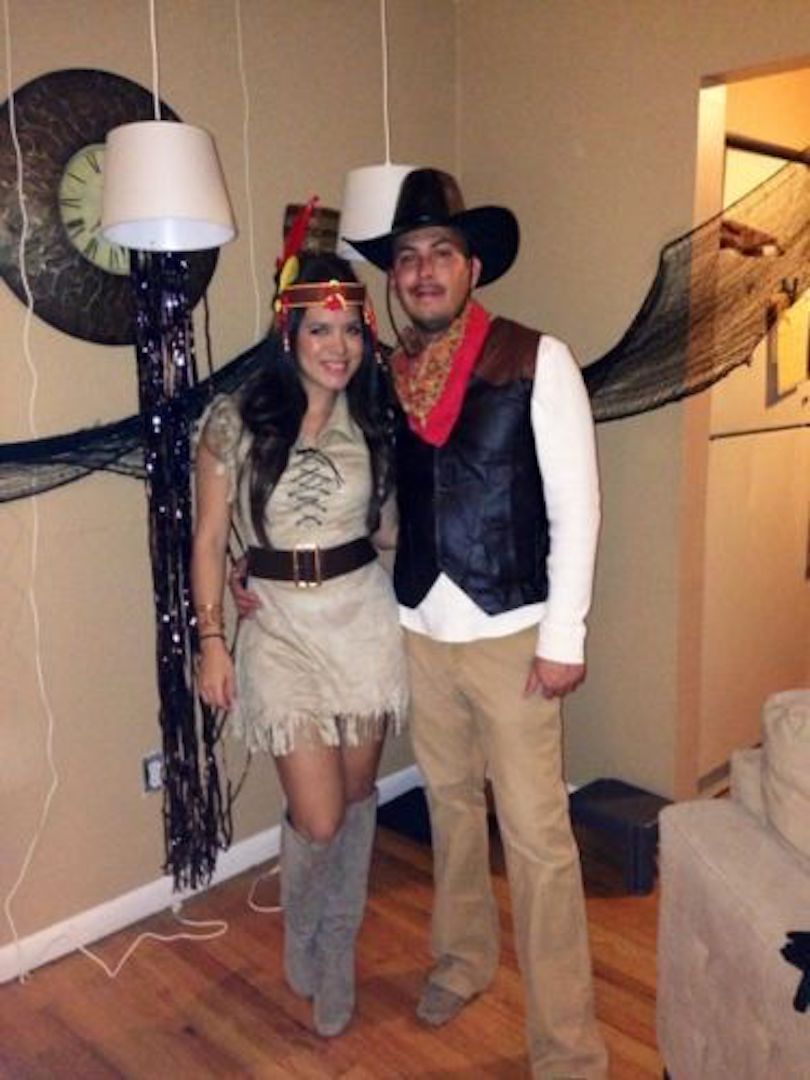 While creating a wonder woman costume is not a unique idea, teaming it with a cowboy costume may add some different touch to the whole look. This look is very easy to create with the right clothes and accessories.
19. Dalmatian & Firefighter Halloween Costume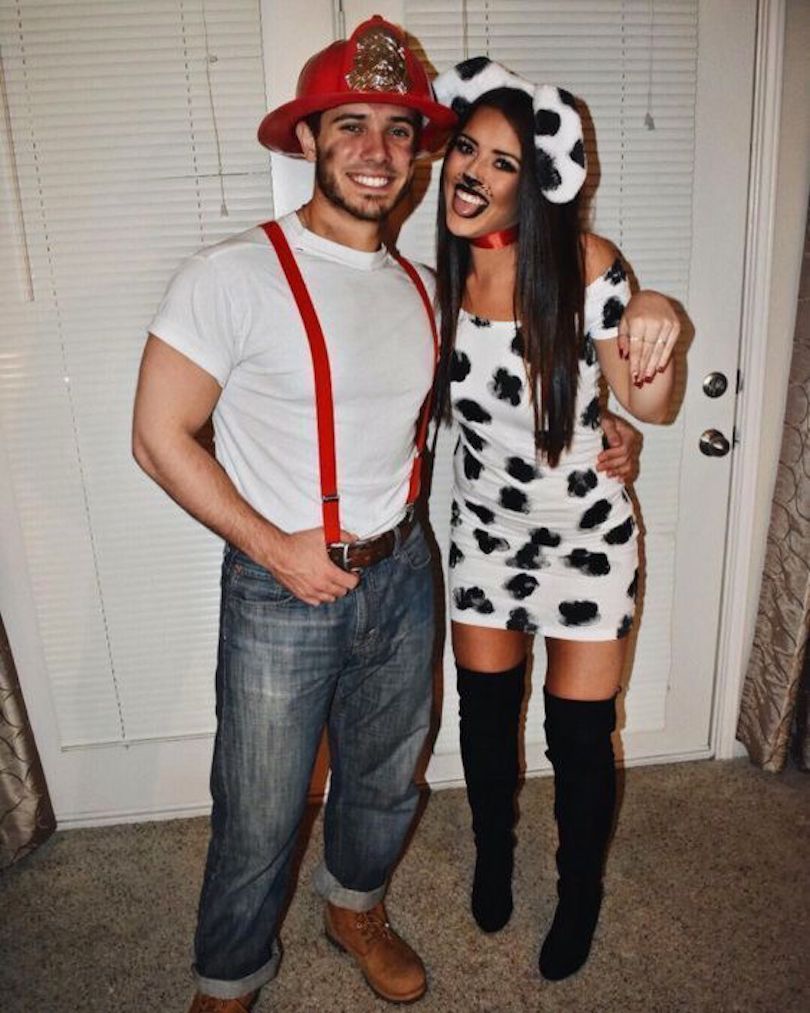 The firefighters and Dalmatians are good friends. Show off their bond this Halloween with this amazing costume idea.
20. Sun Flower and Gardner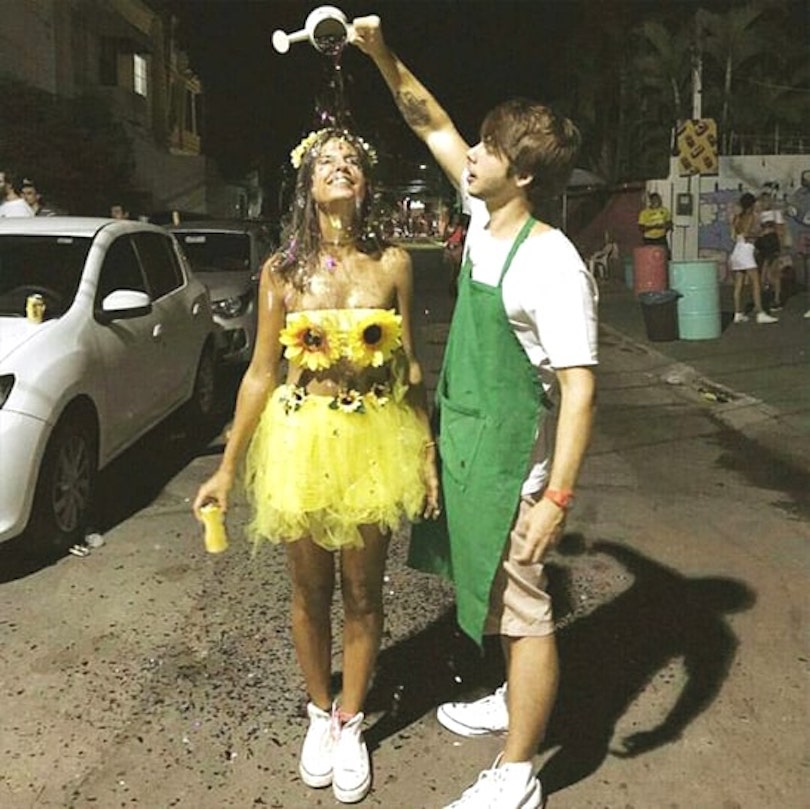 It is one of the adorable Halloween costumes for partners. It is very simple and easy to create. You can get a simple crop top and yellow tutu skirt and some sunflowers to create this look. And, for your partner, you only need a gardener's green apron to wear over any casual outfit.
So, these are some fun yet scary Halloween costumes for couples to try this year. We are sure you'd create a buzz this Halloween with these outfits.
Happy haunting!