5 Halloween Cookies Recipe Ideas For Frightfully Delicious Treat
This year, welcome October 31 in the full spooky spirit with amazing homemade Halloween cookie recipe ideas. You can choose to make Halloween sugar cookies, sandwich cookies, or any other spooky cookies of your choice. All these delicious treats will make your kids and guests feel more than welcomed for the huge trick-or-treating festivities.
Plus, if you are planning a grand Halloween party, these easy-to-make treats are perfect to satisfy your guests' sweet tooth. You can even serve them with boozy or non-alcoholic beverages. No matter how you decide to serve it to your guests, these Halloween cookies are likely to grab all the eyeballs at your spooky party.
5 Halloween Cookies Recipe Ideas
Here are our top tried-and-tested Halloween cookies recipe ideas that you must consider for your scary party:
I. Spider Cookie Truffles – Halloween Cookies Recipe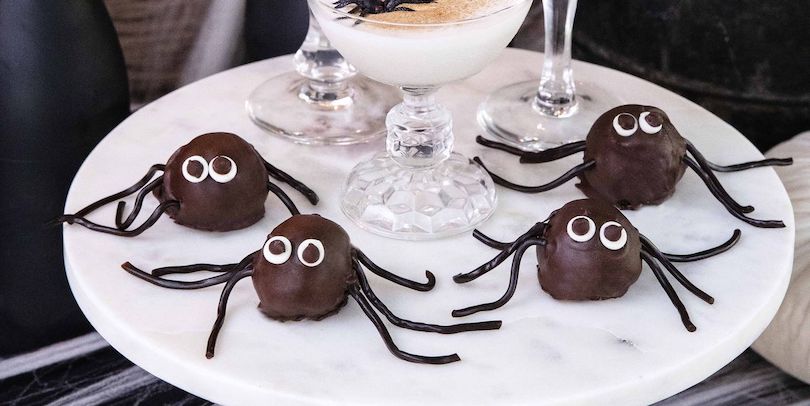 These are very easy-to-make truffles that need no baking. They are the perfect combination of cute, bite-sized, and a bit of creepiness.
Ingredients:
* 3 to 36 chocolate sandwich cookies, 12-ounce semi-sweet chocolate chips (melted), around 8 ounce pack of cream cheese that's cut into pieces at a room temperature, black string licorice, and Edible candy eyeballs
Recipe steps:
1. Line one baking sheet evenly with wax paper. Now, process cookies in your food processor until fine crumbs forms for around 30 seconds. Next, add cream cheese and pulse until mixed properly. Maybe for around 15 to 20 times. Scoop this mixture into balls of 1 1/4-inch ball and keep putting them on a prepared baking sheet. Let them freeze until one hour.
2. Now, dip cookies in melted chocolate and get back to the baking sheet. Decorate it with black string licorice and edible candy eyeballs. Further, refrigerate them for 1 hour.
II. Spiced Chocolate Bat Cookies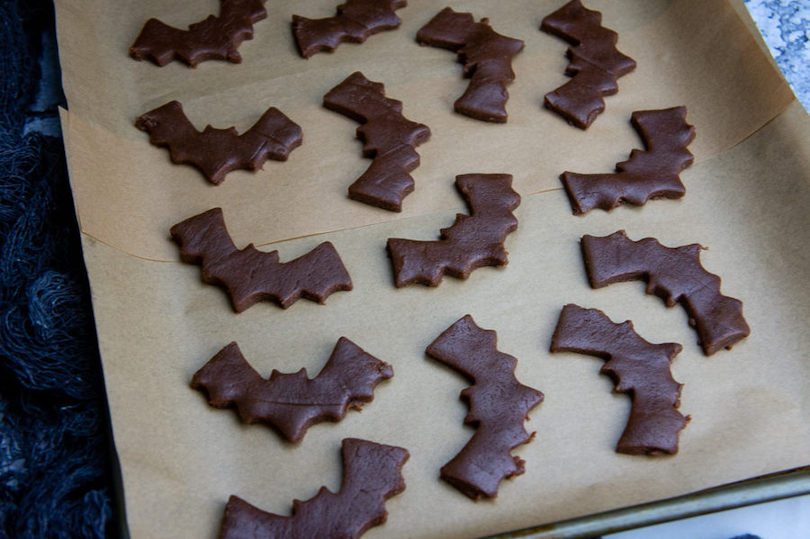 These spiced chocolate bat treats are not very sweet. But these are quite fun to create for kids, as well as grownups.
Ingredients for this yummy Halloween cookies recipe
* Two 1/2 cup flour, 1/2 tsp. ground cinnamon, 1/2 cup dark chocolate powder, 1/2 tsp. ground cardamom, 1/2 tsp. baking soda, 3/4 cup dark brown sugar. You also need 1/2 tsp. fine sea salt, 1/2 tsp. baking powder, 1 large Egg, 1 1/2 stick unsalted butter, 1/2 c. unsulphered molasses, Granulated sugar, and Silver edible sugar pearls
How to Prepare
1. In a big bowl start whisking the first 7 ingredients until mixed well. And, keep them aside.
2. Put butter and sugar in a large bowl and beat it with a paddle attachment via an electric mixer. Now add egg and beat it until it gets pale and fluffy. Keep beating until 4 minutes. Add molasses and mix properly for around 1 minute.
3. After that, divide the dough in half. Put each between two parchment paper pieces. Roll it to form a 3/8-inch-thick disk. Later, refrigerate it for 1 hour.
4. Pre-heat over to 325-degrees and dust the countertop with cocoa powder.
5. Put the dough to your countertop and cut cookies using a bat-shaped cutter or any other desired spooky character's form. Repeat the same with the rest of the dough. And, place 1-inch apart on a baking sheet lined with parchment paper.
6. Bake for around 12 minutes and rotate baking sheets halfway while baking. Do it until the cookies are crisp. Then, lightly press two sugar pearls into each cookie to make eyes. Let these cookies cool for around 5 minutes on the baking sheets.
7. You can use a pastry brush to lightly apply water coats on the tops of bat wings. Sprinkle with sugar and let it set.
III. Halloween Peanut Butter and Brownie Batter Cookies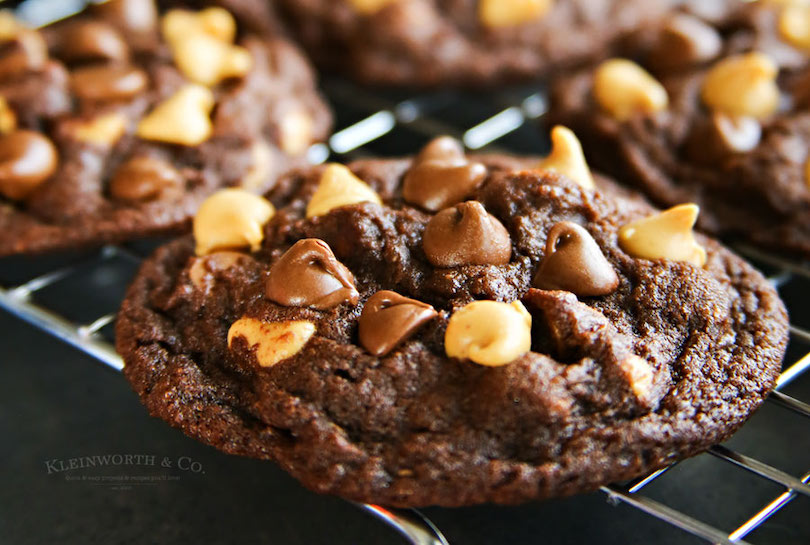 Looking at these tempting cookies, you might wish to grab them through your computer screens and take a bite. The good news is that they have a very easy Halloween cookies recipe, using peanut butter and brownie batter. Plus, it goes with the festive color theme.
Ingredients for this recipe
* 1 cup brown sugar, 1 cup softened unsalted butter, 1/2 cup creamy peanut butter, 1 cup granulated sugar, 2-ounce semi-sweet baking chocolate (melted), 1 tbsp vanilla extract, 2 large eggs, 1 cup cocoa powder, 3 cups all-purpose flour, 1/2 tsp salt, 1 tsp baking soda, 1 package M&Ms, and 4 tbsp whole milk.
Cookie Recipe:
1. In a bowl, mix cream, brown sugar, butter, and granulated sugar with a stand mixer or hand mixer. Keep mixing it until the mixture becomes fluffy. Put peanut butter, as well as melted chocolate into the mixture, and keep stirring. After that, add each egg (one after the other) and keep mixing until combined well. Further, add vanilla extract to the mix.
2. In another bowl, whisk flour, cocoa powder, salt, and baking soda. Add these dry ingredients into the wet ones and then turn the mixer on a low speed until most of the dry ingredients gets absorbed. Gradually, increase the speed to medium and mix it thoroughly. A soft dough must have formed by now. Add milk into this dough and further mix it well. Remove the bowl from the mixer and carefully fold it in the M&Ms. Now, cover the bowl using plastic wrap and keep it in the refrigerator for 1 to 2 hours.
3. Once the dough gets cooled down, preheat it again to 350 degrees Fahrenheit and line two large baking sheets along with parchment paper. Place tablespoon-sized portions of cookie dough on the baking sheets. Keep only 9 to 12 cookies per baking sheet. Bake for around 12 minutes or the cookies may start setting but remain soft in the center. After removing from the oven, bake the rest of your cookies as well. Let them sit on the baking sheet for around 5 to 6 minutes. Then, transfer them into a wire rack for cooling.
IV. Black Cat – Halloween Cookies Recipe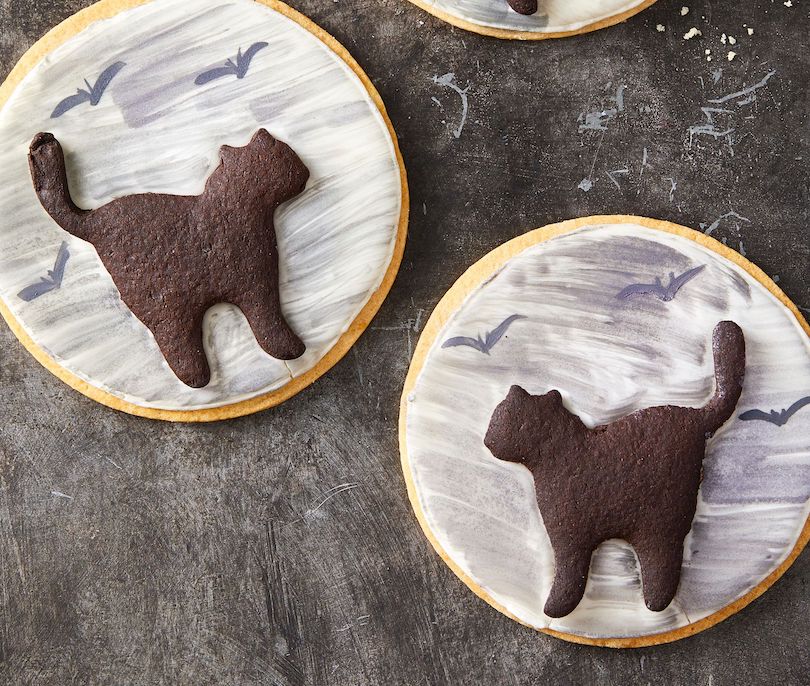 No bad luck, just black cats! That too prepared from tasty Black Cocoa cookies. The design of these cookies seems as if the black cats are crossing in front of a full moon while bats are flying over them.
Ingredients for This Halloween Cookies Recipe
* Basic Sugar Cookies, Royal Icing, Black Cocoa Cookies, Black and silver luster dust, and Vodka or other clear alcohol
Directions to Make
1. Prepare cookie dough as you usually do. Use flour-coated circle cutters for cutting out sugar cookie dough in round form. Use cocoa-coated cat cutters to cutting cats from the black cocoa dough. Bake as per the directions given above for other cookies and let it cool.
2. Make use of royal icing for decorating sugar cookies and fix cat cookies on the top.
3. Mix a small portion of silver luster dust with clear alcohol and apply it to the royal icing using a paintbrush. Apply small brushstrokes and repeat with black luster dust for painting the bats.
V. Coffin Sandwich Cookies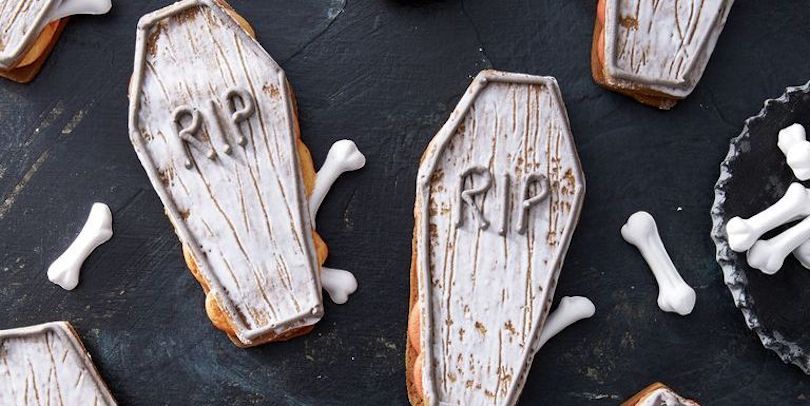 Ask your guests to open up these spooky coffin sandwich cookies, if they dare. There is a creepily good surprise for them inside. The Halloween cookies recipe for this trick-or-treat is a little time-consuming. But the result is worth the effort.
Ingredients
To Make Cookies:1/3 cup cornstarch, 3/4 tsp. kosher salt, 2 tbsp. unsweetened cocoa powder, 1 cup packed light brown sugar, 2 sticks unsalted butter (softened), 2 large eggs, 1/2 cup molasses, 5 cups all-purpose flour, and spooned and leveled
White Chocolate Bones: 1/2 cup white chocolate candy melts
Buttercream Filling: 1 1/2 cup sifted confectioners' sugar, 1/2 cup (1 stick) unsalted butter, 1/4 tsp. pure vanilla extract, Red food coloring, Pinch kosher salt, Orange food coloring
The Royal Icing: 2 tbsp. meringue powder, 2 cup confectioners' sugar, Black food coloring
Recipe Directions:
1. To make cookies:
* Preheat oven to 375°F. And, line four baking sheets using parchment paper. And, then whisk together cocoa, cornstarch, and salt in a bowl.
* Beat sugar and butter using an electric mixer on just medium speed for two to four minutes until the mixture gets light and fluffy. Add molasses and beat the mixture until incorporated.
* Now, neat eggs, one at a time, while scraping its bottom and bowl's sides after each egg addition. After that, reduce the mixer speed to medium-low and keep beating in cornstarch mix.
* Also, beat the flour until it's incorporated. Now, divide the dough into two parts and wrap with plastic wrap and flatten it. Let it chill for at least one hour for two days.
* Roll dough for about 3/8-inch thickness on the floured work area. Now, cut coffin shapes using a 3-inch coffin cookie cutter. Later, transfer it to prepared baking sheets. Let it bake until cookies are set around their edges but they must be still soft in the center (for around 8 to 9 minutes).
2. White chocolate bones:
For this, you have to melt candy melts as per the package directions. Next, transfer it to a zip-top bag and put a small hole in its corner. Now, fill the bone mold using melted candies. Let it cool until it gets firm (for around 20 to 30 minutes). Then, tap out of the molds.
3. For filling:
You have to beat butter using an electric mixer on only medium speed. Keep mixing until formation of a smooth, creamy mixture (for around 1 to 2 minutes). Add confectioners' sugar, as well as 1/2 cup at a time while mixing it well. Also, scrape down the sides of the bowl. Add vanilla extract and salt and keep beating. Use orange and red food coloring dye for keeping its deep orange color.
4. Royal icing:
Mix meringue powder and confectioners' sugar in a bowl. Add 1 1/2 tbs water and mix to combine.
These are some easy-to-make, frightfully delicious Halloween cookies recipe ideas for you. With these treats, you'll leave your guests impressed with scary fun on All Hallows Eve.