10 Scary-Fun Halloween Breakfast Ideas To Impress Your Family
Since Halloween is just four weeks away, you must have started thinking about what meals to prepare for your family that day. So, why not just start your morning with the right food with these delicious Halloween breakfast ideas that will make your mealtime extra creepy and fun.
From seasonally influenced meals, like pumpkin-based toasts, to clever monster-themed recipes, here we have shared some amazing Halloween-worthy dishes to make your day even more special.
For being more creative with these fun treats, you can also add simple pumpkin patterns, decorative spider webs, or spooky mummy faces with colored frosting.
You can make all these tasty recipes by simply whipping the frosting and syrups the night before. And, in the morning, simply grab the mix and prepare your quick breakfast.
10 Halloween Breakfast Ideas
Here's our list of the 10 fun Halloween breakfast ideas to impress your family on the spooky morning of the year:
1. Bloody Pancakes – Halloween Breakfast Ideas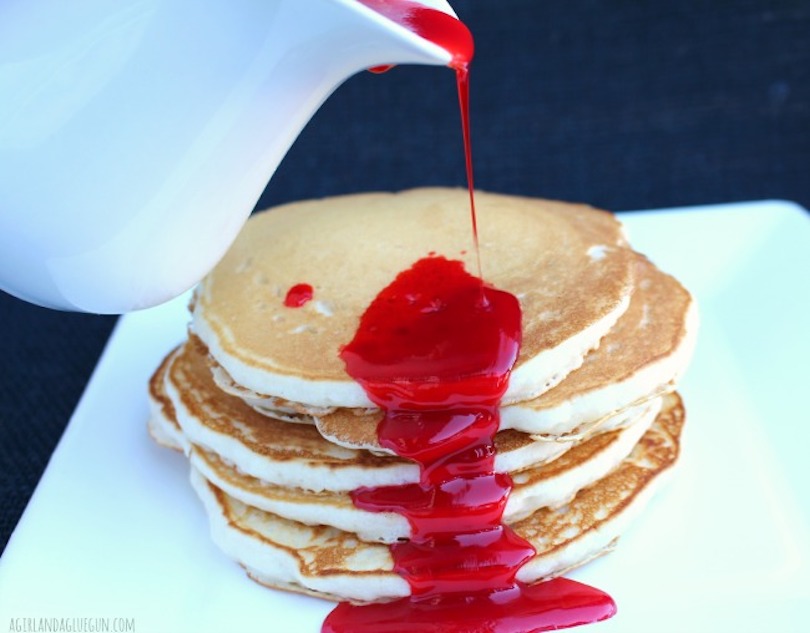 This is a fantastic buttermilk pancake recipe that's served with yummy strawberry 'blood' syrup. If you don't want to put too much effort, you can even use instant packed pancakes to make this breakfast. The 'blood' syrup consists of corn starch, frozen strawberries, chocolate syrup, and sugar. You'll be so surprised to see how chocolate syrup gives a deeper and darker blood-red tinge to the red strawberry juice.
When served in the morning on Halloween, your family will be surprisingly happy to see this creepy but fun meal. Just try it and see the crazy reactions of your family members.
2. Healthy Witch's Brew Breakfast Pudding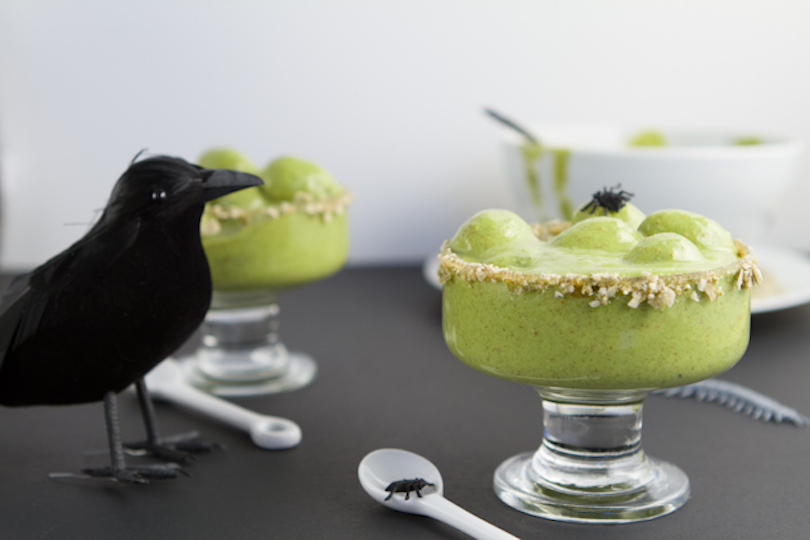 Since classrooms are already provided with candies during the festive season, we understand you don't want to give your child something very sweet. Therefore, this Witch's Brew Breakfast pudding is a great healthy combination of bananas, spinach, and grapes. Besides fruits, it also contains other healthy ingredients, such as flax seeds.
The grapes are great for making big 'bubbles' and also to give a sweet kick to this healthy morning meal. So, you don't have to feel guilty about giving too many sweets to your kids with such healthy Halloween breakfast ideas. If your kids like it, it may become their regular breakfast too.
3. Purple Healthy Vegan Monster Oatmeal – Halloween Breakfast Ideas
Here is another amazing healthy breakfast option that is vegan and dairy-free, gluten-free. This is a purple oatmeal monster oatmeal with marshmallow eyes, pecan hair, and almond silver teeth. You can use a purple sweet potato to give this meal a natural purple hue.
Due to its ingredients, it is high in fiber and also soy-free. This is also a good breakfast option for kids with food allergies. So, you may consider adding it into their regular meals as well. Even grownups are going to love such amazing Halloween breakfast ideas.
4. Dracula Pancake – Halloween Breakfast Ideas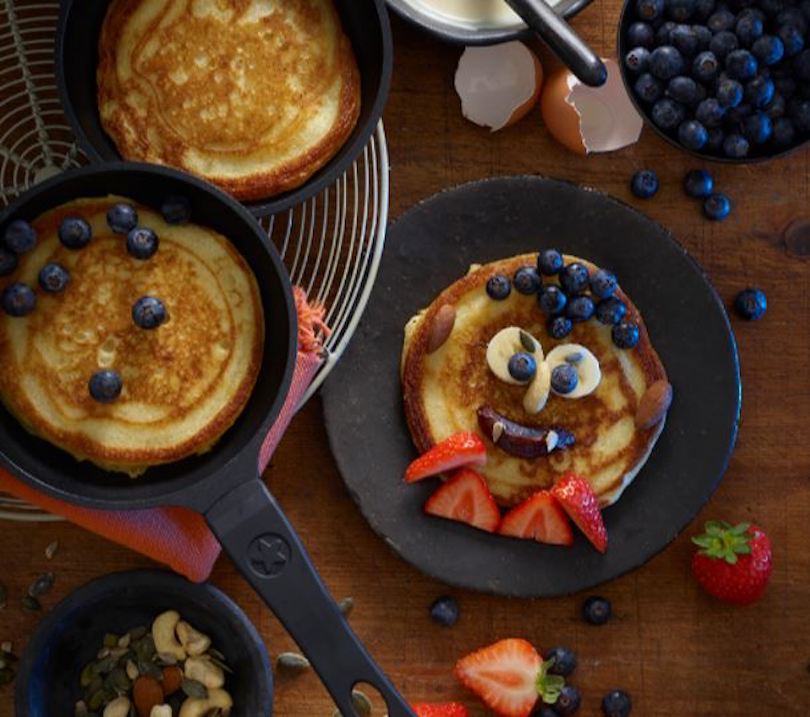 This creative yet tasty Dracula pancake is easy to make with any tasty pancake mix. It can be in any flavor you prefer. It is an adorable breakfast creation that kids and grownups will love alike. The fun part is that different food ingredients, such as olives, strawberries, marshmallows, etc., are creatively used to make an adorable-looking Dracula face.
The dish is very easy and quick to prepare. You can prep up its decorative accents while your pancakes are cooking. All this is easy to complete in just 10 minutes. Hence, it is a super quick and easy-to-make breakfast dish that can blow anyone's mind, especially the kids.
5. Chocolate Donut Spiders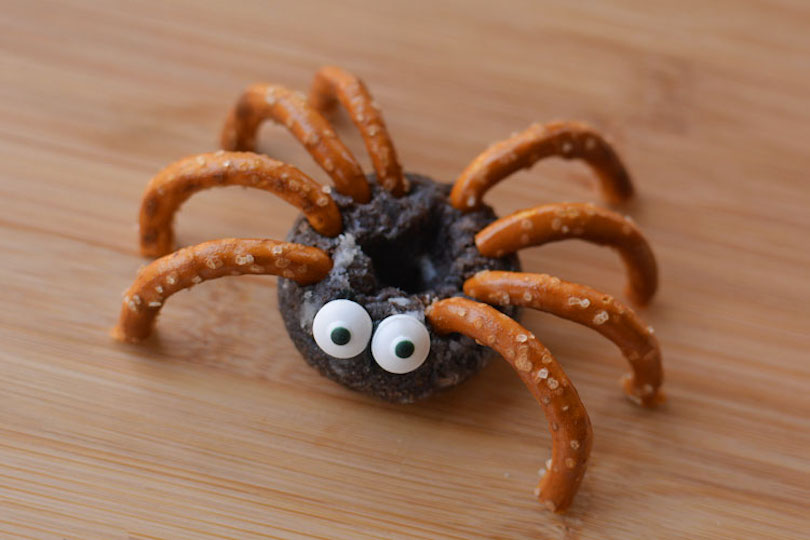 This is one of the easy-to-make Halloween breakfast ideas. And, no baking or time-consuming cooking! All you need is a pack of mini donuts and a few sweet accents, such as candy sprinkles and licorice. You can melt some chocolate on it and also stick licorice legs and eyeballs on donuts. This is how your donut spiders will be ready in a few minutes. These fun donut spiders would be perfect for breakfast on the day of Halloween. Or, you may send some of these with your children for their school parties in the classroom.
6. Mummy Kolaches – Halloween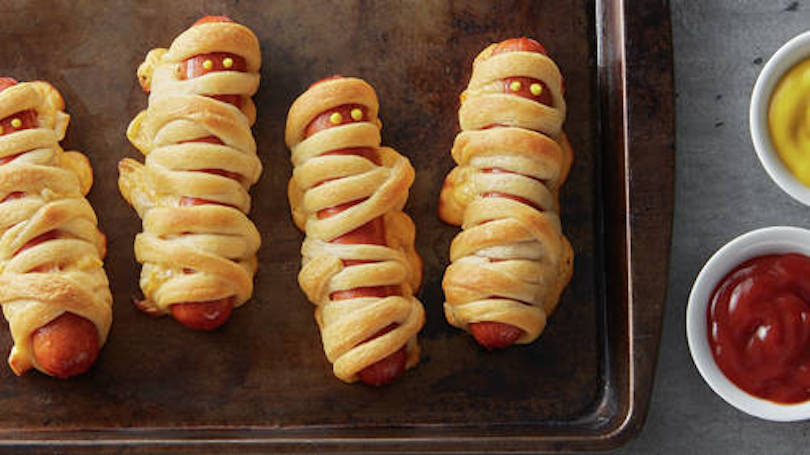 These kolaches are fun to prepare at home. These are meat wrapped in flaky bread. But what about the fun mummy-themed kolaches as Halloween breakfast ideas?
All you need to do is collect some sausages and start wrapping them in finely cut pastry rolls. You can even fill them with more cheese for some extra kick. According to us, this dish would be cute for a Halloween party, Halloween breakfast, or as a fun Halloween snack.
7. Vegan Zombie French Toast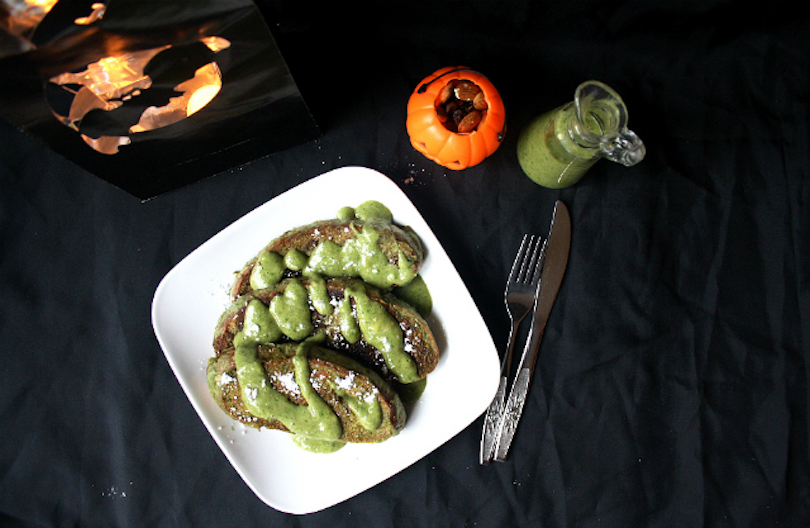 Don't eat any animal-related products? So, you can consider making a perfect vegan breakfast. It is cleaver yet easy to make using coconut milk, banana, spinach, maple syrup, and cinnamon. You need to dip pieces of bread into the tasty zombie mixture and then put them on the griddle.
The final dish is a zombie-inspired, green vegan French toast. It is healthy, as it includes different veggies and fruits. So, kids won't even know what veggies they are eating in form of these zombie toasts. Hence, it is a good way to make your kids eat more veggies.
8. Mummy and Monster Donuts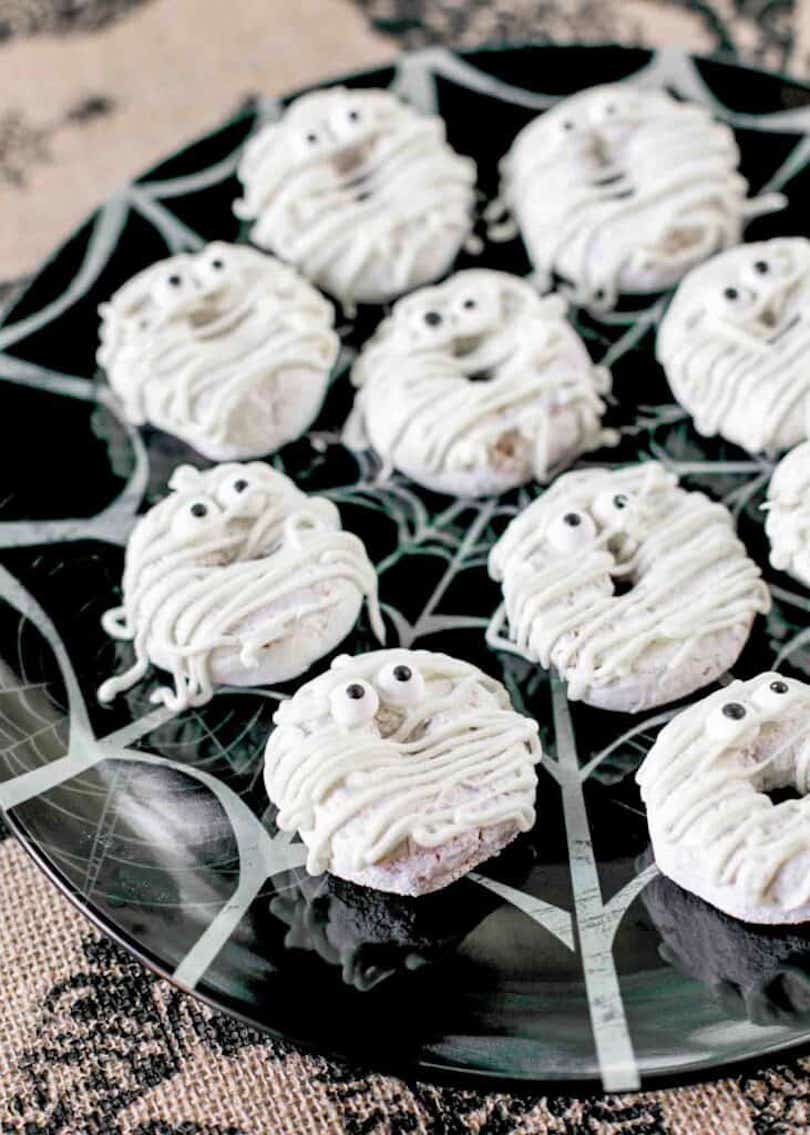 You can prepare these cool mummy and monster donuts in two ways – monster green or monster white icing. Once the icing is ready, put it on all donuts and add some googly eyes on it. When you put striped white icing on the top for perfect mummy-like donuts.
It means that you can add googly eyes to any dish and turn them into adorable monsters. You can also make their eyes look in different directions. And, that's how they will transform being cute to creepy.
9. Candy Corn Homemade Pop-Tarts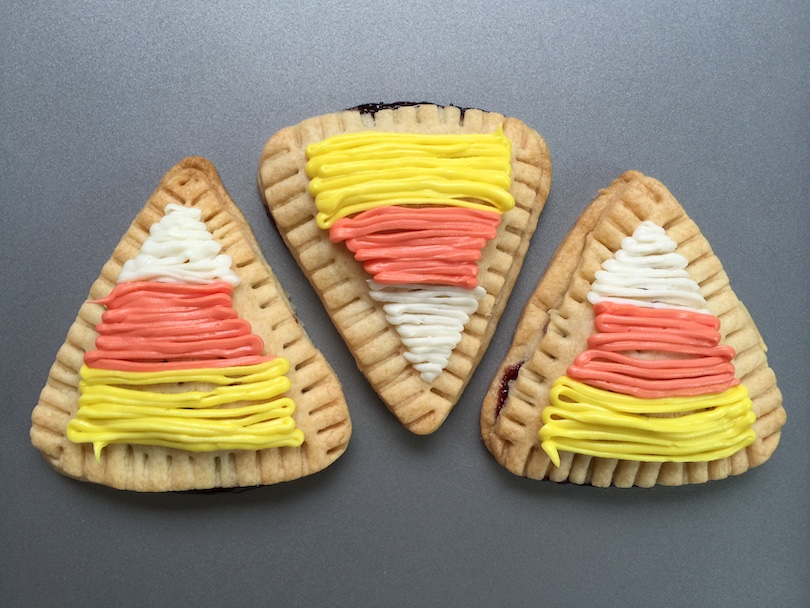 These homemade pop-tarts are one of the amazing Halloween breakfast ideas you need to try this year. These contain lots of sugar, but who cares? These are very delicious. Fill candy corn pieces into two pieces of the pie crust. And, bake them in your oven.
After that, cover the top in an orange, white, and yellow sugar glaze for an extra dose of sugar. If you want to go all out this All Hallows Eve, you'd never go wrong with such an amazing Halloween-themed recipe.
10. Pumpkin Jack-o-Lantern Toast – Halloween Breakfast Ideas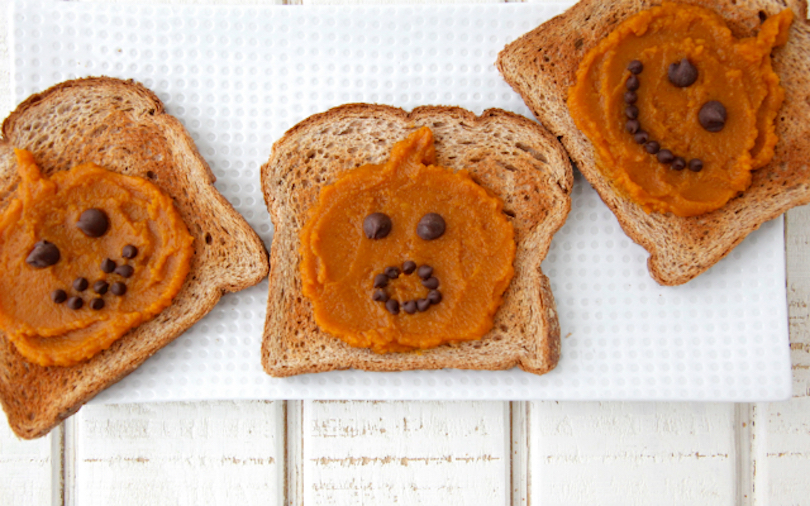 Here's one of the most simple Halloween breakfast ideas for the quick morning meal. Although it is very simple to prepare but has a great visual impact. For this toast, you can try to make homemade pumpkin butter or get it from a store near you.
After that toast your bread and add pumpkin butter on the top and spread it in jack-o-lantern's shape. And, you can use mini chocolate chips for making a cute face. If you don't find pumpkin butter, you may use Nutella or regular butter with food color to make a similar impact.
And that's it, guys! This is our small list of super adorable and spooky Halloween breakfast ideas to celebrate the scariest night of the year in full spirit. All these breakfast fishes are not only for kids. Even grown-ups can enjoy them. After all, these easy-to-make recipes are great to warm up your mornings during the chilly, fall time.