Pumpkin Ideas to Fill Your Halloween With Fun
Although there are a few more months for Halloween, there is no harm to start preparing in advance. If you are a Halloween enthusiast and often wait for this spooky time of the year, we are sure you have already started thinking of pumpkin ideas or other Halloween decorations.
In this article, we share with you some easy DIY pumpkin ideas to add joy to your Halloween 2021. But before we jump into the inspiration, let's find out what makes Halloween so fun and exciting.
What Makes Halloween?
Focusing on what makes Halloween the celebration that it is is an easy and entertaining way to jump on the Halloween decoration bandwagon. The traditional cuisine of the start of fall and the terrible, yet not so scary one-night enjoyment. It may even involve a little mischief. Another image that comes to mind is of dressed children enthusiastically dancing or strolling about their neighborhoods in search of candy for their trick-or-treat bags. Last but not least, there are pumpkin ideas for decorations, which are the focal point of Halloween and help to define it.
Transitioning
Halloween marks the transition from summer's amusements to autumn's festivities, and pumpkin decorations are an important element of that change. Halloween decorations include pumpkin carvings, ghosts, skeletons, ghouls, goblins, spiders, witches, vampires, spiders, bats, spider webs, creepy crawlies, cemetery headstones, and other amorphous creatures and figures.
Pumpkin Ideas For Carvings
Pumpkin carvings and other pumpkin decorations make fall projects exciting, healthful, and innovative. It's also a great way for the entire family to come together. Nothing beats putting a specific pumpkin carving idea to the test and completing it before Halloween. Almost anybody can recall their favorite past pumpkin ideas for carvings. And, they almost certainly have their own unique pumpkin carving idea to contribute to the mix.
Ideas for the Taking and Making
There are hundreds of pumpkin ideas for decor to choose from. The ones shown here include the interest of anyone looking to get their Halloween celebrations. A Halloween pumpkin can take on any depiction, style, disguise, or design. All you need – Carved, stamped, painted, dipped, decoupaged, cracked, sequined, glittery, corded, beaded, stenciled, lettered, fabric wrapped, piled, or planted like a topiary.
Inspiration – Pumpkin Ideas For Halloween
Take a look at some of the following pumpkin ideas for decoration to get inspired and begin your pumpkin craze this fall. Halloween is a stand-alone celebration. And, pumpkins play an important role in various fall decorating schemes. So, allow yourself a head start by including some pumpkin decoration ideas. These ideas will set your pumpkins different from the rest at the pumpkin patch.
1. Metallic-foil pumpkin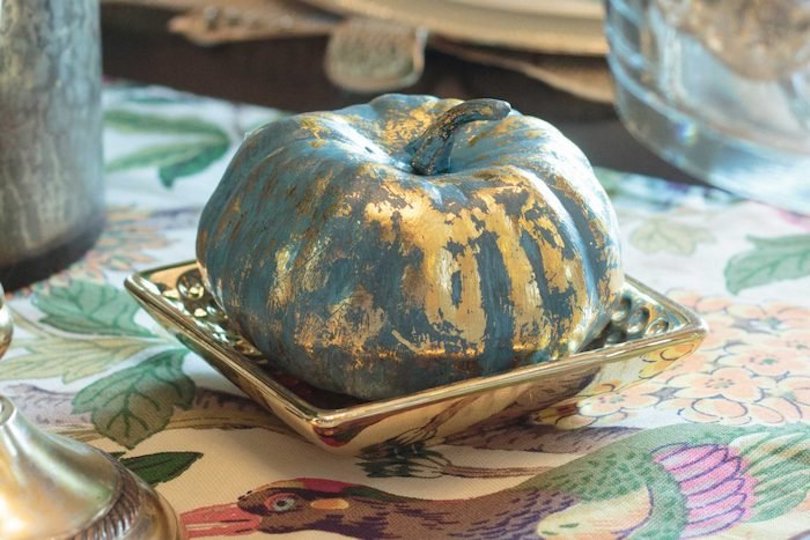 Glitz and glitter can make practically anything look classy. Just look past this metallic-foil pumpkin! These look so lovely that anyone will think that you purchased them. Use chalky paint, faux pumpkins, and craft metallic-foil sheets to make them. Metal foil is significantly more cheap and easy to work with than real silver, gold, or copper leaf. These gilded pumpkins will add a touch of elegance to your Thanksgiving table or any other fall gathering. So, don't miss these additional fall decorating ideas from a prominent interior designer.
2. Mickey Mouse pumpkin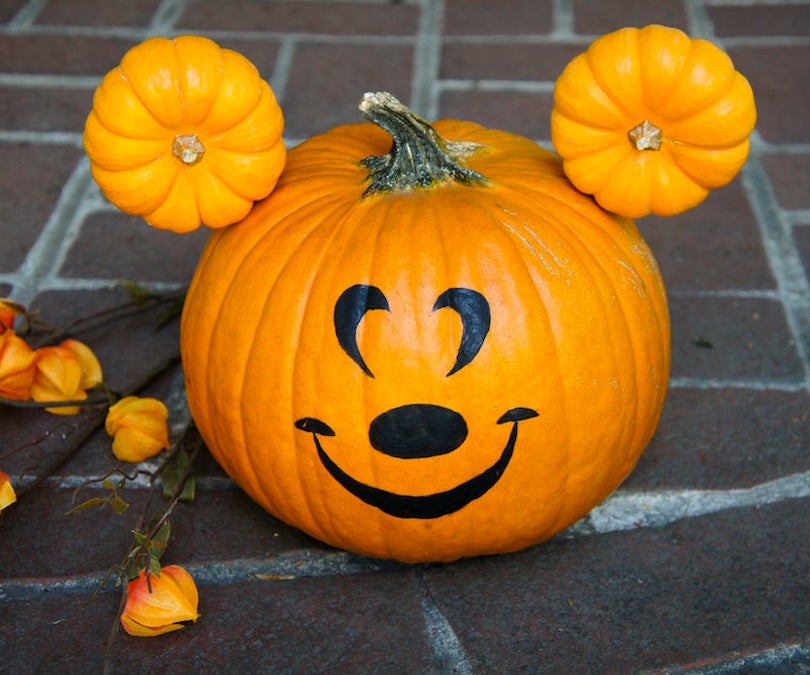 Disney enthusiasts will adore this Mickey Mouse pumpkin. It is also great to use year after year. This design requires one large and two smaller craft pumpkins instead of real pumpkins. The ears, which are neatly fastened with bamboo skewers, are of smaller pumpkins. You'll only need a few more Mouseketools for this project. Paint, a black marker, polymer clay (for the pumpkin leaves), and a glue gun for this project.
3. Beauty and the Beast pumpkin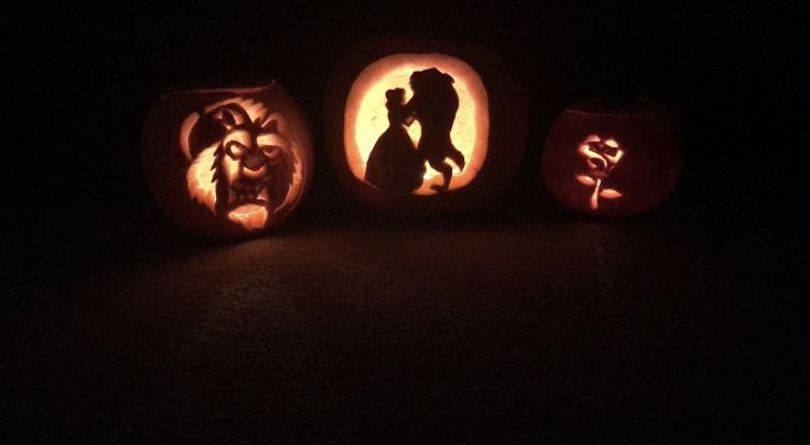 This Beauty and the Beast pumpkin is undoubtedly a novel take on Halloween decor. But it's based on an old story. You can carve the figurines that remind you of the famous characters of the tale. after that put a light source in the carved pumpkins to ensure that the silhouettes stand out in the dark. While it takes some time to put together because the craving is intricate, the end product is magnificent and well worth the effort.
4. Stranger Things pumpkin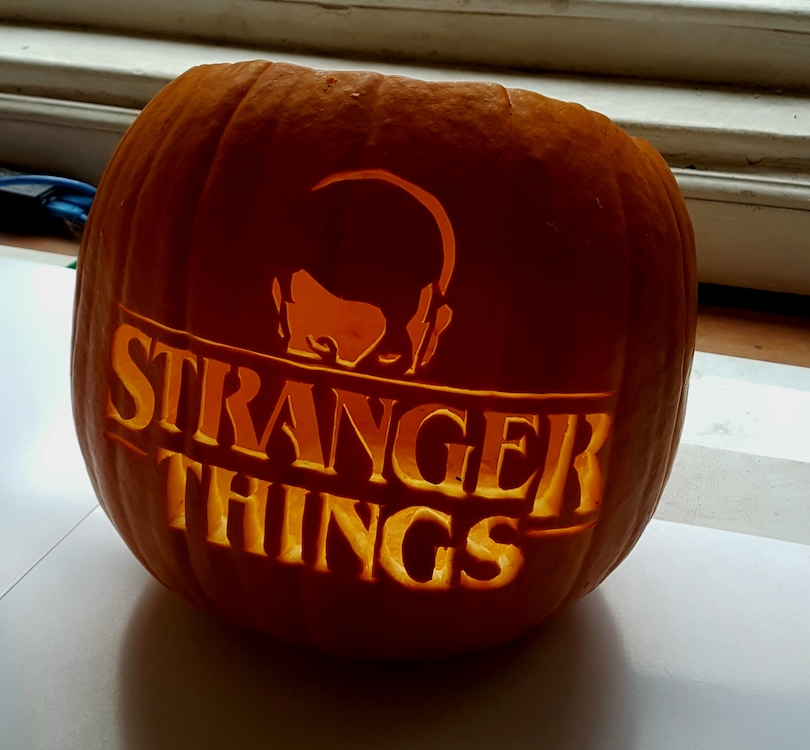 You'll need this pumpkin in your life this Halloween if you binge-watched every season of Stranger Things. Joyce Byers invented a Christmas-light Morse code to communicate with her lost son. The son was in the locked position in the Upside Down, in Love from the Oven. With a little paint and a string of multicolored lights, you can recreate the Byers' living room decor on your own. Also, wear your Halloween face mask if you're going trick or treating this year!
5. Monster pumpkin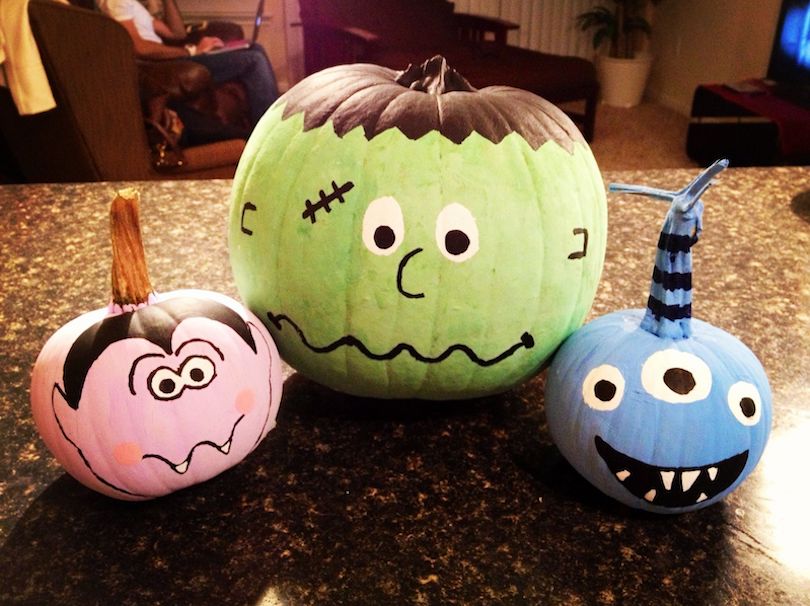 These adorable monster pumpkins will delight your little monsters. You need mini pumpkins, craft paint, glue, gauze, and markers for this spooky good time. Your children may bring their favorite creatures to life by using their imaginations. Always supervise any children's crafts involving glue guns, such as this one.
6. Emoji pumpkin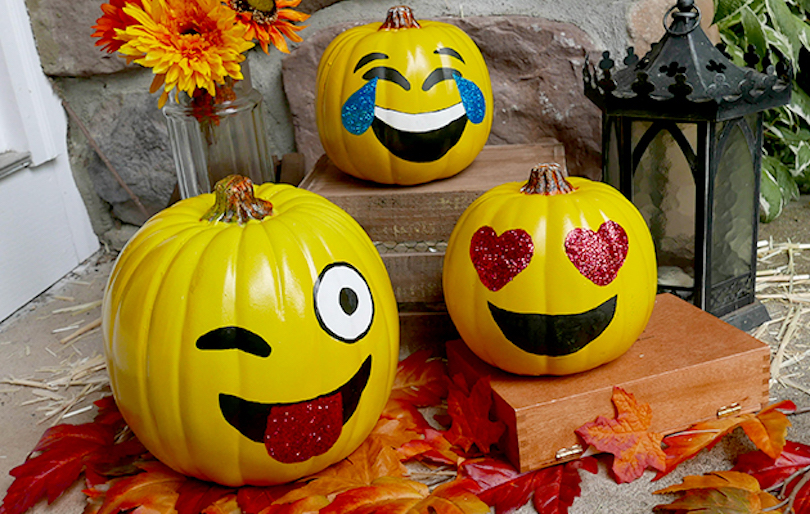 Daily, how many emojis do you use? You might want to keep your response to yourself, but you can carve your choice on a pumpkin come Halloween. Here, there are three different ways to make lovely emoji pumpkins—heart, winky, and smiley. But feel free to follow the general guidelines and get creative with your favorite emoji. Yellow spray paint, craft felt, and adhesive is all you'll need. These are the fun yet creepiest sights on Halloween.
7. Pizza pumpkin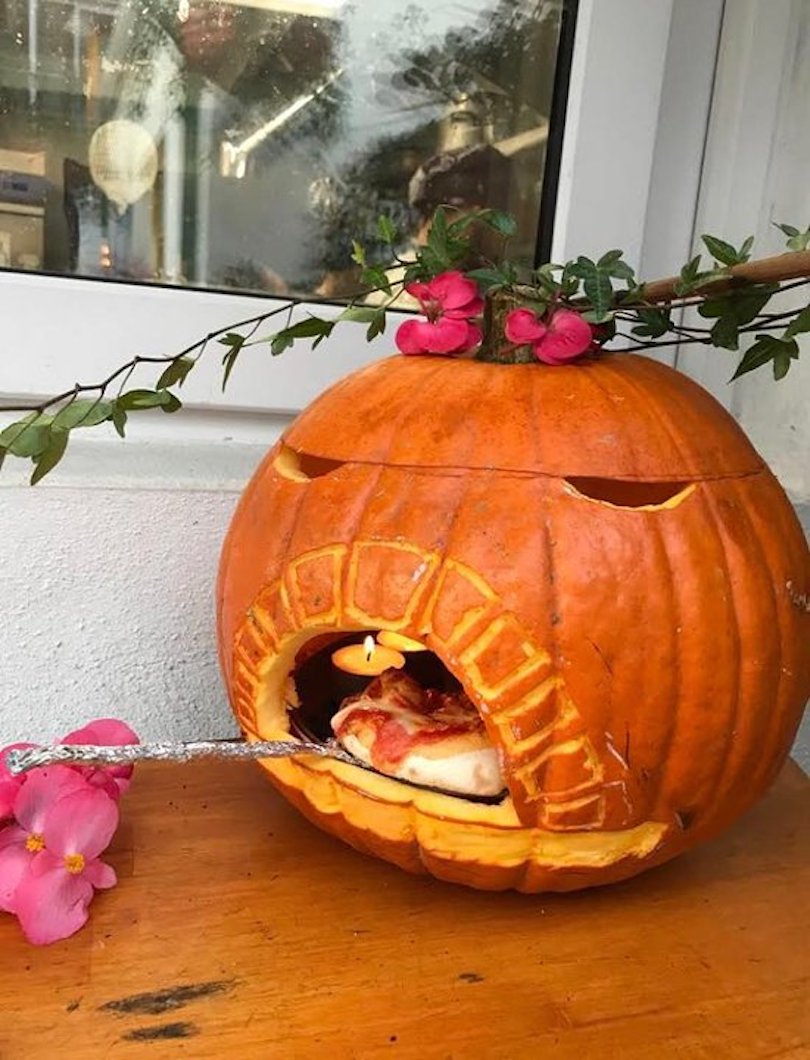 Do you have a pizza fan and a pumpkin fan in your household? With a faux craft pumpkin, paint, and craft felt, it's simple to put all this together. Customize with your favorite toppings for a quirky pumpkin you won't find anywhere else. Plus, any pizza lover would love this pizza pumpkin Halloween decor for the spooky time of the year.
8. Captain Marvel pumpkin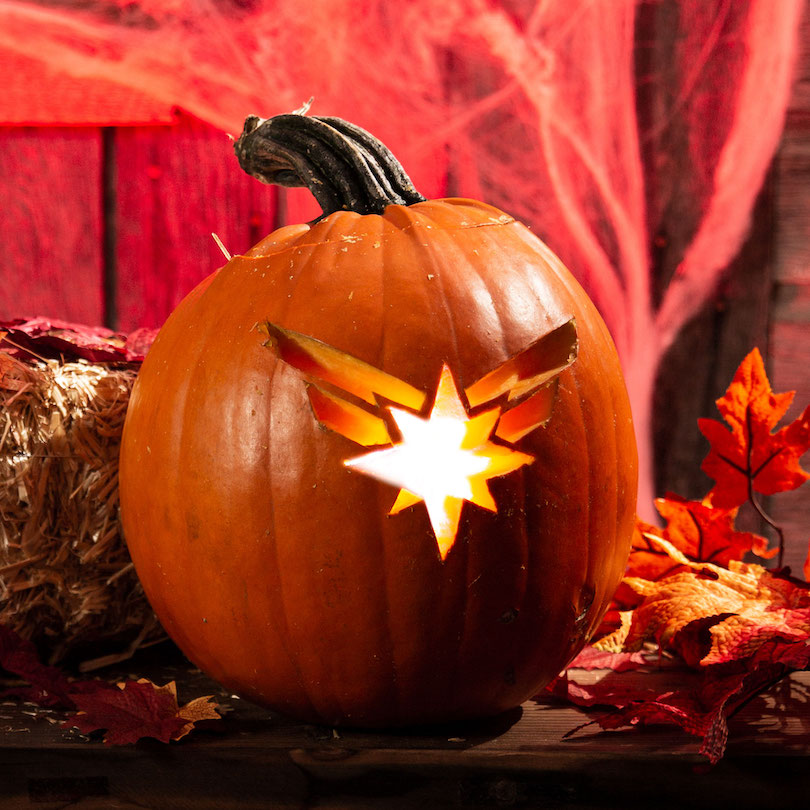 There's a high chance you have seen a lot of Captain Marvels. And, for good cause. She is the embodiment of a hero, and she is the breakout Avenger of 2019. If you loved her, this Captain Marvel pumpkin is just as wonderful as she is. Paint, adhesive vinyl, and masking tape are the only materials needed to build this pumpkin. This Captain Marvel logo pumpkin is a great idea for a fan. It takes a little patience (and time) to cut out the vinyl star and masking tape just right. But the end product is worth it!
9. Baby Groot pumpkin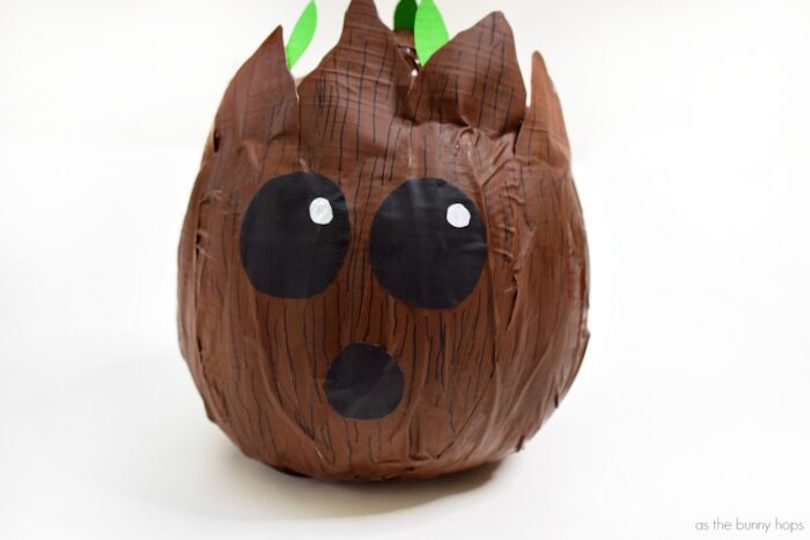 I am Groot. What else is there to say if you're a fan of the Guardians of the Galaxy? Paint, black markers, duct tape, and a white paint pen are perfect to make this Baby Groot pumpkin. Simply use brown tape to cover a DIY pumpkin and draw on the wood-grain details. Use the green tape to add leaves to the top, and the black tape to make eyes and a mouth.
10. Lace pumpkin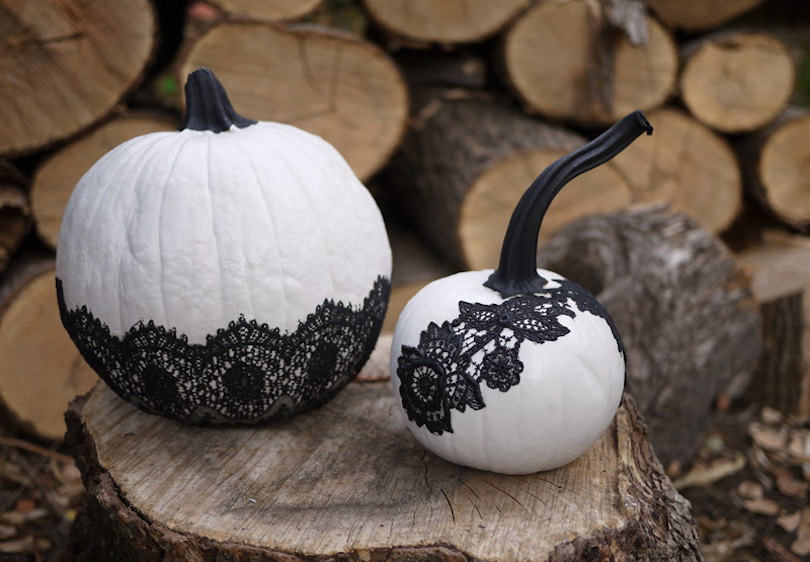 With a little decoupage glue and crochet lace ribbon, a creative soul has transformed cheap dollar-store pumpkins into elegant fall decor. These decoupaged lace pumpkins are perfect as a fall centerpiece or even as wedding decor for an autumn wedding. All you have to do is cover the pumpkin with overlapping lace strips, then glue it down. While the craft is simple, keep in mind that the numerous applications of decoupage glue will take some time to cure.
11. Stack o' pumpkins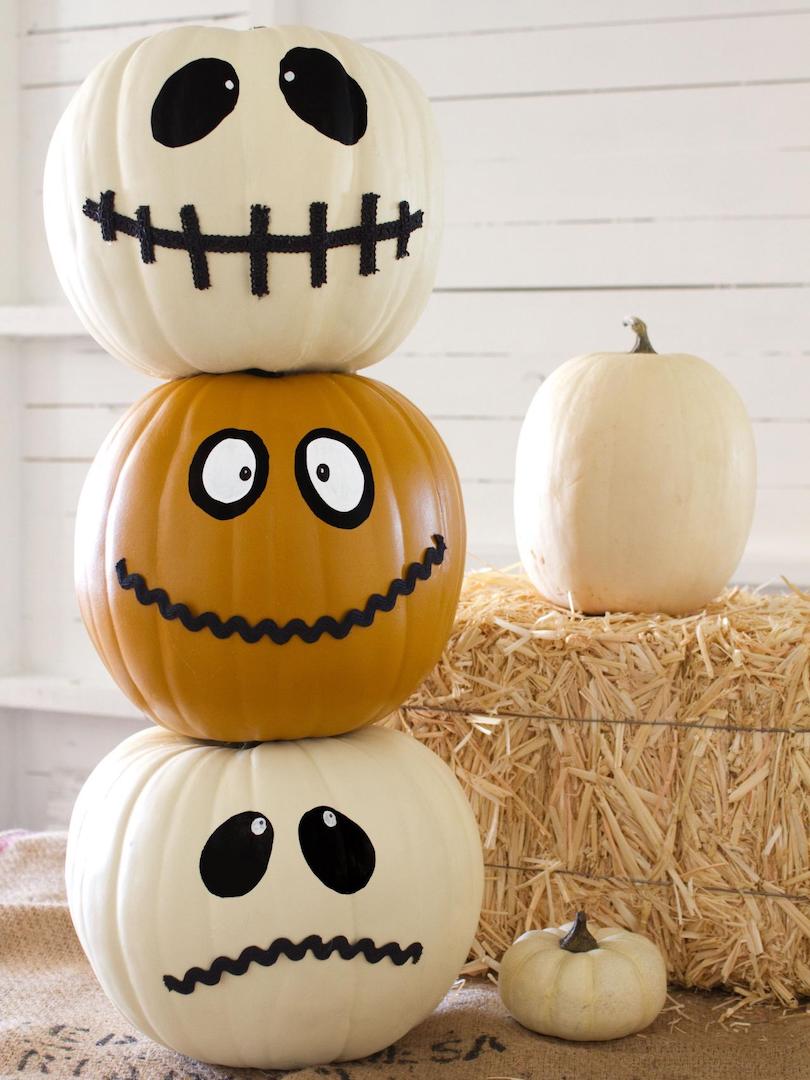 You'll need two different sized pumpkins (fresh or craft), black and white paint, hot glue, and a grapevine wreath to make this ingenious jack stack. Remove the stem from the larger pumpkin, which will function as the base, and paint it white. After the paint is set, use black paint to create your finest pumpkin face. Then, on top of the base pumpkin, glue the grapevine wreath and the smaller pumpkin. Display the pumpkins on your front porch with dripping-blood candles for an extra frightening effect.
12. Candleholder pumpkins
This centerpiece is for all the fall hostesses out there! Gather a couple of small pumpkins (we used pumpkin pie varieties). Drill five holes on the top of each pumpkin and place slender candles inside. The drill bit diameter should be the same as the diameter of the candles. To make the candles sit at varying heights, push them deeper into the pumpkin. Also, put some fall foliage underneath them, light the candles, and you've got yourself a lovely rustic centerpiece. The best? It will last all fall.
13. Mason jar pumpkins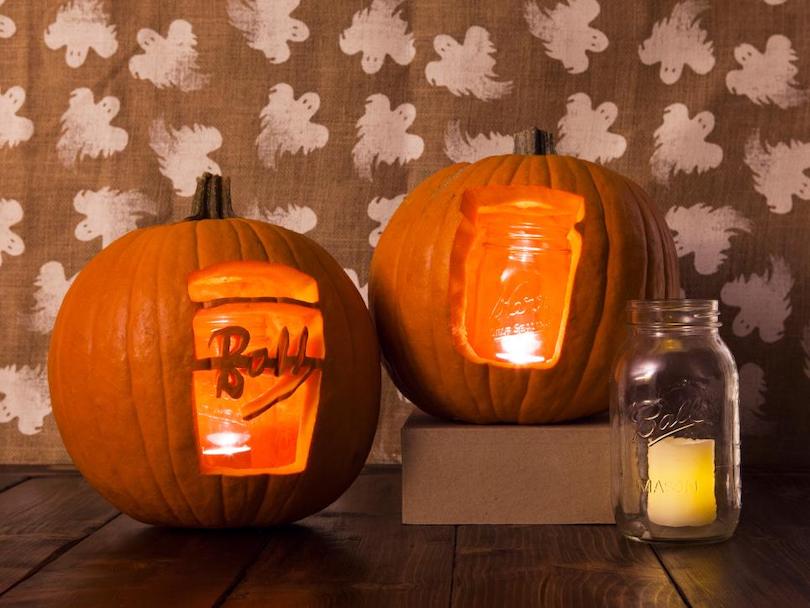 We opted to focus on these pumpkins out of Mason jars, which are popular glassware. One carved pumpkin looks like a Ball Jar, replete with a glass decoration, while the other is simply shaped like a jar. The candles in Mason jars look amazing within both pumpkins. These simple pumpkins would look great in any rustic home's Halloween or fall decorations.
14. Glitter unicorn pumpkin
Halloween doesn't have to be scary or full of monsters to be fun. Turning your pumpkin into a glittering glitter unicorn is perfectly acceptable. This lovely craft is a little time-consuming, but the results are stunning. A handmade pumpkin, white spray paint, chunky and extra-fine white glitter, polymer clay, pink and white felt, glue, silk flowers, and a grey sharpie are all you'll need. And there you have it—your own unicorn!
15. Cinderella's carriage pumpkin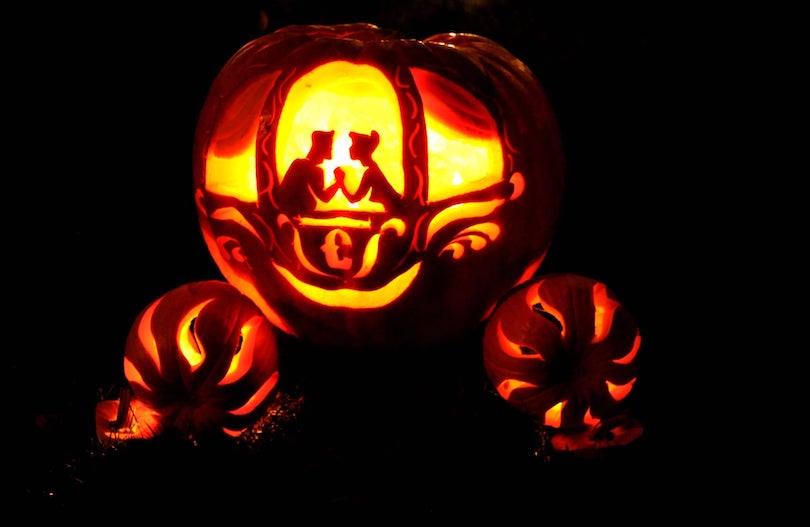 Bibbidi bobbidi boo! Bibbidi bobbidi boo! You can construct this carriage fit for a Disney princess with the correct resources and a little Halloween magic. An oval, squat pumpkin, red ribbon, apples, and black and gold paint are all required. Use toothpicks to secure the apples to the base of the pumpkin, then paint a door and windows on both sides. Use the gold paint to add detail to the wheels and door, then finish with a red ribbon to complete the change!