Pumpkin Arrangements That Bring the Fall Into our Homes
Can't wait for the gorgeous fall season of festivals, when you decorate your home with stunning fall items, includes pumpkin? Pumpkin is a versatile fall decor item that can be converted into various adorable crafts and a perfect fit for every fall-inspired project.
Just carve them, paint them, put in baskets, or create outdoor decor crafts with this orange vegetable. There is an endless idea of decorating pumpkins for the fall season. In this article, we'll share some amazing pumpkin arrangement ideas with you for both indoor and outdoor adornments of your house.
While some decorating options are very extensive, others are quite simple as buying a pumpkin from a grocery store. So, without further ado let's have a look at these interesting fall decoration ideas using pumpkins. With these decoration ideas, you'll be a step ahead from your neighbors for adorning your abode for the festivities this year.
1. Load Lanterns With Mini Pumpkins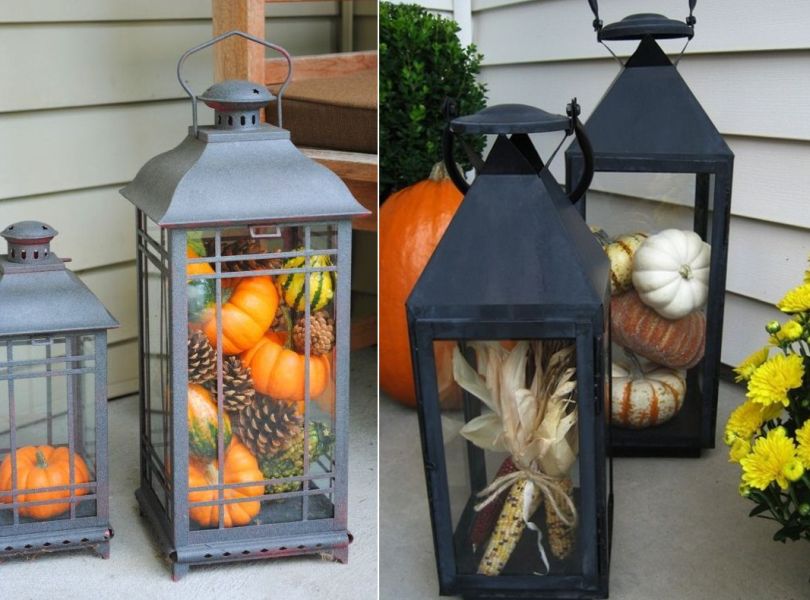 If you are not a fan of big pumpkin and fed up of carving them every year, this idea is a great option for you. You may pick cute and adorable looking mini pumpkins in different colors and simply load them in old lanterns. This way you can create an easy table-topper, rather than spending your whole day carving Jack-O-Lanterns.
2. Gold Foil Pumpkins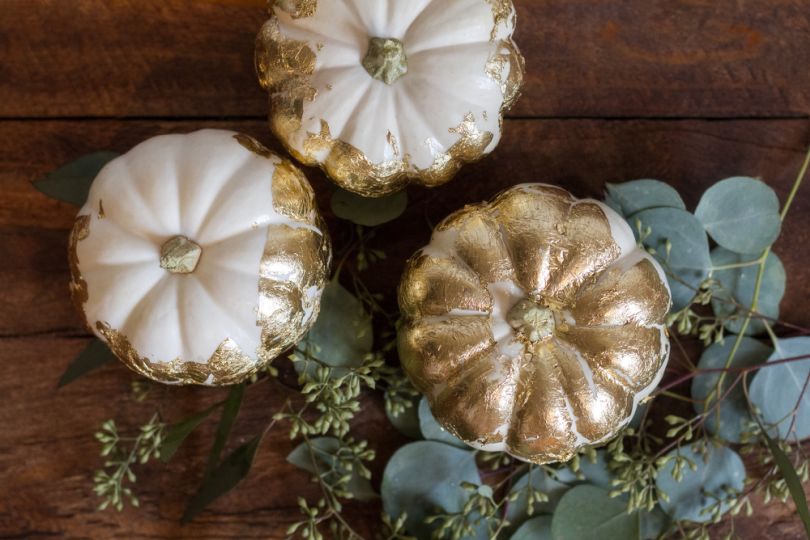 You can either look for gold-foil pumpkins in the market near you or simply create this DIY craft at home. These gold-foil pumpkins look absolutely stunning and add classy charm into your home. You can place them anywhere around the house – be it your dining table, fireplace mantle, on windows, or at the entrance to welcome your guests.
3. Milk Glass Pumpkin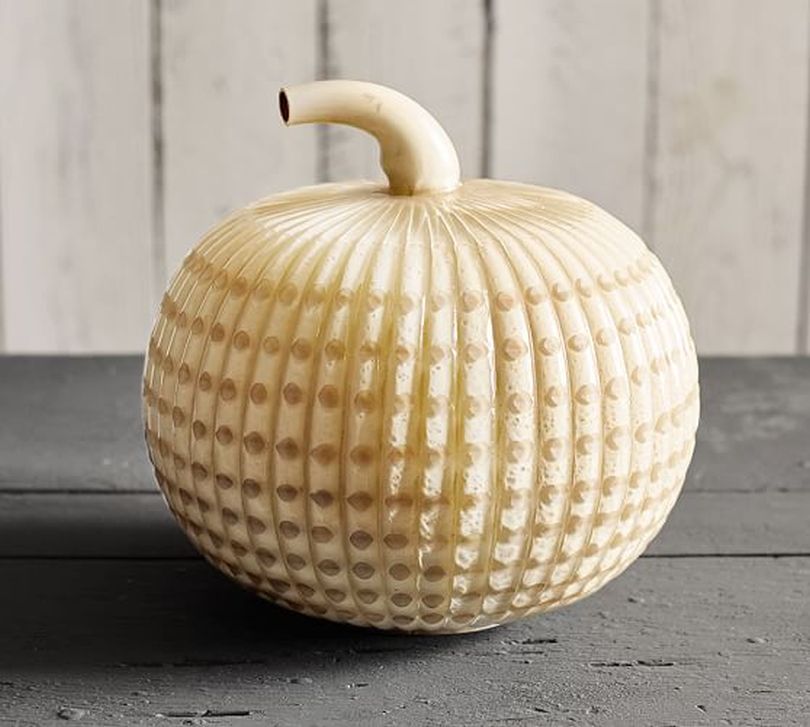 Try recreating your grandmother's milk glass on a versatile pumpkin. This DIY pumpkin craft will look delightful during the fall and you can put it anywhere in your house. Since it is white, this decor piece will easily go with any festive theme or style.
4. Street Number Pumpkins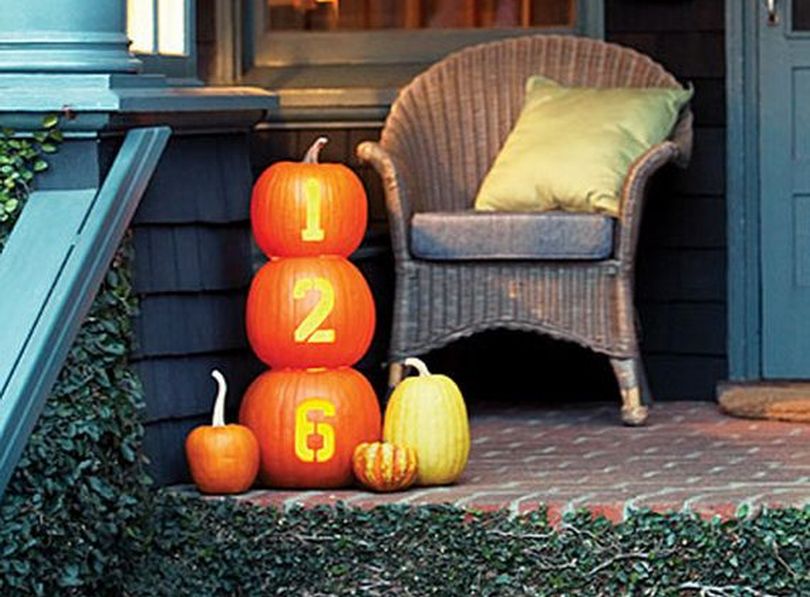 Do you think it becomes difficult for your guests to find your house during Thanksgiving or Halloween? If so, the easy solution is to create cute street and house number pumpkins. All you need to do is take two big pumpkins, paint them white, and carefully engrave or paint your street and house number on them.
5. Centrepiece for Thanksgiving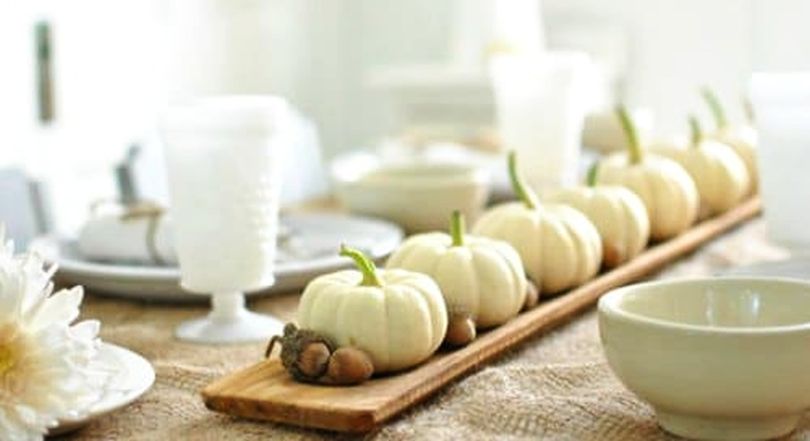 You can simply make pumpkins a centrepiece of your Thanksgiving dining table. The charming colour palette during the fall will add a strong statement into your home while reminding everyone of the beautiful autumn season. You may even create refined decor pieces with pumpkins by painting them in gold or other metallic colours.
6. Fireplace Decor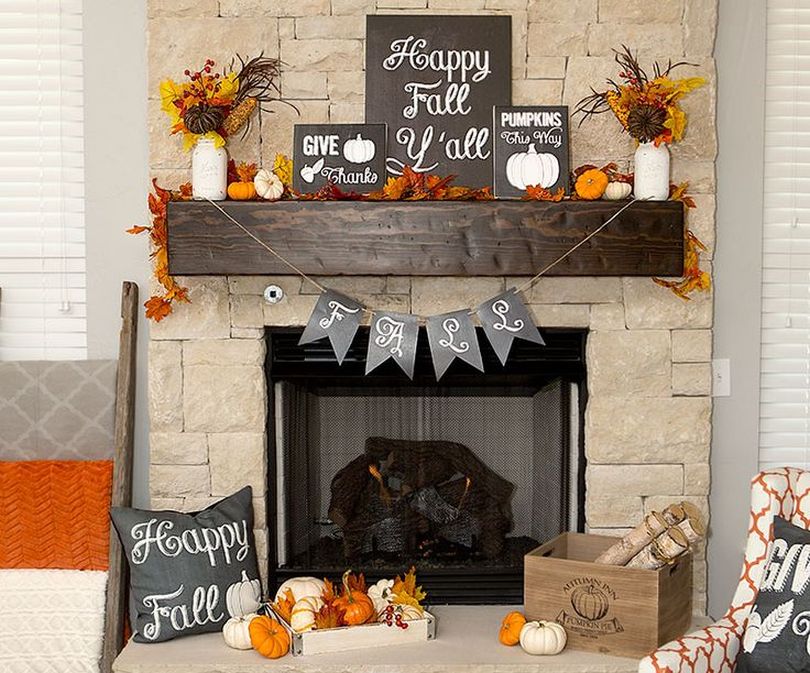 When fall is in the air, most people remember their grandparents' French country-style cottages. You can bring back the same appeal into your home by creating a similar theme by adding a chalkboard in the vintage frame along with pumpkins and other fall items on the fireplace mantle.
7. Pumpkin Vase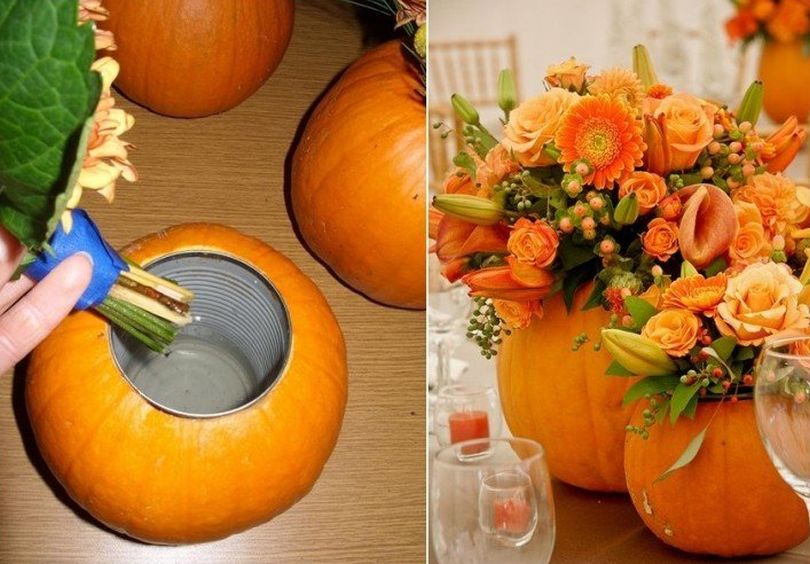 Another creative idea for pumpkin arrangements is converting these orange veggies into a beautiful base. This craft is very simple to try at home. You may look for a faux pumpkin or the real one (if you don't wish to keep it for a long period). After that, carve an opening on its top for adding flowers. Don't forget to hollow out the pumpkin, if you are using the real one.
8. Velvet Pumpkin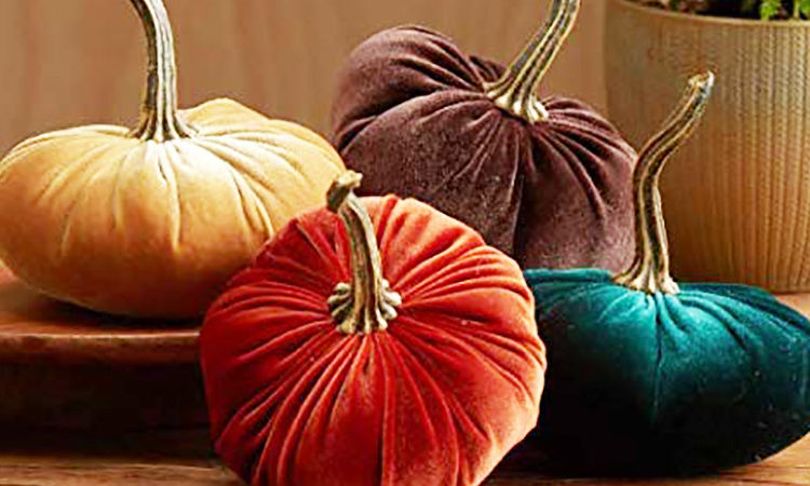 If real or plastic pumpkins don't adore you anymore, you may try looking for unique pumpkins made from velvet. They are also great for adding vintage vibe into your home with a tinge of glamour. If you're a little creative, you may even make these pumpkin arrangements at home. However, you can add real stems to make them appear a little more convincing for the fall.
9. Pathways Adorned with Pumpkins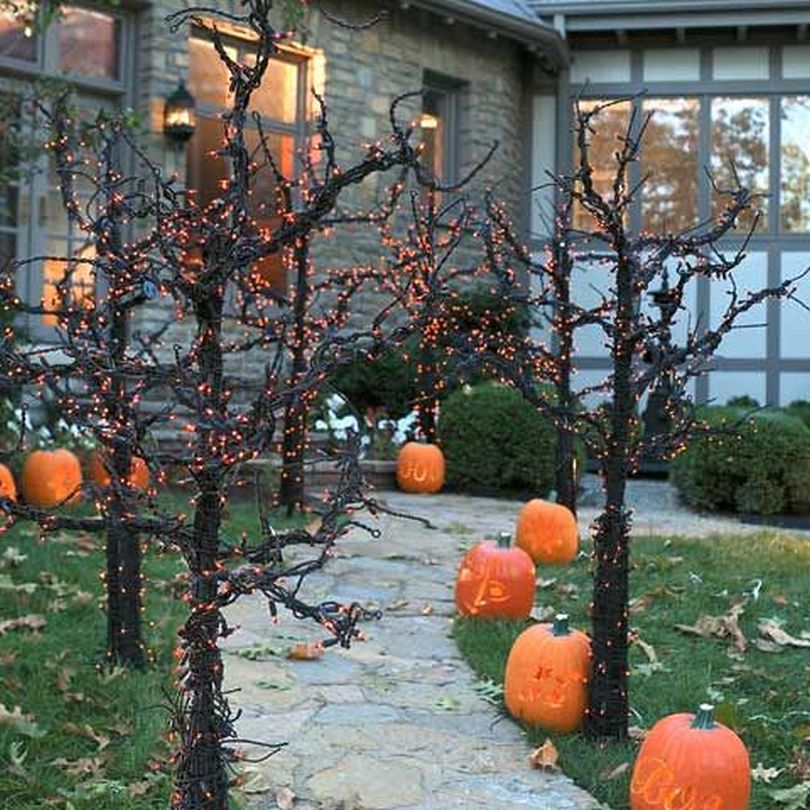 You can decorate your entire pathway or the garden area using pumpkins. Besides that, you may even consider making a pathway to your outdoor dining table in the backyard, garden, or patio for a fall party. This will take minimal effort but the results are outstanding for sure.
10. Fabric Inspired Pumpkin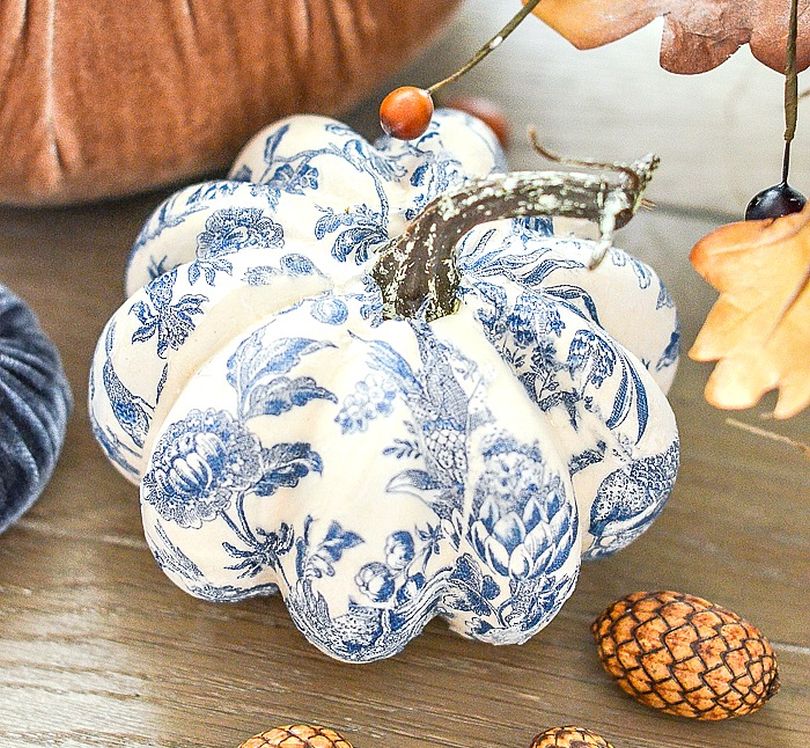 If you love a specific fabric print, you may try to recreate it on a pumpkin was or simply on basic pumpkins to keep them as decor objects in different areas of your house.
11. Hanging Baskets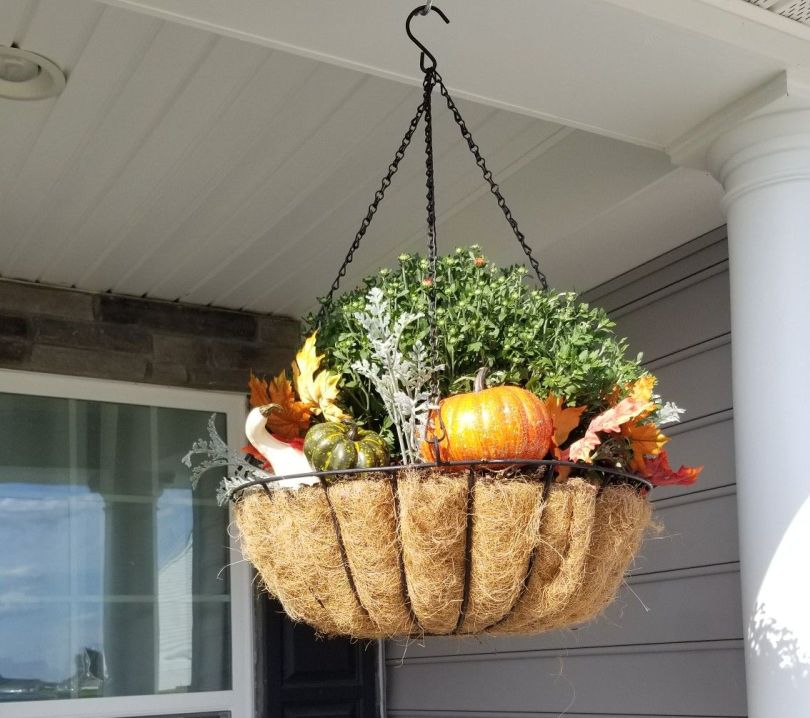 Do you have hanging baskets in your storeroom or garage? It's time to bring them out and fill them with mini pumpkins for hang on the patio, garden area, or front door to add fall flair to your abode.
12. Stack in Laundry Basket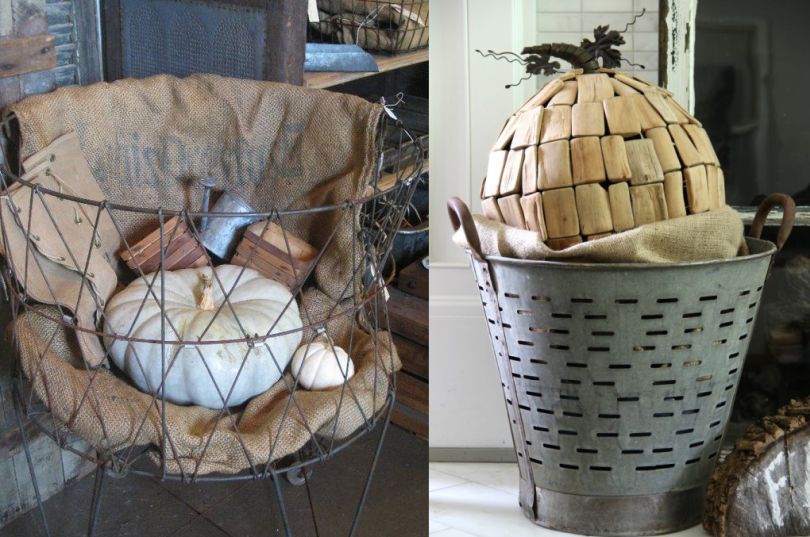 No need to hide your laundry basket this fall season. Take it out and stack some pumpkins in it along with some clothing or blanket for a realistic touch. This way this decor element will become part of your everyday home but with a touch of seasonal decor.
13. Decorate with Antlers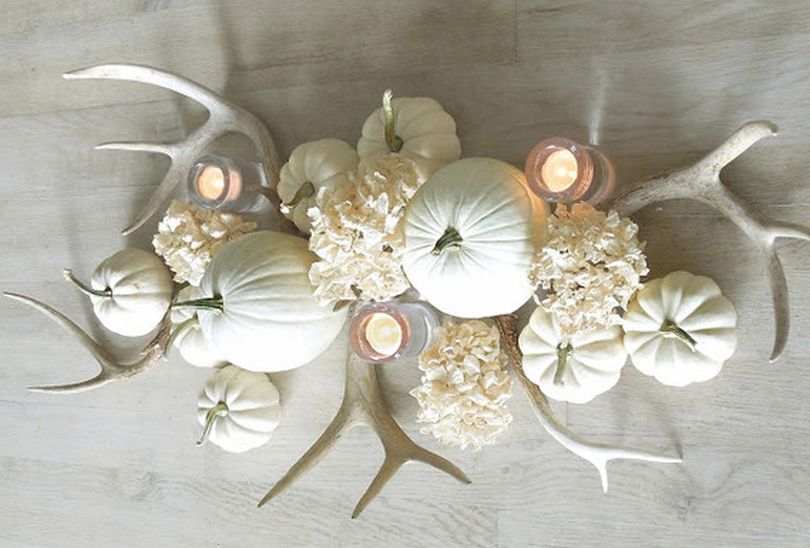 Reindeer also symbolizes fall. So, you may consider making DIY wood antlers and decorate them along with pumpkins to create a unique arrangement for an exquisite rustic vibe. If you cannot make antlers yourself, look for them in nearby stores during the festive season.
14. Stack Pumpkins into a Fireplace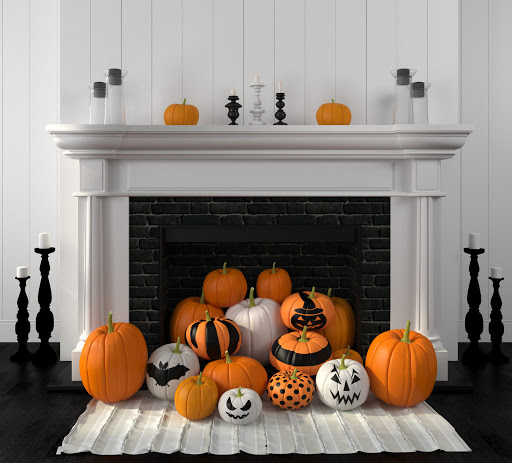 Your fireplace is not just reserved for Santa to add gifts into your stocking. You can also make some extra room for pumpkins of different sizes and shapes to create easy fall decor while making your room cosy with amazing winter vibes.
15. Line Pumpkins on the Staircase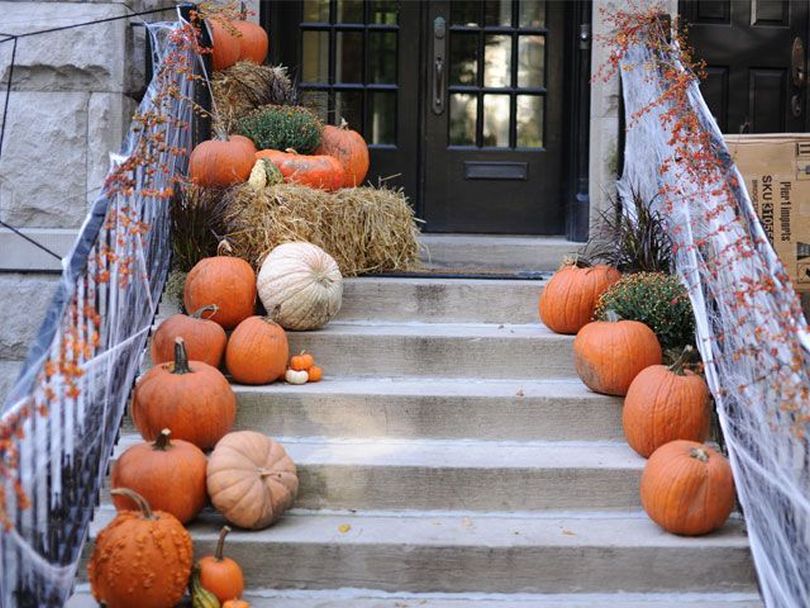 You can simply place single pumpkins on each stair for lining the entire staircase. This decor idea has no-effort at all, as you just need to pick some pumpkin arrangements and place them on the stairs for lovely autumn feel with every step your take. It is a great last-minute decor idea for lazy homeowners.
We know that it's too early for thinking about fall decor. But it's always going to be prepared in advance. With these simple yet creative pumpkin arrangements, you can easily bathe your home in fall essence without even putting much effort and spending too much money on the decor.