20 Kitchen Color Schemes For Captivating & Stylish Culinary Space
Looking for attractive and captivating kitchen color schemes to reflect your individual taste? Each homeowner thinks of expressing their personality with the right color scheme. Meanwhile, they make sure to choose colors that won't go out of style in the next season. You may have seen many trends, but what style will last?
The kitchen color schemes can be understated, bright, bold, or a combination of each. The colors you find around in nature are most likely to stand the test of time. But it does not mean that cannot be attractive and visually appealing. Our kitchen paint color guide provides you 20 most timeless and striking color palettes to suit every kitchen design.
Check out the guide given below and find out what color scheme fits your taste and kitchen style. From sophisticated and striking to neutral and warm, you can find color inspiration for any type of culinary space. Once you have got the perfect color scheme that meets your taste, be sure to combine it with kitchen cabinets to match the overall design of the given space.
20 Kitchen Color Schemes For Stylish Culinary Space
Have a look at the 20 amazing kitchen color schemes and color combinations for a stylish cooking space:
1. Green and Pink Kitchen Color Schemes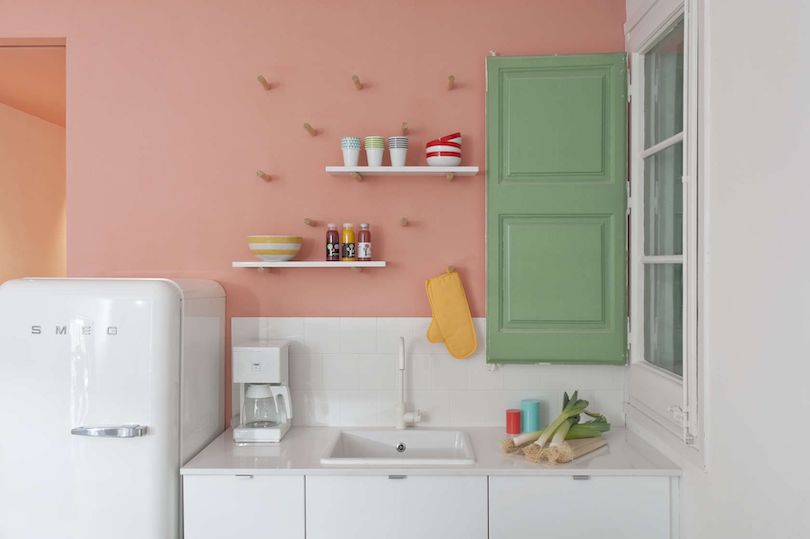 Pink walls were once preferred only for children's or girl's rooms or antique baths. Pink-colored walls are springing up all over thanks to the emergence of millennial pink. The salmon pink wall in a modern kitchen will add a unique touch while giving a striking visual appeal. But the colorful fun doesn't end there. Add some apple green for a lovely contrast.
2. Minty Fresh Kitchen Color Schemes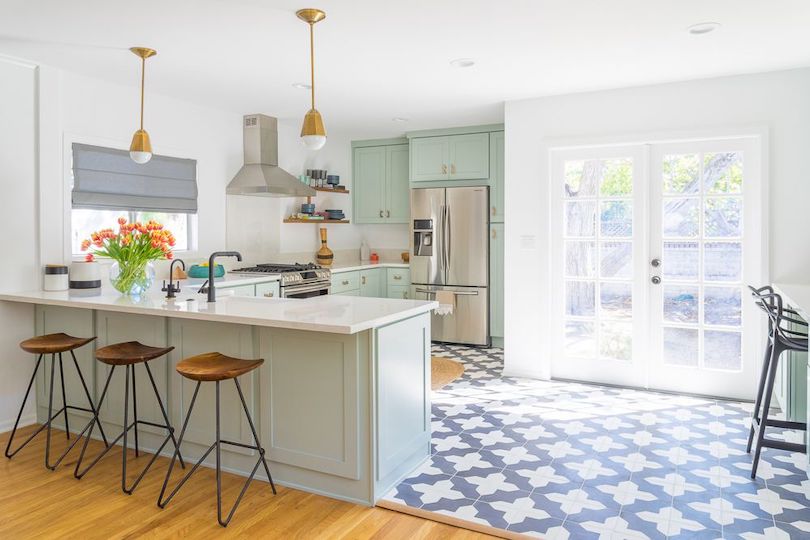 Black Lacquer Design, situated in Los Angeles, California, is well-known for designing ultra-modern environments with vibrant colors and eye-catching patterns. The business uses Benjamin Moore's Mint Julep paint hue to mix a striking pattern floor tile with pastel cabinets. The end effect is a bright and airy kitchen that is both beautiful and approachable.
Tip: Before you start painting, make sure your kitchen walls are completely clean. TSP (trisodium phosphate) is a wonderful cleaning solution for areas that have accumulated grease when mixed with water.
3. Create a Bold Kitchen Accent Wall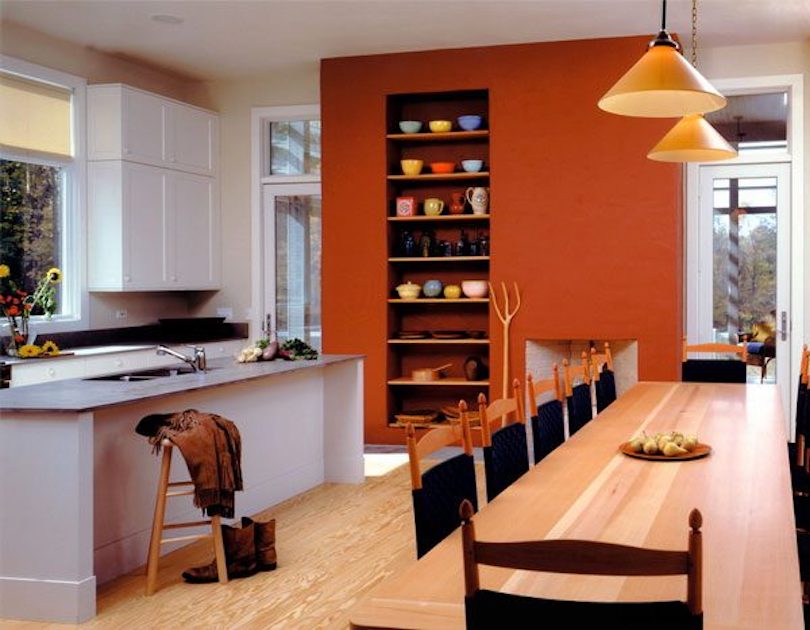 In a kitchen, strong, dramatic color on one wall can make a statement. Take a look at this cooking area with a bold tint that elevates the room to a new level of style. ​You can choose any color of your choice and amp up your cooking space with an interesting hue. ​But make sure that the remaining areas of a kitchen area in a neutral shade or completely white.
4. Combination of Minty Blue and Soft Gray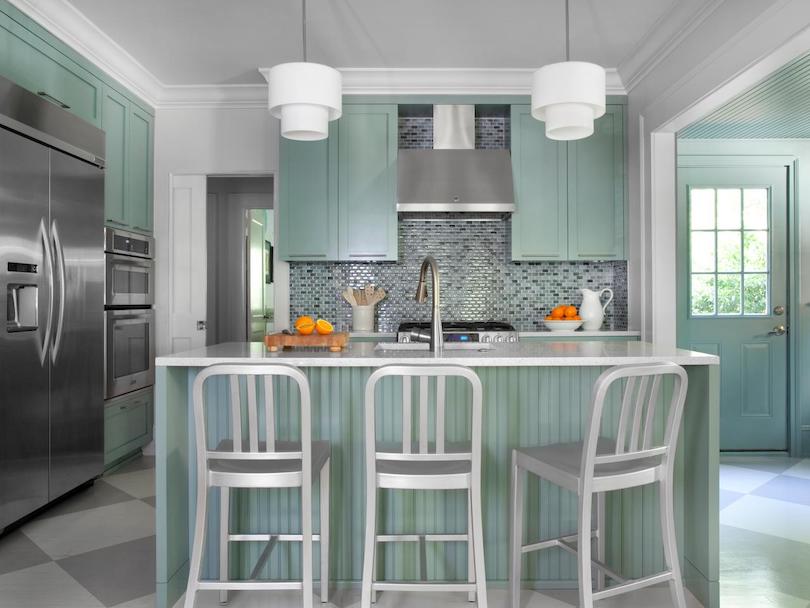 Look at these kitchen cabinets in minty blue color along with a soft blue mix of color on appliances and flooring. This beautiful color combination is stunning due to its subtle color combination. The result is a light, airy tint that is both calming and energizing. Plus, this color combination is unique yet refreshing for a kitchen space.
5. Purple and Beige Kitchen Color Schemes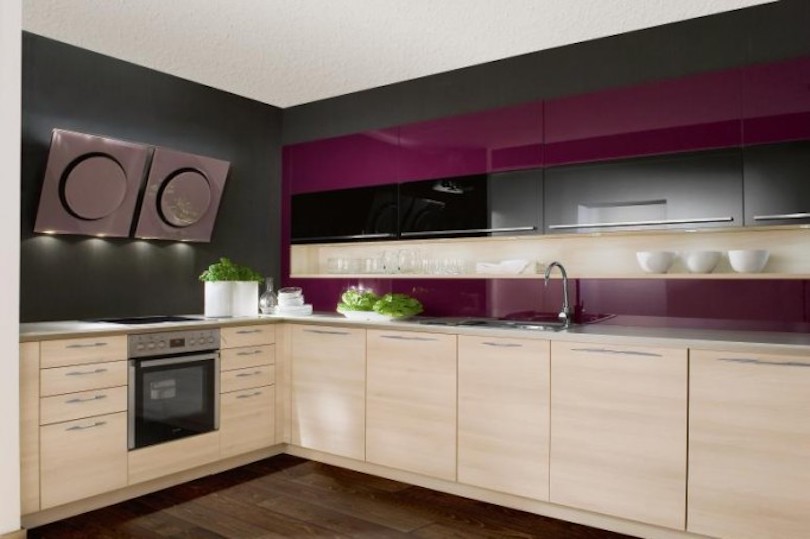 When coupled with beige, purple works well as a rich or pastel color, depending on the mood you want to create. It's said that purple connects you with a variety of emotions. Some of these emotions, inclyde ambition, calm, and elegance. The Kimberly purple on the kitchen island, along with the lighter manatee purple on the barstools, contributes to creating a delicate and polished style in this kitchen. You may consider such exquisite kitchen color schemes for a bright yet elegant appearance.
6. All White Kitchen Color Schemes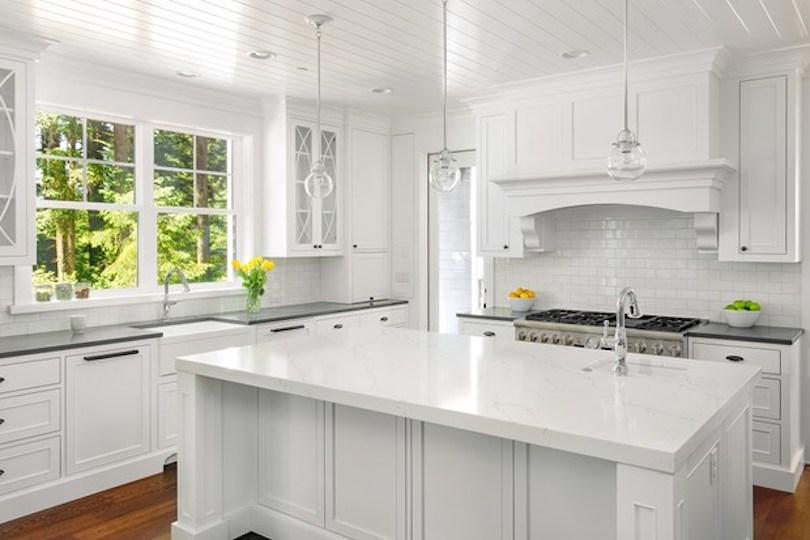 Kitchens that are all white convey an air of openness and cleanliness. They are light and airy, making them ideal for use in kitchens. This simple color palette is ideal if you have a tiny kitchen and want to make it feel more open. Take inspiration from this all-white kitchen and get creative with accessories. You can choose accessories, like gold cabinet handles, red oven knobs, and futuristic pendant lighting. This will add a little complexity to otherwise plain kitchen scheme.
7. Red Kitchen Color Scheme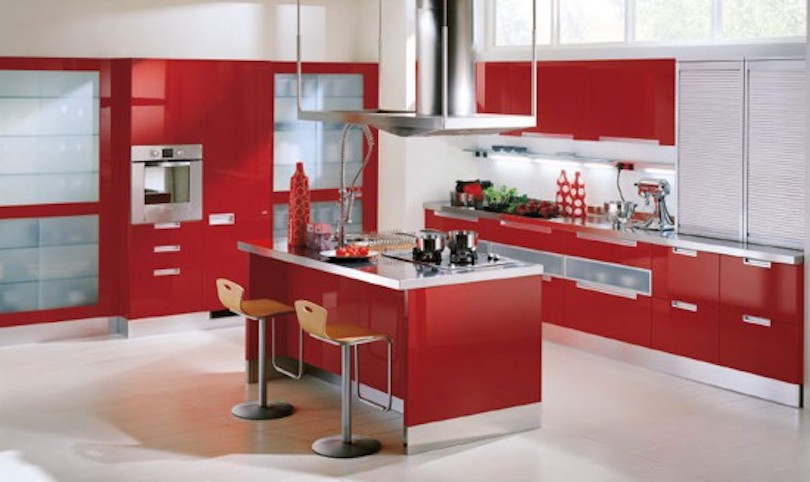 Red is a color that is frequently used in kitchens. It is because this hue refers to enhancing one's appetite. However, if not utilized judiciously, this bright color might overshadow the room and make it feel excessively gloomy. Reds with traces of pink can be very effective in the kitchen. You wouldn't want to cover your entire walls with them, but raspberry-colored tiles as a backsplash or cranberry-red cabinets with neutral worktops would be striking.
8.Creamy Colors With Stark White Kitchen Color Schemes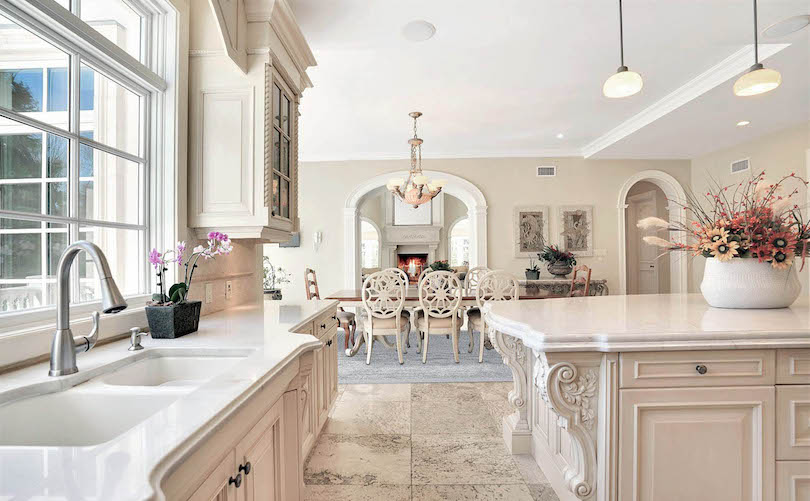 It can be difficult to match warm creamy tones with glaring white hues. Here's how to do the work. The wall of this kitchen is a perfect example of a cream and white kitchen combination. It's a pure, crisp color with no yellow or blue overtones. So, it goes well with anything. All you need to do is understand how to want to blend this minimal combination without making the area appear bland.
9. Distinct Shades of Blue Kitchen Color Scheme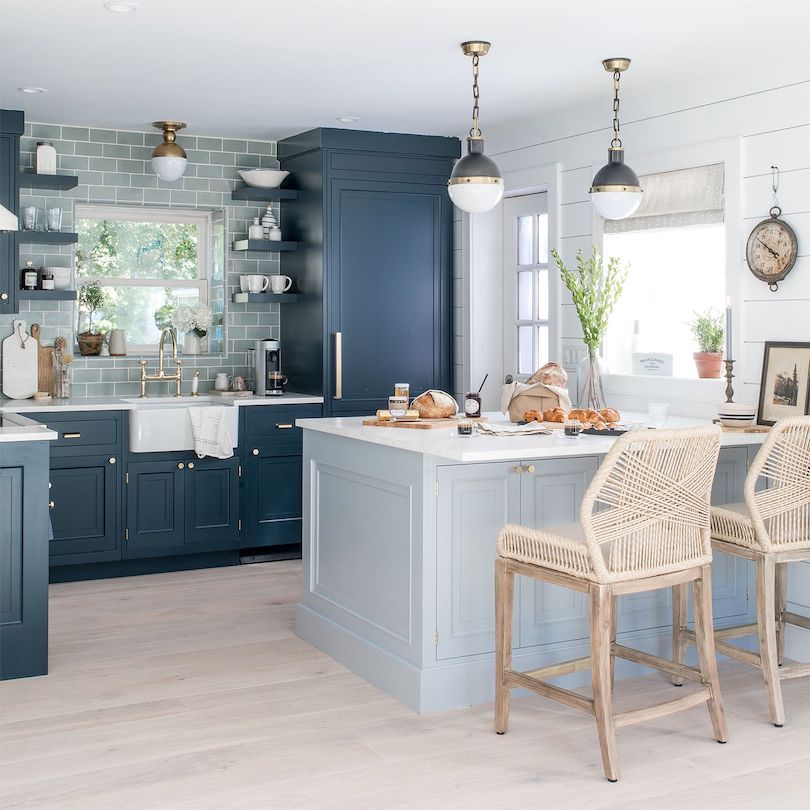 You can also use several shades of blue to wash over a white kitchen. Choose any good quality paint color of your choice on the wall separating the breakfast nook from the rest of the room. You may even repeat the hue in the attractive tile backsplash or other areas in your culinary space.
10. Blue, Gold, & White Kitchen Color Scheme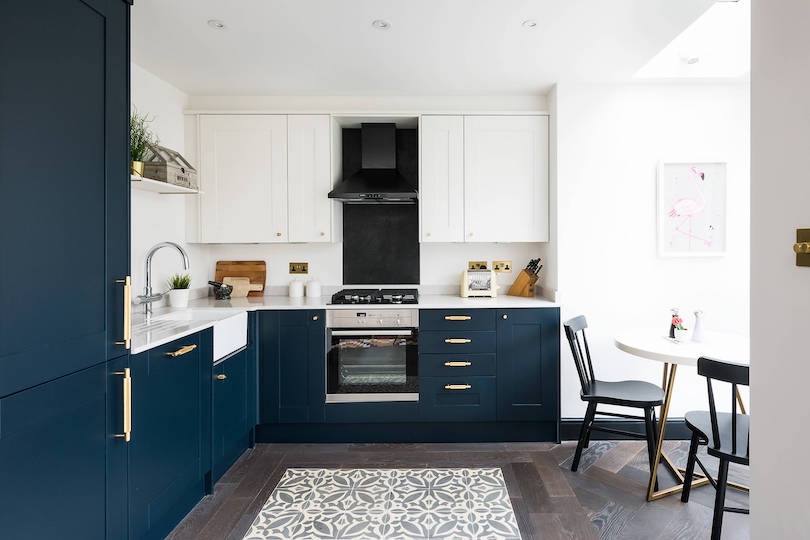 By painting your bottom cabinets blue and your top cabinets white, you may get this look. Then add gold embellishments, such as these tumbleweed gold faucets and handles. The Bermuda blue adds a classy, yet playful, element to this color scheme that is sure to catch the eye. Do try this kitchen design, if you love a royal interior look.
11. Green and White Kitchen Color Scheme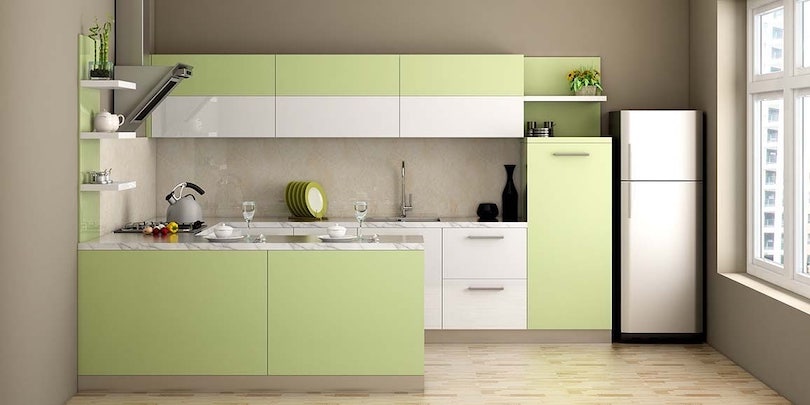 If you want a natural and lively aesthetic, green and white is a terrific color combination. Green conjures up images of health and vitality, while the white gives your kitchen a bright, airy appearance. If you have a small kitchen and want to create a calm, natural, and cheerful atmosphere, use a dark green as an accent color on your island, as this kitchen did with the deep glade green shade.
12. Blue and Green Kitchen Color Scheme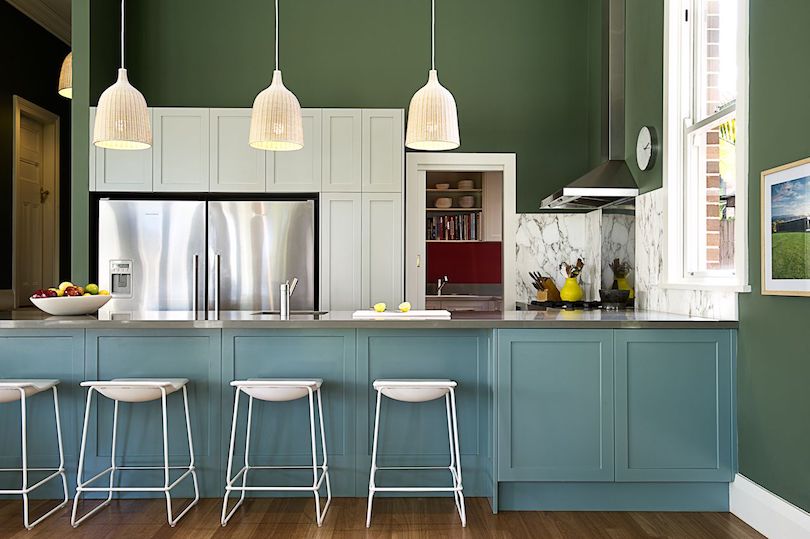 Another earthy color combination is blue and green. With an unobtrusive elegance that complements any kitchen decor, this combination will stimulate relaxation and creativity. The mix of the light lemongrass tint and the dark farce blue in this kitchen produces a comfortable and classy appeal.
13. Blue and Yellow Kitchen Color Scheme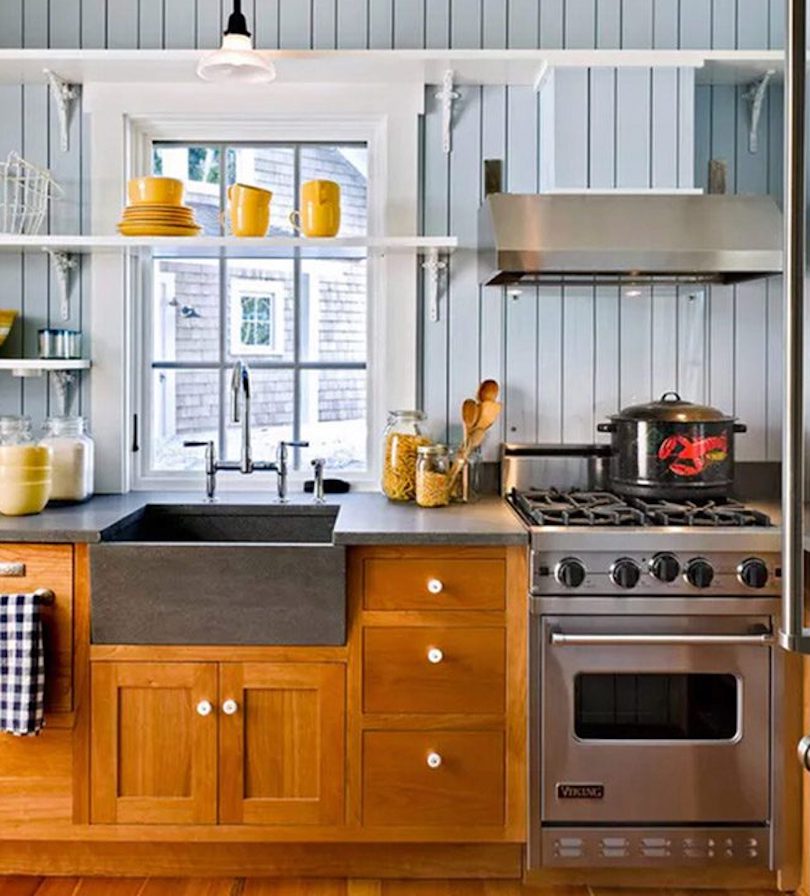 Blue and yellow can be forceful or muted, giving this combination a wide range of mood possibilities. Choose a light blue and a bright yellow for a light and lively style, or a darker blue and yellow for a more down-to-earth, country-living look. This kitchen's design highlights include the wood paneling and integrated sink and countertop. Moreover, this colorful kitchen design will give a striking visual appeal to the given space, unlike any other room in your house.
14. Purple and White Kitchen Color Scheme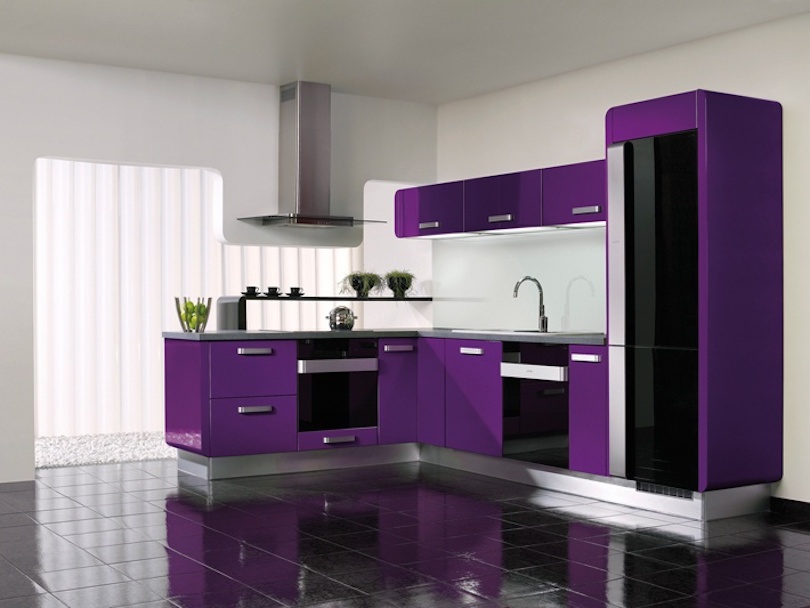 Purple and white is a sophisticated and opulent color combination. It can also be enigmatic and enchanting. If you want to be a little secretive, this kitchen's deep eggplant purple is perfect for you. If you want a lighter look, paint your kitchen cabinets white and use a gentle lavender color on the walls. It completely depends on what you like.
15. Green, Beige, Brown Kitchen Color Scheme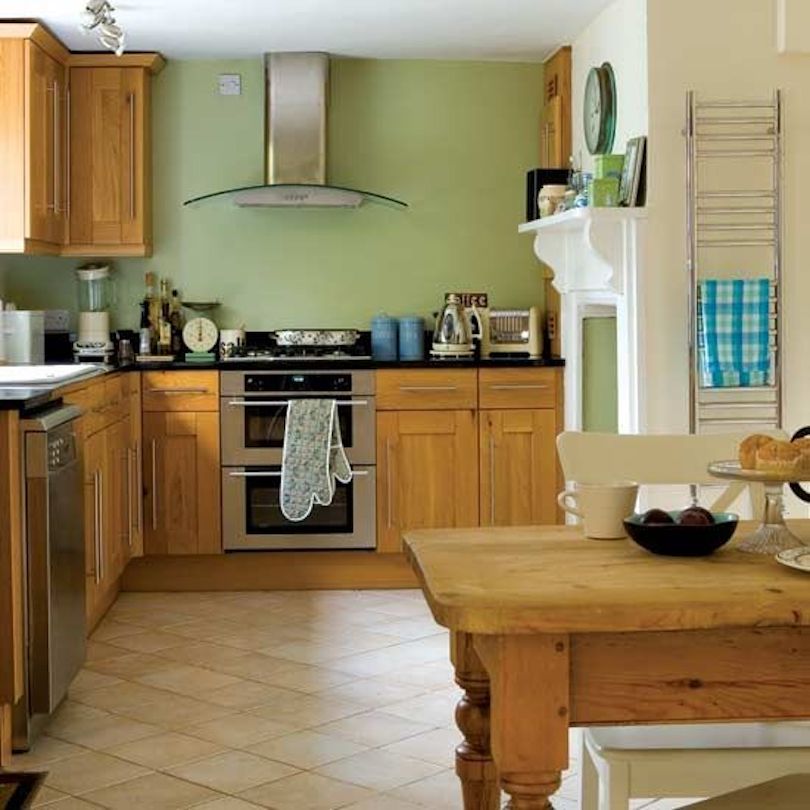 If you enjoy the look of traditional country living, this color palette is perfect for your alley. It doesn't get much more cozy and appealing than this kitchen, with its avocado green, calico beige, and deep wood tones. For a more rustic look, we adore the distressed paint on the kitchen island. This look will give a classic yet elegant visual appeal to your cooking space. And, that too without being over-the-top. You need to consider it if you have a large kitchen, otherwise, the area may appear smaller.
16. Orange and Black Kitchen Color Scheme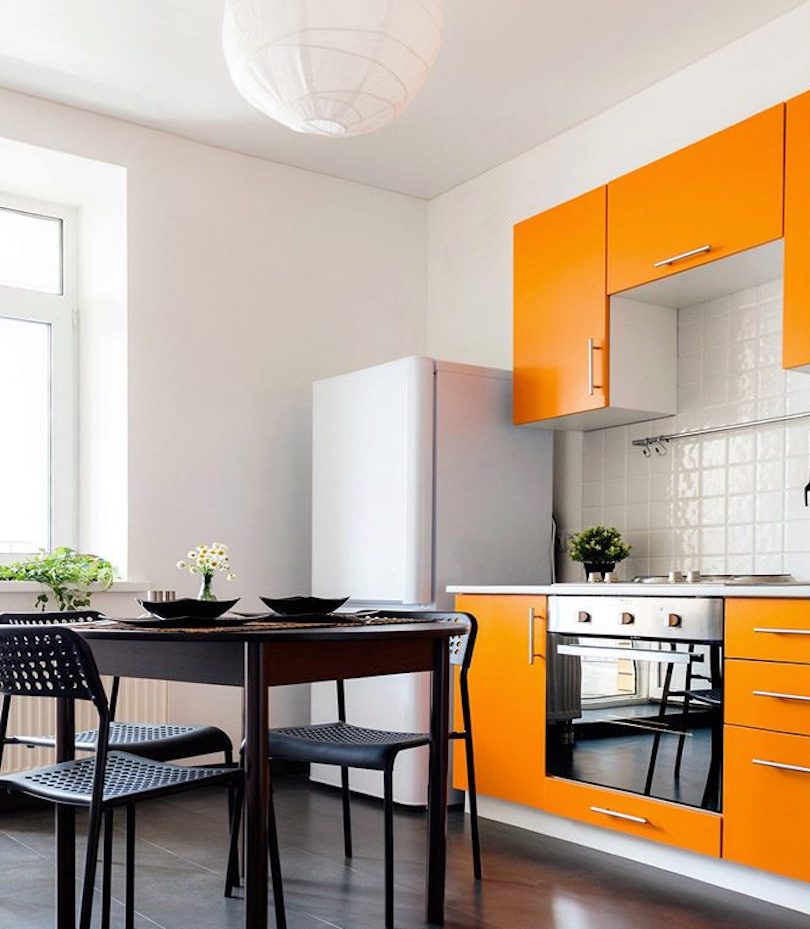 Another dramatic and rich color combination is orange and black. The mango orange on the dining table and the woodsmoke black on the floors make an interesting yet comfortable kitchen. Orange refers to energy and action, which is why many sports teams choose this color. When you combine it with black, you get a good combination of activity and refinement. It further results in a kitchen that is sure to generate strong positive feelings. Do give this color combination a try if you want to generate positive vibes in your cooking space.
17. White, Black, and Brown Kitchen Color Scheme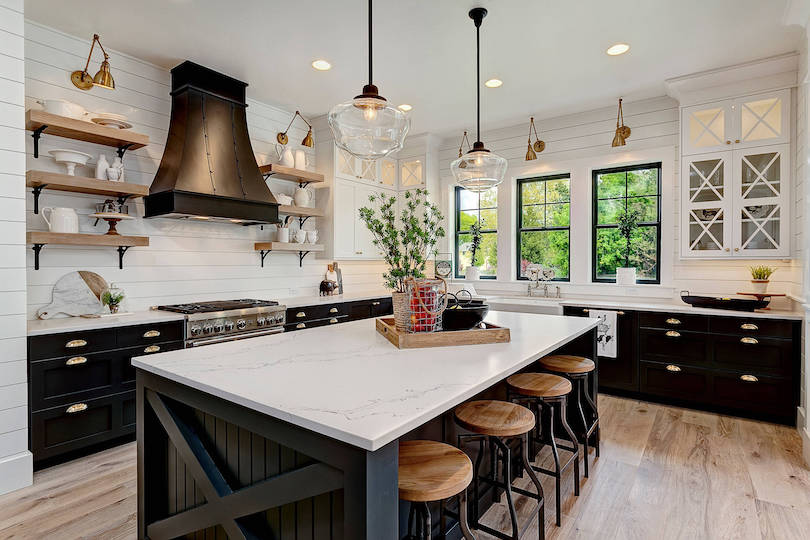 The gorgeous white countertop in this farmhouse-style kitchen stands out against the wooden floorboards and barstools. Above the island, we adore the matte black and see-through ceiling pendants. Overall, the black accents, along with the all-white scheme, give the room a rustic feel that works well in any modern farmhouse design.
18. All Black Kitchen Color Scheme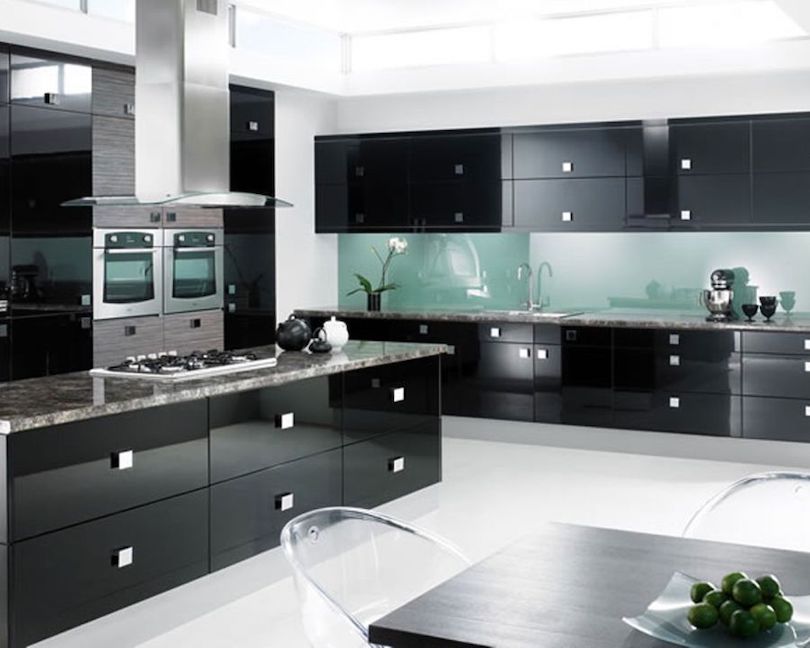 An all-black kitchen color scheme is the way to go if you want something sleek, bold, and elegant. In this contemporary and sophisticated kitchen, the stainless steel overhead range hood, barstools, oven, and microwave contrast beautifully with the white flooring and grayish cabinetry and island.
19. Red, Black, and White Kitchen Color Scheme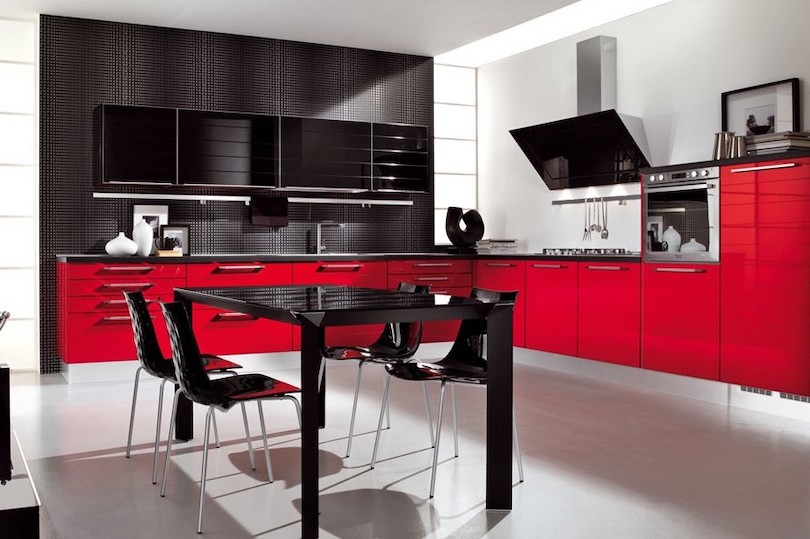 Adding red to a black and white combination creates a completely different look. Red is a fantastic color to use with the opposites of black and white. It is because it falls midway between the richness of black and the clarity of white. With its fiery red and sand black, this kitchen provides a vibrant and energetic color palette. It is likely to inspire some amazing homemade cooking.
20. Blue and Orange Kitchen Color Scheme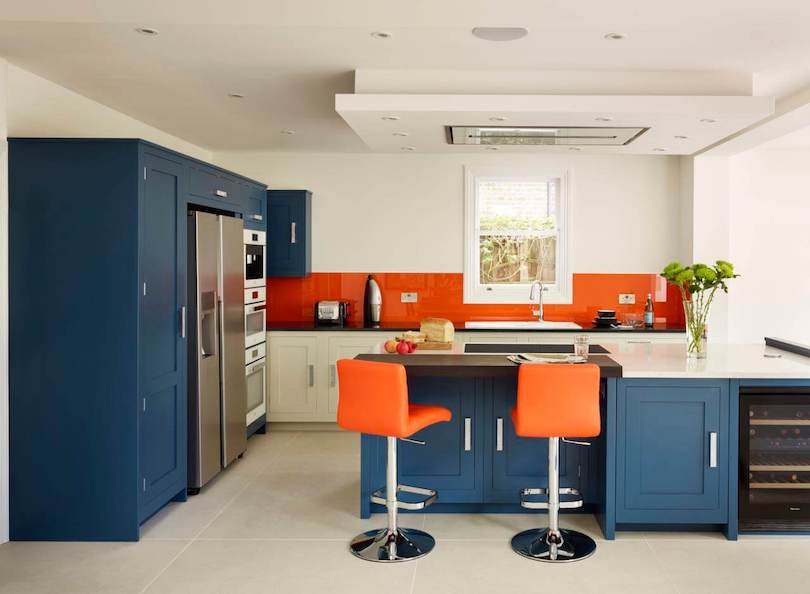 The color scheme of blue and orange is highly popular. Consider the contrasts of fire and ice, day and night, or sun and sky. Blue and orange is a classic complementary color combination. It is because because it's eye-catching and goes well with other colors. You can try this color combination in other shades as well. This kitchen's color scheme of Venice blue and carrot orange is lively and active.
Consider how colors affect space when selecting a kitchen color scheme. Paint your cabinets a neutral tone that reflects light, such as white, beige, or grey, if you have a smaller kitchen, to give it a more open appearance. Don't know if you should take a chance? Colorful bar stools, small kitchen appliances, and curtains over your kitchen windows are all inexpensive ways to introduce lively colors.