10 Attractive Bookshelf Designs To Tickle Your Inner Bookworm
Are you the self-acclaimed bookworm who doesn't shy away from showing your love for books? You can do so by dedicating a special section or a room to your books. But how to display your book collection while maintaining the overall style of your contemporary home? For this, you need some attractive bookshelf designs to keep your books in place, as well as to spruce up your interior decor.
From modern to unconventional bookshelf designs, there are so many options to consider. The wall-mounted bookshelves are also a great substitute for creatively showcasing your books. Due to all such design options, homeowners have the opportunity to add a unique personality to the given space.
However, it can be quite challenging to decide which bookcase style to choose for a specific interior. If you can figure out how many books to add to the shelves, you easily know how to style up your book reading section in a fun way.
10 Bookshelf Designs For Showing Off Your Books
Here are some amazing bookshelf design ideas to consider to work on your stylish bookshelf decor.
1. Traditional Bookshelf Designs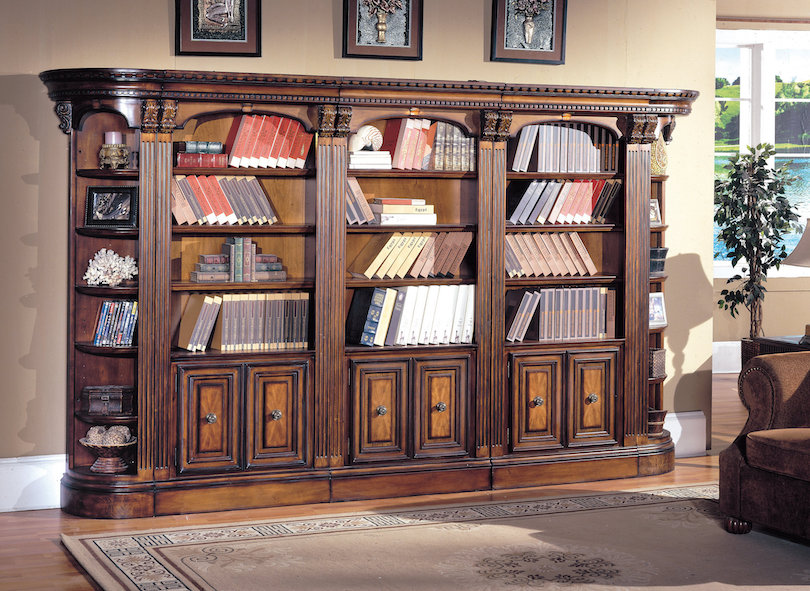 Even in digital times, nothing can beat the appearance of a traditional bookshelf. Usually, such bookshelf designs make your home appear more luxurious and expensive. It is because of its horizontal shelves with a wooden back wall.
While such designs are available in all sizes – small and tall, these bookshelves are often made of wood. They also boast a solid appearance with moldings and artistic details. Whether you choose such a bookshelf design for your bedroom or your living room, a traditional bookshelf can make your house appear pretty at all times. The best thing about such bookshelf ideas is that they are timeless and suitable for all types of settings.
2. Industrial Bookshelf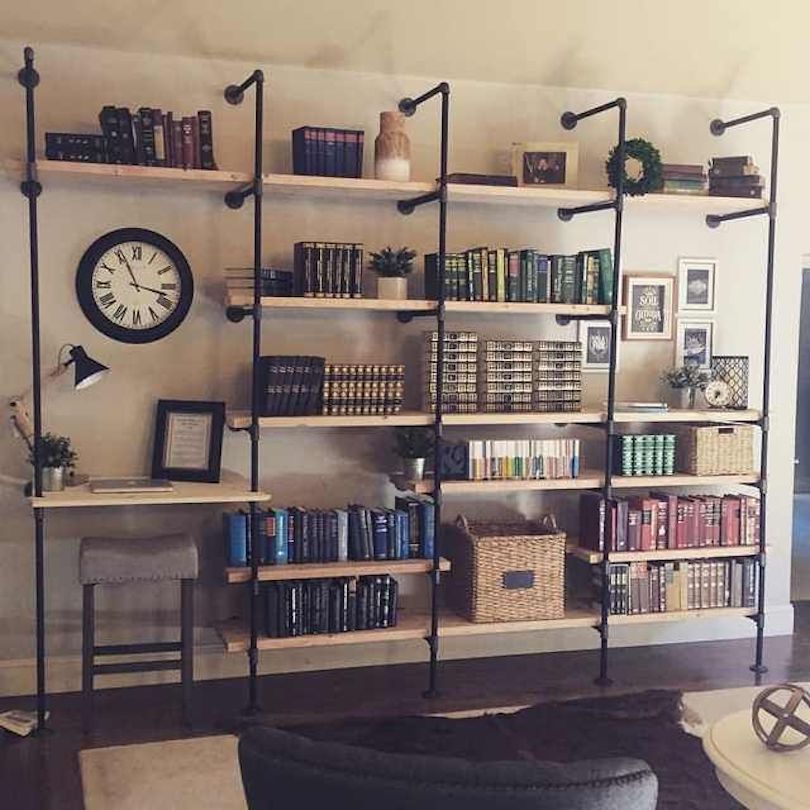 If you want to save up space in your contemporary room, industrial bookshelf designs are perfect. It is because this bookshelf design adds aesthetic charm to the home interior. Meanwhile, it keeps your books organized in a streamlined way.
You can either consider buying your industrial bookshelf or go for the DIY route. If you think of DIYing, you require materials like wood boards and metal pipes. Such bookcases often don't have some with a back wall. So, you can even use them as room dividers in your studio apartments or large living rooms.
3. Tree-Shaped Bookshelf Designs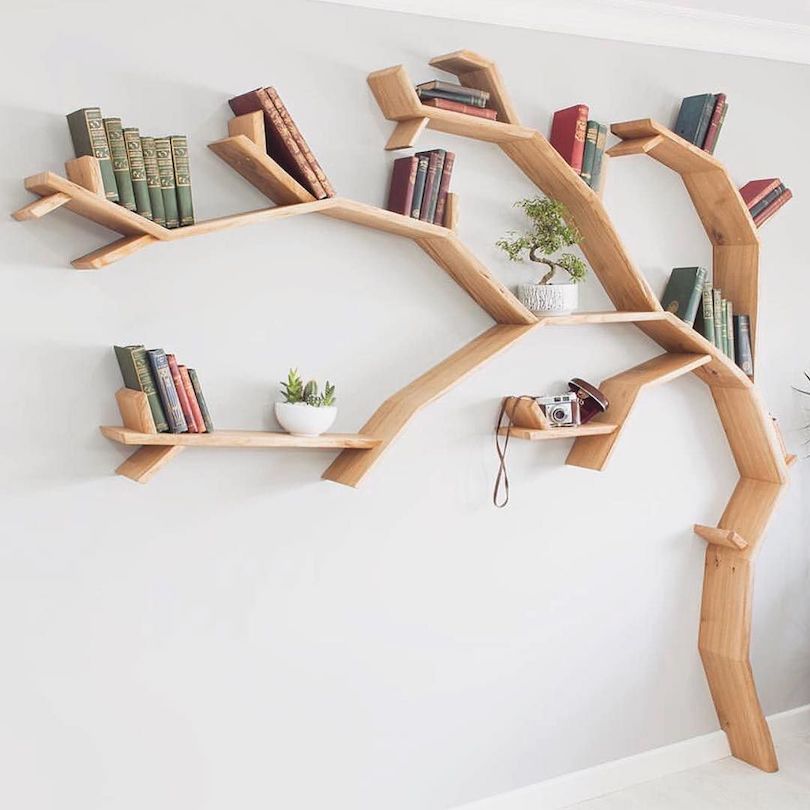 Want to add creative charm to your living space? Consider the stunning tree-shaped bookshelf designs. These are not just for the kids' room. You can even add it into your living room, bedroom, or study room for adding unique style flair to the given space.
This artistic bookshelf design works as a storage area for your books and also adds some home decor pieces. The tilted branch-shaped shelves appear like a real tree, adding an element of interest into the given space. For creating the tree-shaped bookcase, you need long and thick wooden pieces to make a solid stem and smaller pieces to act as branches. Depending on your personal preference and lifestyle, you can make this bookcase as intricate or as simple as you want.
4. Skateboard Bookshelf Designs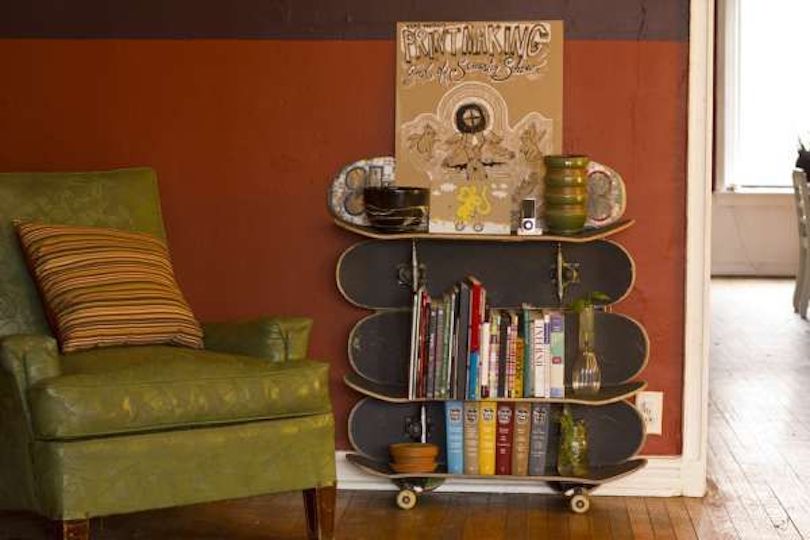 Do you have various skateboards lying in your garage? So, why not club them and turn them into a DIY bookshelf? It is perhaps one of the most creative yet simplest bookshelf designs for upgrading the decor of your living room.
To make sure that your skateboards don't fall off from the wall because of the weight of the books, you have to secure them to wall brackets. For this, you can use the carpenter's glue – as hammer and nail can damage the whole board.
5. Hanging Bookshelf Designs
Another DIY for bookshelf designs is a hanging version. Using wooden planks and few ropes, you can create a hanging bookshelf for your living space. Depending on the number of books you have, you can increase the height and width of this bookshelf design.
If you don't want to use ropes, you can also use suede or leather straps. Plus, you can paint the wooden planks in the desired color to match the interior. However, you have to make sure that your shelves are not very big – otherwise, the leather straps or rope cannot support them well.
Also, measure the distance between the holes on the walls where you want to hang this shelf. The marking and the bookshelf size must be the same so that you don't have to rework on the shelf or the holes on the walls. Once everything is in place, it's time to display your lightweight books and some decor pieces on these hanging shelves for a vibrant feel.
6. Floating Bookshelf Designs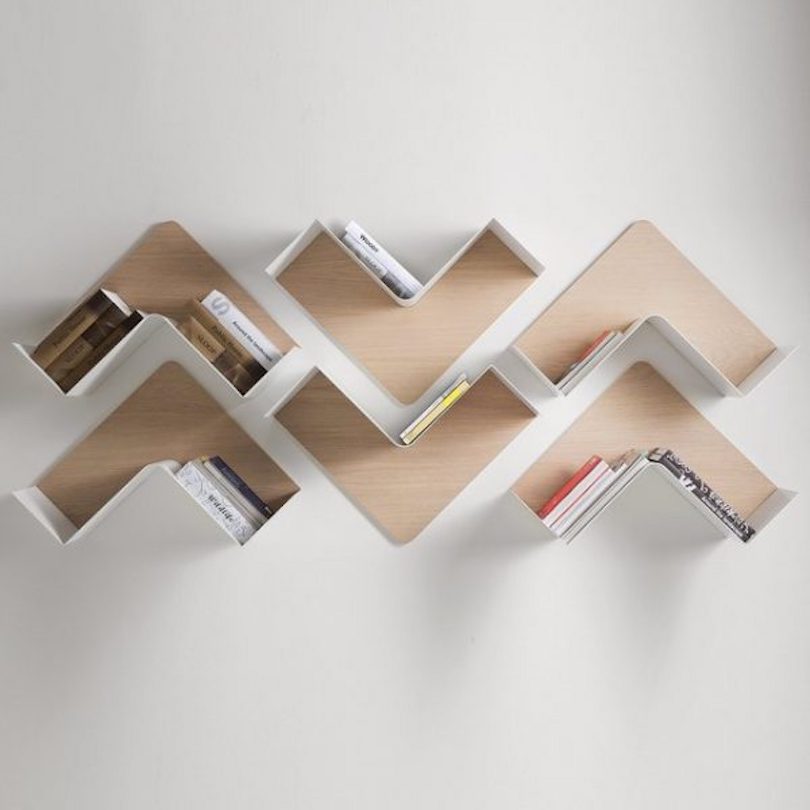 Looking for minimalist bookshelf designs for your modern living space? If so, floating bookshelves are perfect for such a setting. Besides, take up less space in the given area, it gives a modern appeal to the interior.
Despite the floating bookshelves that seem to be flying in the mid-air, these are strong enough to hold books and other decorative items in place. These are also not very difficult to install. These shelves are also called floating shelves. It is because you cannot see any brackets or hooks that support them. These are often suspended on a wall by nailing a wooden cleat onto the wall. For a firmer bookcase, you have to use nails for securing the shelves on the cleats.
Besides being a place for your books, the floating shelves offer you a great way to display photo frames, small planters, and other decor pieces.
7. Crate Bookshelf Designs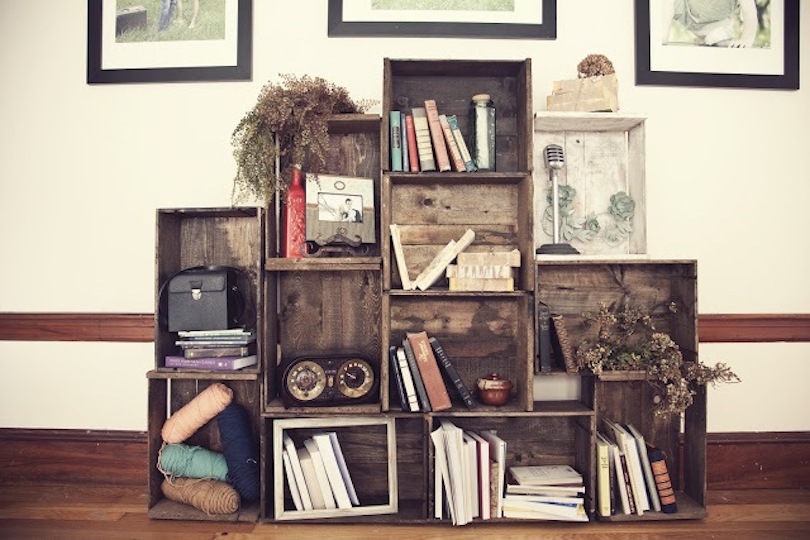 Want to add a cozy yet barn-style feel to your interior? For this feel, you can consider another creative DIY bookshelf design by using crates. Since wooden pallets and crates are available at cheap prices, this DIY bookshelf idea won't cost you much. But you have to ensure that the material used for this unit is not damaged. If damaged, it can bring down the whole structure.
You can arrange the crates from any angle of your choice to create a bookshelf design that meets your requirement. Once you are fully satisfied with the layout, nail the pieces in that design.
If you like the more rugged look, you can leave the crates as it is. Or, consider painting or varnishing them to pull out the whole look together. Besides your books, you can even add decorative items, like showpieces, wicker baskets, or planters into the empty crates for a creative bookcase design.
8. Birdhouse Bookshelf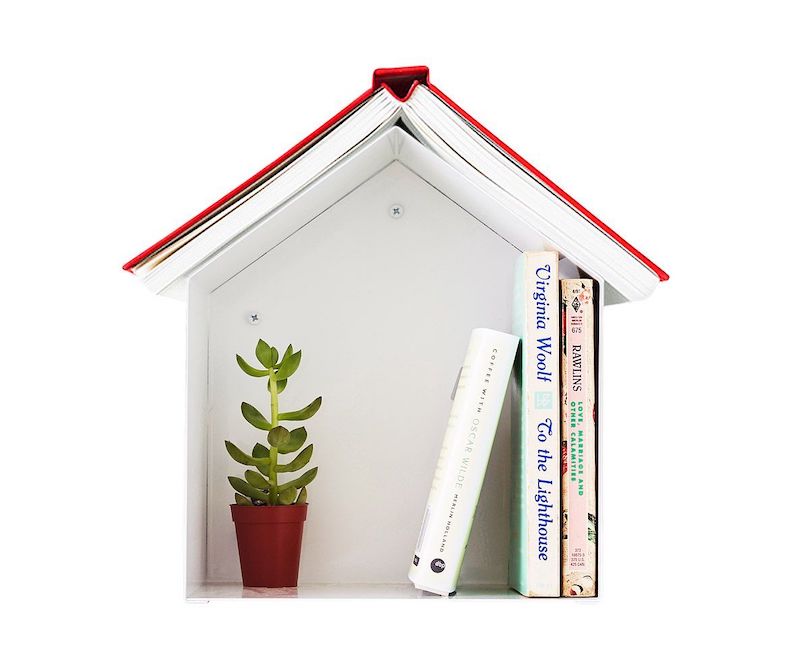 If you have some old birdhouses lying in your garden storage, why now turn them into a trendy birdhouse bookshelf? Birdhouse-inspired bookshelf designs are perfect for playroom and bedroom areas.
Not just one, you can make more of these birdhouse bookshelves and hang them on the wall for a more striking aesthetic. You can even look for big wooden birdhouses in stores in the market. And, remove one of the walls of that birdhouse to keep and take out books effortlessly.
Sine one birdhouse won't be enough for you to keep all your books, it is best to mount more than one birdhouse on the wall. If you have bigger birdhouses, you can even put them on the ground. If you are not able to find already made birdhouses, try making them yourself for a low price.
You can even paint them in neutral or bright colors for complimenting the overall decor. Plus, you can make use of these shelves for storing items, such as board games, magazines, decor pieces, action figures, and more.
9. Ladder Bookshelf Designs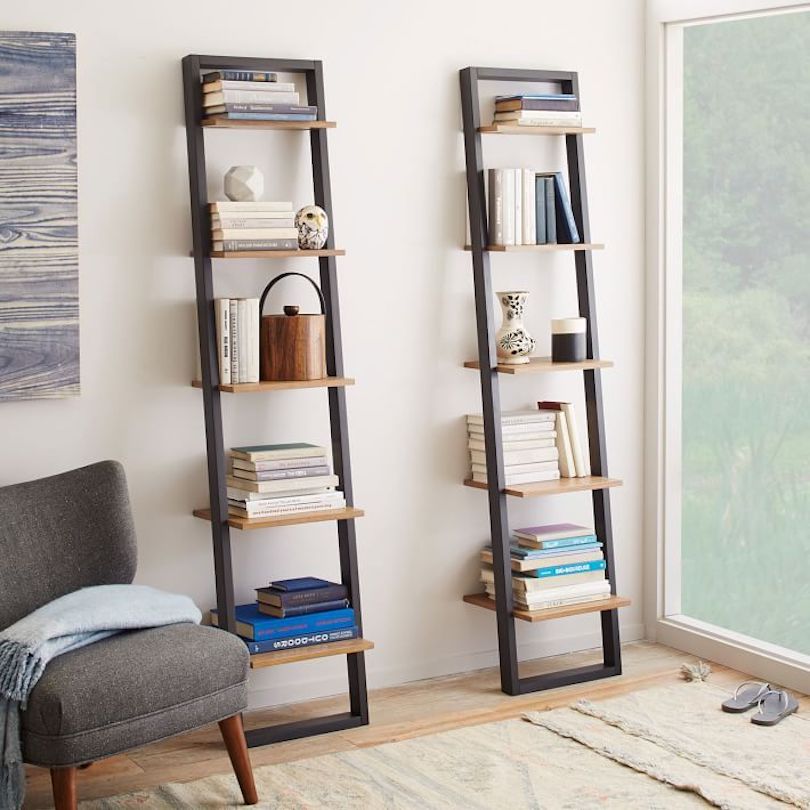 If you love vintage decor, your home decor won't be complete without adding a classic ladder as a bookshelf. Such bookshelf designs are very easy to use. All you need is an old ladder or a step ladder and further fix a wooden plank on each step for decent shelf space. It is best to keep everything nice and secure with nails.
Since many homes already use ladders, it is easy to utilize them and also buy one for your living space. Another good option is to purchase a used ladder and further repaint it in any desired color to match the overall theme of your interior. Usually, rustic or dark wood stains go well with any decor.
10. Unconventional Bookshelf Designs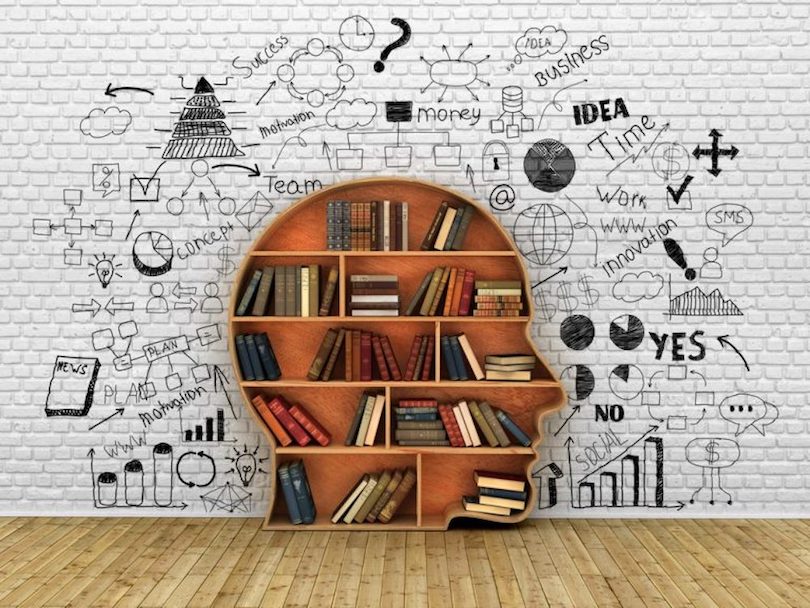 The unconventional bookshelf designs are something that you need to consider for creating an edgy and modern vibe. For instance, if you look at the image above, the design of this bookshelf looks like a human face. By adding books to it, it symbolizes knowledge you get by reading different books.
If you don't think that deep, it's still a fun addition to add distinct character to your interior. Likewise, you can even choose different bookshelf designs, such as the moon or comic characters. This bookshelf design is so intriguing that you'd want to display it in your living room.
If you are searching for the best bookshelf designs for your book collection, consider the size of your book collection, the amount of space you have, and your budget. Which design out of these 10 bookshelves you liked the most? Share with us in the comment section below.