20 Clever Room Divider Ideas To Creatively Split Up Your Space
After the COVID-19 pandemic, we all have been spending most of our time at home due to multiple lockdowns. Since everyone is at home all the time, privacy is hard to find if you have a shared living space. For people who have turned living rooms into their offices or classrooms for kids, the line between home and work life seems to be getting blurred. So, you need clever room divider ideas to stretch your existing floor plan while meeting your requirements.
You can easily divide your living room into separate sections using a shelf, a simple screen, or plants. It all depends on the purpose of a room when you think of creating privacy in one section and keep the rest of the area open. With the help of our clever room divider ideas, you can easily carve out a separate home office in your huge living room or a bedroom with office space in a studio apartment.
And, if you have children living with you, a room divider is a great way to give a visual signal that you require "alone" time. You can even use a separate area for stress or work relief. When you've added a divider into your living space, your family members know that you don't want any disturbance.
Room Divider – A Clever Solution To Separate Spaces
Apart from providing privacy, room dividers are amazing to create a distinction between the rest and work time out of your day. Whenever your workday is over, you can take off the divider or screen to signal that you are all set to focus on family or other evening entails. On completing this action, the transition appears even more concrete.
When you are out to shop for a room divider, you have to consider whether you want a temporary solution. For instance, creating a dining or bedroom area. Furthermore, you may consider setting up or taking it down as per your requirement. Most room dividers boast hinged panels that you may easily fold up to store them flat. If blocking views, sound, or light are your major concerns, you have to select a solid divider rather than a see-through screen. If not, you can even consider a simple floor-to-ceiling plywood partition to close off the given space.
20 Clever Room Divider Ideas To Creatively Split Up Your Space
Check out the 20 amazing room divider ideas to creatively section off your living space in style.
1. Macrame Room Divider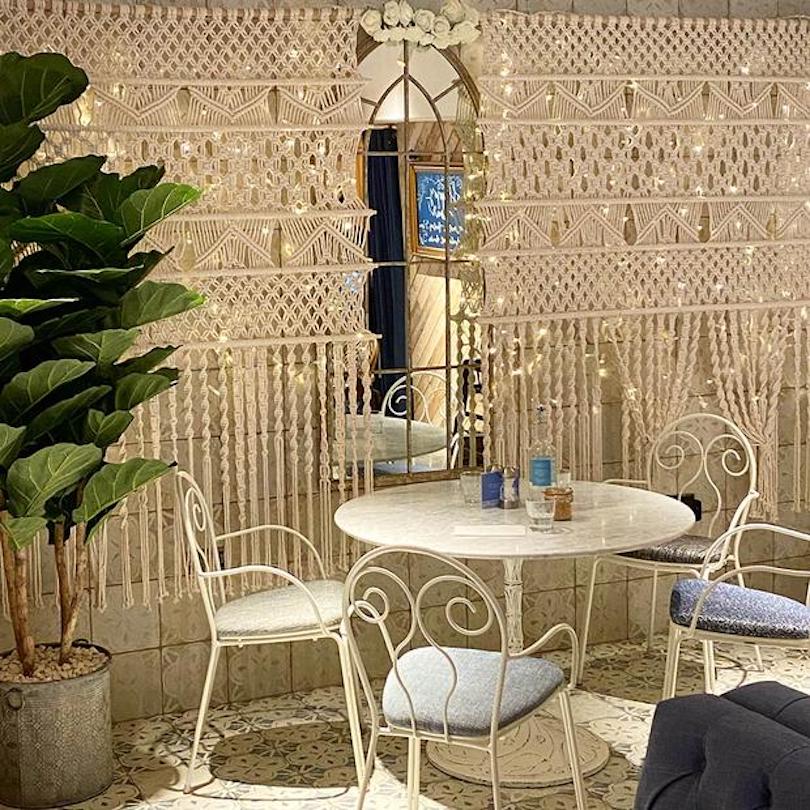 Macrame, also known as the art of knotting, has made a comeback. If you like this artistic style, you can consider adding a huge macrame room divider to your room. It is because will bring some hippie chic factor into your office or bedroom. The best part is that you can create it yourself at home. All you require is a long cotton rope (around 700-feet), hook screws, wooden dowel, and scissors. And to learn the art of macrame, you can check out any YouTube tutorial showing how to craft a beautiful room divider using this craft.
2. Room Divider Closet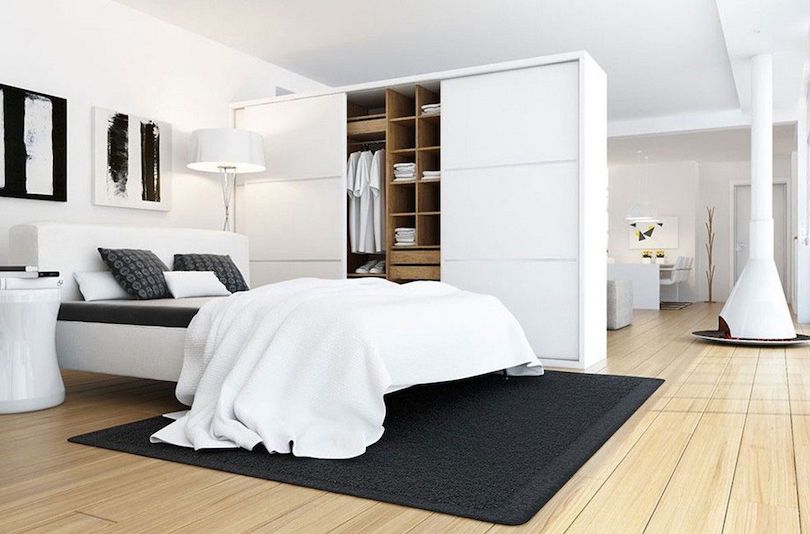 Within the four walls of your rooms, you get different types of spatial configurations. But if your bedroom lacks a devoted closet, don't worry! We are here to help you create a clever room divider that doubles as a wardrobe or closet. The front section of this room divider appears like a white wall. However, its back includes shelves and hangers to keep clothes, accessories, shoes, and more. Also, it helps you keep your mess hidden fashionably.
3. Classic Room Divider Ideas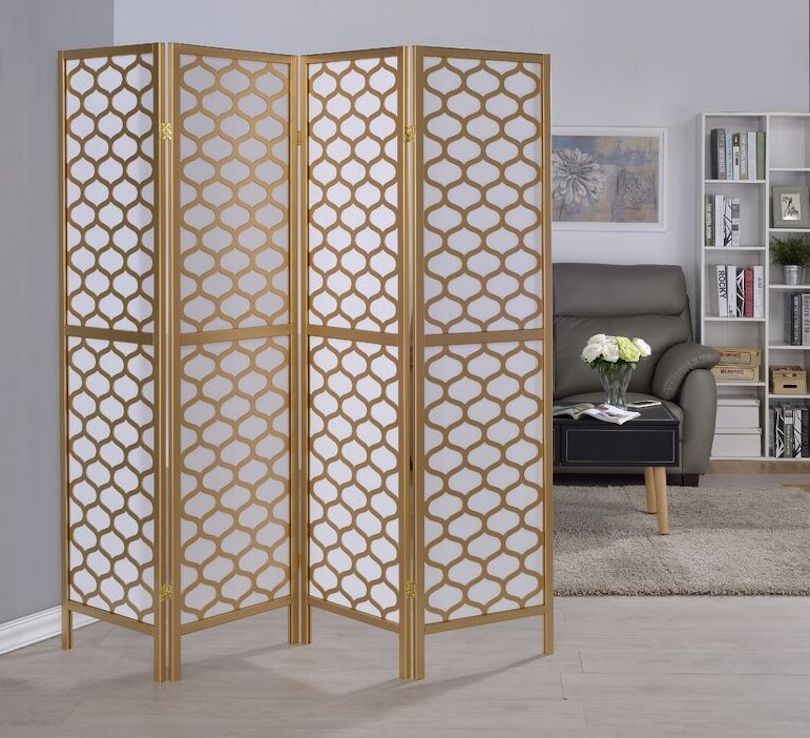 For a classic room divider, you need to go through a thrift shop to find a timeless, luxe folding screen with easy-to-follow directions for DIYing it. For instance, a wooden screen is a practical option for living spaces and bedrooms. If you don't find a classic wooden room divider pretty, you can consider painting its frames and pattern in golden color. The golden hue will look amazing with a frosted white screen or wooden board.
4. Modular Plywood Partition For Room Divider Ideas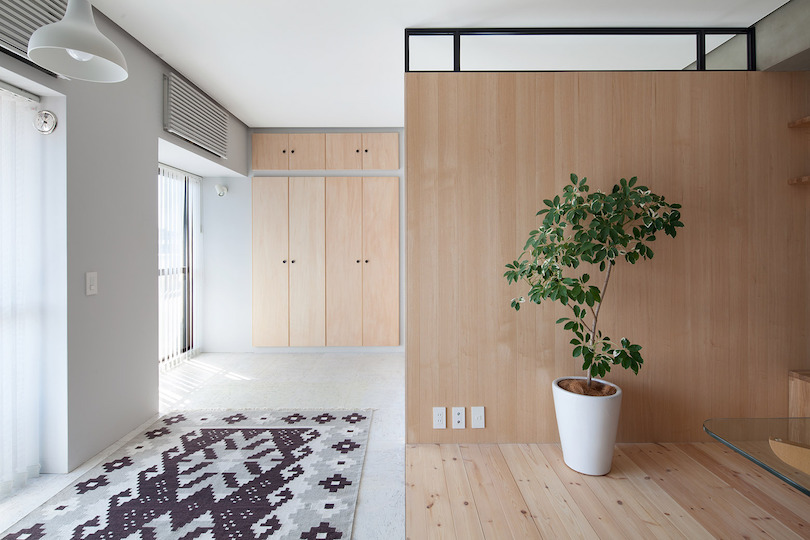 Take out your power tools and start creating a modular plywood partition with easy instructions for a truly stunning modern room divider. It is one of the best room divider ideas for the minimalist approach. This plain modular plywood partition is easy to create and separate a living room or a large room into two sections for different purposes. If you want to remove it, you can do that with simple tools or restore an open-plan flow. But if you wish to keep it permanently, you may even add electrical sockets or lighting fixtures to the screen for making it more functional for everyday use as an office or study space.
5. Storage Galore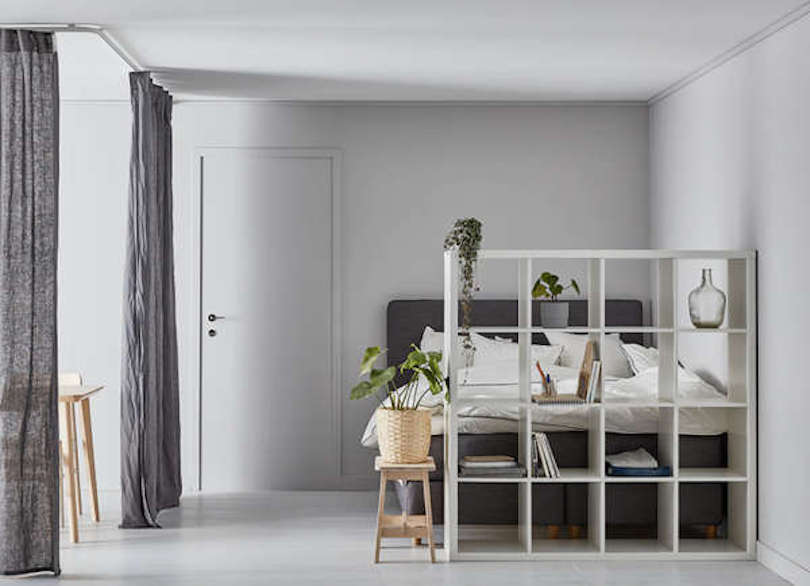 How about the room divider ideas that double as organizers? Check out the image given here, showcasing a simple storage unit in white. The best part is that this small unit also caters as a room divider and easily separates two sections in a room.
With around 16-square cube-like holes for display and storage, position the shelves flat against a wall or in the middle of a room as a bookcase.
6. Custom Panels For Room Divider Ideas
Custom paneling is one of the amazing room divider ideas to give fashioned appeal to your living space. You can customize different wooden and frosted screen panels to create one huge division. It will be great for airy partition anywhere you require space separation. You can find a PVC kit in decorative panels to easily hook together in any desired configuration. If white is not your preferred hue, you can even choose it in different colors that work for you and your living space.
7. Plant-Lovers Partition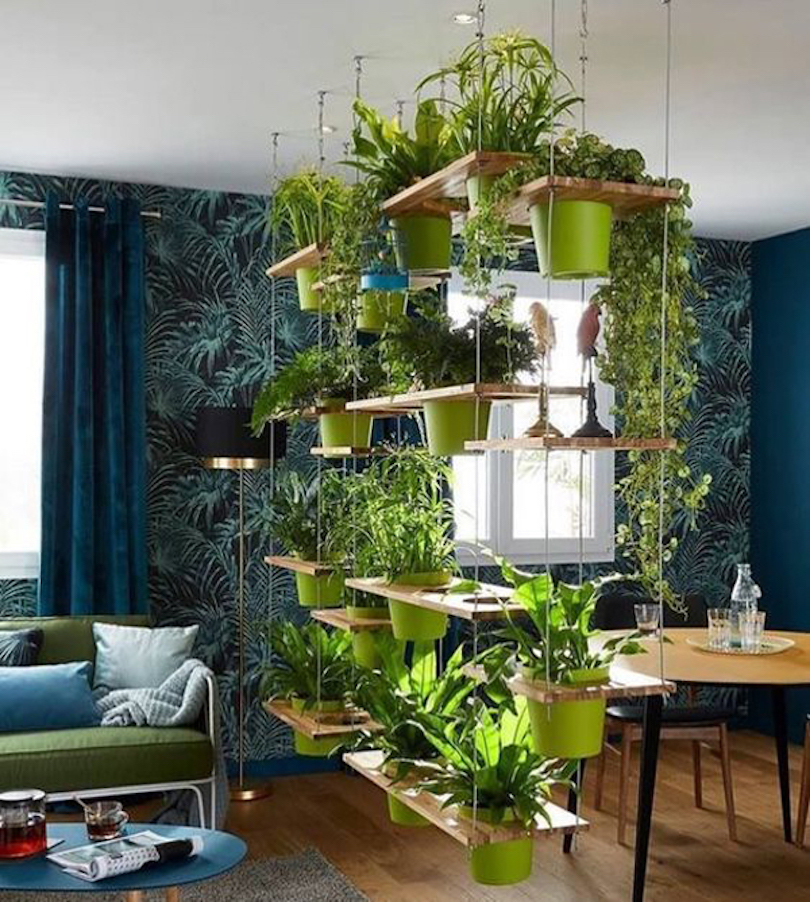 Are you a crazy plant lover and even want to add some touch of greenery into your home? Why not begin with creating a room divider using plants. You can consider creating a living wall in a room with hanging wall-planters with wooden shelving. The best part is that this design is customizable. You can try creating it yourself at home or ask an expert to make it for you. All you need to be sure of is the dimensions, preferred number of planters and tassel needs, and your hanging requirements.
8. Mobile Room Divider Ideas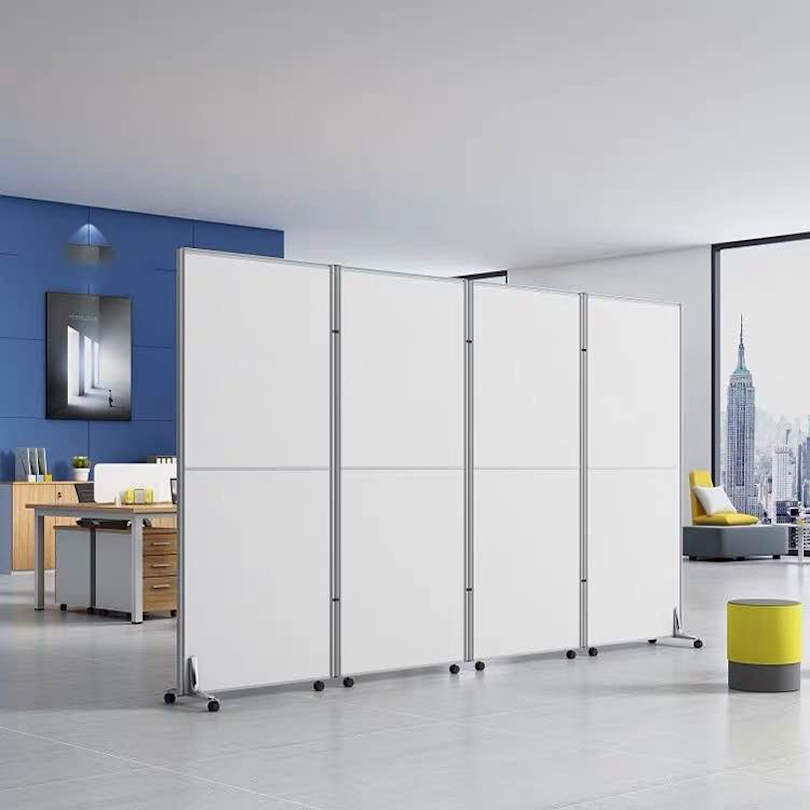 If you want a mobile room divider that is easy to relocate from one area in your room to another, consider a room divider with wheels. Although it won't help you buffer the sound, it will definitely offer you the utmost privacy and also manages to hide things you want to keep out of sight. For instance, you can keep your wires, washing machine, laundry, etc. out of sight whenever needed. Such room dividers come with caster wheels that lock in place, as well as unlock when you want to roll it somewhere else. Besides that, you may consider hanging a frame with an opaque draping or curtain panel in the fabric of your choice for a different feel.
9. Painted Room Divider Ideas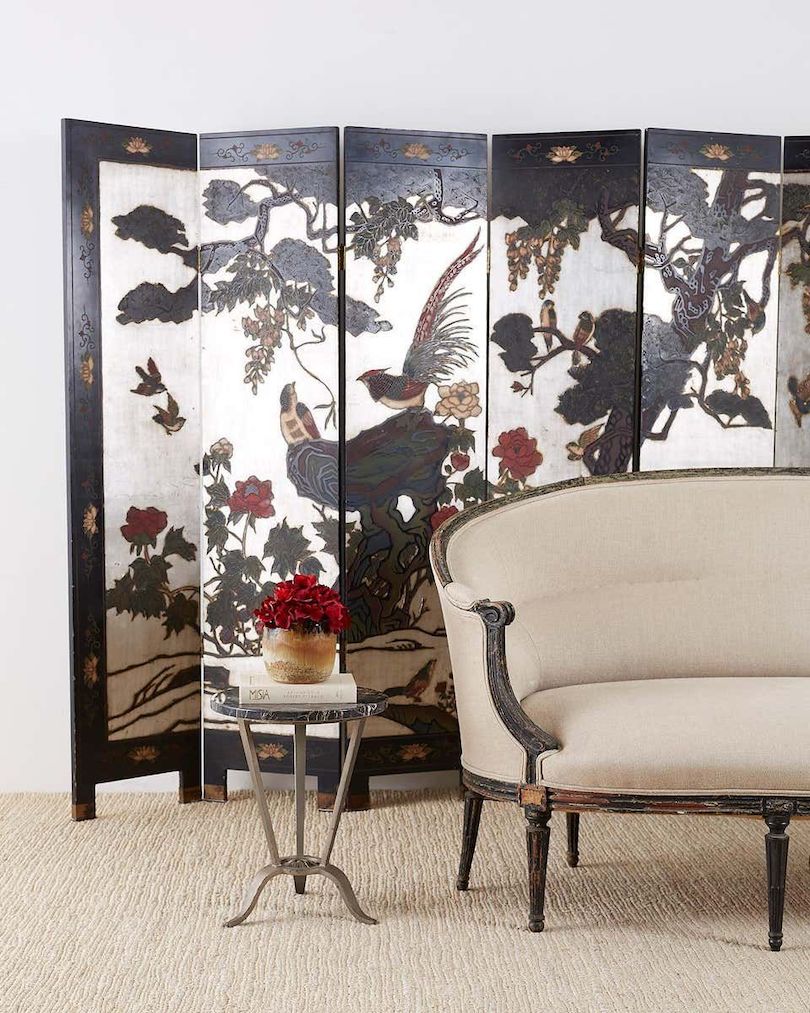 Want to add an artistic flair to your studio apartment or living space? You may consider adding a painted room divider in any desired style. It can be your preferred scenery of flora and fauna or any other scenario of your choice. You can even DIY such panels to give them a creative feel. For instance, you can make a DIY wooden room divider. And after proper cleaning, sanding, and repainting, you may consider making illustrated panels with your paintbrushes. The finished divider will add an artistic and whimsical touch to a child's room or a home office.
10. Sliding Barn Door Divider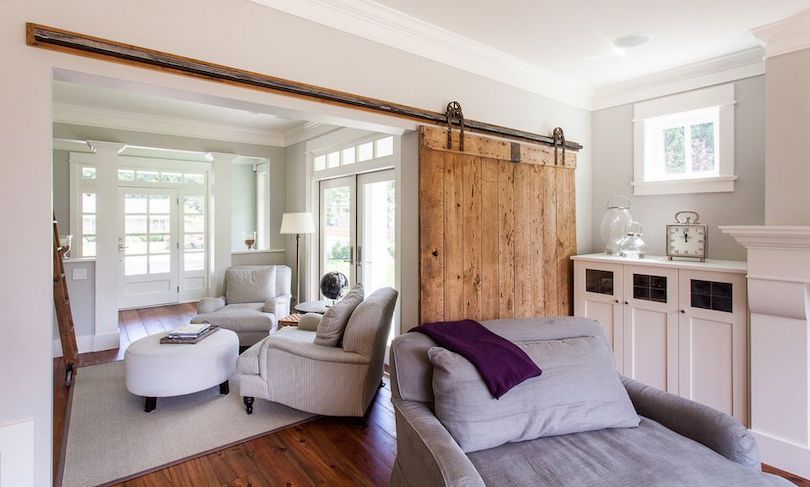 Maintain semi-permanent privacy in your room using a sliding barn door divider. This DIY sliding barn door divider is easy to create with simple tools and an old barn door. You can place it in the middle of a living room to create two separate spaces for yourself and your kids. Using the right hardware, you can install it on a ceiling beam between a room. Hence, the sliding barn door can move any time to help you maintain privacy whenever needed. Once installed, you will enjoy the amazing benefits of a real door. Moreover, you get the versatility of an open and spacious living when you desire it.
11. Rattan Room Divider Ideas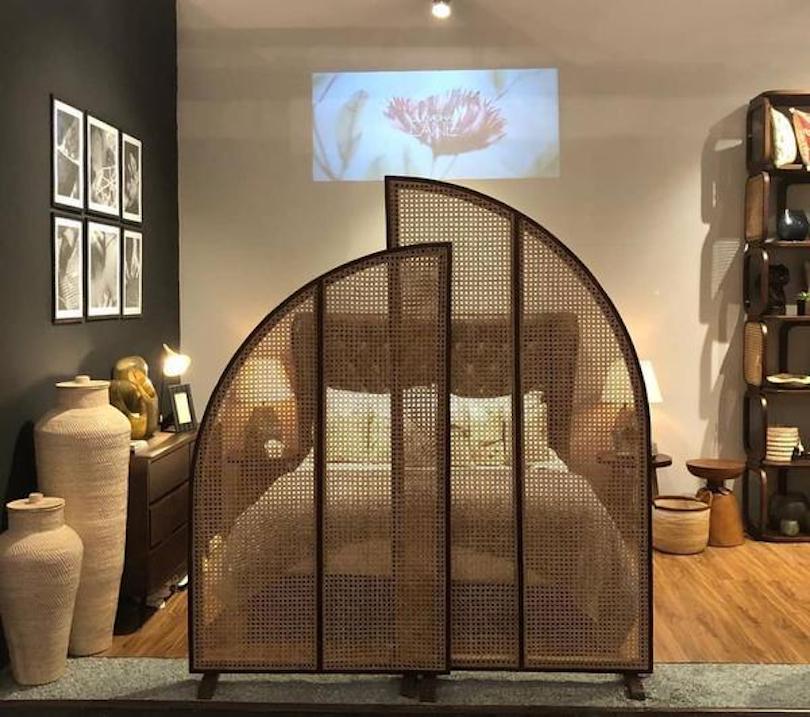 Select a room divider that will match the decor while doubling as a fashionable accent. Have a look at the rattan room divider (shown in the image). It boasts a stunning arched design and had a classic vibe. When not needed, you can store it flat in your garage. So, when you bring it into your living space, you'll realize how beautifully it transforms your room into an inviting area.
12. Bookshelf Room Divider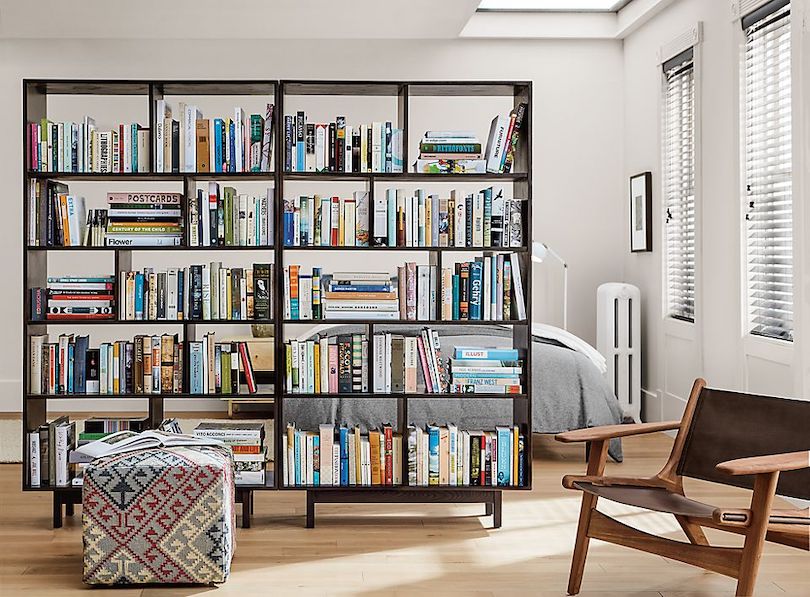 Bookshelf-style is also one of the most functional room divider ideas. You can use a huge bookshelf in the middle of a living room to break up the sections while displaying your books. Made of wood and consisting of various shelves, this unit can hold a vast collection of your books. Meanwhile, you get the benefit of a room divider from this bookshelf.
13. DIY Rope Wall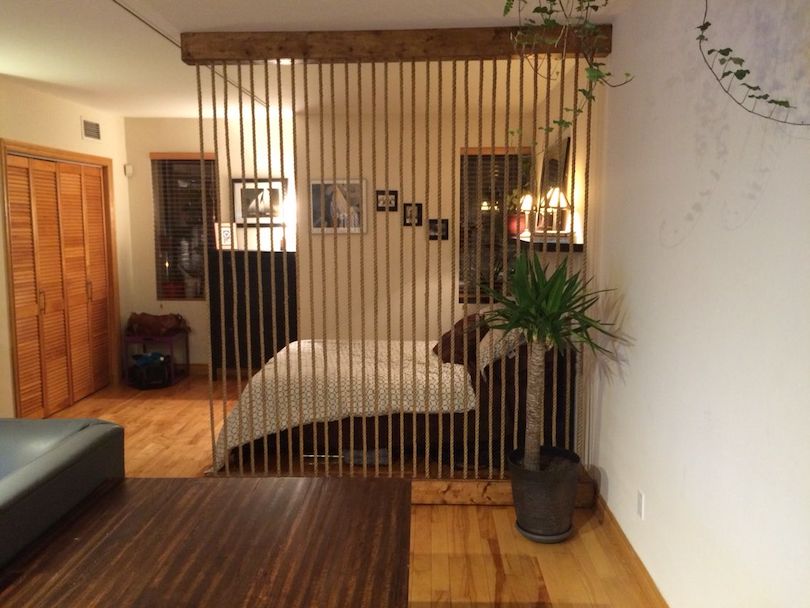 You can add style and texture to your living space using this DIY vertical rope division wall. It is a great idea for homeowners looking for creating well-defined spaces while retaining visibility and light in a room.
14. DIY Ikea Frosted Glass Door Divider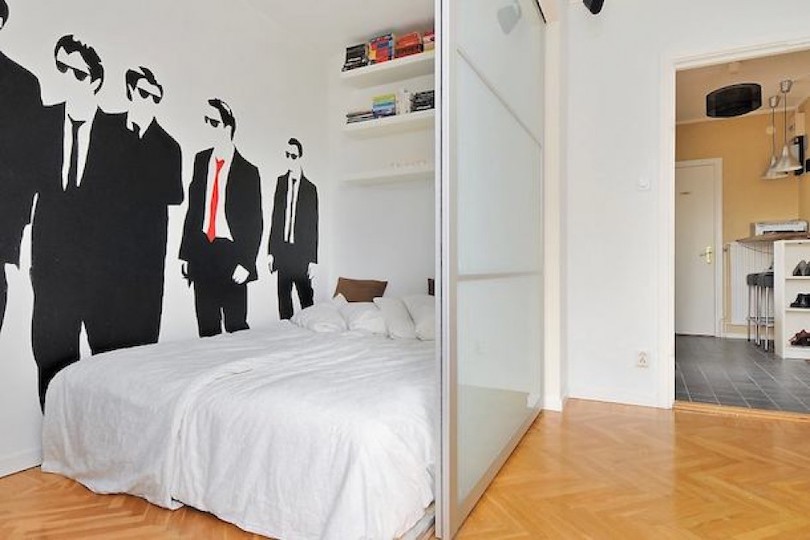 You can turn your studio apartment into a practical one-bedroom space, using IKEA's sliding frosted glass door. This glass door with frosted panels offers much-needed privacy without compromising on sunshine.
15. Keep Furniture Strategically
If you don't want to shop for a brand new room divider, you can split up your space by strategically keeping your furniture. Have a look at this studio space in the image. Strategic furniture placement can automatically separates different sections. For instance, it helps you to separate your dining area and lounging area.
16. Play With Levels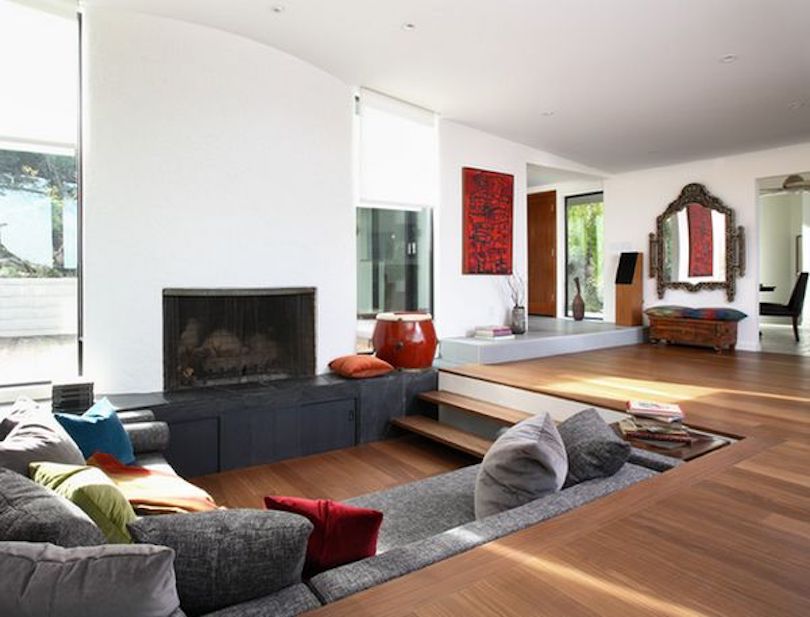 Splitting up a living room doesn't mean to make a wall in the middle of a room. Instead, you can visually separate areas by playing with different levels in a room. The seating area is on a sunken level and the rest of the areas are suitable for other purposes.
17. Perforated Partition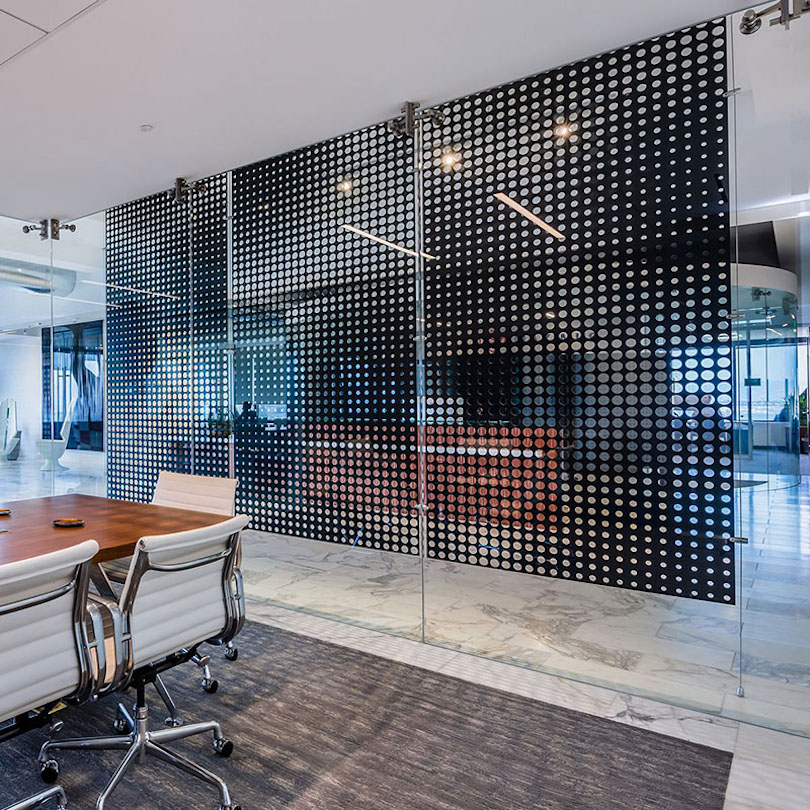 Looking for airy room divider ideas? Consider adding this perforated sheet on a glass wall, as shown in the image above. The sports of daylight will breakthrough while filling this windowless area with enough diffused light.
18. Glass Fireplace Surround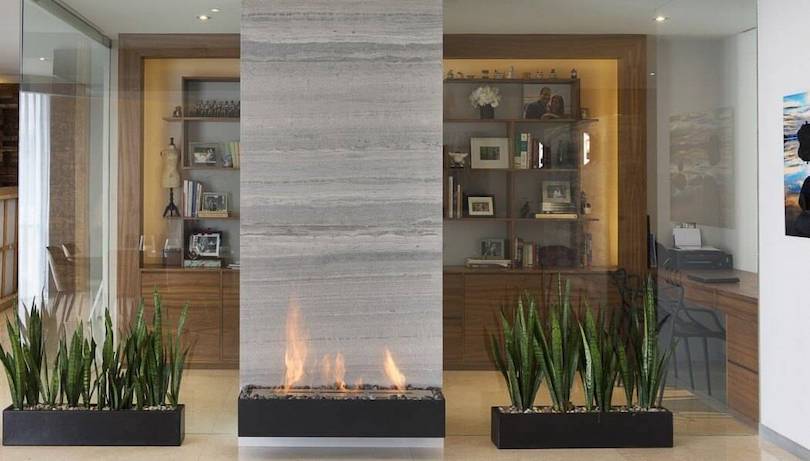 Adding a glass fireplace surround right in the middle of your living room is another great way to provide a sense of separation. Meanwhile, it remains light and view across the entire room.
19. Old Window Frames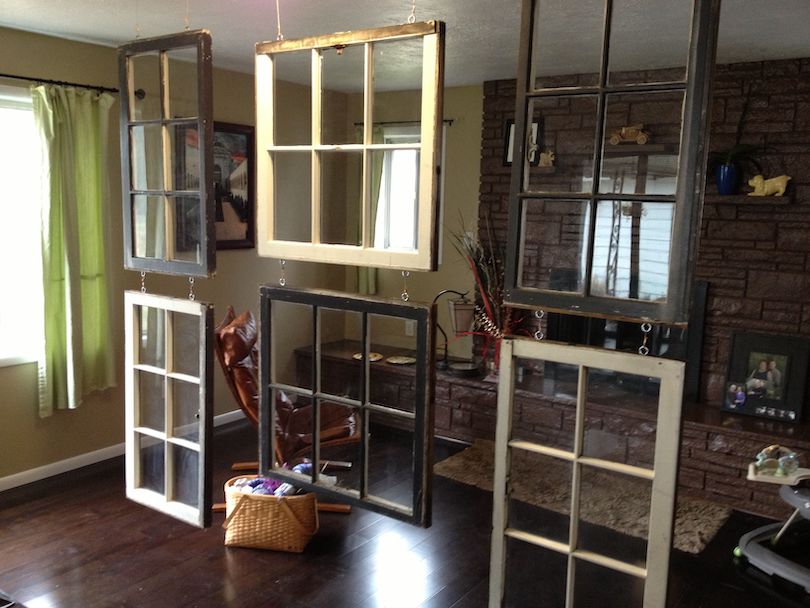 If you have some old window frames lying in your store or garage, you can consider transforming them into a DIY room divider. In the given image, you can see the two sections divided by a hanging old window frames.
20. Bamboo Room Divider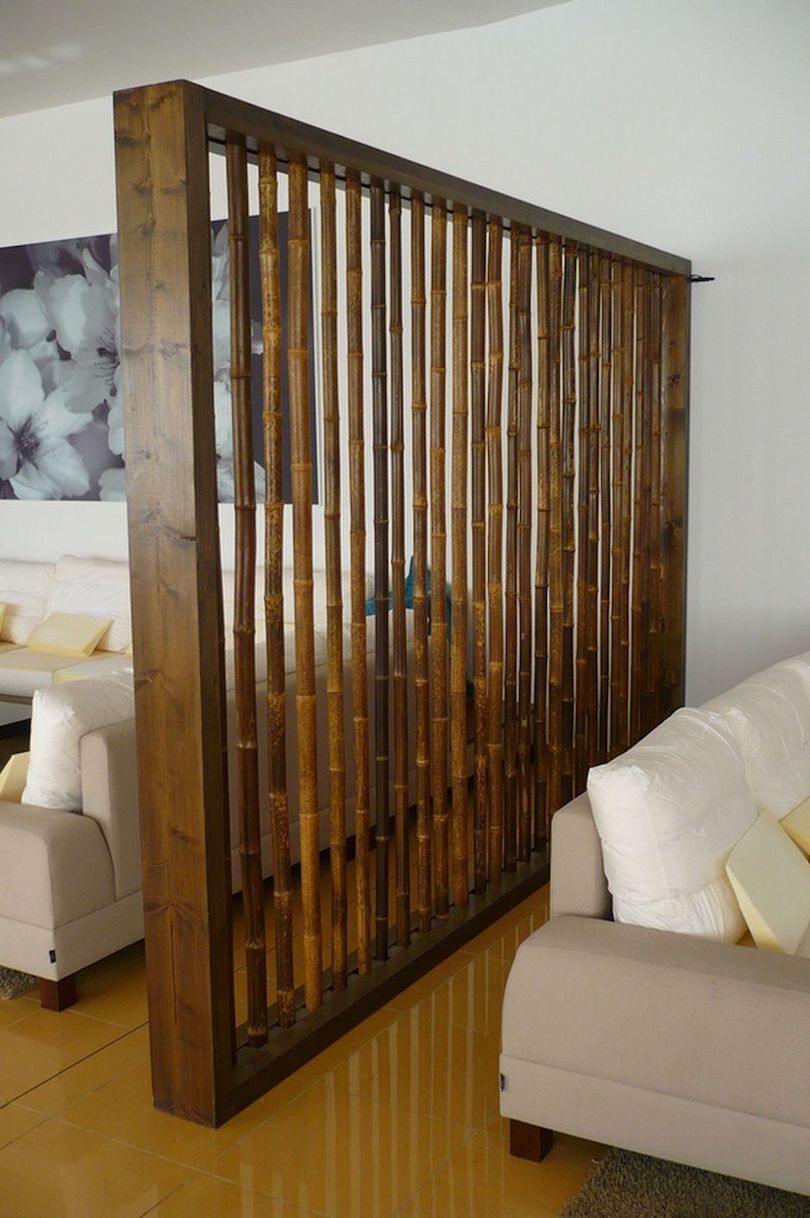 Though they're often used to create furniture, you can also use old bamboo sticks to make a room divider. For this room divider, you need to create a huge wooden frame and then place bamboos within this frame. It will help you create an elegant room divider for separating different areas of your living room.
All these room divider ideas are easy recreate and customized with different room decor options. So, don't wait any further! Start following any of these ideas to redecorate your home with a stylish room divider.