20 Entryway Decorating ideas to Make Great First Impression
Do you need a valid reason to invest in the stunning entryway? Well, everyone needs a stunning spot to make entry into any abode. So, it got to be good. Even if very few people visit your place, an entryway area must be good-looking and serve a practical purpose. That's why you need to take your time to look at certain amazing entryway decorating ideas to make a great first impression.
An entryway is a place where you hang your coat, keep house/car keys, and take off the shoes. This way visitors get the very first impression of your house. So, setting the tight tone of this area is of utmost importance. It is because this gives an idea to people about the rest of your space. Just consider your entryway as the three-dimensional mat to welcome your guests. This area is well-traversed area, however, people won't spend much time over here.
But how to approach decking up an entryway to accommodate elaborate, yet heavy traffic? You can start with decorative accents that have a high impact while setting a stylish tone in the interior.
No matter your entryway is a modified mudroom, a formal foyer, or an apartment layout with an open-plan living room and attached kitchen, it's all about adding the wow factor. You can do so by adding the right decor pieces, lighting, rugs, and furniture near your front door.
20 Entryway Decorating Ideas
Here are some of the noteworthy entryway decorating ideas to consider for your house or apartment:
1. Embrace Fashion and Function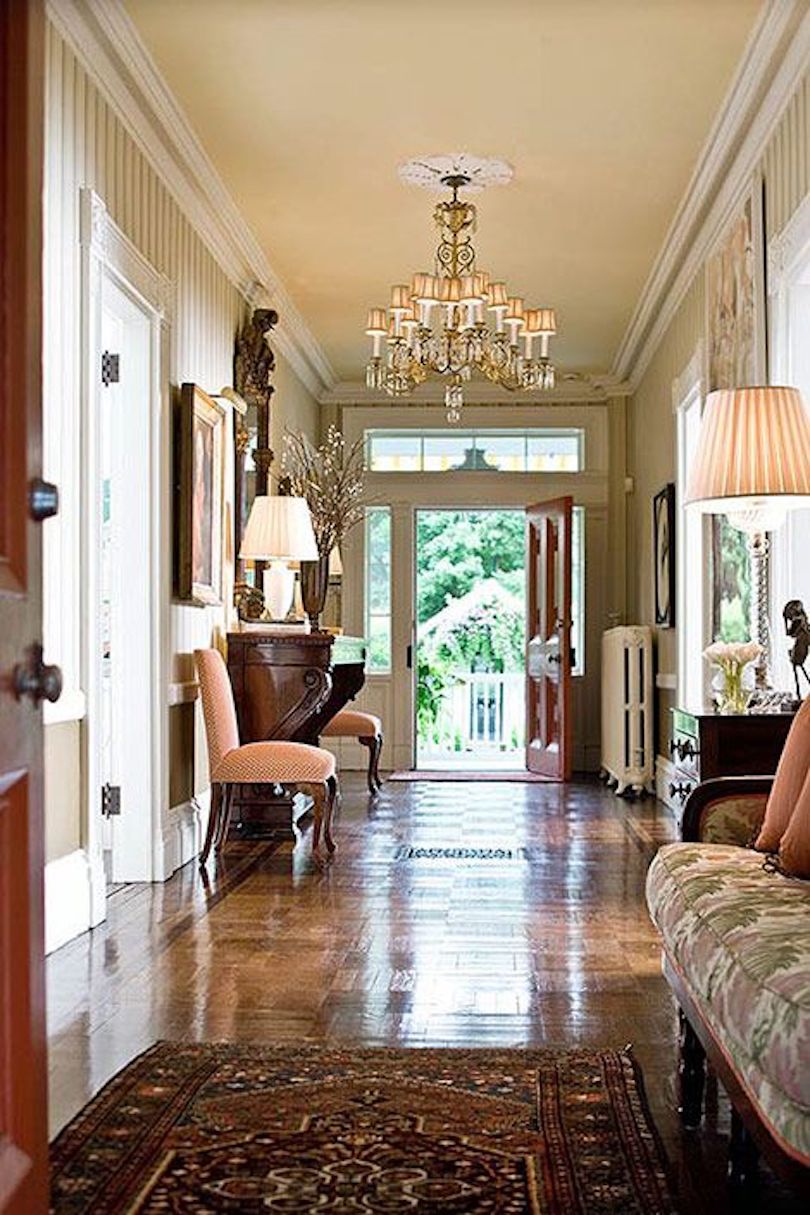 Some simple yet effective entryways decorating ideas is to embrace fashion and function. So, lead your guests in a mixture of interesting design and decor elements, which extend from flooring to the ceiling.
Check out the image shown here and see how eclectic style balances glam touches, like a stylish chandelier and metallic decorative pieces, with more organic elements such as dried plants. And, there is also a striking rug in the entryway to serve as the anchor of this particular area. Such rug is essential to handle traffic and even sustain the organic charm of the interior for many years.
2. Patterned Flooring for Entryway Decorating Ideas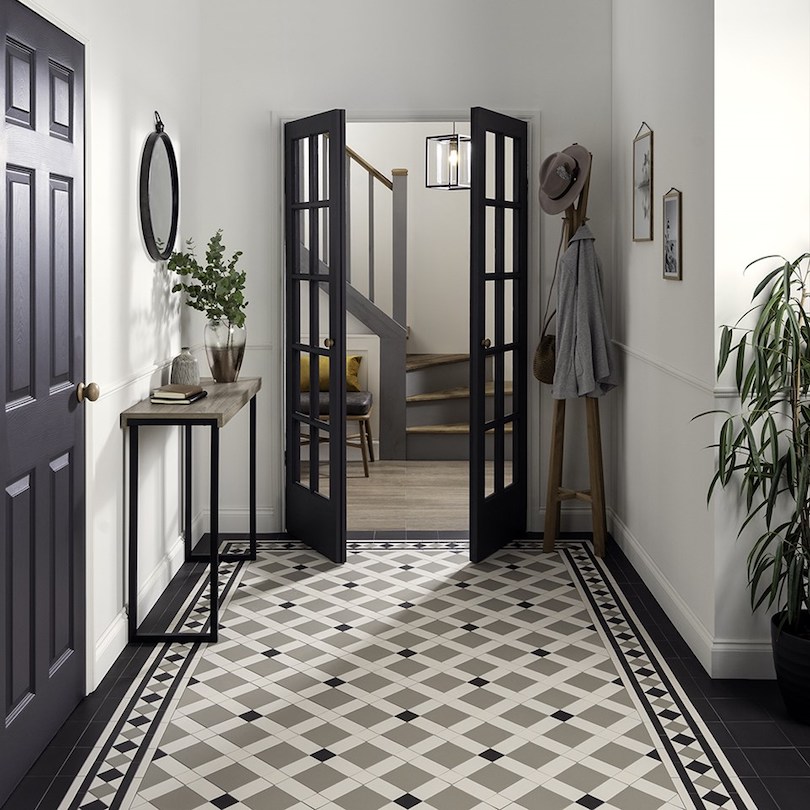 According to designers, stepping into a home is no less than a charming experience. If you are not inspired or excited to walk through your front door, it's time to amp up things. So, work on stunning entryway decorating ideas to make a lasting impression on your guests.
Consider adding stunning patterned floor tiles in your entryway and decorate the rest of the area with a plant, console table, and few other practical pieces. It is because such design encourages flow while directing visitors into the main area of the home.
3. Lighting for Entryway Decorating Ideas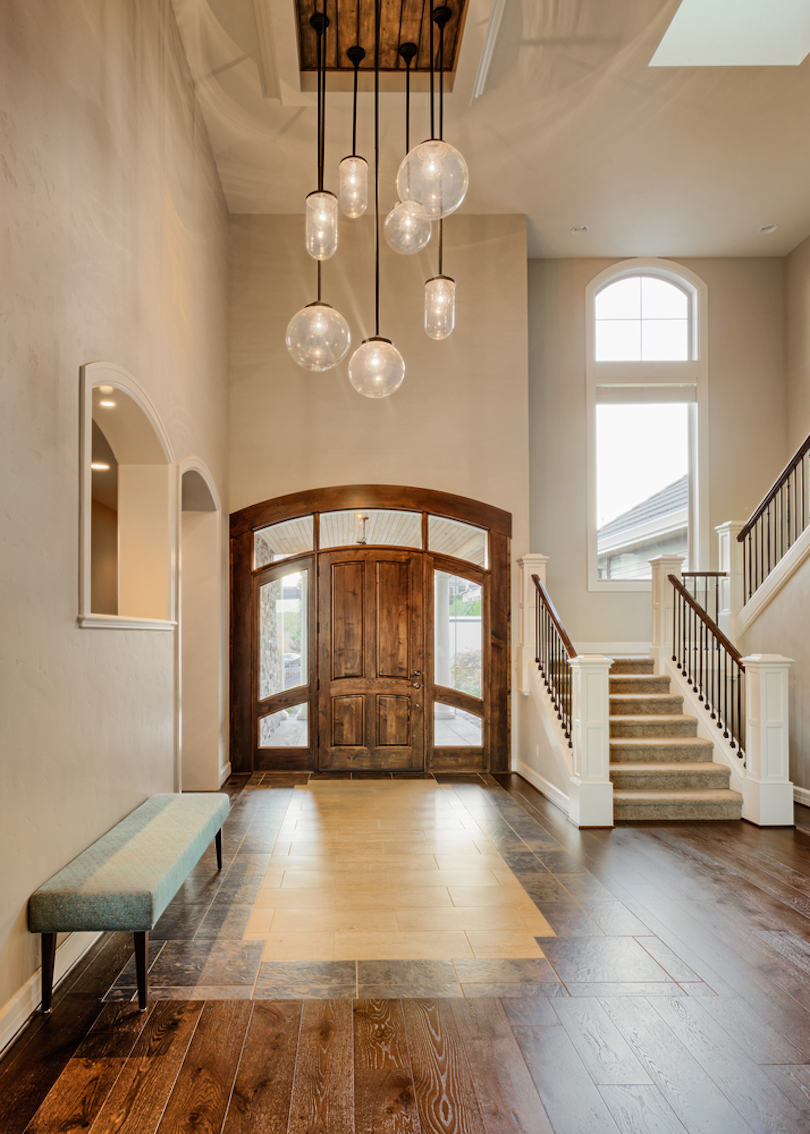 For a quick fashionable fix in a tiny space, you can consider adding a glamorous lighting fixture into the entryway, as shown in the image. A chic chandelier or stylish pendant lamp can easily transform the entire look of your home without any risk of clutter. With so many options to choose from, you need to find the one that fits your style and preferences without any hassle.
4. Stylish Entryway Chairs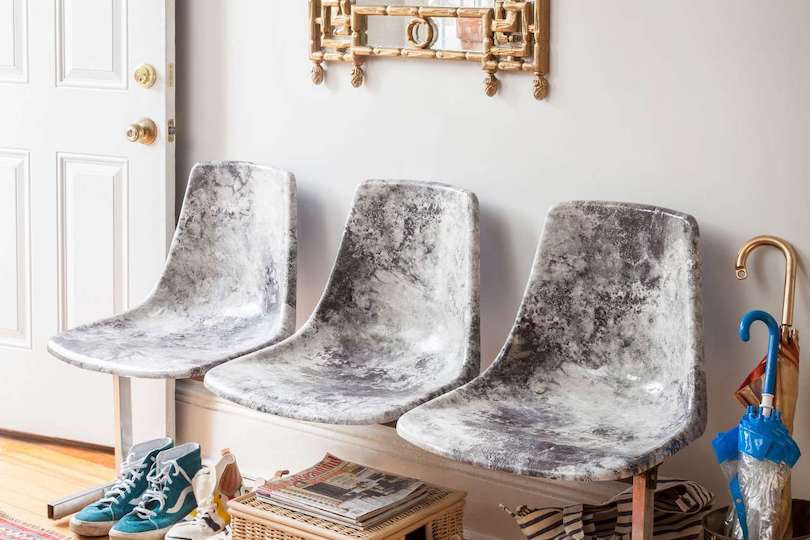 One must have a dedicated area at entryway to keep your keys or take off shoes. We think that even a funky chair, stool, or bench are great addition near the front door. It is because these elements can help in your unique taste.
Have a look at these molded plastic seats with a pattern. The pattern appears like marble, hence, it's perfect to add an exquisite feel to the area where it's placed. Even the maintenance of such furniture is easy, using a gentle cleanser to wipe off the stains and moisture.
5. Wallpaper on the Ceiling – Entryway Decorating Ideas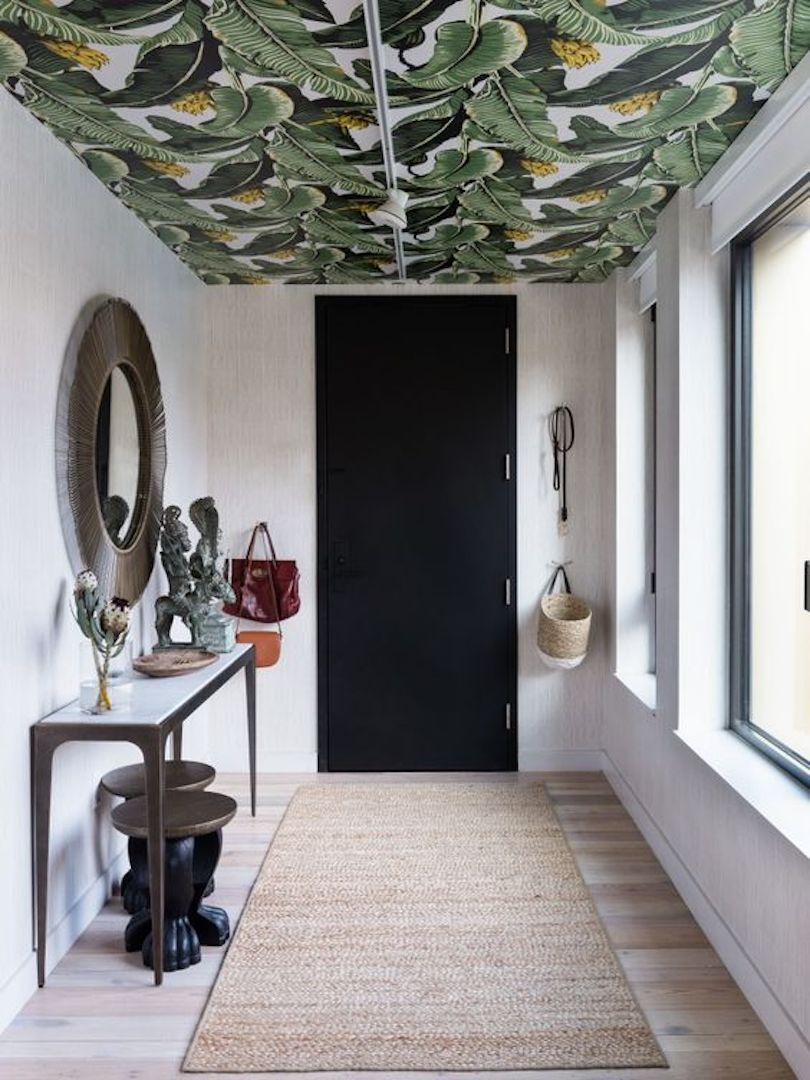 If you have the rest of the entryway minimalist, you can add a stylish factor to the area by adding an interesting ceiling wallpaper. The wallpaper with leaves and floral patterns add more life to the given space.
Rest of the space has a mirror on the wall, a console table beneath it, and stools for seating (if required). You can even add hooks around the front door for hanging coats, handbags, and storage units. Even the rug adds to the subtle feel of the interior while making the area ready for heavy traffic.
For adding more glamorous feel to the entryway, you may consider adding a metallic wallpaper with geometric patterns on the ceiling.
6. A Touch of Greenery for Entryway Decorating Ideas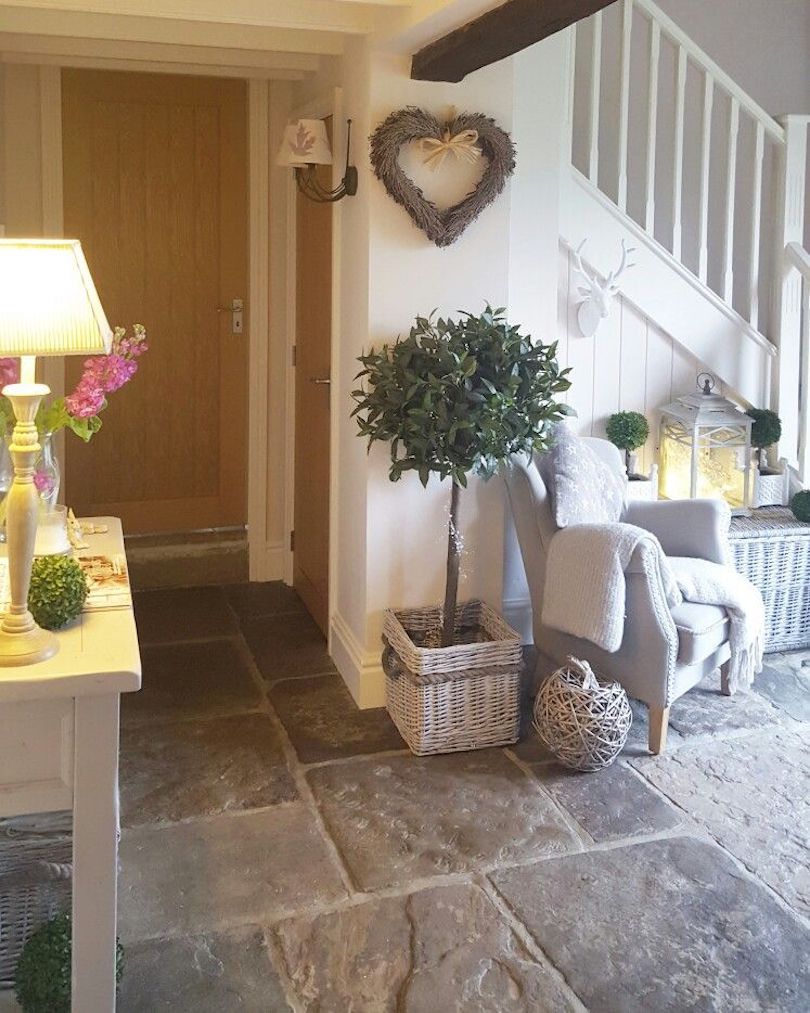 Thinking of entryway decorating ideas to ditch all the clutter in the given space? Just behold this neutral space for a while. When you enter the home, a warm and lively ambiance created by the plants and a warm lamp will welcome you. The right side has a huge plant in the basket. On the other hand, the left side has a console table with a lamp and small planters for a touch of greenery. Hence, this area appears to be more inviting and cozy to make your guests feel at home.
7. Practical Pieces in Your Entryway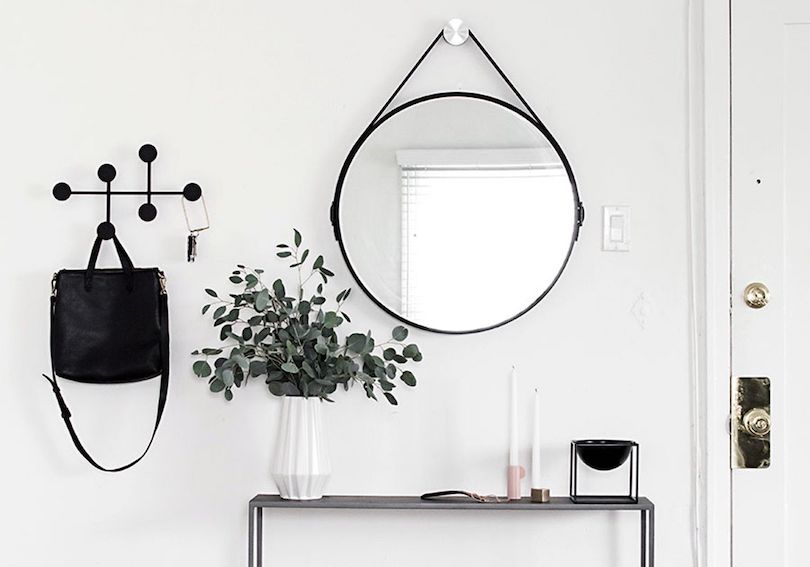 With the help of a few practical pieces, you can make your entryway feel like a small corner in your apartment. For anchoring the entire space, you can consider adding a narrow console table for keeping a few items, such as mail and keys. Also, personalise your nook by sprucing up the area with candlestick holders and a ceramic vase. You can even add a small tray to the table for keeping small things, like mini flashlights, everyday jewelry pieces, and gum. Even the coat rack on the left is a great addition to hang our everyday jackets, scarves, and handbags.
8. Choose a Boho Theme For Entryway Decorating Ideas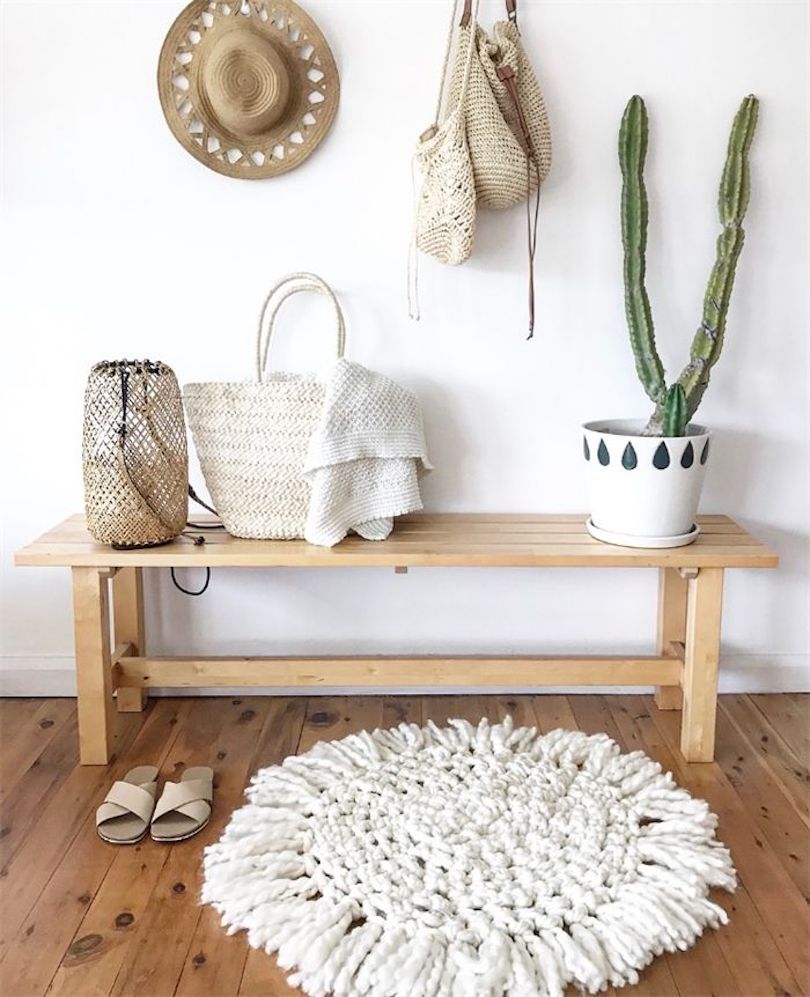 One of the funky entryway decorating ideas is to consider a boho-chic theme for the given space. So, for creating a cohesive look, you can add plenty of macrame pieces, like a rug, wall hanging, or lampshade. Also, add a planter to add a lively touch to the overall boho theme. If you like something more bohemian, you will find gravitating towards more botanical aspects and natural textures. Your choices will set the overall tone of the given space.
9. Add Mirror in Entryway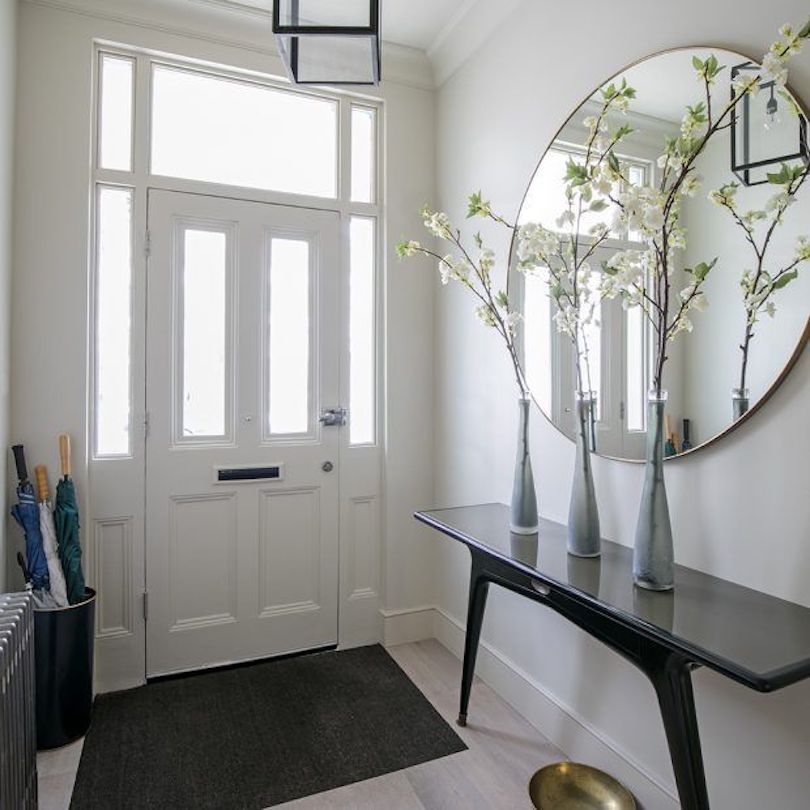 One common secret of designers is to make the light reflect more. It helps in giving a larger appearance to the given space. You can achieve that by adding a mirror to your entryway. Besides letting you check how you appear before stepping out of the house, it adds a touch of elegance to the given space. Whether you choose a single round mirror, a floor-length mirror, or multiple small mirrors, this decor element can really help you in pulling the look together.
10. Paint a Wall Mural for Entryway Decorating Ideas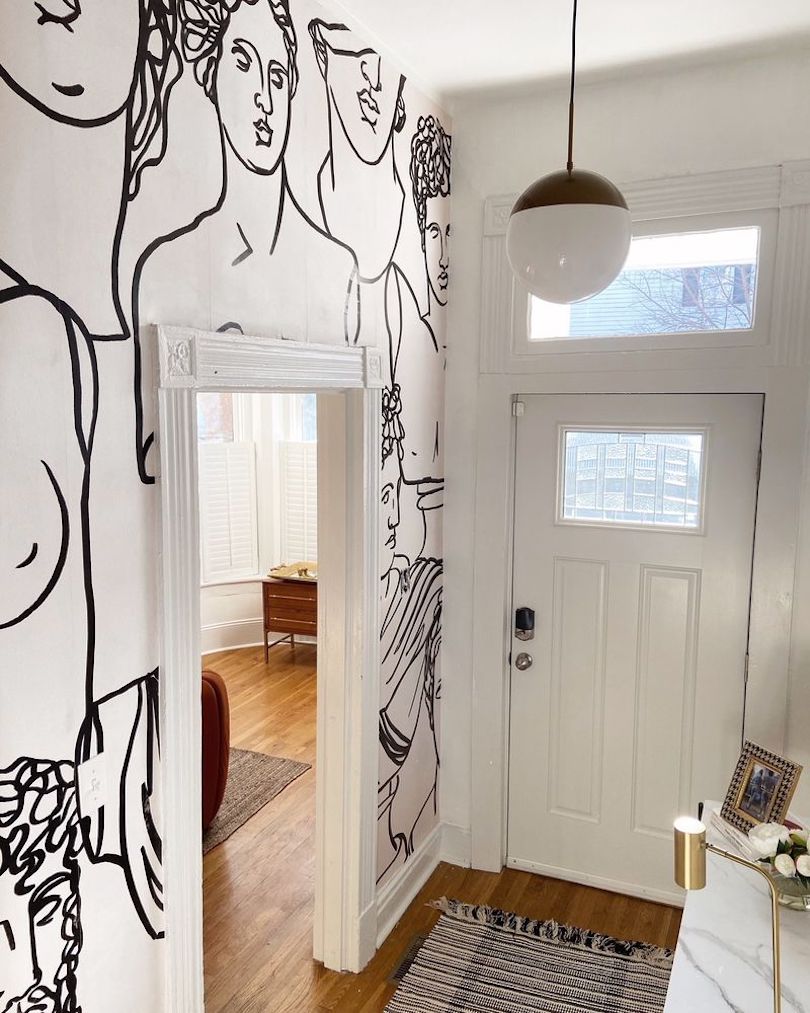 For an eye-catching and stunning appeal, you can consider painting a DIY mural. Handpainted murals are not just a thing for a bedroom or living room walls. But you can even add an artistic touch to your entry hallway. If you're not a painter, you can simply look for artistic wallpaper options to create a similar effect.
11. Dress Up Entryway Stairs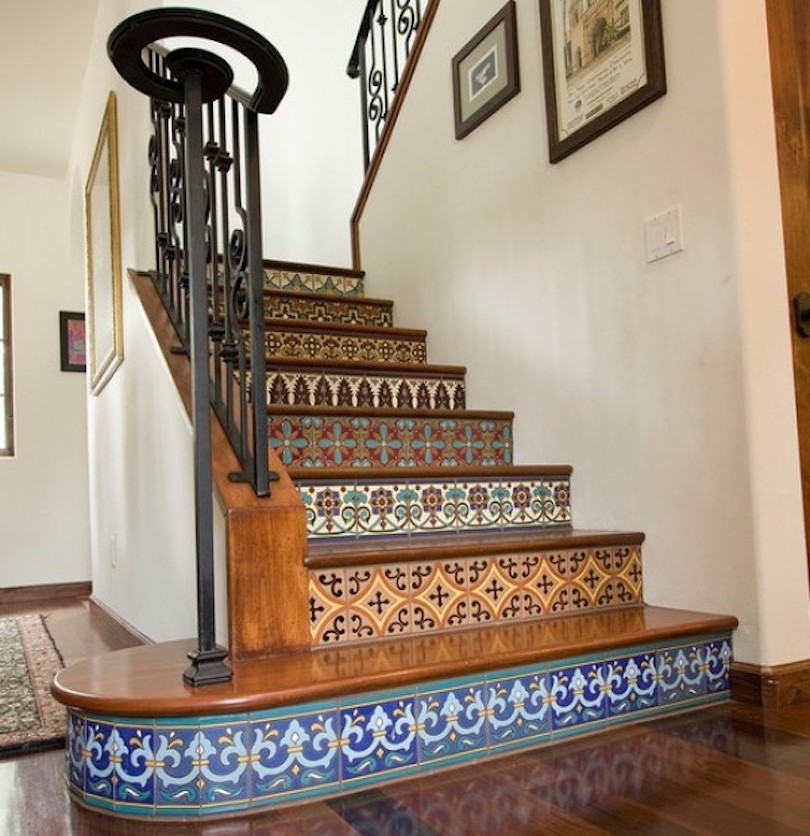 How about dressing up our entryway stairs for a more interesting touch? You can dress them up with a draping fabric or adding a splash of color to some unexpected place. Even try adding some decorative tiles to the front of your staircase or each stair.
12. Get a Statement Rug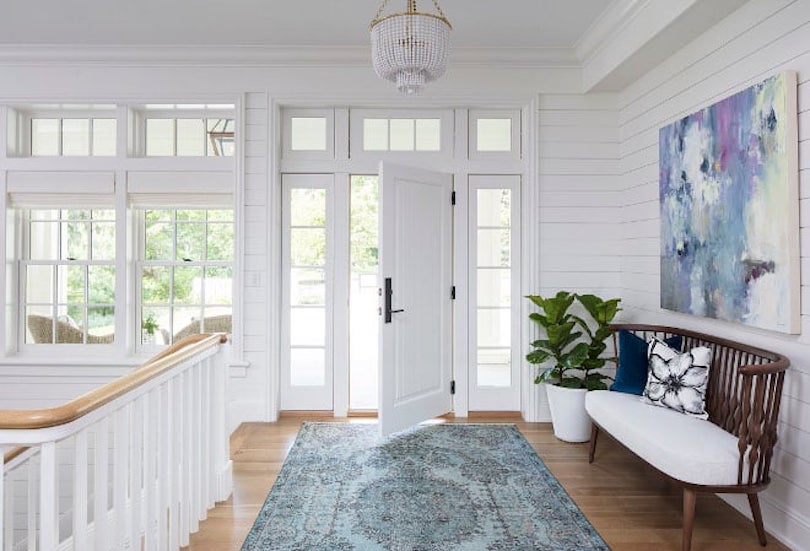 Adding a statement rug to the entryway is another amazing way to make your guests feel welcomed. You can add a large area rug with an interesting pattern and see how it does wonders to transform the whole atmosphere of your living space. We adore the way this particular area rug is adding a focal point to the given space.
13. Add Pops of Color – Entryway Decorating Ideas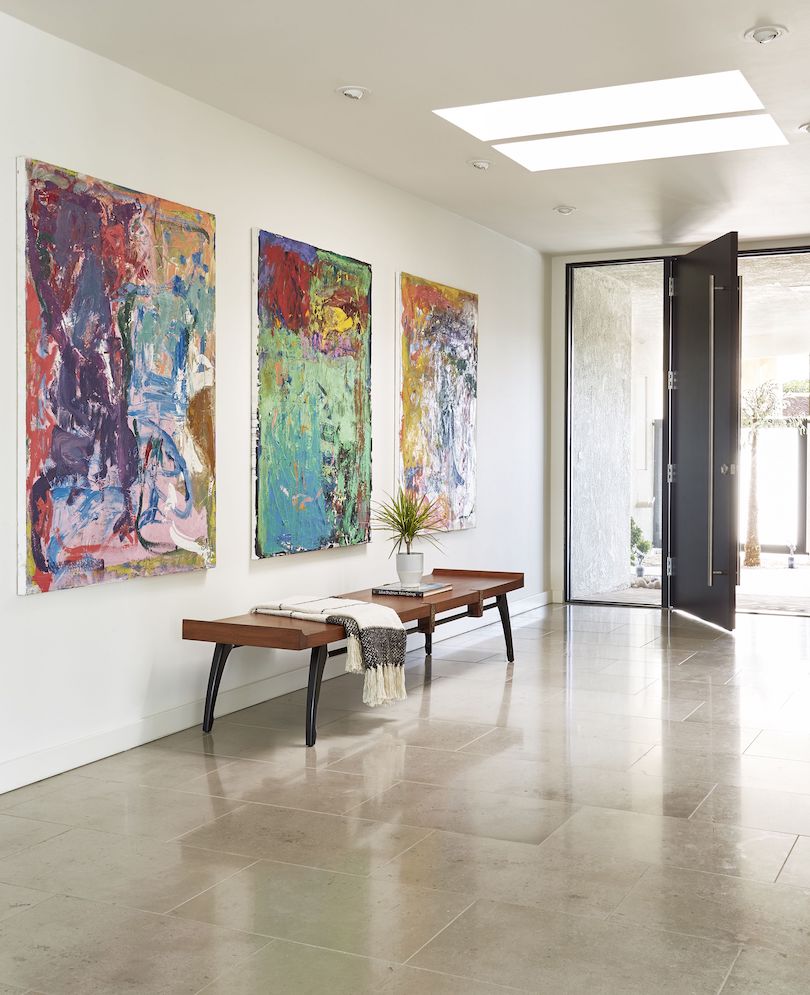 There is no need to go overboard with various colors for creating a delightful, welcoming atmosphere. If you are working with a minimalist and neutral space, you can consider adding some dose of hue. Trust us, it will go a long way. From adding a huge artwork in vibrant hues to adding colorful furniture pieces in your living room, you can try different things to create an impact.
14. Display a Curated Collection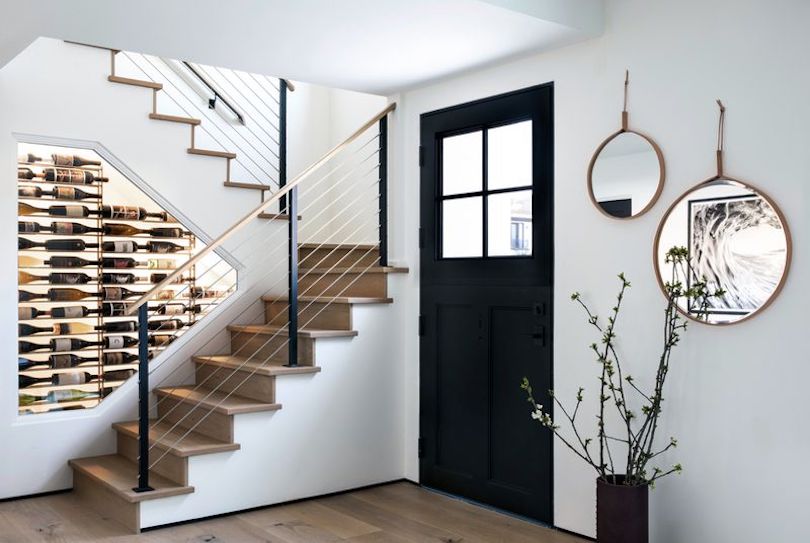 Always feel free for creating your personal space even at the entryway. You can feel free of adding a curated collection. For instance, you can consider displaying your wine collection or let your other interests shine through. This way you can make your entryway more interesting and stylish.
15. Create a Nook For Entryway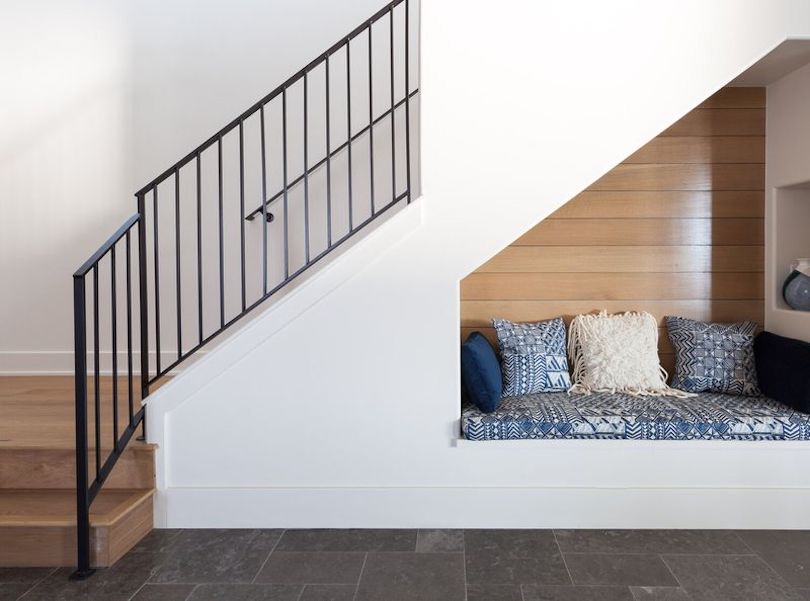 How about adding a relaxed seating area for your quick visitors to sit comfortably. But adding a nook, you can take things up a notch. A nook may look great underneath your stairs by adding cozy cushions or add a small bench or couch with a small table to hold a few books. You'd certainly not go wrong with a nice and dedicated nook in your home.
16. Layer Your Decor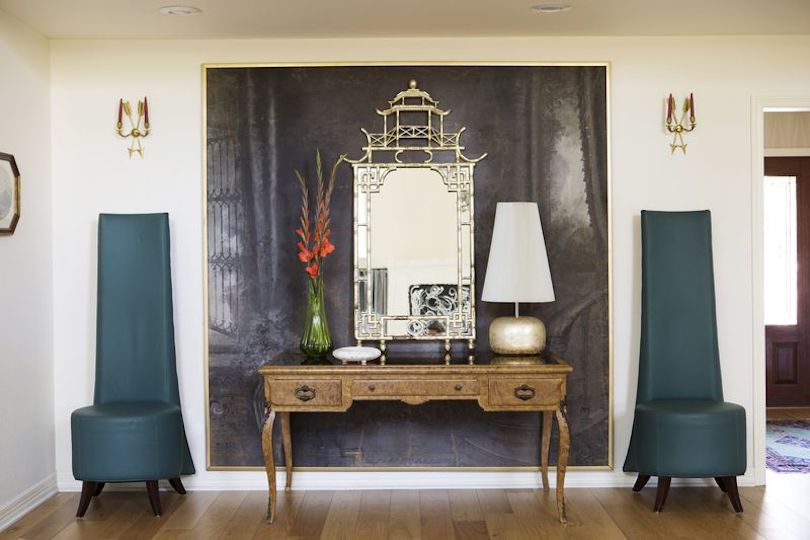 Don't underestimate layering power when it comes to decor. It will help you create something new and stylish for sure. There is no need to buy new things every time you want to decorate. You can take a look at the things you already have and try making different combinations.
We like how this metallic art piece looks sitting atop a vintage-style table that's sandwiched between two teal-colored armchairs. Such entryway decorating ideas are perfect to create a bold and classic appearance.
17. Use Stairs to Display Decor Pieces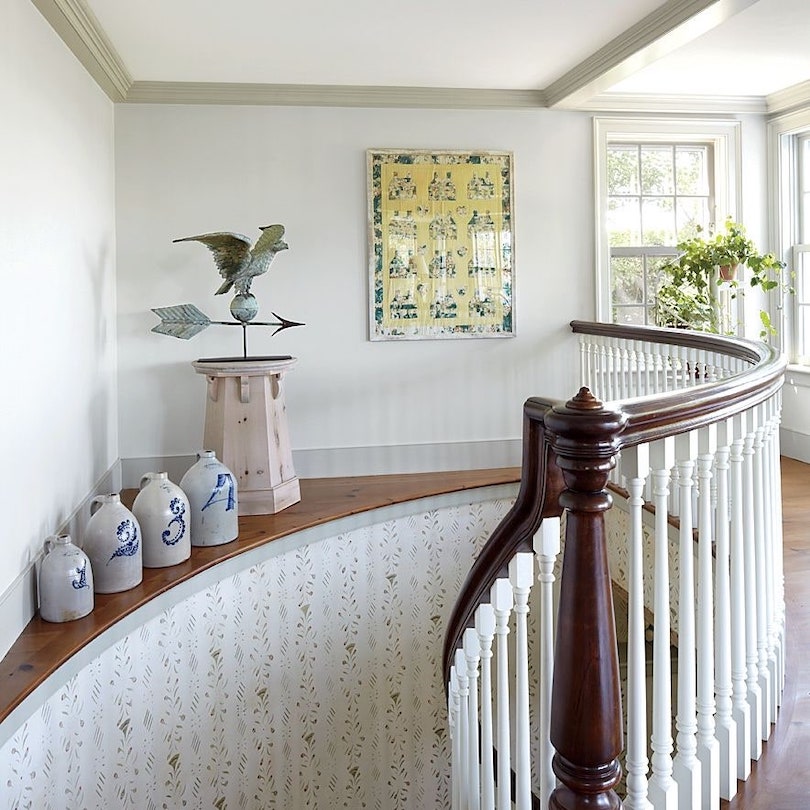 Why don't you make use of your stairs to display stunning decor pieces? If you have a similar space, as shown in the image above, you can create an exact decor element. Or, if you don't have a dedicated space on the stairs, you can take a distinct approach. For instance, you can use the staircase wall to display your pictures or simply add decor pieces to the stairs themselves. But don't keep the large decor pieces, or you may bump into them while walking.
18. Play With Scale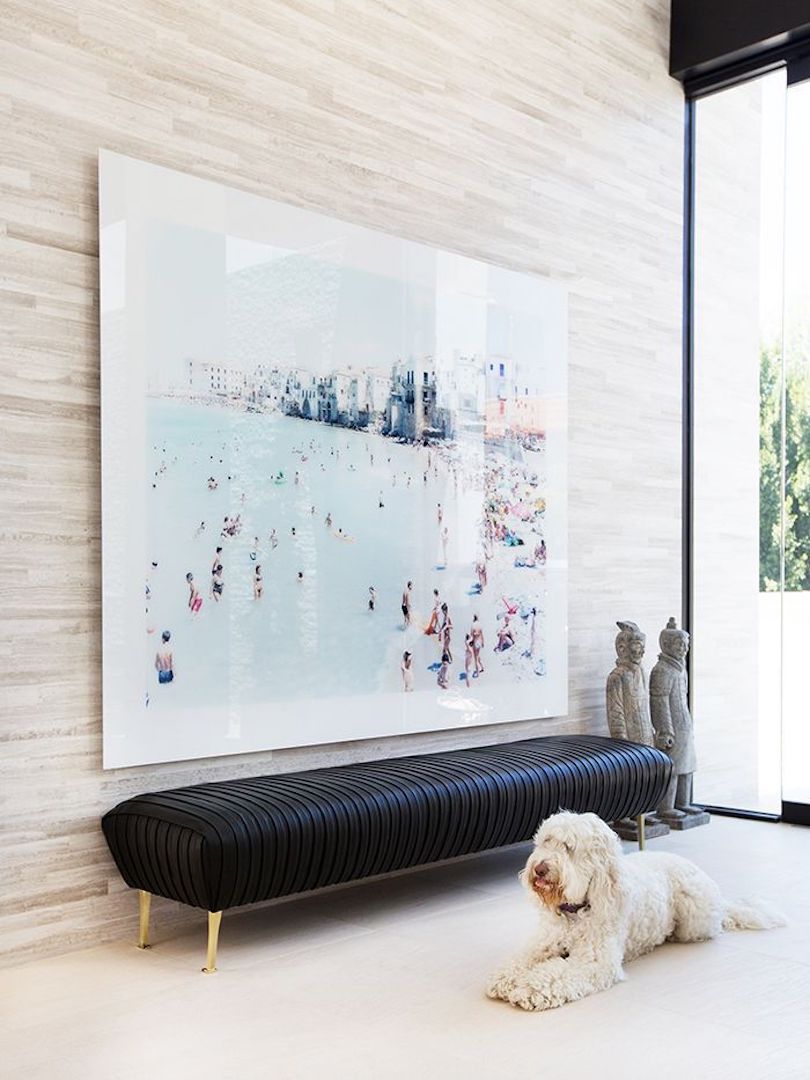 An oversize picture can set an elegant tone in a living space. It's all about playing with scale and creating exquisite vignettes. You may consider investing in a statement piece to add a dramatic feel to the entire interior and to make a lasting impression.
When choosing a statement piece, you have to consider something that guests will see as soon as they enter your house. So, choose something that reflects your personality while adding a touch of glamour into the given space.
19. Greet Guests With a Gallery Wall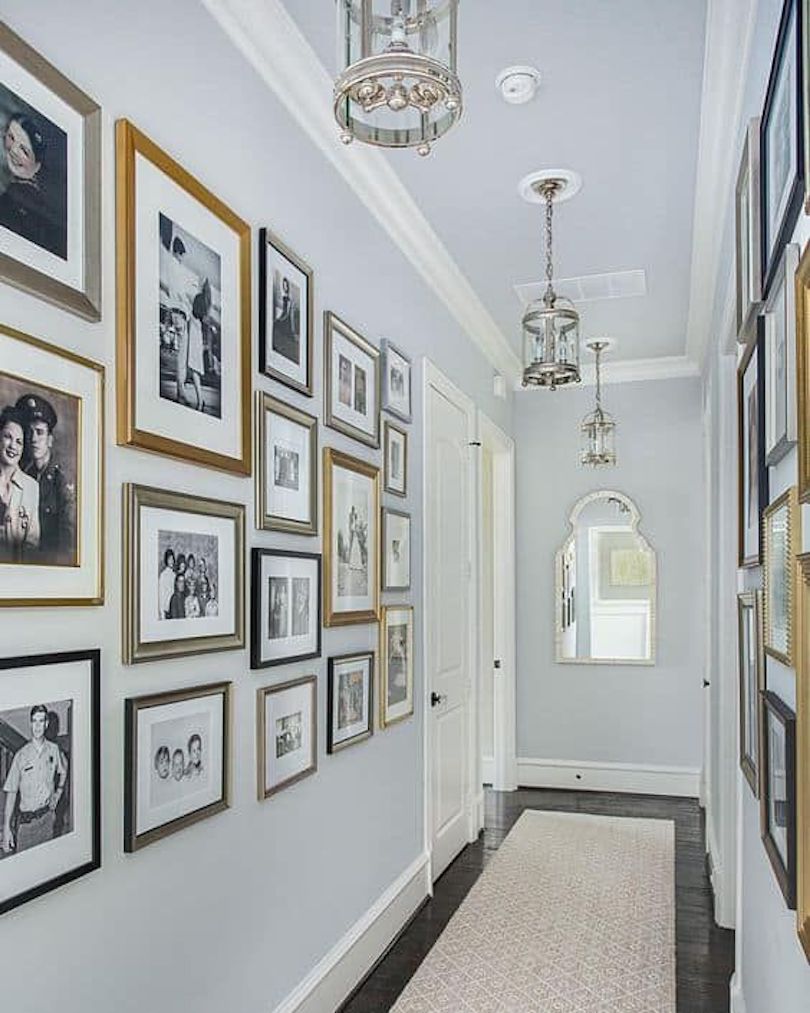 A simple and interesting gallery wall in the entryway is another distinctive style statement. You can consider adding custom wooden, black, or white frames to put your pictures. Once you frame the images, put them in the front or adjoining wall of the front door to make a stunning impression.
20. Draw the Eyes Up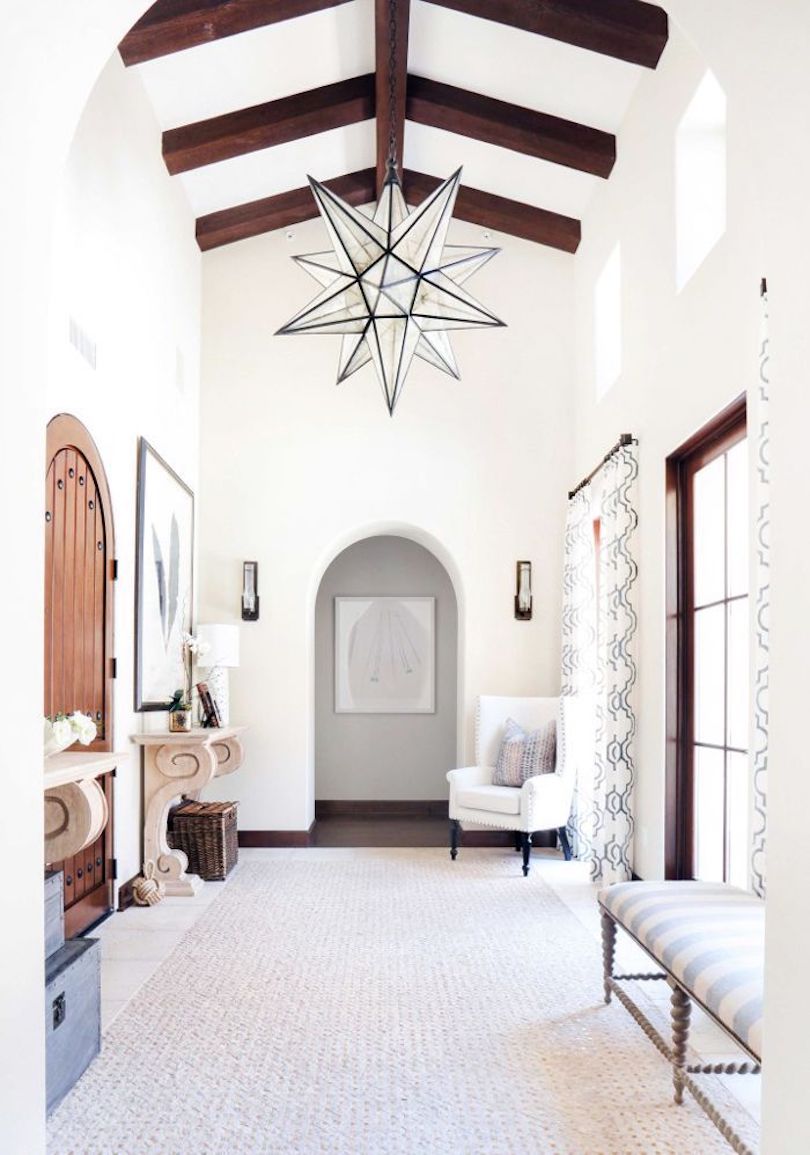 Your entryway is the right place to show off your impressive high ceilings, as well as other architectural details. For instance, you can add a striking lighting fixture on the entryway ceiling to draw the eyes up and catch the attention of your guests. So, don't get scared of embracing the geometric, curved, and streamlined shapes that lead your eye around the room for a "wow" moment.
These are some amazing entryway decorating ideas to consider for your stylish home. No matter which particular idea you select for your home, you're likely to impress your guests with your distinct style.