10 Computer Table Ideas To Inspire Those Working From Home
Are you feeling distracted while working from home after lockdown? Do you miss having a dedicated space to easily work from home? If so, you need dedicated computer table ideas to make working from home easier and comfortable at the same time.
After all, you need a proper space to surf the web, scan emails, calculate bills, and also finish off your pending tasks. The only good and comfortable way to increase your productivity are by having a well-designated workspace at home.
While many people are working from home these days, why conduct your meets or do regular tasks on a boring desk when you can have a creative yet functional computer table for yourself. Besides being functional, it also got to be comfortable to ensure you complete your tasks without feeling tired or distracted every now or then.
Where To Place Your Computer Table?
For people who often work from home, finding the right spot to keep their computer table is quite challenging. So, where exactly to place your computer table? Or which computer table ideas to consider for more productivity and enhancing the overall aesthetic of your living space.
It is best to keep your work table in an area without much traffic. The area must be well-ventilated with ample lighting. It should also have enough space to accommodate all your equipment, supplies, and needs you often use.
Your computer table design should be free of distractions. Also, keep the clutter minimal so that the tidy desk lets you concentrate more on your work. Also, add some personal touches, such as goals, family pictures, and motivational quotes, etc. for a more comfortable feel.
15 Computer Table Ideas To Work From Home
In this article, we show you some amazing computer table ideas dedicated to your home office. These functional and smart table designs also offer you a lot of space for work, hobby, and study requirements.
So, let's jump into knowing some of these creative ideas for computer table.
1. Foldable Computer Table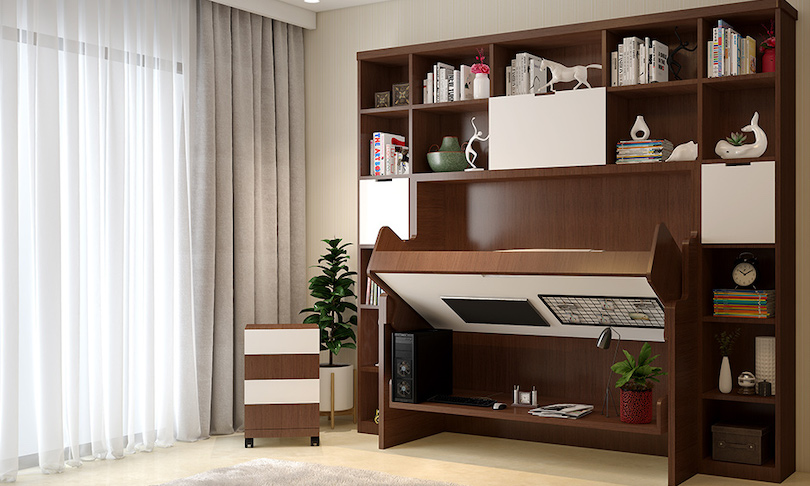 How about a rotating or sliding desk to add flexibility to your work area? You can use such computer table ideas in such areas of your home that need more efficiency and also doubles as a sliding desk.
It is an impressive design to fit the walls and also utilizes less space. However, it lends so much productivity to your work. The best part is that it is easy to tuck away when it's not in use. However, you need to have a sleek computer monitor that fixes easily onto this rotating desk without taking up much space.
2. Floating Computer Table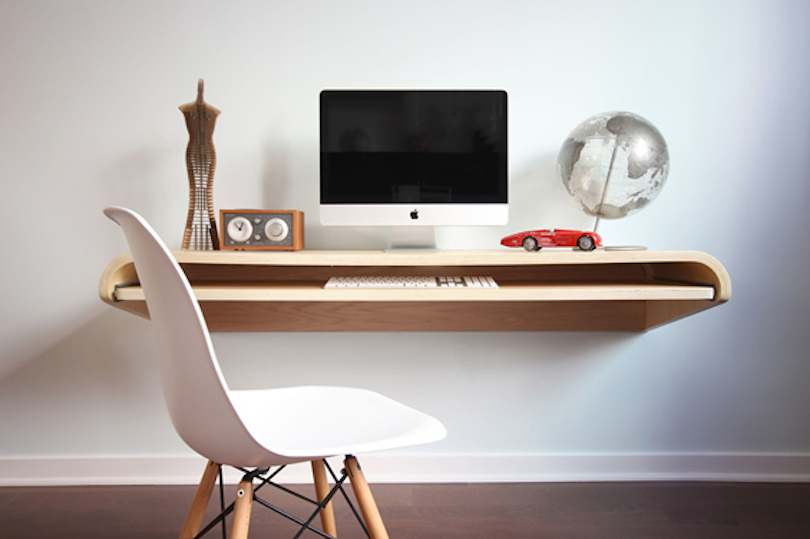 Are you fed up with hitting your toes on the leg of your desk? To prevent this cry of agony, you need to consider space-saving floating computer table. A floating table is become increasingly popular not just because of its space-saving ability, but also appears quite modern at the same time. If you feel cramped with a huge floating desk design, it is best to pick the lightweight design.
For instance, you can opt for a similar design as shown in the image above. This sleek computer table layout has a minimalist and chick layout that's ideal for a contemporary interior design.
3. Vintage And Rustic Computer Table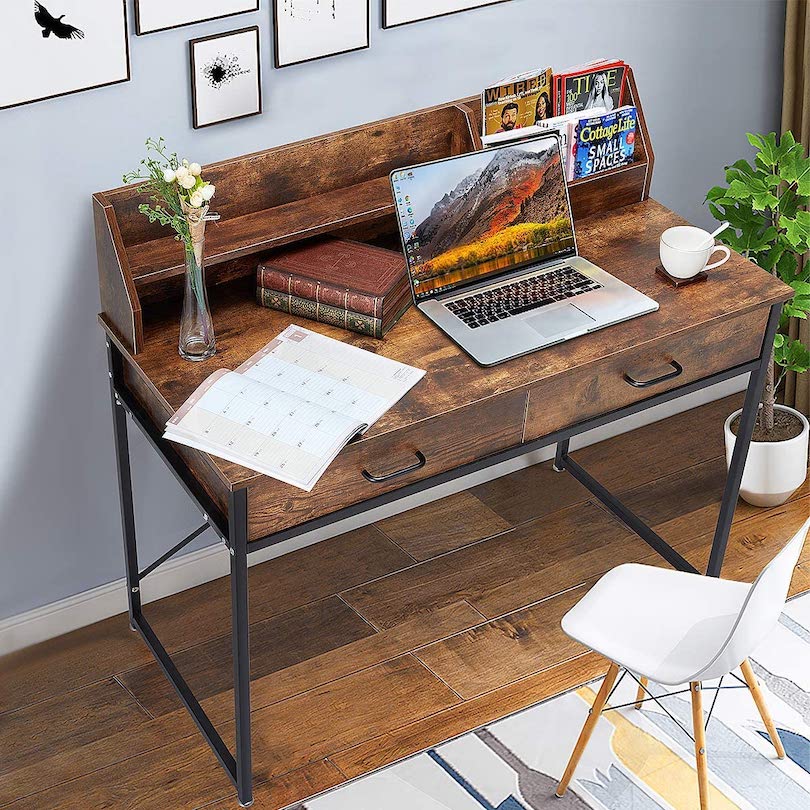 Vintage and rustic furniture units are often in trend. This particular style is perfect to make any space appear well-refined with a unique character. Another good thing about this table style is that it is easier to blend into any interior style. And, if you like its rugged aesthetic appeal, it will remind you of its authenticity and heritage.
This old recycled desk is also integrated with drawers and a separate section for holding magazines or important files. It is best to look for a sizable reclaimed wooden computer table that works well for any home office or study space.
4. Wardrobe Attached Computer Table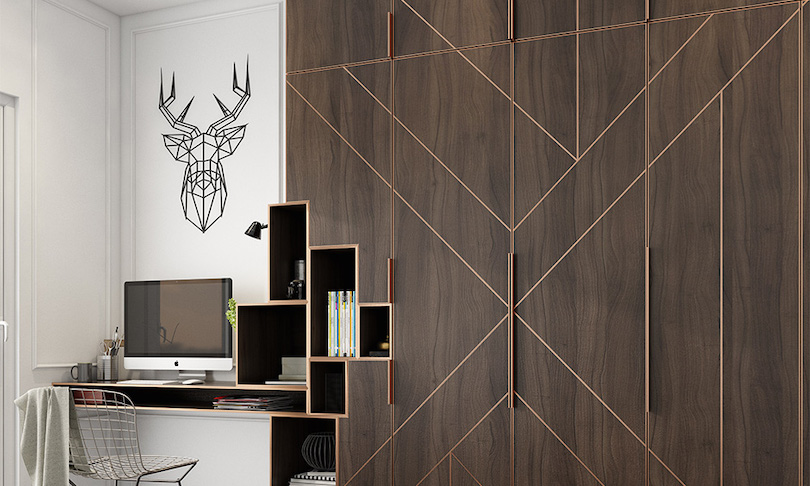 Another space-saving computer table idea is to get your work desk built along with a wardrobe. This innovative design is helpful for people who work from home. Even interior designers are recommending this amazing table design idea for apartments or homes that need to save their space. Meanwhile, it helps to add multi-functionality to the given room without compromising its aesthetics and functionality.
This ultra-chic desk is the result of technical design and innovation with clever use of the available space. Just see how seamlessly a floating desk can fit into the wardrobe, making use of every inch in the available corner that would otherwise go empty. Even open sections are present for storing stationery, books, or other work-related things.
5. Dual Purpose Computer Table Ideas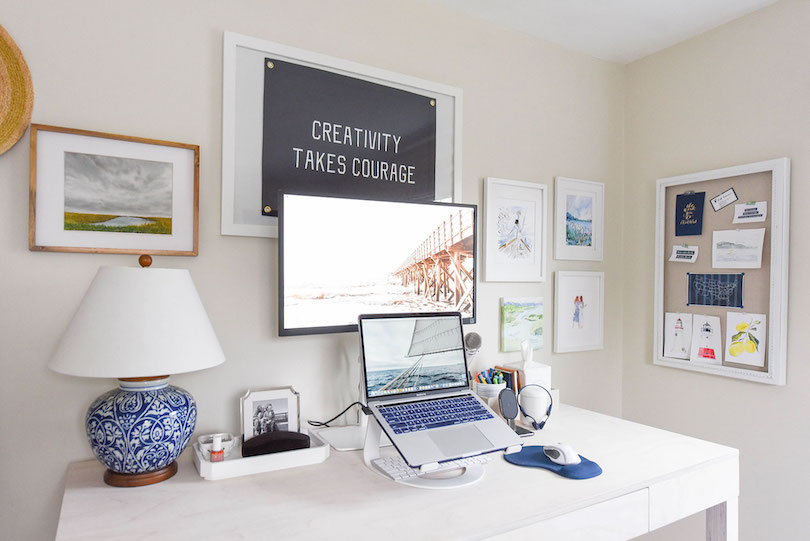 If you are working from home, you must be aware of the significance of interior design in your home office. After all, no one likes to sit in a dull workspace that doesn't motivate them. You can consider adding innovative and quirky designs for making your computer table more fun and creative.
In this image, you can see how another pegboard and motivational pictures are there around the simple computer table. There are also two computers on the table – one is the monitor screen-based computer and another is a laptop. It is clearly a dual-purpose computer table design. You can also add a small chalkboard on the wall for doodling and jotting down your to-do list for the day. If you need motivational quotes to start your day ahead, you can also add images with quotes or write down an inspiring quote on the chalkboard. The ideas are endless, all you need to be is get your creative side out.
6. Ergonomic Computer Table and Chair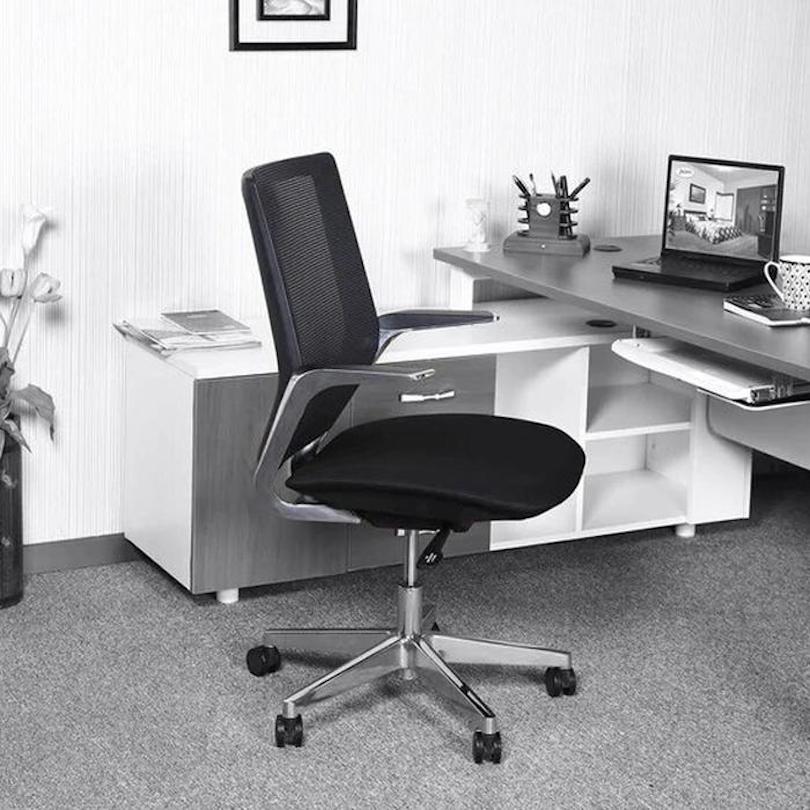 Another ideal home office setup is to arrange an ergonomic computer table and chair. These furniture pieces are ideal for ensuring your workday moves smoothly without any distractions.
For an ideal office setup, the right desk and chair with ergonomic features and a positive environment are essential to ensure that your working day sails smoothly ahead.
But you need to make sure that your desk is perfectly set against a wall instead of facing the room. This way, your attention will be only on your goals. Also, set up proper lighting for your work area. Make sure that natural light hits your work area. But if you need additional light, put an overhead lamp or floor lamp on the table for a well-lit work area.
And, you often attend work-related video calls, you need to make your computer table set up with a plain wall background. It will prevent any harsh shadows, reflections, and glares on the given space.
7. Hideaway Computer Table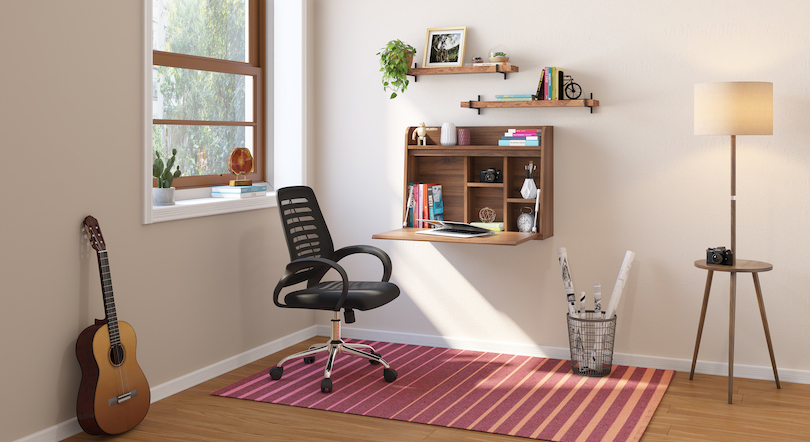 Another amazing computer table idea to consider for your home office is the hideaway desk. It is a great design choice if you live in an apartment studio with limited space. You can also consider using a drop-front desk with a sleek and compact layout. It will help you quickly jump from home to work mode while making you feel as if you are off the clock as soon as you're done working for the day.
You may also consider adding floating shelves near the hideaway desk for added storage. Meanwhile, you can maintain a clean and minimal look. When not in use, you can close the desk to make it hide away from sight. Also, remove the chair to make the area appear like a normal room with no work-related things around.
8. Perfect One For Couples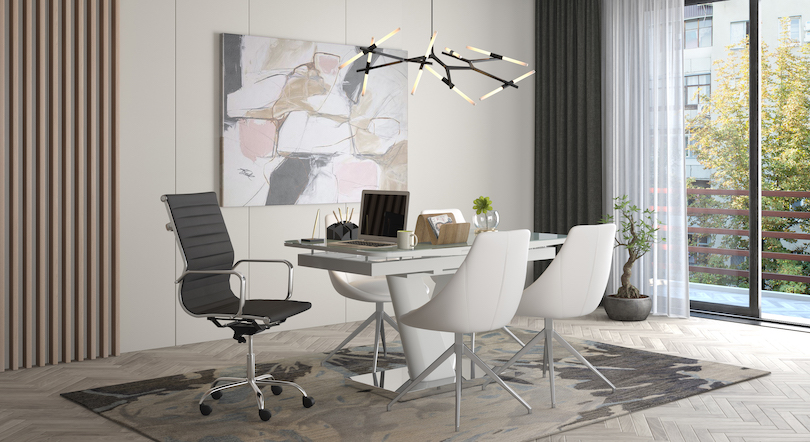 It is one of the best computer table ideas for couples. Those who don't have a professional workstation at home can simply turn their dining table into their work table along with a good-quality ergonomic chair. Choose a height-adjustable chair so that you can easily set it as per the height of your table. A comfy chair with perfect armrests, backrest, and lumbar support will make sure that you are not working while sitting in a compromised position. Plus, such a chair will also make you comfortable for longs hours of the workday without any signs of wear and tear.
9. Computer Table With Wheels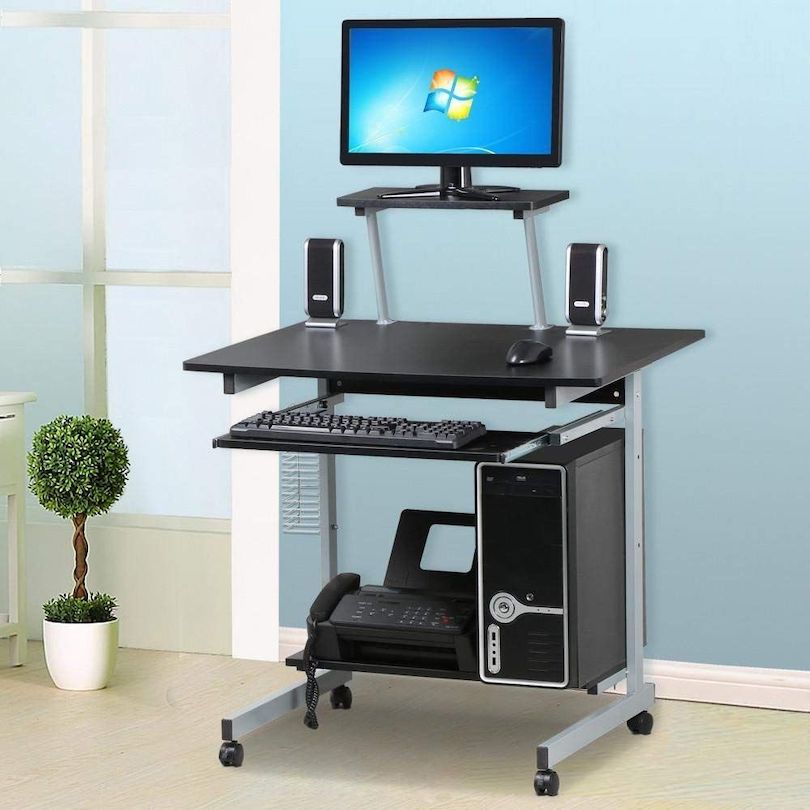 Turn a small part of your living space into your office with a proper study setting with computer table ideas with wheels. Such tables are easy to roll out whenever needed and stow away if not in use.
A table and chair with wheels/castors are perfect to aid smooth and easy movement to any space. This also gives you the flexibility to work from any desired corner of your abode.
10. Nature-Inspired Computer Table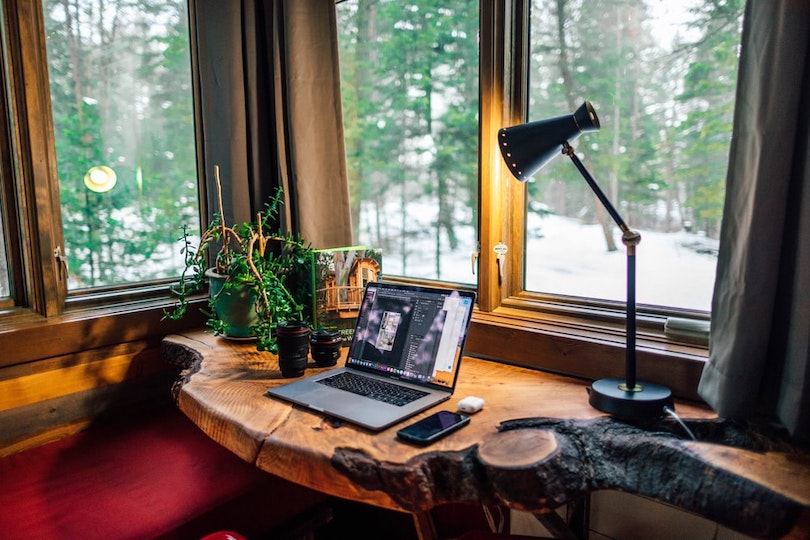 Want to add a nature-influenced aesthetic to your living space? If so, you can think of creating such an organically formed table. This wooden desk made of natural wood boasts intricate grain patterns, reminding users of its original existence. Furthermore, add a few planters to the table for bringing in some greenery. But, a metal lamp can add a touch of industrial style to your woodland home office.
Such small upgrades can convert your home into a striking but constructive zone. The best thing is that these space-efficient ideas won't occupy much space in your home or cause any distraction to your existing setup. We hope you find these computer table ideas inspiring for your home office.