Christmas Rice Krispie Treats For Fun Festive Cheer
Do you miss the rice Krispie treats that you used to enjoy as your childhood desserts? The good news is that you can easily prepare these delicious treats at home. And, that too with a simple holiday twist of your choice. These Christmas Rice Krispie treats are adorable and make a gorgeous presentation at your holiday party, school celebration, or bake sale.
Even your kids will love to prepare these in different shapes and sizes. The best part is that you may get as creative as you want while creating these decorative treats. Furthermore, you can use holiday sprinkles to your decorating gel and favorite icing for making these treats.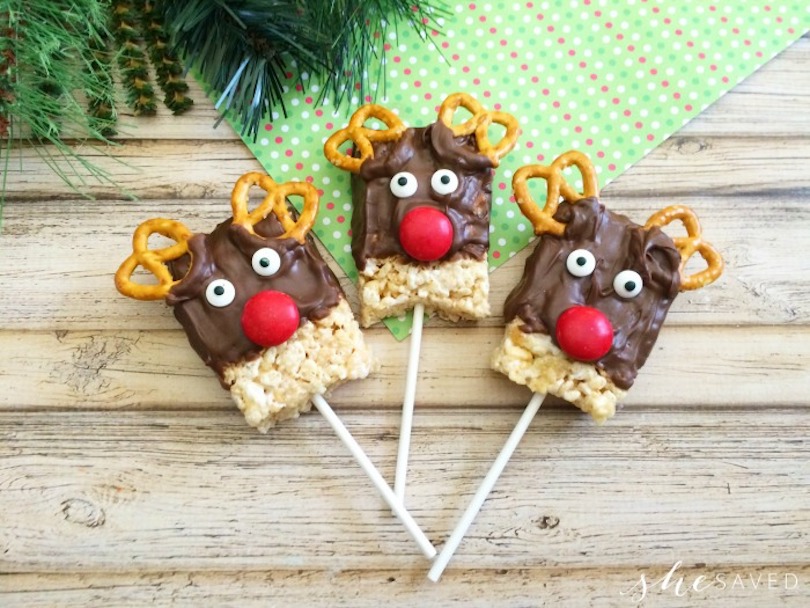 Ingredients To Prepare:
3 tablespoons unsalted butter
6 cups Rice Krispies cereal
1 package (10 ounces) marshmallows
Green food coloring
Mini M&M's
White cookie icing, optional
Butter to grease pan, spatula, and cookie cutter
Instructions:
1. Grease the sides and bottom of the pan with butter and keep it aside.
2. Take a large saucepan and melt the butter over low flame until it's about to melt. Add marshmallows and stir until marshmallows are finely coated with butter. Let them melt completely and remove the pan from the flame.
3. Now, add a green food coloring and stir it unless it's mixed. If you use your regular food coloring, begin with 8 to 10 drops. You can even use Chefmaster food coloring, which is more vibrant in color. In this case, add only 4 to 5 drops. If you desire a darker green, you need to add more drops of the coloring while stirring constantly. Repeat it until you get the desired hue.
4. Now, add Christmas rice Krispies cereal (around two cups at a time) and stir it well until it's evenly coated with marshmallow mixture.
5. Use a buttered spatula to press the mixture of cereal against a pan in even form.
6. Further, grease the sides of your tree-shaped cookie cutter using butter. Remove the cut trees from the pan and place them on parchment paper. Now, gently press mini M&M candy on the top of these trees for decoration.
7. Repeat cutting of Christmas trees until you use all the Rice Krispies mixture. You have to cut the trees closer to ensure most of the cereal mixture gets used.
8. After that, store them in a covered container for up to two days.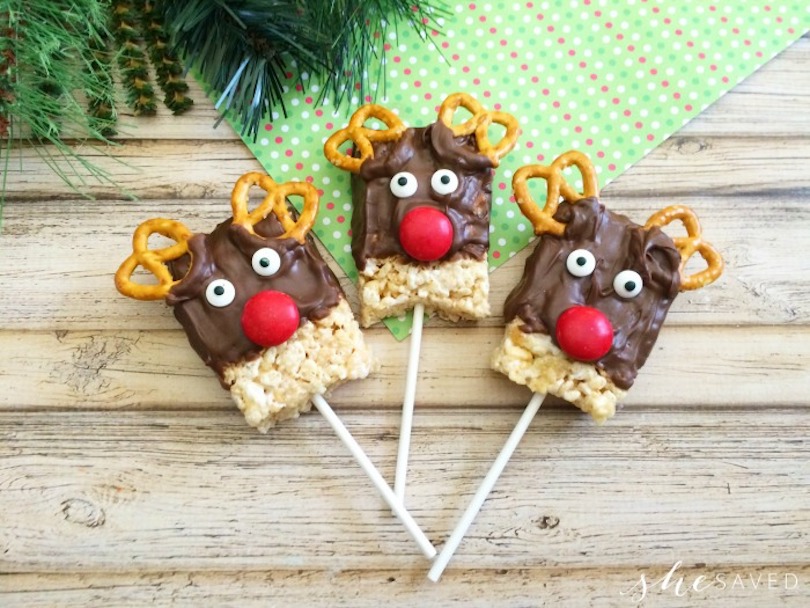 Adding Features To Christmas Rice Krispie Treats
Now, when it comes to decking up the Christmas rice Krispie treats, you are easier to handle. You have to melt an ounce of white chocolate and use a small spoon or spatula for painting some of it on the back of the candy eyes. You can also use it on M&M nose and chocolate pretzel antlers of the reindeer. It's easier to do with a simple press and stick technique. This is how you can easily prepare perfect reindeer Rice Krispie treats.
Adding Sprinkles To Christmas Rice Krispie Treats
After shaping triangular cereal treats into reindeer heads or any other form you like, you can consider adding some more decorative touch. If you still feel something is missing, consider adding edible Christmas sprinkles! You can spread some melted chocolate on each treatment and then press sprinkles onto the chocolate. This will add more wow-factor to these delicious treats.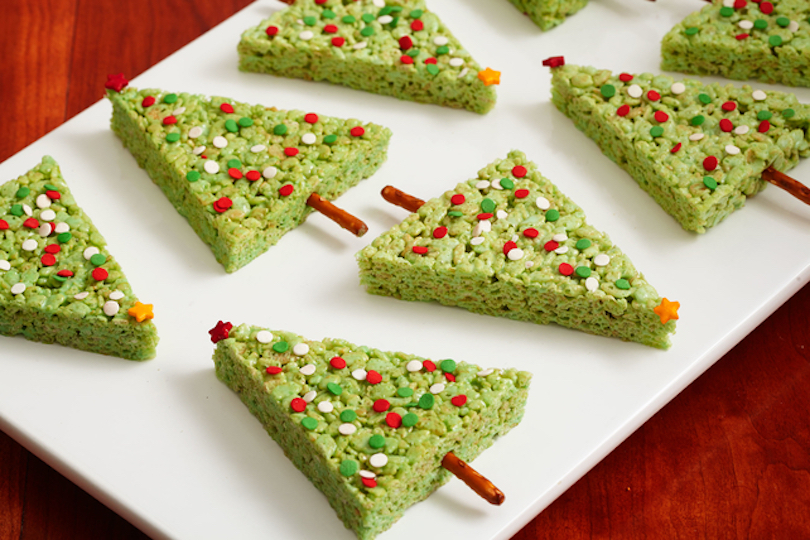 Recipe Notes
1. Make sure to add butter to the pan generously. It will ensure the cereal mixture gets pooped right out while flipping the pan. You have to run the thin knife around the pan's edge before overturning it for giving it a little more push.
2. You probably know this trick already. But what's our secret to pressing these treats into the pan is without letting the mixture stick to the pan. You can do this with slightly wet hands. When your hands and fingers are a little wet, the gooey marshmallow cannot stick to it. This trick works!
3. Use regular brown M&Ms for making reindeer noses or any other face you desire. If you don't have M&Ms with you, it is best to use some brown or red candies for making noses. You must add the mini M&Ms right after you cut the treats. This way, it is easier to stick them onto the treats.
4. You can swap the salted pretzels for the ones covered in chocolate for making antlers.
5. When you have cut the treats, place those on parchment paper. It won't let them stick to the counter. Plus, you can clean the counter easily later on.
6. To make the most of the treat mixture, try to cut the trees as closely as possible.
7. You can consumer Christmas rice Krispie treats within two days of preparation. If they are not soft after a few days, you can keep them in the microwave for 5 to 10 seconds for softening.
8. The number of trees or desired treat shapes you get from your recipe depends on the size of the cookie cutter. If you have around a 3-inch cookie cutter, it can often give you around 16 treats.
Why Prepare Christmas Rice Krispie Treats?
These Christmas Rice Krispie treats are perfect to get you into your holiday spirit. If you want a last-minute treat for Christmas for a potluck or a friend, these are very easy to prepare and look so festive.
You can also add a Christmas spin on these traditional treats by adding reindeer horns made of chocolate, ribbons made of colored gel, etc.
Everyone will love your delicious classic treats with some festive spin. It is best to serve these delicious treats with a glass of milk or hot chocolate to your kids or guests. We're sure they will get into the festive mood simply by looking at them.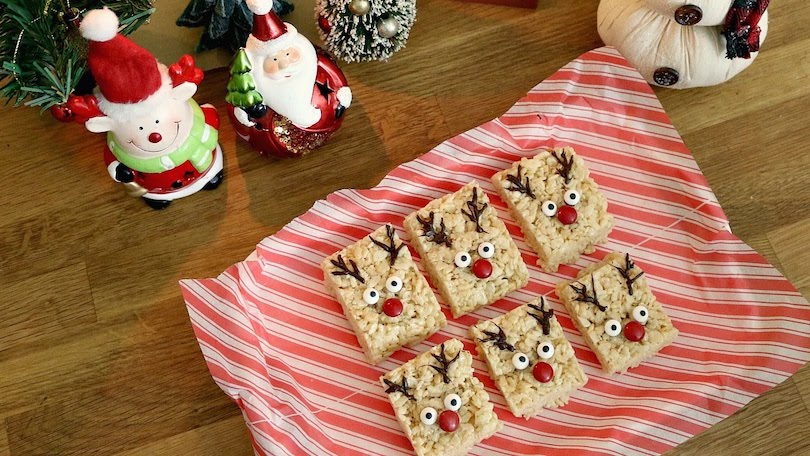 What To Use Instead of Marshmallow For Making Christmas Rice Krispie Treats?
You can alternatively use honey instead of marshmallow. You have to boil the honey first for at least one minute and then add more ingredients. However, you need to know that honey is sweet but it changes the taste of this recipe. So, use it only if you like it.
How To Prevent Christmas Rice Krispie Treats From Falling Apart?
Christmas rice Krispies start falling apart when they are too sticky or too dry. It usually happens due to too much cereal. You have to ensure that the ratio of cereal and marshmallows is correct. Otherwise, too much cereal can create dry and crunchy treats. Or, if you add too many marshmallows, you will have very sticky treats.
How To Cut Christmas Rice Krispie Treats Finely?
Let the treats cool in a pan. When they are completely cool, place them on a cutting board. Spray your large knife or pizza cutter with cooking spray for finely cutting the Rice Krispie treats into even forms.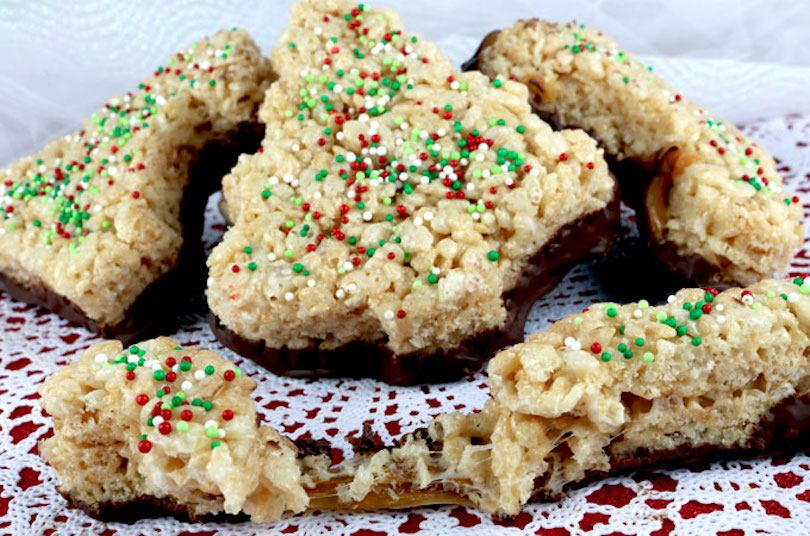 Wouldn't these be a fun addition to your Christmas dinner table? Or gracing your coffee table before the holiday party? Or you can even consider gifting them to your neighbors, friends, teachers, or relatives to whom you want to send some seasonal cheer. You may even leave some of these nearby your fireplace for Santa Claus!
Just give them a try this Christmas. We're sure everyone who tastes them will like these sweet treats.
Merry Christmas!