5 Adorably Scary Outdoor Halloween Decoration Ideas 2022
Want to make your neighbor envious of your best-decorated home for Halloween? With the scariest fest just a few weeks away, it's now the tight time to look for the fun yet scary outdoor Halloween decoration ideas for 2021 – 2022. After all, your home's exterior is the place your neighbors and passersby will notice at first.
So, get into the Halloween spirit and start creating any of the following Halloween decoration ideas to make your outdoor space look amazing.
5 Outdoor Halloween Decoration Ideas
1. Scary Porch Halloween Decoration Ideas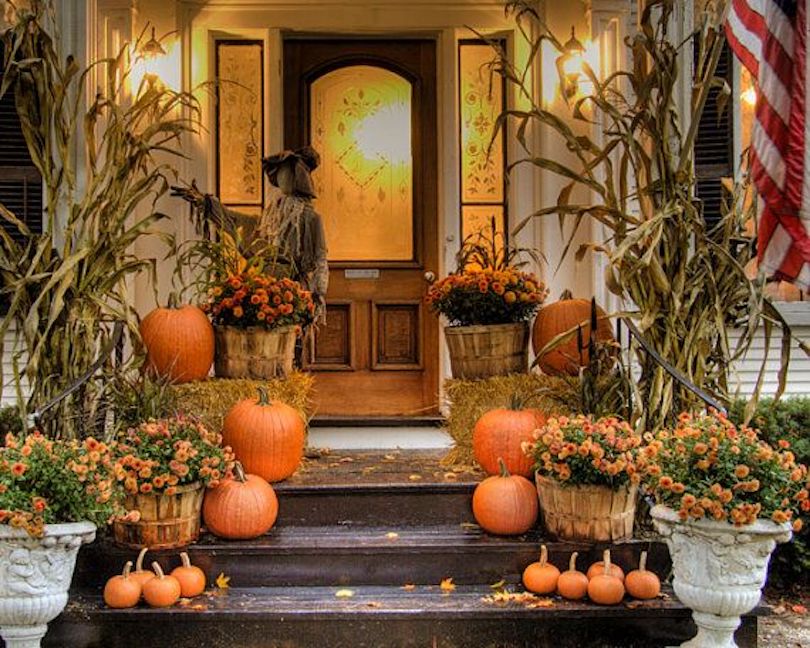 It is important to consider the porch as one of the major areas for experimenting with your Halloween decoration ideas. The fall is the best time to deck up your porch with the color of the leaves matching pumpkins and another fall decor.
You can make the most of the fall theme and begin decorating your front porch. This decoration idea is not scary. But just appropriate for All Hallows Eve to spread its magic.
2. Pumpkin Garden Halloween Decoration Ideas
The pumpkins along your garden walkway won't disappoint you at all. Furthermore, you can add some striking garden lighting to transform the given space. But don't just stop there. You can take your Halloween decoration ideas to another level with spiders and cobwebs that are hanging from trees and garden fences.
Adding a figurine of a witch is great too. You can also go the extra mile to add a portable speaker for scary music. Simply turn it on as your guests enter the garden walkway. They will be instantly scared and impressed at the same time.
3. Outdoor Halloween Lighting For Decorations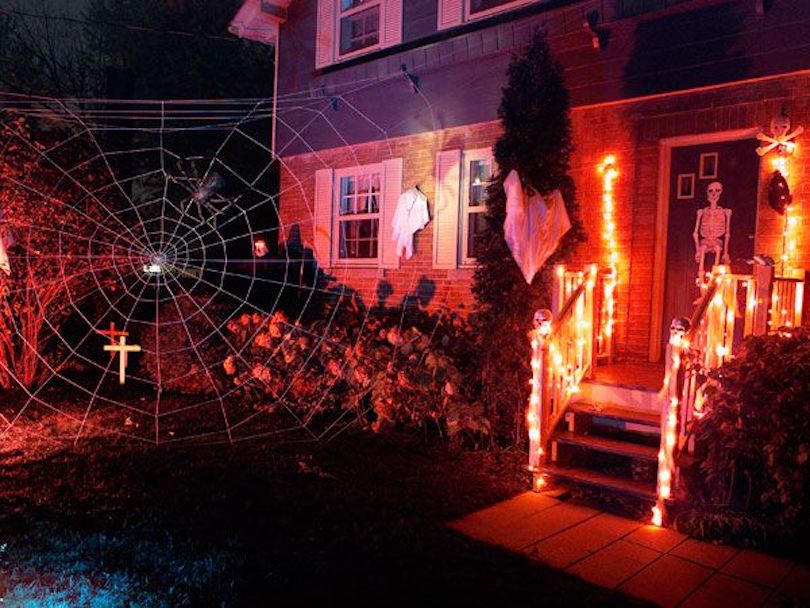 Light plays a major role when it comes to Halloween decorations. When your outdoor area lights up at night, all your Halloween decorations come to like. So, it is naturally one of the best Halloween decorations to consider.
However, choose the right places to add lights around the spooky decor elements, like pumpkins, witches, spider webs, ghosts, etc. This is because when the light is throwing at the right angles, all these objects will seem to come to life at night.
4. Front Door Wreath Halloween Decoration Ideas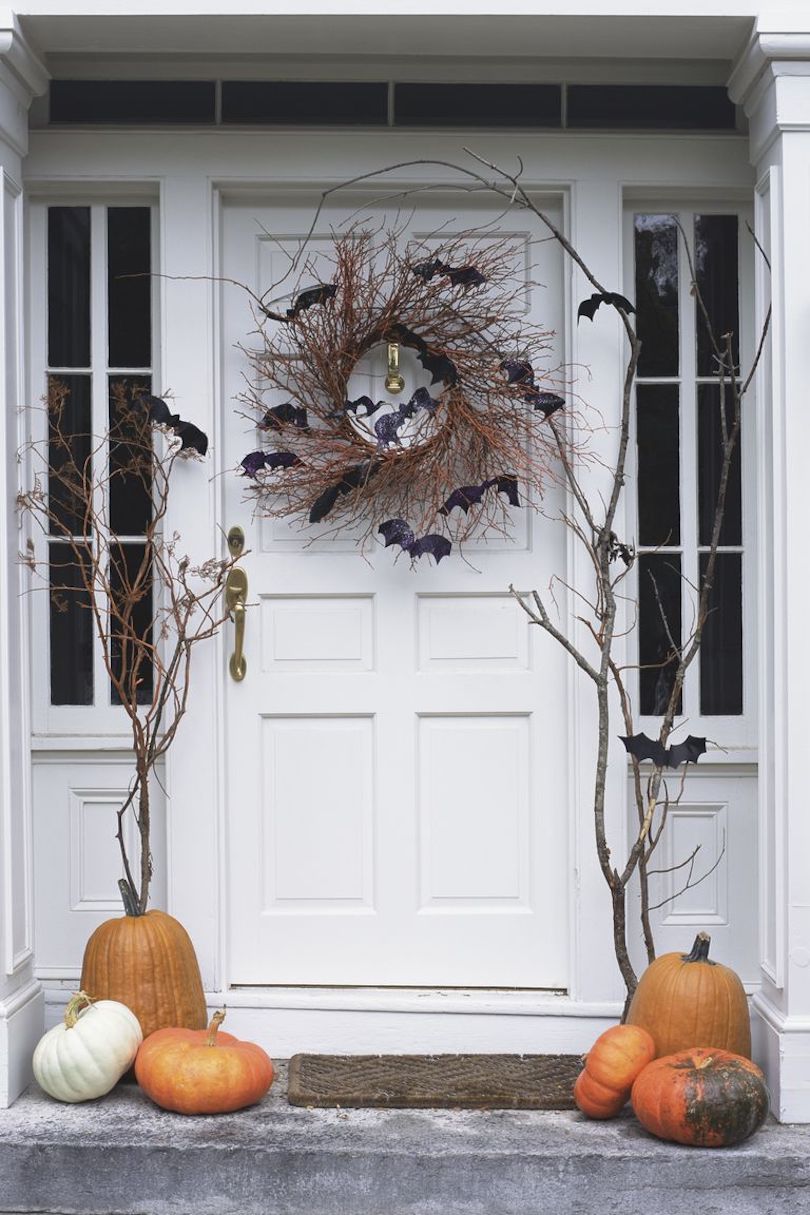 Another way to make your entrance a little scary is by adding a spooky wreath on it. For this you can take come have or fallen tree branches and turn them around. Also, add a few papers or felt bats on the wreath for the spooky factor.
For some subtle effect and fall-related decor, add some pumpkins around the door. It is a perfect blend of beautiful and creepy at the same time. Just give it a try! We are sure your guests will love it.
5. Ghostly Draperies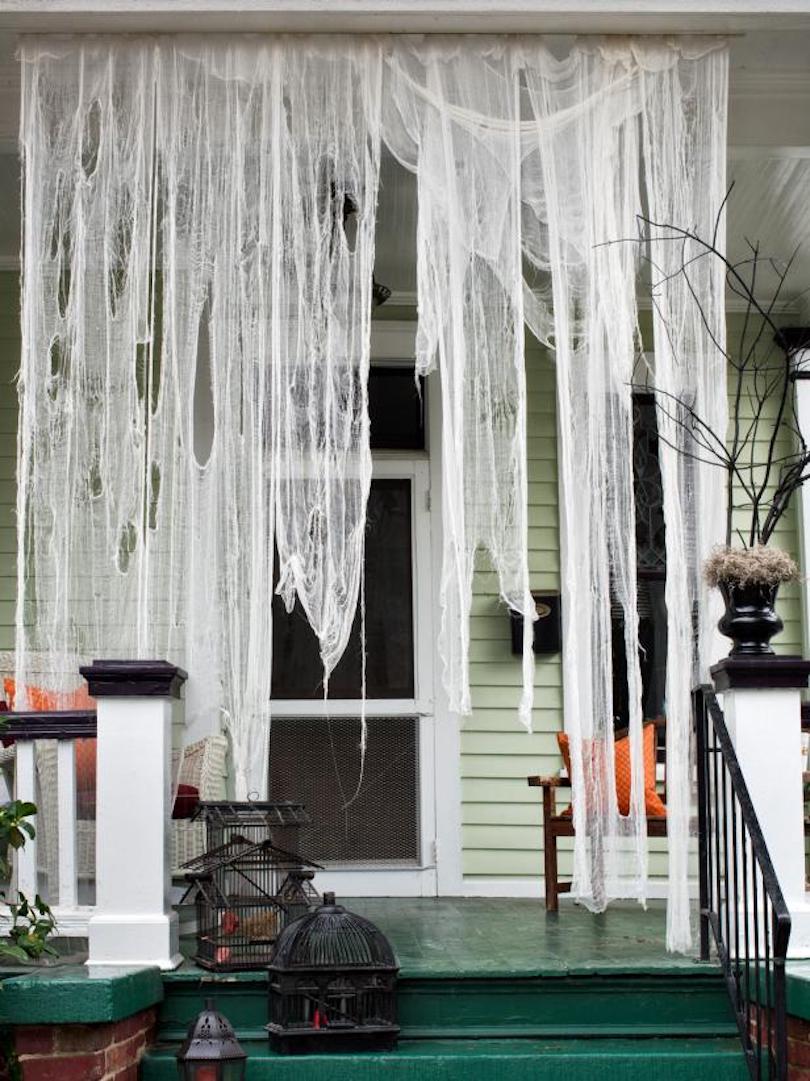 Another common but effective Halloween decoration idea is ghostly draperies. Take a look at this simple but Halloween-appropriate outdoor decor. All you need is a muslin cloth or cheesecloth to create such an effect. If you don't like it too plain. Consider adding some pumpkins around the stairs and add some bats around the cheesecloth. And, this could help you create the desired effect.
With these simple but scary outdoor Halloween decorations, you can make your house ready for All Hallows Eve no matter how busy you're. After all, these ideas are very easy to create with the help of your kids. Just try it, and you'd love it for sure.