How To Organize a Lazy Susan
Although kitchens are growing, we still desire additional storage. You might not be able to install more kitchen cabinets, so you'll need to think of inventive ways to make the most of the space you already have. But how to organize a lazy Susan? To help you make more room in your kitchen, check out these fantastic ideas for lazy Susan organizers.
Let's first go through the several kitchen cabinet kinds where lazy susan organizers are appropriate. It's astonishing to know the amount of dividers, innovative bins, and other gear you need to make corner cabinets useful for storage. You can even see how to conceal your recycling and trash bins if you scroll down.
Organizing Lazy Susan for Upper Cabinets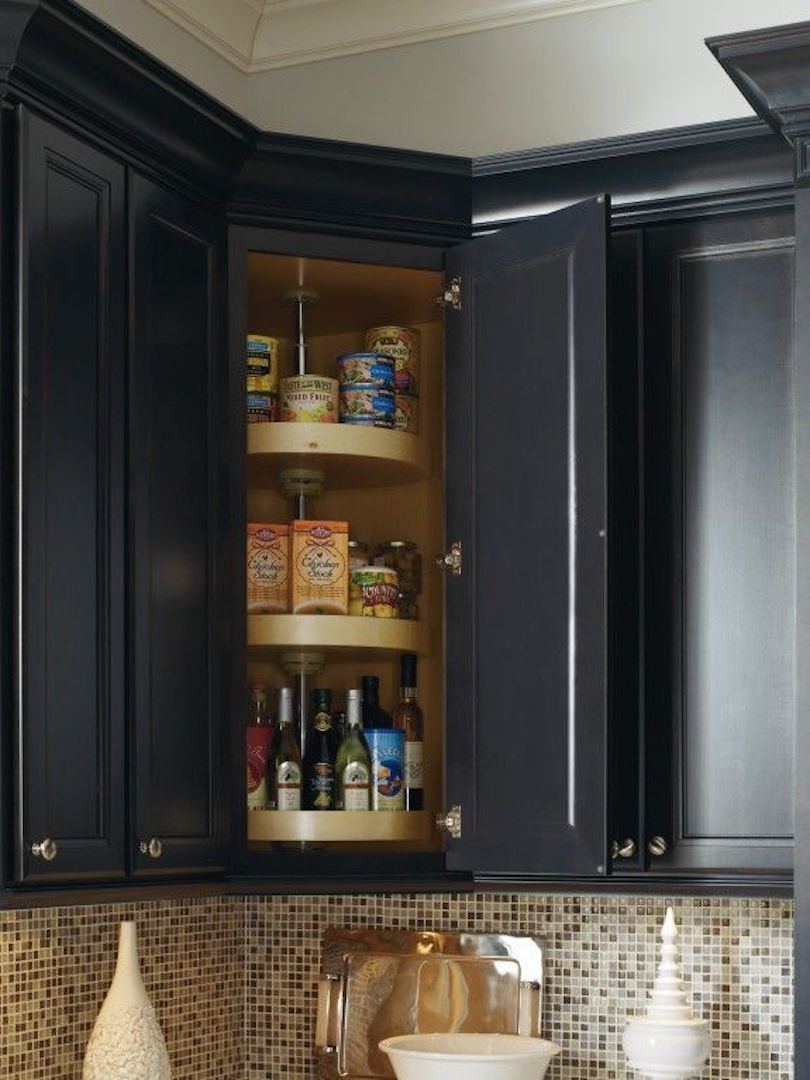 As long as you are tall enough, this area is quite simple to access because wall cabinets are only 12 inches deep. There are many lazy susans like this one from DrawerSlides.com that make it simpler to find what you're looking for if you need assistance. Additionally, keeping a foldable step stool close by makes it much easier for short individuals like me to access the higher shelves.
The numerous new bins and partitions for lazy susan organizers are intriguing. They consist of of transparent acrylic, wire mesh, and occasionally just a lip made of the same material around the outside. If you are tall enough, you can also get a pair of lazy susans that stack one atop the other for additional storage.
Because base cabinets are 24 inches deep, they can be more difficult to install. You need either lazy susans or specialized shelving to ensure that you can simply store and find what's hidden away if you want to make the most of your corner kitchen cabinets.
Organizers For Lazy Susans and Pantry Cabinets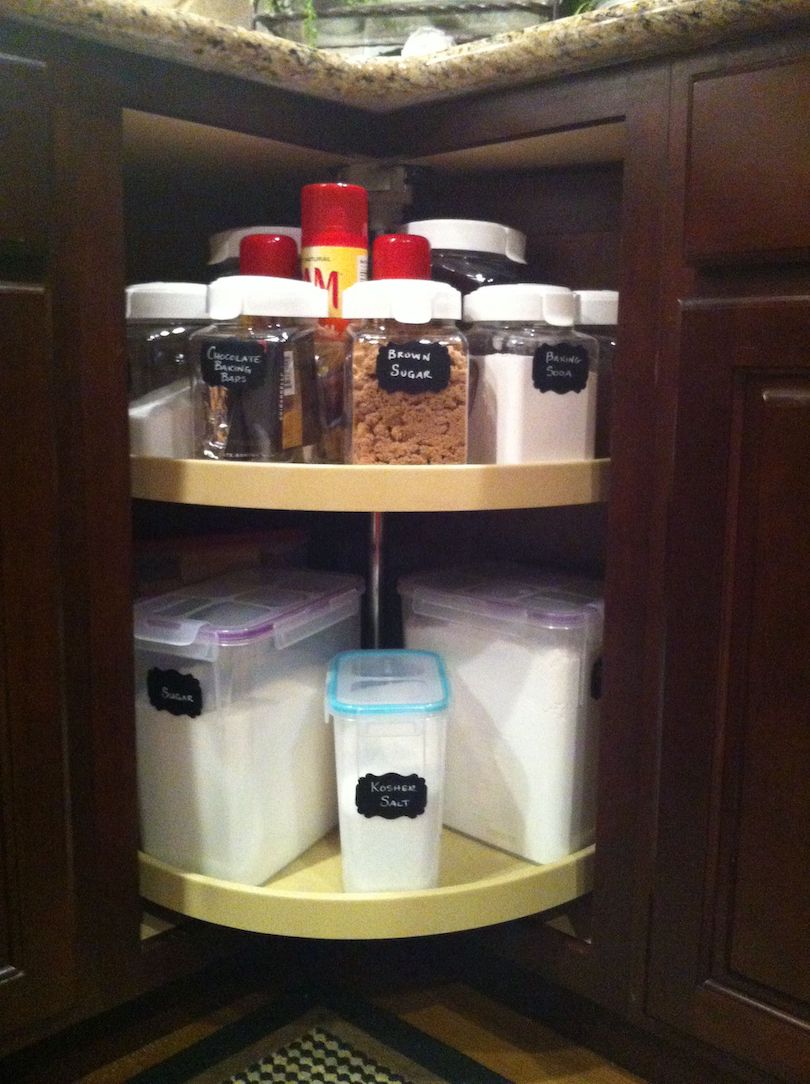 While some kitchens have floor-to-ceiling pantry cupboards, many kitchens contain a pantry (get kitchen pantry storage ideas). Depending on their depth, these pantry cabinets can be used in a variety of ways. While there is less total storage available with 12-inch deep cabinets, everything is still conveniently accessible.
There are several ways to make what is kept more accessible when using pantry cabinets that are either 18 or 24 inches deeper.
In these pantry cabinets, sliding shelves are one possibility. To retrieve the can, box, or package you need to make dinner, all you have to do is pull out the desired shelf instead of stooping into your cabinet.
Lazy susans are another choice for setting up your pantry cabinets. A D-shape lazy susan is the name for this kind of item. For cabinets that are twenty-four inches deep, it makes perfect sense.
Although the circular shape of these shelves means you will lose some corner space, the trade-off for convenience is you'll spend less time looking for what you want. And, placing things in their proper places also becomes easier.
Corner Kitchen Cabinets are Difficult to Install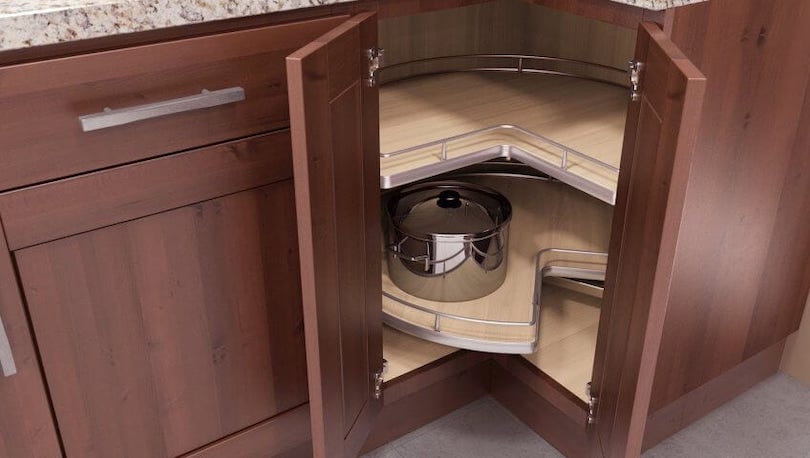 The most difficult kitchen cupboards to utilize effectively are still the corners. One, two, and occasionally three corners with cabinets are more common than the standard single wall or galley kitchens. Even more perplexing is the fact that different door types can be found on the same cabinet.
The kidney lazy susan door (number one) has a hinge in the middle and opens from one side. The smaller doors on the pie cut cabinet should simultaneously. The D-shaped cabinet alters the exterior look. You can either arrange shelving at various heights or choose from a variety of lazy susan organizers within these cabinets (read more about your options for lazy susans).
You can utilize a blind corner cabinet if you lack the necessary linear feet for one of these corner kitchen cabinets. This room is incredibly functional thanks to the numerous inserts. Here are some more ideas for addressing blind corners now that you've seen how lazy susan hardware can improve storage and/or accessibility in your kitchen cabinets.
The D-shaped cabinet alters the exterior appearance, and within any of these cabinets, you can use shelving at various heights or lazy susans (read more about your options for lazy susans). Additionally, if you don't have enough linear feet for one of these corner kitchen cabinets, you'll get a blind corner. But it is easy to improve with inserts.
These are some smart ways how to organize a lazy susan. You'll surely save a lot of time finding things with these ideas.