Practical DIY Drawer Dividers For Organizing Various Things
Drawers are great to keep your clothes and other personal belongings well organized. But when you keep everything together, it's difficult to find a particular item you're looking for. Therefore, you need to get drawers with dividers. However, replacing the existing drawers can be expensive. So, you need to consider DIY drawer dividers using different materials to organize things perfectly without much hassle. Moreover, DIYing with already available materials is less costly than ever before.
You can put it together with thin wood stripes while building beautiful drawer dividers instantly. Or you can cut the notches from cardboard strips. Further, integrating the stripes for building custom grid-style drawer dividers. All you need to do is thoroughly measure the width and length of the drawers. After that cut the divider frames as per the measurement. The DIY drawer dividers are likely to speed up the crafting game with the organization of craft supplies. They also help you with an easy organization by being in drawers as separate accessory holders.
There are also various ways to decorate your separate section drawer dividers. One simple way is to use duct tape, custom wood finishes, or wrapping papers for adorning the drawer dividers. But are you out of ideas? Don't worry!
Here we share with you the simple yet practical ways to add dividers to your drawers. You can use duct tape, custom wood finishes, or wrapping papers for adorning the drawer dividers more. So browse the complete collection of DIY drawer dividers here:
DIY Fabric Drawer Dividers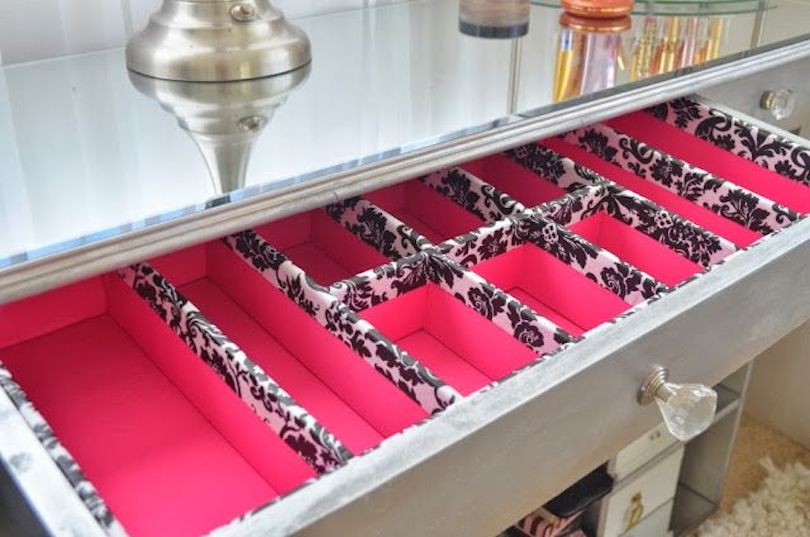 Don't want to see any mess in your drawers? It's time to organize all the drawers with the addition of DIY drawer dividers. You can use leftover cardboard from the scrap fabric and boxes for making the fabric drawer dividers. This surely organizes the drawers for more accurate and clean storage.
When you go to this cay, it can create various storage compartments in your drawers for separate or categorical storage of accessories. You can use it to keep your tiny makeup essentials, socks, clothes, or other knick-knacks.
The best part is that these are very easy to make and likely to go a very long way.
Wooden DIY Drawer Dividers For Organization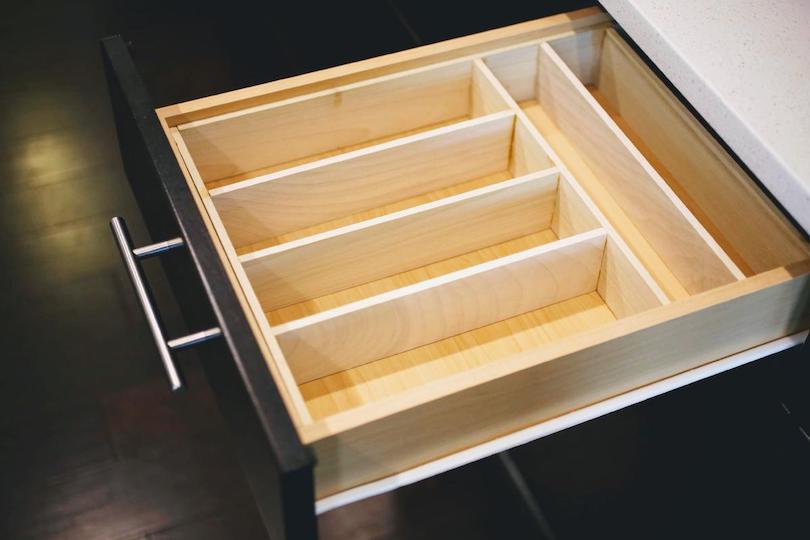 Want to separate your drawers for categorical and discrete storage of small items? If so, you can make custom drawer inserts using wood. After that, you can adjust the things in drawers for creating various storage compartments in drawers. They also help you to tidy up certain things within the drawers. It also provides you the ease of storing a bunch of various items in separate compartments within a drawer.
One of the best DIY organizers is to create at home without being quite expensive. However, you need to have some DIY wood crafting skills to create perfectly finished drawer dividers.
How to Make DIY Drawer Dividers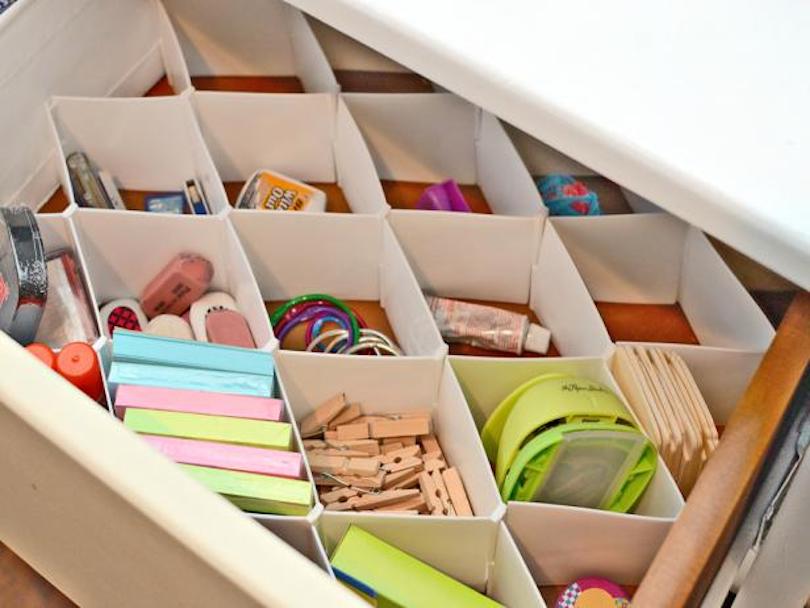 Here's another inspiration for you to create a perfect organizer for your drawers. This DIY drawer dividers creation is easy to create but very practical for sure. All you need to do is grab around 1/4 plywood and then take it into strips, which you can further put together to create drawer dividers' framework.
First, you need to create a lot of compartments within the drawers for separating and storing things neatly. Finally, you have to make a lot of compartments within the drawers for separating and storing things very neatly.
You can choose the compartments in any desired shape or size, depending on your needs for storage. Keep the small sections for tiny accessories and the large sections for clothes or socks.
Cheap Drawer Organizer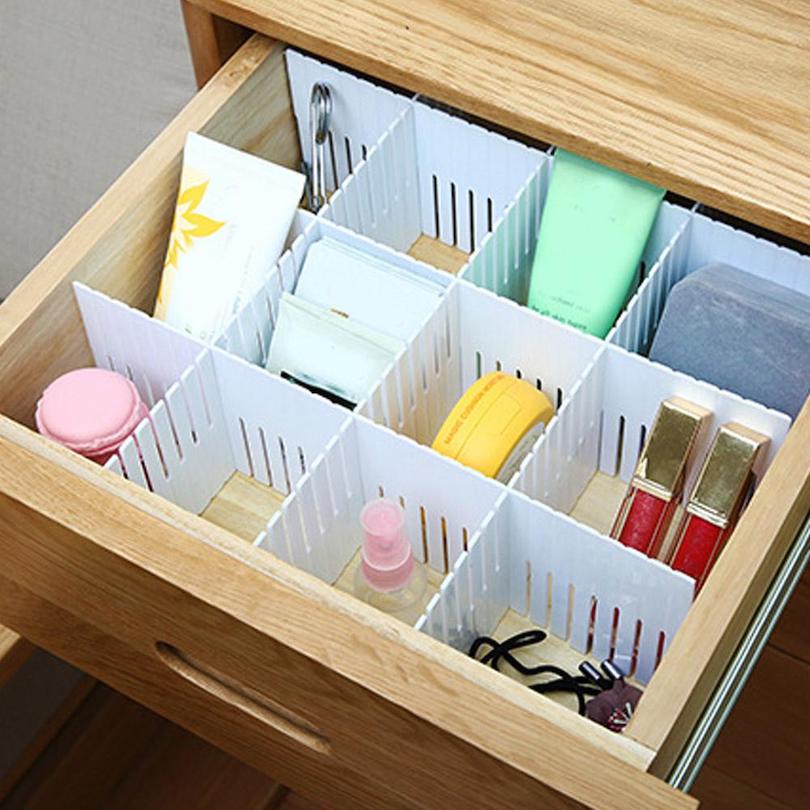 Want your bedroom dresser drawers to hold almost everything? If so, you need to build this cheap drawer organizer that's ideal for creating small or big compartments in drawers. Or you can simply cut the sections to create even compartments within the drawers. Grab DIY drawer dividers that will not cost you anything big now.
One of the easy and best ways to do so is by making the organizers use cardboard or plastic sheets.
Drawer Separators – DIY Drawer Dividers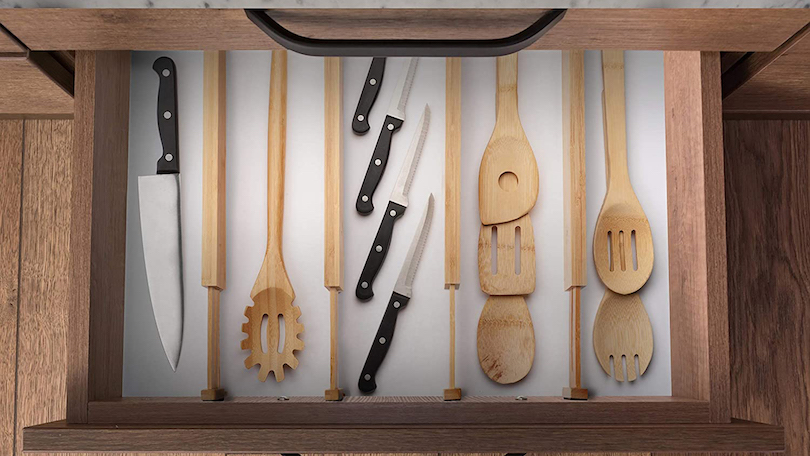 You can clean up the drawers using drawer separators without any hassle. Here you require dental molding, as well as a mull strip for building the drawer separators. You can even create drawer separators that are also extendable within the drawer. So, you can easily make the partitions within the drawers to store things easily and neatly.
You need to start this project to make your storage space more clean and tidy. The main tools needed for this project are a hot melt glue gun, a brad mail gun, and a miter saw. First, you have to cut the dentil molding short for making the dividers and then create dividers as per the width and length of the drawers.
Kitchen DIY Drawer Dividers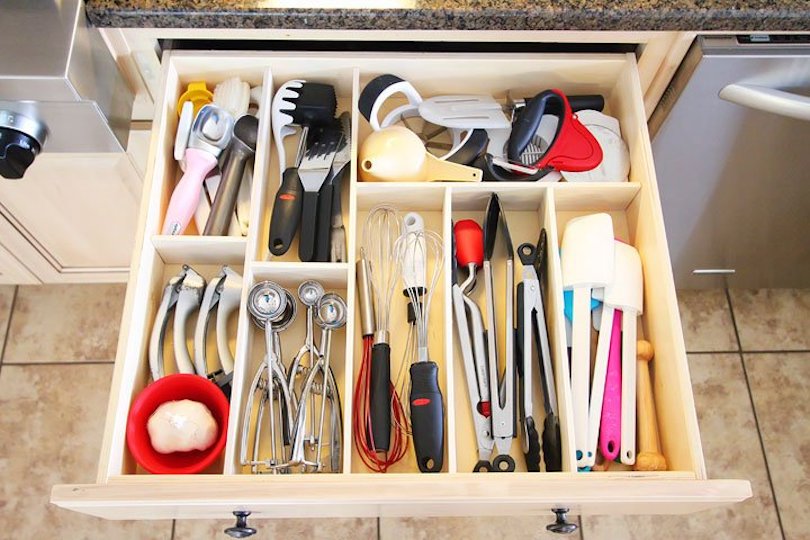 We understand that you have to stuff so many things in your kitchen. And, due to short space within a room, you look for furniture pieces with ample drawers for storage. However, the drawers often get cluttered if you just simply throw things in them without proper organization. If you are having trouble with your messy drawers, it's time to think about kitchen drawers' organization. So, they will offer you a great and easy way to pick things and also drop them at their respective place.
The idea here is to build the kitchen DIY drawer dividers using pine wood boards or slim lumber boards to make the dividers as per the dimensions of your drawer. Further, install it to add more storage compartments within a drawer.
Another Kitchen DIY Drawer Dividers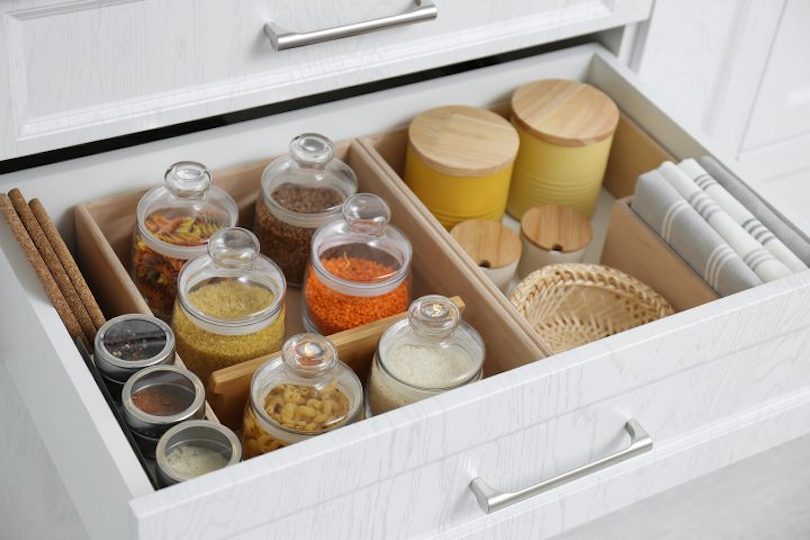 You need to use simple materials and tools to create kitchen DIY drawer dividers. With proper DIY kitchen drawer dividers, you instantly get the amazing organization of the drawers. Such dividers are also handy to clean up while storing cutlery very neatly.
You can use cardboard pieces to create these drawers or plastic sheets to keep things organized in different compartments. All you need to do is measure the wood slats and cut them to glue together for the creation of perfect DIY drawer dividers.
DIY Desk Drawer Organizer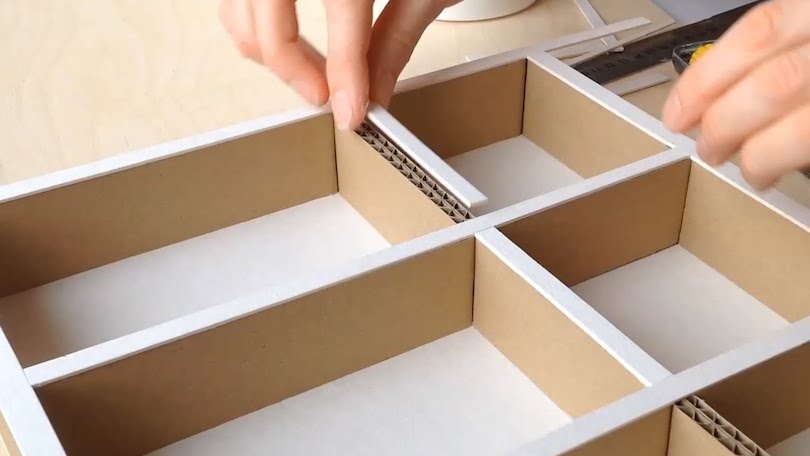 Get rid of paint for digging the drawers and finding something important. All you need to do is search for the right drawer organizer game. The idea is likely to divide a drawer into various large, small or equal compartments to store various items. It can further help you to keep all your kitchen tools and supplies convenient.
For this creation, you need to grab various pieces of wood and put them together to build a proper frame. This further helps you to fit within the drawer. The frame partition is perfect to keep things well arranged and organized with ease.
DIY Drawer Dividers For Accessories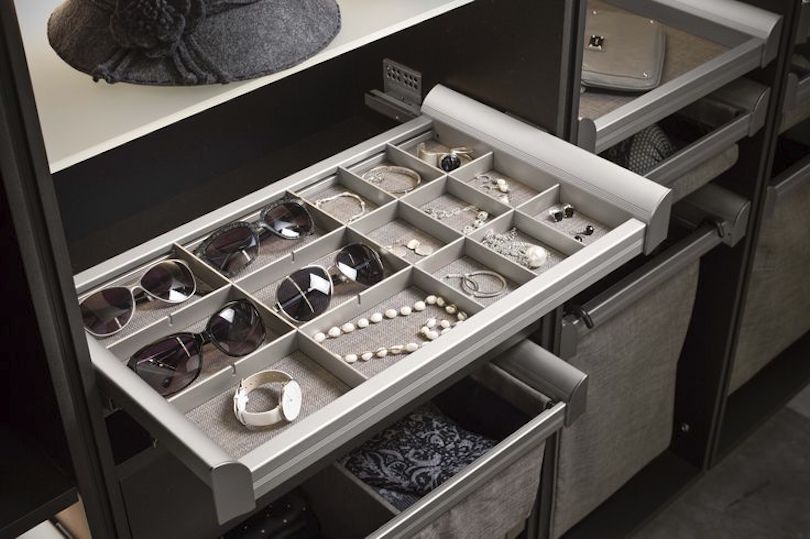 Do you have a messy collection of accessories in your drawers? If so, you need to look for ways to find things quickly and easily. So, you can opt for categorical storage of various accessories and items. Just consider DIY drawer dividers to keep things organize separately and neatly.
All you need to do is cut the corrugated board lengths as per the drawers' dimensions and further build a custom drawer using the board.
Adjustable Drawer Dividers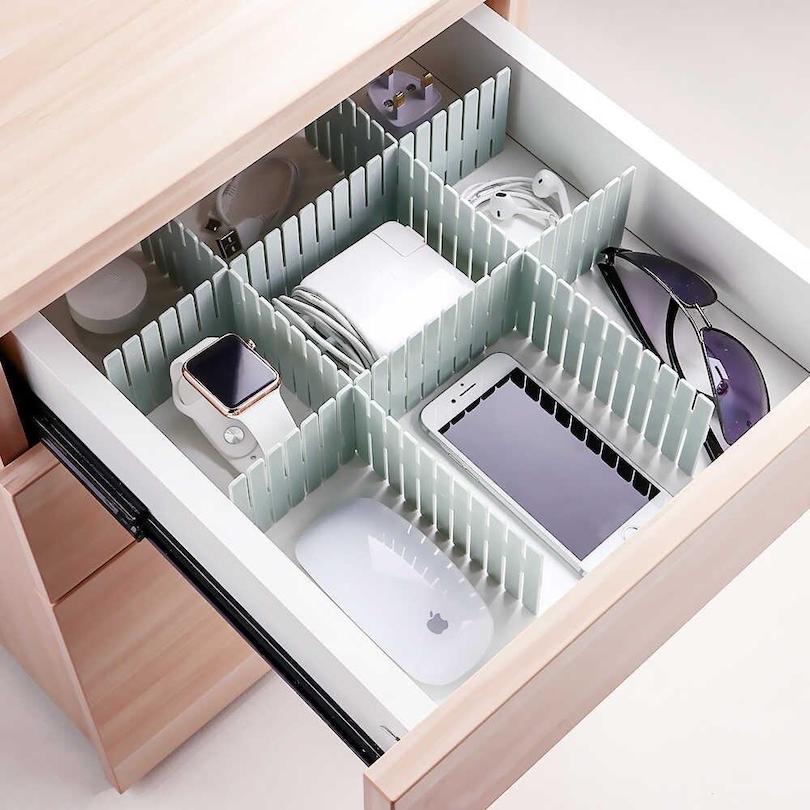 For more convenience, you can consider adding adjustable dividers to your drawers. The best thing about these adjustable DIY drawer dividers is that you can adjust them as per your changing storage needs. All you need to do is use the cord clips and some thin wood slats for building the adjustable drawer dividers. These are likely to jazz up things for you to up your storage game.
For a decorative touch, you need to add white vinyl for chic appeal. Furthermore, the adjustable dividers help you to increase the efficiency of the drawers. So, you can use the same drawer to store clothes or other accessories of your choice. We are sure you'd love the way these adjustable dividers work and function to make your life easier.
FAQs Related to DIY Drawer Dividers
What materials to use for creating DIY drawer dividers?
There are various materials you require for making DIY drawer dividers. Some common materials to use are wood, cardboard, plastic sheet, fabric, plywood, and more. Once you have the material for your choice, you can follow any step-by-step tutorial to create your dream drawer dividers.
How to organize the drawers?
You may organize the drawers as per your liking. According to the space available in your drawer, you can find the desired ways to adjust it according to your needs. If you are creating kitchen drawer dividers, you would want more compartments for matching the items you want to store in them for convenience.
How to create a happy planner divider?
For creating a happy planner divider, you need to take a piece of paper to place the holes. Also, use a pen for marking a dot in the center of every D-shaped hole on paper. You can use a crop-a-dial or small hole punch for punching out various dots. After that, take scissors and cut a slit from the divider's edge to the punched holes.
Are DIY drawer organizers worth it?
Yes, DIY drawer drawers are helpful to keep the internal spaces clean. It also enables you to save some time and not search for things aimlessly.
How do you make drawers for clothes dividers?
It works the same way you create desk drawer dividers or other dividers. Just scope the project out, collect some materials, and start creating a perfect craft. Also, look for the number of clothes you want to store in specific sections of your drawer. Just create the dividers as per your needs.
Conclusion
Have you ever tried to find accessories or items within the cluttered drawers? It's difficult for sure. Now is the time to arrange the cluttered drawers so they offer easy find for a specific item. The best idea here is to create a custom drawer organizer. It also helps you create small and big compartments within the drawers. Hence, it adds separation to a variety of items you store within the drawers.
The DIY drawer dividers won't let the items mix and clutter. Hence, you will get rid of the tangled items. From kitchen cabinet drawers organization to bathroom drawers and bedroom drawers, you can easily arrange any drawer using various dividers that are inexpensive and easy to build.