12 Scary Halloween Bathroom Decorations To Horrify Your Guests
Halloween is just two weeks away. So, you must be looking for more interesting ways to make your house appear creepy for a frightful experience. While most people concentrate only on decorating their living room and outdoor areas, one place to generate maximum spookiness is your bathroom. Well, that's what we have learned after watching a lot of Hollywood horror movies. Here we'll help you with the best Halloween bathroom decorations to scare the hell out of your guests. These ideas will make your visitors run out of your bathroom for help.
How to Decorate Your Bathroom for Halloween
From a bloody bath mat to a spooky skeleton sitting on a toilet seat, there are various ideas to up the eerie factor in your home. If you're wondering where to get these scary Halloween accessories, we have also mentioned the buying links of different accessories that you can purpose from Amazon for October 31.
There are so many weird but amazingly downright creepy ways to deck up your Halloween bathroom. And, most of these ideas are not expensive. If you are running out of ideas, you can buy a few scary items, like a skull tissue paper holders, gothic canvas, etc. Believe us – there are so many ways to scare your guests. Plus, these Halloween bathroom decorations will make your bathroom stand out from the rest of the rooms in your abode.
Alternately, if you want to make things more elaborate, it is best to purchase a Halloween roach invasion set or spider egg sacs for a perfect spooky setup.
1. Bloody Bath Mat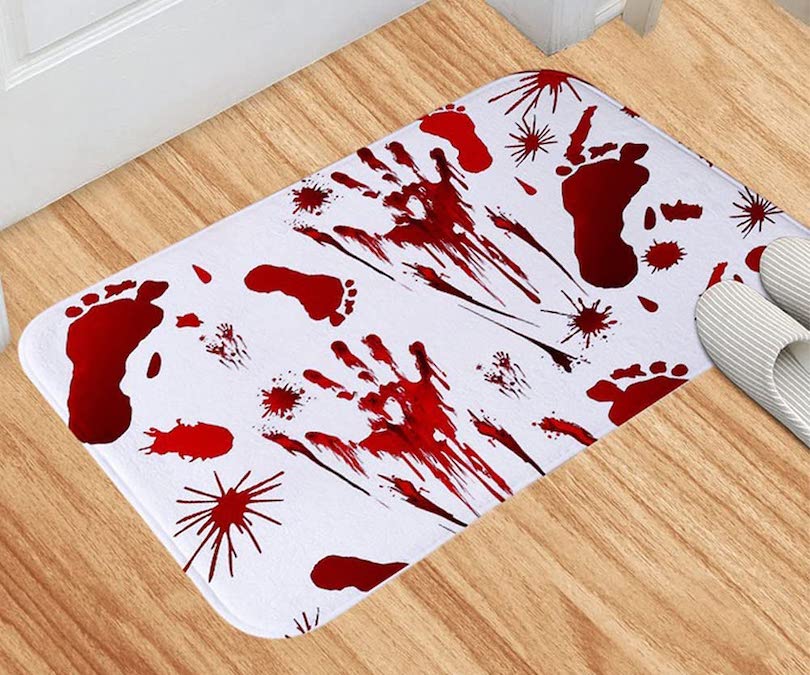 Nothing is more frightful than the sight of blood. The thought of blood dripping around the house can give anyone goosebumps. So, consider adding this bloody bath math next to your bathtub or at the entry into your bathroom. As soon as your guests will look at this mat with fake bloodstains, they will surely be taken aback. Even the rest of your guests will keep thinking about who stepped out of your bathroom bleeding profusely. And why did the footsteps disappear after the mat? This question will also keep them in confusion for the rest of the night.
2. Spider Egg Sacs – Halloween Bathroom Decorations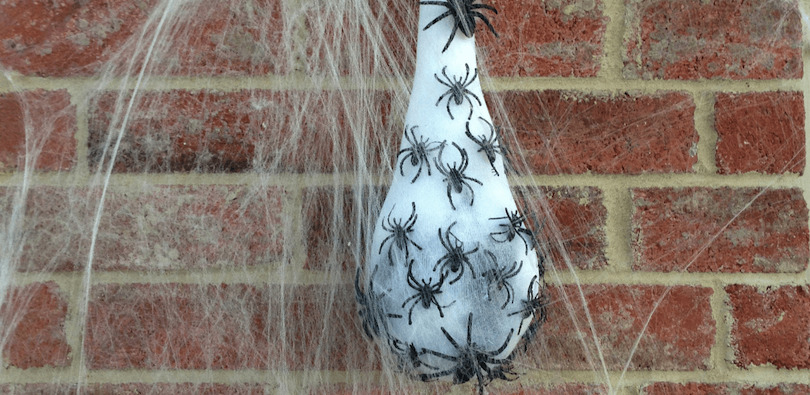 Another amazing way to petrify your guests, as soon as they open the door, is by hanging spider egg sacs. It is a frightful and affordable scary item that you can either purchase from Amazon or DIY at home. All you need is a foam egg, white stocking, white batting creepy plastic spiders, glue gun, and pushpins. If you don't have time to make it yourself, simply buy it online.
3. Toilet Monster Halloween Bathroom Decorations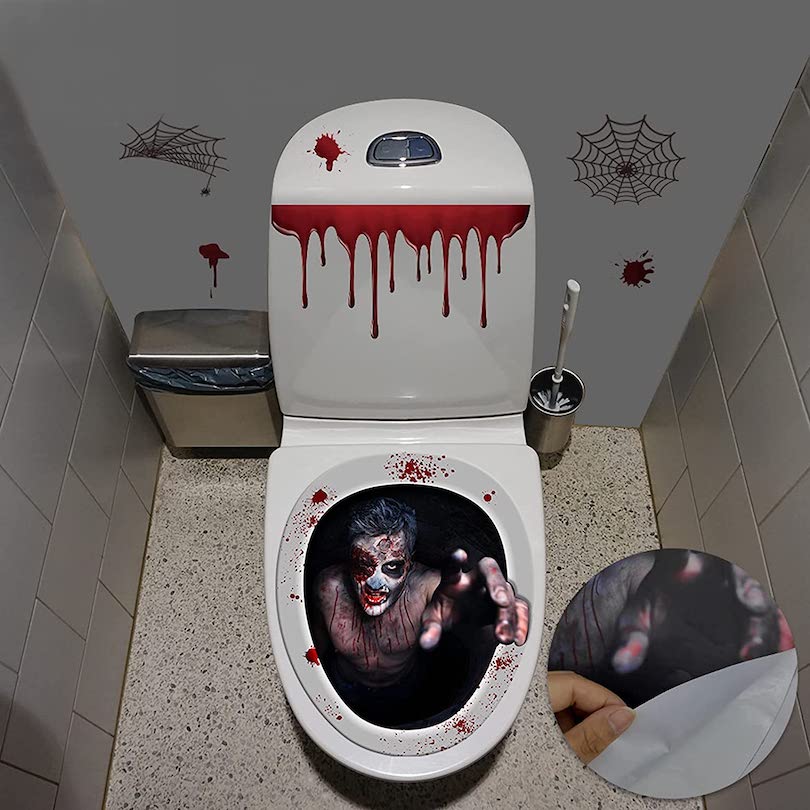 This is one of the very frightening Halloween bathroom decorations to consider. This idea is most likely to scare the bejeebers out of the visitors. While your guests may be thinking of something popping out of a hidden spot, they won't expect it when you open the lid of the toilet seat. Or, you can simply stick a monstrous sticker on the lid of your toilet seat. It will make them scared of opening the lid itself. You can find this scary Halloween decoration on Amazon.
4. Zombie Decorative Toilet Paper Holder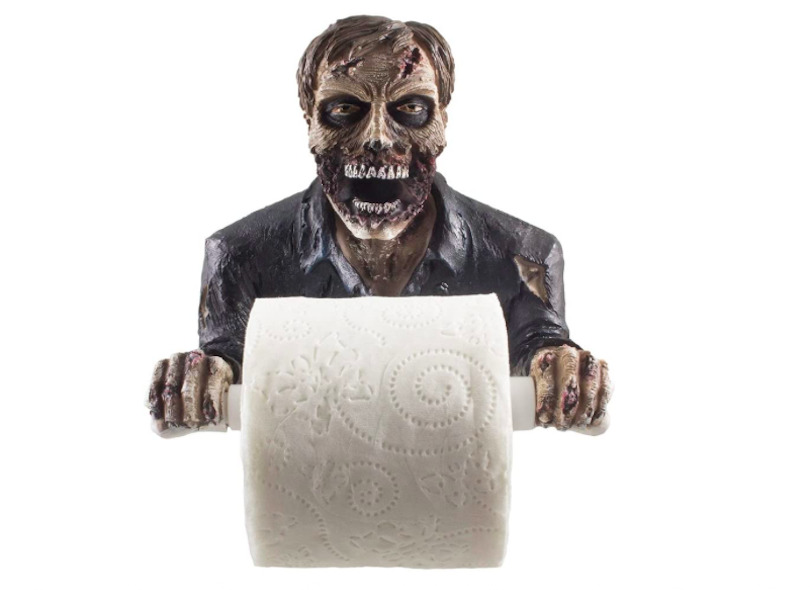 Petrify your bathroom visitors as soon as they notice this sinister undead zombie toilet paper. They will surely think twice to take out toilet paper from the hands of this scary zombie. What's even better is that this toilet paper roll holder is of good quality. It means that you can use it year after year for your Halloween bathroom decorations.
5. Roach Invasion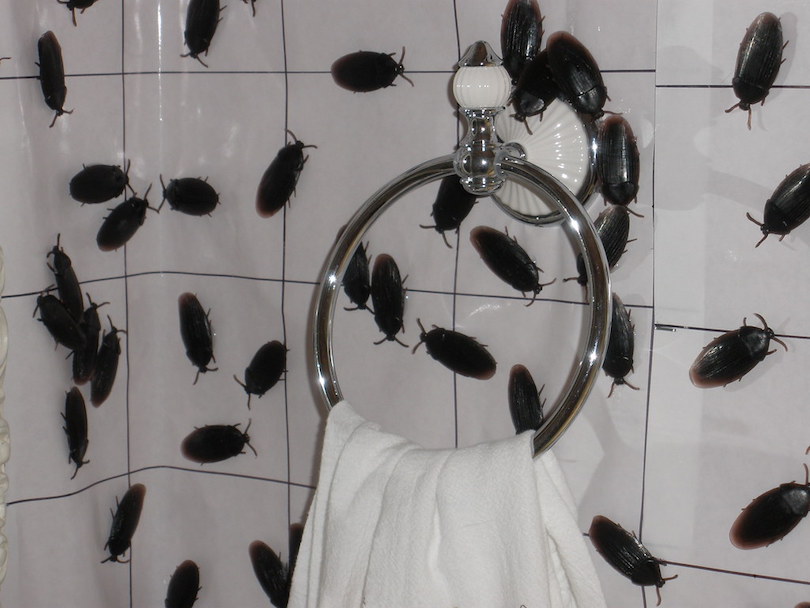 Following the theme of creepy and filthy Halloween bathroom decorations, plastic roaches are a great choice to consider. You can buy a pack of these disgusting-looking roaches online. You can use a small amount of removable adhesive to stick these on your bathroom walls, flooring, toilet seat, and other areas. Arrange them in a way that seems to be coming out of a bathroom pipe or sink. Your guests will be instantly scared as soon as they turn on the lights and see these plastic creepy crawlies.
6. Skeleton on the Toilet – Halloween Bathroom Decorations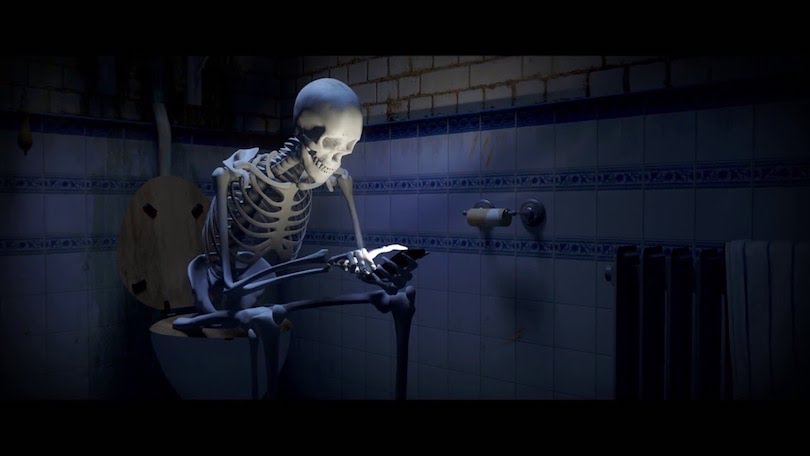 It doesn't seem like a convenient Halloween decor idea. But a single or a pair of life-size skeletons sitting on your toilet seat is perfect to give someone a scare. You can put a dim light against the skeleton. It will make the skeleton even scarier. If you don't want to keep it in such an obvious location, you can put it behind your shower curtain. This will certainly fright an unsuspecting person as they step into the shower.
7. Spider Webs For Halloween Bathroom Decorations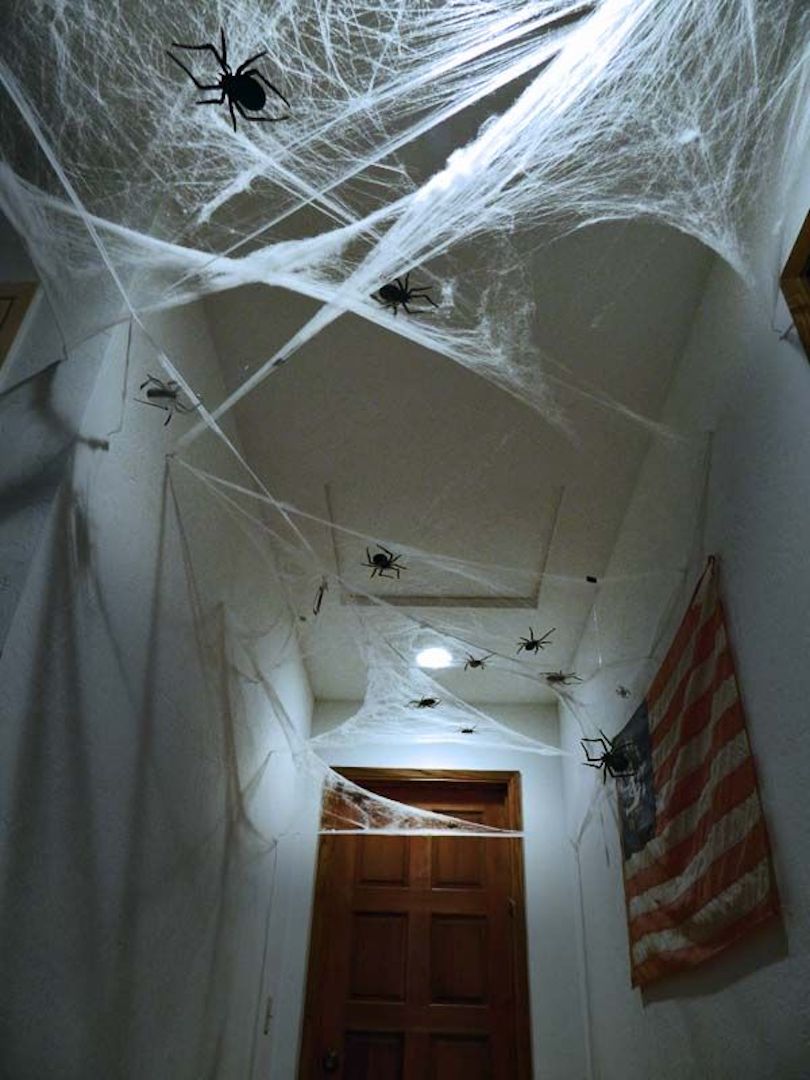 Buy: $9
For those who suffer from arachnophobia, nothing is scarier than spiders. So, you must include this idea in your Halloween decorations. To be honest, this idea will instantly give heebie-jeebies to those who get scared of spiders and spiderwebs. You can even create this decoration yourself at home. Or simply but fake spiderwebs and fake black spiders from Amazon. Just imagine finding tiny black spiders coming out of the spiderwebs hanging everywhere from the walls of your bathroom. Eek!
8. Ghost Soap Dispenser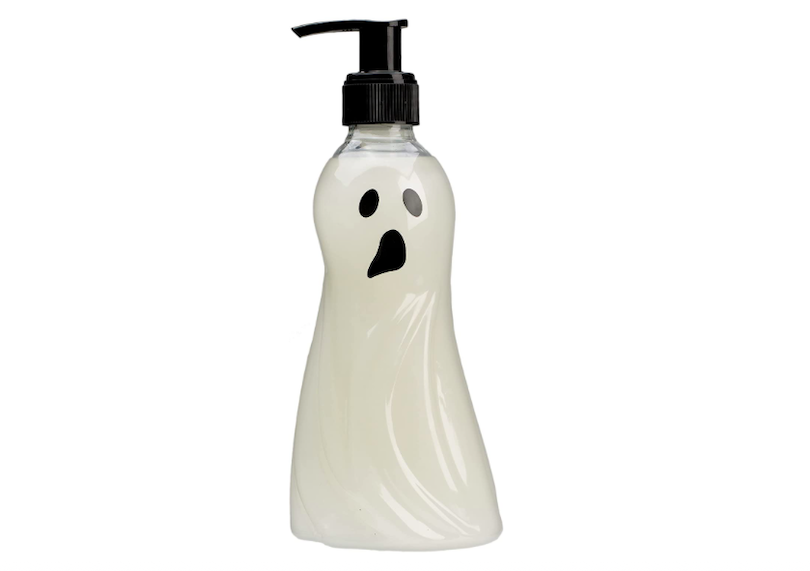 This white ghost-shaped soap dispenser looks rather cute than scary. If you don't want to add too much spookiness to your bathroom decorations, consider adding this cute soap dispenser to your bathroom countertop. Your guests will love this cute little ghost dispensing soap for you to wash your hands. If you want to add more of these you can put in your favorite body lotion, shampoo, conditioner, etc. into these ghost dispensers. And this way, you can enjoy the whole Halloween month bathing around perfect spooky bathroom accessories. When the fall festivities are over, you can put back these dispensers in store until next year.
9. Gothic-Inspired Canvas For Bathroom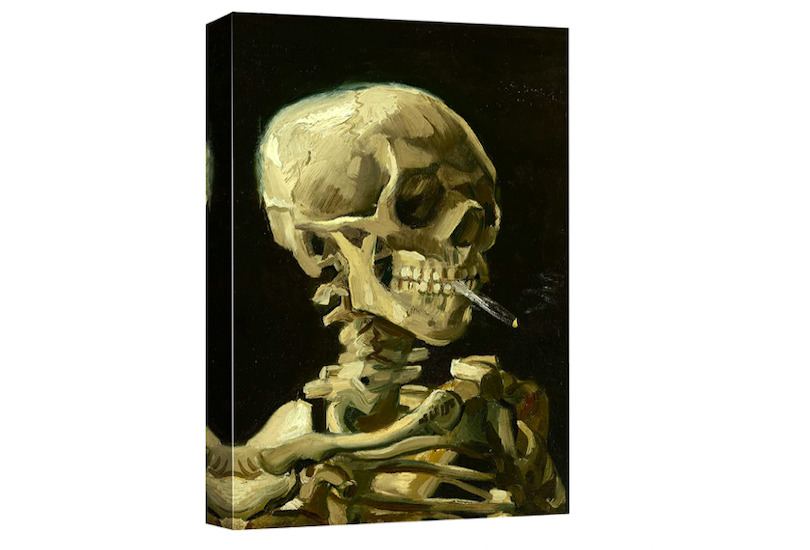 Have a look at this gothic-inspired canvas for your Halloween bathroom decorations. You can hang this painting of a smoking skeleton above your bathtub. It will remind you of the dead while you are soaking in your relaxing bathtub. If possible, add an accent light or a string light around this skeleton paint. This will make this painting appear as if the skeleton is ready to jump out of the painting.
For those, who want to keep this Halloween-influenced theme throughout the year, you can go for gothic style paint on the walls as well. Simply paint your bathroom walls and doors in black. This will make this painting stand out in the interior. But only add this decoration, if you can handle a skull staring at you right from the wall.
10. Black Skull Face Tissue Box Holder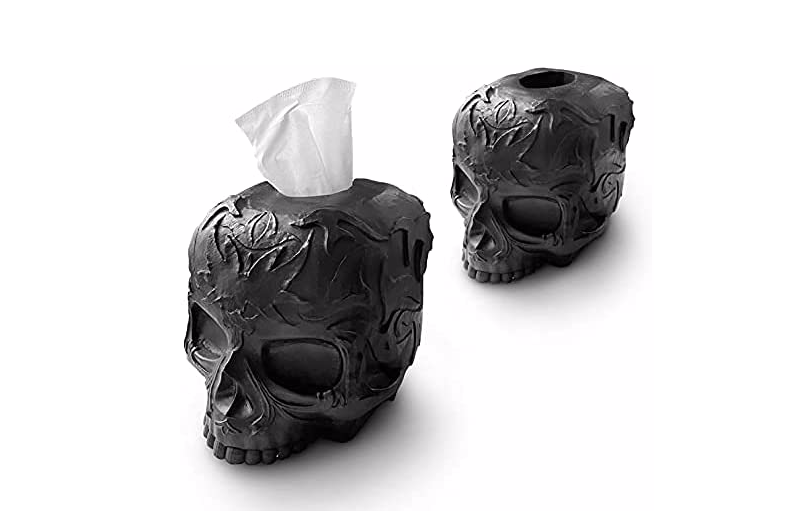 Do want a more "grown-up" Halloween decor? Consider choosing this black skull tissue paper box. The design of this skull tissue paper box is kind of classy. This way, it can be your stylish bathroom decor piece. The point here is that your Halloween decorations must not appear very animated or cartoony. Otherwise, it will give a childlike vibe to the whole decor.
With such a black skull tissue box, you can make your Halloween decorations more serious for grownups. Furthermore, the quality of this tissue holder box is premium. So, it will last for many years without any durability issues.
11. Makeup Coffin Shelf And Brush Holder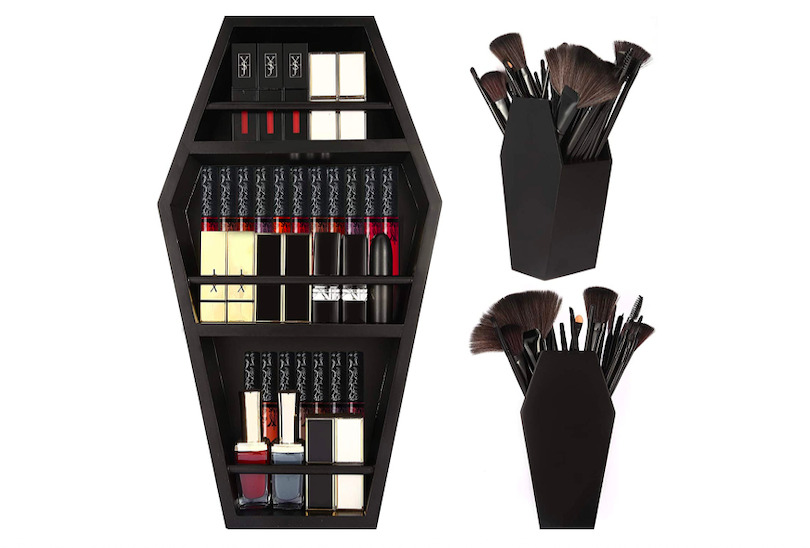 Round out the edgy and dark Halloween theme with this spooky makeup coffin shelf and brush holder set. This creepy coffin-shaped makeup and brush holder seems to be coming out of those scary vampire movies. It is a two-piece makeup organizer set for lipsticks, eyeliner pencils, makeup brushes, and nail polishes. Hence, it is both a decorative and functional Halloween bathroom accessory to consider this All Hallows Eve.
This particular accessory is made using high-quality wood construction. Hence, you are likely to do countless Halloween makeovers without worrying about its durability.
12. Halloween Shower Curtain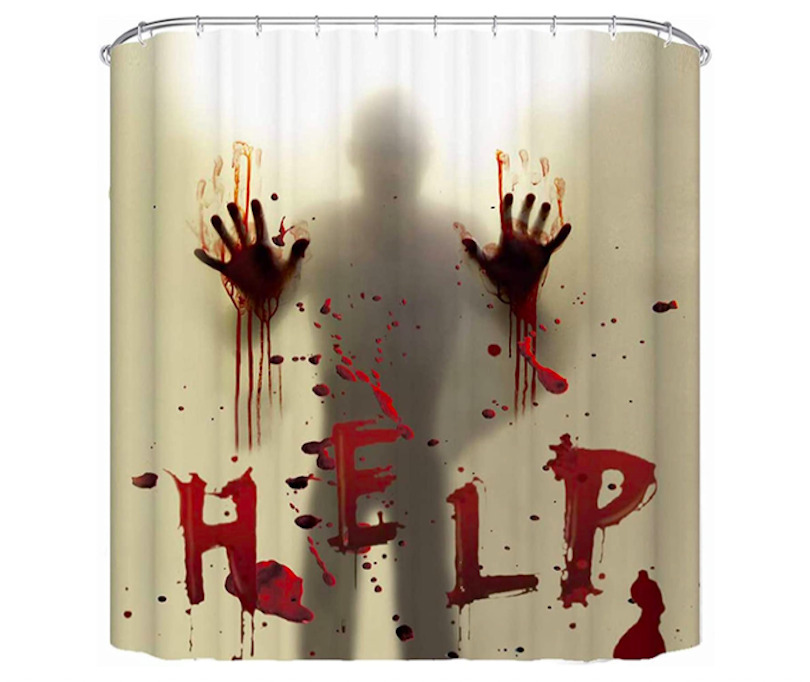 Have a look at this bloody shower curtain with a "Help" message on it. This is a great scary Halloween bathroom decoration item for Halloween parties. It is suitable for all sorts of parties, like a costume parties, fun activities, spooky festival events, etc. Made from 100-percent thick polyester, the fabric is durable and thick enough to protect your privacy.
The shower curtain is also waterproof, so it can prevent water from splashing out from the shower stall. Plus, the high-quality polyester has an elegant and luxurious feel. This brings you the luxury of a perfect hotel-style bathing experience. Meanwhile, it goes well with the Halloween decor theme.
So, these are our 12 best Halloween decoration ideas for your bathroom. We are sure that these spooky ideas are likely to give nightmares to your guests this Halloween. Up for some spooky fun? If so, consider any of these ideas to make your All Hallows Eve more interesting.