10 Front Porch Christmas Decoration Ideas For Quirky Touch
Christmas is the most awaited holiday for all. But it's not complete without perfect decorations. Since the front porch is the very first thing that your guests will notice, it has to be festive appropriate. In this article, we have shared stunning ideas for front porch Christmas decorations. From naturally green front porch decoration to bench warmer decor, there are various ideas to consider for decking up your front porch for Christmas.
If you are seeking the best Christmas porch decorating ideas, you need to check out those here, as we have curated some inspiration for your porch design. Giving the front porch a festive curb appeal that it needs this festive season is the best way to add holiday spirit to your home. It will help you add up the correct festive tone for your entire living space.
The front porch decoration offers a warm welcoming touch for the arrival of Santa each year. Moreover, it will make your neighbors smile. Are you ready to decorate your front porch with lights and decorative ornaments? If so, this guide is for you:
Add Greenery For Front Porch Decor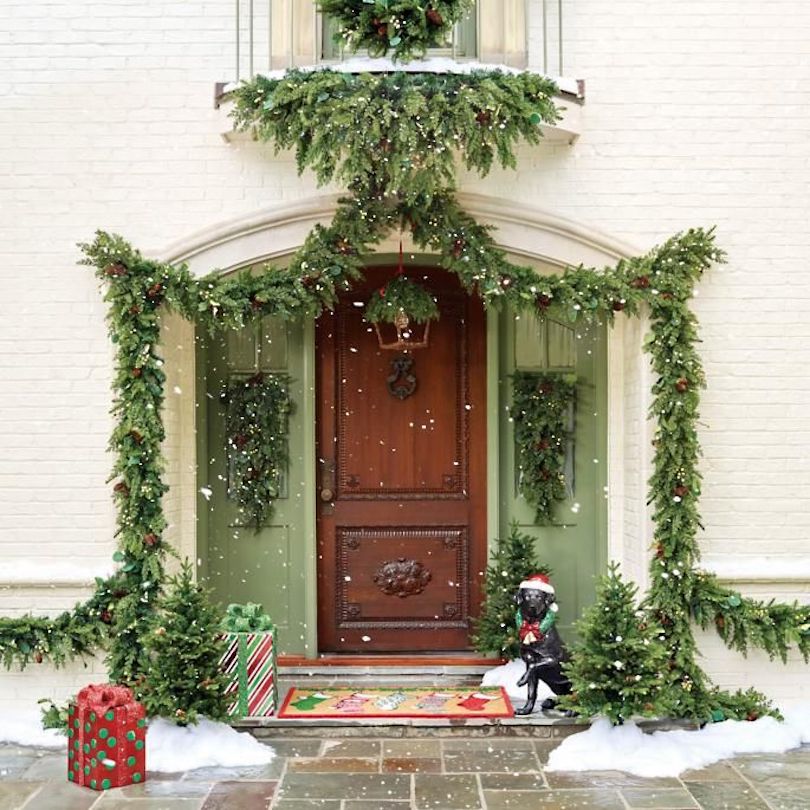 There's nothing more gorgeous for the front porch than an oversized foliage garland. This fun and grand display is perfect for front gate frames. It will add plenty of greenery to the front porch. Plus, you can also deck up the greens with sparkly ornaments. You also need to play with plenty of symmetry with proper seasonal decorations. This will also help you give a glimpse to onlookers about your quirky and fun personality. Moreover, the green decor would look absolutely amazing against white snow (if there's snow in your region during Christmas).
Add An Inviting Welcome Mat For Decoration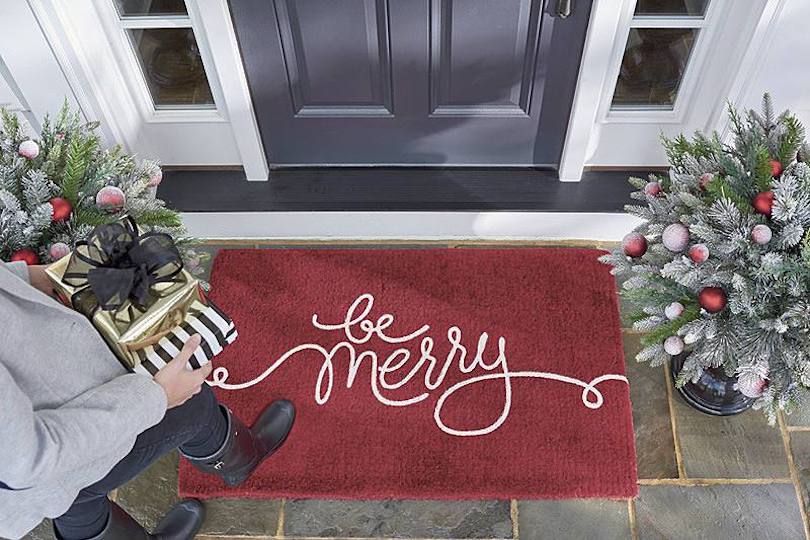 Add a quirky doormat with a fun festive message for bringing some distinct and witty touch. Not just to wipe the feet of the visitors, this festive doormat will also add an instant boost to your decor. For instance, the mat shown in the image above is simple but sends a perfect Christmas message too. And, the red color of the mat also gives the "merry" vibe.
Add Jingle Bells To Front Porch Christmas Decoration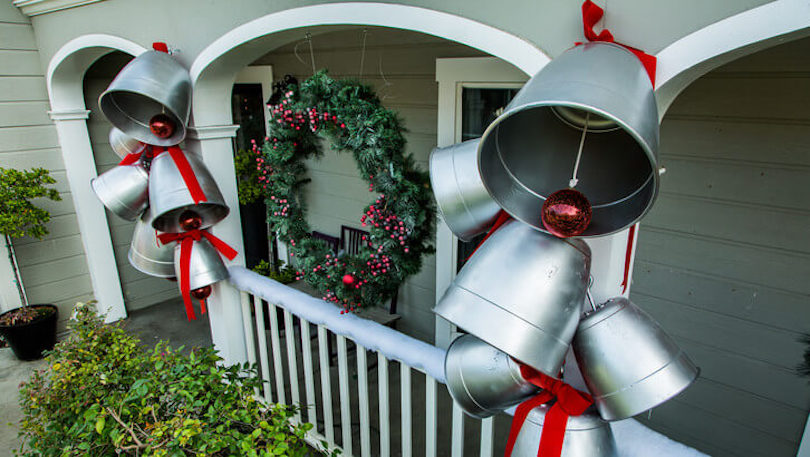 You can add "jingle bell" decorations to your front porch with such silver bell decor pieces. It's simply best to hand-tie the silver bells around the front porch area. Adorned with decorative bells and other Christmas decorations, these decoration pieces will add an element of interest to the home exterior. You can even consider adding some Christmas decor lights to add a festive glow to the given area. This is how you can add stunning charm to your front porch Christmas decoration.
Add Wreath For Stunning Front Porch Decoration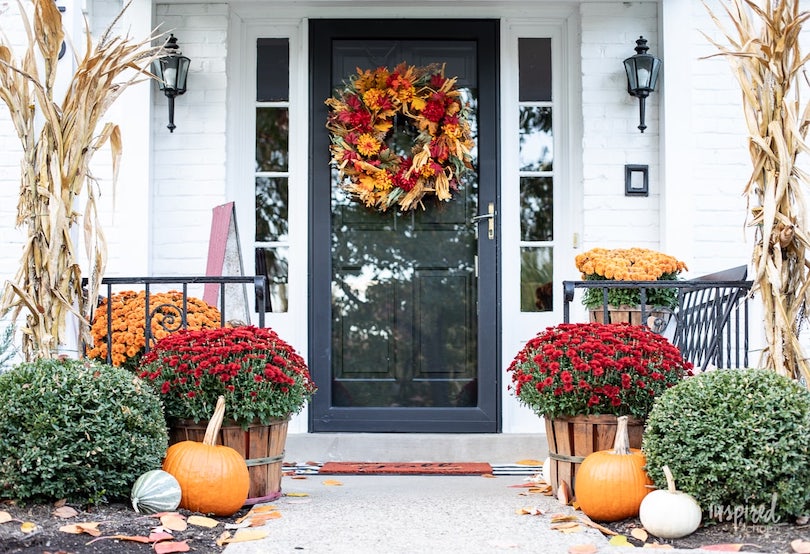 Another perfect addition to your front porch door is the addition of a Christmas wreath. It is a typical Christmas decor idea but these seasonal beauties are a perfect reminder of festivities. You can choose a wreathe in any style – from a complete green wreath to the one made with autumn flowers. The latter one is likely to add a unique look to the given area. Plus, it will pack a holiday punch to your front porch decoration.
Whether you select a fresh wreath or a faux one, these will be a fun add-on to your front porch. Don't forget to add pine cones, bow, or other forestry additions to the front door. This way, your front door would match the color theme that's also used throughout your home. Hence, everything will look perfectly tied up together.
Choose Candy Cane Theme For Decoration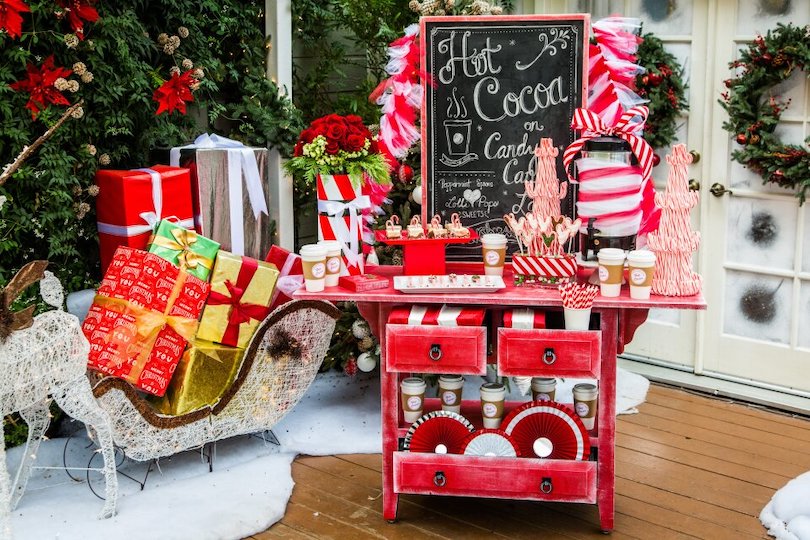 Add a fun candy cane theme front porch decoration for Christmas cheer. Even Santa Claus is likely to approve this fun porch area theme. This theme is so lively and fun that it can make anyone's day whoever walks by this area. And, how about serving a few cheeky Christmas drinks in the candy cane-themed front porch? This is how you can create your own winter-themed haven using candy cane-inspired touches in the classic red and white hues. Also, add gifts wrapped in a similar color scheme. The more the gifts, the merrier the look.
Add Merry Christmas Sign To Front Porch Decoration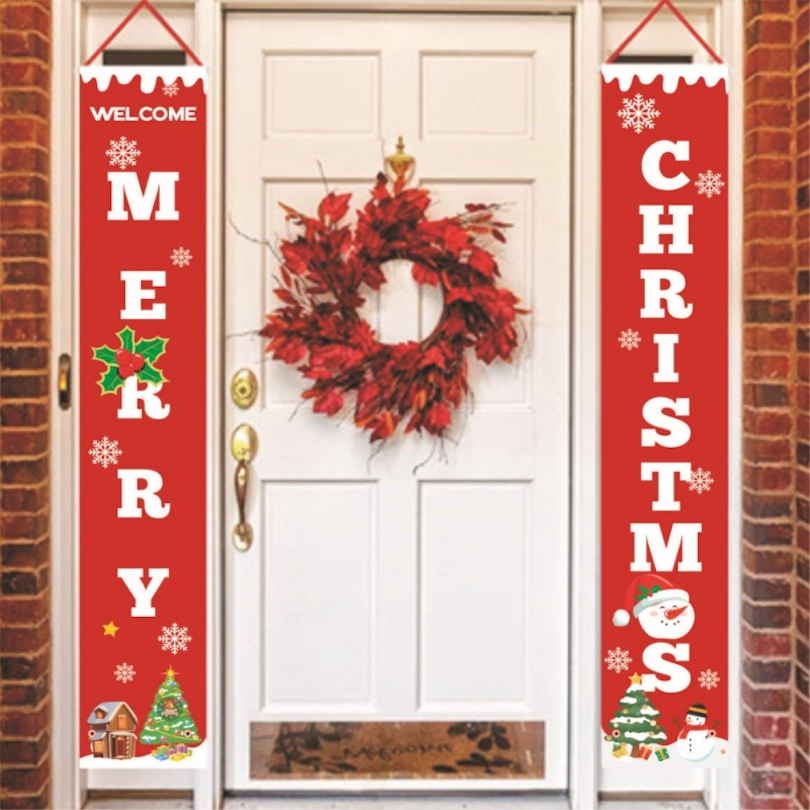 Besides a perfect wreath and festive foliage, you can also consider adding a "Merry Christmas" sign to the front door. You can get such huge signs online or in a store near you. You can go normal or as large as you want with these fun signs that's wishing everyone a fun and merry Christmas.
For more added charm, you can light up this sign with a string LED strip. Or simply add forestry elements around this sign. For instance, you can consider adding pine cones, acorns, and other natural elements. Even fix a big ribbon or a wreath on the front door for perfection.
Add Red Lanterns For Front Porch Decoration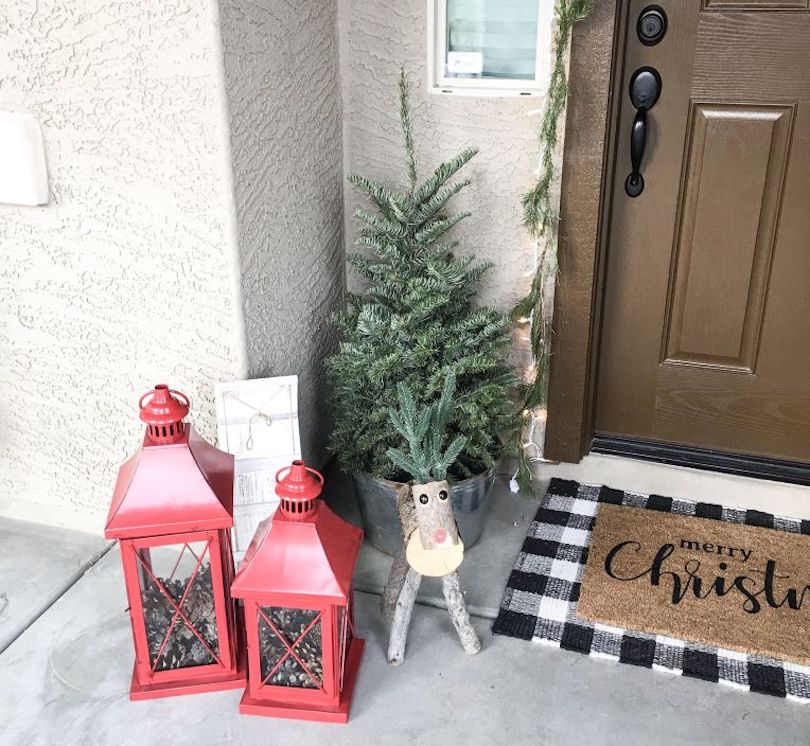 You can consider adding red lanterns to your front porch Christmas decoration. You can fill up these simple but stunning red lanterns with pinecones inside and also keep some around them. This is one simple and effective way to deck up your interior.
This is a very simple but effective way to give a merrier vibe to your front porch. You may even consider adding ornaments, Christmas fairy lights, or candy canes to this area. Or just keep it minimalist. Either way, it will look stunning.
But do add a green plant, door garland, and festive doormat next to the lanterns. These objects will ensure the Christmas feel is present without making the area feel too bland.
Santa's Little Helper For Front Porch Christmas Decoration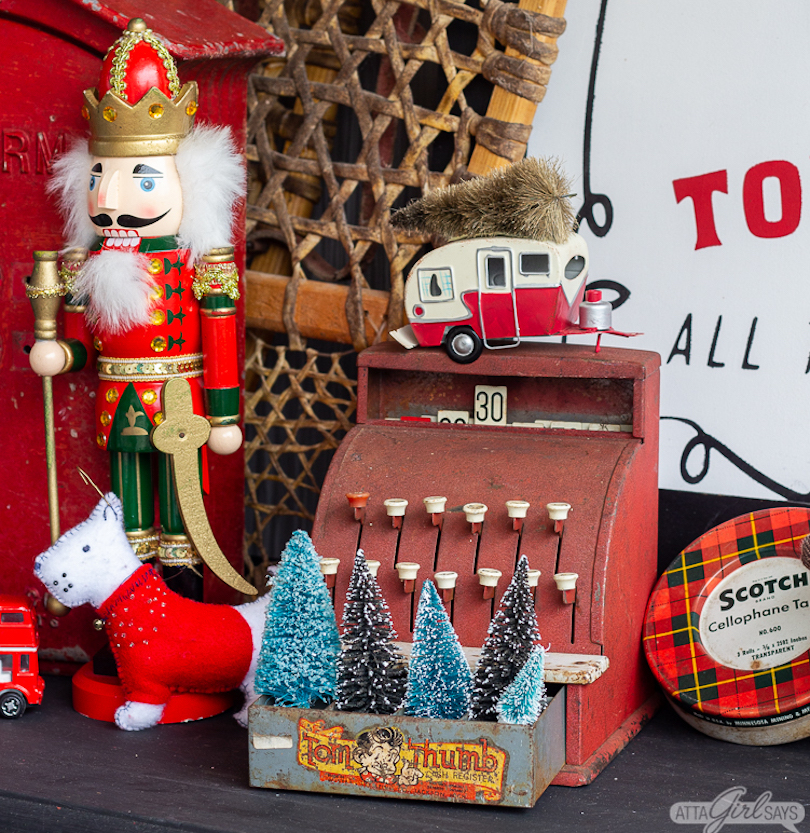 We all are kids at heart. You delight in the toys under the tree along with some cookies and hot cocoa. On Christmas, Santa is the rockstar on this planet. So, he might need a helper. So, you can select a figurine to give Santa a little helper for spreading festive treats and joy.
Also, add the Santa's Elves, like Pepper Mixstix, Sugarplum Mary, etc. around this tiny helper. Your guests will certainly remain amused with this front porch Christmas decoration idea. Do give it a try!
Nutcrackers & Toy Soldiers For Decoration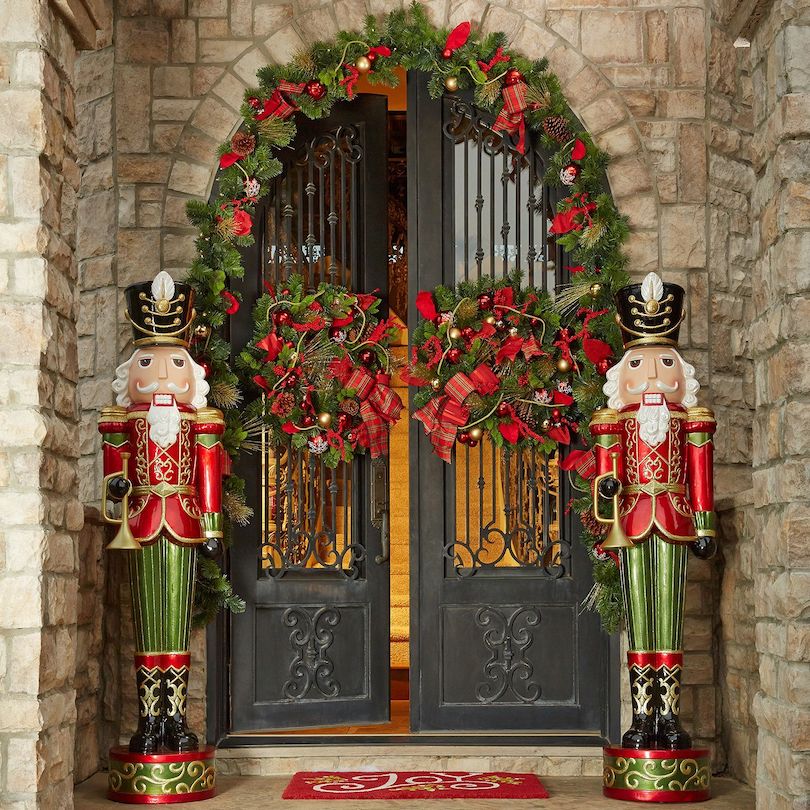 Do you adore the modern farmhouse trend? If so, you are likely to update the icons, like Musical Nutcracker and Toy Soldiers. These are perfect to match holiday home decor. And the elegance of decorative garland and wreath completes the whole look together.
Bench Warmer For Christmas Decoration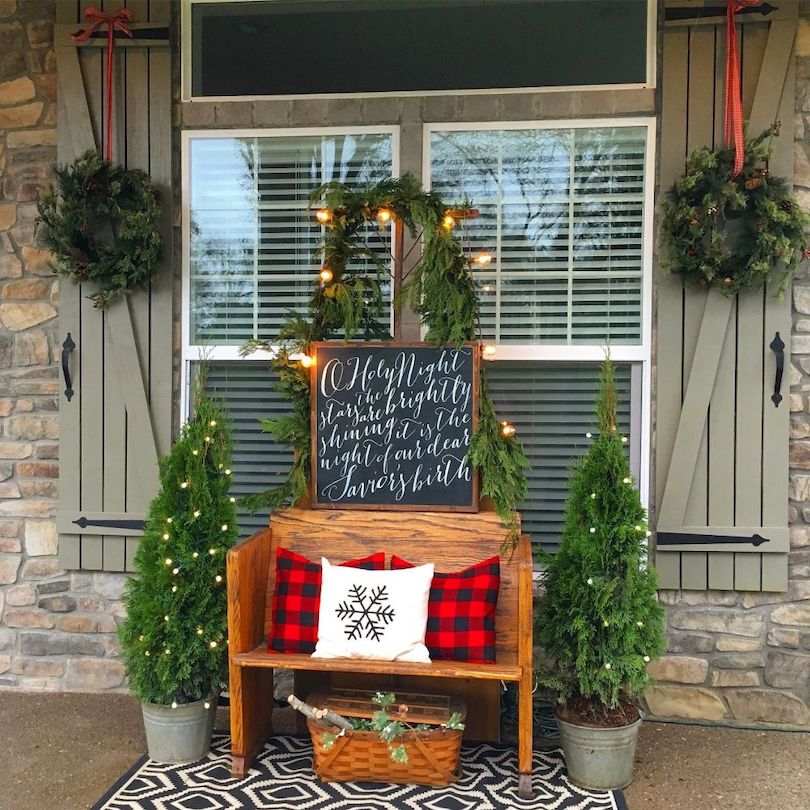 If you feel Christmas porch decor must include comfy seating, you need to consider adding a bench warmer. Also, add comfy cushions and throw a blanket on the bench. Don't forget to add small Christmas trees, and lights around the bench.
This way, you can easily set up a cozy place to enjoy it all. Meanwhile, you can spruce up things a bit for the holiday decorations. Not just Christmas, you can even use this bench to enjoy it throughout the year.