10 Outdoor Christmas Decorations To Make Your Home the Merriest
There's nothing better to spread Christmas joy than decorating your front porch or yard with outdoor decorations in different shapes and sizes. But all thanks to Amazon's wide range of outdoor Christmas decorations, you are most likely to find the ideal accent for your home exterior during the Holiday season. From illuminated reindeer to Crestwood hanging baskets, you can find amazing outdoor decor pieces at the click of a mouse on Amazon.
With these different decor pieces, you will make your guests feel welcomed on arrival. You can choose from a selection of Christmas string lights, snowman decor, etc. All thanks to these pieces, it is easy to create a fun atmosphere during the holidays as guests walk through the entryway. Even if you have a certain theme in mind, you can select a few of the given pieces to give full justice to your Christmas decor.
Without further ado, let's jump into a few of our selected pieces to make your outdoor Christmas decorations merrier.
Reindeer & Sleigh Pre-Lit LED Outdoor Christmas Decorations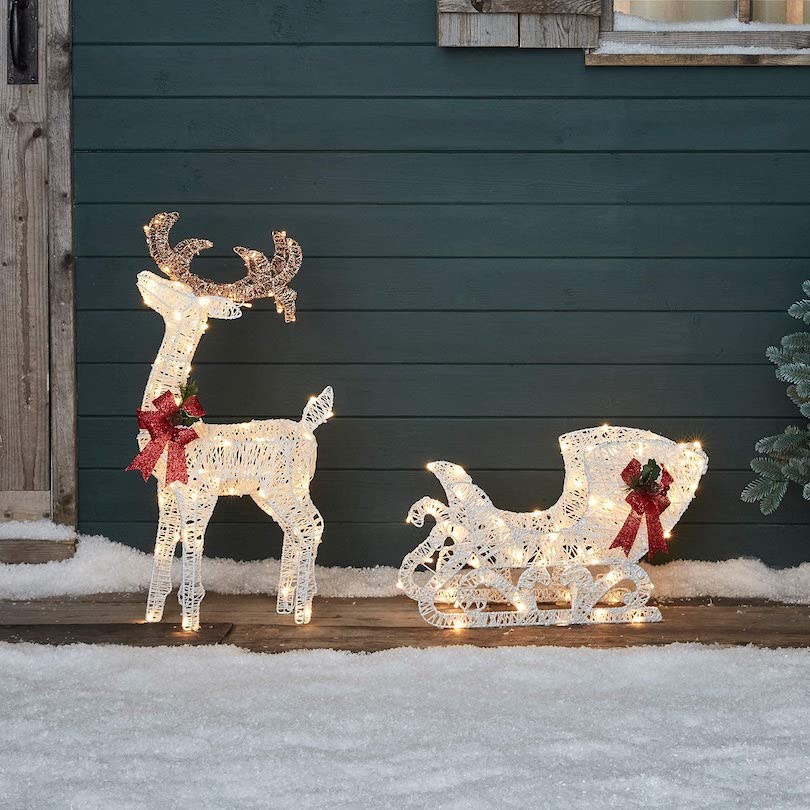 Impress your neighbors this holiday season with eye-pleasing illuminated reindeer and sleigh. This is a perfect decoration for yards and porches alike. It stands 3-feet tall and is most likely to add a golden glow to any place where it's installed.
Illuminated with 280 warm LEDs, this reindeer and sleigh are super energy-efficient. Besides including so many LED lights, this decor piece remains cool to touch. So, you don't have to stress about burning yourself on touching it.
Including 10 ground hooks along with the IP44 rating, this is a fully-weatherproof decoration piece to withstand winter weather. It even includes a 26-feet long lead wire to ensure you don't have to position it using a plug socket.
Pre-lit Artificial Mini Christmas Tree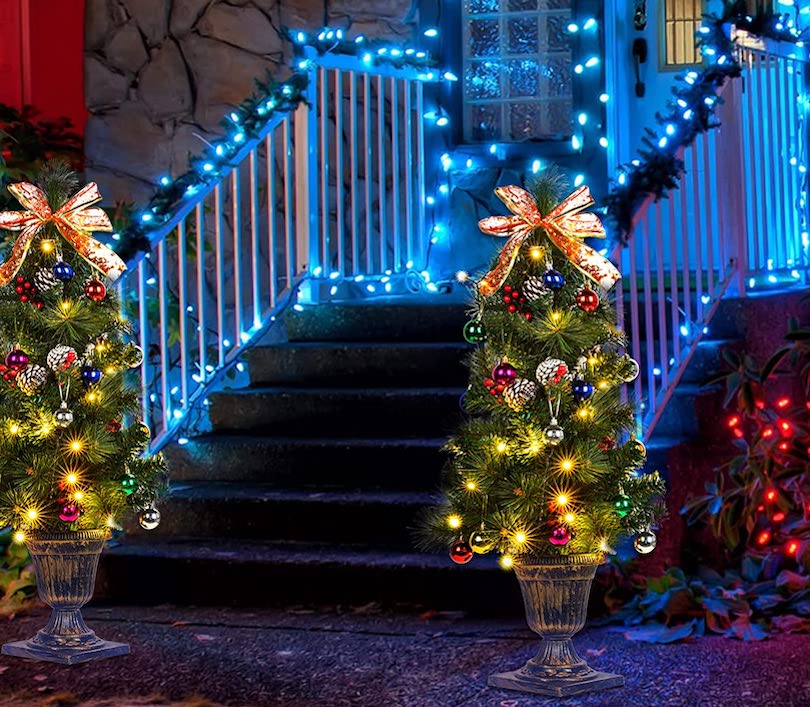 Another wonderful outdoor Christmas decorations piece to consider this year is the pre-lit Christmas tree. You can place it beside the staircase of the entryway to create an impact. Whether it's used to decorate your house or to gift it to your family or friends, this is an exquisite piece of decoration. It will surely help you have a wonderful Christmas with your family or friends.
The LED lights are integrated with the Christmas tree and have two modes. You can choose them to stay on or flickering as per your preference. Its color will create a cozy and warm atmosphere around the area where it's installed. Hence, you can enjoy the Christmas holiday to its best.
Santa Stop Here Sign Christmas Inflatable Sign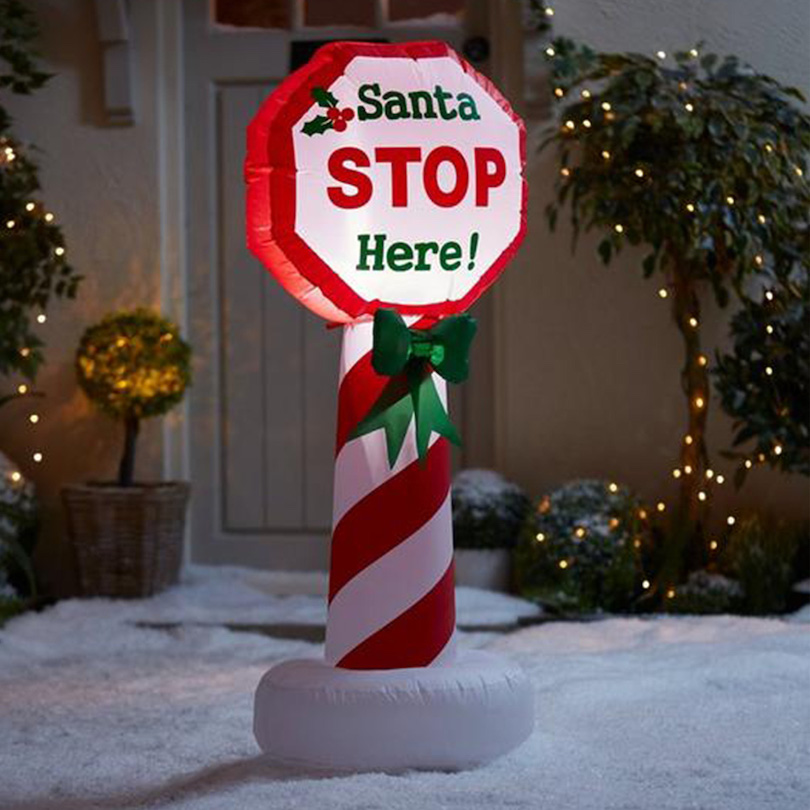 This is one of the whimsical outdoor Christmas decorations to deck up your yard. It is an air-blown inflatable "Santa Stop Here" sign. It is great to be a focal point of your outdoor decorations. With LED lighting, this inflatable sign can light up the exterior brightly.
The best part is that it is very easy to set up. All you need to do is plug it in and further stake it down. Now, see the magic unfold in front of your eyes. This decor piece can self-inflate within a few seconds and also deflates when not in use.
You can display this whimsical outdoor decoration as a standalone piece or blend it with some other air-blown inflatables for a custom theme. Either way, it will be an amazing outdoor decoration piece.
Pre-Lit Artificial Christmas Wreath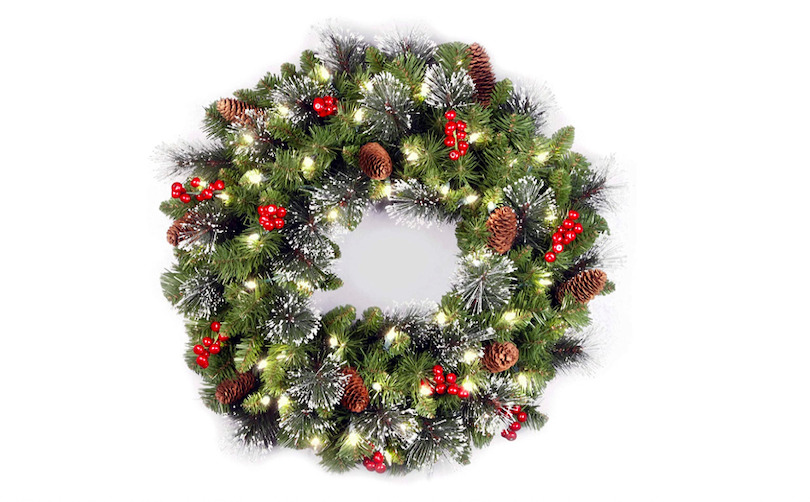 Created with the base of the Crestwood Spruce branch, it is another amazing outdoor Christmas decorations to consider. This pre-lit artificial Christmas wreath is around 24-inches wide. It's decorated with berry clusters, pine cones, and frosted branches.
The wreath further features over 100 separately crafted branch tips to create a lush and full-body hanging decor. Hence, it's likely to impress your guests. You can hang it on your front door this Christmas to add a festive feel to your house exterior.
Waterfall Star Lights – Outdoor Christmas Decorations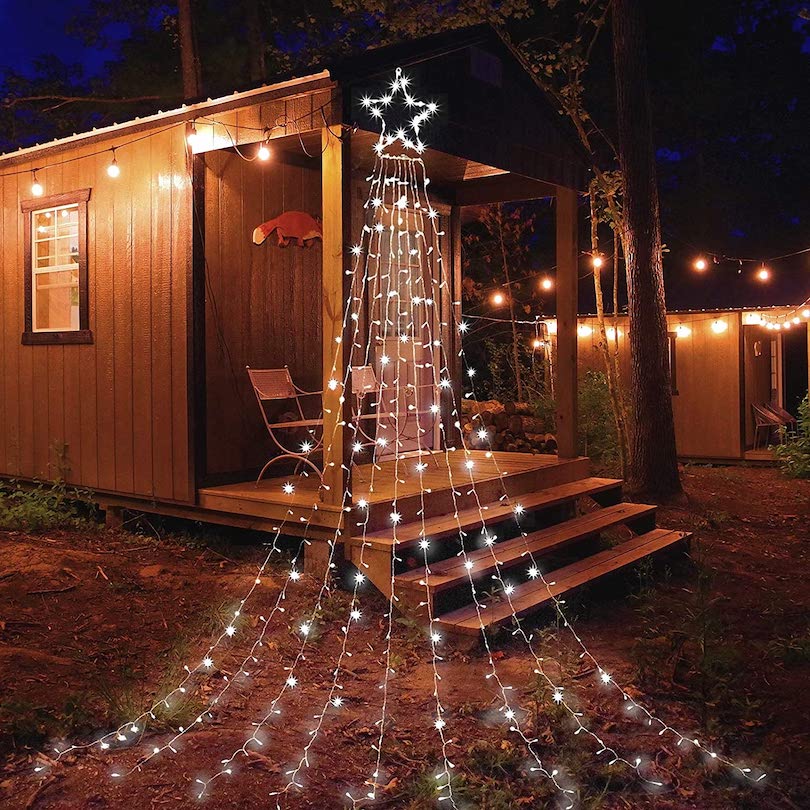 Looking for dazzling outdoor Christmas decorations? Have a look at this 9 x 12-feet fairy waterfall starry light decoration. It is well-connected to around 335 LEDs and curated to make the outdoor decorations a little more exquisite.
It boasts around eight setting modes, including in waves, combination, slogs, sequential, slow fade, chasing/flash, steady on, and twinkle/flash. This means you can change the lighting mode as per your liking. You can easily hang it on your roof or a tree. Further, use the hook for fixing the curtain lights on the ground.
These string lights are IP44 waterproof. This makes it a perfect fit for outdoor decorations. Plus, these won't overheat after prolonged use. Besides Christmas, you can even use it to decorate your house for weddings, holidays, Valentine's Day, or other parties.
Plush Cloth Snowman – Outdoor Christmas Decorations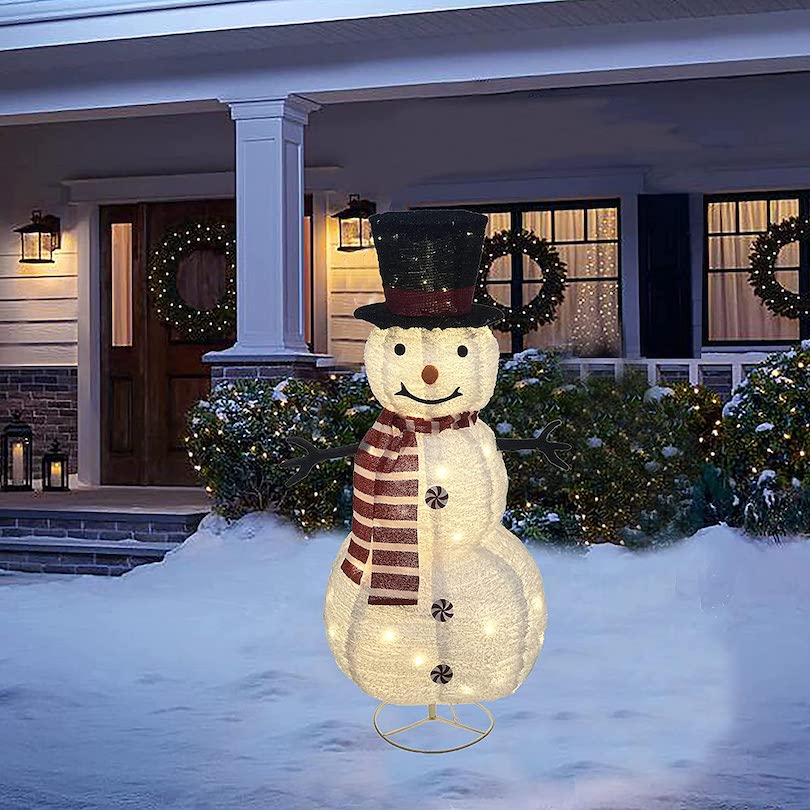 Here is a pre-lit snowman with a striped scarf, black hat, candy buttons, carrot nose, and brand arms to brighten up your Christmas decorations. This will help you create an attractive statement point in your porch or yard.
This snowman decor is well-lit with 45 white LEDs that are waterproof. Hence, it's a perfect outdoor Christmas decorations idea for the festive season. When you put it outside your house, it's likely to make a beautiful Christmas atmosphere around your house.
It also comes with a 4.5V low output adapter that ensures safety. All you need to do is plug it in and turn on the power for the magical effect. When not in use, you can fold it for storage until next Christmas.
All thanks to its strong construction, it's not easy to get damaged. Plus, its LEDs consists of highly durable and energy-efficient material that saves around 80-percent more energy than traditional incandescent bulbs.
Waterproof Outdoor Flameless Candles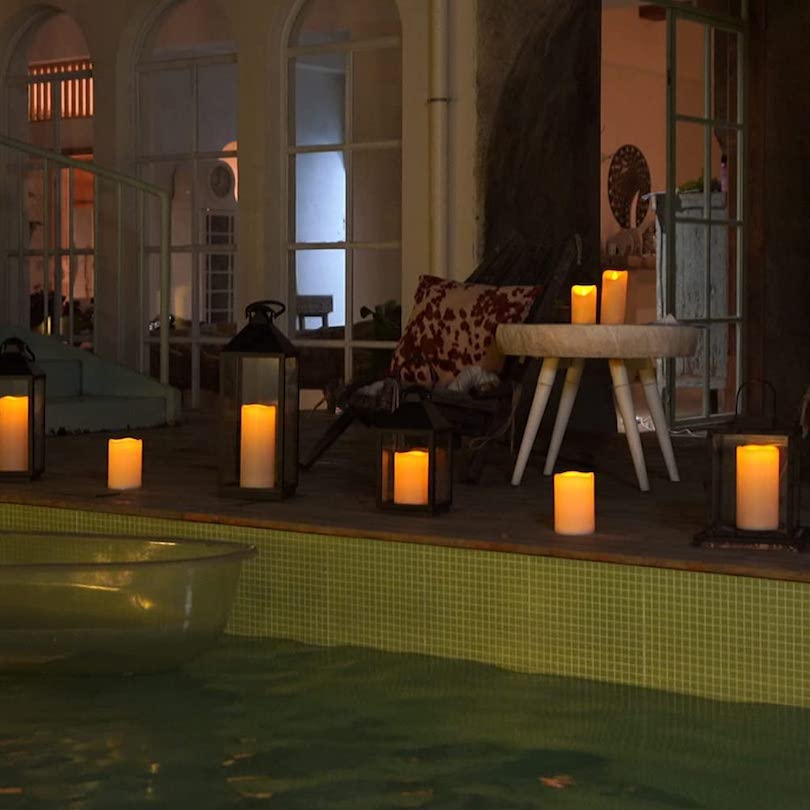 These large waterproof flameless candles are best for outside use. It is because these are made of weatherproof plastic. The material is very durable that it won't melt and can easily withstand sunlight and rain. So, it will work best in a cold environment. This makes them ideal for garden decor for any occasion – be it festive or outdoor parties.
These flameless candles also come with a remote control to change the lighting modes from a distance. You can even set different times for saving the trouble to turn them on or off. With the timers, these candles can automatically turn on or off at the -pre-set time. The flameless candles even boast a three-way switch for enabling you to turn the candle on or off.
Merry Christmas & Happy New Year Sign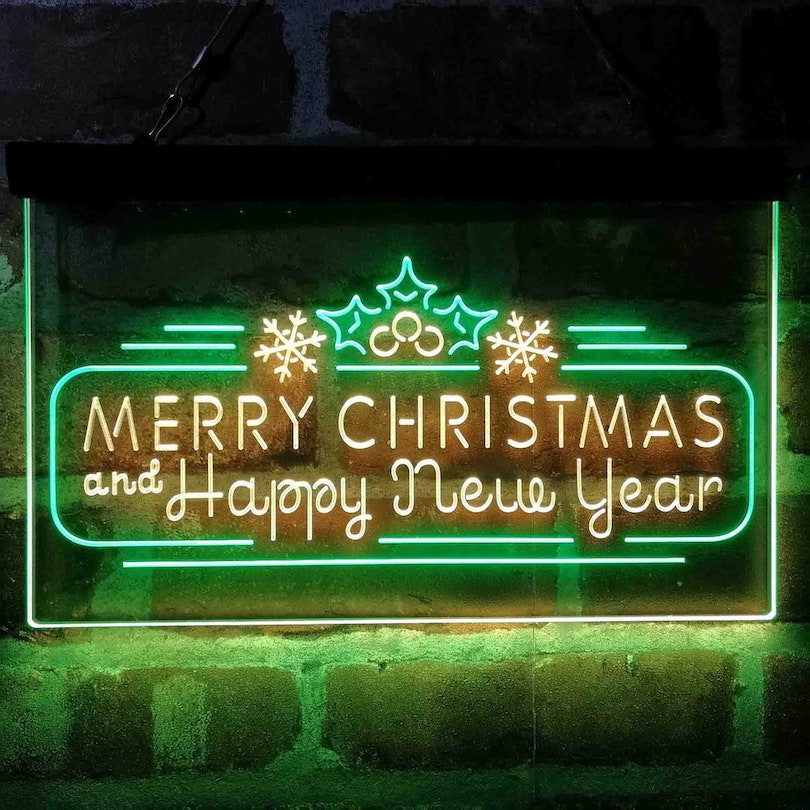 Looking for outdoor Christmas decorations to add brightness and element of interest to your home exterior? This LED neon sign is perfect to do so. It can help you add a touch of color to your decorations that would stand out at any area of your choice. So, say goodbye to those dull walls and welcome these brightening illuminated signs.
Another good thing about this well-lit sign is that it is doesn't release any harmful gases into the environment. Hence, it's best for the surrounding environment. And, only less heat gets emitted. So, it's safe to touch and use without burning your fingers.
Cotton Balls Fairy Lights – Outdoor Christmas Decorations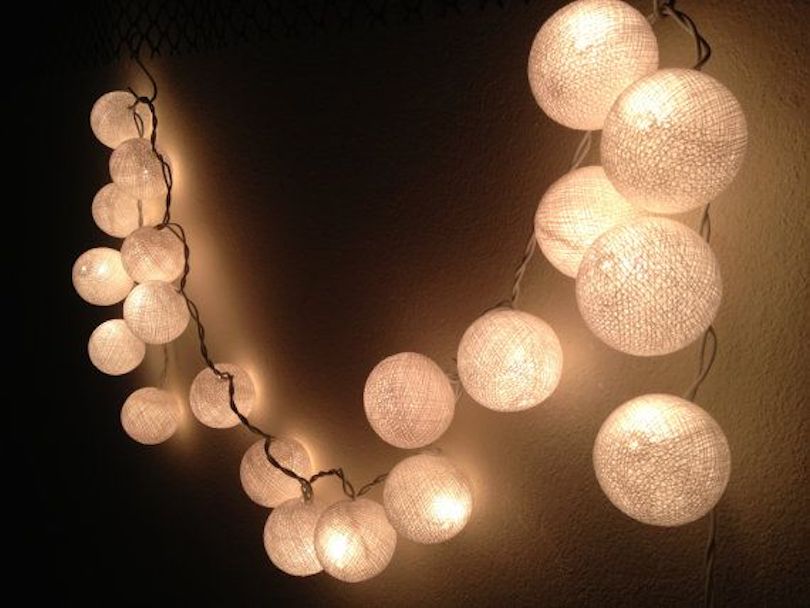 These 2.15M cotton ball string lights contain 10 LEDs and a thread to hang them from any desired place. These lights are perfect to create a cozy, glowing effect on your garden area or porch. Since these are battery-operated lights, you can place them anywhere without the need for any external power supply. However, it does require 3 x AA batteries.
Besides being extremely beautiful, these cotton ball lights are durable. The lights are fixed to a thread that's reinforced and with a bulb life of around 50,000 hours. Everyone will love these outdoor decoration lights for decor during the festive season, weddings, and parties.
Crestwood Spruce Hanging Basket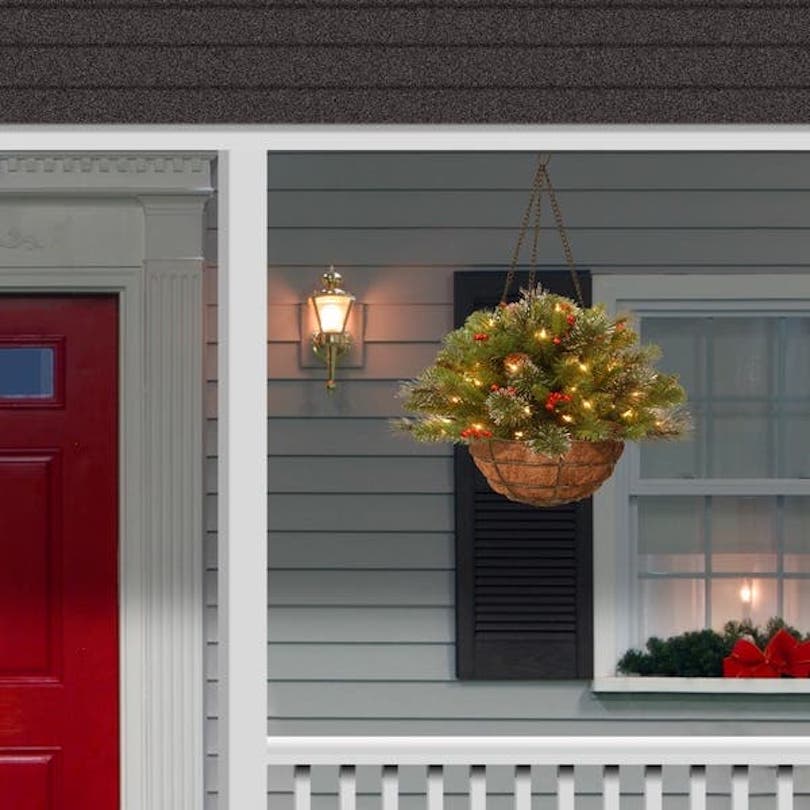 Have a look at this stunning Crestwood Spruce pre-lit artificial Christmas hanging basket. It is around 16-inches wide and also designed to appear realistic. It includes around 72 well-crafted branch tips that create full-bodied branches. Hence, it creates an amazing lush hanging decor piece that's likely to impress your family and guests.
It is one of the best outdoor Christmas decorations that you can hang at your entryway or front porch to add a festive vibe to the exterior. This decor piece is well-constructed with high-quality materials that are not only sturdy but also fire-resistant and hypo-allergenic. It even includes a durable metal hanging element to easily hang it anywhere outside your house.