10 Charming Tabletop Christmas Decor Ideas For Festive Feast
The holiday season is here with great excitement, joy, and loads of Christmas decor in every corner of your home. Since festivities are all about enjoying tasty food, it's important to focus on amazing tabletop Christmas decor – as that's where you will serve all your food. After the difficult times of the 2020 pandemic, Christmas 2021 has become all about feelings of happiness and hope.
So, to create an uplifting and joyful space, you need to add heartwarming decor pieces to your dining table. This will stimulate tactility, warmth, and a sense of togetherness into your interior. But what are the major trends for tabletop Christmas decor in 2021?
Here are a few important Christmas table top decorations to add a creative, seasonal touch to the given space.
Add Ornament Trees For Tabletop Christmas Decor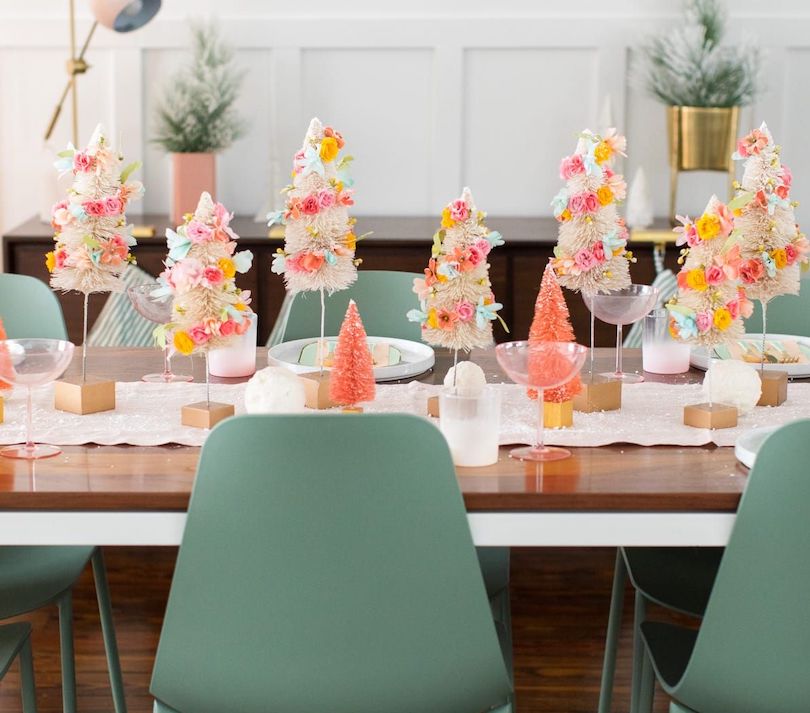 You can consider making a slew of festive colorful trees as shown in the image. Arrange them at the center of your dining table. Make these colored trees using Styrofoam cones and add colorful ornaments using hot glue. If you don't want to DIY these decor pieces for the dining table, you can buy them from an online store. But if you think there are certain gaps in the ornament trees, you can consider filling the gaps with ornament balls or other decorative elements.
Santa Hat Silverware Holders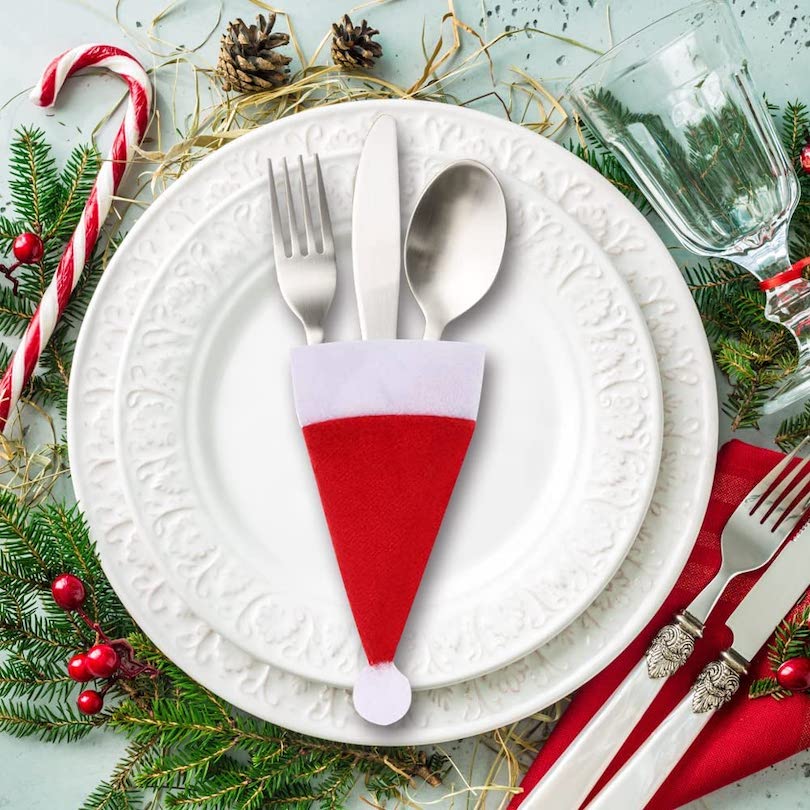 Prevent your silverware holders from spilled wine and grease stains with a festive accessory. You can keep silverware safely in Santa hat-shaped holders. These silverware holders are likely to add festive charm to your living space. It will look amazing sitting in the center of your dining table. Not just the kids, but even grownups are also going to love such silverware holders for Christmas.
You can even place some tasty candy canes, a few glasses, and cottony decor elements to add your tablescape to life. If you like, you can consider DIYing these Santa hats or simply get them online or from a store near you.
White and Gold Tabletop Christmas Decor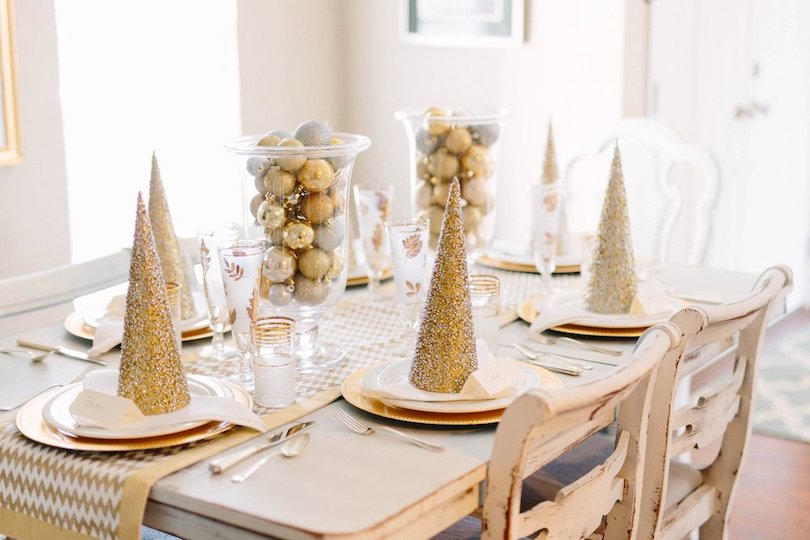 Want to make your dining table all about glitter, glam, and shimmer? If so, you can consider adding white and gold holiday party decor to your dining table. Just keep the entire dinnerware in white and other neutral shades. And, for a glamorous effect, you can add golden Christmas balls in a glass jar or tree-shaped cones on the dining table.
These glittery things help in adding stunning touch to the festive dining table decor. This is one of the very inspiring tabletop Christmas decorations for a sparkly dinner table. The white and gold dining table decor appears simple. But the golden elements add a glam factor to the given space.
Vintage -Themed Tabletop Christmas Decor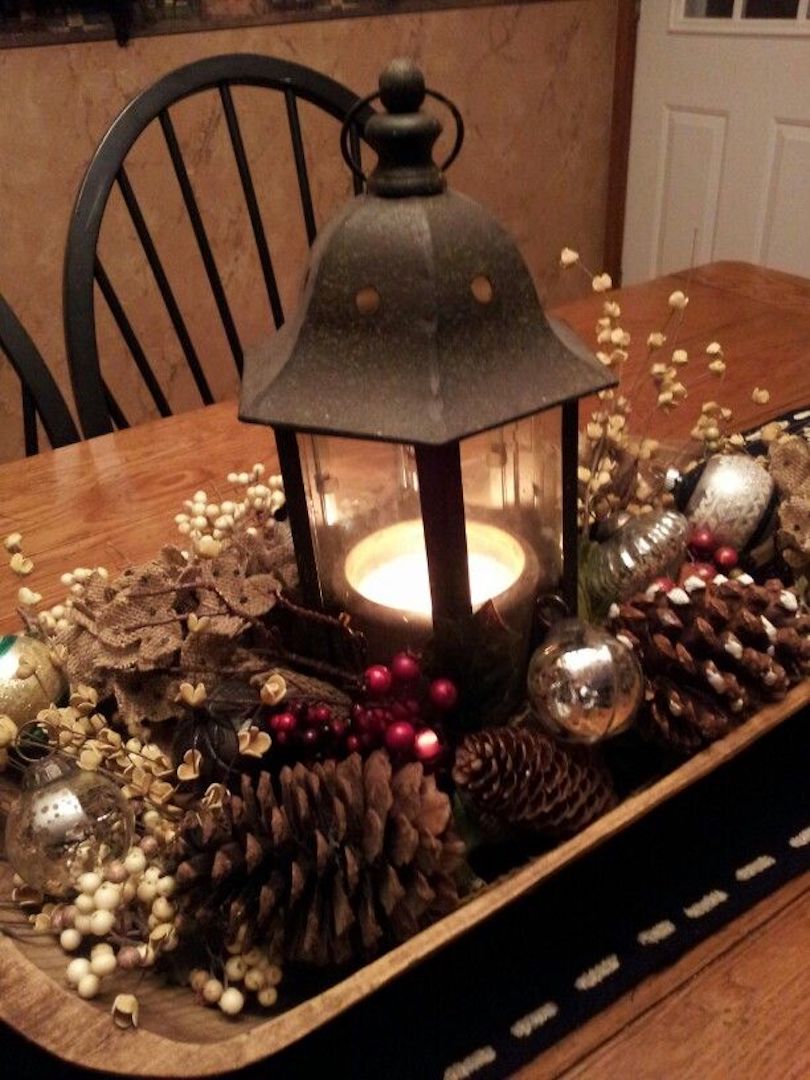 It is very memorable to add vintage-themed tabletop Christmas decor to your home. But it's something to save you a huge amount of money that you'd usually spend on buying things from any store. Being very elegant, unique, and stylish, this stunning dining table centerpiece is a great combination of old and new home decor pieces.
While the mercury glass balls add a glittery touch to the tabletop decor, the pine cones are perfect to add a vintage look to your dining table decor. You can use a wooden dough bowl for cleverly assembling things on the dining table. Have a look at the image given above to get inspired by your creativity.
Add Natural Greens To Decorate Christmas Table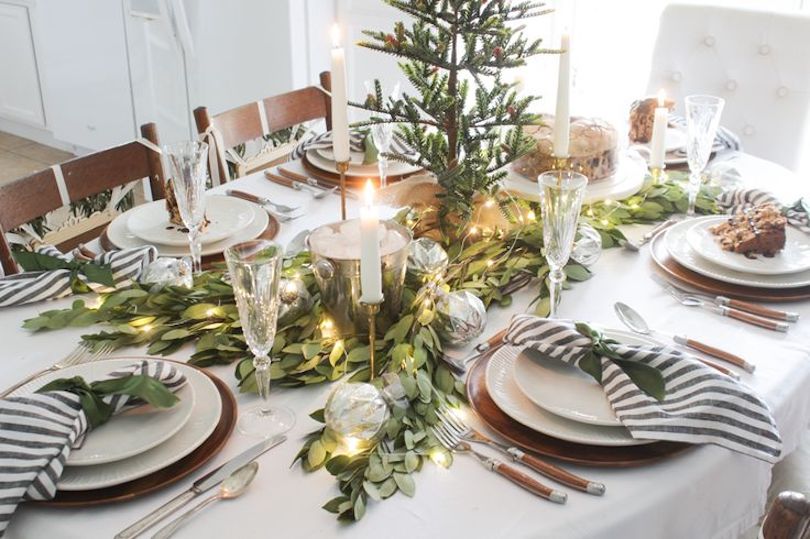 The real greens add natural beauty to the dining table decor. Plus, the divine smell of the natural greens is perfect for the festive decor. You can collect the natural greens to tie napkins. Or take small tree branches to create tiny Christmas tree decor.
Even faux greens are quite a practical option for those who don't have time to collect the natural green decor pieces. However, you need to find faux greens that appear realistic. For instance, a garland is the perfect green and lush accessory for Christmas decor. Add it to your dining table with some string lights. It will add a magical touch to the given space.
Furthermore, you may add other embellishments to your evergreen garland. For this, it's best to put metallic balls, tartan ribbon, and other ornaments for a trendy decor. Just like the garland, you can even add a wreath as an evergreen tabletop Christmas decor.
Winter Wonderland Tabletop Christmas Decor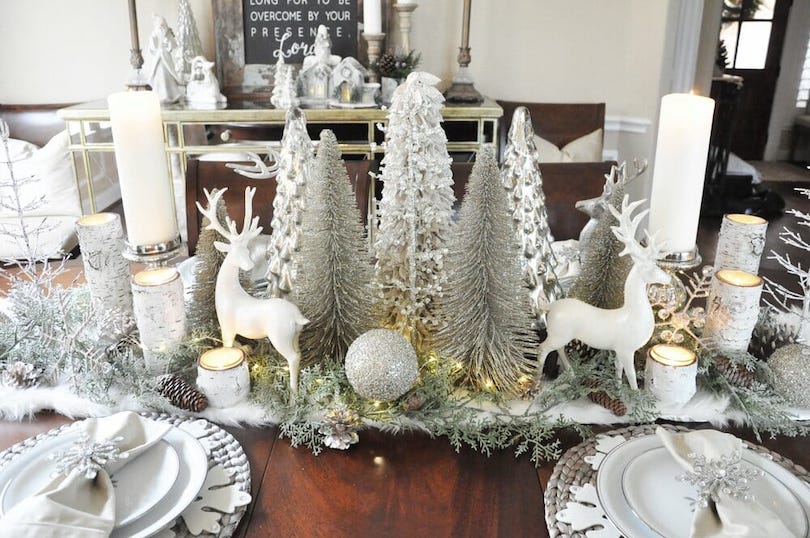 It is best to add snowy motifs to add Scandinavian spirit to your dining table. Have a look at the image above. This is one amazing way to add winter wonderland tabletop decor to the dining table. From white reindeer and silver tree decors to white candles, you can create this exquisite tabletop decor using various decoration pieces.
Even thread beads on the wire are a great option to align some decor pieces, like a string. This decor is also suitable for Christmas stair decorations. You can even consider painting acorns, nuts, and other natural elements in silver and white for sparkly winter decorations. Or consider adding a loop of wire with hot glue to the tabletop.
Nostalgic Decor For Christmas Dining Table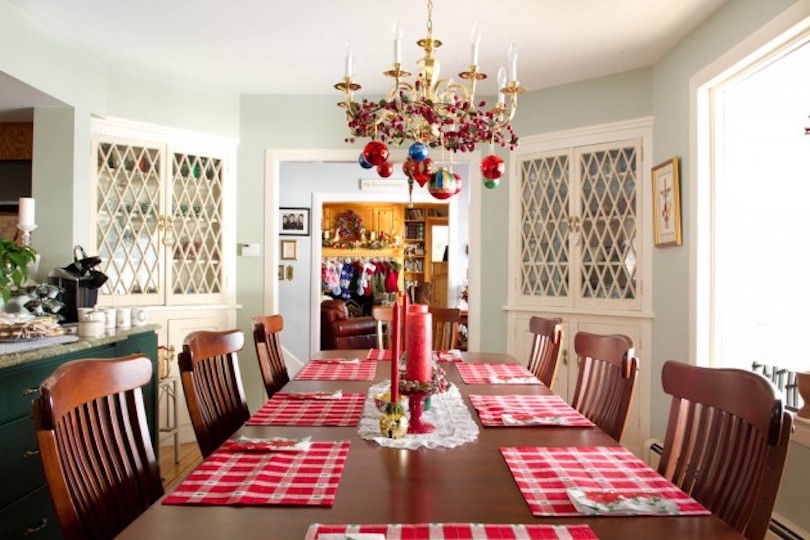 In 2020, we all missed the important touch of adding nostalgic decor for your Christmas dining table. It is because the last year was all full of lockdown restrictions. However, 2021 is a special one. Therefore, it's the best time of the year to dominate nostalgic flair into the given space.
You can use vintage ornaments, passed-down tablecloths, and old crockery to evoke the best memories of your past. Plus, all these elements are eco-friendly as you can even reuse some of the old ones. Rather than purchasing the new decorations, when you mend the old ones, it's best to recycle the materials or find certain gems on internet actions or vintage shows.
Ombre Dip Dyed Napkins For Tabletop Decor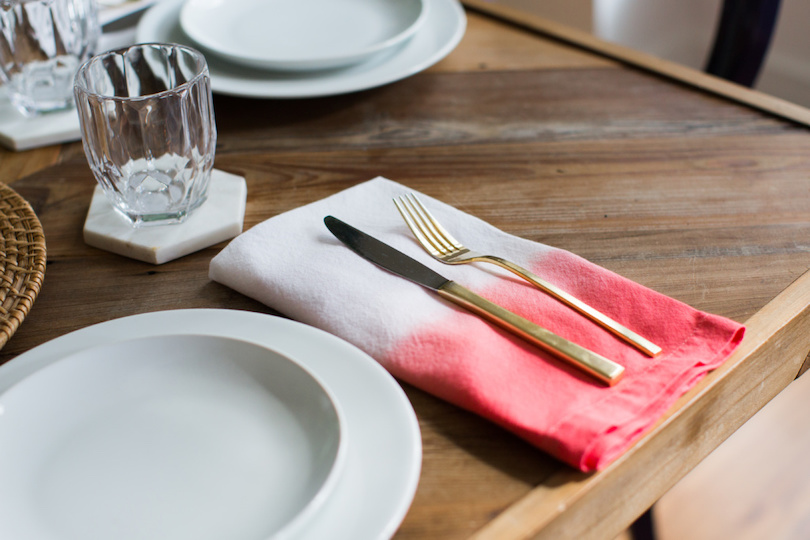 It is easy to create a night to remember with a simple festive season party decor. You can consider adding ombre dip-dyed tabletop napkins. This is likely to make your dining table settings truly charming. The best part is that these napkins are perfectly reusable. So, even if you have got the ones, you can reuse them even the next year.
For these ombre napkins, you have to collect some white napkins, a bucket, a fabric dye, a bowl, and a white paper sheet. It won't need more than one hour to create these colorful napkins. Even if you are not very creative, you can still create these napkins. It is because it's a breeze to add subtle colors to these napkins and create a perfect blend of subtle hues.
When added with the crockery on a dining table, these are likely to add an element of interest to the table.
Keep Tabletop Christmas Decor Classic With Country Style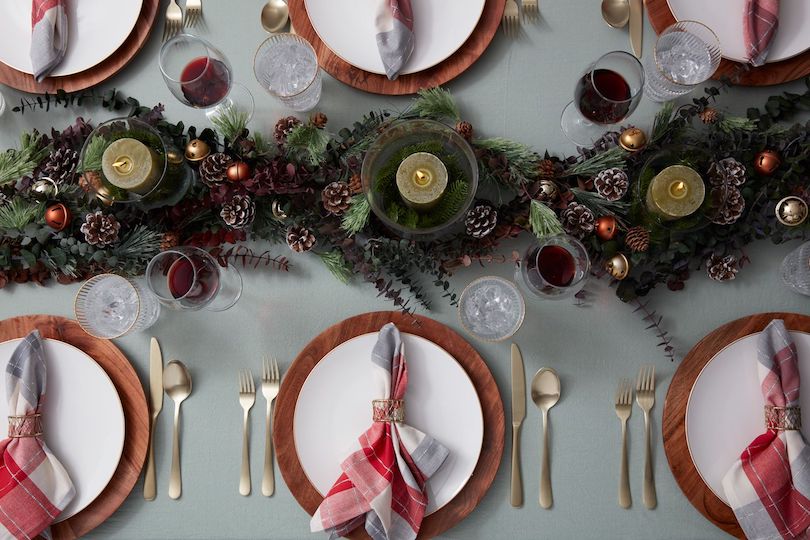 Mix traditionally festive green and red colors with country-style touches. This will add a warm Christmas vibe to your dining area. You can begin with a dressing of your dining table with plain cutlery, traditional dining table decor, and red napkins.
Also, add natural elements like green leaves, pinecones, and some candles to add interest to the dining table decor. You can even create a name holder using a thread to hold herbs, nuts, and berries in garland form. Further, dress up the napkins using such threaded pieces.
Affordable & Easy Christmas Dining Table Decoration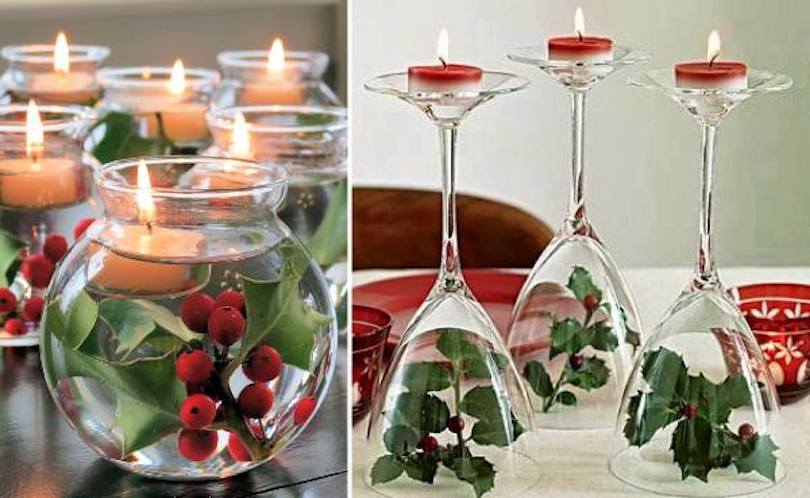 Indulge your guests in full Christmas spirit with affordable and easy dining table decoration. Such a Christmas dining table decor idea seems very simple. But it is worthy enough for taking special dinner time to new heights. The key here is to be a little innovative and creative with the placement of wine glasses, candles, and twigs.
Have a look at the image above for inspiration to create cheap and easy dining table decor for serving delicious Christmas eve appetizers. We understand that you have a long list of decorations and preparations. But you still need to devote your time to pull off such lovely decorations for Christmas.