Halloween finger desserts
Halloween night is one of the happiest times of the year. The greatest and most spooktacular recipes are required during this eerie and thrilling period. After all, everyone is in the mood for some fun and spookiness at that time.  It's one of those holidays where you have to use a lot of ingenuity to create something that tastes great and looks spooky. Whether it is eerie Halloween snacks or Halloween finger desserts, every item you serve to your guests must show your curiosity and enthusiasm high for All Hallow's Eve.
Here we share with you the recipes of the two-finger desserts that you can serve to your Halloween party guests. Both these recipes are easy to create and full of fun twists to spookify your guests.
Have a look and give them a try this Halloween!
Cheddar Witch's Fingers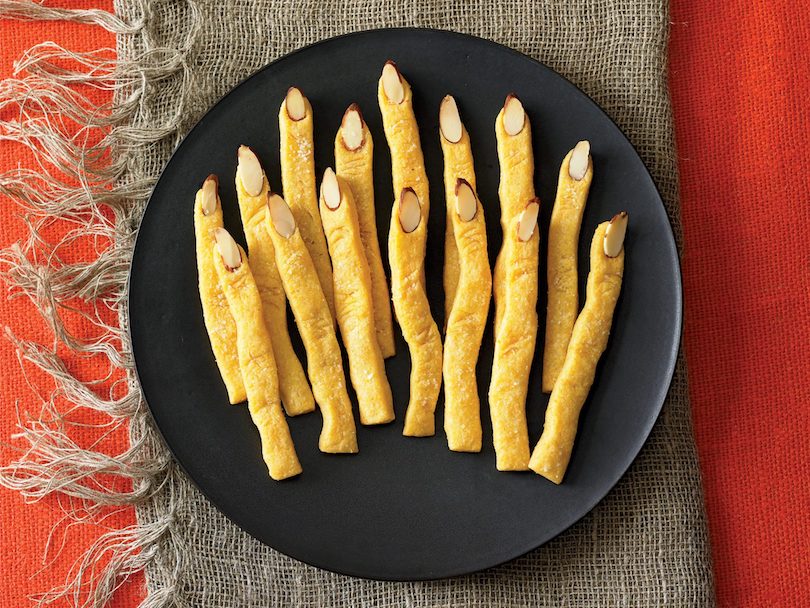 These horrifying little snacks are quite simple to create and are bursting with flavorful cheese. It takes around 55 minutes to prepare and cook. Notes: To avoid sticking while working with the dough, keep it chilled.
Ingredients
5 tablespoons butter
¾ cup all-purpose flour
¼ pound shredded cheddar cheese
1 large egg
2 tablespoons cornmeal
30 sliced almonds
Kosher salt
Method:
1. Whirl or mash together butter, cheese, flour, and cornmeal in a food processor or container until the mixture resembles wet sand. Add the egg and mix or stir the dough with a fork until it comes together.
2. Scrape the dough onto a 12 to 14-inch broad by 14-inch long piece of parchment paper. Pat dough into a circle that is 1/2 inch thick and place another sheet of paper of the same size on top. Refrigerate for up to 3 days or freeze for 15 minutes after wrapping in plastic.
3. Roll the dough into a rectangle that is approximately 8 inches wide and 10 inches long, being careful to prevent paper creases. Put the freezer back in for 15 minutes. Set the oven to 350 degrees while you wait.
4. The dough should be divided into 30 strips that are each about 1/2 inch thick and 5 inches long after removing the top paper. On a sizable baking sheet, arrange each strip. Add salt to taste, then use your fingers to gently round the top of each strip into the form of a fingertip. After making shallow "knuckle" lines with a sharp knife on the tips of each finger, insert an almond "nail" into the grooves. If you want, you can slightly bend each finger to give it a knobby appearance.
5. For about 15 minutes, bake the fingers until they are uniformly light brown. Transfer to a cooling rack.
6. Serve them hot or cold, both ways this scary dish will have the same impact on the guests.
Monster Fingers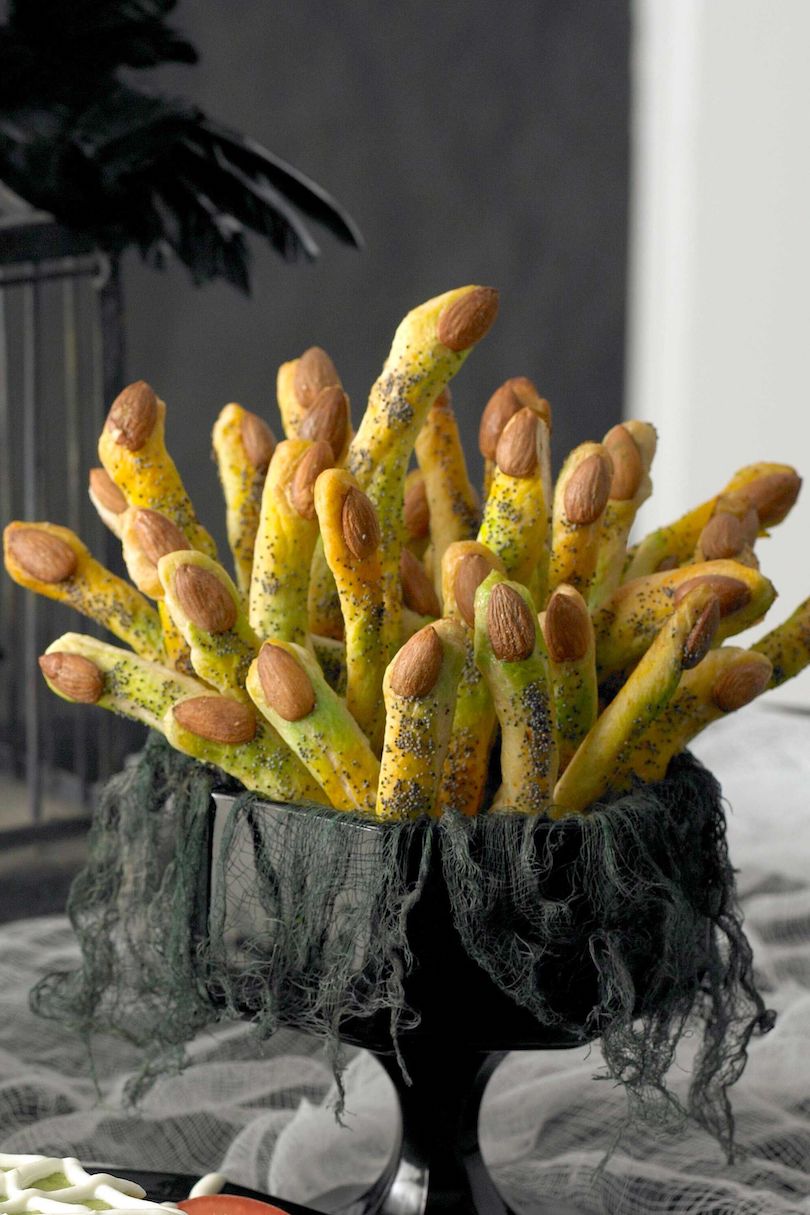 It takes some effort to create these unsettling monster fingers, but it is worthwhile. Pre-made breadstick dough is molded, colored with spray paint, and then decorated with a poppyseed and almond "nail" on top.
Ingredients:
2 cans of breadstick dough (well refrigerated)
Poppy seeds
Orange, green, and yellow food color sprays
60 natural almonds (whole)
1 large egg white
Method:
1. The oven should be heated to 375 degrees Fahrenheit. Two sizable baking sheets coated with nonstick foil are required. Unroll 1 can of breadstick dough, then cut it into 12 strips following the perforated lines. Cut strips in half crosswise to get 24 pieces for long fingers. Roll the materials into 10- to 12-inch ropes. Ropes should be spaced 2 inches apart on the prepared baking sheets. Curve ropes in fun directions.
2. Apply the spray colors in brief, rapid bursts to the dough ropes to give them a light, blotchy color (use all three colors on each finger).
3. Apply a thin layer of egg white and then press an almond for each fingernail. Add some poppy seeds.
4. Bake for 13 minutes, or until the bottom edges are puffy and gently browned. Cool on a wire rack with a sheet. Clean baking sheets with foil.
5. Unroll the extra breadstick dough and cut it into strips. Cut each dough strip crosswise into thirds to create 36 pieces if you have short fingers. Following the same steps as for the long fingers above, roll dough pieces into 5- to 6-inches-long strands and form fingers. As indicated, bake.
These are the two Halloween finger desserts to try this year. I Hope, you'll enjoy preparing and serving them to your guests this season.