7 Unique Christmas Gifts For Kids To Boost Their Creativity
Christmas is just a few weeks away, so you have to keep looking for presents for everyone, including your adorable kids. But buying Christmas gifts for kids is quite difficult today, as nowadays kids already have ample toys and smart gadgets with them. So, "what unique to gift them" is a big question for parents these days.
According to us, the best thing to gift them could be something that encourages them to stay active and creative. With practical gifts for kids, you can get in touch with their creative sides while sharpening their skills while having fun.
From crazy forts and karaoke Bluetooth microphones and speakers to audiobooks, there are many amazing Christmas gift ideas for kids to boost their intelligence and creativity.
Keeping all this in mind, Pepuphome brings you a quick list of the gifts that your kids will surely love to have. Without further ado, let's jump into finding the best Christmas gifts for kids in 2021.
Crazy Forts – Christmas Gifts For Kids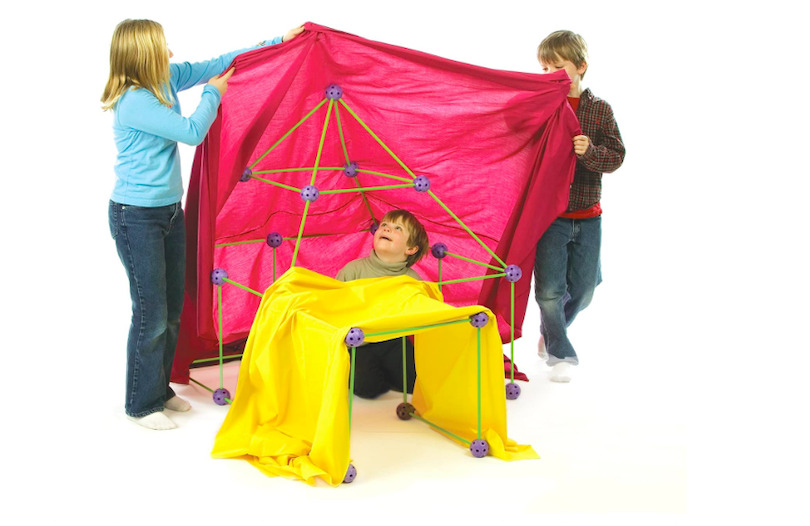 Let your kids' imagination rise to new heights with fun and creative crazy forts. These are fun to create in different forms, giving kids a happy place to spend time in their imaginative world. This creative toy makes one of the best Christmas gifts for kids.
These crazy forts are quite easy and fun to create. Hence, makes the playtime even more interesting and enjoyable for kids. All they have to do is simply connect the balls and sticks. And, cover the designed structure with a bed sheet to make their secret hideout.
If we talk about the given crazy forts (shown above), it comes in a pack of 69 pieces. It helps in stimulating the imagination and creativity of kids while creating a variety of shapes.
Audiobook – DBT Skills Workbook for Teens – Christmas Gifts For Kids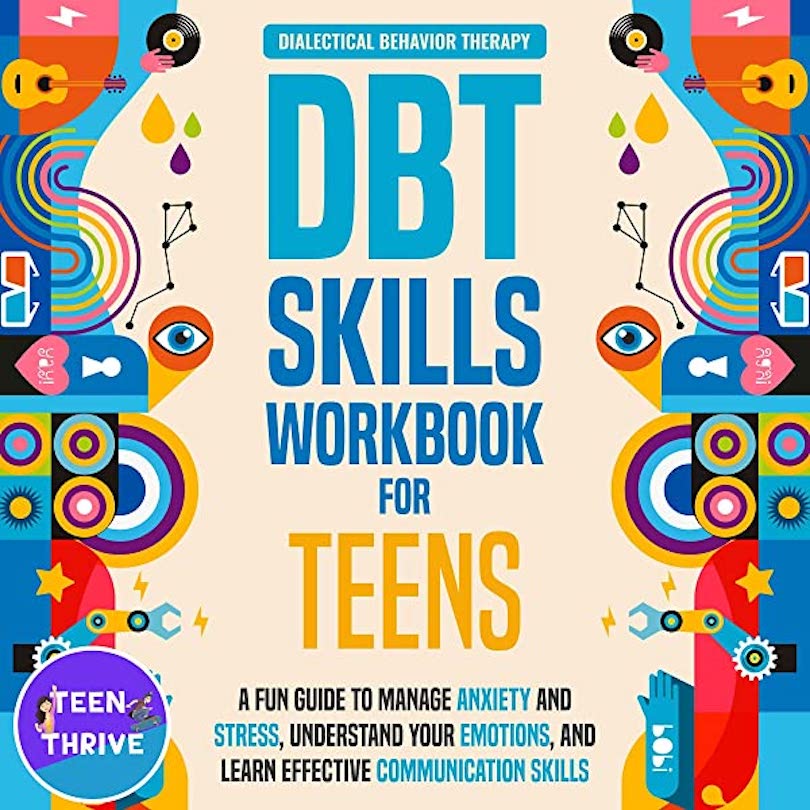 Are you aware that dialectical behavior therapy can help teenagers get rid of anxiety, exam pressure, and other mental stresses? You may or may not know that many teenagers deal with all these mental issues at the young age of their lives. Therefore, this interactive audiobook is a great companion for your child.
This audiobook helps the listeners understand how to use dialectical behavior therapy (DBT). Using this therapy, they can help people find the perfect balance between accepting their own self and altering certain behaviors that could be improved.
Imagine how amazing their life would get if you have necessary skills for:
Balancing emotions and powerful feelings in an effective manner.
Overcoming failures and rejections.
Coping with examination stress.
Effectively navigating interpersonal relationships
Anger management skills
Improving life skills for becoming resilient and confident
Accepting themselves and situations around them
Evolving mindfulness for staying focused in the moment
All these skills are perfectly taught to the teens with this audiobook. These are very simple but effective to improve your child's ability to cope with different situations.
Voice Changing Karaoke Microphone & Speaker – Christmas Gifts for Kids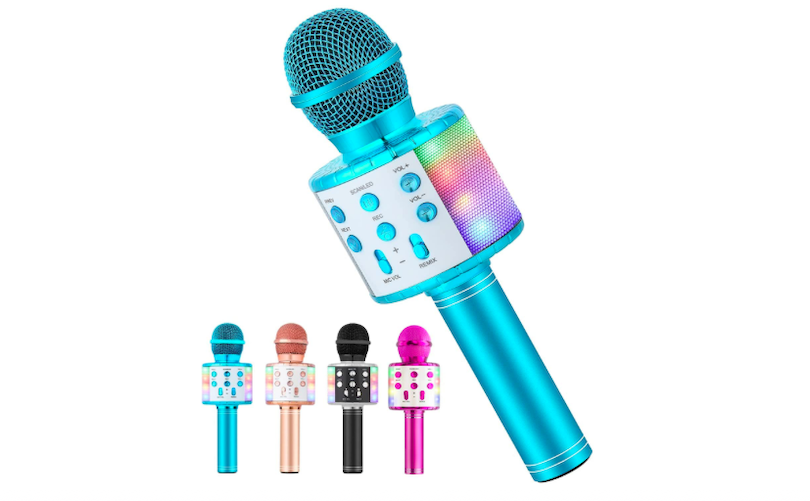 Do your child love to sing at every house party you organize? If so, the Voice Changing Karaoke Microphone & Speaker is one of the best Christmas gifts for kids. It is a wireless microphone that's not just good for making kids practice singing, but also helps them to learn new languages.
There is also a magic voice changer in this karaoke microphone along with LED function and Bluetooth connection. These features make children feel interesting while using this entertaining gadget. If you feel that your child wants to learn new languages or practice singing, consider gifting him/her this karaoke microphone and speaker.
When they don't feel like singing or learning new languages, they can simply turn on its portable speaker to enjoy music. Just turn the device on and further use your voice command to amplify the device to anything without even connecting the mic.
Your kids can even record their singing and speaking voices to check their learning and singing growth. And, that's not all! It even includes a radio feature for activating the device when the surrounding signal is strong.
Phantom 3CH 3.5 Channel Mini RC Helicopter with Gyro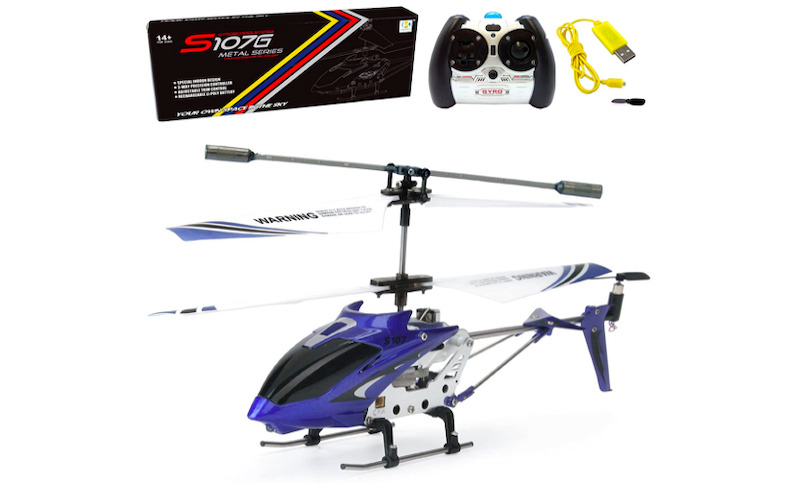 This is a cool mini RV helicopter for kids. Besides its durability and stability, the mini helicopter includes an advanced gyro system for better and precise control. It even includes a metal frame to withstand various crashes. You can also charge this toy directly through the controller that requires AA batteries. Furthermore, it includes a full-function trim controlling feature for perfect flight.
This cool toy even includes two easy-to-select frequencies. Due to this, you can fly around two helicopters at the same time. The mini helicopter is also easy to upgrade for a gyro system for precise control and a metal frame for better durability. Furthermore, its three-channel remote control enables forward/backward, up/down, and left/right movements.
30-Inch Beginner Acoustic Guitar – Christmas Gifts For Kids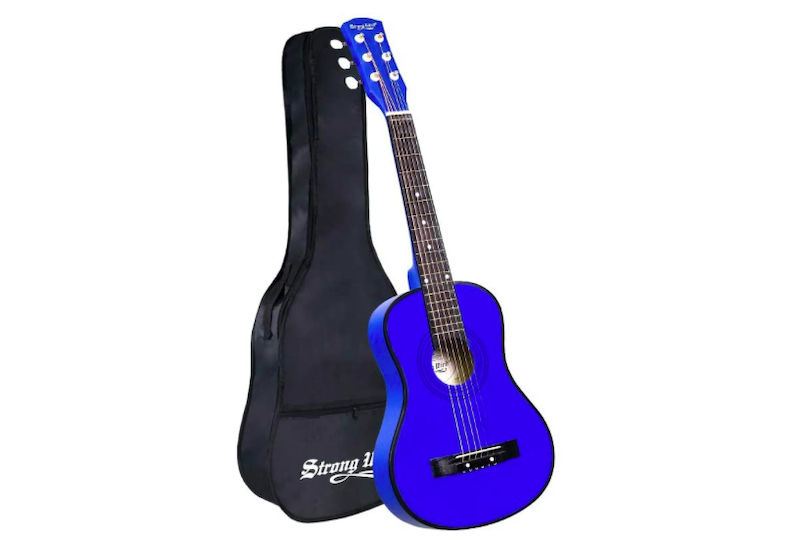 One of the best Christmas gifts for kids is a beginner acoustic guitar. It's a great gifting option for kids keen on learning a musical instrument. This starter acoustic guitar boasts a full-size and sturdy dreadnought guitar that produces a rich, smooth, and vibrant sound that's perfect for folk, rock, country, and other music genres.
The guitar starter kit is suitable for right-handed kids. It offers full-bodied sound due to its all-wooden design. Besides the all-wood design, the guitar includes steel strings, 18 frets, and an elegant finish. The guitar body comes covered in a laminated linden top and smooth curves, therefore, the user gets maximum comfort while playing notes on this guitar.
Want to surprise your kid with a guitar that he/she has on their wishlist? This beginner acoustic guitar is a perfect choice.
Toywoo Wooden Tool Bench Workshop
Want to develop building skills in your kids? This wooden tool bench workshop is one of the best Christmas gifts for kids who are interested in building new things. It includes a saw, hammer, screwdriver, screws, nuts, vise, bolts, links, gears, and other creative parts for building. So, your children can work together on it for hours. It offers them a fun process to develop their hand-eye coordination and motor skills.
This particular wooden workbench is perfectly suitable for kids who are early learners. So, you can help them develop motor skills using the screwdriver and wrench. When they try to assemble bolts and nuts, it encourages them to have fine motor skills along with problem-solving and logical thinking. It's also a great tool to help them create DIY projects with their brains.
Made of high-quality beech, every part of this toy workbench is treated with precision. So, it won't hurt your kid at all. It's further covered in eco-friendly water paint with a non-irritating odor that's not harmful to the human body. Plus, it's aging-resistant, wear-resistant, and safer to use. Its bright color also stimulates kids' senses, making them feel happy and lively.
The workbench even includes enough storage space underneath. In the compartment, you can store accessory pieces and other hang-up tools that make clean-up easy and fast.
LEGO Santa's Visit Building Kit – Christmas Gifts For Kids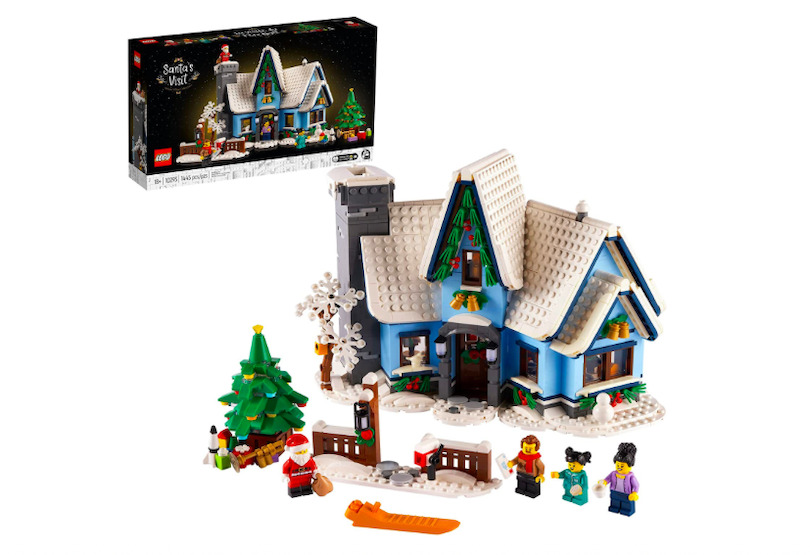 Are you considering fun and festive Christmas gifts for kids? If so, you need to consider gifting them this Lego Santa's Visit building set. It is a great way for them to spend quality time with you. Together, you all can build an intricate Christmas house while exploring all the amazing features before putting it on display.
This building kit includes traditional details of Santa's Visit along with an elegant Christmas house model. It contains four mini-figures with mom, dad, girl, and Santa. So, it's a great way to recreate endless family Christmas eve scenes. You can even make Santa drop through its large chimney into the house's fireplace.
It would be amazing to spot all the fun festive details within its intricate interior. You can find some stockings on the fireplace, cookie plates with milk to welcome Santa, and some gifts around the house. All these features make it a perfect model from different angles. It's a great display piece for your dining table or coffee table during the Christmas season. Furthermore, you can add a festive glow to its Christmas Eve scene with lights all around.