7 New Year Potluck Ideas To Please the Crowd
There's no better place to ring in the new year than home. So, forget those crowded restaurants, expensive venues, or other public spaces where you may have to stand in a queue to finally enjoy the celebrations. It's best to organize a small potluck party for family and friends to welcome the New Year with your loved ones. And, if you're planning for at-home New Year's celebrations, you must be looking for New Year potluck ideas to serve your guests.
The best part about a potluck is that you can always ask your friends to bring some appetizer, side dish, drink, or dessert for you. This helps in sharing all the workload and you also get to enjoy yourself. However, you got to prepare something special for the guests.
To prevent you from stressing over what to prepare and what not, Pepuphome brings you a list of 7 delicious recipes that you can try this New Year Eve to impress your guests. We're sure your guests won't be able to stop themselves from praising you. But the real catch is that all the given recipes are very simple and easy to prepare in a few minutes. So, no need to worry about managing everything alone.
Without further ado, let's have a look at the amazing New year potluck dishes to serve your guests.
# Crab Cakes with Peanut Sauce – New Year Potluck Ideas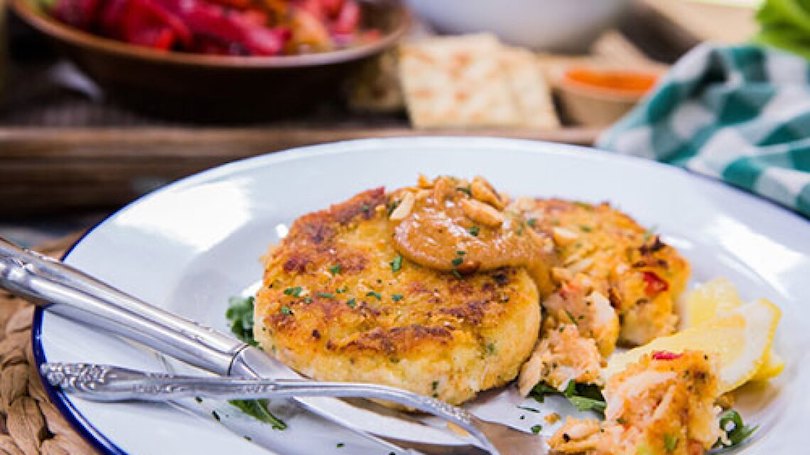 Crab cakes are our favorite on any party food list. So, we have kept it on the top of the list. The impressive touch of this dish is the peanut sauce that gives it an amazing flavor. Hence, one of the flavorful new year potluck ideas to consider.
Ingredients for peanut sauce:
1/4 cup rice vinegar, 2 tablespoons creamy peanut butter, 1 garlic clove, minced, 1/4 teaspoon ground mustard, 1 teaspoon brown sugar, 1 teaspoon olive oil, and Dash cayenne pepper.
Ingredients for crab cakes:
1 cup plain Greek yogurt, 1/4 cup celery (finely chopped), 2/3 cup crushed saltines (around 15 crackers), 1/4 cup roasted sweet red pepper (finely chopped), 1 large egg white that's lightly beaten, 1/4 cup minced fresh parsley, 1 tablespoon fresh lemon juice, 2 tablespoons finely chopped onion, 1 tablespoon olive oil, 2 teaspoons prepared horseradish, 1/4 teaspoon salt, 1/2 teaspoon paprika, 1 pound lump crabmeat, and minced fresh chives.
Directions:
1. Take a small bowl and whisk the ingredients in it until it's blended well. This is how your peanut sauce is ready. Keep aside!
2. Now, take a large bowl and mix the first 11 ingredients of crab cake until it's blended well. Fold in crab and shape it into twelve 1/2-inch thick patties. Now, refrigerate for 30 minutes.
3. Take a large skillet, add 1 tablespoon oil, and heat it over medium-high flame. Now add crab cakes in the batches. Cook it for 2-3 minutes on either side until it turns golden brown. Now sprinkle chives on it and serve with sauce.
# Tiramisu Cheesecake Dessert – New Year Potluck Ideas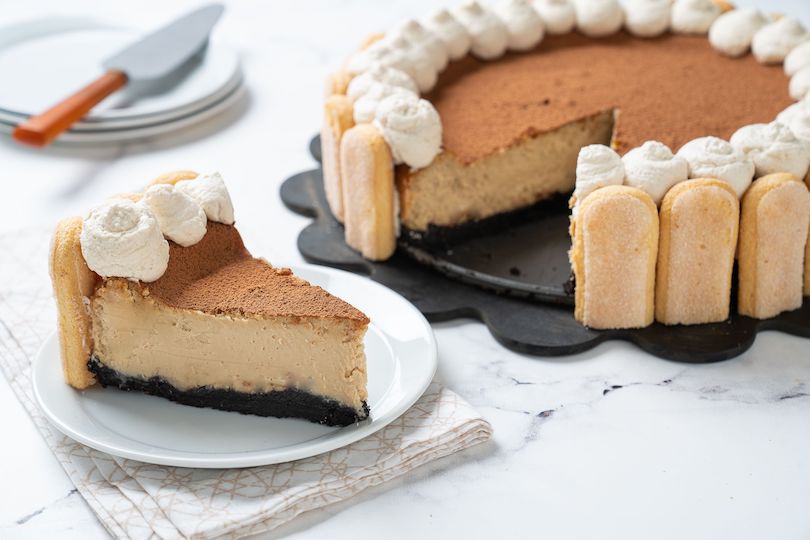 If you don't like tiramisu, you can give it this fun twist with luscious cheesecake layers. These layers are the best part of this dessert, making it extremely tasty.
Ingredients:
1 package vanilla wafers, 1 cup sugar, 5 teaspoons instant coffee granules, tablespoons hot water, 1 cup sour cream, 4 packages of cream cheese, 4 large eggs (lightly beaten), 1 tablespoon baking cocoa, and 1 cup whipped topping.
Directions:
1. Preheat your oven at 325°. Now, layer half of your wafers in a greased baking dish. You can take a small bowl and dissolve two teaspoons of coffee granules in two tablespoons of hot water. Now, add one tablespoon mixture over the wafer. Now, set the remaining mixture aside.
2. Take a large bowl, beat cream cheese, and sugar in the bowl until smooth. Now, beat in sour cream. Further, add eggs, beat on low speed until blended well. After that, remove half of the filling to another bowl. Also, dissolve the remaining three teaspoons of coffee granules in the remaining 1 tablespoon hot water and stir into 1 portion of filling. And, spread it over wafers.
3. The layer rest of the wafers over top and brush the reserved coffee mixture. And, spread with the rest of the filling.
4. Now, bake it for 40-45 minutes or until the center is set. After that, cool it on a wire rack for 10 minutes. Loosen its sides from various dishes with a knife. And, cool for 1 hour. Later, refrigerate it overnight, covering the after cooling them off.
5. For serving, spread it with whipped topping and further dust with cocoa.
# Easy Stuffed Shells – New Year Potluck Ideas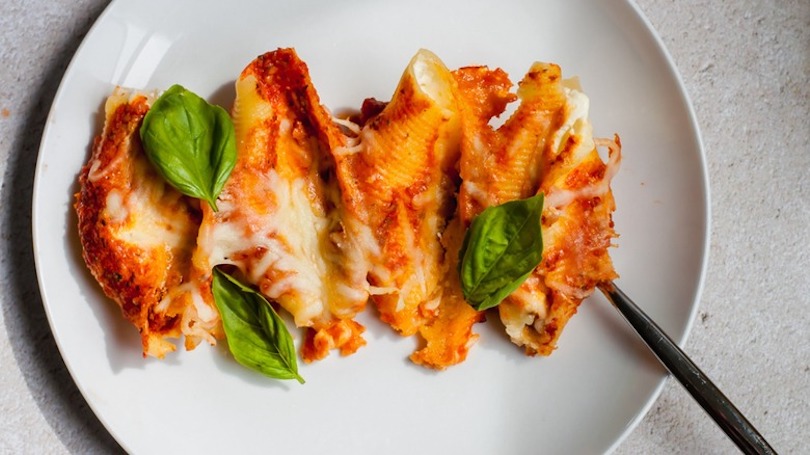 You can create this amazing tasty with unexpected guests. It was an instant hit among both grownups and kids. You can even get your kids involved while putting it together in this savory dish.
Ingredients:
36 uncooked jumbo pasta shells, 2 cups shredded part-skim mozzarella cheese, and 1 jar of spaghetti sauce.
Directions:
1. Preheat your over to 350°. Then, cook pasta shells as per the package directions. Also, drain and rinse in the cold water.
2. You can spread around 1/2 cup sauce in a greased baking dish. You can fill each shell with a meatball and place it over sauce. Further, top it with the remaining sauce and cheese.
3. Bake and cover it for 35 minutes. And, uncover and further bake until cheese melts for 3 to 5 minutes.
# Cranberry Brie Pinwheels – New Year Potluck Ideas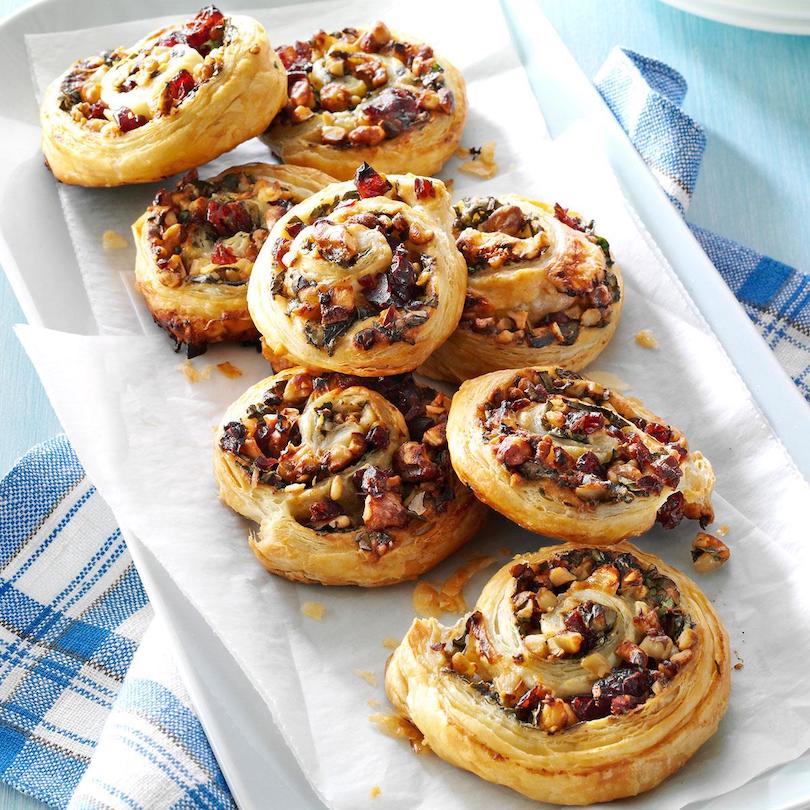 You may wonder how long would it take to prepare these flaky, crisp pinwheels. But these are very easy to make. And, further, add a delicious filling that's bursting with savory and a tinge of sweetness. Its wonderful taste makes it one of the best New Year potluck ideas.
Ingredients:
1 sheet frozen puff pastry, 2 tablespoons honey, 2 tablespoons Dijon mustard, 1 cup finely chopped fresh spinach, 1/2 cup finely chopped walnuts, 1/2 cup finely chopped Brie cheese, and 1/4 cup dried cranberries (finely chopped).
Directions:
1. Unfold the pastry. Add honey and mustard spread over it. Layer it further with cheese, spinach, cranberries, and walnuts. You can also roll it up in jelly-roll form and cut it into slices. Now, place the cut side down to the ungreased baking sheet.
2. After that, bake it at 400° until the pastry turns golden brown (for up to 15-20 minutes).
3. Freeze cooled appetizers in a freezing container. When serving, reheat the appetizers on a parchment-lined baking sheet in preheated oven at 400° oven. Keep it inside until it gets crisp and heated.
# Salmon Mousse Cups – New Year Potluck Ideas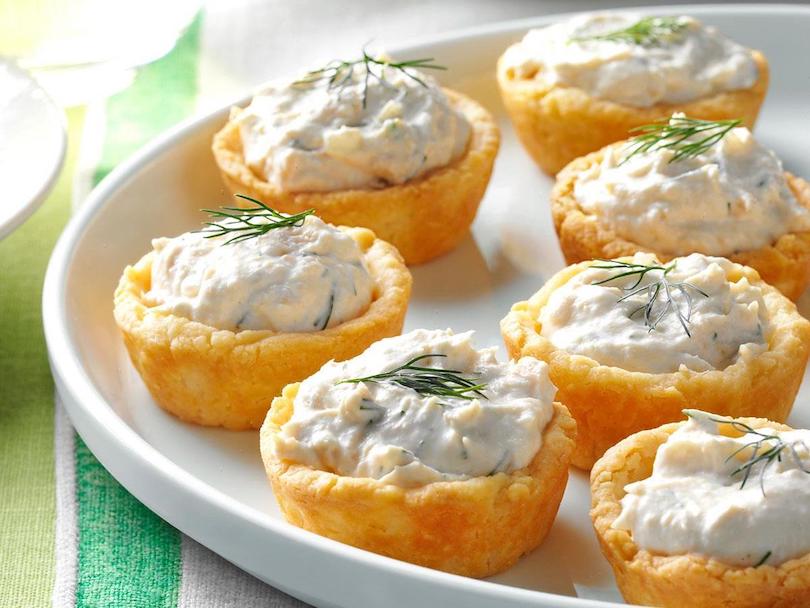 Prepare these palatable little tarts that are often loved at most parties. But don't blame us if these disappear in at a faster rate. The best part is that the salmon cream cheese-filled, flaky crust melt in your mouth in a jiffy.
Ingredients:
3 ounces cream cheese, 1/2 cup softened butter, and 1 cup all-purpose
Ingredients for filling:
1 package (8 ounces) cream cheese, flaked or 1 can salmon, 1 cup salmon chunks (fully cooked), 2 tablespoons sour cream, 2 tablespoons chicken broth, 1 teaspoon lemon juice, 1 tablespoon finely chopped onion, 2 tablespoons minced fresh dill, and 1/2 teaspoon salt.
Directions:
1. Beat cream cheese and butter in a small bowl until smooth. Now, add flour and mix it well. Shape in the form of 24 balls and press onto the bottom. Plus, up the sides of the greased miniature muffin cups.
2. Further, bake at 350° for around 10-15 minutes or when it gets golden brown. Let it cool for 5 minutes before removing the pans for wire racks for cooling off completely.
3. For making the filling, take a large bowl and beat cream cheese in it until it gets smooth. Further, add the broth, salmon, onion, sour cream, onion, salt, and lemon juice until it blends perfectly. Also, spoon into the shells and refrigerate for around 2 hours. And, sprinkle will the dill.
# Dill Vegetable Dip – New Year Potluck Ideas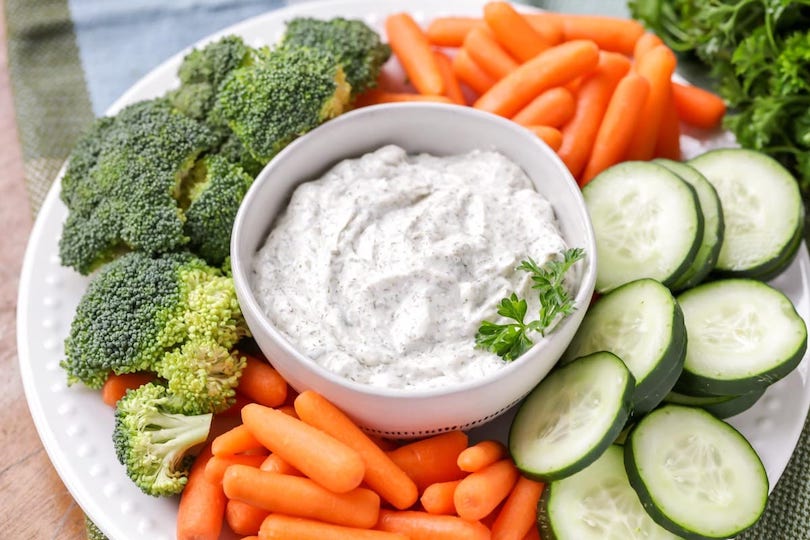 Here is one of the quickest and easy New Year potluck ideas to prepare. You just need a serving of the dip in the bottom of a cup. And, further, garnish it with fresh vegetables. It's is one of the quick and easy New Year potluck ideas.
Ingredients:
1 cup sour cream, assorted fresh vegetables, 1 tablespoon finely chopped onion, 1 teaspoon dill weed, 1/2 cup mayonnaise, 2 teaspoons dried parsley flakes, and 1 teaspoon seasoned salt.
Directions:
You need to combine all the ingredients well. And, cover and refrigerate it.
Serve with veggies.
# Sweet & Tart Lemon Jell-O – New Year Potluck Ideas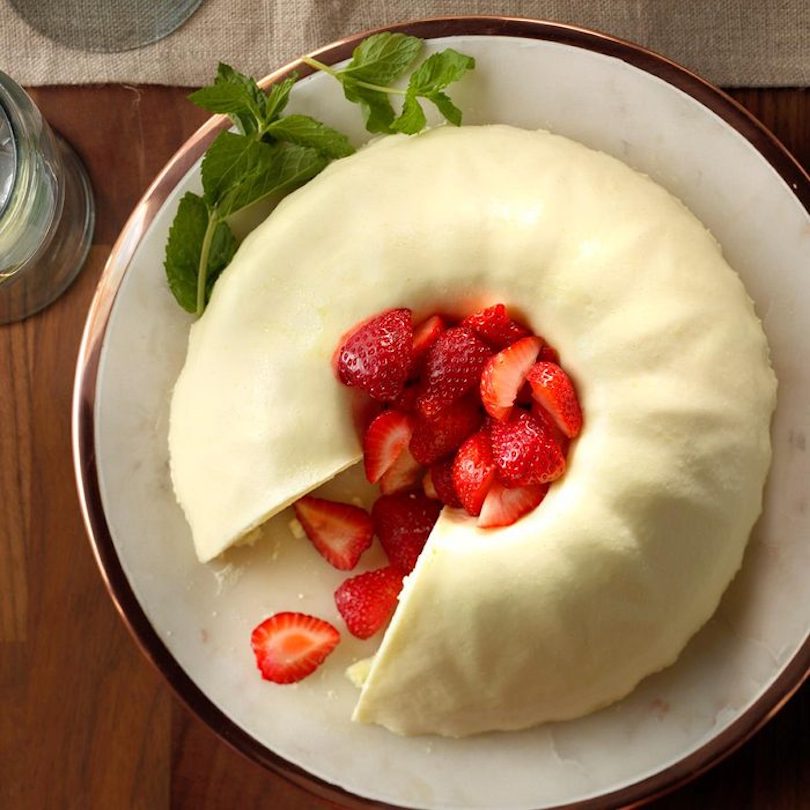 Last but not the least, this is one of the delightful and fun New Year potluck ideas to try this year. It is easy to prepare in two molds for parties. The best part is that it's too yum!
Ingredients:
1 envelope gelatin (unflavored), 2 cups of boiling water, 1 cup cold water, 2 packages lemon gelatin, 3 tablespoons confectioners sugar, 2 cups of heavy whipped cream, and quartered fresh strawberries with fresh mint.
Directions:
1. In a small saucepan, add some unflavored gelatin in cold water and let it stand for 1 minute. Further, heat and stir on a low heat until the gelatin gets dissolved completely. After that, remove from the heat.
2. Take a large bowl and add boiling water to lemon gelatin. You have to stir for two minutes and let it dissolve completely. Also, add limeade concentrate and unflavored gelatin mixture while stirring. Refrigerate it till the mixture gets thickened.
3. Take a bowl and beat cream until the mixture thickens. Further, add confectioners' sugar and beat until it the proper soft peaks get formed. Also, beat the gelatin mixture until frothy and fold it in whipped cream. Transfer it to the 8-cup ring mold coating with cooking spray. Refrigerate it and cover until it's set.
4. When serving, unmold the mixture in a large place. Finally, serve it with strawberries and mint.