1969 School Bus Turned Into a Tiny House B&B With Salvaged Materials
Want to escape the world for a peaceful living? Consider heading to this old-school tiny house B&B in British Columbia, Canada. This amazing tiny house has been transformed from a 1969 international short school bus. Not only does this school-bus-turned-tiny house boasts a retro touch, but it's also made from salvaged materials. The reclaimed materials were collected from thrift vintage stores. Now, the overall look of this tiny home takes us back to the old era of the '60s, '70s, and '80s.
The school bus tiny home boasts a solid roof that protects the inhabitants from the weather. It further covers the outdoor bathroom and outhouse, as the porch area. If we talk about the interior, it's around 19-feet long from its front to back, as well as 7.5-feet wide and 5-feet 10-inches high from the middle.
To keep the interior warm, you can heat the space with a Dickinson marine propane fireplace that's perfectly positioned in the middle of the bus. This fireplace provides maximum heat distribution for a perfect cozy ambiance. Furthermore, the ceiling and walls of the bus are well-insulated with firm foam. Therefore, the guests can stay comfortably even in winters.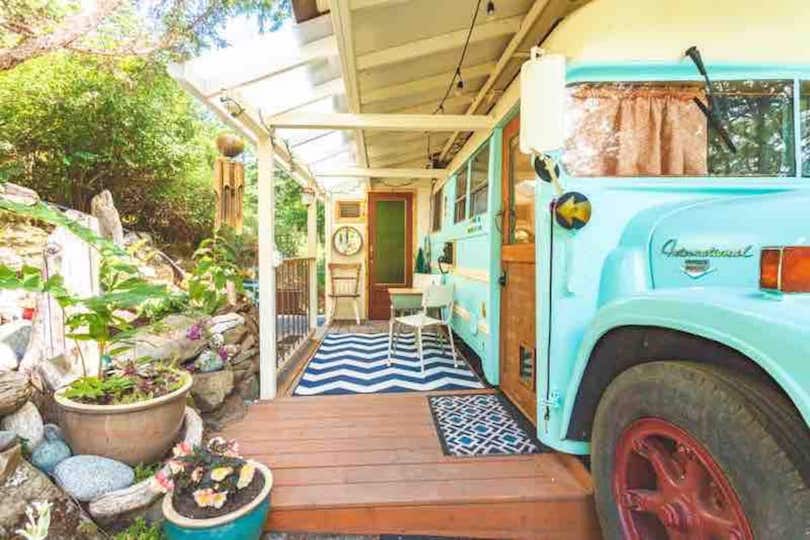 The driver seat area has been converted into a shower with salvaged granite tiles. There is also a window to easily escape the steam. Furthermore, the shower curtain comes with a magnet on the sides for keeping it closed. So, there won't be any water leakage.
On the driver's side of the bus, there is a kitchenette. It also includes a long kitchen countertop along with a sink. Plus, there is a painted bar fridge, ample storage space under the counter, and a 2-burner propane stove. And, for maximum natural airflow, the most visible windows are easy-to-operate.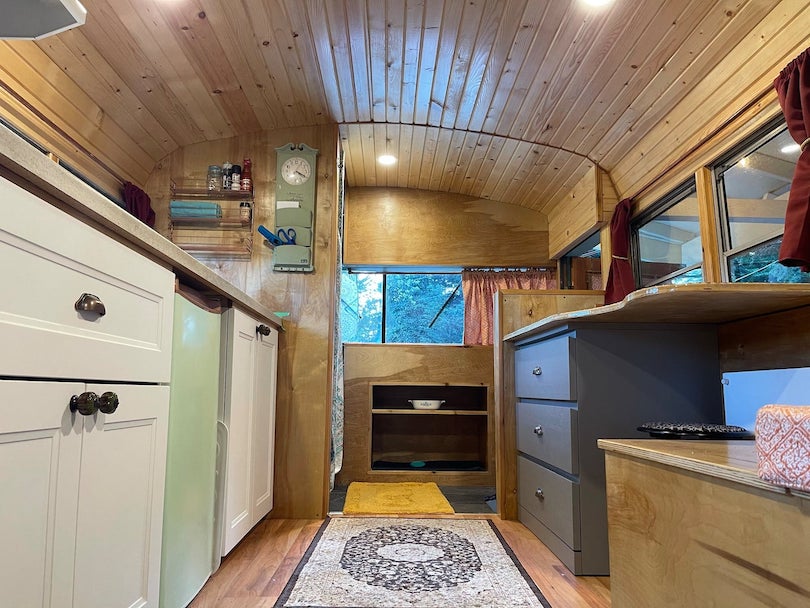 Furthermore, the passenger side of this bus includes a stool and copper penny desk for crafting and working. There is also a dresser under this for clothing storage. The wheel wells get transformed into two storage benches for eating meals, lounging, or playing board games. There is also a rectangle cutout under the bed within a concealed folding table. Such a table can come between the benches.
Even a raised queen-size bed is perfectly placed in this tiny house. At its rear, there's ample storage space for keeping accessories and other places. The makers have also built a bathroom/outhouse next to this bus. This area includes running water and an Envirolet composting toilet.
On one side of the bus, there is a covered porch and a fire pit area on another end. It even offers lots of outdoor living areas too. This convertible tiny home is owned by Miranda from Canada. She has also created wonderful whimsical gardens all around this bus. If you want to book it, you can visit Airbnb.