5 Best Shower Head Deals 2021 To Grab Now!
Want to enhance your showering experience? The holiday season is the best time of the year to get best shower head deals. If you cannot leave the house for shopping in stores near you, online deals are the best option. Amazon is a popular online store, offering some massive deals and discounts to buyers. So, you got to check them out.
No matter what range you are looking for, you are likely to find it on the Amazon at great prices. Whether you want a handheld shower head or a rain shower head, here we have created a small list of shower heads at reasonable prices.
Check out the given options offering you amazing shower head deals 2021:
AquaDance High Pressure Handheld Shower Head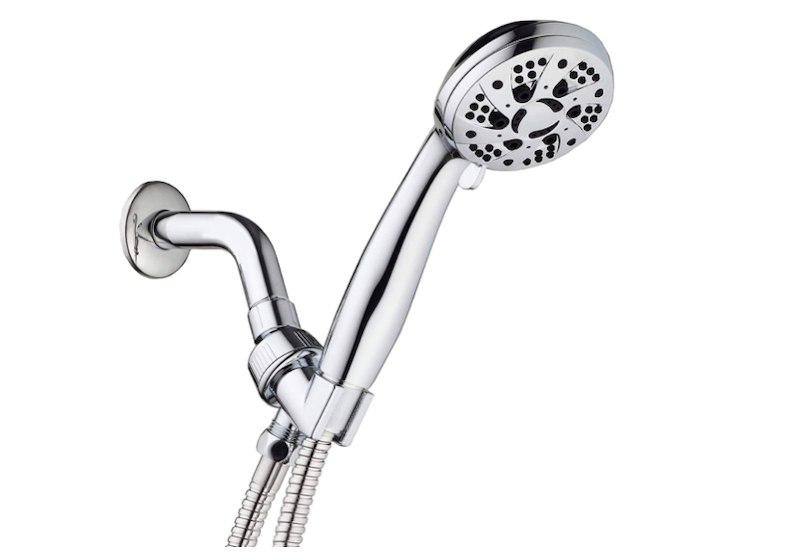 AquaDance is a perfect 6-spray setting handheld shower head designed to offer ergonomic grip. And, you can click its dial to make it easier for changing one setting to another. Meanwhile, you got to rub-clean its jets to clean your shower head after use. There is also a special water-saving pause mode. So, this makes it a great shower head for saving water in boats and RVs.
Specification:
– Use as Handheld or Overhead shower
– Finish Type: Chrome
– 3.5 Inch Chrome Face
– Six settings – Pulsating Massage, Power Rain, Rain Mist, Power Mist, Rain Massage, and Water Saving pause mode
– Three-zone click-lever dial
– Ergonomic grip handle
– Rub-clean jets for easier maintenance
– 5 foot super flexible stainless steel shower hose
– Angle-adjustable overhead bracket
– Free Teflon tape in the pack
– Tool-Free installation
Delta Faucet Rain Shower Head: Shower Head Deals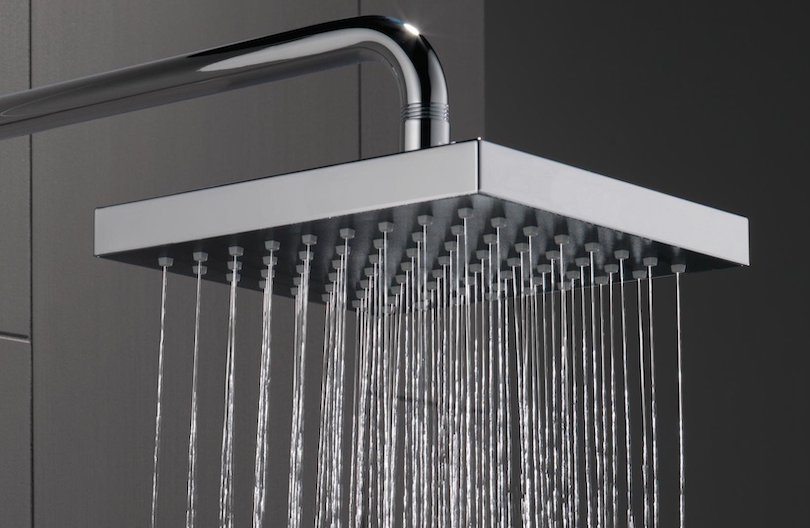 While other shower heads can collect unwanted mineral buildup over time, Delta soft rubber Touch-clean spray holes avoid that. It is because the spray holes ensure the mineral residue gets wiped away for an instant refreshed look. Plus, its matte black finish makes this shower head a statement piece in itself. If you want to add a striking aesthetic appeal in your bathroom space, consider adding this black shower head.
Specification:
– Finish Type: Matte Black
– Easy to install
– Metal ball connector for better durability
– Wall-mounted or ceiling-mounted applications
– Ball connector swivel angle is 36°
SR SUN RISE Rain Shower Head – Shower Head Deals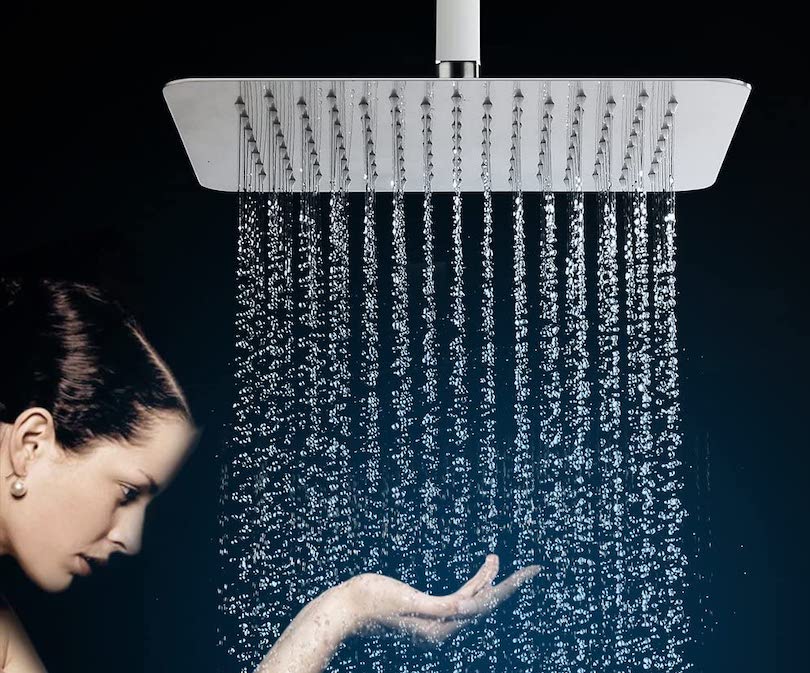 This is a 12-inch rain shower head to offer you a soft shower feel along with great coverage. It even includes advanced air injection technology for saving water and more water pressure. The shower system comes integrated with air energy technology for offering consistent rain showers under low water pressure. So, you can enjoy an ultimate showering experience any time you want. But what's best is that you can get this bathroom fixture at a discounted price during the holiday shower head deals.
Specification:
– Finish Type: 304 Stainless Steel
– Easy wall-mount installation without any tools
– Air energy technology offers a powerful rain shower
– Ten layered brushed nickel-plated finish
– Silicon gel nozzles prevent limescale build-up
– 5 Years Warranty
SparkPod Shower Head – Shower Head Deals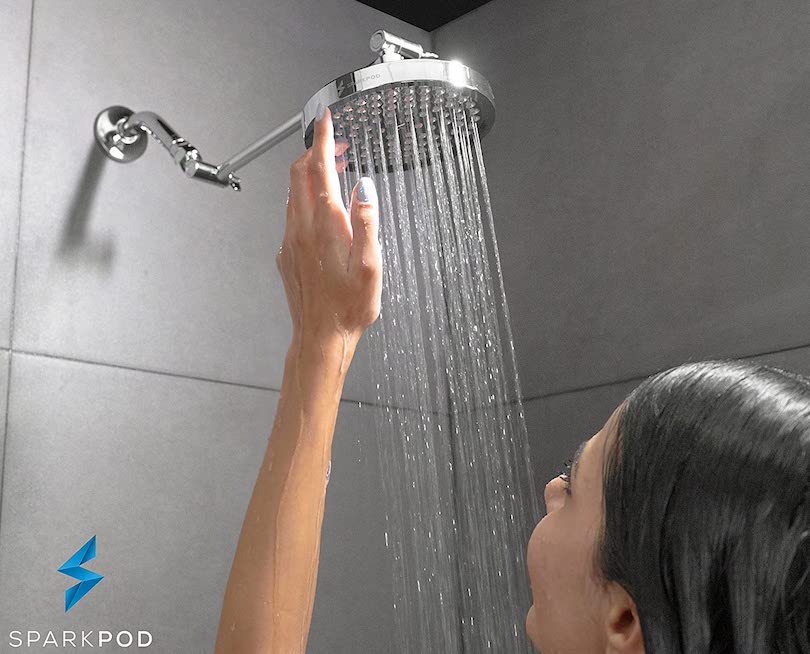 Your bathroom requires a good shower to bring the whole room a harmonious look. Moreover, it must be practical along with the touch of elegance. The SparkPod shower head is one bathroom fixture that will offer you both. With its luxe chrome-plated head, it adds aesthetics to your bathroom interior. It's so elegant and functional that you'd not want to step out of the shower soon.
Specification
– Finish Type: Polished
– High-pressure rainfall showerhead
– Easy no-tool installation
– Easy to clean nozzles
– Satisfaction guarantee
– Backed by a 30-day money-back guarantee
– 1 year additional replacement warranty
Milky House LED Shower Head – Shower Head Deals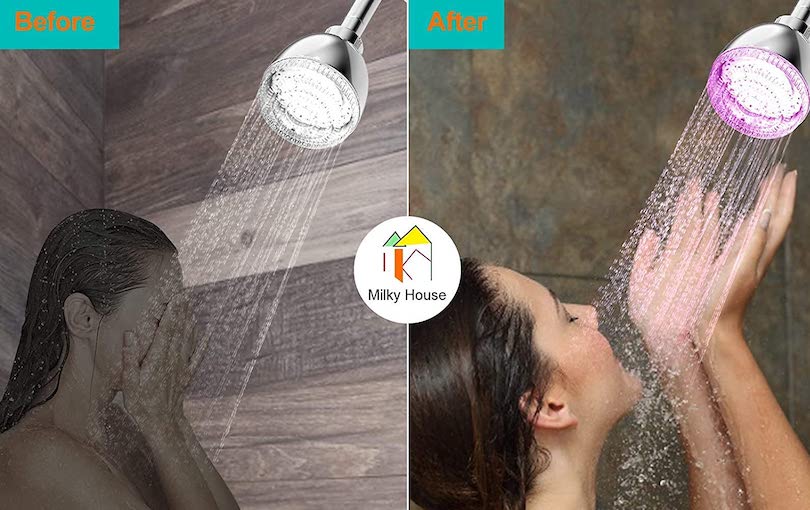 Milky House seven color LED shower head automatically changes LED. So, it's likely to offer you a unique showering experience, unlike the usual shower heads. Due to the shower head's supercharged design, it can prevent clogging.
Plus, no extra battery or power resource is needed for energy saving. Another good thing about this shower head is its high-speed electromagnetic motor. This feature ensures that the generator emits light even under low water pressure. Just imagine bathing in colorful lights that can change as per your preference.
Specification:
– Finish Type: Stainless Steel
– 7 colorful self-changing, water flow powered LED shower head
– High-quality materials & exquisite supercharged design
– Fast & easy installation
– 100% safety & 100% satisfaction warranty
– Manual temperature adjustment
– Widely used & adjustable multi-angle joint