Kaleidoscopic Christmas Tree Makes Visitors Feel Connected in Light
Lighting and structural specialists This is Loop has this time created an exquisite installation. It's the 28-foot high exquisite kaleidoscopic Christmas tree installation called Prism. Located at London's Coal Drops Yard, this prism-shaped Christmas tree comes embedded with multicolored lighting strips and mirrors. With all these elements, this festive light installation aims to create a festive atmosphere.
Colourful Kaleidoscopic Christmas Tree
What's unique about this lighting installation is that visitors can step inside it. Once you walk through the tree's center, you will get transported into an immersive world. A world full of reflection, light, and color. It's simply like walking inside a huge kaleidoscope.
Even Dezeen capture the Prism in their Instagram reel:
View this post on Instagram
The team behind its creation has reused and reimagined the core structure of the 2020 Terrarium tree. And, further created a design for this immersive installation. It's designed to signify unity and also gives visitors a sense of getting connecting. They will feel connected in a unique world full of colors and lights.
Celebrate with Colorful Prism-Like Installation
The reason behind the creation of this immersive Christmas tree is to celebrate the festive season. It's installed at the King's Cross shopping and dining destination. Visitors looking for shopping and Christmas gifts can check out more than 50 shops, including Hato, Tom Dixon, and Caravane. They are also encouraged to communicate with store teams and shopkeepers of established and independent brands. You can even check out their specially curated Christmas gifts at special prices.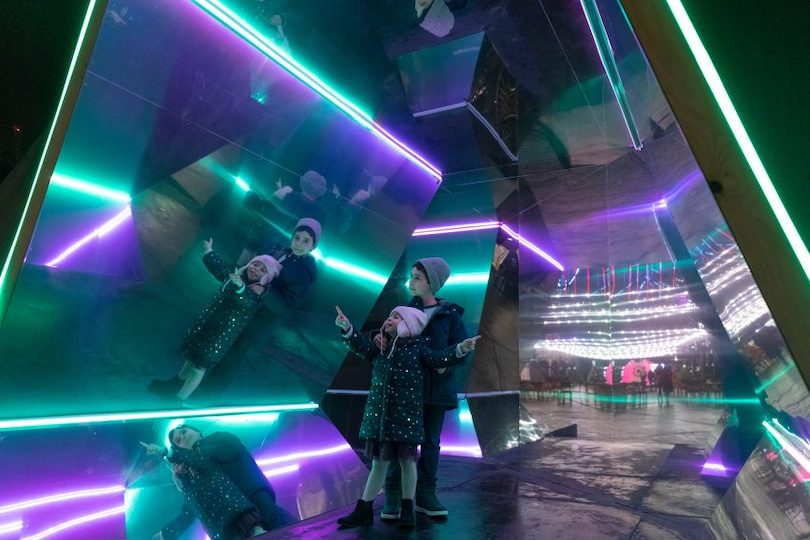 At King's Cross, you can also find a six-lane curling rink, which is perfect for visitors to try. There are also amazing offers on eateries. So, you can order something delicious to drink and eat at different culinary destinations. Some of the must-visit places are the culinary spot Goods Way and the wine bar Porte Noire.
If you happen to be at London's Coal Drops Yard, do walk through this mesmerizing kaleidoscopic Christmas tree.