7 Christmas Kitchen Decor Ideas For Cheerful Holiday Vibes
Since Christmas is approaching soon, probably you're already holding on to the festive feel. After all, it's the favorite holiday of many. From homes to shops to streets, you can witness Christmas cheer everywhere. And, there is certainly no way of getting away. Why not? This is exactly what the festive season is all about. While everyone puts a lot of effort into decorating different areas of their homes, the kitchen is one space that's always left out. But if you feel kitchen is important too, you need to know the right Christmas kitchen decor ideas for a cheerful feel.
Why Make Kitchen Appear Christmassy?
Your kitchen is a very important room in your house. Since the kitchen is one place where families cook tasty meals and spend most of their time together, it's rightfully called the heart of a home. And, of course, all Christmas day action also takes place here. As Christmas is the time to share with your adorable family, what better place to enjoy festivities than the kitchen where you all spend most of the time together.
Therefore, it's important to give a seasonal vibe to your cooking space. The more you make your kitchen appear joyful, the more Christmassy and joyful you feel.
7 Christmas Kitchen Decor Ideas
No matter what kitchen design or style you have, Christmas kitchen decor ideas are suitable for every interior. Here we have shared some amazing Christmas decoration ideas to try in your kitchen this festive season.
Add Christmas Statues & Stockings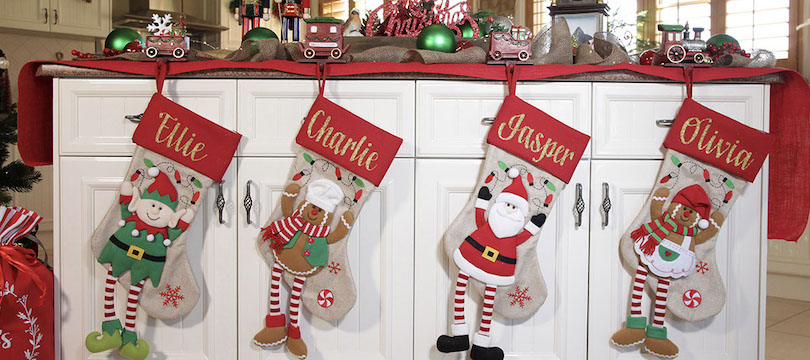 A statue is one of the major staples of Christmas decorations. No matter what type of ornaments you choose, these are likely to create a perfect festive vibe. These can be of different sizes and range from reindeers to Christmas trees that you can place anywhere. You can place them on a kitchen countertop, shelves, or windowsills.
If you feel worried that your kids might break the statues, it's best to hang stockings from the cabinets or countertop. You can choose big stockings with various Christmas figurines attached to them. You may even keep a stocking with every family member's name. And, hang them using a stocking hook.
This is one tradition cherished by many. Hence, suitable for a home of a person who loves traditional Christmas decor.
Use Wreath on Windows – Christmas Kitchen Decoration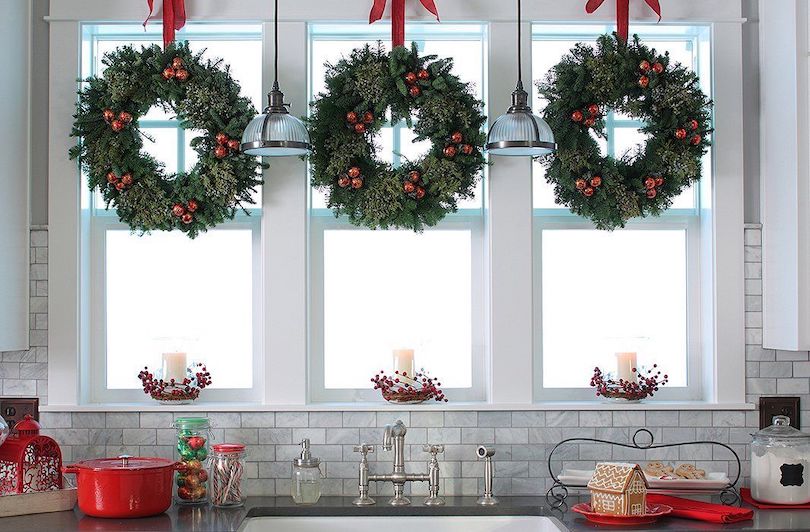 One most common place to keep your wreath is at the front door. But you can even add it to your kitchen space. The best part is that in a kitchen you don't have to worry about wind or storm blowing wreath away. A wreath is an important part of any Christmas decoration theme.
It is a beautiful circular form of decoration to dress up doors or windows. The wreaths can instantly add holiday charm to your otherwise plain kitchen interior. You can hang them on the windows as shown in the image. Or hang them on cabinet doors to draw the attention of the guests.
The wreaths can be of autumn leaves, evergreens, berries, and more natural materials. It all depends on you. If you don't want to DIY it, simply consider buying wreath(s) online or from any store near you.
Festive Elements Around Sink – Christmas Kitchen Decorations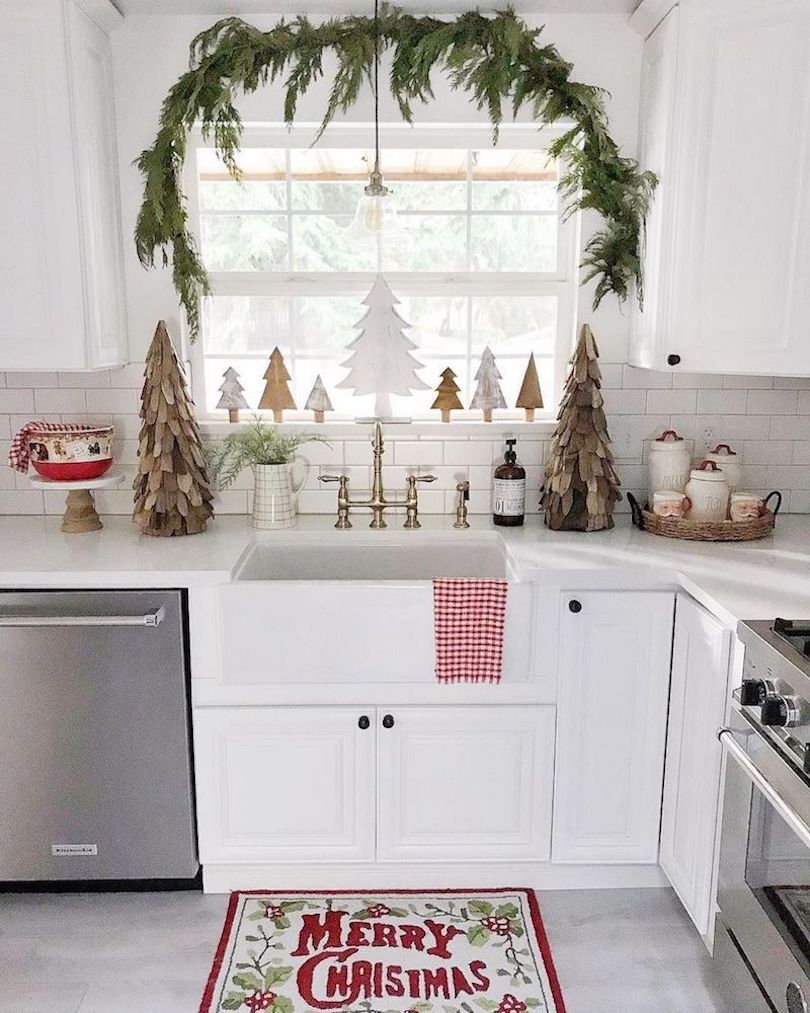 Another fun part of Christmas kitchen decor ideas is to put festive elements around the sink. You can simply place a 'Merry Christmas' mat under the sink. And, further, add paper and wooden trees around the sink. Also, add a green garland over the sink for a perfect Christmas feel. It is one subtle way to add festive cheer to your cooking space.
But if you like to go all out with traditional decorations, you put red, green, and metallic decor elements around the sink. Or simply decorate the area with eclectic ornaments. No matter what style you choose, you're likely to spruce up the area in a perfect seasonal vibe.
Decorate Your Table – Christmas Kitchen Decor Ideas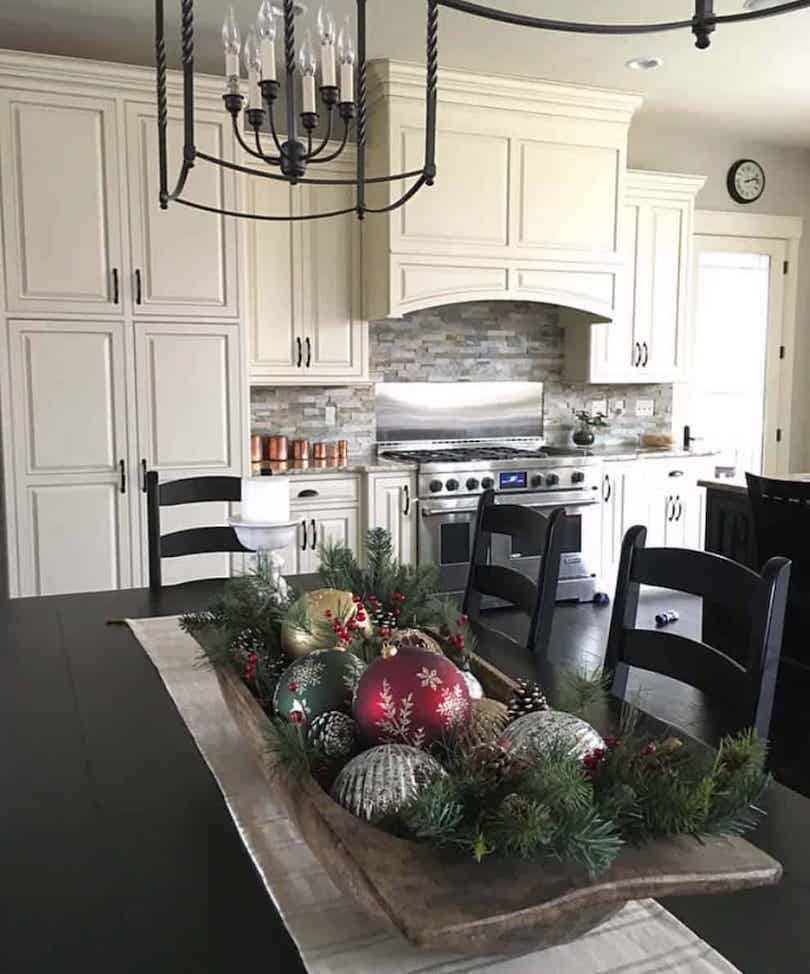 Do you have a dining table in your kitchen? If so, you can consider decorating it earlier than Christmas day. You can add colors to your table with Christmas cutlery and crackers. It means that there's no need to decorate the area further, as the dining table decor will act as the centerpiece.
Even garlands are festive-appropriate and fun Christmas kitchen decor ideas. You can use them in the center of the table or windowsill of your kitchen. These will add the perfect charm to your dining table, making it appear festive appropriate.
Kitchen Christmas Tree For Cheerful Decor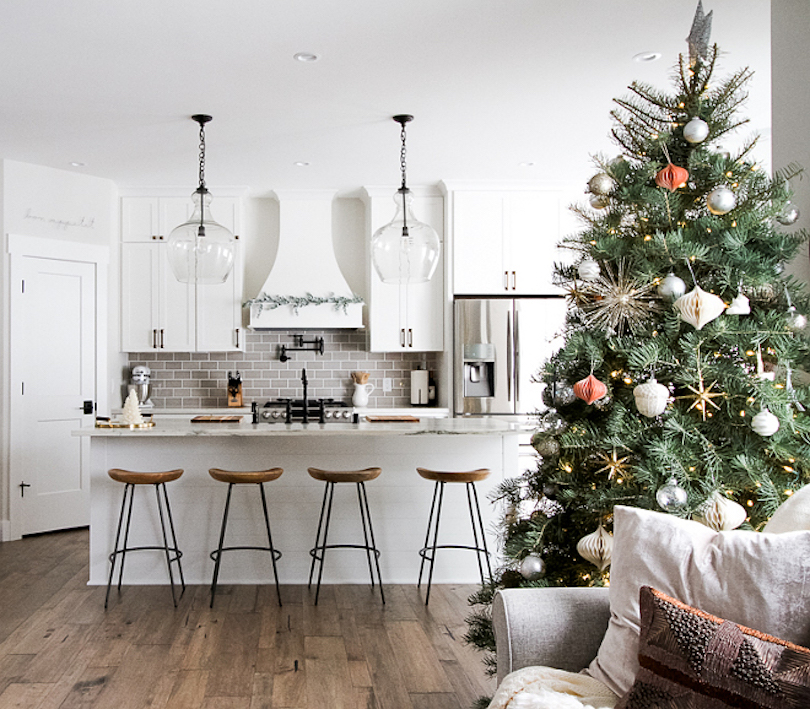 Make a grand statement with a kitchen Christmas tree. If you have a large kitchen, you can consider adding a big Christmas tree in one corner. This will make your kitchen alive instantly. If you have an all-white kitchen interior, then a decked-up Christmas tree will look stunning in it. It's because it will add a touch of festive color to your cooking space.
Even your guests will admire such decorative Christmas trees while having a meal or chit-chatting with you. If you want to add some colors to it, consider the ones that go well with your kitchen interior.
Replace Your Accessories – Christmas Kitchen Decor Ideas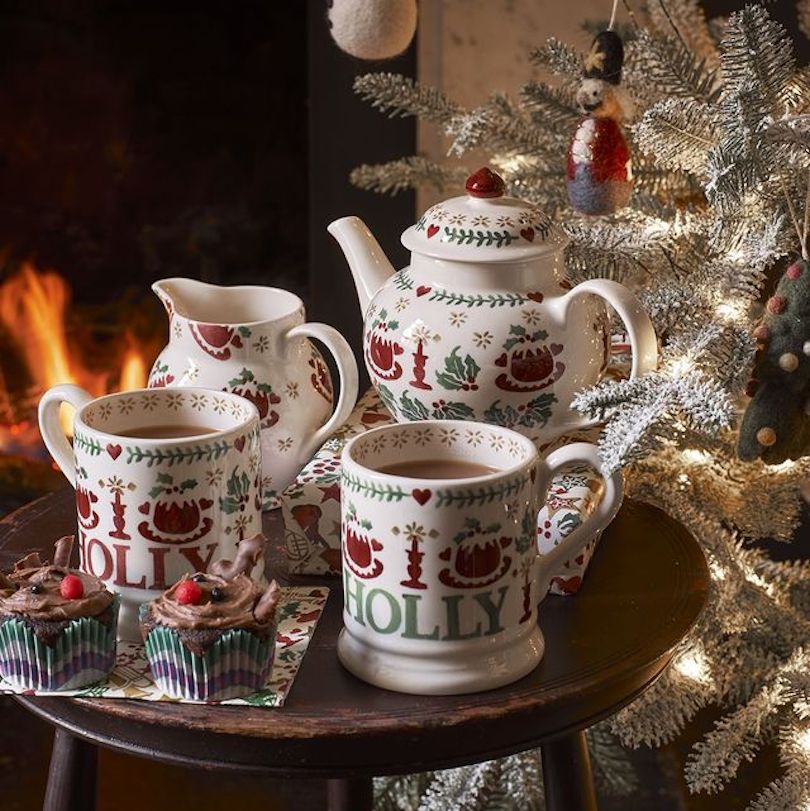 Do you have a small kitchen and struggling with Christmas kitchen decor ideas? One simple and effective way to do so is by replacing simple kitchen accessories. You can replace them with something based on the holiday.
For instance, you can choose Christmas bowls, mugs, cutlery, and oven mitts for the holiday period. You may even consider adding fairy lights around the cabinets for an extra Christmas twist.
Add Candles – Christmas Kitchen Decor Ideas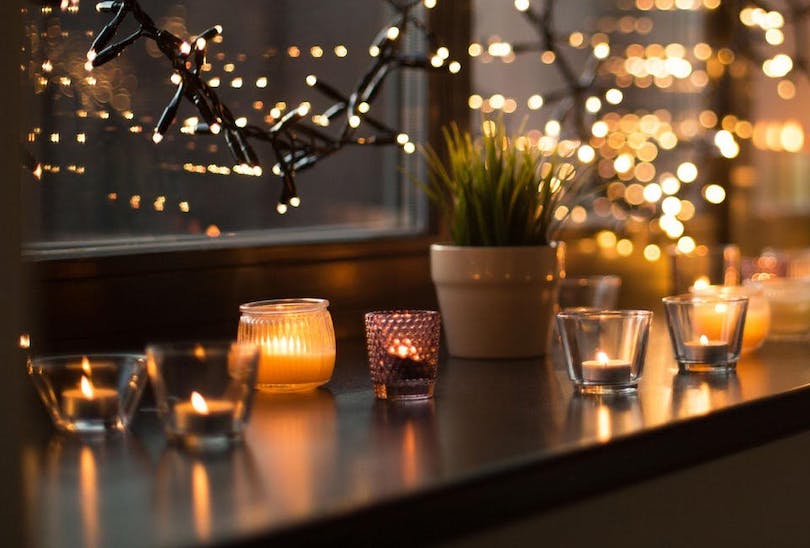 Candles are highly popular these days. So, why not consider adding them to your kitchen? They are also available in various Christmas-themed fragrances. So, choose the scented candles as per your liking and make your home smell of Christmas.
There are various scents you may use for filling the interior with a delightful holiday smell. Even choose the small Christmas votives for keeping in the dining room as a centerpiece.
So, these are some amazing Christmas kitchen decor ideas to consider in 2021. These additions will make your kitchen decor visually appealing to the visitors. We're sure you'll everyone impressed with your simple but effective decor.