CES 2022: Motion Pillow 3 Self-Adjusts To Help You Stop Snoring
This CES 2022, we have seen plenty of innovative technologies so far. One of the most innovative products from the technology fair is the new Motion Pillow 3. This smart pillow comes integrated with AI Motion System. It even includes an acoustic sensor. The built-in AI system recognizes the sound of snoring and instantly self-adjusts via an air pressure sensor.
The sensors can feel the user's head position and detect the sound of snoring. This further triggers the airbags within the pillow for inflating and optimizing the sleeper's head position. As one of the four mini airbags slowly inflates and turns your head to the side, your airways open up and you stop snoring. It works smoothly without disturbing your sleep. Thereby you reduce or stop snoring by securing the upper respiratory tract while sleeping.
Once snoring is stopped, the airbag deflates back to its actual position. Besides the pillow, it includes a sleep tracking system to monitor your regular sleeping patterns. It also comes with a companion app that supports both iOS and Android. With the help of the sleep tracker, you not only stop or reduce your snoring but also understand your sleep patterns and habits.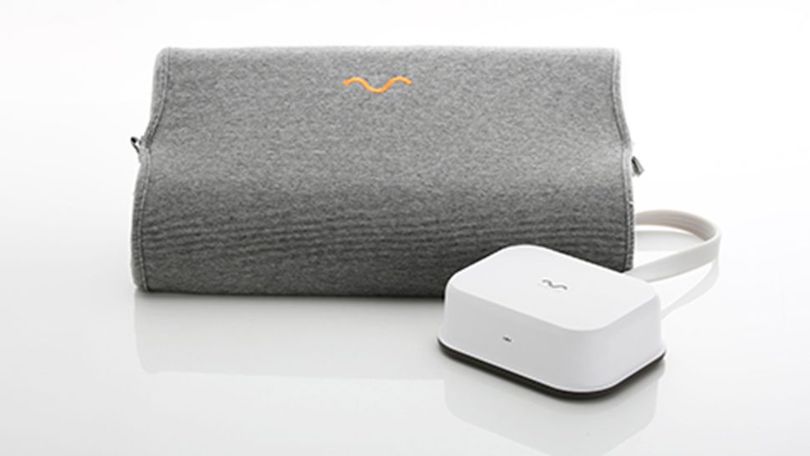 Are you someone who experiences snoring and feeling stressed about it? You need to try this anti-snoring pillow. And, with the use of its companion mobile app, you can analyze your sleep audio. With your sleep pattern and habits, you'll also feel encouraged to make healthy lifestyle changes. This way, we hope your sleep quality will improve eventually.
So far, we're not sure about its price and availability. But you can surely catch this smart pillow at this year's Consumer Electronics Show in Las Vegas.