FlexCamp RV Pod Expands To Be a Micro-Cabin on Truck or Trailer
In the past few years, we have seen increasing popularity in the expandable campers. Be it the stretchable off-road teardrops, Cybertruck A-frames, or flip-open truck-top tents, there are endless expandable camper options out there. Germany's ICC Offroad, however, has come up with a rotating Flip90 pickup camper along with its another expanding camper design. The new prototype is called the FlexCamp RV Pod that appears like a basic trailer or pickup-top box. But it further expands up and out to become a cozy micro-cabin for accommodating a family of four.
Expandable Flexcamp RV Pod
ICC Offroad has developed the FlexCamp for meeting the demand of compact, off-road-ready, four-season camping needs. The company is showcasing the FlexCamp as their first off-road camper trailer. However, it also displays a certain sketch of it sliding in form of a pickup truck. Meanwhile, it mounts directly to the back of a truck chassis. It means it could be a multi-functional camper pod with a design that's similar to the Tipoon. But it's created as per German practicality, not French artistry. The camping pod's boxy shape makes it feel like a home within a pickup bed.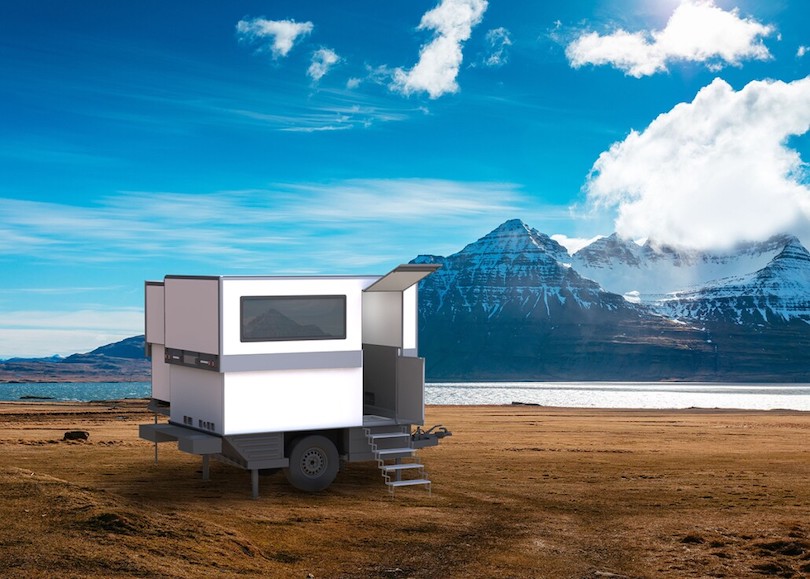 This pod also boasts a bidirectional expansion system that's the same as the Tipoon. When it's parked, this entire system lifts its roof and further pushes the sidewall out into an expansion of full-height section. The height grows overall from 200 to 304 cm and the width stretches from 204 to 334 cm. However, the length remains steady at around 319 cm for the camper body and around 445 cm for this whole trailer.
Interior
Inside the camper, there is enough area to accommodate a double bed out to its side and makes a multipurpose floor space. This area is useful for accessing the indoor kitchen and also for pulling out various drawers and slide-outs from its bed frame. There is also a concealed tabletop along with benches that you can pull out during mealtimes. Hence, a perfect dining area is set up along with cushioned platforms. Even a spare bed to sleep can be added if desired.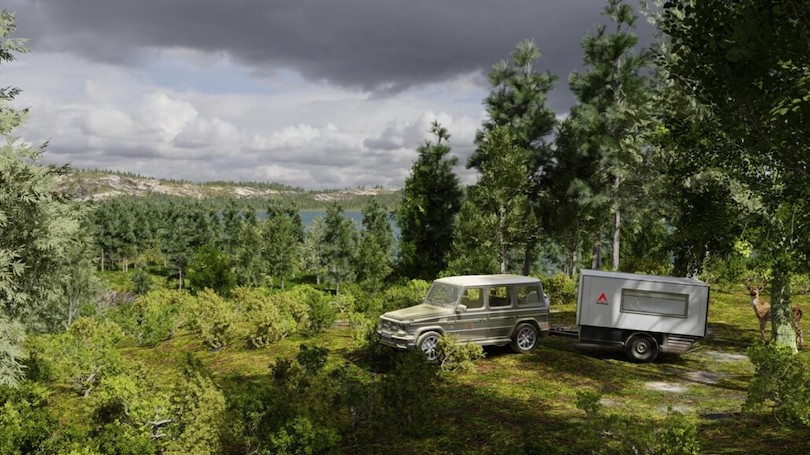 Its kitchen is perfect used both indoors or outdoors of the FlexCamp, depending on your mood. It even contains a Dometic dual-burner gas store, 50L fridge/freezer, and sink. Next to the front part of the kitchen block, there is an integrated floor drain to catch rainwater for the shower. It also includes hot water courtesy of Trumba Combi water/furnace heater. There is also a pull-out dry toilet within the bed frame drawer stack to complete the bathroom space.
Other equipment and capacities come with a LED interior and exterior lighting, 160-Ah LiFePO4 battery, 75-L fresh and wastewater tanks, and an optional air conditioner. The company came up with the concept of Flexcamp publicly in the middle of 2019. But after some delays, they are continuing the formation of their final version in 2022. You can take a closer look at its specifications and pricing when ICC launches its production-ready model. So, stay tuned!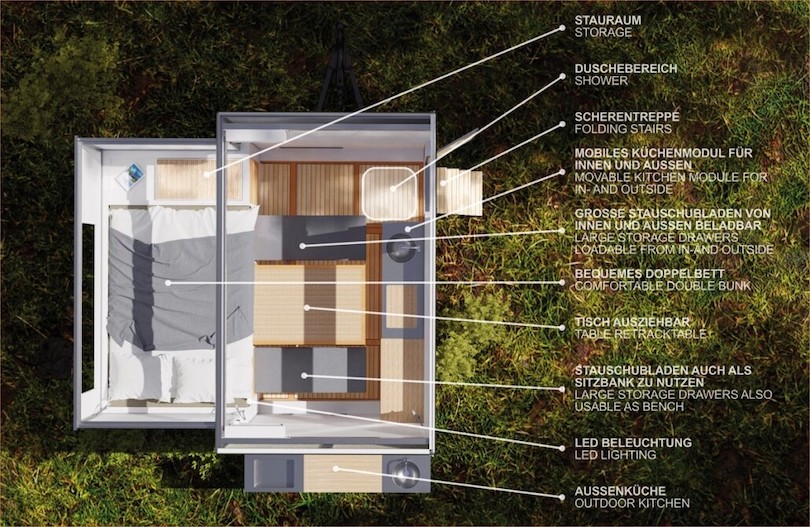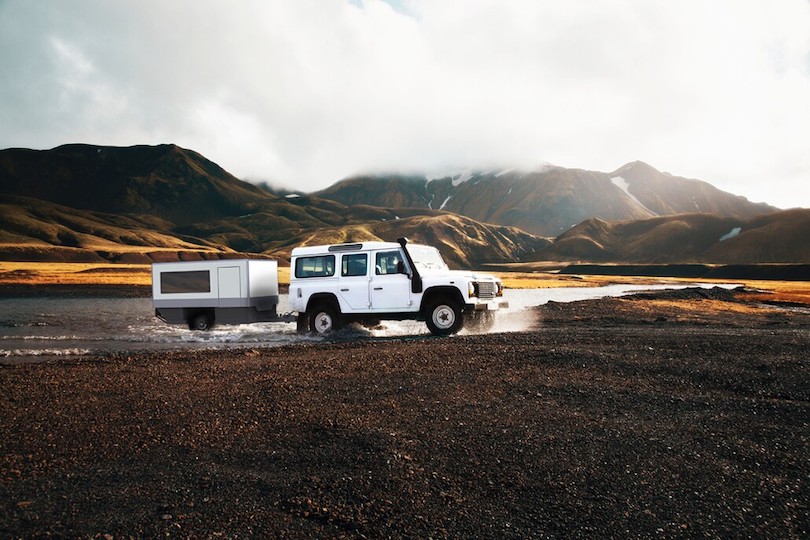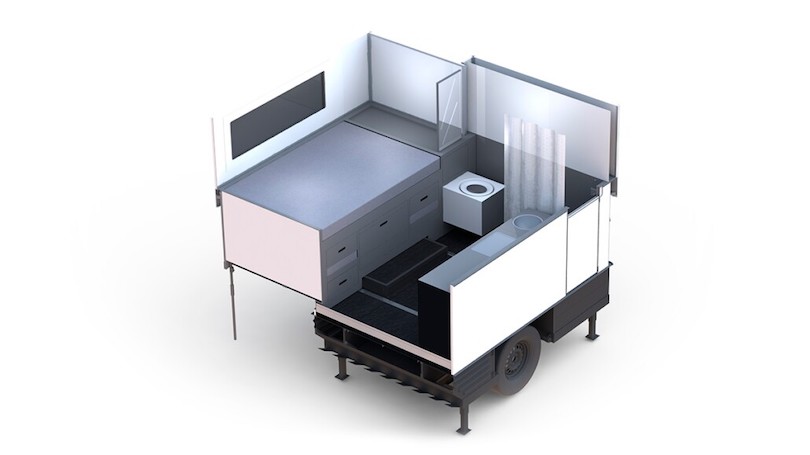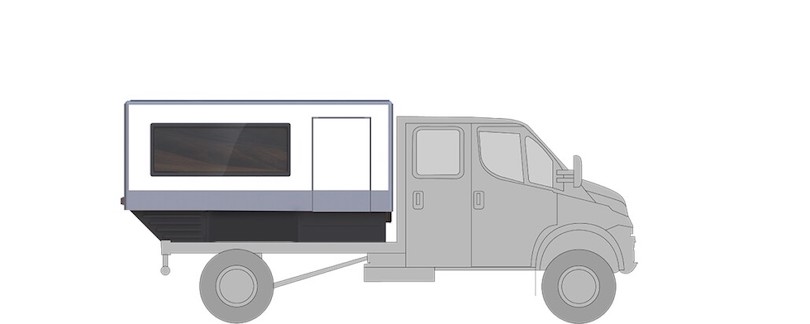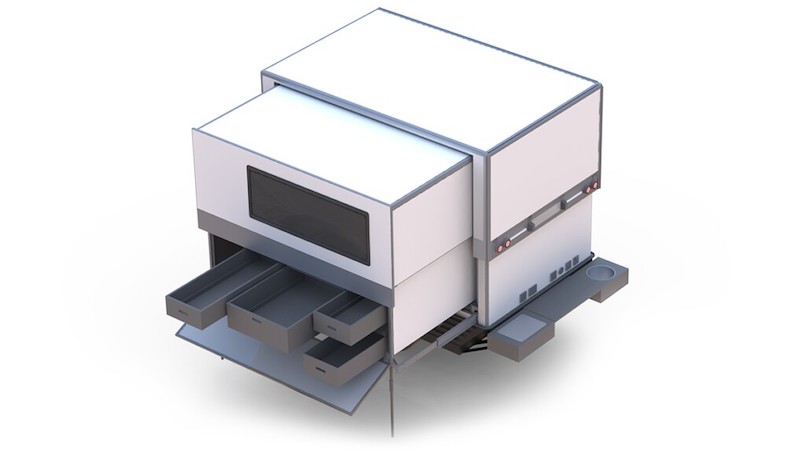 Source: ICC Offroad