Japanese Craftsman Makes 'Wagasa' Umbrellas Known to the World
Have you ever seen the bright traditional Japanese paper umbrellas or wagasa? If you thought these are only available in Japan, then you're wrong. Kotaro Nishibori, a Japanese craftsman, has made the art of crafting a red umbrella popular to the world. He stays true to the authentic 1,200-year-old process of making use of traditional techniques and materials. Basically bamboo and washi are the two main things one needs to create these paper umbrellas.
From Shingu to Toronto
Speaking of Nishibori's journey, he was born and brought up in Shingu, Wakayama. He grew up practicing aikido and was often surrounded by people who came from across the globe to learn about martial art. But he got into this traditional form of craft while he was studying in Toronto.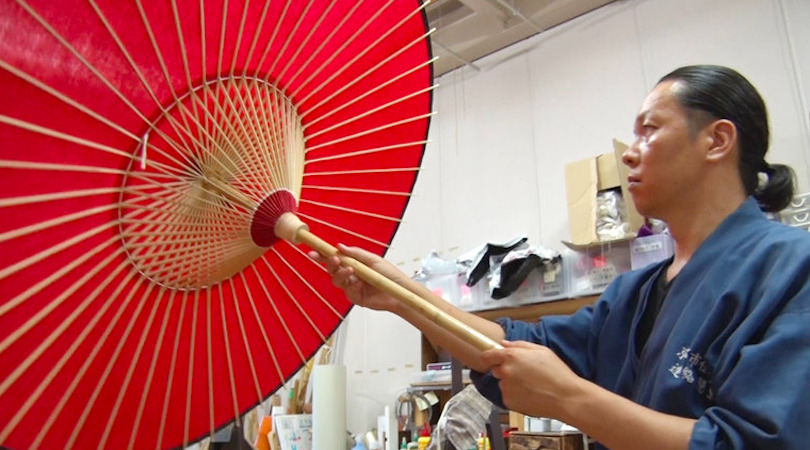 At Toronto, he got the opportunity to see Japan from the outside world. Since he was studying in a place where people are from everywhere, he also got a chance to represent his culture. But exactly when he returned to Japan, he first encountered Wagasa.
Exploring the Charm of Wagasa
When he came back to Japan, Nishibori got a chance to meet a woman from Kyoto, who later became his wife. When he went to her family house, it was the first time Nishibori got to know about their family business of wagasa. He was very shocked to know that this paper umbrella has a long history of almost 1000 years. It dates back to the old Heian Era (794-1185).
After gaining good craftsman experience and learning from Canada, he thought of making people aware of wagasa again. And, also thought of growing the family-owned company Hyoshiya.
Bringing Wagasa Online
Since Nishibori was more interested in promoting Japan, he collaborated with his wife to run their family business. It was really difficult for them in the beginning as people thought that paper umbrellas are not practical. But all thanks to the age of the internet, he brought the Japanese craft online. This is how his and his wife's efforts started to get attention. And, their family business started picking up. Now, you can also order bright and colored paper umbrellas online.
View this post on Instagram
Via: LaughingSquid