Get This Multi-Purpose Kitchen Appliance To Your Kitchen Arsenal
Instant Pot Aura 9-in-1 is a multi-purpose kitchen appliance that's designed to sit proudly on your worktop and help you prepare next-level means in very less time. With this multi-functional device you'll not just save time, but energy as well.
The best part is that this single appliance intends to cater to your various cooking needs. This is because it can stew, roast, slow cook, steam, bake, saute/sear, make yogurt, cook rice, keep food warm, and ferment. In short, it lets you prepare yogurt and chicken soup in one single appliance that can also be used to slow cook evenly cooked brisket and bake cookies.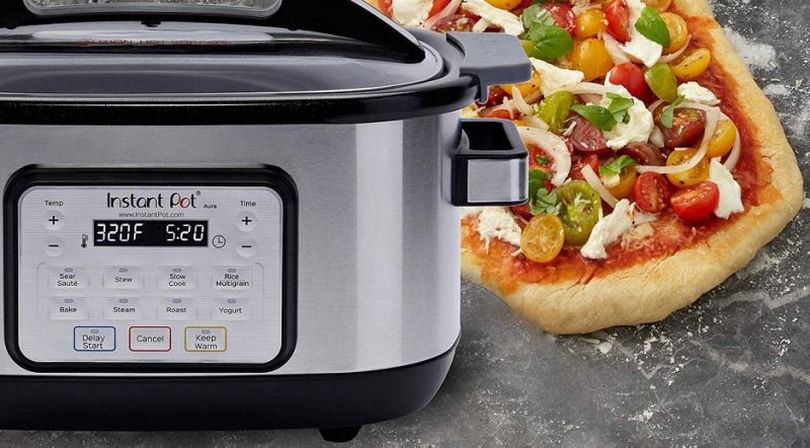 This multi-purpose kitchen appliance can hold six quarts of ingredients. So, it enables you to make meals for your whole family in one go. It is also a programmable device. This means that you can easily schedule it to start preparing food approximately 24 hours in advance or whenever you desire. Simple schedule it one night before and rest will be taken care of this device that will start cooking at the exact time you've set on it. If you're still at work, your Instant Pot Aura will keep food warm for you until you're home.
Instant Pot Aura can automatically regulate its temperature. You may select out of 10 smart cooking modes and easily let the device take care of everything. However, if you want to change temperature settings manually, it has got that option too.
When you're finished cooking, just put the pot, its roasting/steaming rack, and lid in the dishwasher to easy clean up. The all-in-one gadget will offer you all the convenience you need while preparing different sorts of meals without needing much space on your countertop.
You can purchase Instant Aura 9-in-1 multicooker from Amazon for $129.38. once this device is in your home, you'll become a kitchen superhero in no time.