10 Creative Pumpkin Carving Ideas You Need To Try
Just like a Christmas cannot go without a stocking, Halloween is incomplete without a classic pumping carving. You simply cannot pull off the spooky spirit right without illuminating jack-o'-lanterns on your doorstep. The creative pumpkin carving ideas are also great for bringing the whole family together for a fun activity that's appealing to all age groups.
It also encourages your kids to come up with more fun and creative ideas. Once you have decided what you want to carve, you can start with your little ones to create some amazing decorations for the spooky fest of the year.
10 Fun Pumpkin Carving Ideas For 2021
Here we have shared 10 spectacular pumpkin carving ideas to inspire you. So, pick your favorite and start carving right away.
1. COVID-Safe Pumpkin Carving Ideas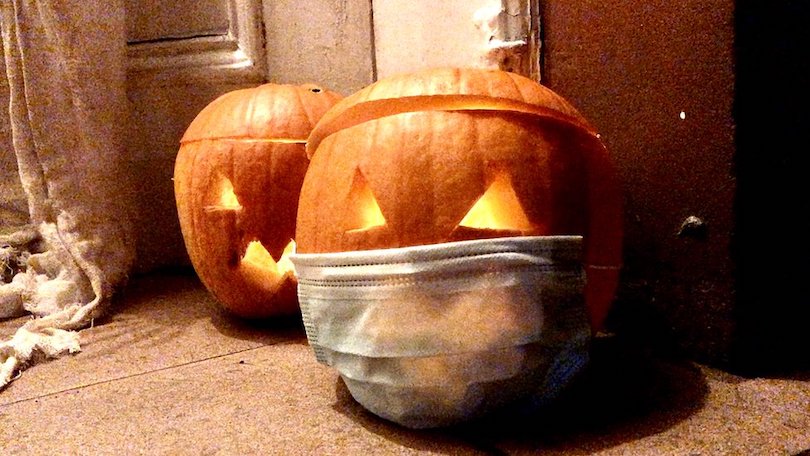 Since we are still dealing with the COVID-19 pandemic, you can try to make the situation feel lighter with fun COVID-safe pumpkin carving ideas. You can create a perfect pumpkin carving with an N-95 mask on its face. It will be a Halloween-style sweet reminder for the guests to keep their masks on until they sanitize their hands. You can even keep a hand sanitizer next to this pumpkin decor for keeping everyone safe at your party.
2. House Number Pumpkin Carving Ideas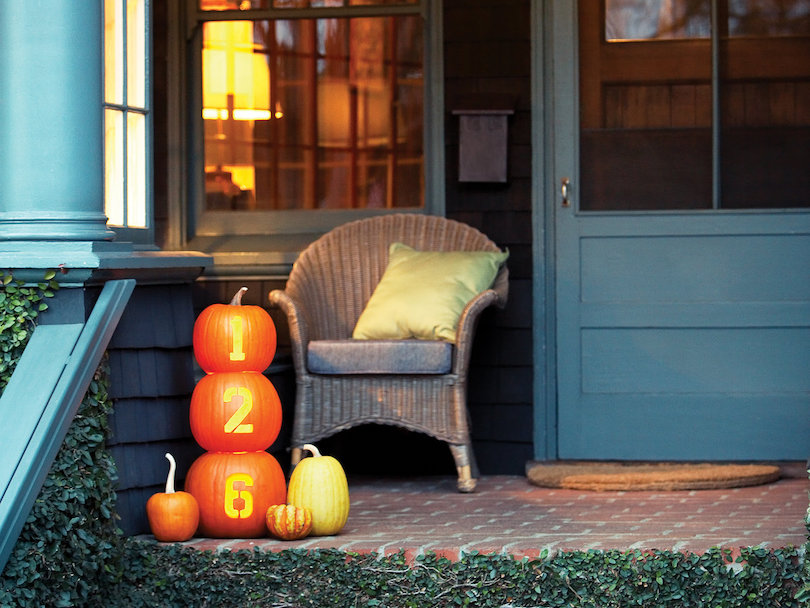 One of the simple yet fun pumpkin carving ideas is to etch your house number onto a pumpkin. In the image, you can see how beautiful this house number carving looks. It will be an easy guide for the guests to find your house. Plus, a theme-appropriate decor for the fall and All Hallows Eve.
3. Autumn Leaf Pumpkin Carving Idea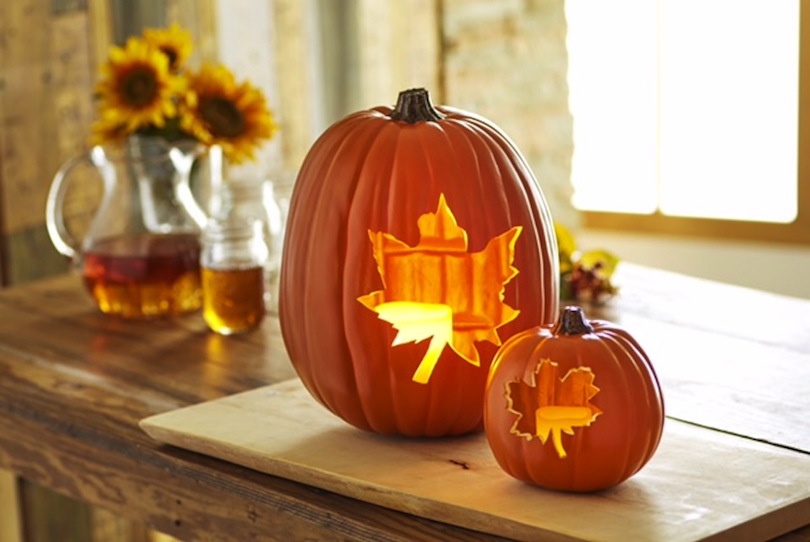 Another fall-appropriate decor is to carve autumn leaf designs on pumpkins. You can create this using a small knife that enables you to press the outer layer of your pumpkin. Meanwhile, you can carve interesting autumn leaf patterns on the pumpkin as per your desire.
4. Pirate Ship Pumpkin Carving Ideas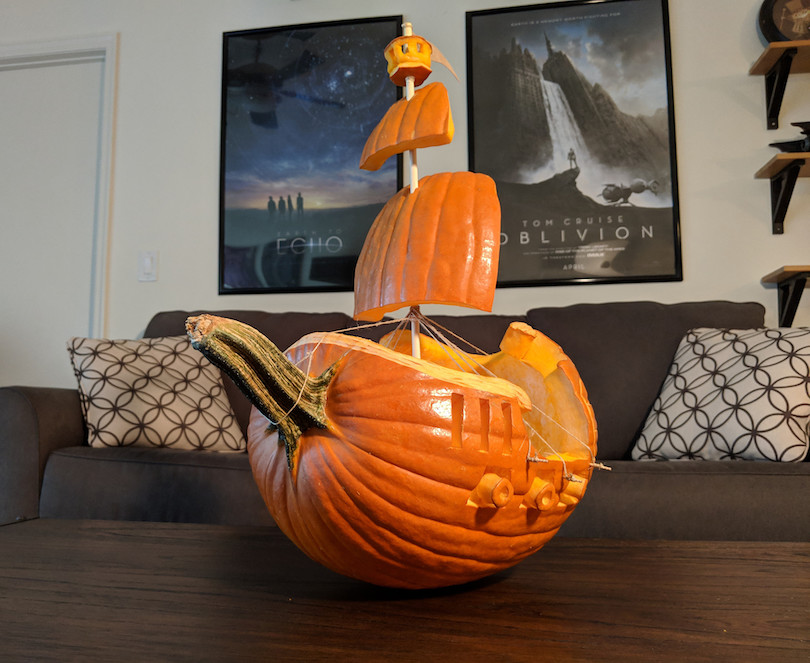 Although it may look a little complicated at first, you can easily pull it off with the help of your kids. Once you cut down the pieces of a pumpkin, your kids can start constructing details and sails. However, for such exposed carving, you need to preserve your pumpkin. Make sure it does not rot before the spooky fest.
5. Flower Moon Pumpkin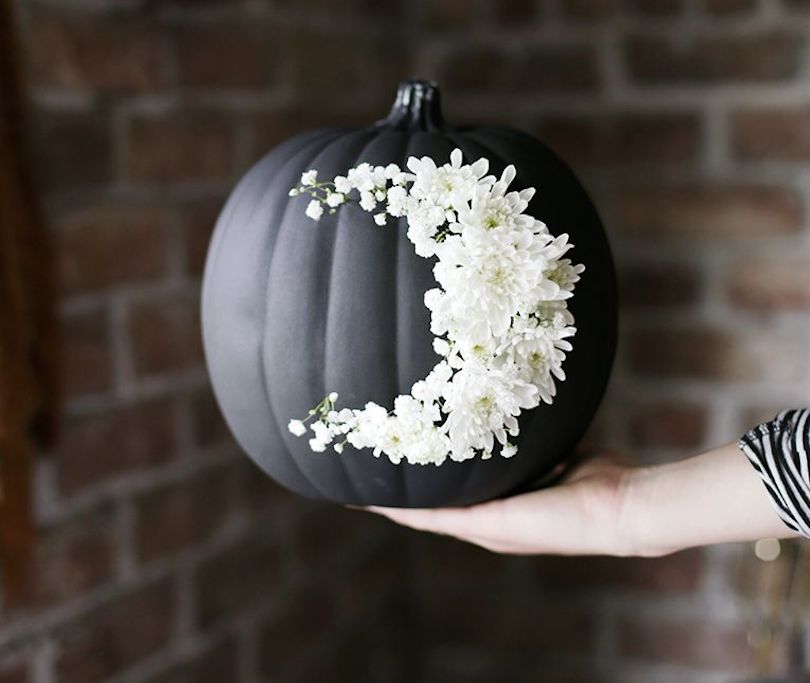 It is one of the most adorable pumping carving ideas on this list. You can choose fake or real flowers and paint for concealing any mistakes. First, you got to paint faux or real flowers in white and pumpkin in black. After that, use chalk to draw the shape of a crescent moon. Next, use awl punch for creating a series of holes in the moon shape. Try to keep holes half-inch apart. Then wipe off the chalk outline and start poking faux flower stems into these holes. It will create stunning flower moon pumpkin decorations for October 31st.
6. Pumpkin Candy Dispenser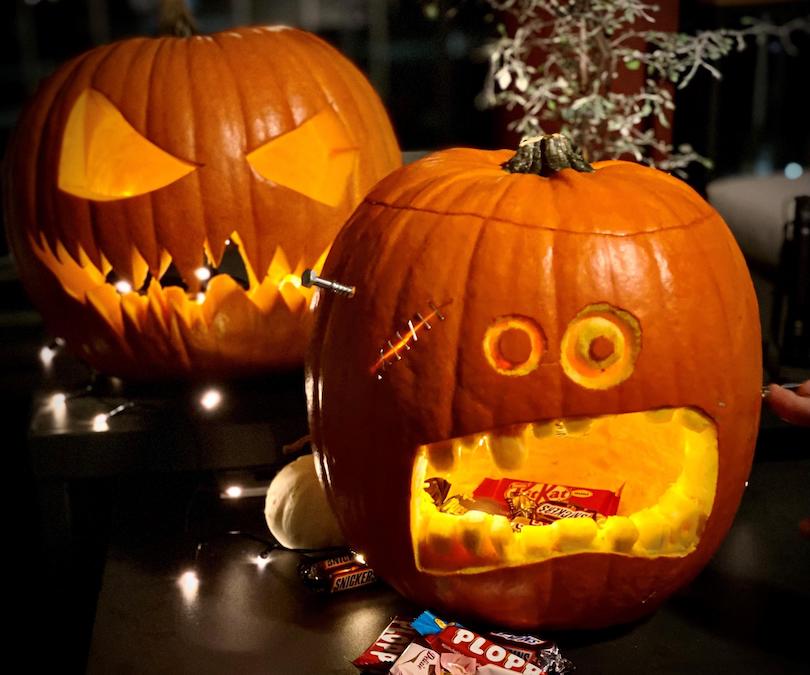 Why purchase a plastic candy bowl when you can make a DIY pumpkin dispenser at home? For this, you have to draw the bottom of a storage container or glass bowl onto the front portion of a pumpkin. Then, start cutting out the pumpkin to take out seeds and pulp. Finally, insert a bowl into it through a big hole. And, put desired candies inside it to let kids pull out their favorite ones from this creative candy dispenser.
7. Make a Face Using the Stem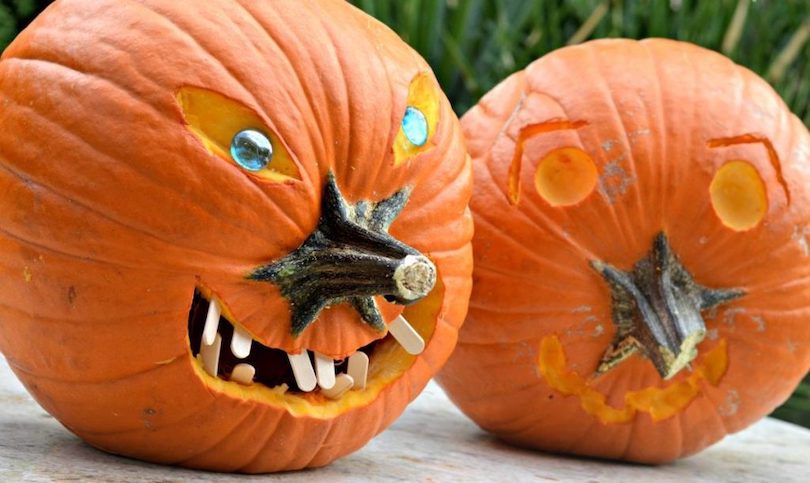 Why throw away the pumpkin stem when you can use it to make an interesting facial detail? In the image above, you can see how to use a pumpkin stem as a large nose of a funny-looking pumpkin monster. You can easily create this decoration piece with basic carving skills.
8. Jack-o-Lanterns For Halloween Party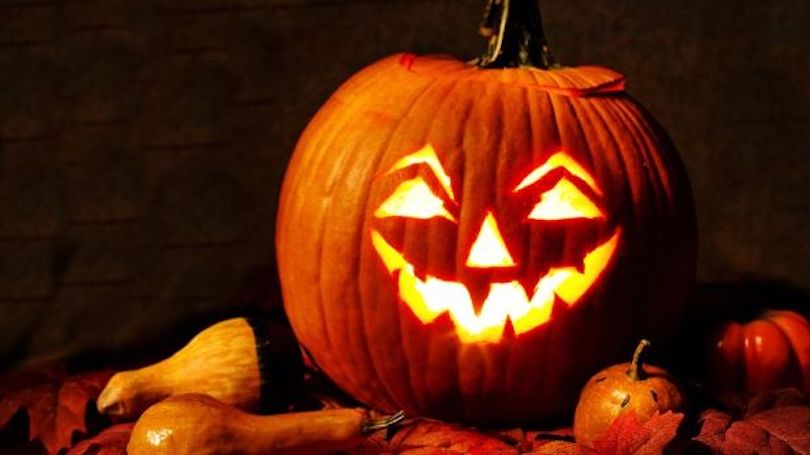 Nothing beats the charm of the fall harvest party than carved jack-o-lanterns. You can carve beautiful pumpkins and turn them into centerpieces. Don't forget to add LED lights to these carved pumpkins to make them glow at night.
9. Glow-In-The-Dark Pumpkin Teeth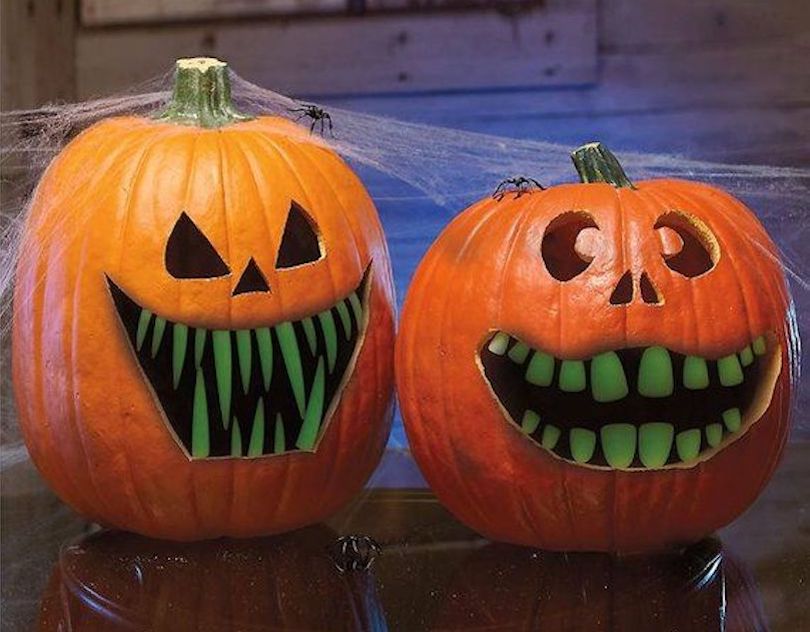 This is one of the easiest pumpkin carving ideas on this list. You simply have to pick a pumpkin as per the size of the glow-in-the-dark-teeth, which are available online or offline stores near you. Then, carve a rectangle into the pumpkin for accommodating teeth. Also, push in a few pins for making its eyes and you're good to go with a jack-o'-lantern that glows when lights are off.
10. Skull & Crossbones Pumpkin Carving Ideas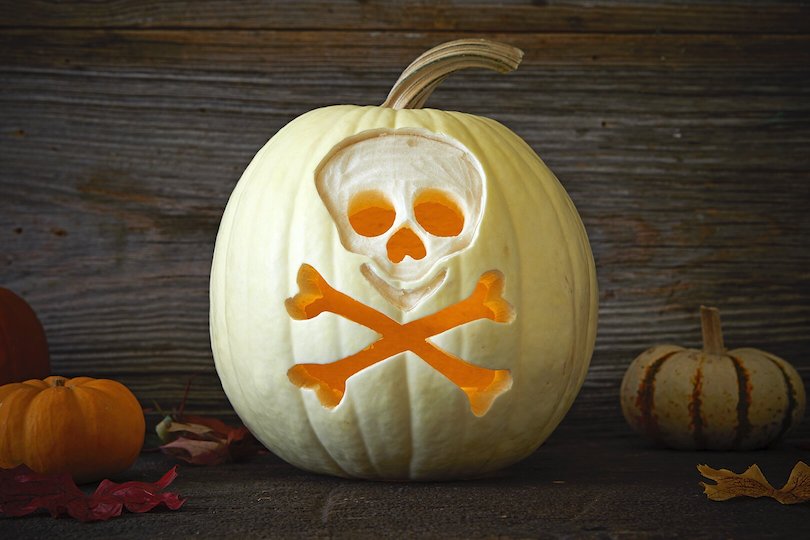 Don't miss out on the elegant white pumpkins. You can use them to create stunning skull and crossbones pumpkin carvings. It will give white pumpkins additional depth and texture. You can easily download free pumpkin stencils and begin with any design you like.
We hope these pumpkin carving ideas get you into the Halloween mood right away. Which one of these ideas you'd like to try out this Halloween? Do share with us!