6 Scrumptious Thanksgiving Dinner Ideas For Ultimate Menu
No matter it's your first Thanksgiving dinner as a host, or you're hosting it for many years, deciding on a full-course holiday menu can be challenging. It is because Thanksgiving is not just about preparing one or two dishes. You need complete Thanksgiving dinner ideas for the ultimate menu. So, you got to select proper stuffing recipes for starters, main course, and dessert. Of course, the perfect turkey recipe for meat lovers.
Feeling stressed already? Don't be! This year, save the hassle of deciding everything on your own. In this article, we have prepared the special to help you decide on a proper menu for the harvest festival. You can choose the right one depending on who will be at the dinner and what they like to eat.
6 Thanksgiving Dinner Menu Ideas
Give below are some of our useful suggestions for amazing Thanksgiving dinner menu ideas, whether it's your first or 10th year as a cook for the holiday season.
1. Classic Thanksgiving Dinner Ideas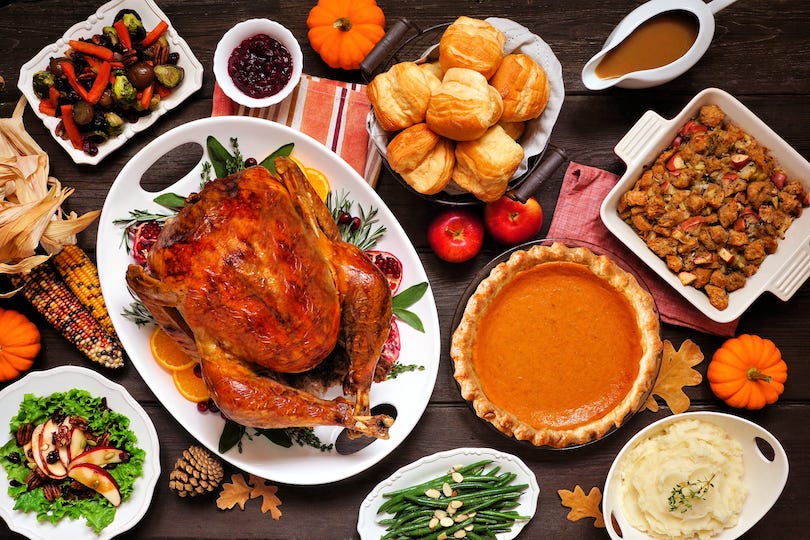 Are you a traditionalist who likes to keep this authentic? If so, it is a perfect menu for you. It is one of the amazing ideas for Thanksgiving dinner full of tried-and-tested favorites for centuries. However, the menu is also upgraded a little to ensure you enjoy maximum deliciousness and flavor. We're sure your family will fall for this dinner menu idea.
Classic Main Course:
Seasoned Roasted Turkey with Rosemary Gravy and Classic Red or White Wine.
Traditional Sides:
* Corn Salad With Bacon and Honey
* Fresh Herb Stuffing
* Broccoli and Cauliflower Gratin
* Composed Waldorf Salad
* Parker House Rolls
Yum Dessert:
* Fruit and Nut Trifle
* Hearty Pie
2. Dinner For Grill Lovers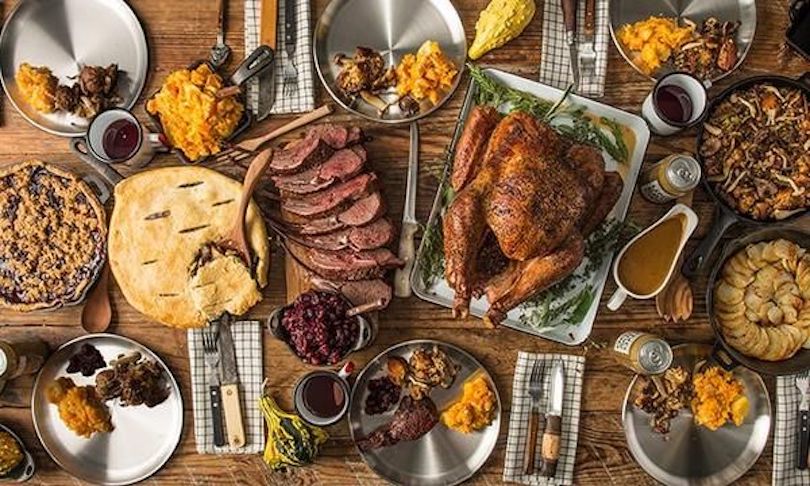 Grilling isn't just for summer and backyard parties. You can also enjoy perfect grilled dishes on Thanksgiving. Because everyone loves the smoked flavor in your turkey, right? Moreover, you'd have enough space to prepare so many other tasty sides, like cornbread and potatoes.
Grilled Main Course:
* Grilled Hot-and-Sour Spicy Turkey
Some Sides For Grill Lovers:
* Cast Iron Hasselback Potatoes
* Skillet Cornbread with Butter
* Crispy Brussels Sprouts Salad with Seasoning
Delicious Cocktail:
* M5 Sidecar
Yummy Desserts:
* Ginger Pumpkin Pie
* Brioche Bread Pudding
* Salted Caramel-Apple Slab Pie
3. Vegetarian Thanksgiving Dinner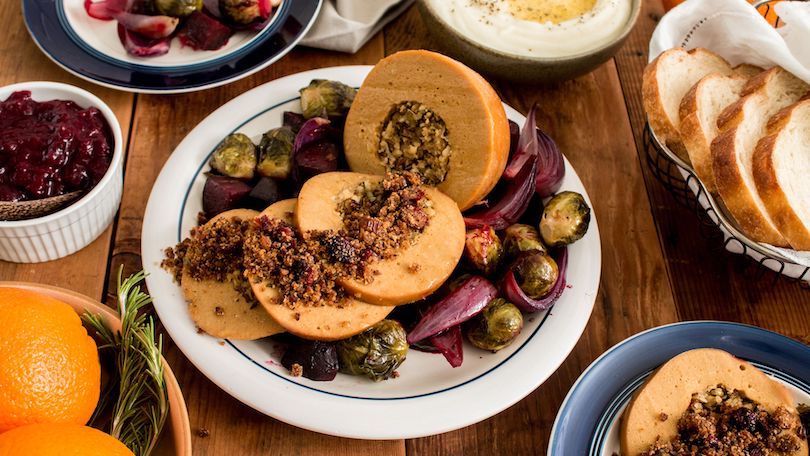 We know that Thanksgiving is all about the turkey. But what about your vegetarian family members or friends? Also, make them part of your delicious gathering on the Thanksgiving dinner. And, simply ditch the meat and go for tasty vegetarian dishes.
Vegetarian Starters:
* Corn Fritters
* Caesar Salad
* Ricotta and Strawberry Toast
Vegetarian Main Course:
* Mushroom Herb Gravy
* Tofurkey Roast
Some Sides For Vegeterians:
* Pepper Jack Corn Muffins
* Ricotta Mashed Potatoes
* Steam Mac and Cheese
Tasty Dessert:
* Apple Cranberry Pie
* Apple Blossom Tart
4. Friendsgiving Meal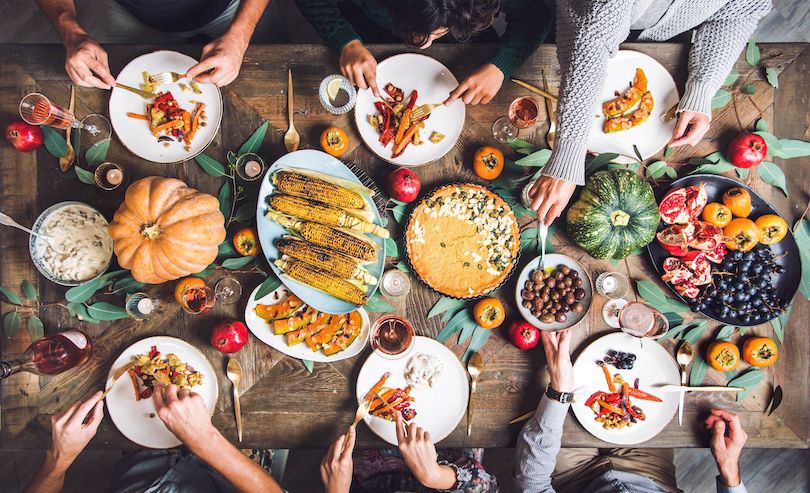 Are you not planning to visit your family or relatives this year? Still, you can enjoy Thanksgiving with your friends. Just host a nice dinner for them to enjoy a cheerful Friendsgiving party. Because it's for your special pals. Furthermore, ask them to prepare some recipes and bring them to your place. Or be generous to prepare everything yourself.
Friendsgiving Main Course:
* Orange-Glazed and Red Chile Turkey
Amazing Sides:
* Grape Salad
* Roasted Brussels Sprouts
* Cheesy Rice
* Braised Greens
* Squash Casserole
Desserts for friends giving:
* Apple Cranberry Pie
* Bourbon-Pecan Pie
5. Easy Thanksgiving Dinner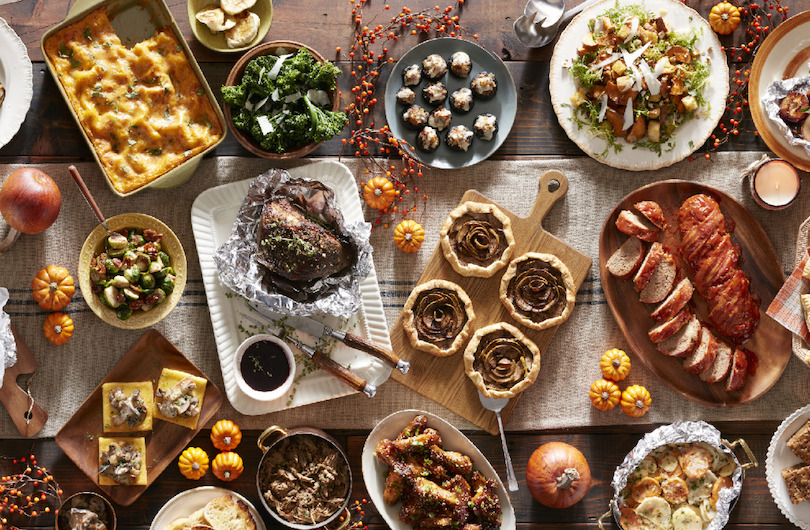 If you are not in the mood to prepare a traditional dinner, just keep everything simple this year. You can go for easy-to-make recipes. It is because it will save you time for decorations. And, when placed nicely on the dinner table, it will offer you make a perfect table setting. So, it is great for the holiday.
Easy Main Course:
* Turkey Roulade Three Ways
Easy sides:
* Brussels Sprouts Gratin
* Rosemary Monkey Bread Stuffing
* Sweet Potato-and-Cauliflower Salad
Easy desserts:
* Grape Slab Pie
* Also, some Pumpkin Cheesecake
6. Slow Cooker Thanksgiving Supper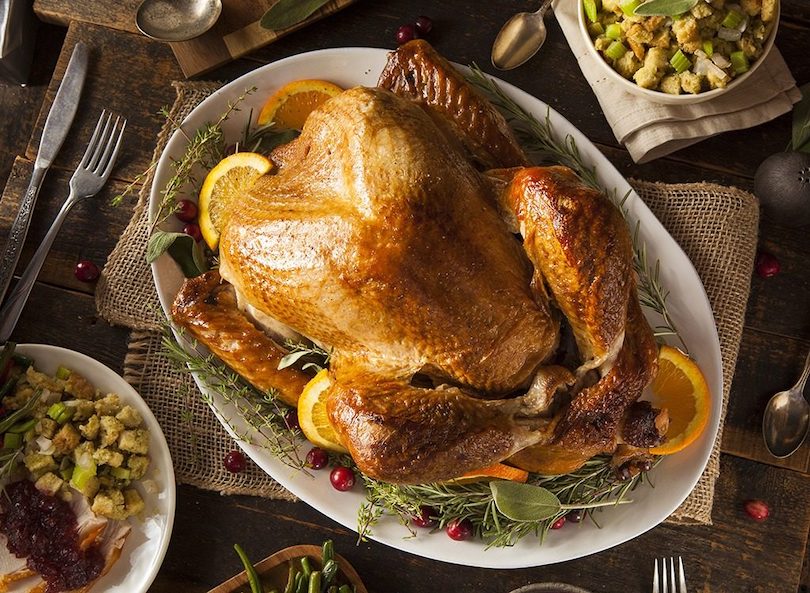 It may seem difficult, but you can prepare your Thanksgiving dinner in a slow cooker. Yes, you can even prepare turkey in it. But simply look for a very large slow cooker to prepare it. So, you can save your effort and time a little by preparing some given dishes.
Thanksgiving Main Course:
* Herbed Chicken With Brussels and Beets
Side dishes:
* Slow Cooker Stuffing
* Also, Slow-Cooker Green Beans Casserole
* Mashed Potatoes – Slow Cooked
Slow cooked dessert:
* Slow Cooker Applesauce Spice Cake
* Also, Pecan Bread Pudding – Slow Cooked
So, these are some amazing ideas to add some flavor to your menu on the special holiday. If you try any of these ideas. Also, don't forget to share with us your experience.