10 Grab-Worthy Black Friday Furniture Sales 2021
Have you been counting days to the Black Friday furniture sales? The early furniture deals are already unveiled on Amazon. You can see that even the renowned retailers are cutting down their prices for the big day.
Often known as the year's biggest shopping day, Black Friday is falling on Friday 26th November in 2021. Since Amazon has come up with early Black Friday deals, it's the best time to consider buying furniture pieces as well.
If you have recently moved into a new apartment or purchased a new house, you may experience how expensive home goods can be. But with the year's early Black Friday furniture sales going on at the moment, it's time to prepare your wallets for the purchase.
Here we have picked the 10 amazing Black Friday furniture sales to buy the best units without putting a hole in your pocket.
Have a look!
1. Glamorous Green Sofa – Black Friday Furniture Sales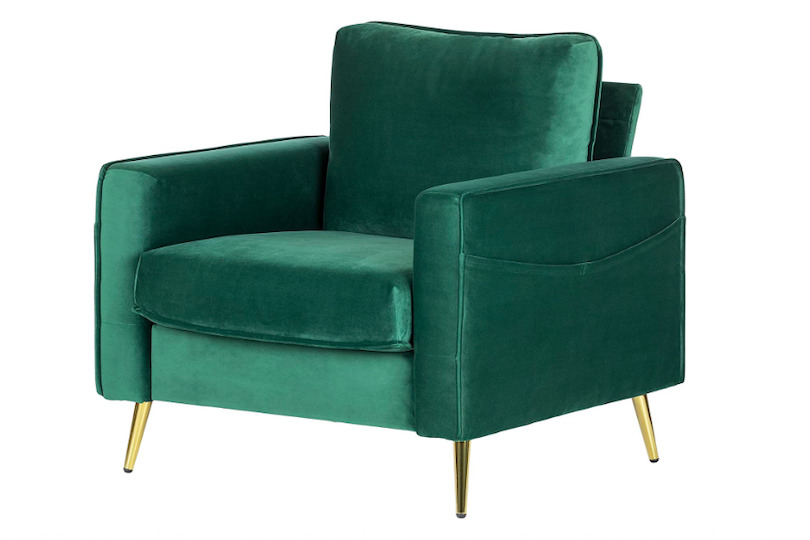 This is a perfect glam style plush one-seater in dark green color. The seat cushion of this stylish sofa is jam-packed with polyester, foam, and pocket coils. Plus, the back cushion comes stuffed with polyurethane foam and polyester. So, you can jump in and relax for as long as you want in this heavenly comfortable chair.
If you want to add an instant glam factor to your contemporary interior, choose this outstanding bold one-seater. We love its soft velvet fabric and perfectly angled metal legs. Overall, the sofa has a vintage yet chic appeal.
There are also two pockets on this green sofa. You can use both to store your remote, magazines, or other things you need while relaxing on it. If you want to see this amazing furniture unit in your house, get it on a great deal during Black Friday furniture sales 2021.
2. Outdoor Patio Furniture – Black Friday Furniture Sales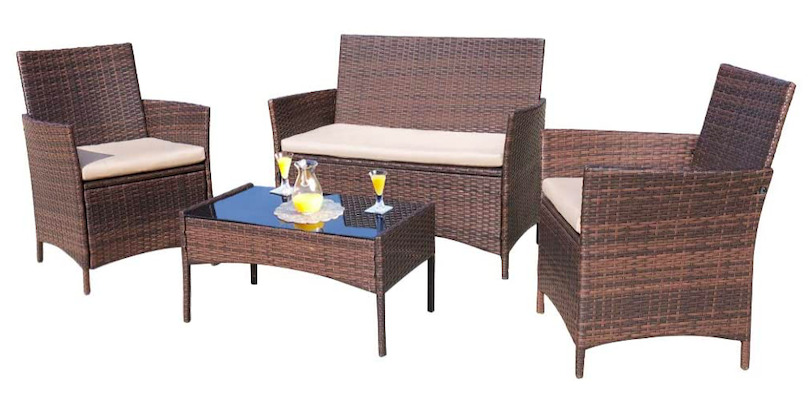 This wonderful four-piece outdoor patio furniture set has two single chairs, one coffee table, and one double chair. It's made of the best quality steel frame and comes covered with weatherproof PE rattan wicker. This ensures that the furniture unit is both lightweight and durable. Plus, its sleek and modern appearance goes well with any outdoor space. That too, without adding bulkiness to the given space.
It comes with a high-density thick spongy cushion that offers a comfy seating experience. It also has zipper-designed covers for cushions. So, you can easily remove the covers for cleaning. The four-piece furniture set also has a tempered glass coffee table for placing drinks, fruits, and foods.
The best part is that it is easy to assemble and it doesn't require any maintenance. Hence, perfect for busy homeowners.
3. Blackened Bronze Side Table – Black Friday Sales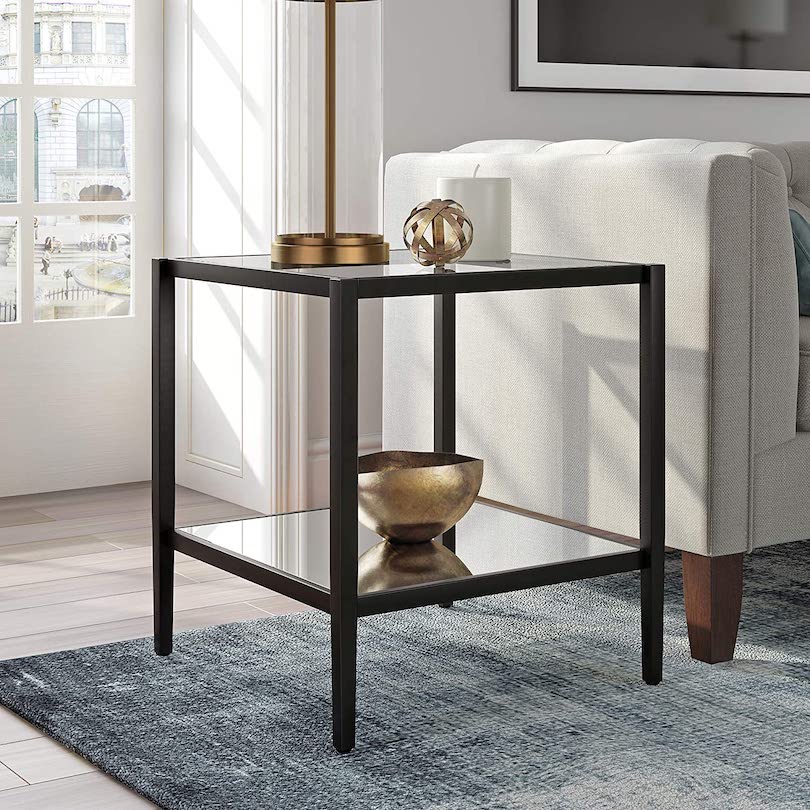 It is a Hollywood glam-influenced side table that's a perfect unit for your den ensemble or living room. The top portion of this unit is transparent with tempered glass. This glass is strong enough to place a table lamp, books, and remotes. There is also a lower mirrored glass shelf for playing off with the top glass.
The hand-crafted blackened bronze finish on the steel frame gives an elegant touch to this side table. Since the side table has a chic silhouette, it's neutral to work with any given space. Want such sleek yet elegant furniture for your living space? Grab it now during Black Friday furniture sales for great deals.
4. 4-Piece Sectional With Ottoman Set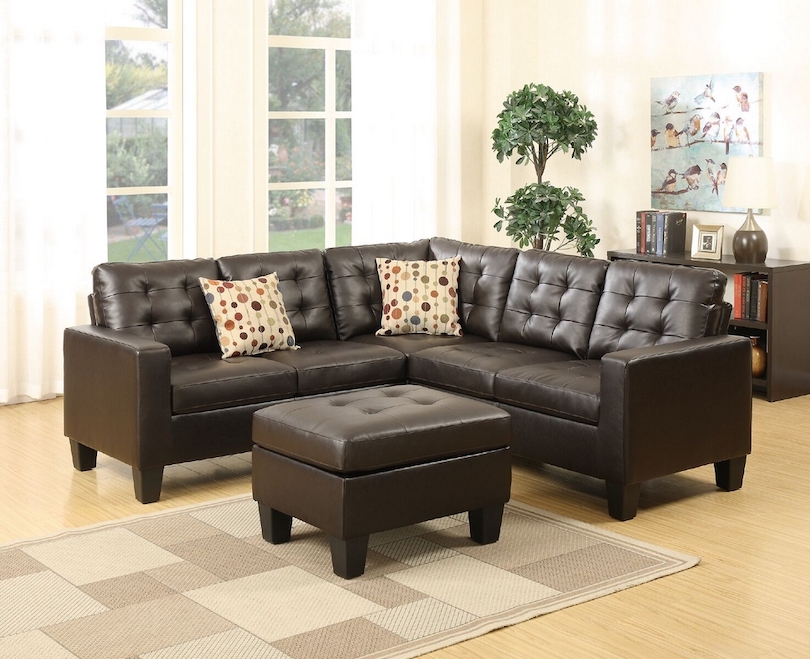 Combining the classic and contemporary design, the collection of 4-piece modular sectionals comes covered in bonded leather. With comfortable back support and plush seating, each piece comes accented with asymmetrical stitching and tufting for enhancing the living space.
You can enhance its look further with the placement of similar toned or contrasting accent pillows that match with the cocktail ottoman. The seat cushions are filled with inner springs and foam for better comfort and durability. Plus, the interlocking inserts keep all these pieces together.
It is now available at a discounted price during the Black Friday furniture sales on Amazon.
5. Storage Dresser Unit – Black Friday Furniture Sales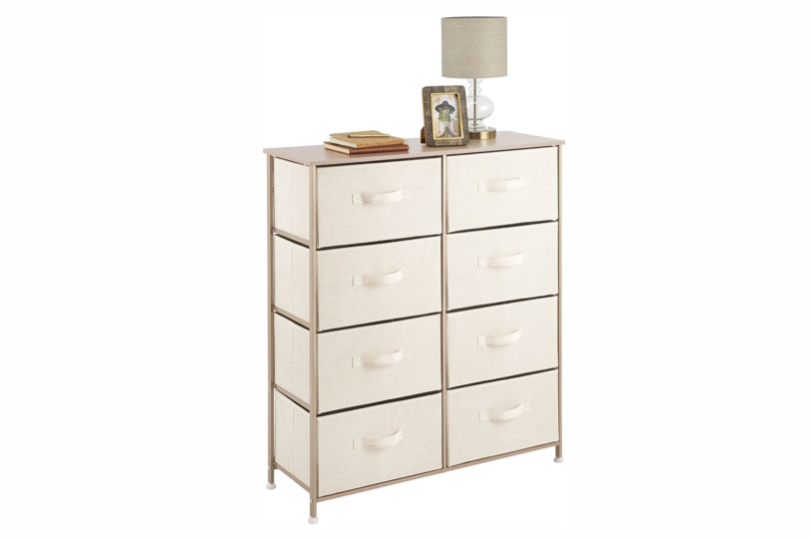 This sleek storage dresser unit boasts 8 removable drawers to keep clutter under control. You can use this unit to store your clothing and accessories in just one place. It is great for storing workout gear, linens, sweaters, yoga pants, leggings, and more. All thanks to its vertical design, it can easily fit in various locations throughout the home. You can use it as a nightstand for keeping an alarm clock, glasses, or journal at hand.
Due to its lightweight and slim design, you can easily fit it in any small space. Its wooden top is durable enough to hold books, lamps, and more. Plus, it includes generously sized removable drawers with easy-pull handles for making opening and closing easier. And, its plastic feet ensure that the unit doesn't scratch the flooring and they are also adjustable for crooked surfaces.
6. Mirrored End Table With Crystal Inlay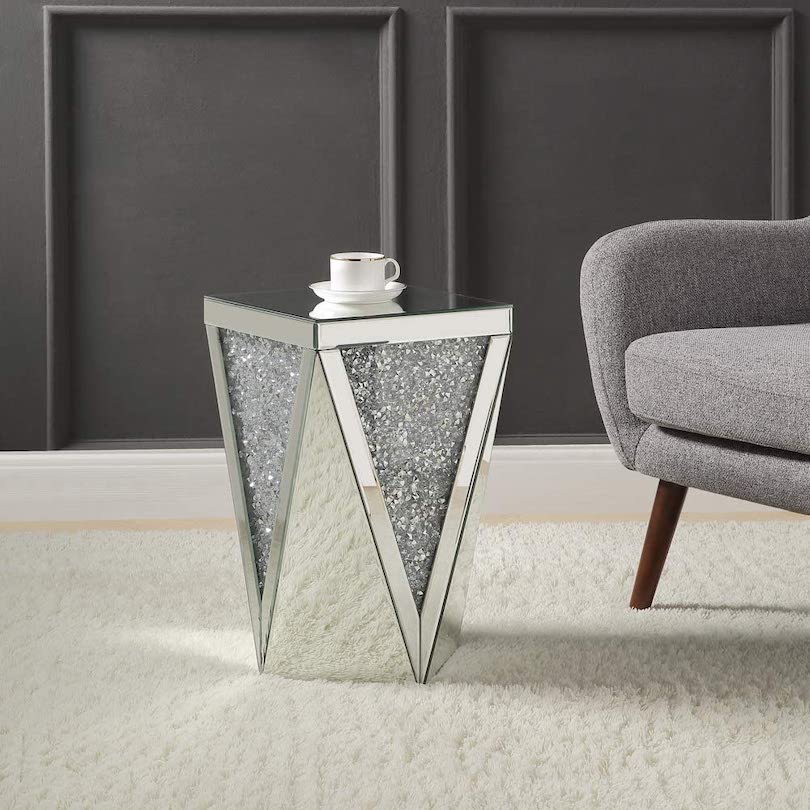 Add a little bling to your interior with this bright and shiny crystal end table. It is perfect for your living room, office, bedroom, and any other room. Its exquisite design makes it fashionable for any interior. The high-quality mirror covers the surface of this silver end table.
The clear reflective mirrored panels of the end table add dimension to any space where it's kept. The best part is that its mirrored surfaces are easier to clean and use. If you want to glam up your interior with this stunning furniture piece, consider purchasing it during the Black Friday furniture sales.
7. Coffee Table With LED – Black Friday Furniture Sales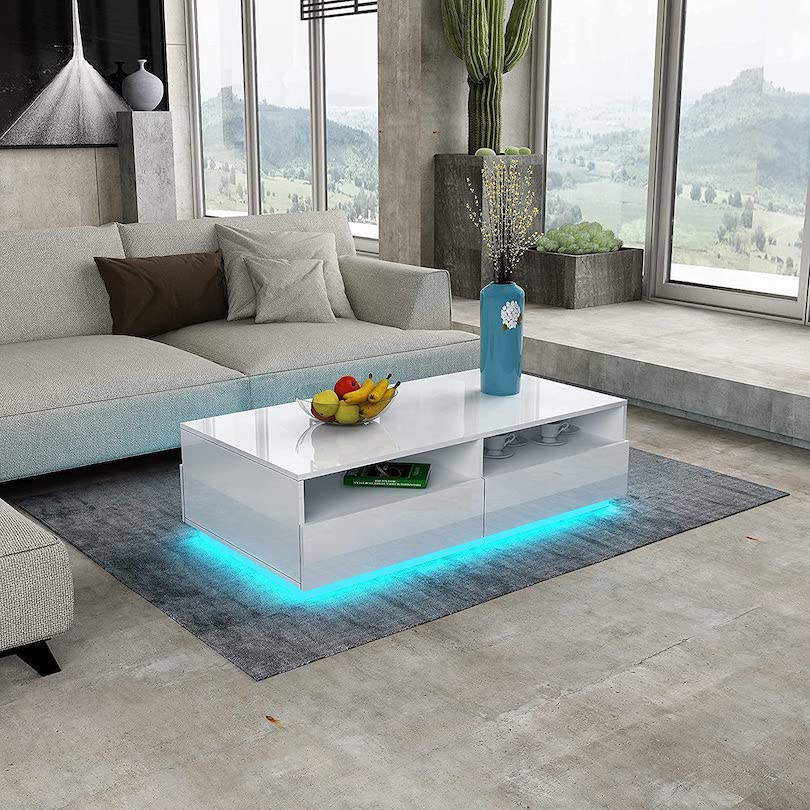 This is a modern wooden high-gloss coffee table with a bottom integrated with LED lights. These LEDs are easier to control by a wireless remote. It features four light modes and 16 different colors. So, you can set up any mode or color of your choice to enhance your mood. This makes this furniture unit a great object to enhance the atmosphere of the interior.
Besides enhancing the atmosphere, this side table also stores lots of home-related stuff inside. Hence, your living space will be well-kept and organized. There are two open shelves and four large storage drawers on this coffee table. This means that there is ample scope to store so many home stuff, including toys, books, remote control, and other stuff.
You can purchase this stylish coffee table during the Black Friday sale on Amazon.
8. Tree Bookshelf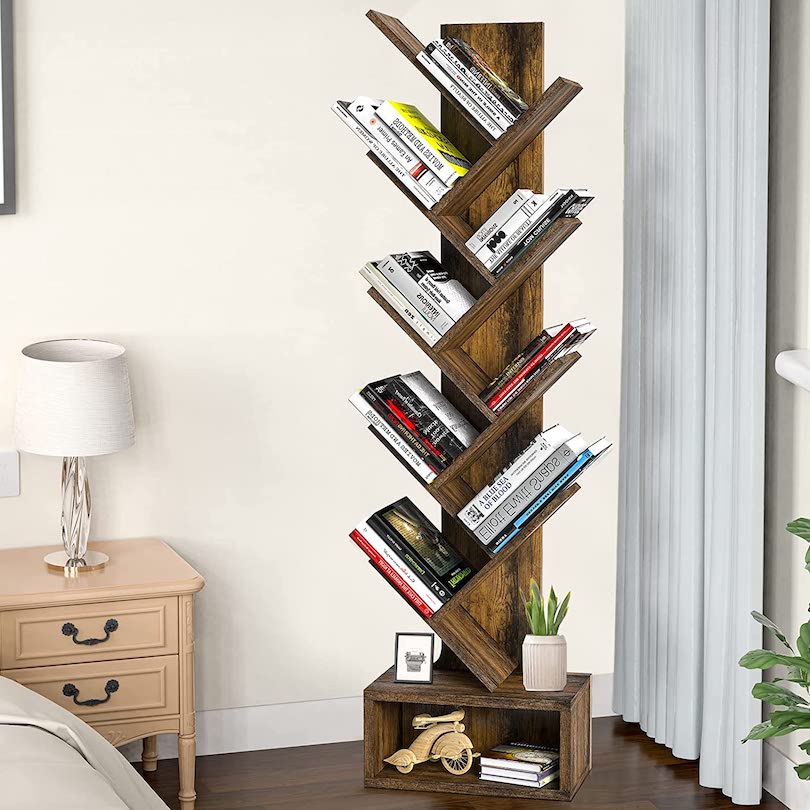 This 9-layer tree-like bookcase is another clever and interesting way to store items. It can hold around five books on each tray. There is also a drawer at its bottom to meet its storage needs. The reasonable height of this bookshelf enables you to access all the items at any time.
Furthermore, the back of this tree-shaped bookshelf is integrated with thick wooden boards. Each layer of the bookshelves come integrated with sturdy brackets. These brackets are at the right angles to another, making sure that the bookshelf remains stable throughout.
The best part is that its tree-shaped layout is perfect to adapt to any office or home interior. You may add some decor pieces to it to make your room appear more attractive. This bookshelf further adopts the famous industrialized aesthetic that's ideally integrated into any living room or office space.
9. Comfy Recliner Chair – Black Friday Sales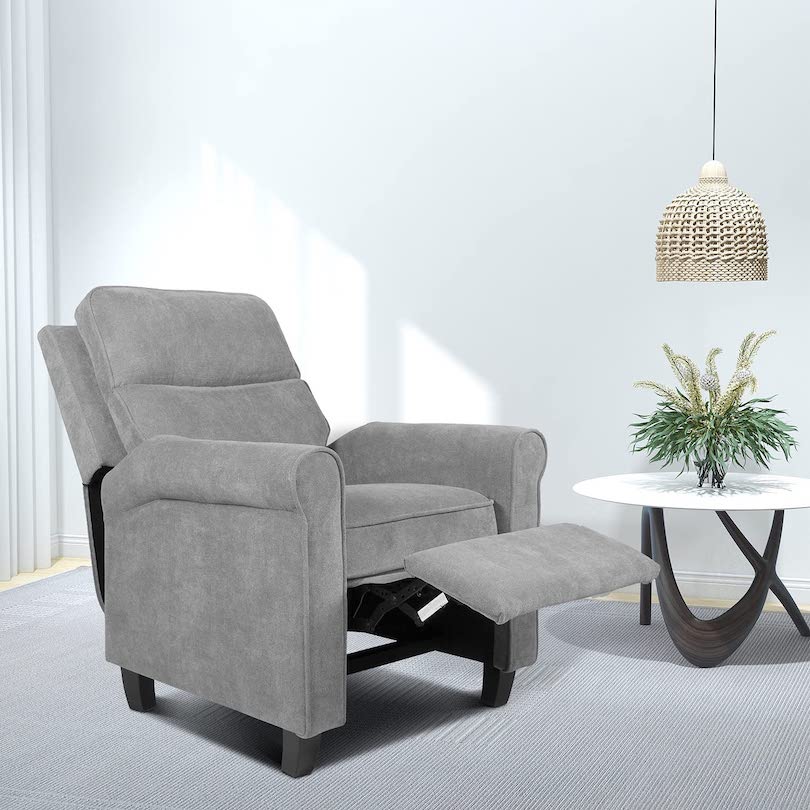 This comfortable recliner chair opens up a world of new opportunities for you for ultimate relaxation. Its adjustment mechanism is further very easy to operate. Simply push back its backrest to relax at any desired angle you prefer. This will help you get rid of all day's stress when you lay down on the chair with its dual-purpose foot extension.
The arms, backrest, and seat of this high-quality recliner chair are well-stuffed with a thick layer of sponge cushioning. Plus, it's covered with a skin-friendly and comfortable fabric, which makes the furniture unit appear more attractive and sleek.
With its wide armrest and high back, this recliner is your perfect leisure spot that's not only comfortable and relaxing. But it also goes well with any interior style. This single chair can withstand around 220 pounds of weight.
10. Shoe Storage Bench – Black Friday Furniture Sales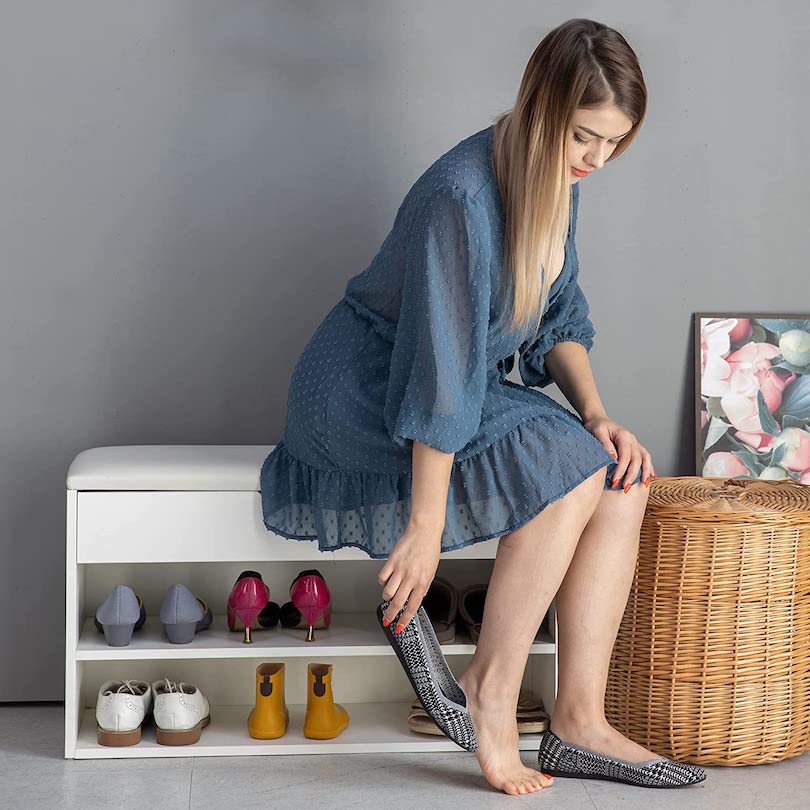 Need a storage unit for your shoe collection? Have a look at this two-tier shoe bench that's able to hold around six to eight pairs of your favorite shoes. Its top drawers offer you enough storage space for shoe cleaning kits, keys, newspapers, socks, and other sundries. You can also make sure of the seat of the bench while wearing your shoes or waiting for your cab to arrive at your doorstep.
The bench seat consists of a comfy leather cushion. Further, its body is of warp-resistant particleboard that offers strong and long-lasting construction, without a wiggling action. This shoe storage bench is a perfect fit for even the narrow hallways, entryway, foyer, living room, entryway, etc. It takes very little space while keeping shoes well-organized and protecting them from any mess or wear-and-tear.