20 Bathroom Design Ideas That Will Make You Stay Longer in Shower
Are you considering giving a new look to your bathroom? There are several ways to do so – from minimalist space-saving designs to classic, decorative bathroom interior styles. When looking for new bathroom design ideas, you need to keep in mind that modern bathroom styles vary. They vary from strategically installed clawfoot tubs to cozy shelving corners.
But you need to choose the best elements that suit your personal requirements. Be it small bathroom remodeling ideas, master bathroom design ideas, or simple bathroom renovation ideas, we have got you covered. After all, bathroom is a place that's easy to form as per its best potential. It means you can bring out the best of this space with creative design elements. For instance, luxe lighting, gorgeous bathtubs, stylish hardware, decorative mirrors, and more.
When planning to design a new bathroom, leave no stone unturned to help you add personality to the given space. This is how you'd be able to give an extra edge to your bathroom space while making it feel exquisite. And, we won't blame you if you'd start spending more time in your bathroom and are not willing to come out.
20 Bathroom Design Ideas That Will Make You Stay Longer in Shower
1. Avant Garde Edge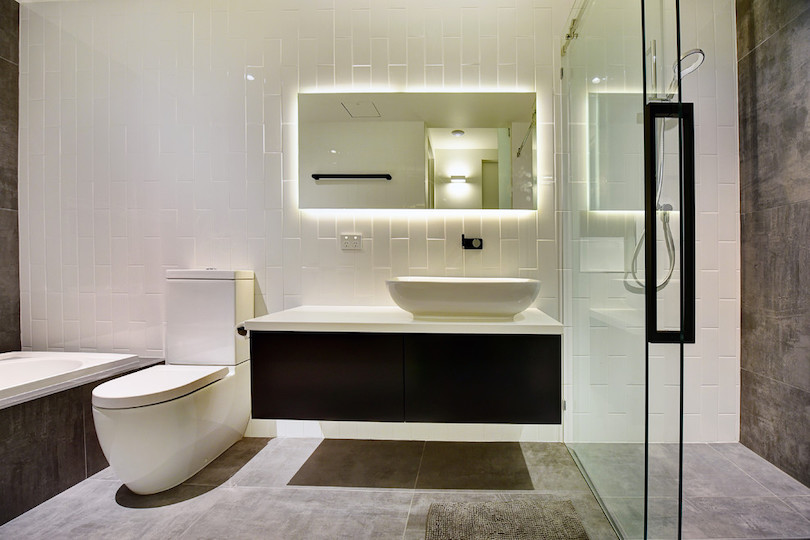 While a well-maintained, spot-free bathroom makes a great spa-like space for relaxing, there is something special about a space that oozes an avant-garde edge. Such interior is not only Instagram-worthy but also able to bring out a unique sense of style and personality. White or neutral walls corresponding with black cabinets or floor tiles make it a perfect setting for self-care and relaxation. Plus, it makes a place for streamlined mirrors and other decor pieces.
2. Decorate With Ethereal Aesthetic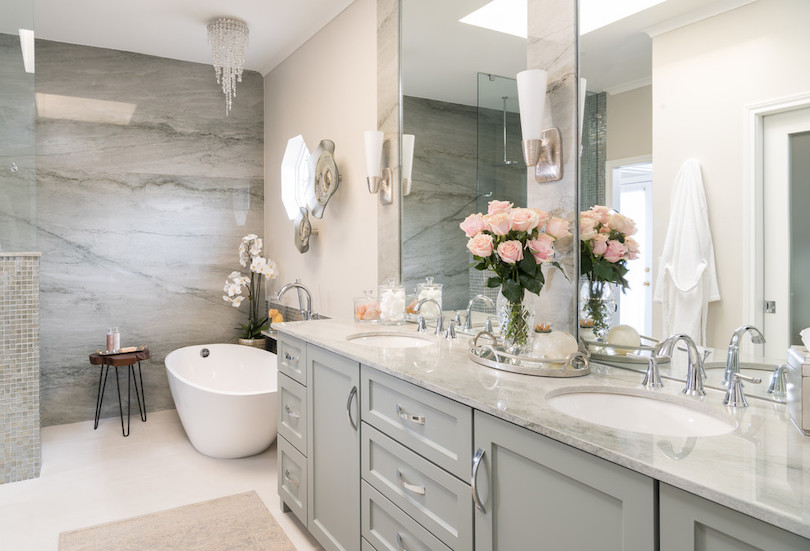 From glossy white flooring and freestanding bathtub to the chandelier, every last detail in this stunning bathroom speaks about its ethereal aesthetic. The real aesthetic statement is easy to create with pink flowers in a vase. It brings the unexpected nature to this minimalist space. Furthermore, the glass bath accessories continue to add a glamorous touch. Meanwhile, the bathroom plant takes a relaxing vibe to another level. When you soak in the tub and close your eyes, you might forget everything and get into the world of imagination.
3. Select Unique Finishes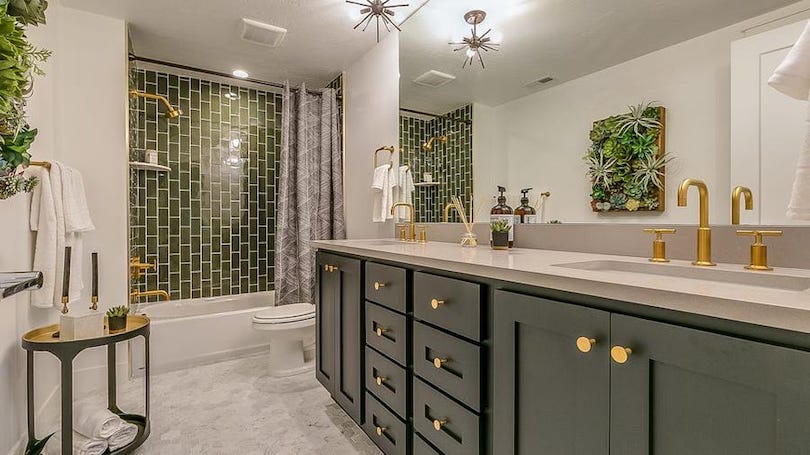 You may consider adding unique finishes to your bathroom design to make it appear extravagant and stylish. Simple marble flooring, green tiles on one wall, and plant arrangement hanging on another wall make the space more inviting and romantic. Plus, the clean metallic hardware and white walls keep this bathroom subtle with a bespoke twist of personality. So, it becomes the right place to relax and cleanse your body without any distraction.
4. Play With Dimensions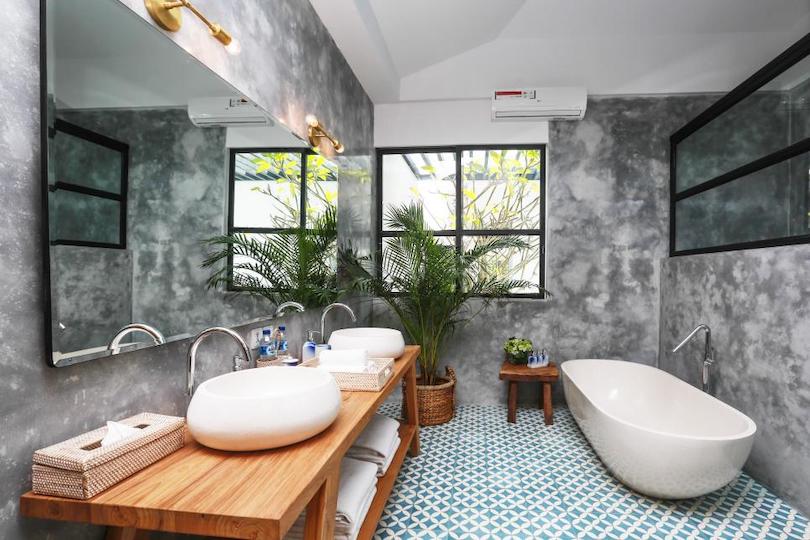 Notice how every element in this bathroom is exclusive in its style, shape, and size. The bright white oval tub and round basins have a modern, clean feel. But the big plant in the corner and golden delicate overhead lamps bring out a bold touch of beauty of elegance. These elements have an interesting mix of dimensions – with the tub on the ground blending with white sinks and the contrasting patterned flooring drawing the eye down to an emphasis on its exquisiteness.
5. Add Charming Blue For Bathroom Design Ideas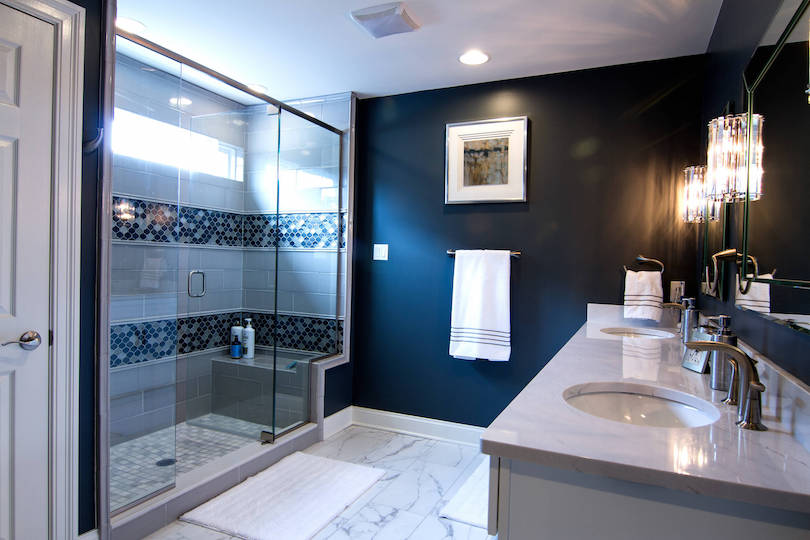 This bathroom design proves that a bathroom does not have to be big to give a spa-like vibe. The use of white accents from the countertop and flooring amplifies the feel of this space. And, the shower area brings a unique sense of luxury due to sleek fittings. Furthermore, the deep blue wall paint grounds the vibrant design with a cozy yet inviting vibe. Plus, the wall lamps add warmth to the overall design.
6. Glamorous and Sleek Bathroom Design Ideas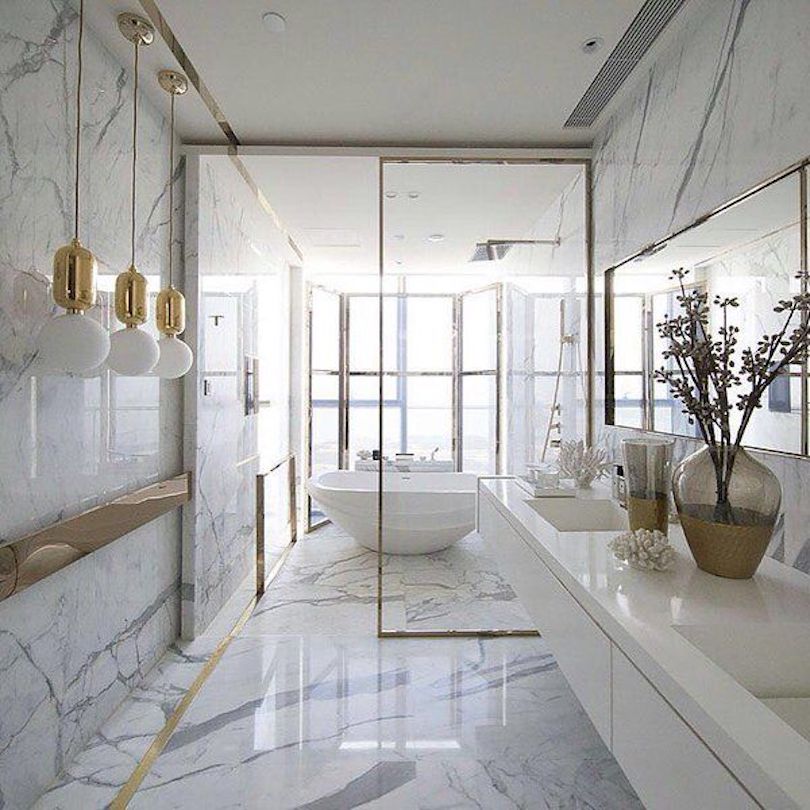 What appears sleek and glamorous to some may look stark to someone else. But this luxe bathroom brings out the best of contemporary and minimal feel without losing its feel. If you're high on sophistication, you can add golden accents with decorative pieces, like vases, or lamps into your bathroom. The combination of white and gold is regal and instantly brightens up a space. This is one of the easiest ways to decorate a bathroom without feeling the need to decorate it more. The glass partition with golden edges also adds a stylish touch to the given space without cutting the area in half.
7. Choose a Specific Color Scheme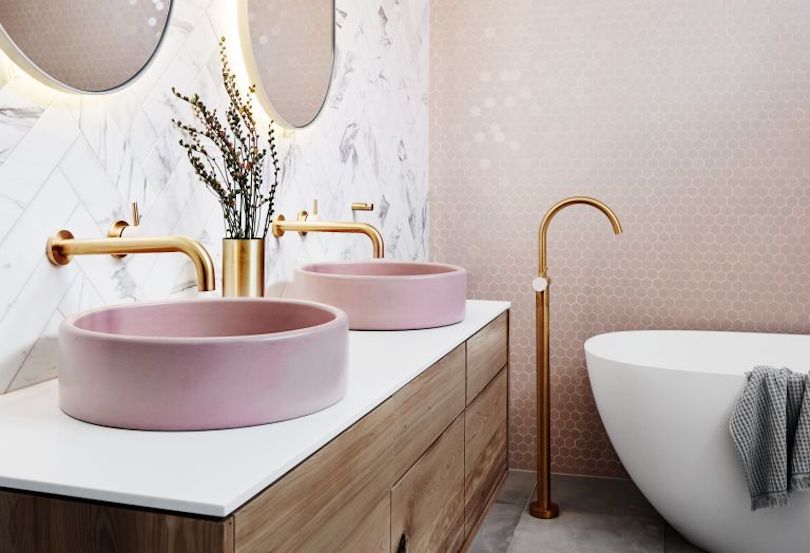 For more stylish bathroom design ideas, you can choose a specific color scheme. From the pink-tiled walls and pink round basins to gold-plated hardware, this bathroom boasts a perfect interplay of modernity and playfulness.
The terrazzo grey flooring adds a boost of a different hue to the space while giving an artsy vibe to the given space. Furthermore, the wood cabinetry exaggerates the clean lines, adding personality to the given space without going overboard.
When selecting cabinetry, you can even opt for cuts of wood for boasting natural grains for adding a dynamic visual interest to the bathroom design.
8. Mix Modern Elements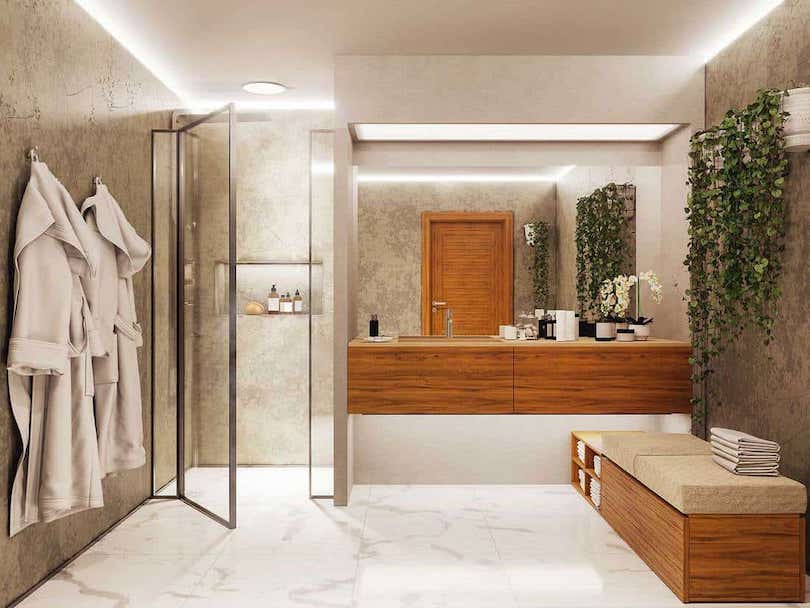 This sleek shower area is well-suited for this bathroom design with its streamlined and clean shape. With the use of marble walls and flooring along with wooden counters, this bathroom boasts a charming cusp of traditional and modern. The built-in wooden cabinet storage is best for keeping bathroom accessories while keeping the area clutter-free. Hence, it looks easy on the eyes. Meanwhile, the ceiling lights add a dynamic touch to the given space.
9. Incorporate Different Materials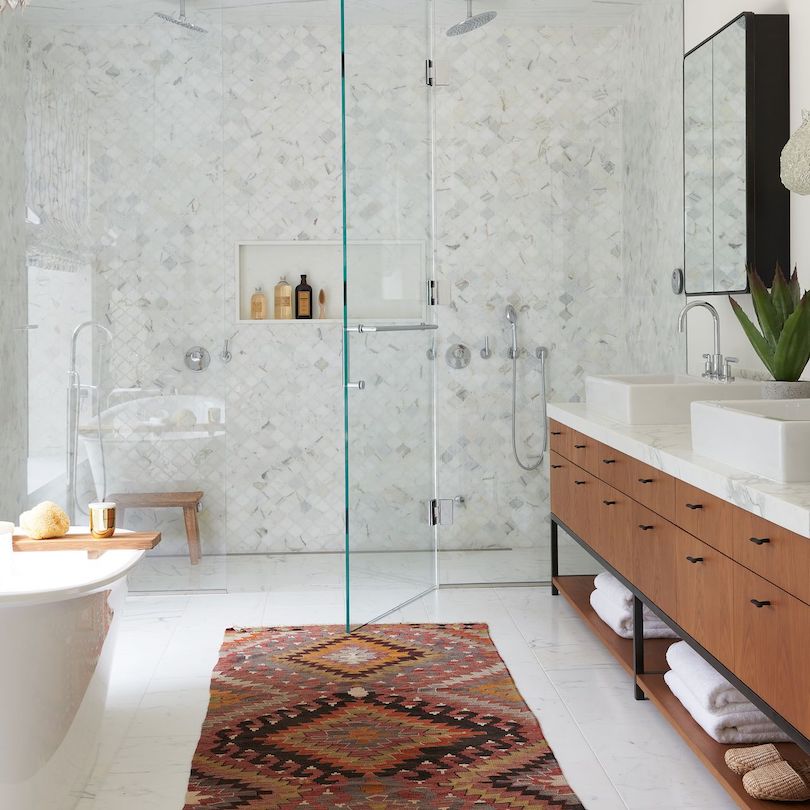 For exquisite bathroom design ideas, you can consider incorporating different materials in the given space. With the blend of different materials, this bathroom space appears far better than any spa. The printed rug adds an element of interest to the otherwise simple design of this bathroom. Plus, the beautifully tiled walls and flooring make the overall modern design stick to its airy, clean appeal.
10. Functional & Stylish Matte Black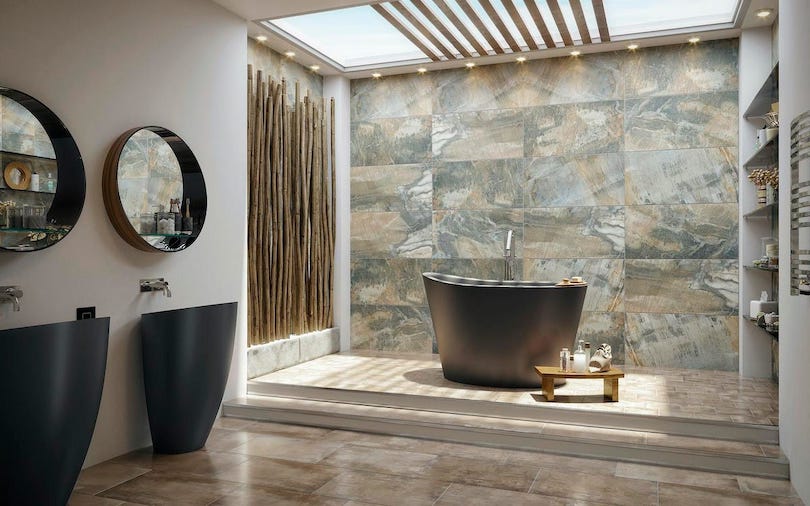 Have a look at this cocooning freestanding tub that matches with similar-styled sinks in this dark-themed bathroom. This is one of the best bathroom design ideas to add a minimal and simple appeal that serves both functional and stylish purposes. Another element of interest in this design space is the wall containing different wooden sticks.
The also a small wooden stool near the black tub, adding an assertive and contemporary feel to the given space.
11. Historic-Style Bathroom Design Ideas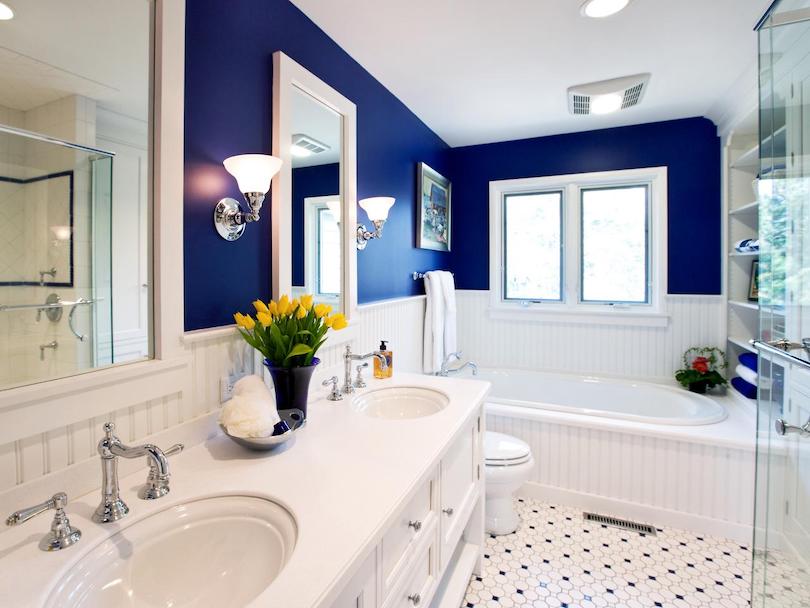 How about historic bathroom design ideas? Have a look at this stylish bathroom with some architectural detailing to make this interior align with the character of the rest of your home. The blue walls, classic lamps, and classic-styled hardware and accessories complete the space. This bathroom style is perfect for a home with a cozy and inviting vibe. Even the bathroom carries the same appeal.
12. Spa-Like Bathroom Design Ideas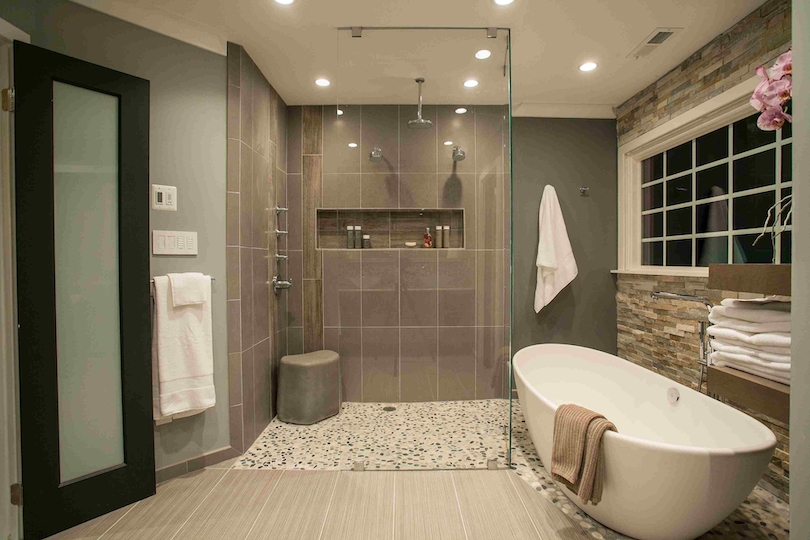 Want to have a spa-like vibe in your bathroom? Consider this bathroom design idea that has a sense of function and style. It is also very easy to set in a limited budget, as the bathroom area is not too large.
The overall dark beige theme along with a white tub and other amenities make it a high-end bathroom. But to stick to your budget, you can select high-end materials with affordable ones. Hence, you can create a stunning bath retreat with updated style and a lot of practicality.
13. Elegant Bathroom With a View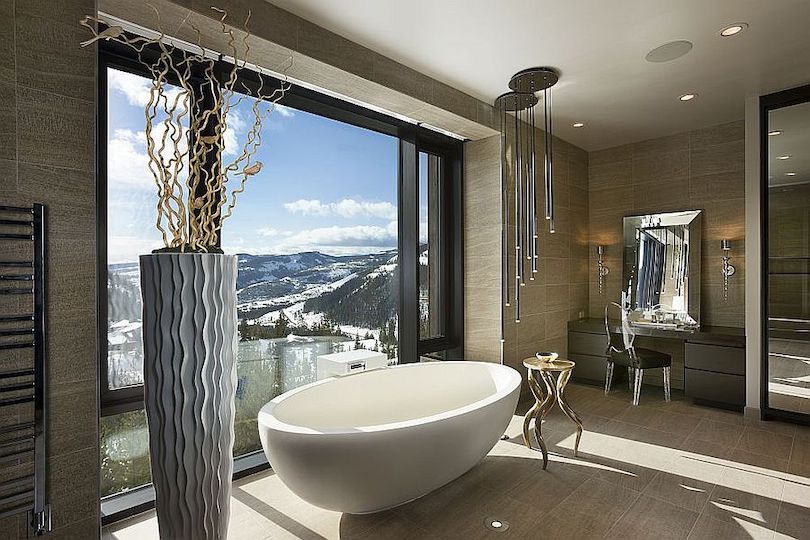 Have stunning landscapes around your house? If so, you must consider bathroom design ideas with a view. Consider installing a bathtub or shower near a huge glass window that offers unobstructed views of the surroundings. There is also a vanity with a chair to dress up in this bathroom. So, you don't have to step out for getting ready after a relaxing bathing experience.
If you want more privacy, you may consider adding blinders or frosted glass to the glass window. For storage, you can use the other wall of the bathroom. So, everything is easy to sort in this one space.
14. Create Zen Vibe in Your Bathroom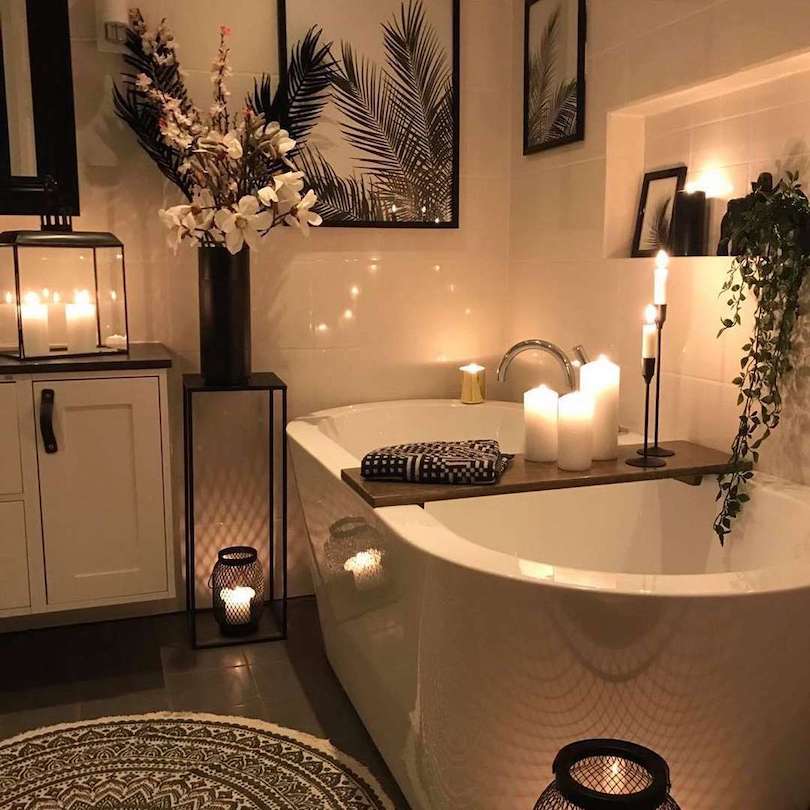 When it comes to contemporary bathroom design ideas with zen appeal, such particular interior styles are the best to create a peaceful oasis. It is easy to create a zen vibe in a neutral-themed bathroom by adding a few candles, lamps, and plants.
When you step into this bathroom design, you'd feel as if you have entered a heavenly place. And, you surely would not want to leave this place even after a nice bathing experience.
15. Black and White Bathroom Design Ideas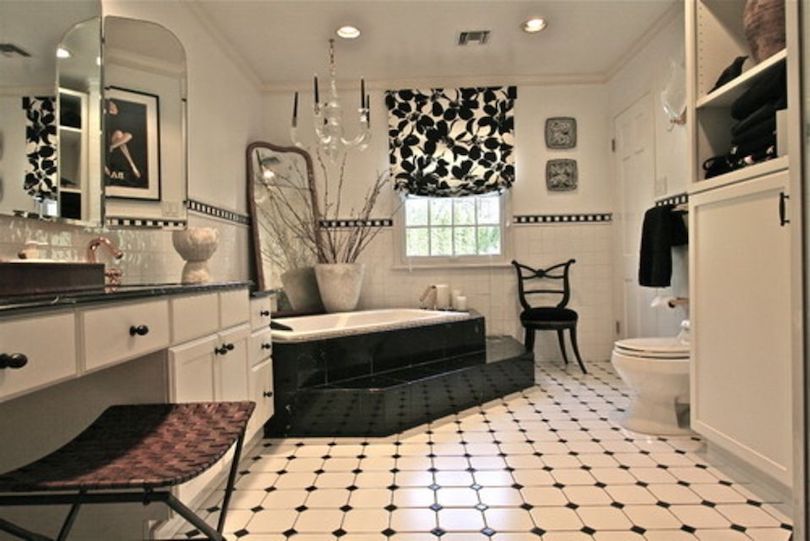 How about the monochromatic bathroom design ideas? Such designs are ideal to create a sleek and sophisticated master bathroom design. The highlight of this bathroom design is its bathtub with a white interior and huge black steps to enter inside.
The rest of the area is also decked up in stark contrast to the back and white backdrop, along with similarly themed accessories. Hence, you can create a bold yet calm atmosphere in such a black and white master bathroom design. It is a perfect place to relax after a tiring day.
16. Open Up the Shower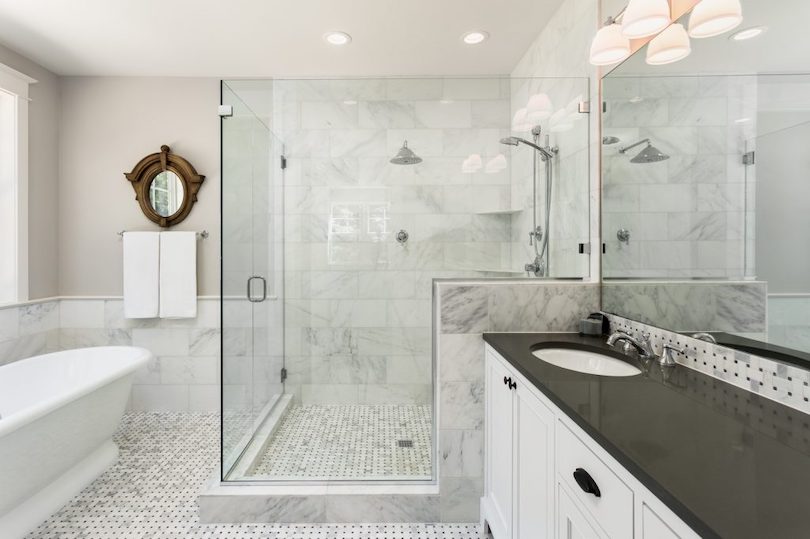 Are you planning to renovate your existing bathroom design? Consider adding an open shower into your bathroom. It will make the given area more spacious, as the shower will seem to blend effortlessly into the given space.
With a small step to enter into the shower area, you can easily enjoy the ultimate bathing experience. With the choice of similar toned wall tiles throughout the bathroom interior, you get a cohesive vibe.
17. Island Bathroom Vibe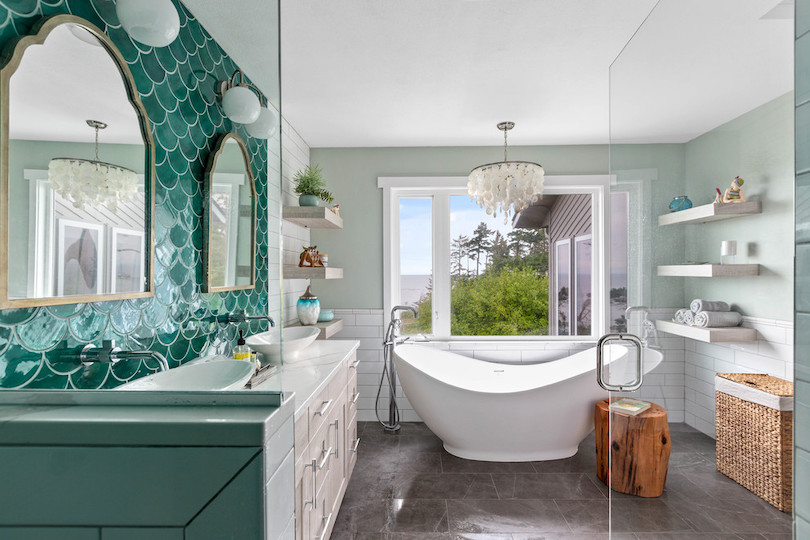 Love to live by the beach or want to live on an island? Why not add a similar vibe to your bathroom? You can create an island bathroom feel by adding the elements that remind you of a breezy island.
From the curvy bathtub near the window and a wooden stool to deep green mermaid tiles, every detail in this bathroom reminds you of an image that takes you to a far-away island. Even the weaved storage basket and shell-like chandelier on the ceiling create a gorgeous picture of some coastal region in your very own bathroom.
18. Classically Edgy Bathroom Design Ideas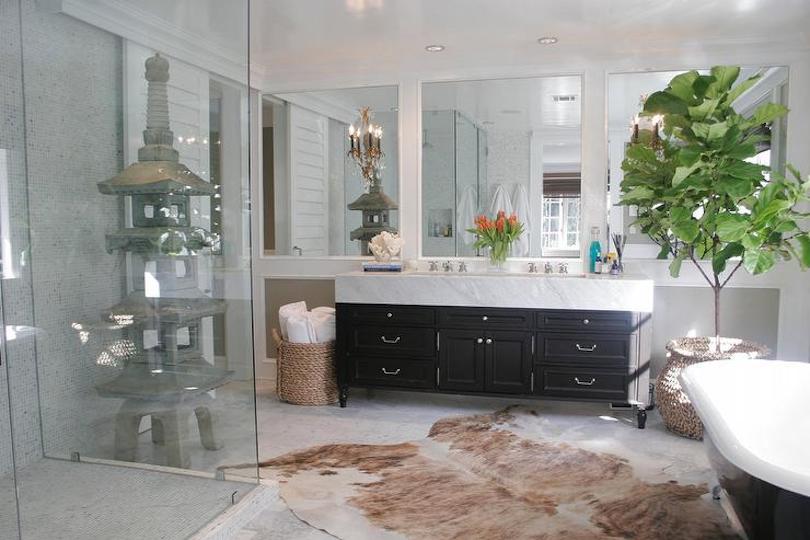 You can create such classically edgy bathroom design ideas by adding a unique element to the bathroom. For instance, you can add a furry rug to add some edgy vibe to your classic bathroom design.
Even fresh roses are great for adding into a space for bringing a sense of romance to the given space. It will make you want to get into the bath for unwinding after a long day.
19. Boho-Themed Bathroom Design Ideas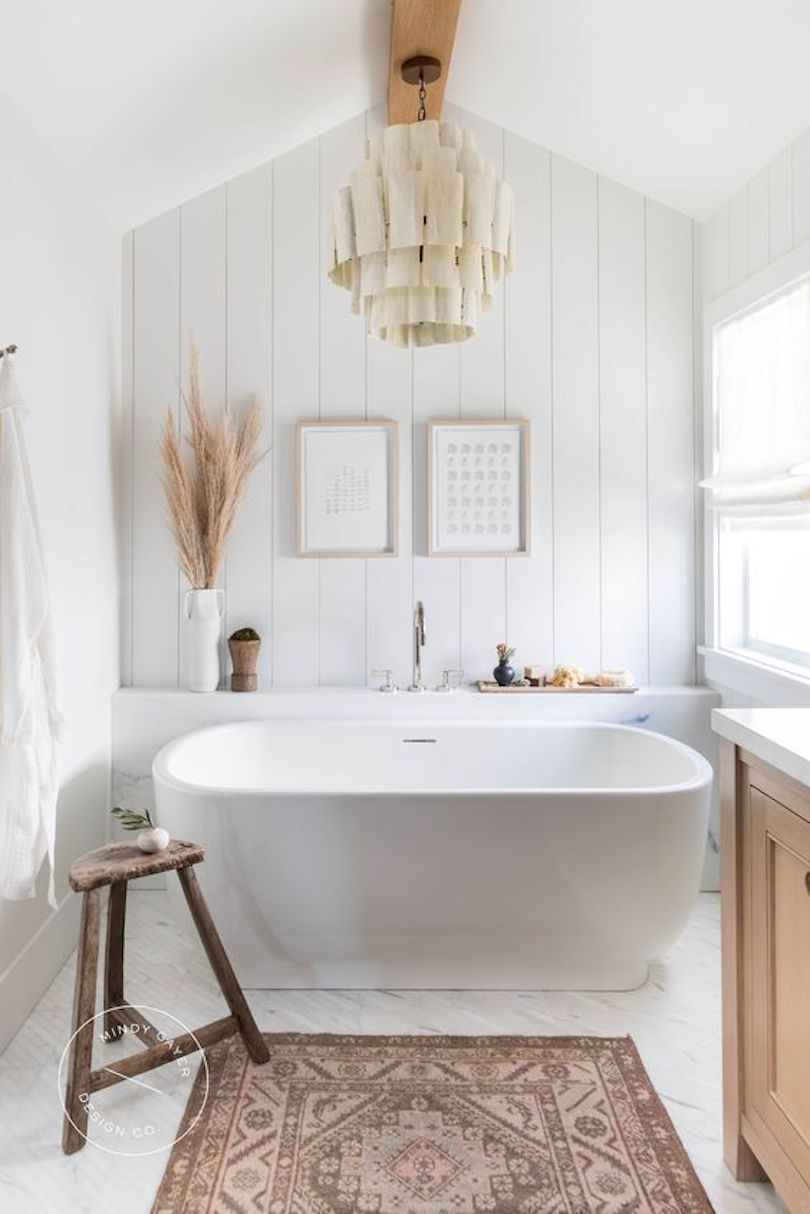 Are you a fan of elegant bathrooms but don't want them to appear too sophisticated? Bring some boho pieces into the interior. For instance, you can add woven pendant lamps over the tub and let the natural elements shine through, such as dried leaves or stems in a simple or earthy vase.
For visually separating different sections, you can design the interior with tile floors, add a rug, or place some other contrasting elements that distinguish different areas.
20. Take a Linear Approach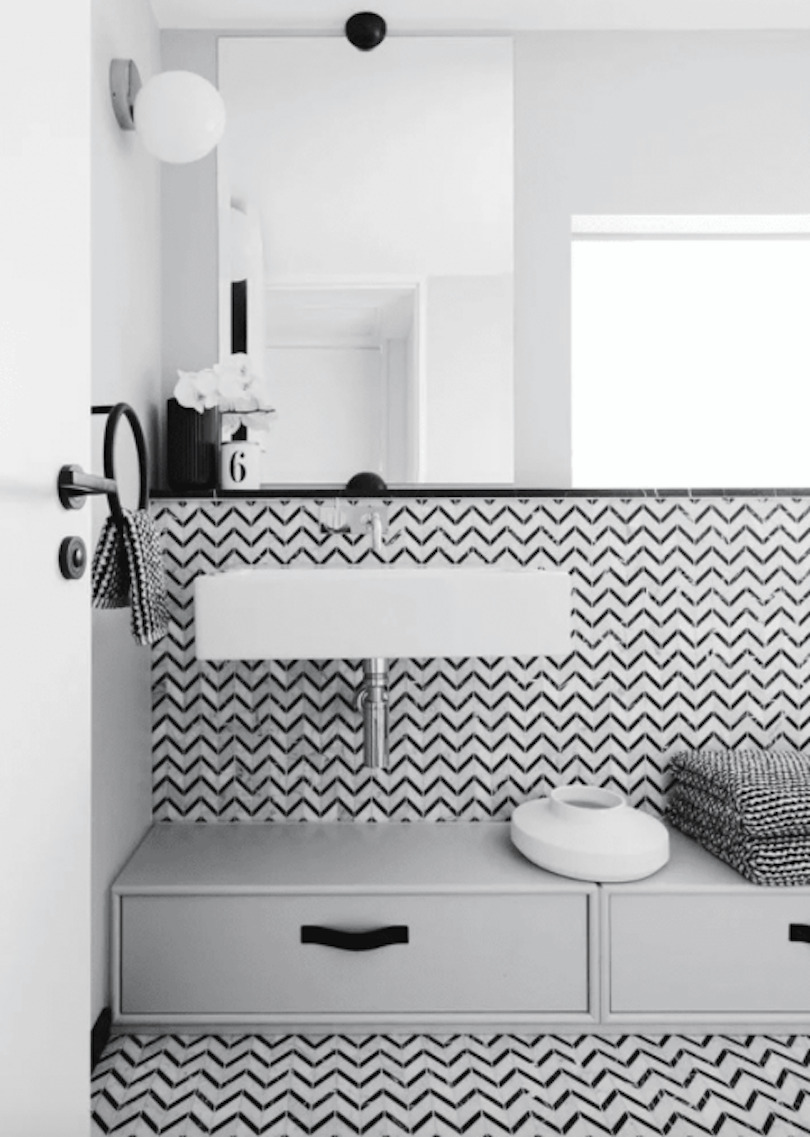 The zigzag backsplash in this bathroom will give a hypnotizing yet fun touch to your bathroom. Another element of interest in this bathroom area is the leather handle pulls and the gray walls. Each element in this bathroom design works so well together to form a cohesive and gorgeous design.
Even the minimal colors add another highlight to the given space, adding more attention to the shape of the overall room. Plus, the linear lines and zigzag pattern are also inviting addition to this streamlined bathroom design.