Amagansett Modular Home Made From Six Shipping Containers
US studio MB Architecture used six shipping containers to build this airy black holiday home in Amagansett, New York. This 1800-square-foot Amagansett Modular home is constructed to be the weekend residence for a client on a wooded site in the hamlet on Long Island's south shore.
Constructed for a family with three kids, this shipping container home is contrived in a limited budget while exploring unconventional building methods and materials. For cutting the cost, MB Architecture has used shipping containers for constructing a two-story, boxy structure that was prefabricated off-site and later assembled on the site within two days.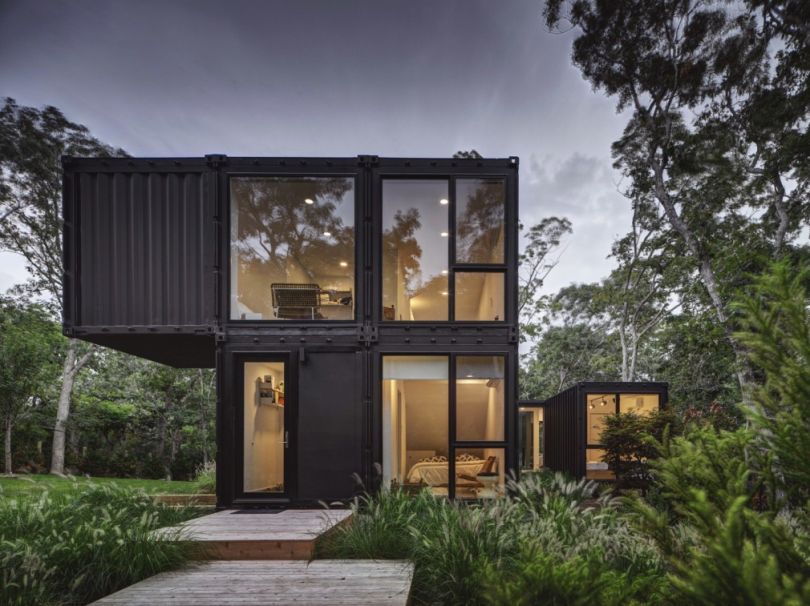 According to the studio, the simplicity of spatial materials and layout were sought for yielding uncluttered and compelling rooms within the set budget. The architects used the rectilinear geometry of shipping containers. Plus, their inherent structural strength guided room and structural requirements.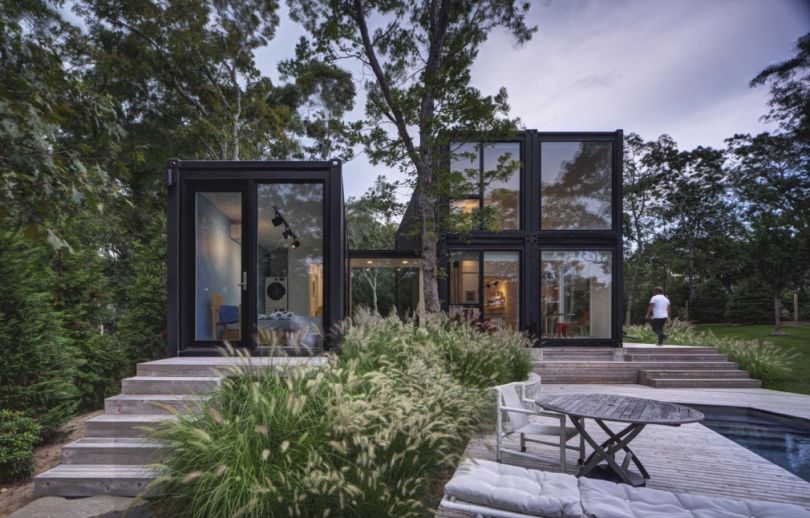 The house includes four volumes, which measure 40-feet long and 8-feet wide. The two units are stacked on top of one another and further a portion of the internal walls and base is cut out for enabling 17-foot-high ceilings for the perfect open-plan interior. The tall windows from both ends enable ample light to get into the interior while making the space more open and airy.
Interior walls are dominated with white paint and complemented with whitewashed hardwood flooring. The ceilings on the front section are cut away to open up the lower level to the floor of the upper level.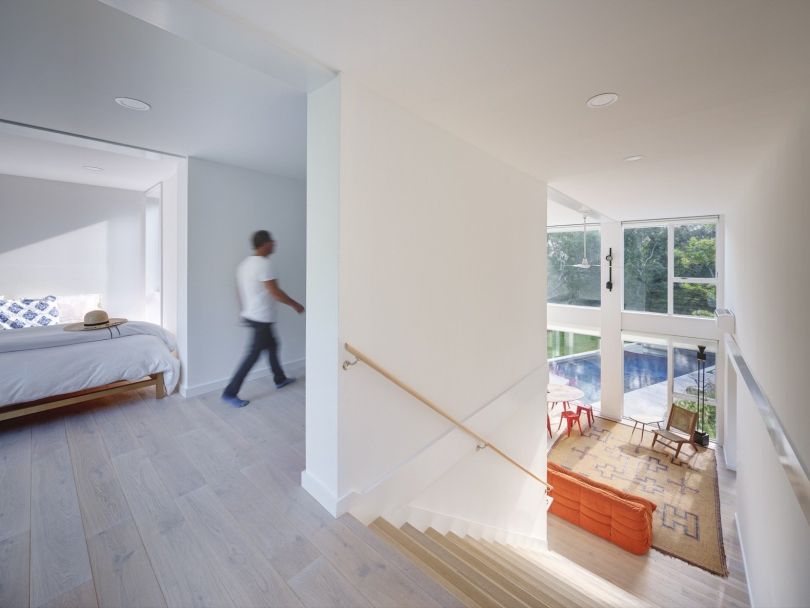 The bedrooms are included in the two additional units, along with a cantilevered volume attached to one of the upper containers for extended from the lower portion. Moreover, a walkway is attached between the main house and the other section of the house.
Within the house, here's a wooden staircase that occupies the complete width of one container for forming steps facing towards the backyard pool and patio. The studio terms this as an "amphitheatrical room".
The staircase leads down from the house to the geometric pool. The small patio includes white lounge chairs and a black round grill to relax with the family while preparing food. For more information, visit the studio's website.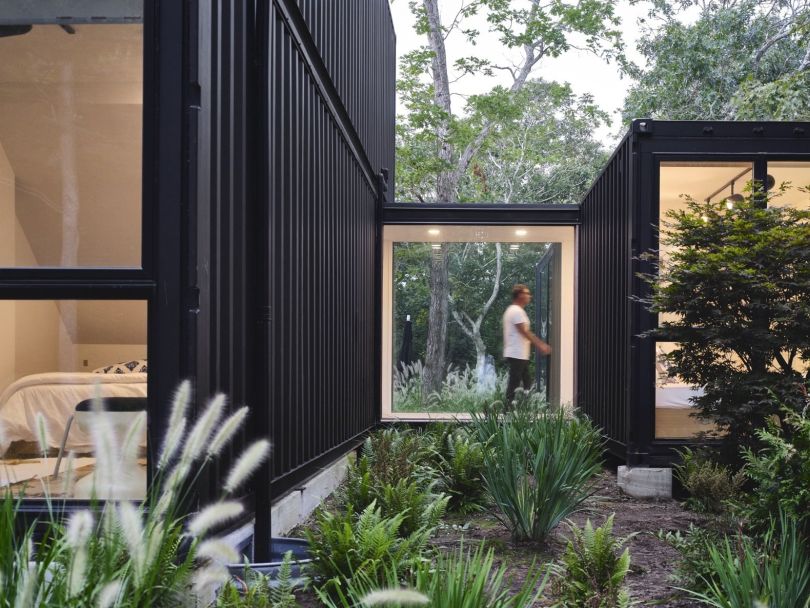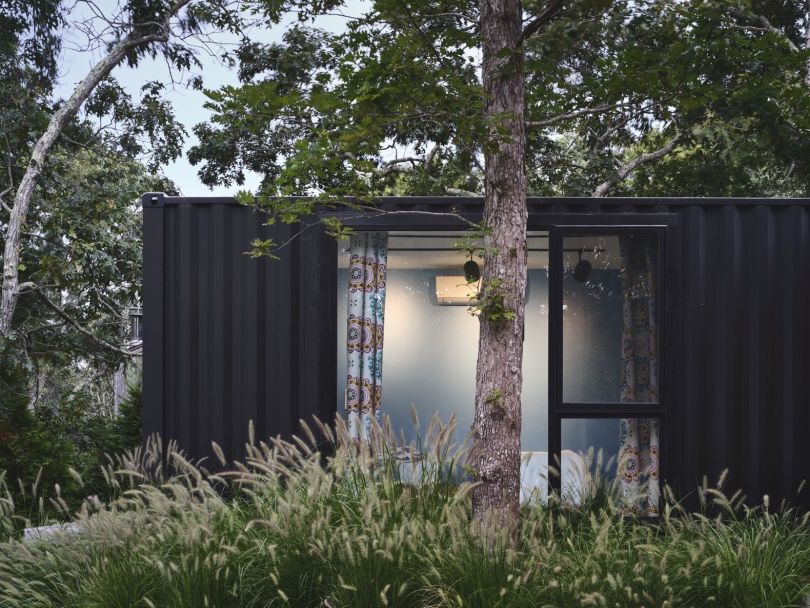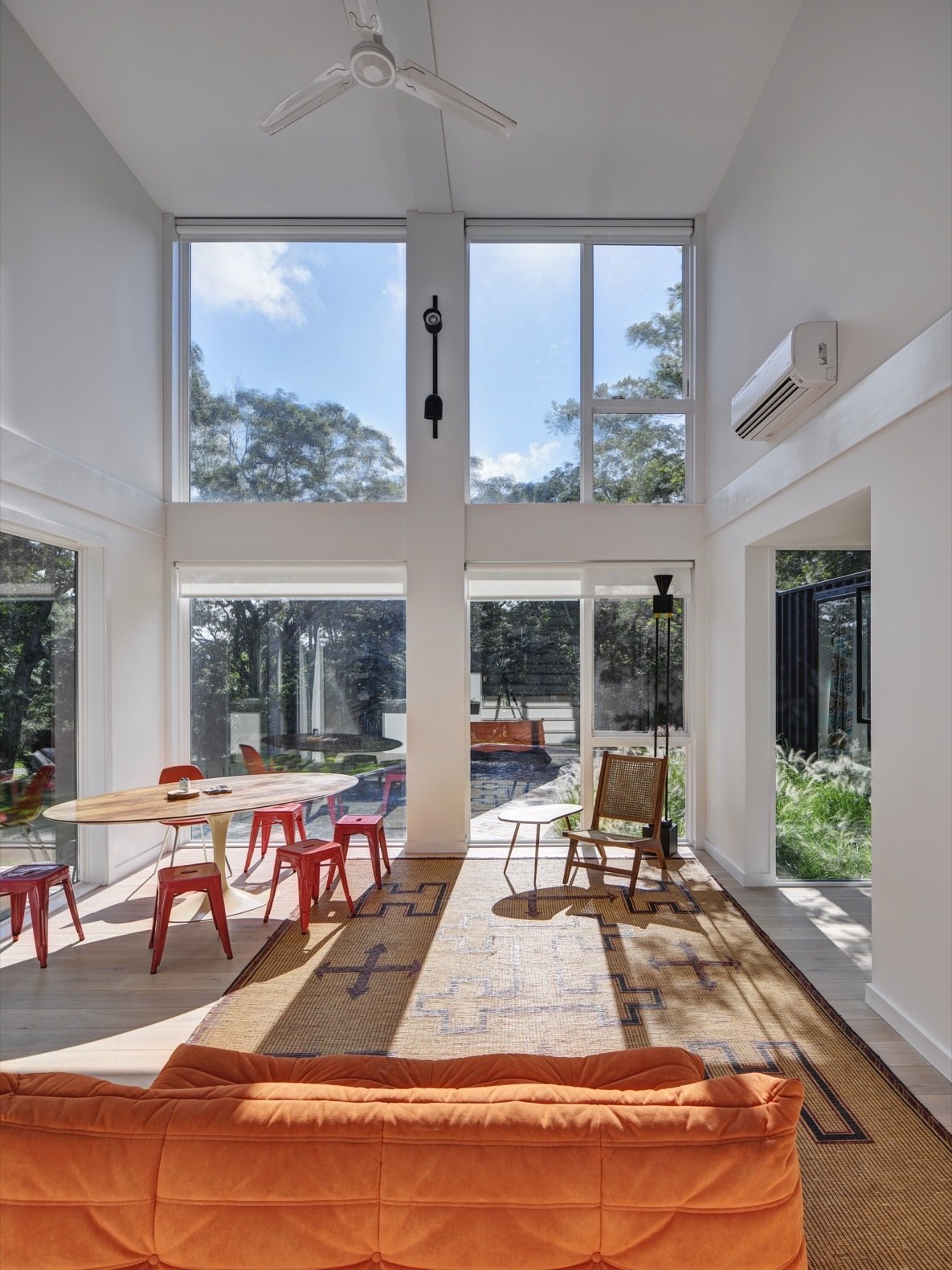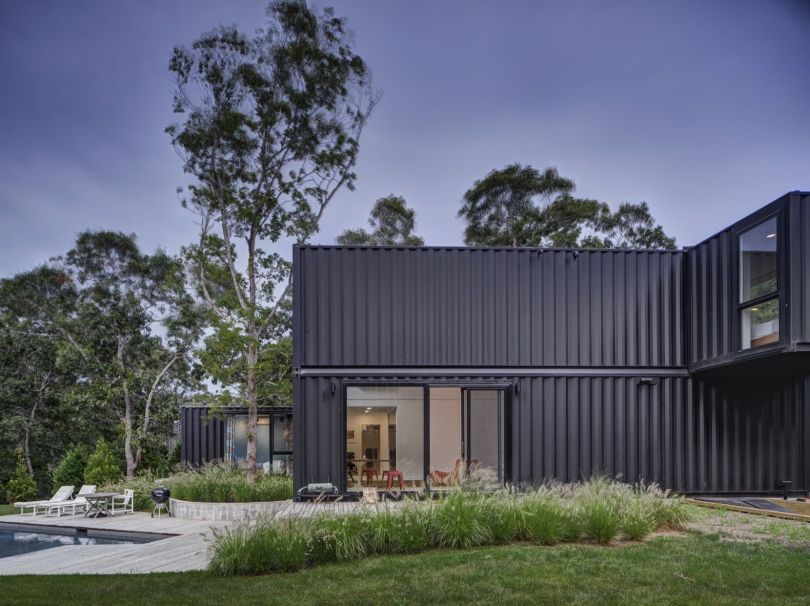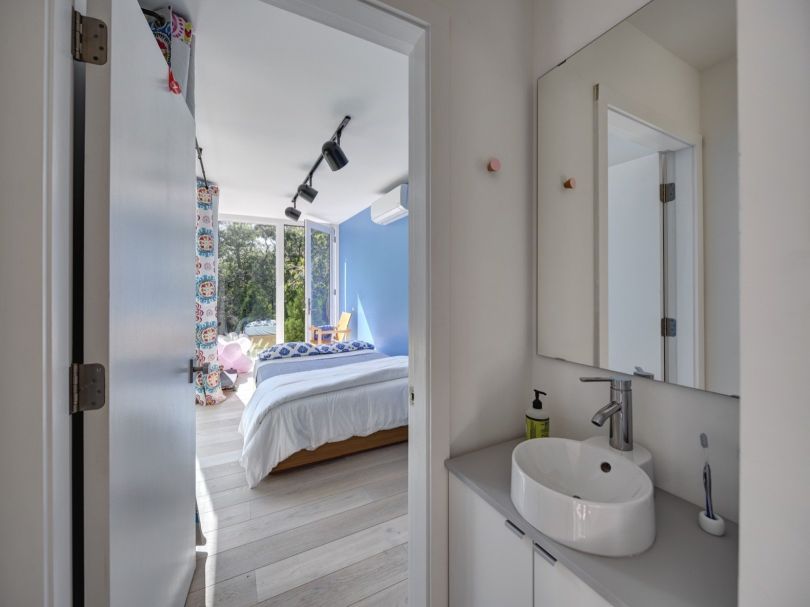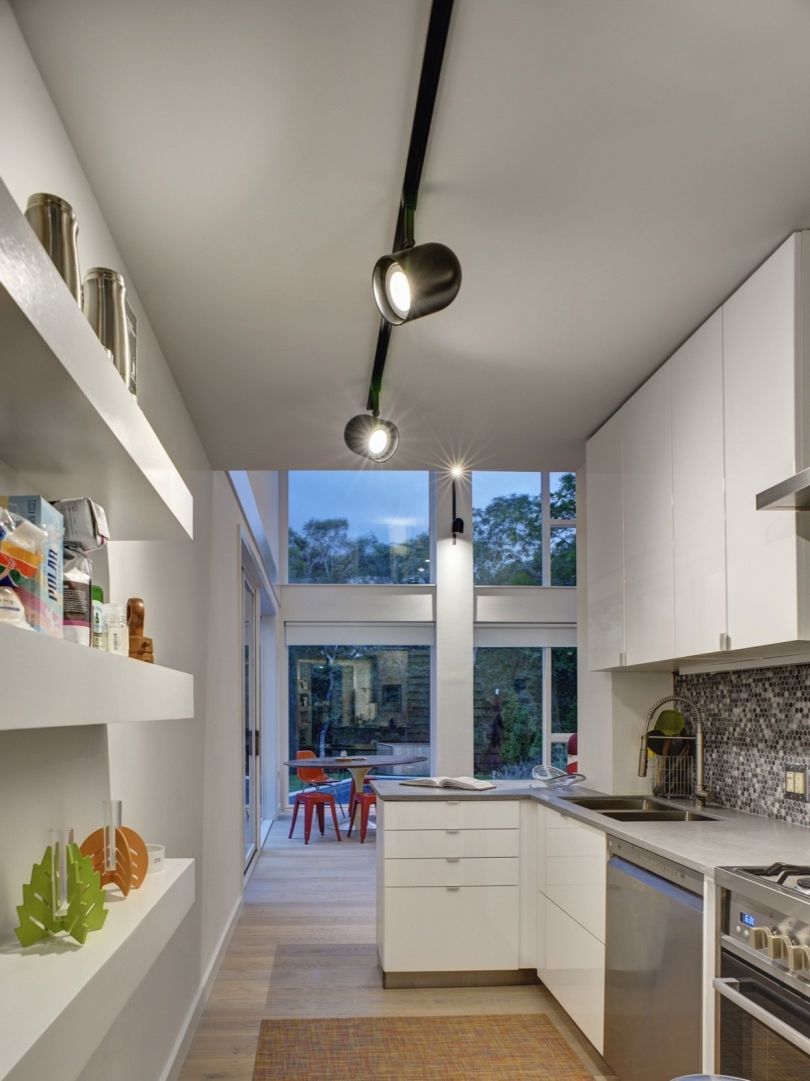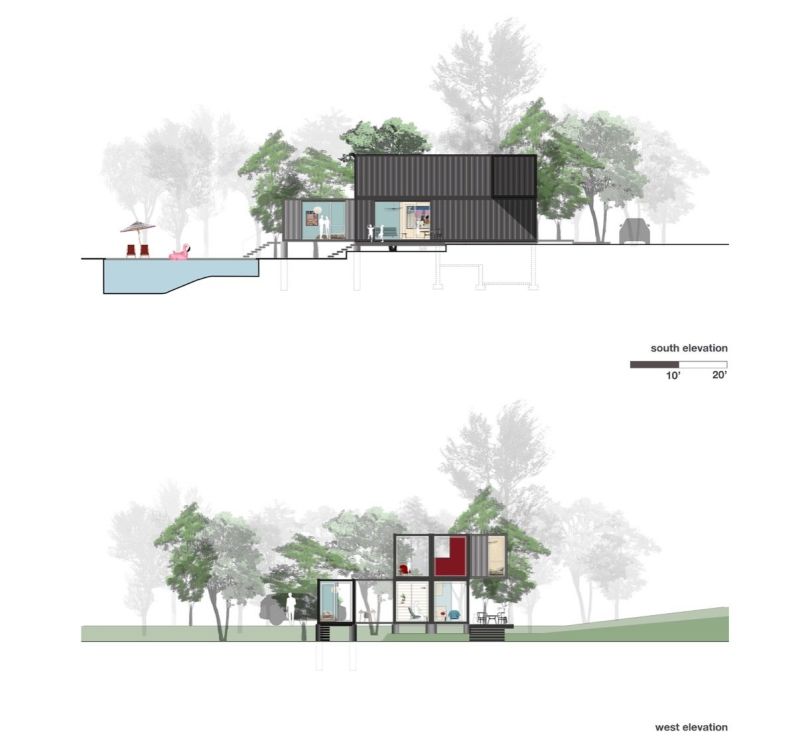 Via: Dwell