Best Vacuum Cleaner for Pet Hair 2022-2023
Pets fill your life with joy, warmth, and lots of play. So, the least you could do for them is to take care of them. As part of caring, you need to ensure their good hygiene and health. Since keeping their hair clean is vital to their overall hygiene, how about choosing the best vacuum cleaner for pet hair in 2022-2023?
Just as you chose the best furry companion for your life, you need to pick the best vacuum for pet hair and carpet. Pets are entertaining and often touch your heart in a way that no human could have ever done. But the reality is that they shed a lot of hair.
Yes, a pet with a lustrous coat looks stunning and even a well-groomed dog is likely to leave hair on your sofa, carpet, and clothes. It is easier to get rid of pet hair from hardwood floors but quite tricky to remove them from a carpet.
But all vacuum cleaners are not perfect to handle pet hair. But with various varieties like upright vacuums, cordless vacuums, robot vacuums, and handled vacuums, it becomes hard to decide which one to choose for your house.
If you are not sure which is the best budget vacuum for pets, don't worry. Here we have listed the best vacuum for pet hair along with the pros and cons of each one of them. So, you can decide for yourself which one is the right choice for you. But before that, you need to know what qualities to look for in a high-quality vacuum for pet hair.
What to look for in the best vacuum for pet hair?
1. Antitangle brush roll
The best pet vacuums do come with anti-tangle brush rolls that are particularly designed to ensure pet hair does not wrap around them.
2. Motorized attachments
Another important feature to look for in a vacuum for pet hair is the motorized pet tool. The vacuum that tackles pet hair may come with this feature. It helps in boosting the cleaning power. It even gets rid of pet hair from soft furnishing, as well as out of rugs and carpets.
3. Filter
A high-quality filtration system is also a great feature. It helps the device do a better job of entrapping pet dander that may lead to allergies. The HEPA filters are particularly good for this. So, it is a good filter type to consider for your home to keep allergies at bay.
Best vacuum cleaner to remove pet hair
Here are our top picks for the best vacuum cleaners to help you eliminate pet hair from furnishings in your home:
Kenmore Lightweight Pet PowerMate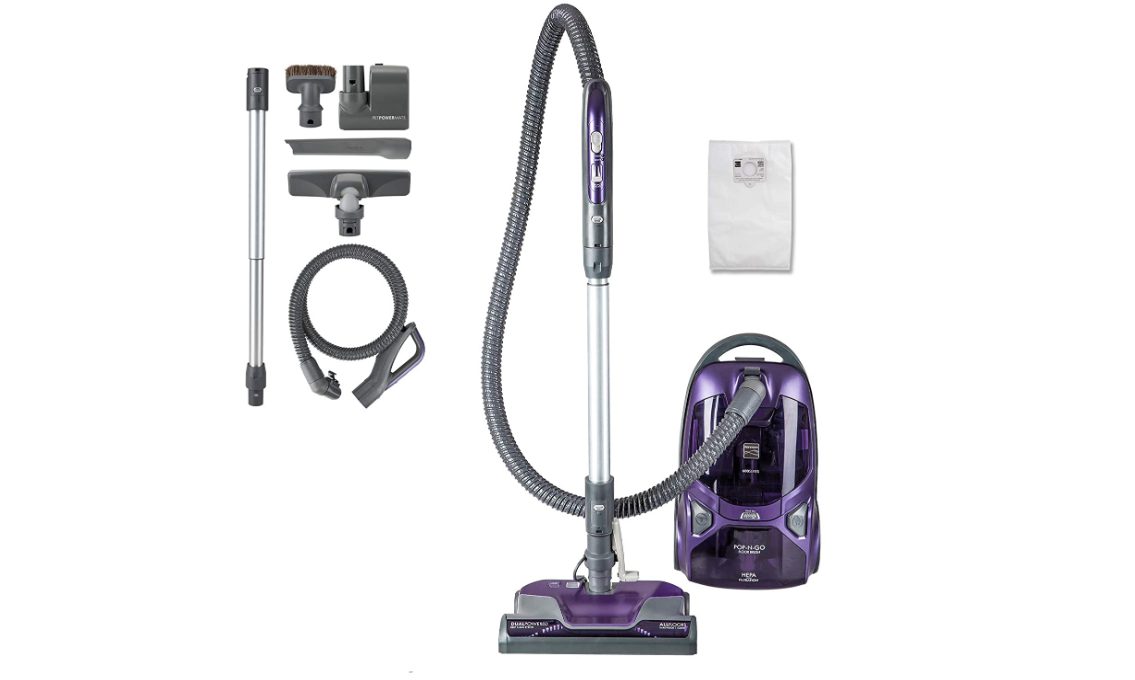 Product Details
It boasts a multipurpose design with a swivel head to clean all surfaces and areas in your den, home, car, and garage.
The 2-motor system has excellent suction strength and also includes two-floor nozzles containing an exclusive Pop-N-Go floor brush.
Integrated with a triple HEPA filter system to trap 99.97% of dirt inside the vacuum cleaner.
The adjustable lightweight wand expands to reach up to 10 feet to reach even difficult-to-reach areas. Lightweight design (with 22.6lbs) and a 28-feet long cord that's retractable.
It even comes with extra attachments and accessories to fit inside a vacuum.
Pros:
Easy to assemble and use
An affordable option for cleaning pet hair
Strong suction power to catch small and large debris, as well as pet hair
Cons:
Not very stable, as it tends to fall
The cord may get tangled if not taken care
Kenmore Bagless Vacuum Cleaner For Pet Hair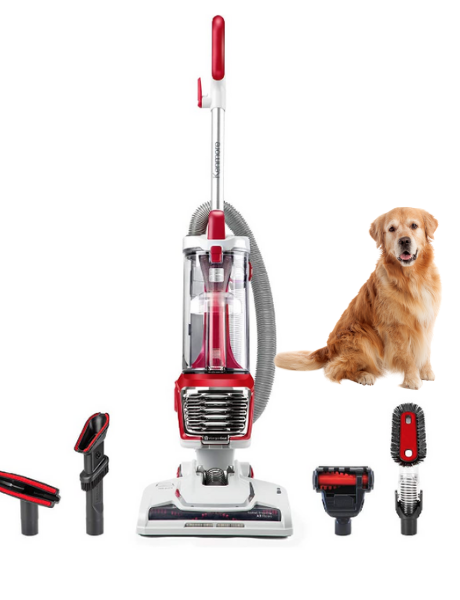 Product Details:
Boasts a bagless upright vacuum to remove pet hair, dander, and more with its multi-surface, multi-floor design for your home, kitchen, or den with a sweeper path.
Integrated with a HEPA filter system to capture around 99.7% of dirt within the vacuum to reduce pollutants and allergens in a room.
Thanks to its 2-motor system, the vacuum cleaner excels in suction power for different types of surfaces.
Its suction control lets you vacuum various carpet weights, fabrics, and more without compromising on cleaning efficiencies or airflow.
Under 14 lbs, this vacuum cleaner is easy to maneuver around the corners with swiveling and steering for deep and thorough cleaning.
Includes a 3-in-1 combination tool (dirt brush, crevice tool, and upholstery brush), pet HandiMate and rotating fan tool, as well as an upholstery tool for easy cleaning transitions. Its flexible hose extends to 10 feet for floor-to-ceiling cleaning.
Pros:
Prevents the vacuum bag from overfilling
The vacuum is not noisy enough to be disruptive
Less maneuverable than some others
Cons:
Costs more yearly than most upright vacuums, as you need to buy bags
The model is under warranty for a year, which is not great
BISSELL SurfaceSense Pet Upright Vacuum Cleaner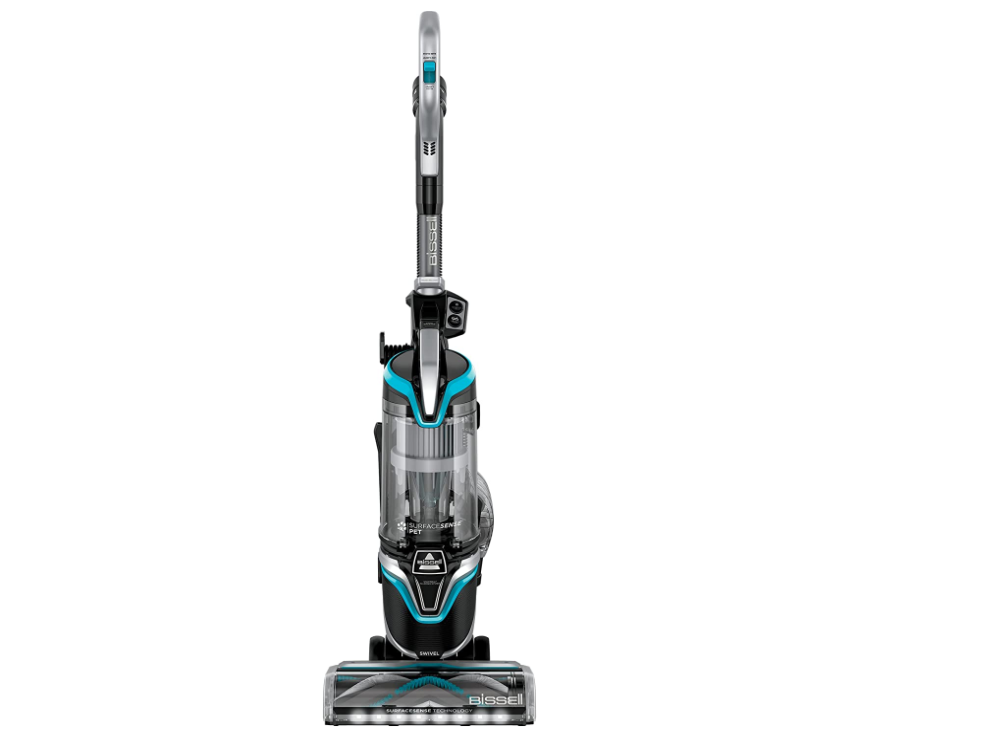 Product Details:
Integrated with SurfaceSense Technology that intelligently senses the type of floor and automatically adjusts brush roll's speed for strong multi-surface cleaning.
The brand supports BISSELL Pet Foundation which helps in protecting helpless pets. With every purchase, you can save pets.
Feature tangle-free multi-surface brush roll containing stiff bristles for proper carpet cleaning. The soft bristles are great for the gentle cleaning of hard surfaces.
Integrated with SmartSeal Allergen System to capture and lock dust and allergens while cleaning.
Powerful pet cleaning feature to get rid of dirt, dander, and hair on various surfaces wherever the pet goes.
Pros:
Powerful suction
Switch flip for all floor types
Dust and filter container
Features three attachments
Lightweight and easy to maneuver
The wand extends long enough to get to hard-to-reach areas
The canister is easy to clean and remove
Boasts a light underneath when it's on
Cons:
The cord is very long and doesn't have a lot of space to store
Messy to handle due to the cord
BISSELL 24613 Pet Hair Eraser Turbo Plus Lightweight Vacuum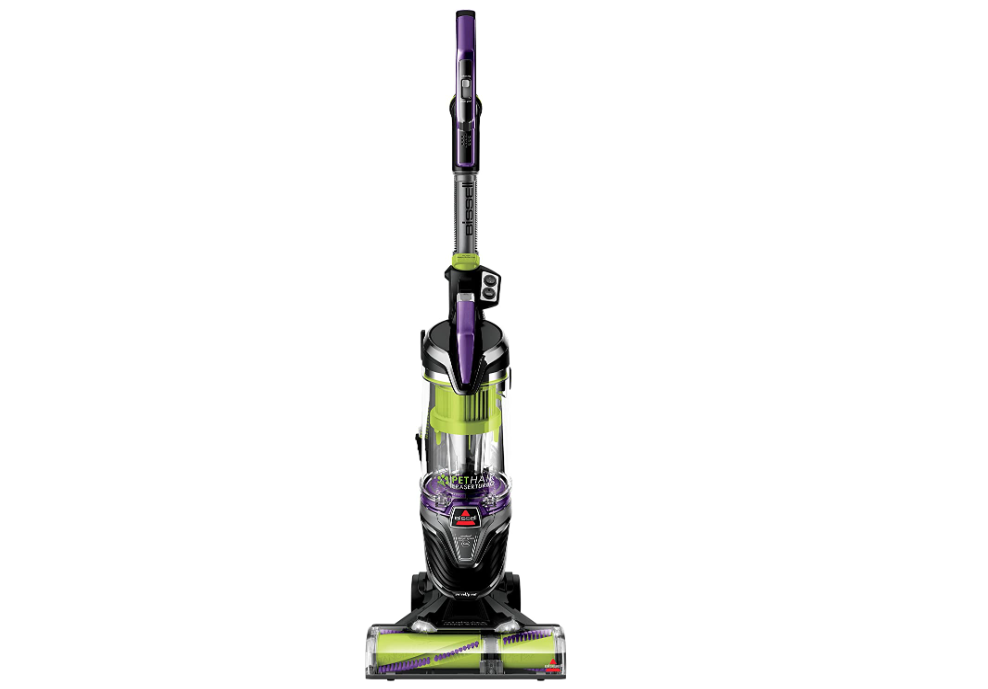 Product Details:
Offers Powerful pet hair pick-up despite its lightweight design.
Bissell proudly supports Bissell Pet Foundation which saves homeless pets.
Brush roll comes with a tangle-free feature to eliminate annoying hair wrap.
Smart seal allergen system comes with an optional Febreze filter to trap allergens and dust.
Eliminates odor and freshens up your home while cleaning.
Hands-free empty along with Cyclonic Pet Hair Spooling System. So, no need to touch the yuck while cleaning.
Get to difficult-to-reach areas with specialized pet tools, such as Pet Turbo Eraser Tool, LED Crevice Tool, and 2-in-1 Pet Dusting Brush.
The quick-release extension wand is always on and ready to use.
Powerful edge-to-edge suction for cleaning low-to-high pile rugs, carpets, and hard surfaces with fingertip suction control, as well as a brush roll-on/off feature.
Dirt cup capacity is improved by 0.75 liters.
Swivel steering and LED headlights.
Pros:
Picks up most small and large debris
Good maneuverability on various surface types
Can easily capture and trap pet hair from carpet
Cons:
Acceptable build quality, which is hard to maintain
Frequent recurring costs