Fran Costigan's Free Valentine Vegan Pastry Class on Feb. 9
Valentine's Day is one special time of the day in the year. This day you get to express your love, gratitude, and feeling to your significant other in the most special way possible. But what if you're out of ideas? In that case, chocolate is often a safe bet. You can consider baking something special with chocolate to impress your partner or friend, or yourself. To get some inspiration, you can join a free live event on Valentine Vegan Pastry Class with Fran Costigan. She is a popular vegan pastry master and this event will be live on February 9.
Valentine Vegan Pastry Class with Fran Costigan
Costigan, also known as the Queen of Vegan Desserts, trained at the Natural Gourmet Institute and New York Restaurant School. She has also worked as a chef in both non-vegan and vegan pastry kitchens. And, she's also teaching pastry making for over 20 years now. Besides all that, she is also the author of "More Great Good Dairy-Free Desserts Naturally" and "Vegan Chocolate: Unapologetically Luscious and Decadent Dairy-Free Desserts."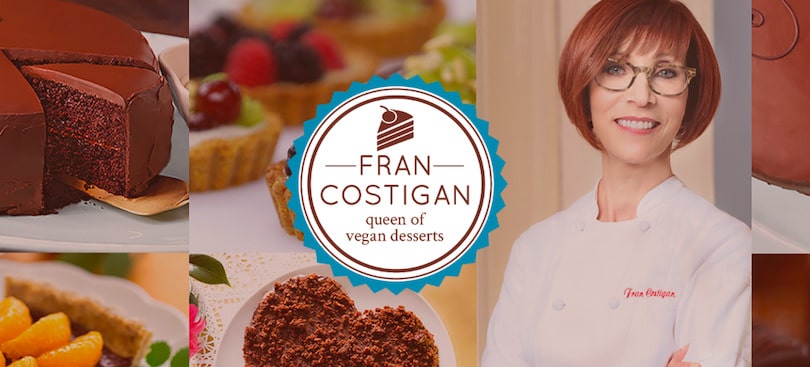 Costigan's live Valentine event will be shot through the online Rouxbe Culinary School. At this school, she often teaches her courses on vegan desserts, including Valentine's Vegan Pastry. Some other interesting classes at Rouxbe include an Introduction to Plant-Based Cooking, Forks Over Knives 90-Day Course, and Plant-Based Pro Certification course
However, if you are interested only in the upcoming Valentine's Day special class on Feb.9, you can sign up for that here. You can even submit your questions ahead of time. And, Costigan will answer them at the live event itself.
Valentine vegan pastry – A heart-shaped chocolate cake
A chocolate cake is a timeless Valentine's Day dessert. 90-percent of people often endorse chocolate cake when it comes to Valentine's treat. So, Costigan has also shared her chocolate cake recipe with Inhabitat. However, if you want to learn more tips and tricks for making a perfect cake, it's best to attend her live event. You are likely to benefit from her years of expertise and then try baking at home.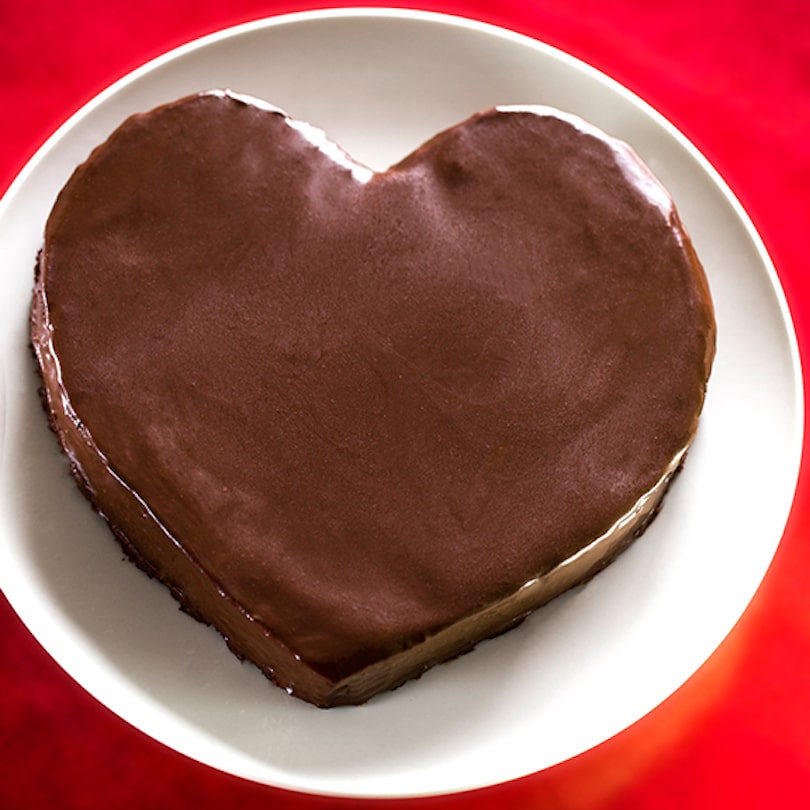 Some tips to keep in mind are that her recipe makes a layer of cake. So, you need to double the recipe. Or, if you are not good at making the layers and often the layers break when you try to take them out of the pan, it's best to go for a single layer. For preparing the cake, you can use an 8-inch or 9-inch pan. If you are using an 8-inches pan, you have to bake for 6-8 minutes longer. It is because of the thickness of your pan.
And, there's no need to worry about the cooking rack marks on the cake. These are often covered up with frosting.
Chef Costigan's Valentine vegan pastry – chocolate cake recipe
Ingredients:
1/2 cup organic whole wheat pastry flour
1/3 cup Dutch cocoa powder
1/2 cup organic all-purpose flour
1/4 lightly ground organic sugar
1 teaspoon baking soda
1 teaspoon aluminum-free baking powder
1/2 teaspoon fine sea salt
3/4 cup and 2 tablespoons non-dairy milk (of your choice)
1/4 cup mild-tasting organic neutral vegetable oil or extra-virgin olive oil
1/2 teaspoon chocolate extract
1/2 cup pure maple syrup
1 teaspoon apple cider vinegar
1 1/2 teaspoon pure vanilla extract
How to Prepare:
1. Place a rack in the middle of your oven. Preheat the oven for up to 350°F. Put oil on the sides and the bottom of the 9-inch cake pan. Also, line the bottom properly with parchment paper. Or use paper but don't oil it.
2. Whisk the whole wheat flour nicely. Also, add all-purpose flour, sugar, cocoa powder, baking powder, salt, and baking soda into the mixture. And, keep whisking.
3. Add the oil to a medium mixing bowl. Also, add maple syrup, non-dairy milk, vinegar, vanilla, and chocolate extract. Again keep whisking for properly blending the mixture. Now, pour the wet ingredients into all the dry ingredients and mix until you get a smooth paste.
4. Now pour the batter into the pan lined with parchment paper. Keep rotating the pan for leveling the batter. Keep tapping slightly on the counter to remove any air bubbles. It also makes the batter a little thin.
Baking & Glazing
5. Put the cake on the center rack of your preheated oven. Bake it for up to 28 to 30 minutes or unless the cake is set. The sides will pull away from the pan. To check the cake, use a wooden toothpick to insert into the center. If it comes out clean, the cake is baked.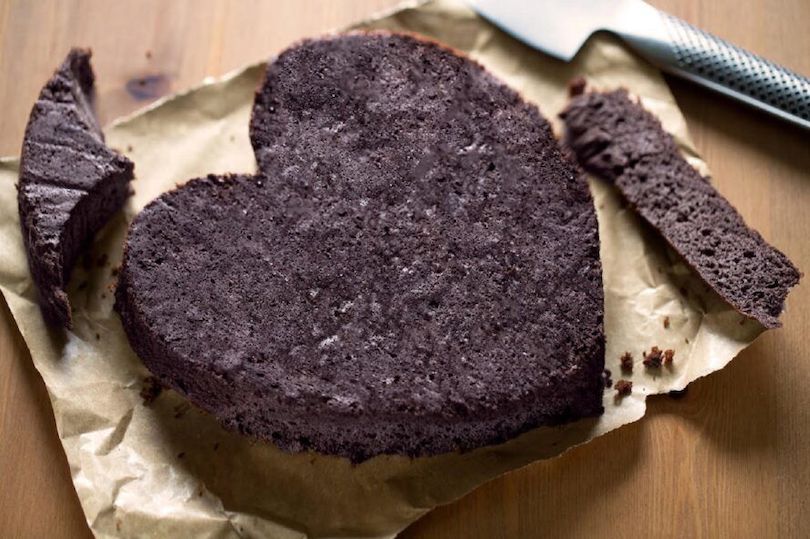 6. Remove the cake from the oven and set the pan on a wire cooling rack for up to five minutes. Also, run a thin spatula around the cake's sides to release its sides from the pan. Now, invert the layer on the wire rack and remove it from the pan. Carefully remove the parchment paper. Now, again invert it to place the cake's top in an upward direction. Let it cool completely.
7. When the cake is cooked, slide a flat plate or a cardboard circle underneath. Cover this cake tightly in any plastic wrap. Also, refrigerate it until it's properly chilled before glazing.
Preparing vegan ganache glaze
8. For glazing the cake, you need to keep it on an icing rack over a parchment-lined baking pan.
9. Now, slightly pour less than just one cup of ganache in a measuring cup using a spout. Pour the glaze from the center of the cake and keep spreading it. Coax the glaze to the cake's edges and sides by tilting the baking sheet. Also, use an icing spatula to even it out. After that, use a spatula for spreading the glaze onto the sides.
10. Let the glaze set on the cake undisturbed for up to 15 minutes. After that, transfer it to the refrigerator for 10 minutes and let it set completely.
11. Take out the cake from your refrigerator. Now, refill the measuring cup with more glaze and add more coating as mentioned above. This time, don't move the glaze with the spatula after applying it. Otherwise, the finish won't be smooth. If there is any extra glaze, you can drizzle it on the top of your cake along with edible sparkles and embellishments.
12. Keep the cake in the refrigerator and let the glaze set for at least 30 minutes before you serve.
Storing your vegan cake
After baking, cooking, and glazing the cake, you can store and refrigerate it for up two days. You may even stick it in unwrapped or put it in a cake box. Just ensure that you store the cake away from any strong odors. You may even freeze it up for up to one month.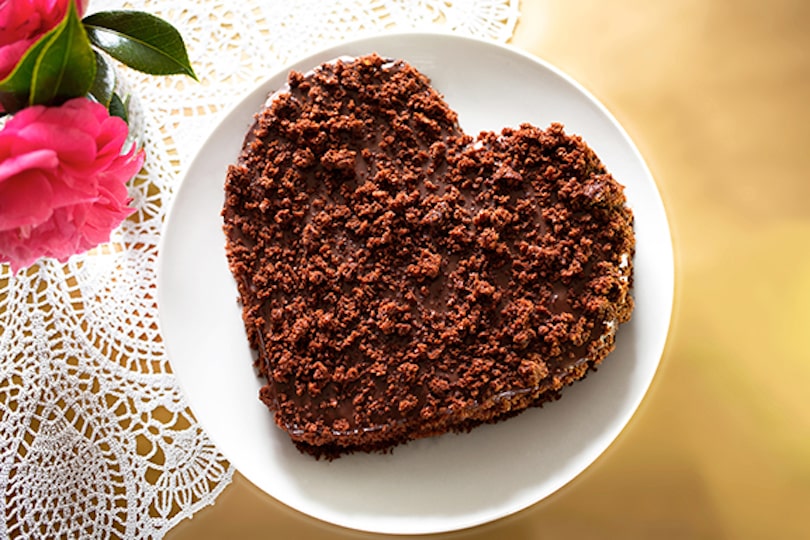 Via: Inhabitat