SylvanSport GO: Multipurpose Pop-Up Camper Sleeps up to 4 People
We have seen various types of campers so far. Some are ideal for stargazing, whereas others mimic vintage style boats or a tiny house. But won't it be nice if a camper can do a little bit of all the functions without raising the cost? North Caroline-based mobile adventure gear designer and manufacturer Sylvan Sport has come up with a multi-mode pop-up camper/trailer called GO.
It is a multi-mode system that's designed to morph a low profile trailer, a comfortable camper, a heavy recreational hauler, and storage for equipment. Each camping trailer consists of aluminum extrusions for making a durable yet lightweight frame. Meanwhile, the tent material is the 220-denier ripstop nylon fabric. Furthermore, the trailer features Dexter Torsion Axle and cast aluminum wheels for convenient transportation.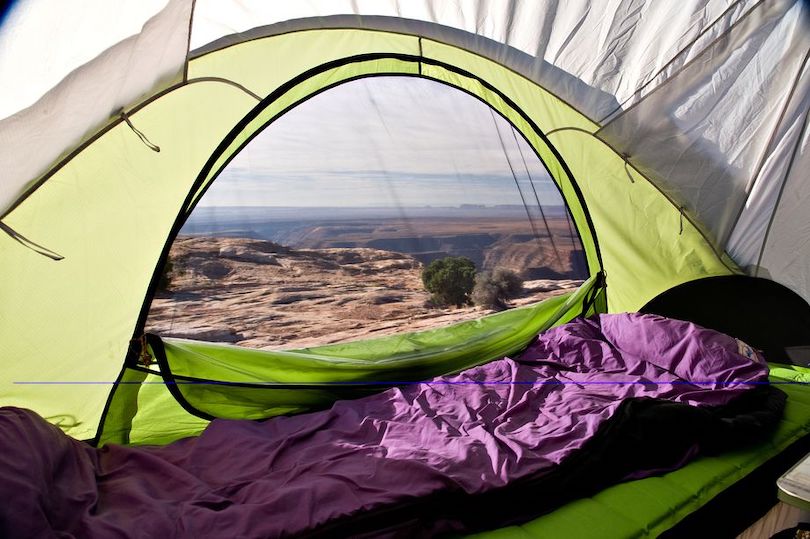 The Go camping trailer has four basic modules: a tent pod, equipment rack, gear deck, and storage box. The roof rack system weighs 165lbs and can house kayaks and bikes with ease. And, the gear beck is ideal to store equipment of up to 960lbs weight. It measures around 48-inches wide by 84-inches long. However, it can further it can expand up to 48-inches in height with its crank.
Its tent pod can retract from the hinged case, which is mounted under the equipment rack. When the trailer pops up, it folds out to provide you two benches/bed and a table. Hence, it can easily sleep up to 4 people comfortably. The users can even adjust its components to make desired interior setups for sleeping, dining, or playing.
Pop-Up Camper In Travel Mode
According to the manufacturer, this camper/trailer is easier to tow behind any vehicle. It boasts waterproof gear storage of around 24-cubic-feet and can also cruise with kayaks, bikes, and canoes. In the travel mode, it provides 13 inches of ground clearance. It even has high-flotation tires that enable better access for off-roading.
Sylvan Sports suggested that this trailer can also be utilized for your regular needs, like handling yard workloads and handling full plywood sheets, just like a pickup.
Pop-Up Camper In Transport Mode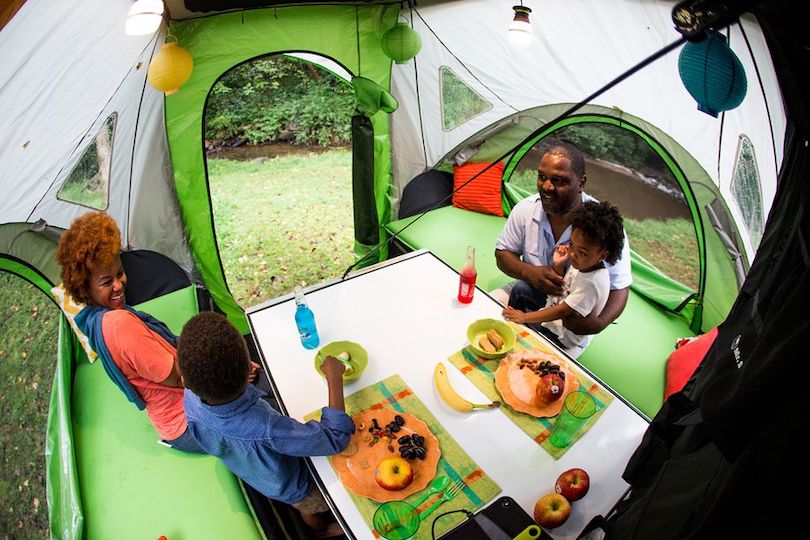 When in the transport mode, the GO turns from its low-profile trailer into a heavy-duty hauler. The company says that it's easy to raise its roofing system. It takes only a few minutes to erect it via its inbuilt cranking system with no extra equipment.
The cargo deck comes with proprietary control tilt and hydraulic damping system to let the deck easily download and eliminate the requirements of ramps. It enables easy loading for serious adventure gear. Such as All Terrain Vehicles (ATVs), dirt bikes, go carts, boats or some extra sports equipment, improved suspension, and travel mode roof racks.
Camping Mode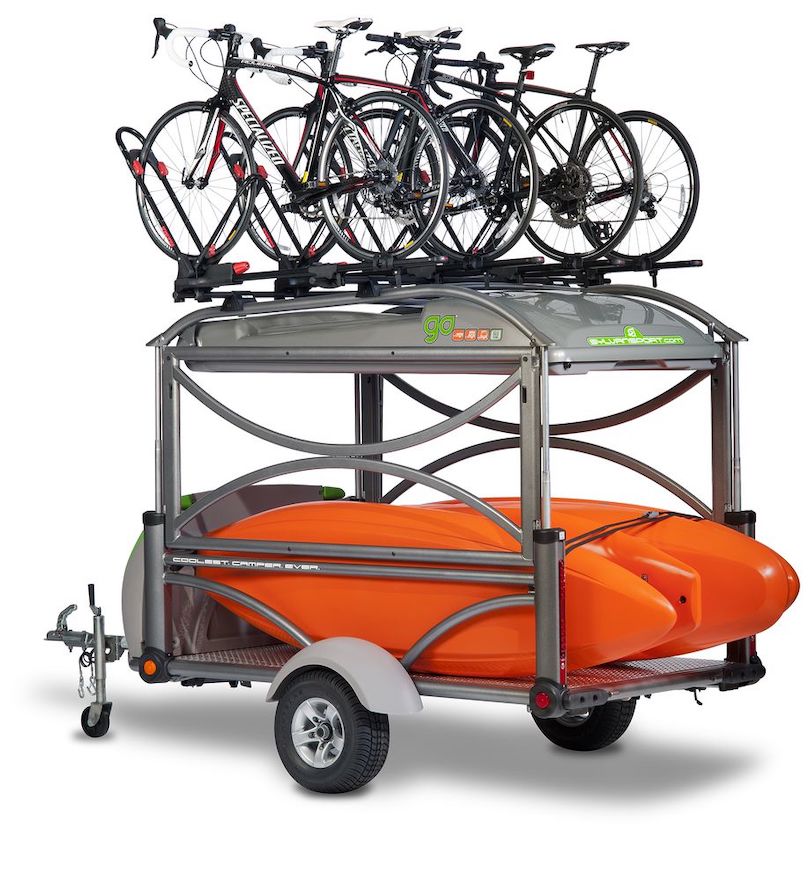 At a camping destination, the GO can turn into a camping mode from the transport mode. It takes shape of a built-in tent with bedding pod systems.
Once at your camping destination, the "GO" shifts from Transport Mode to Camping Mode with its built-in tent deployment and bedding-pod systems. It offers different sleeping configurations with the bed panels that convert to tables for having food. It even boasts self-inflating customized mattresses from premium pacific outdoor equipment.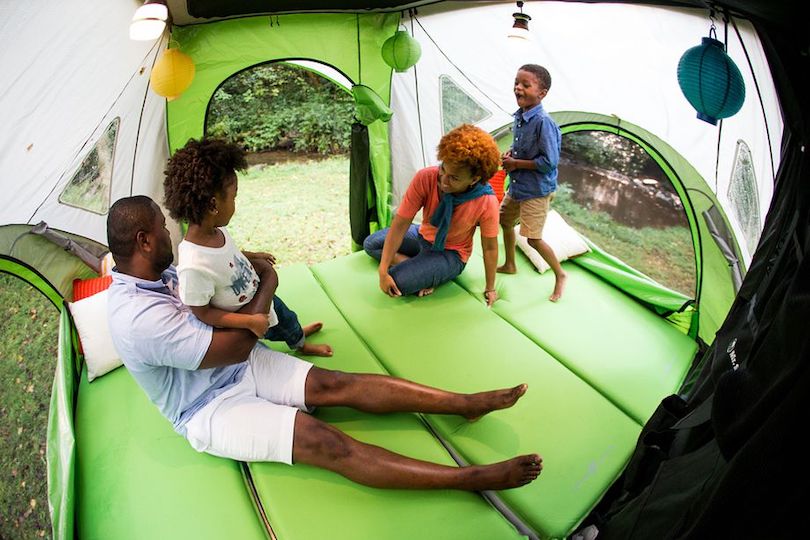 These are also easy to store in an overhead compartment for creating more space. Furthermore, the camping pod on the gas struts enable easy assembly and disassembly. Hence, it opens up to create a spacious compartment with proper weather seal.
Final Thoughts
This whole system is made in the USA using recyclable materials. Moreover, it's relatively well priced at US $10,995. The price range makes it sit somewhere between a traditional pop-up camper and a larger RV. Its boasts a design that's appealing to today's active and young families. Or single outdoor enthusiasts. Moreover, its space saving functions and flexibility ensures that it won't sit around to take up a valuable backyard real-estate for up to 11 months every year.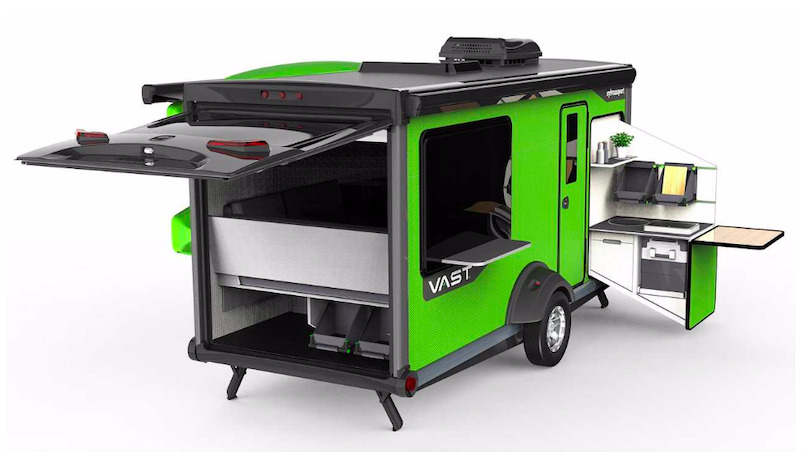 Via: CuratedMint