Best Campervans 2022 To Camp and Travel in Comfort
Can't wait to escape the world and hit the road in your comfortable campervan? We don't blame you! The world feels awfully small within those apartment or house walls. And, thanks to the pandemic, we have to spend more time indoors. But the truth is that somewhere we all like to explore places around us or far away. However, to enjoy adventures in full spirit, you need to bid farewell to your conventional lifestyle. How? With a simple investment in one of the best campervans available on the market.
Today, campervans are loaded with ample amenities that you won't regret leaving your apartment for camper life. This life is so different from what people are used to. If you are worried about discomfort. Don't be! Gone are the days of uncomfortable motor vehicles. These days the campervans include everything. For instance, you can book one with a pull-out bed, kitchen, big-screen TV, and even portable Wi-Fi. Yes, you get all this facility on the go.
Wondering which particular campervan to consider for your road life? Check out our list of the best campervans below. But before that read the benefits of campervan living to clear any doubts.
Benefits of Campervans
Often the big surprises come in tiny packages. And, a campervan is one of them. It offers you various benefits and some of them are mentioned here:
1. Small and Versatile
It is easy to drive a campervan compared to driving any detachable trailer or motorhome. It is because these are more maneuverable compared to larger vehicles for camping. Moreover, you get various parking options for the night, as it can fit in any outdoor space without taking up too much space.
2. Campervans Have Better Gas Mileage
You are likely to save your money on fuel if you choose a campervan. It is because its average fuel efficiency is 18 to 25 mpg compared to motorhome's six to 10 mpg. So, just do the math on how much fuel you'd save with this on-the-go camping vehicle.
3. Have Many Luxury Features
Campervans is perfect for jam-packed luxury. Moreover, you get them in a wide range of options in terms of design and color choices. In addition, you can install them with solar panels, extra storage, and various fancy gadgets.
What's the Cost of a Campervan
Well, the prices of campervans vary from around $15,000 to $100,000 or up to $200,000. The price you pay for your van depends on the model and brand you select.
If you want more amenities, you need to pay more. So, for an average campervan, you need to have a budget somewhere between $30,000-$40,000.
Best Campervans in 2022
If you love convenience while traveling, getting your own campervan is a good option. Take a look at some of the top campervans in 2022 to make your adventurous ride more convenient.
So, without further ado, let's dive in.
1. Knaus CUV Pop-Up Roof Campervans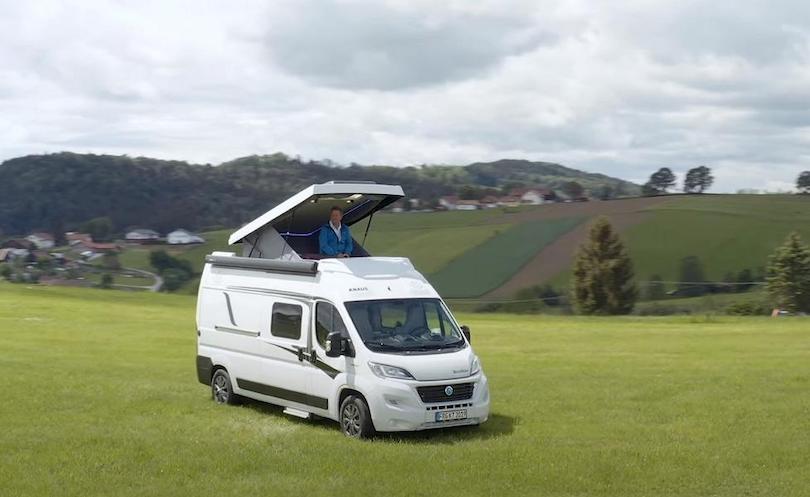 The Kanus CUV campervan offers maximum comfort, sleeping space, and enough room to move around. It's all possible due to its Pop-Up roof design that's integrated into every CUV model. When you close the roof, it's easier to fit the camping vehicle in any covered parking space or garage.
But whenever you want more space to breathe, simply activate the mechanisms to give your movable home a new second level. The pop-up roof opens up a top floor that comes complete with a comfortable bed, storage compartments, USB charges, wall sockets, and ambient lighting. Furthermore, there are built-in air conditioning/heating systems too. And, the spectacular view of the place where you want to relax.
Overall, it boasts a sturdy, sleek, and aerodynamic design to save your fuel economy. On top of that, it drives well with maximum road safety. Hence, it's a perfect campervan to please most people.
2. Mercedes-Benz Marco Polo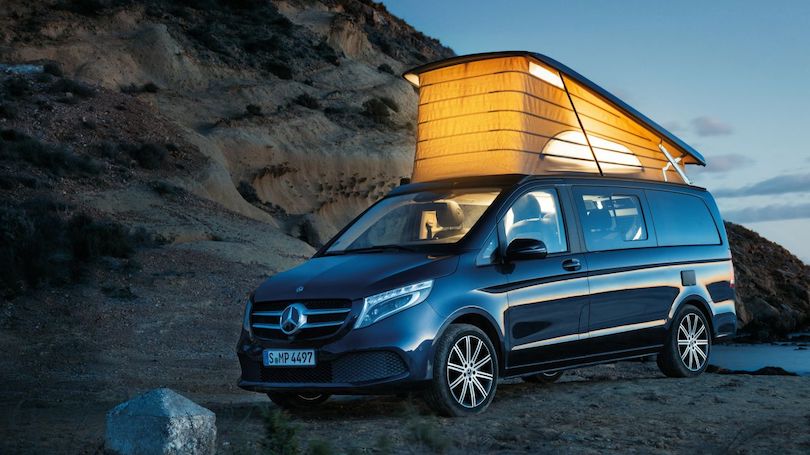 Mercedes-Benz Marco Polo is one of the luxurious campervans, like any other vehicle with a three-pointed star, depending on the V-Class people-carrier. It also boasts powerful diesel engines, as well as smooth nine-speed autos. It also comes with a pop-up roof and all the amenities. You'll get a kitchen, a small living area, and a sleeping area in this camper vehicle.
It's certainly a higher-class option for a couple. However, we won't say that it's family-friendly, like the Volkswagen California. However, for its price range, it's worth considering.
3. Volkswagen Grand California Campervans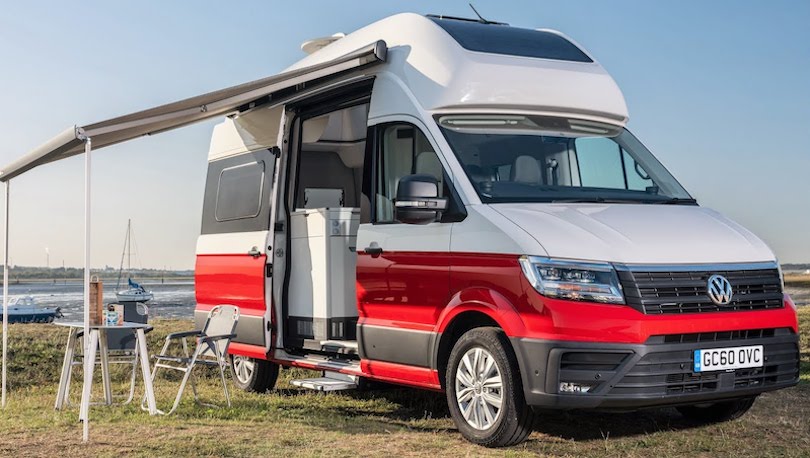 If you're concerned about the space on the inside, VW Grand California is a great choice. It is based in the VW Crafter, so it's a larger panel van with everything you expect in a spacious camper.
It features four seats and a kitchen, as well as a permanent bed at its rear. There is also a standing room throughout and a wet room with a toilet and shower. All the conversion within the camper vehicle is Volkswagen's work and the quality is amazing. Overall, it's a home away from home.
4. Volkswagen Caddy California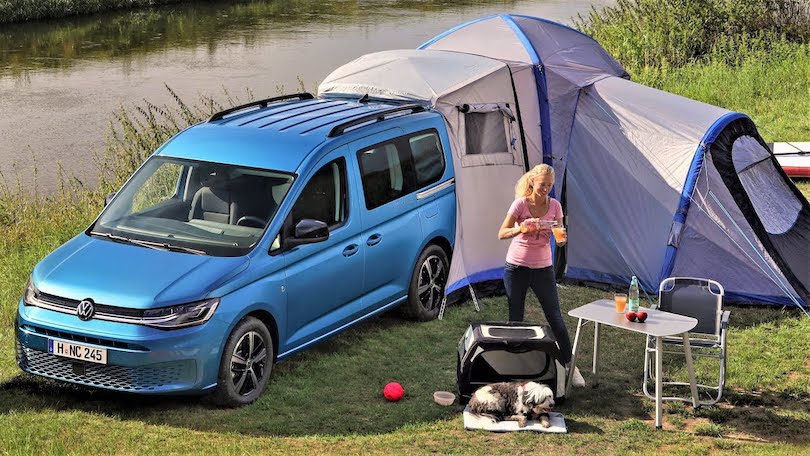 If you like Volkswagen Grand California but want to option down, have a look at the VW Caddy California. This is a marvelous campervan that's perfect for a family. It comes with a large double bed and a kitchen at its rear.
This one is more aimed at quick day trips and overnight stays compared to those for a week-long trip. But its optional drive-away awning transforms it from only sleep and eat camper into something with real operations.
Although we have to stay in it overnight, looking at the images we feel that it's going to be quite comfortable. So, we are excited about its launch and also think that families would love it for short trips or overnight stays somewhere near their city.
5. Vauxhall Vivaro Elite Campervans
Another one that we feel is one of the best campervans in 2022 is the Vauxhall Vivaro Elite. It is a beautiful conversion by Yorkshire-based Wellhouse Leisure and also approved by Vauxhall. Just like Marco Polo, it's 'manufacturer-supported'. Wellhouse is renowned for its camper conversions. Even their Vivaro campervan looks interesting. There's nothing groundbreaking, but it's solid and visually appealing for sure.
This particular campervan is also good for driving. However, it's a little compact compared to Mercedes or VW campervans. Nonetheless, it's a decent vehicle loaded with all the basic comfort of a home in its compact size.
6. Ford Transit Custom MS-RT Wellhouse Campervans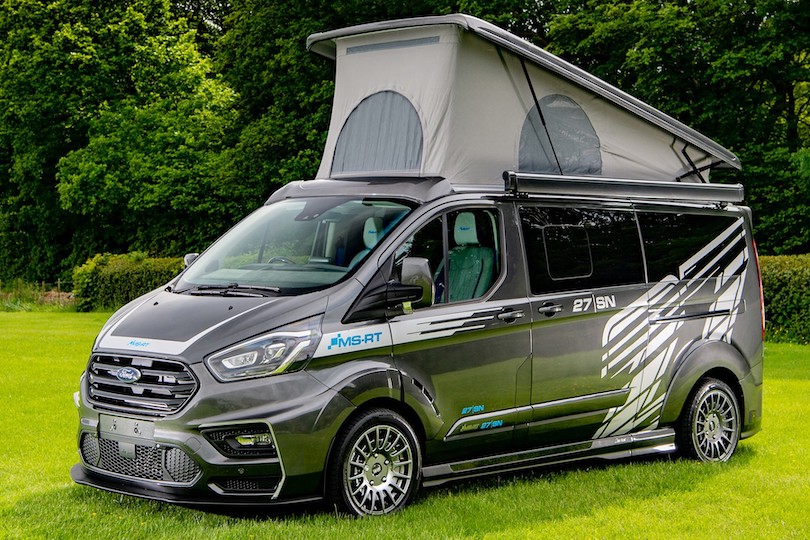 MS-RT's tuning specialists and the camper van remodeling expert Wellhouse Leisure want to display an interesting camper for the adventure-seekers. They came up with the Wellhouse Ford Terrier MS-RT that blends tuning and camping.
Visually, the Transit boasts a racing look that's attained with its 18 Zoll OZ Racing rims. It even boasts a double exhaust on its left and right, as well as its attractive body kit. This body kit comes with a new front apron with a spoiler lip. It even includes striking attachments for its wheel arches and side skirts.
However, the highlight of this camper is its exquisite special pitch roof that includes two additional sleeping berths with a 1.90 x 1.30-meter format. This means that around 4 people can stay in this vehicle with ease. It even includes useful furniture fronts in its high gloss gray and the flooring is dark grained.
7. Nomad Vanz Sprinter Conversion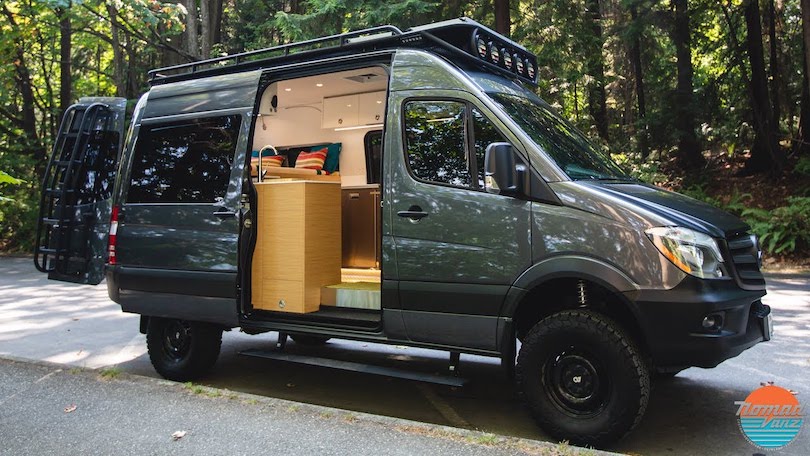 Another camper on our list of the best campervans is this beautiful Mercedes Sprinter Van conversion. This one comes from Nomad Vanz, Yin Yang. This particular van brings together the opposites for complete harmony to work and play, near and far, eat and sleep. No matter what an adventure appears to you, this van offers you everything you need.
The exterior boasts a beastly appearance, while the interior is clad in all basic amenities. It even includes a safari roof ladder and rack, agile off-road wheels, and 175-liter water storage. Besides that, it comes with an indoor/outdoor shower. And, there's also a massive LED light bar that's mounted to the roof rack's front.
Within the van, you can find the comfort of a tiny home. So, it's suitable to live throughout the year. It even includes a generous kitchen with a sink, fridge, hob, food preparation area, and storage. It means that you have the chance to prepare delicious meals whenever or wherever you want.
In the kitchen's front area, you can find a table and bench seat. There is also a driver and passenger seat swiveling to make a perfect dining area.
What's best about the Nomad Vanz is that this campervan is unique as per an individual's needs. Meanwhile, it upholds the high quality that one expects to find within such a factory-built camper.
8. Knauss Boxstar 600 Camper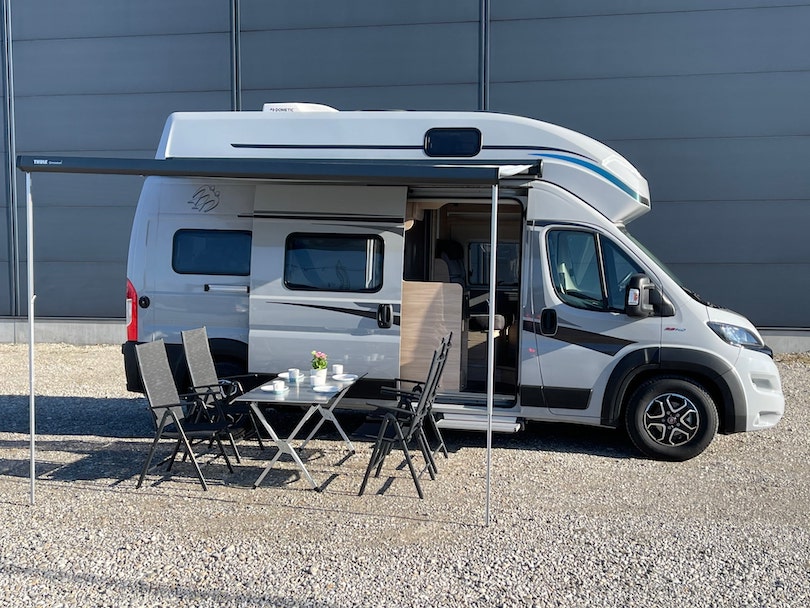 Knauss BoxStar 600 campervan offers a funky fresh look to a van. Hence, it deserves a spot on the list of the best campervans in 2022. If you want an all-around classic for your family, then it is a perfect camper for you.
The BoxStar accommodates up to four people in different formations as per your preference. You may go for lifting bed configuration for getting additional space. Or opt for double bunk beds to sleep four people. It even includes four belted seats to ensure the entire family is safe while moving. However, no space gets wasted in its relaxation mode. Plus, the seats easily transform into a dining area while utilizing a table and swivel seats.
Besides the seating and sleeping areas, the campervan even includes a spacious shower cabin. This enables you to stay clean on the go. There is even a generously sized kitchenette, which makes cooking for the entire family a breeze when you're on the road. Another thing that we love about this camper is the hob in front of its sliding door. So, it lets you take in the view while preparing meals. Meanwhile, it allows food aromas to escape the camper.
9. Dalbury E Electric Camper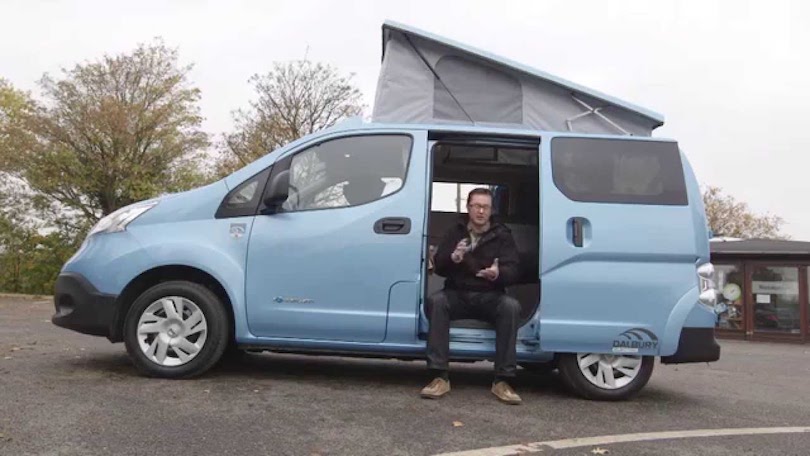 Now, let's have a look at the world's first completely electric campervan. It's the Dalbury E Electric camper. It boasts around 80% of quick charging ability within only 30 minutes. Hence, this camper is considered great for the future.
Vanlifers usually like to visit the less-traveled roads. They are also aware of pollution and damage that's caused while driving to various untouched places. Therefore, eco-friendly and green Dalbury E Electric is the best solution to this issue. Hence, it's one of the best campervans for a pollution-free and eco-conscious road trip.
Within this compact camper, you can find everything you require for a successful road trip. Despite its small size, you find all the comforts of a home. This camper comes with swivel seats, as well as a bench seat. It even includes a removable table that turns into a dining area. Even a kitchen area is included with a gas hob, sink, and fridge. There is also ample storage for clothes and other essential gear. Plus, the seat-belted bench converts into a large bed within a few minutes.
Another interesting feature of the Dalbury E Electric is its pop-top roof. This means that it offers you plenty of headroom for standing up in this van. Overall, it's a simple yet stylish camper with all the hidden extras that on require for a cozy trip on the road.
From a silent key push start system to solar panels for charging your devices, this camper has everything to keep you road-ready. Meanwhile, it ensures you keep well-rested on the move.
Did we mention that it's also tax-free? So, you have got another reason to choose this electric camper.
10. Fiat Ducato Sunlight Cliff 600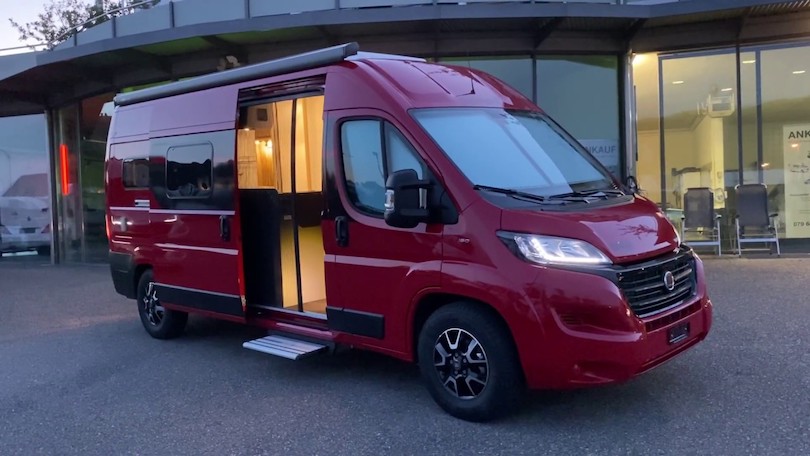 Last but not least is the Fiat Ducato Sunlight Cliff 600 camper. The Sunlight campervans are quite new to the block but they include amazing features. It's made with the help of German experts Dethleffs.
With a trusted umbrella company working with them, we can expect amazing things from the Sunlight Cliff 600. This practical camper is built inside a Fiat Ducato chassis.
The interior of the Sunlight Cliff 600 is also very impressive. It boasts a clean and well-designed layout with attractive wooden accents. Hence, the interior draws the attention of the viewers. Furthermore, the interior features all the home-like comforts, including a spacious washroom. This washroom comes complete with a toilet, shower, sink, and ample storage. Even its bathroom is finished in wood-effect to attain the warm and cozy appeal.
Besides the bathroom, there is a kitchenette that's perfect for cooking different meals. And, the dining area comes with swivel seats that enable the space to accommodate four people. Furthermore, the large double bed at the back is perfect to let your sleep peacefully when moving on the road.