10 Stylish Corner Decoration Pieces For Living Room
While we take care of every area of a living room to make it attractive, corners are often ignored. But with right corner decoration pieces, you can add an element of interest to any empty nook. Even if your living room is not very spacious, you can still make it feel exquisite with inviting pieces of home decor. After all, a little character touch can help you create a worthwhile room. You can consider adding plants, furniture pieces, or shelving to create an eye-catching and intimate corner for your living room.
If you're seeking some easy-to-follow tips, here we have put together 10 amazing ways to help you spruce up your corner spaces. When you have a very simple living room, one personalized decor item can make a huge difference. Be it shelving with your family photos or a reading nook, small touches can make a big impact and take your room to another level.
Industrial Corner Bookshelf – Corner Decoration Pieces
Have a look at this 5-tier corner shelf with a 90-degree right angle. It's perfect to fit into any wall corner and won't occupy any extra space. Plus, its smooth fan-shaped design protects your family and yourself from getting any unwanted scratches.
The open design of this corner shelf has enough space for storing and displaying decor pieces, plants, books, magazines, etc. This industrial shelving is perfect to give a vintage look to the given space. Moreover, it's likely to blend with any interior decor.
The unit comes packed with clear and detailed instructions, a 1L-shaped wrench, numbered parts, and 1 small wrench for assembly. For cleaning, you simply need to clean the shelves with a wet rag. It even includes three adjustable feet pads for easy leveling even on uneven floors and to prevent your flooring from scratches.
Illuminated Twig Branches – Corner Decoration Pieces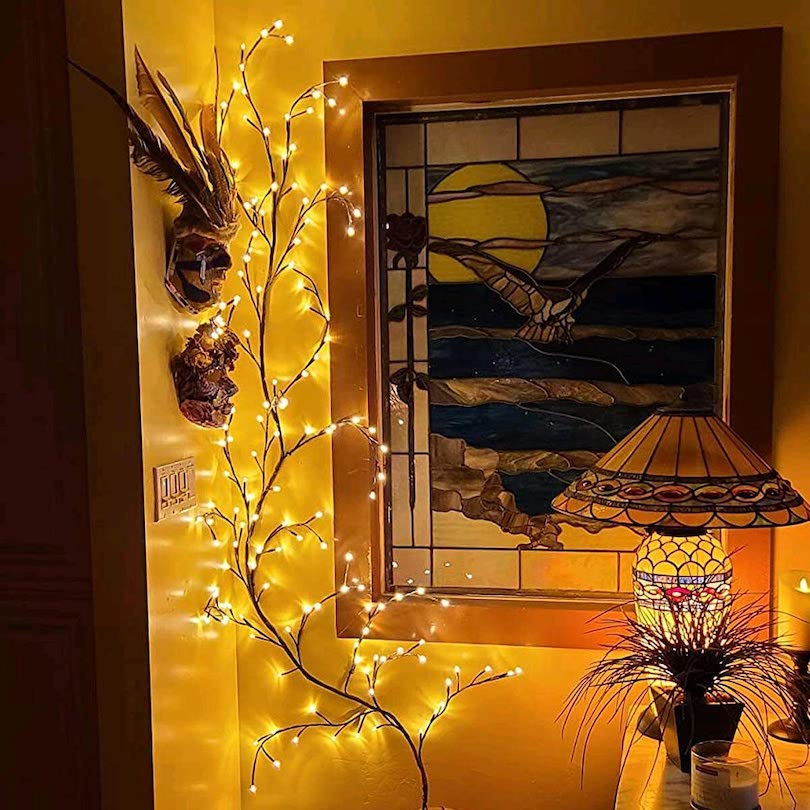 The illuminated vine branches give a warm white yet soft yellow glow to the interior. They are also a great addition to deck up any corner of your living space. Made from plastic, these vine twig branches with lights are ideal for low-maintenance home decoration.
What's interesting is that these vines with lights are quite flexible. So, you may position these in any way you like. After receiving these, you can create any DIY design. You may even circle it as a garland on a mantle, buffet, sideboard, or simply make them stand in a corner.
No matter how to wish to decorate your interior with it, this decor piece is likely to add a lively touch to your living space. You may even plug it in an outlet or connect it to the outlet timer and enjoy the warm, soothing glow.
Hanging Corner Wall Shelf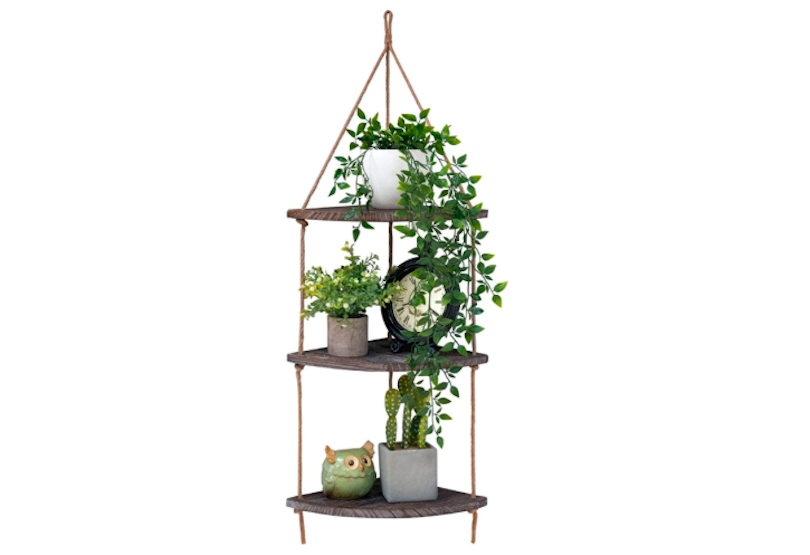 Another interesting corner decoration pieces to consider are some hanging shelves. You can choose this particular hanging corner wall shelf. It comes with different boards in a fan-shaped design, which is ideal to fit in any corner.
The surface of this hanging wall shelf has a finely torched finish in dark brown color. Hence, it brings a feeling of comfort, warmth, and security to your mind. It is ideal to match with farmhouse, vintage, modern, country, boho, or rustic home decor.
You can buy this hanging wall shelf for your living room and brighten up any dull or blank wall. Besides the living room, you can even consider hanging it in your bedroom, kitchen, entryway, or bathroom.
Hanging Indoor/Outdoor Chair – Corner Decoration Pieces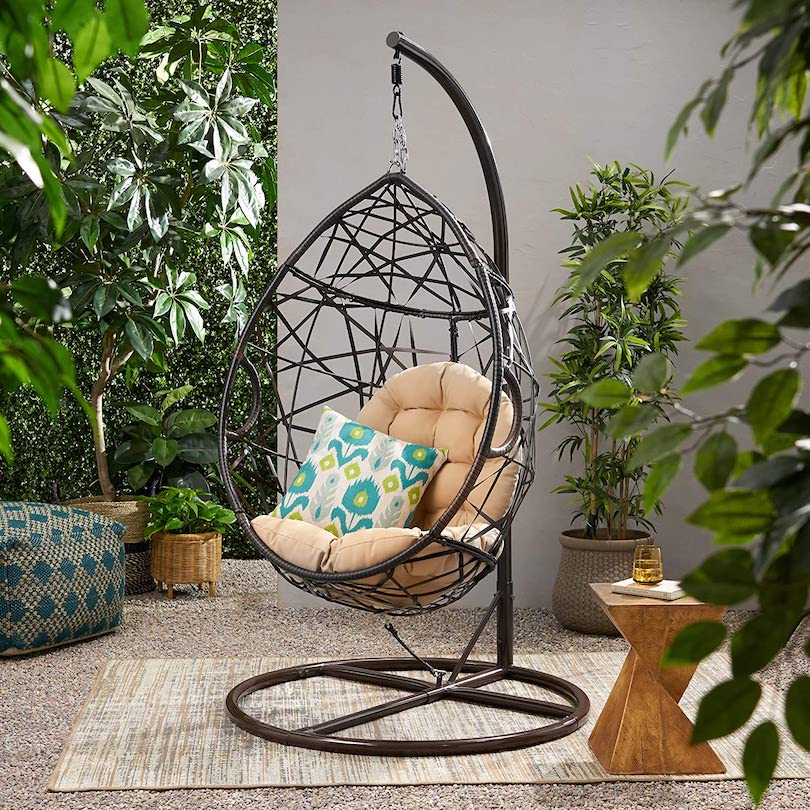 You need to get this hanging or swing chair professionally installed. However, it is not intended to use by children of 12 years of age or younger. Also, note that it doesn't include mounting hardware or a hanging stand.
Furthermore, the swing chair features a graceful teardrop shape and encapsulates the user in its form-hugging structure. This is how it gives you maximum comfort for lounging. It is also finished with an intricate weave pattern, which gives an eye-catching appearance to this exquisite furniture piece.
Its basket must be installed not over 20-inches above the ground. And, there must be around a 4.5-feet distance from the walls. Also, try to maintain at least 30-inches of clearance from any obstacles.
Boasting a long-lasting woven finish, this particular style is highly durable and also offers a versatile look to the piece. This piece has perfect handcrafted details that can effortlessly blend in with any indoor or outdoor decor.
Corner Floor Lamp – Corner Decoration Pieces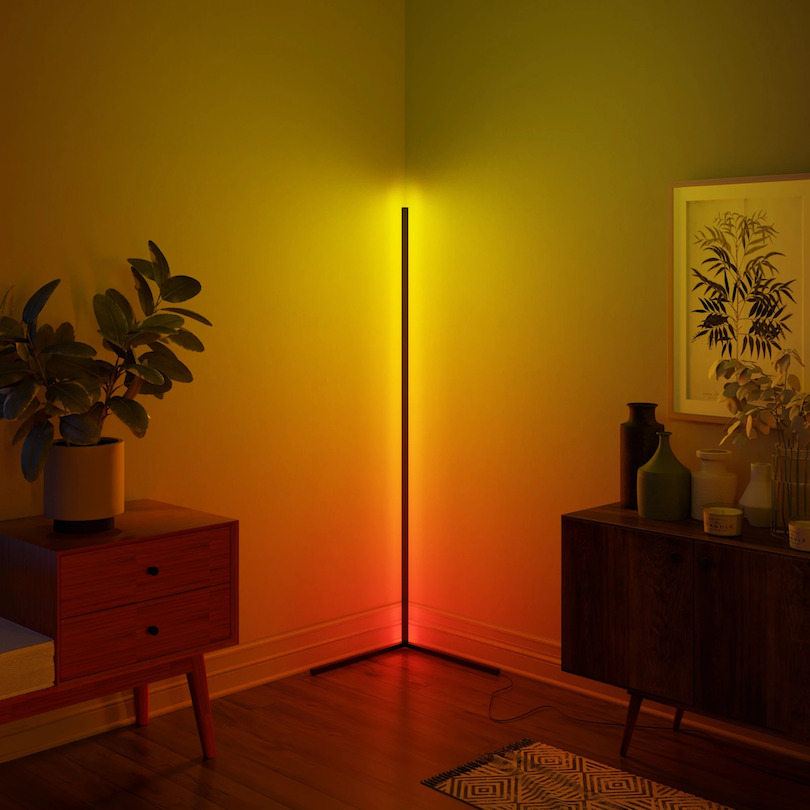 Have a look at this minimalist floor lamp with Nordic style. It is perfect to blend into any home decoration. Unlike other ordinary lights, this simple floor lamp can also get linked to various lights for achieving synchronized lighting effect rather than different lights beating irregularly.
It is a three-sided corner lamp with high-quality LED lighting, offering 25000 hours of service. The savor multi-color displays can get customized from around 16 million colors. It delivers 2000 lumen, 2500k-6500k warm/cool whites. Hence, you can upscale the ambiance of the interior when hosting a get-together while watching movies, relaxing, or reading.
Furthermore, this lighting also syncs with music. It makes it an ideal corner lamp that dances with music while bringing the whole experience into the space. Meanwhile, you get to learn to have fun with the light. Using the LED lamp app, you may synchronize your favorite audio and duration with lights.
Corner Reading Nook – Corner Decoration Pieces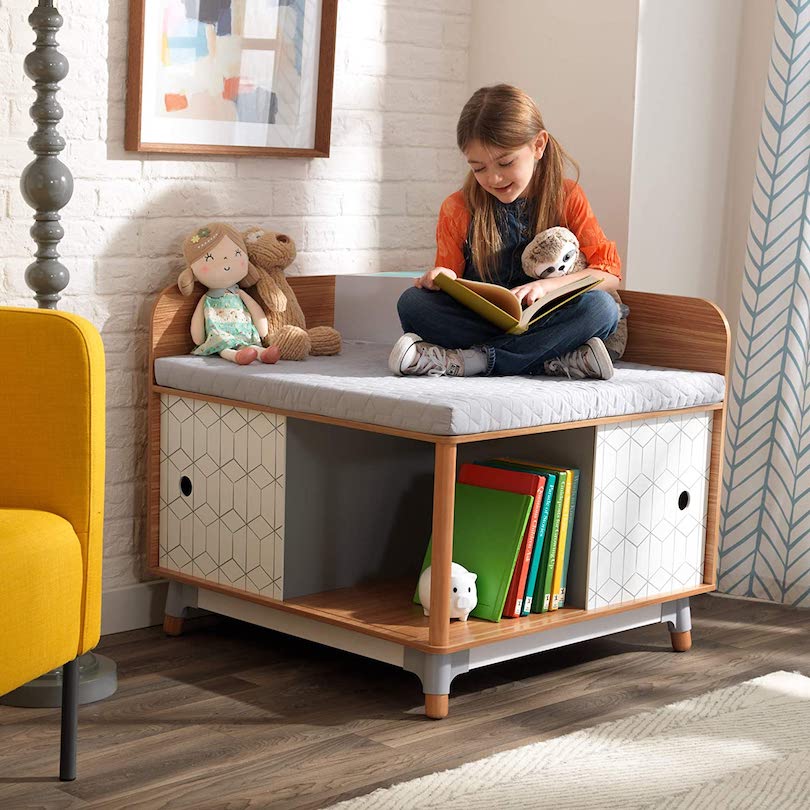 Encourage your kids' love of reading with a simple and functional KidKraft Mid-Century corner reading nook. It is one of the best corner decoration pieces that's designed keeping kids and parents in mind. It is a corner-shaped furniture piece with mid-century aesthetics, such as geometric prints, natural-look wood, peg legs, and a pop of color.
This unit even satisfies the kids' desire of having their personal cozy space for reading, relaxing, or curling up. It comes with a quilted cushion to offer a soft spot for children to lounge and relax. It even enables you to keep the needed items handy in your storage drawer. There is also a cutout for easily managing electronic cords. The shelving below is perfect for house books, kids' favorite blankets, stuffed animals, or art supplies.
Throw Pillow/Blanket Basket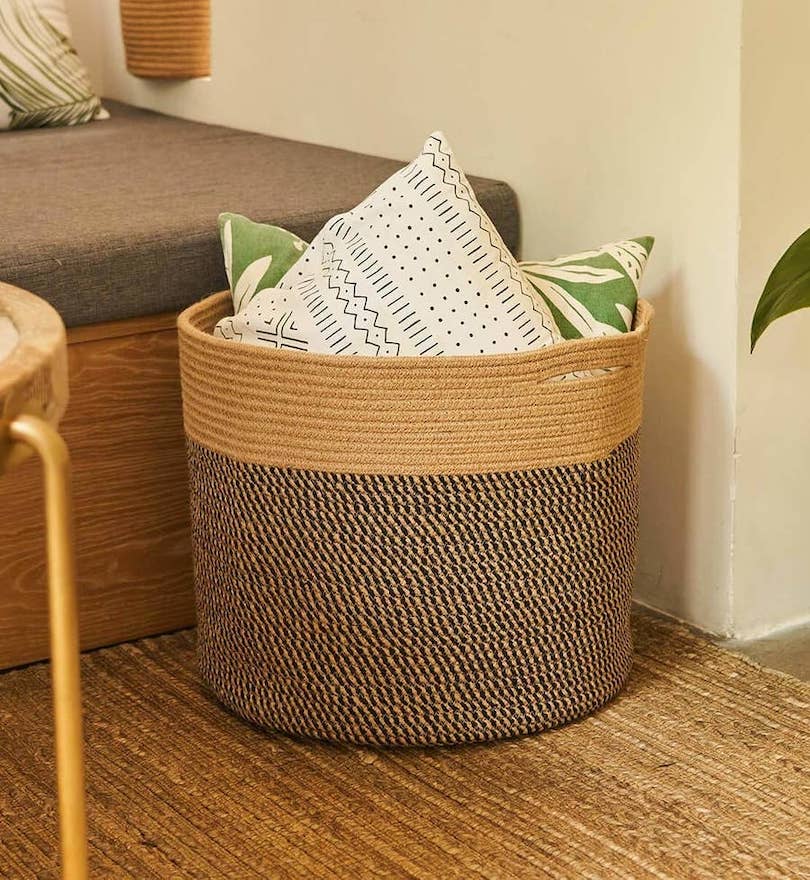 If you cannot find anything else, you can consider keeping this large rope basket at the corner. It is great for storing multiple things while keeping your interior clean and tidy. From bulky items, like throw blankets and throw pillows to kids' items, yoga mats, and craft supplies, there are so many ways to make use of this crafty rope basket.
Since it comes in neutral colors and a rounded design, it's perfect to fit into any corner space with ease. Made with premium, chemical-free, and shed-free cotton, this rope basket is safe to keep around kids, pets, and babies. So, bring it home to make it part of your beautiful interior.
Corner Bar Unit – Corner Decoration Pieces
You don't have to worry about the area to hang your favorite liquor and wine glasses with this corner bar unit. It is one of the ideal corner decoration pieces with plenty of hanging space. It even has a space to store your best collection of wines.
The spacious cabinet boasts an exquisite cross pattern on the wooden door. This unique pattern makes it a real eye-catcher. Plus, the cabinet has enough space to even house your glasses, ceramics, and plates along with your finest beverage collection.
Besides that, this bar cabinet can also serve as a china cabinet, coffee station, or service counter. This makes it a wonderful unit to keep your guests entertained.
Accent Armchair – Corner Decoration Pieces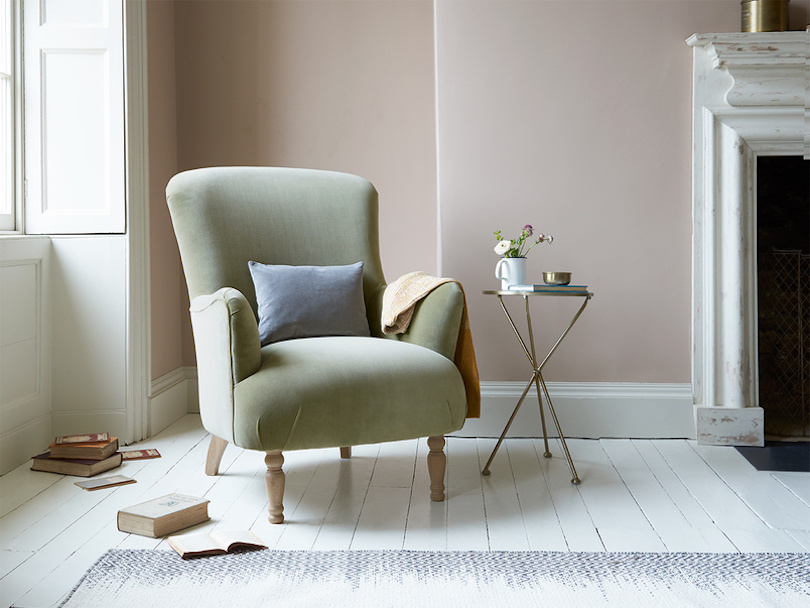 Buy: Gramps Armchair
The Gramps armchair is ideal for go-to versatility. This is a high back armchair without any fuss of studs or buttons. What's more amazing about this furniture piece is that it comes in around 151 fabric choices to help you suit it to any interior design.
Depending on the available space in your living room, this compact but comfortable armchair becomes an ideal spot to lose yourself in a book, relax while listening to music, and work on your laptop peacefully.
Metal Plant Stand – Corner Decoration Pieces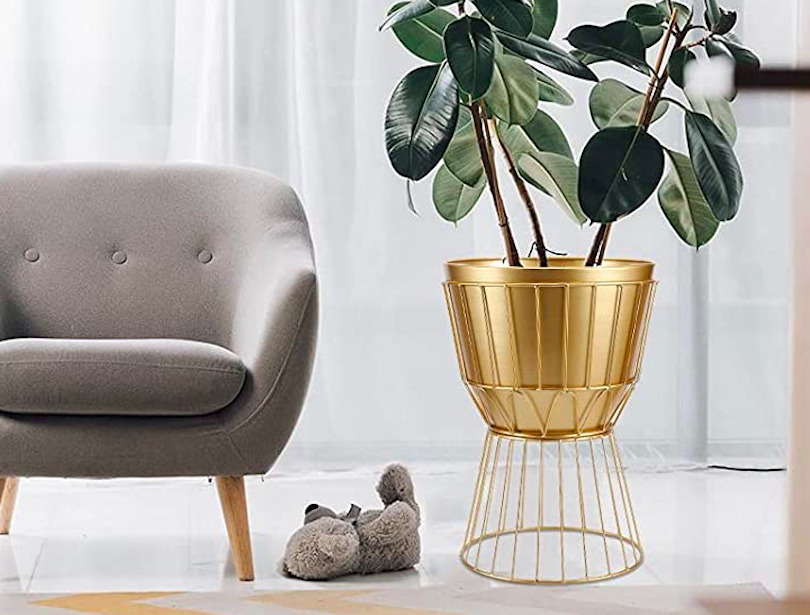 Lastly, you can choose from such metal corner decoration pieces. This metal plant stand consists of 100-percent iron for lasting durability. It is also sturdy for holding any small or large size herbs. It further comes with a drainage hole in its bottom, hence ideal for indirect or direct planting.
With the gold finish outside its iron structure, this metal plant stand is the epitome of design and beauty. It is an attractive piece to add exquisiteness to any living room. Or, it's a great gift option for plant lovers.
What makes it so effortless is its easy-to-assemble design. It comes in a combination of two parts. You need to press the upper part of the pot into the lower part. After that, place a flower pot within the stand. And, it's ready to use in only three seconds.
Now display any of your favorite plants and bring in a sense of elegance and beauty to the given space. We're sure you'll love its luxurious appearance with lively green plants.