15 Stylish Wall Shelf Design Ideas To Organize Your Home
Organizing doesn't need to be a tedious task. You can make use of some stylish wall shelf design ideas for preserving the style and functionality of your living space. If you feel your bare walls are asking for personalization, the holidays are the best time to add some interesting touch on the walls.
Be it some antique pieces, your mini book collection, or photos of your loved ones, a stylish wall shelf is suitable for every situation. We understand it's an old way to style up an interior but a shelving unit is perfect to give your space a unique perspective.
If you are wondering what changes to make on your plain walls, you can check out some of our modern wall shelf design ideas for different rooms in your house or apartment. So, don't let any room miss out on this practical and aesthetic furniture piece.
15 Stunning Wall Shelf Design Ideas
For your shelving pleasure, here we have shared 15 modern wall shelf design ideas to enhance the visual appeal of any room.
1. Go For Triangular Wall Shelf Design Ideas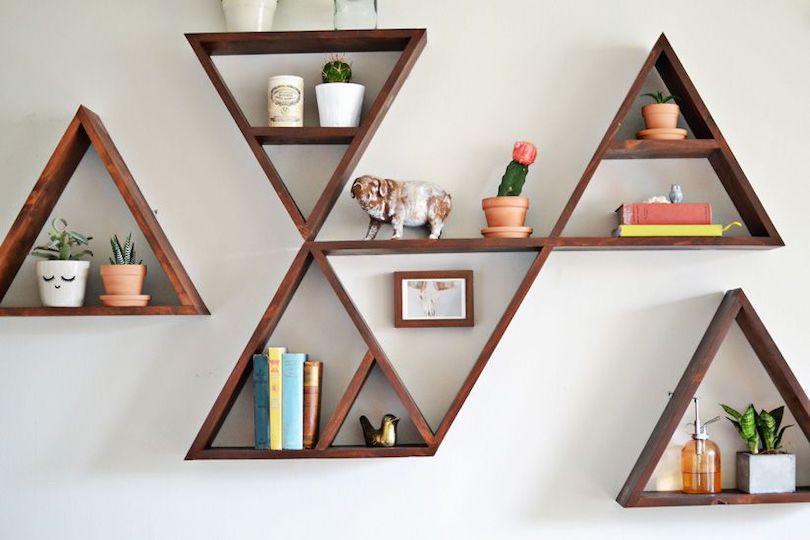 Are you a fan of geometric figures? You can consider adding this triangular wall shelf unit into any room that seems to be lacking some interesting visual elements. You can easily utilize the empty spaces on your blank walls with these triangular wall shelf design ideas. These shelves are great for a living room, bedroom, or anywhere else as an interesting spot for showcase your art pieces, book collection, or decor pieces.
2. Arrow Wall Shelf Design Ideas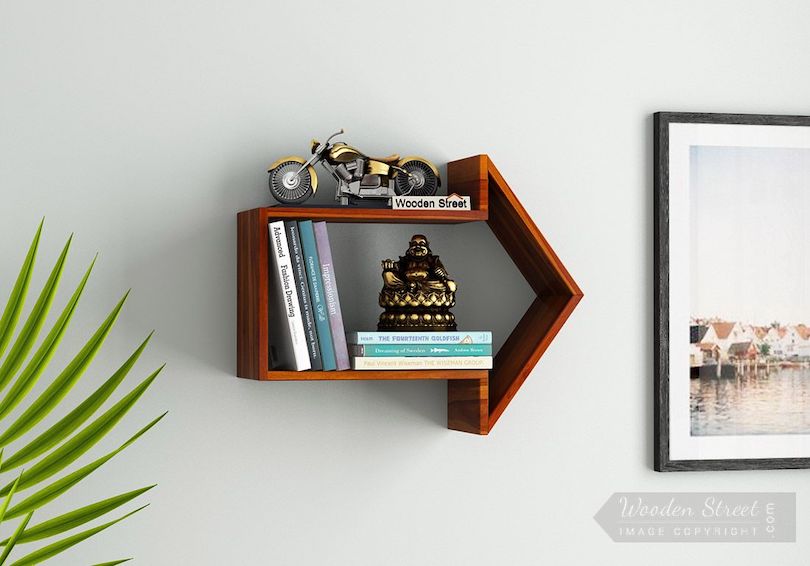 Not just a medium to showcase things, you can also use wall shelf designs to indicate a path. Wondering how? Just have a look at this arrow wall shelf that serves the dual purpose. It is a great way to add an interesting design element into your home while directing your guests to the loo, kitchen, or any other room.
3. Corner Wall Shelves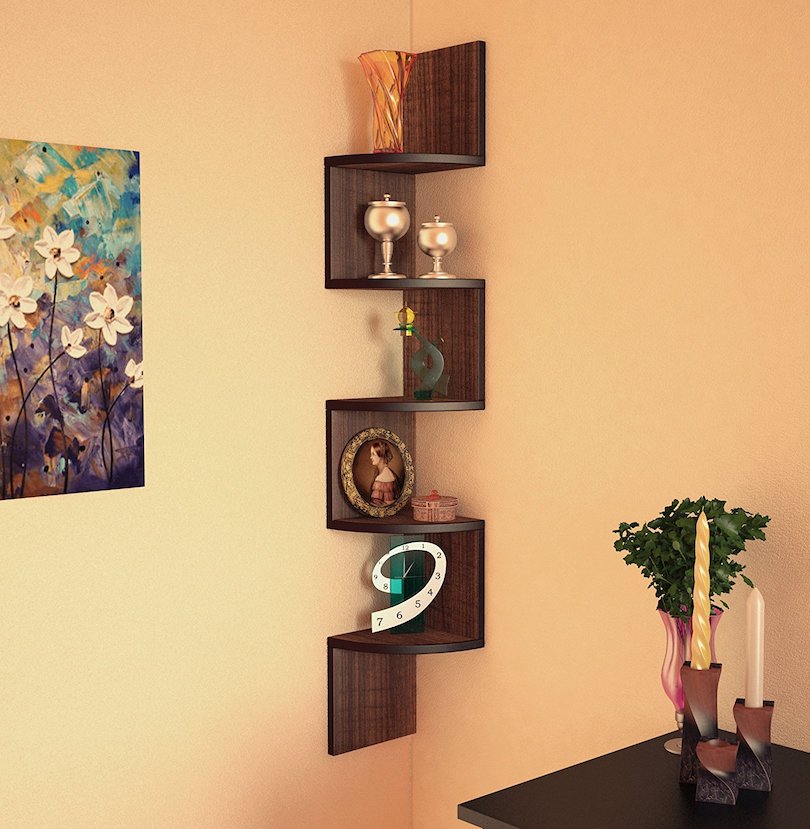 Almost every house has those sadly forgotten corners. To make the most of these unused corners, you need to incorporate stylish corner wall shelves on these areas. These are great to display your mementos, decor pieces, or planters.
Or you can add them to your bathroom's corner to put your bathing accessories, towels, and toiletries on these shelves. Or simply put them in your bedroom or study room to keep tour books or magazines.
No matter how you use this corner wall shelf, your guests are likely to marvel at this smart use of space.
4. Industrial Wall Pipe Shelf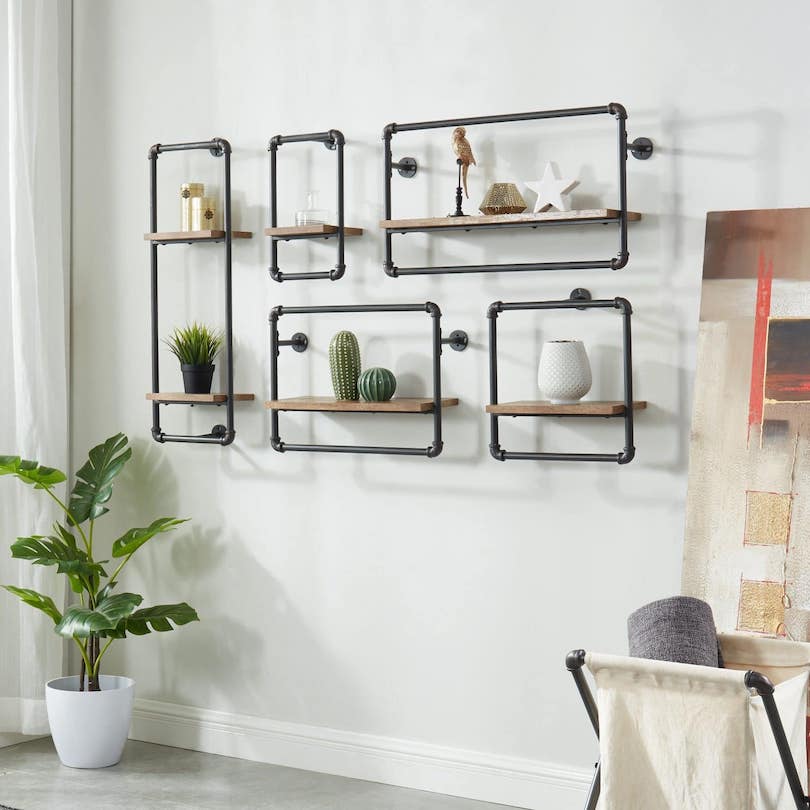 Are you someone who adored industrial interior design? If so, you'd surely love these industrial wall pipe shelves that are easy to arrange in any design and make it unique. So, you may even create a half shelf or a full shelf design as per your need.
This shelving unit consists of metal pipe framing and rustic wooden shelves to display your books and other items. These are likely to make your living room appear rustic and rugged with an industrial appearance.
5. Rustic Wooden Crates as Wall Shelf Design Ideas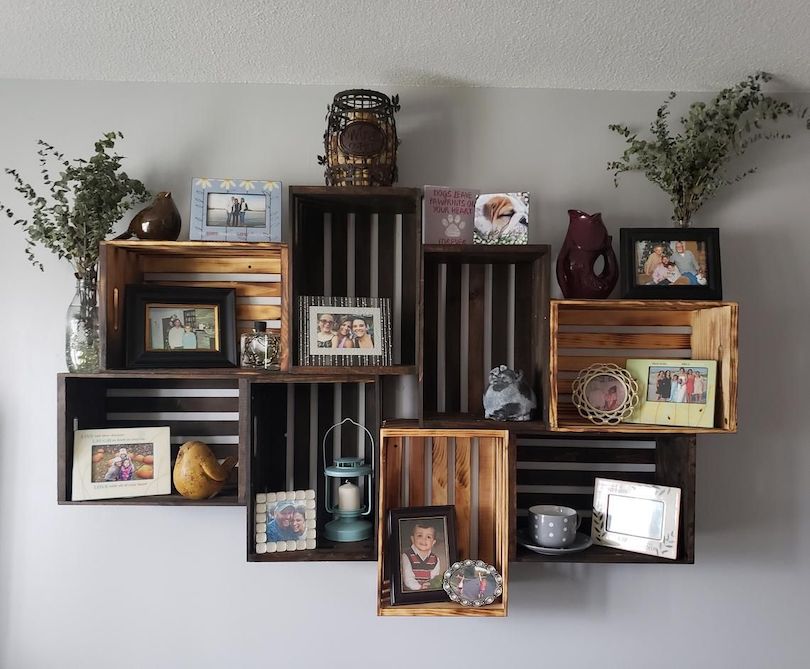 You can also make use of unused wooden crates for rustic wall shelf design ideas. It is a great shelving design for those who love rustic farmhouse interior decor. You can mount the crates on wall-like shelves or simply stack them over one another for creating a unique bookcase.
Besides that, you can even lay them out in different forms as per the size of your wall and the look you want to create with them. It simply means that you can be as creative as you desire with these wooden units.
6. Intricately Carved Wooden Wall Shelves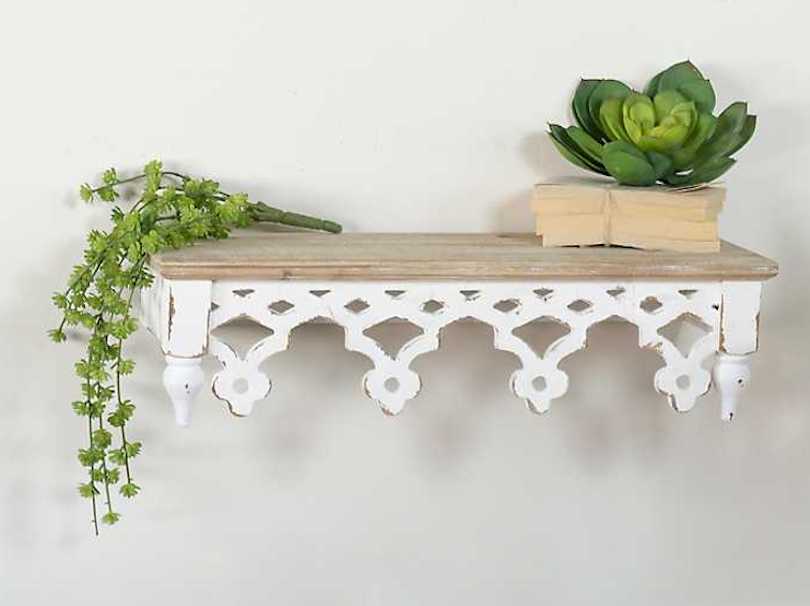 Here's this intricately carved wooden wall shelf design that's perfect to add an interesting touch to any interior. These shelves boast intricate carvings that appear vintage and chic in this distressed white finish. So, this shelving design is just perfect to add vintage charm to your living space. You can add these shelves as a single unit or a set of three or four in a slightly different size. Together such wall shelf design ideas are perfect to add eclectic charm to your living space.
7. Play on All the Surfaces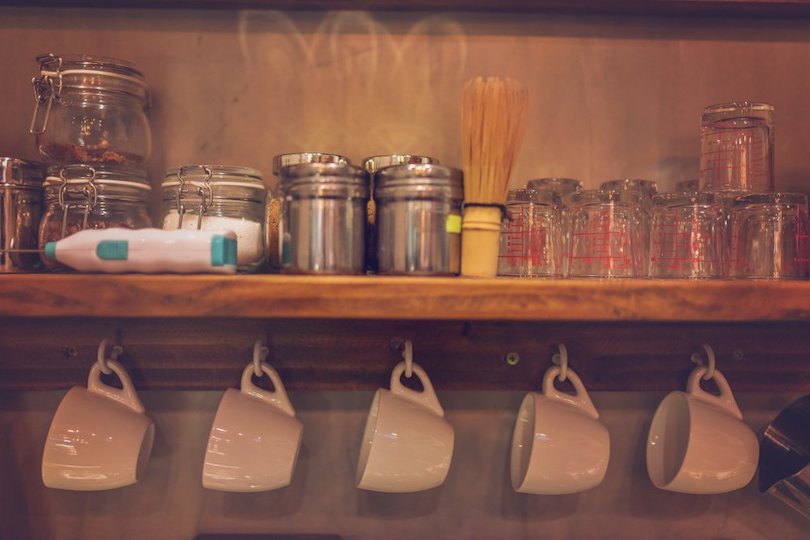 When you want to add floating shelves in your living space, be sure to leverage every inch of the available space. Just be creative and innovative to make use of the lower surface as well.
For instance, in the image above, you can see how coffee mugs are hanging underneath the shelf. It's not just a great way to utilize the available space, but also best to pep up your kitchen shelf. Not just the kitchen, you can use this shelf design in other rooms of your house as well to add zest to the interior.
8. Patterned Wall Shelf Design Ideas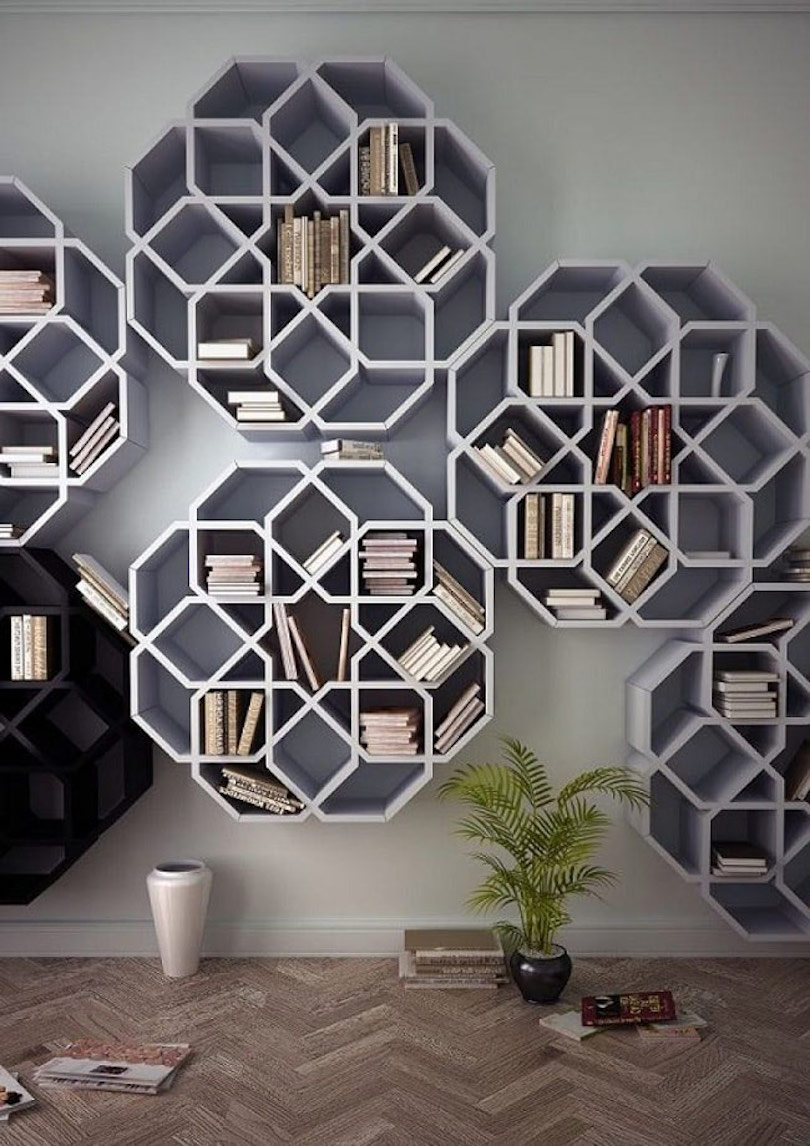 Make use of patterned floating shelves in your drawing room to add a quirky touch to the interior decor. Such abstract patterns of floating shelving units are perfect to flaunt your plush showpieces or book collection.
However, this stylish shelf design itself is a statement piece in the given space. So, no matter how you wish to utilize it in your home, this shelving design is likely to be the focal point of any room interior.
9. Contemporary Wall Shelf Design Ideas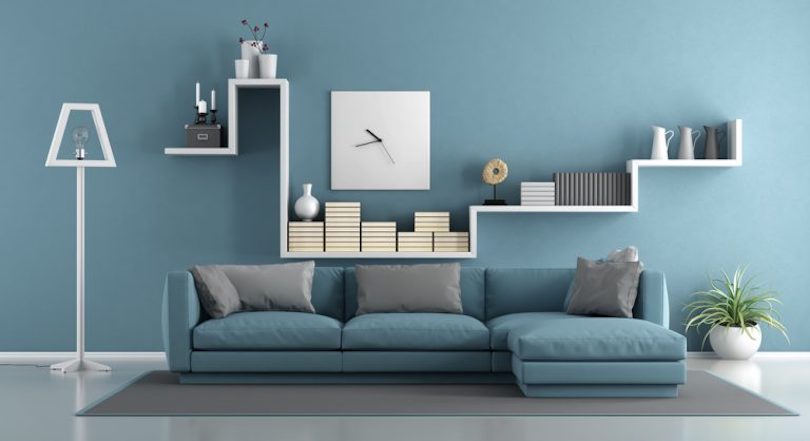 Are you a reading buff? If so, you'd love this home decor design idea. This is perfect for someone who stashes a myriad of books and is not willing to give them away. So, they should make their book collection part of their home interior with such contemporary wall shelf design ideas.
Rather than adding some bulky wall shelving, it is best to consider such a minimal wall shelf design that won't consume a lot of carpet area in the given space. Moreover, add a cozy sofa or armchair next to this wall shelving to enjoy ready while having a hot cup of tea/coffee.
10. Stylish Wine Shelf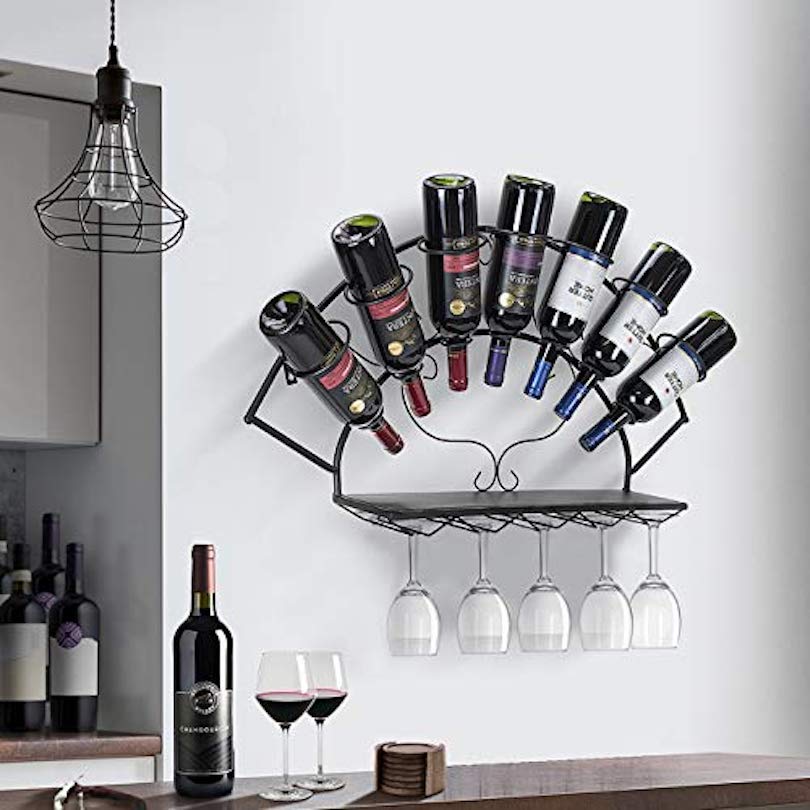 This unique wine shelf design is ideal for storing and displaying your collection of wine, liqueurs, spirits, and glassware. It boasts a fun arched design to display bottles and glassware upside down. Hence, it adds a whole new dimension to the interior design. It is an amazing space-saving alternative to your usual bar cart.
11. Tree Branch Wall Shelf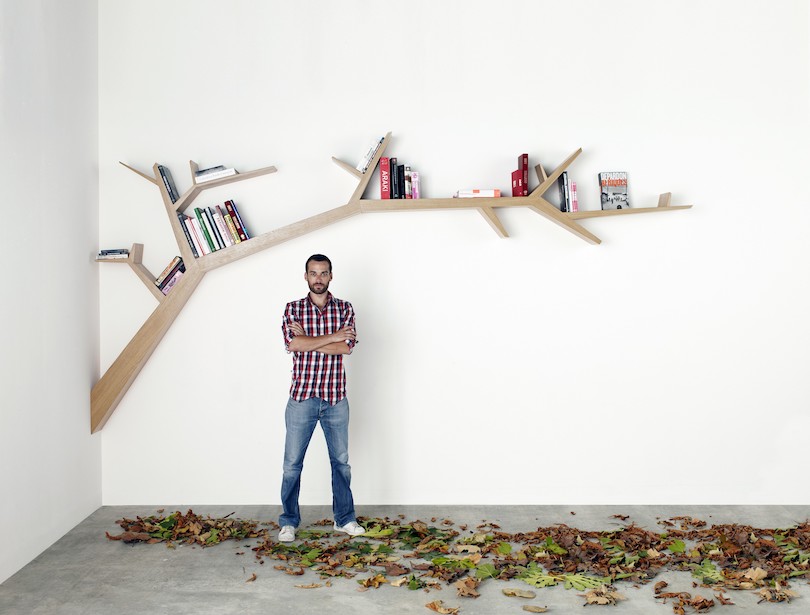 Turn your empty wall space into a useful organizational tool with this elegant tree branch shelf. This is an interesting art piece for your wall and also a clever book storage space without compromising an inch of the given space. Just add it into any dull room in your home and see how it transforms the given space.
12. Hanging Wall Shelf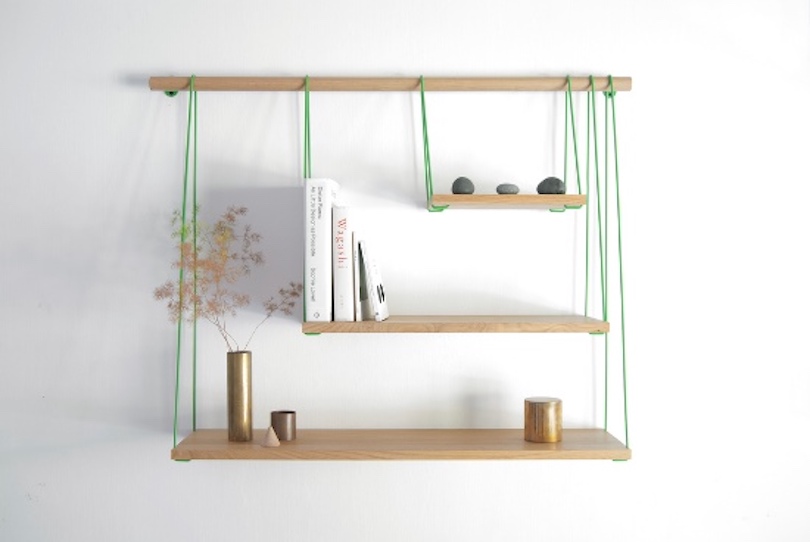 Hanging wall shelf design ideas are also great from the point of view of home decor that needs less investment. Meanwhile, it adds a fabulous and classy touch to your interior. All you need is a rope (jute or cotton) and wooden plants with holes to pass roles through them.
Once your DIY hanging wall shelf is ready, you can hang it in your kitchen or living room for keeping decor pieces, books, or planters. You can even get it painted to add a complementary or contrasting touch to your walls. Either way, it will add an interesting countryside vibe to your living space.
13. Glass Wall Shelf Design Ideas
Another minimal yet classy way to add a contemporary feel to your interior is by adding such elegant glass wall shelves into your living room. You can ask experts to install these glass walls to display decor pieces, planters, or books.
Such glass wall shelf design ideas require minimal maintenance effort, as you can easily clean with using a cloth and liquid cleaner.
14. Wooden Stump Wall Shelf
Are you looking for totally eccentric wall shelf design ideas? You got to check out this split wooden stump wall shelf. It is a perfect spot to display your treasures, ornaments, or succulents. Since natural wood is mainly used to make this shelf, it works like magic for most decor styles and add something unique to your living space.
15. Golden Square Wall Shelves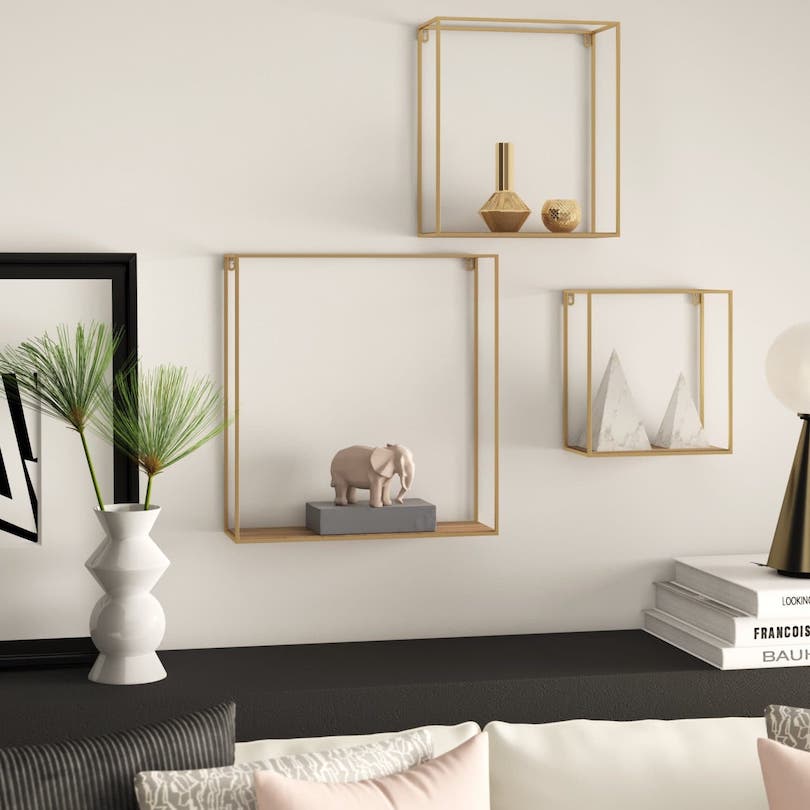 These minimalist gold square wall shelves are great for displaying and storing your items in your living space. While these are best to store books, their chic design would intrigue you to display special decor items, such as small sculptures or ornaments.
Each gold square consists of a tubular metal frame in an elegant gold finish and a wooden base. You can add stylish decor items on these display units in order, as per your preference. No matter what you display on them, these units are likely to add a mid-century modern or contemporary vibe into your living room.
We hope these wall shelf design ideas have inspired you to add some style factor to your empty walls. When installing them, you also need to take care of their maintenance for making them appear amazing for a long time.