Best Motorhomes Releases From Florida RV SuperShow 2022
The Florida RV SuperShow 2022, the largest RV Show in the world, was held last week. This event is a must-see for RV enthusiasts, as you can find almost every top RV manufacturer here. This year was no different. We came across some of the amazing motorhomes designs in different models and sizes. Plus, there were also some new RV prototypes on the display that will make you dream of a motorhome living.
There were around 400 exhibitors at this year's show, with several accessories, motorhomes, and facilities. So, if you're an RV fanatic, you need to know all about these latest releases. However, we bring you some of the best motorhomes from the show. Given below we have listed some of the stunning motorhome designs with interesting and practical features.
Have a look!
eStream Motorhomes Concept by THOR Industries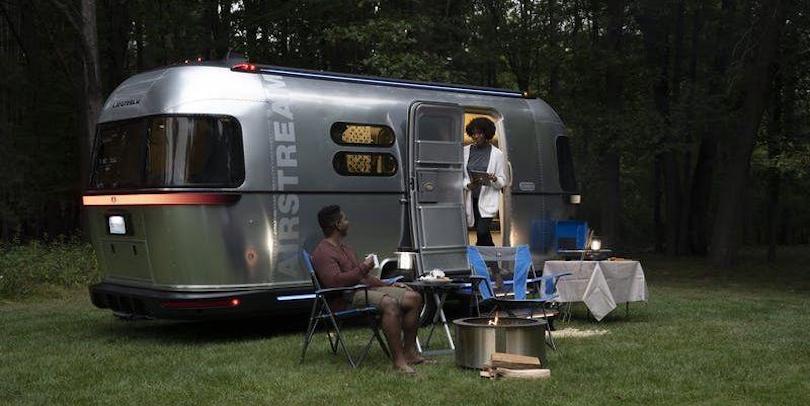 THOR Industries from the US has released their electric motorhomes concept called Airstream eStream at the event. This concept RV includes an electric chassis that's co-developed with Roush. It is a battery-powered electric drivetrain that includes lithium-ion batters and independent motors. Hence, it offers a better range and increased fuel economy.
In collaboration with its European subsidiary Erwin Hymer Group and ZF, THOR has come up with a technology that further extends the range of towing. If we talk specifically about this particular motorhome, it boasts a range of technologies, such as integrated fuel-cell components. These components can further enable a good range of up to 300 miles.
Features:
Easy to control with a remote
Easy power management and monitoring
Range extends up to 300 miles
Transparent floor paneling
The slim aerodynamics and clean roofline help in reducing wind resistance. This makes it possible to easily go farther. It even includes a solar array for offering proper power backup. You can easily plug the eStream into your home's grid and also use it as a backup generator. Meanwhile, it's easier to track its consumption, available power, and vehicle range. This is possible due to the RV's companion mobile app. Another good thing about this RV is that you can also control its various features using a remote control.
Ember RV Overland Series 191MDB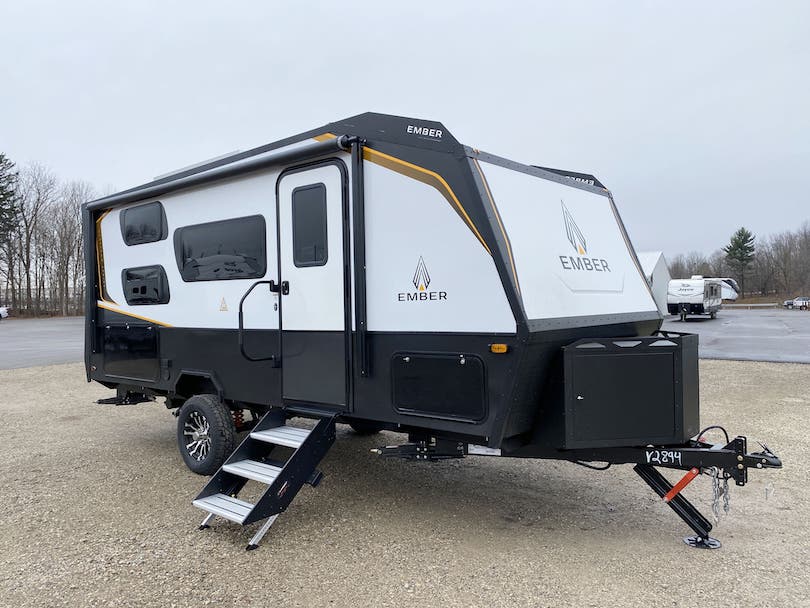 Ember is a new entrant in the RV industry. Still, they impressed everyone at the even with their RV that has a space-savvy floor plan along with advanced features. This startup showcases their 191 MDB travel trailer at this year's RV SuperShow and left a mark on everyone's mind.
It is one of those motorhomes that are perfect for a family of 5-8 people. So, a big group can easily camp together in this RV. It even comes with double bunk beds that are ideal for kids or guests. On the other hand, it includes a Murphy bed under a skylight in the bedroom.
Ember Motorhomes Features
Capacity of 5,550 lbs gross weight
Accommodates 5-8 people
Outdoor shower
Outdoor kitchen
Flush toilet
The dinette space creatively tucks in a removable table and sleeper sofa. It even includes an outdoor kitchen with an optional griddle and fridge. The space also has fresh black and gray water tanks. The trailer measures around 22'6" L x 10'4" H x 7'6" W with CURT independent suspension. It even provides a great ride while the 5-sided aluminum frame assured better durability.
Winnebago e-RV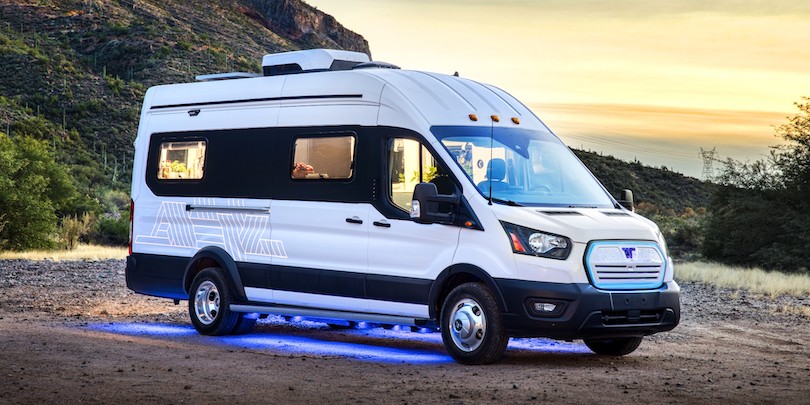 Winnebago Industries has unveiled the e-RV, the very first all-electric motorhomes with a zero-emission concept. Created over two years, it boasts an advanced electrical power system that's offered by Colorado's Lightning eMotors. Their new motorhomes come with 350-volt DC architecture. It also includes an air conditioner and water heater with an advanced heat pump. Meanwhile, the RV has 110-V AC power to run the fridge and induction cooktop.
Features of motorhomes
86-kWh battery
125 miles range
45-minute charge time
Bathroom with toilet
Galley kitchen
As per the company, the 86-kilowatt-hour onboard battery package enables up to 125 miles range. Meanwhile, it fulfills various other power requirements of the coach. Its charging time of somewhat around 45 minutes at the current charging stations. It even comes integrated with an advanced control system. This control system comes complete with a display for keeping a tab on all systems and appliances of another all-electric motorhome. Furthermore, you can monitor the systems with a smartphone or tablet app.
Vision Vehicle Concept Motorhomes by THOR Industries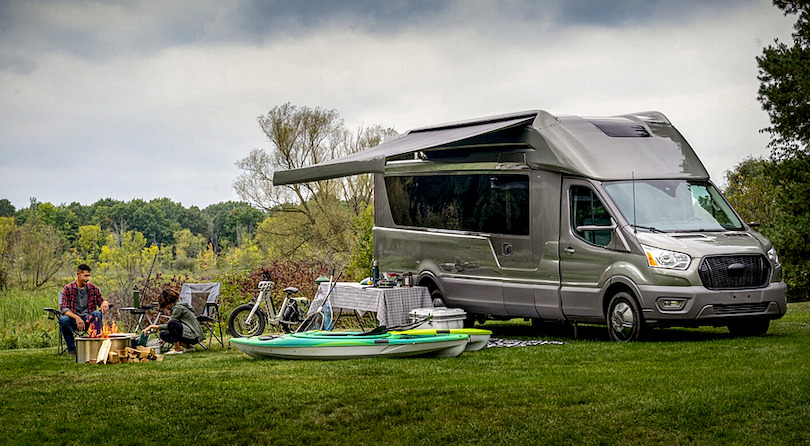 THOR Industries unveiled some other electric RV concepts at this year's concept. It's powered by a high-capacity battery pack and also comes with a built-in fuel cell. Due to this, the RV provides a range of up to 300 miles.
This new RV also boasts a central display, which makes trip planning very easy. Furthermore, the inhabitants get information about the routes, such as tourist places, charging stations, and places to stay. It even enables controlling house functions and monitoring power. Furthermore, solar panels are present on the roof. So, you can enjoy off-grid camping anywhere without any stress.
Key Features:
300 miles range
Smart home experience
Power management via digital tools (intuitive touch display and mobile app)
Furthermore, the interior space of the RV is designed to keep convenience and comfort in mind. There are various advanced features, such as retractable TV, voice control, and integrated digital cockpit. This particular RV is perfect to offer a seamless connected traveling experience.
Palomino Backpack Motorhome with Fold-Out Deck (HS-2912)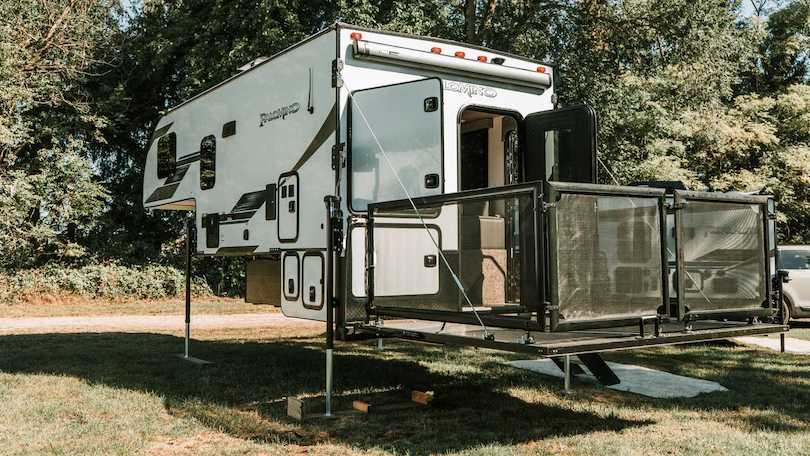 Palomino RV released the Palomino HS-2912 last year. And this year, the company debuted the motorhome at the RV SuperShow. The firm has also grown in its stature as the RV maker offers the best value in the industry. This specific 20-foot truck camper boasts a large pull-down patio at its back. It even includes an entertainment system with a proper entertainment system. And, there's also a refrigerator outside the camper.
Main Features:
Accommodates four
Includes an outdoor entertainment system
The camper has about two doors for entering the camper. It also includes a proper living area and a kitchen. Plus, the rear area includes a bathroom. Furthermore, the camper has enough space and amenities to make it suitable for on-the-road living.