Red Mobi 05 DAISY Tiny House Takes All the Comfort On-the-Go
For those who wish to carry all the comfort while traveling, DAISY tiny house is a perfect on-the-go living space. Created by Mobi House, tiny house builders from Poland before, this tiny home boasts a bright red exterior and white interior with a few hints of red. The Polish builders are led by a passion to create some impeccable tiny homes. And, Mobi 05 DAISY is a perfect representation of what they're passionate about.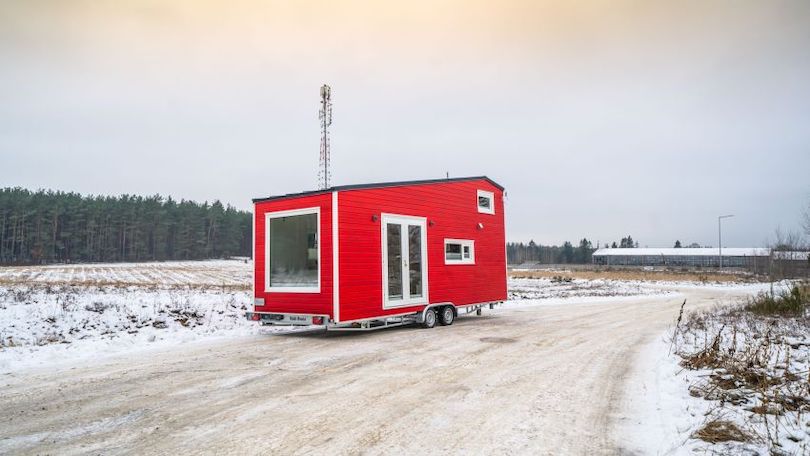 Tiny House With Bright Interior & Ample Amenities
Just like any other tiny home created by them, the DAISY model is supported by the pillars of Japanese minimalism. Its design also seems to depict the calmness of Zen philosophy. What's best about this trailer home is that it's suitable for both winter and outdoor getaways. It is a 7.2 long trailer that can accommodate a couple of people with ease.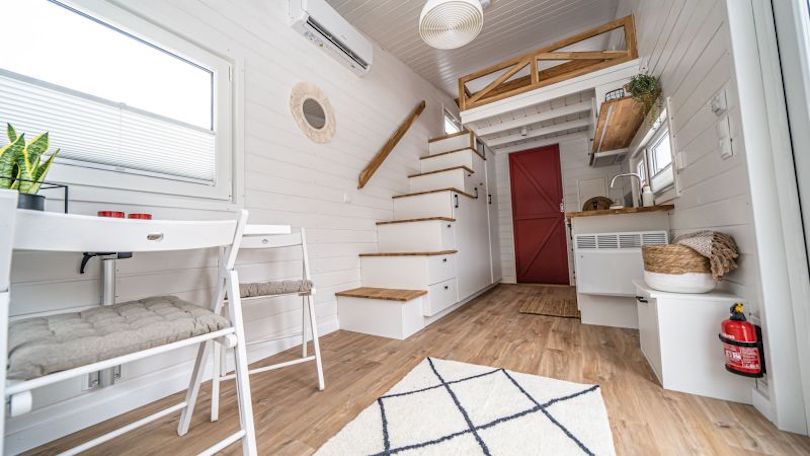 Furthermore, there are large doors and windows to flooring the interior with natural daylight. Hence, it creates a perfect brighter and naturally lit living space. The color palette for windows and doors is gray and white. However, the exterior is mostly Swedish red and wooden, as you can see in the images.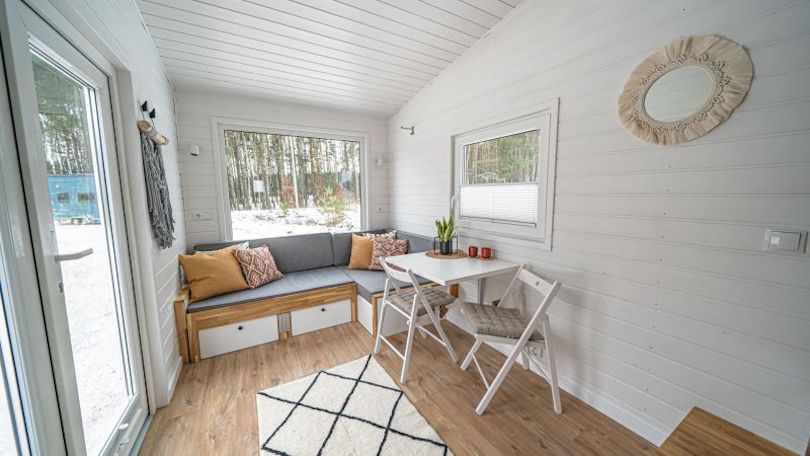 The living area is quite spacious and houses an L-shaped sofa. This sofa can easily fold away if you want more space in the living room. There is also a table next to the sofa and this table can also retract back to the wall. Even a few chairs are placed near the table.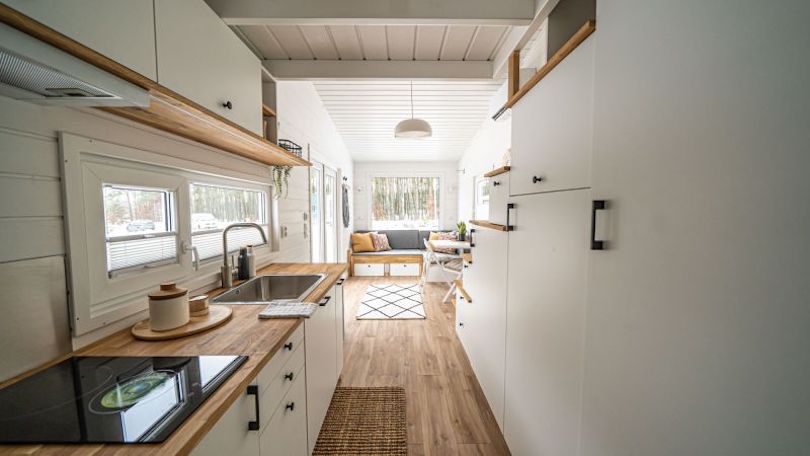 Heading to the kitchen, you can see that it's bright and functional. This area has all the basic amenities. Plus, it's filled with drawers, cabinets, and shelves for ample storage facility. This specific tiny house also has a bathroom with a standard toilet, shower cubicle, and sink.
Distinct Roof Design
One standout feature of this home is its roof. It has a slope to offer a spacious mezzanine that's easy to access via stairs through your living room. This mezzanine even includes a wooden railing on the borders to prevent anyone from falling. Furthermore, you can see two ventilators for enjoying the outside view.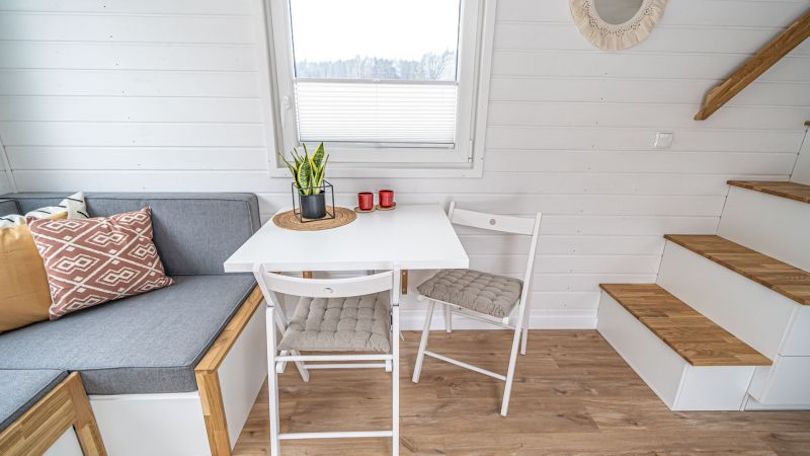 Overall, it's quite a comfortable tiny house with all the basic amenities you need on the go. If you want this red tiny house for your next trip or as a permanent home, contact the builders. You can get in touch with them through their official website.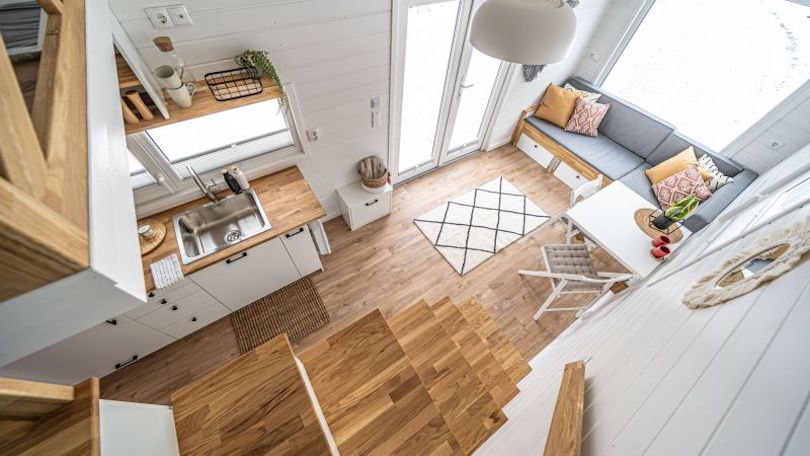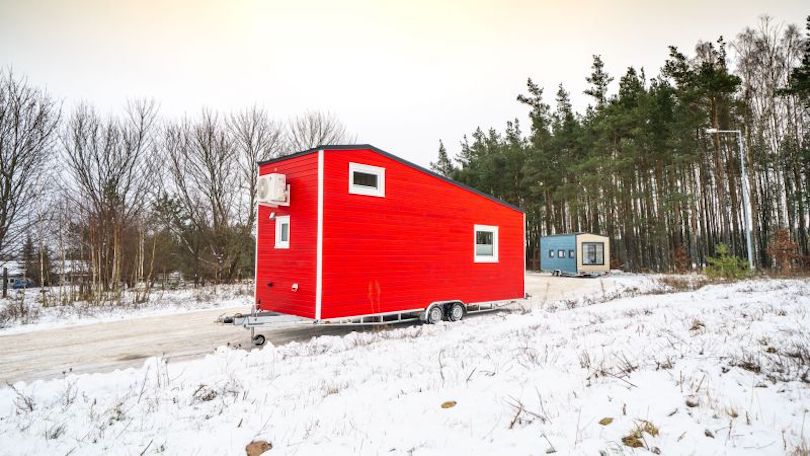 Via: CuratedMint