Atelier Fasea's Adaptable Tiny House Opens Its Walls To Outdoors
When you plan to downsize to a small house, a porch or deck can help you open up the interior to the outdoors. Even French architecture firm Atelier Fasea has inclined into this idea with the formation of its new tiny house concept. This conceptual adaptable tiny home boasts operable walls that open up living space to embrace the nature outside.
The cabin is nicely placed on a firm trailer and measures 7.80m x 2.45m. So, it is easy to tow by truck to any desired location. The compact rectangular floor plan of this tiny house comprises 'perfect' winter living accommodation. Plus, it features a functional kitchen, living room, and shower room with a dry toilet to make the interior comfortable for inhabitants. It even includes a technical room towards the trailer's hitch, where you can find the water, gas, and electric system.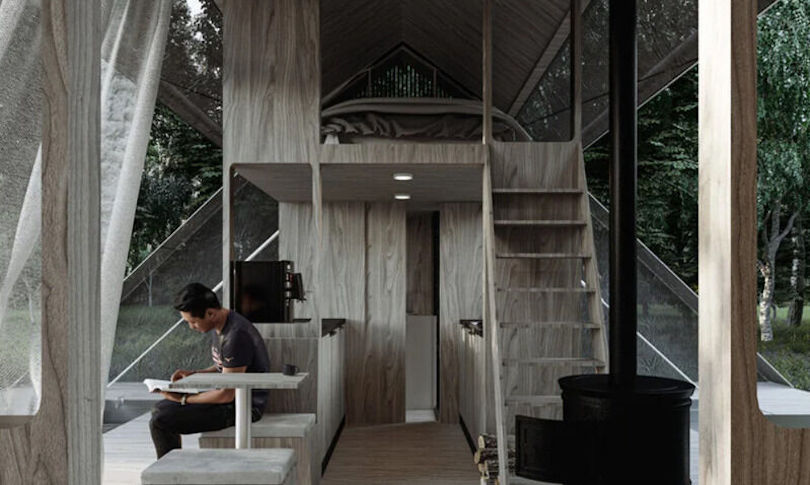 Tiny House in Winter
In the winter season, this tiny house becomes self-sufficient with solar panels, a wooden stove, a rainwater collection system, and two gas bottles. So, it will have enough energy to run even if the natural light does not generate enough electricity.
The interior of the small house boasts a total floor space of around 17.7-square-meter. It is likely to remain centered around a large living room with a dining table a wood-burning stove. The dining table is also easy to expand whenever you have extra guests over. Moreover, the available sofa bed in a living room is perfect to sleep two.
In Summer
In the summer season, when the sun starts to shine for a longer duration, this wooden dwelling can almost double its actual size. It is because this tiny home can unfold from a small size to a big one in no time. Its elevations can easily fold down to create an abundant outdoor terrace on either side. This provides a proper extension for living space while connecting the inhabitants to nature.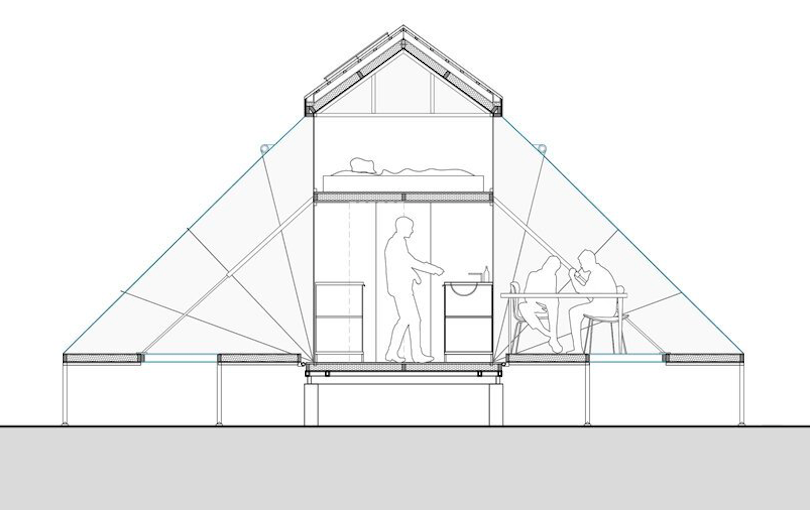 The outer spaces are nicely covered with a waterproof tent that deploys a proper system with motorized jacks. So, it can protect the inhabitants from sun, rain, and mosquitoes. Plus, the tiny house remains autonomous in spring and summer with added benefits from solar and water devices.
This tiny house's bathroom and kitchenette would be situated under a mezzanine loft, which is accessible via stairs. The loft also houses a double bed. If we speak of the bathroom, it includes a sink, shower, and toilet. Plus, a small storage room is present to stow wood, water, gas, or extra batteries for the solar panels.
Although this tiny house is still in the planning stage, the company has confirmed that they will explore more possibilities with its design soon. With this, we hope that it will be available soon in the market for sale as well.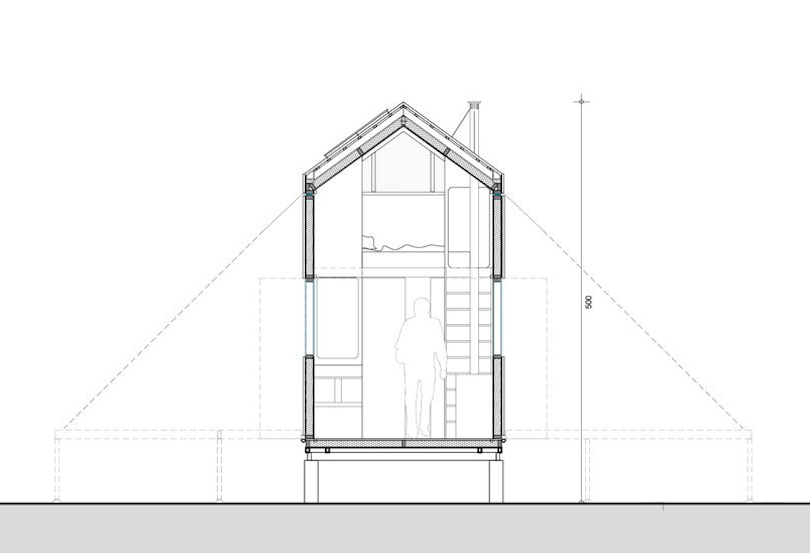 Via: Designboom