20 Creative Ways To Organize Your Book Collection
Although the huge inclination to the digital world has impacted sales of physical books, there are still so many people who love the touch and feel of a tangible book. Especially, after 2020 when the coronavirus pandemic hit the world, many people rekindled their interest in reading. But unlike ebooks or digital content, books need a place to go. If you have a few or many books in your house and you don't know the right ways to organize your book collection, you've landed on the right page.
In this article, we will share with you some stylish and creative ways to display your books. It will not just make your book collection more organize, but also deck up your room where you like to keep your tomes.
How to Organize Your Book Collection Stylishly?
Some book organization ideas given below are quite argumentative in the bookworms' community, as they dominate form over function. We suggest you go for that idea that makes your inner librarian go gaga. Or simply pick the one that you think will go well with your home/office interior.
It is because these ideas to organize your book collection are not for everyone. While there is nothing wrong or right when it comes to organizing a book collection, you need to be content with the final look. Also, see how to want to display your books.
We hope that our list offers something that works for everyone. Don't be afraid to experiment until you feel happy or consider mix-matching two styles to meet your requirements.
But before beginning with different ways to organize your book collection. So, you can easily assess all the books. You need to follow these steps before starting the rearrangement:
* Empty the bookcase:
You have to start by emptying the entire book case and clean it well. Once cleaned nicely, you need to look at the space with fresh eyes.
* Edit the book collection:
Now ask yourself whether you want all the books in your collection. It is fine if you want all of them. But it is helpful if you have a look around and decide what is worth keeping. Also, ask yourself why you want to keep specific books. Do they have any sentimental value? Are you looking forward to reading it again? Does it have good pictures? Is it outdated? If there isn't even a single reason to keep a book, you need to keep it in a 'donate' pile. You may go through the entire pile later and re-evaluate if you want to keep it or not. But if you still want to keep all of them, DO IT!
* Find the place to keep your book collection:
Do you want a home library in the same room? Do you want to protect your books from dust? Do you want to buy any extra bookshelf? Consider all these factors and figure out the right space to keep your entire book collection.
20 Creative Ways To Organize Your Book Collection
Here are the 20 amazing ways to consider to organize your book collection.
1. Organize books by Color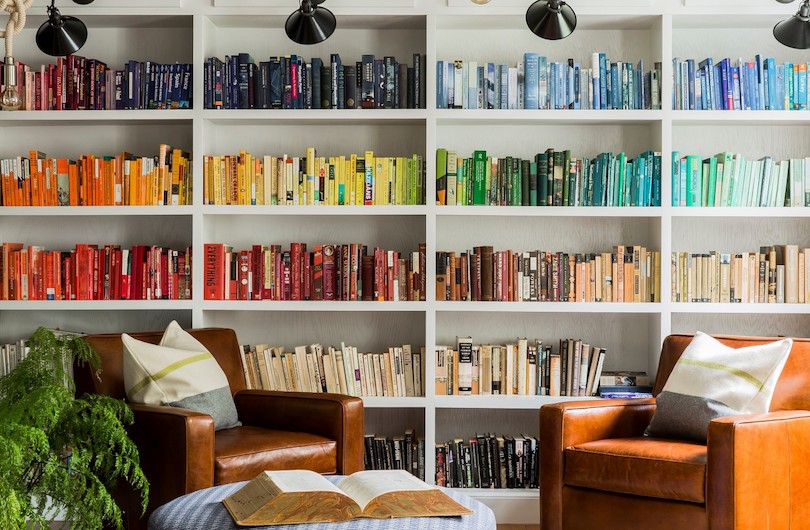 It is one of the common ways to organize your book collection in your study or living room. To begin with, you need to group your books by color. Have a look at the given open-shelved bookcase, where you can organize books by color to make the section eye-pleasing. The hardcore bookworms may ridicule the idea of arranging books by color. But if you are someone who remembers books by covers, it is a fun idea to try.
2. Floating Shelves To Organize Your Book Collection
One another creative way to organize your book collection is to display them on modern shelving. You can pick floating shelves if you don't have enough floor space to keep a full bookcase. These floating shelf looks streamlined and don't take up your floor space. Plus, you can keep a handful of books above a desk in a small living room or bedroom.
3. Stack Your Book Collection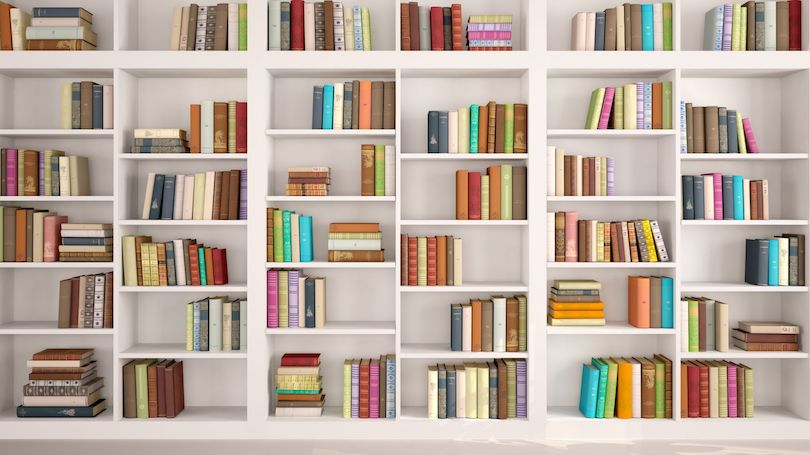 You can also consider stacking your book collection next to a bed, in a living room, or a study. This type of book arrangement will create a rustic vibe in your space. Plus, it enables you to rank your books in the next reading order. You can try this book stacking idea to line up new big reads.
4. Organize Books in Baskets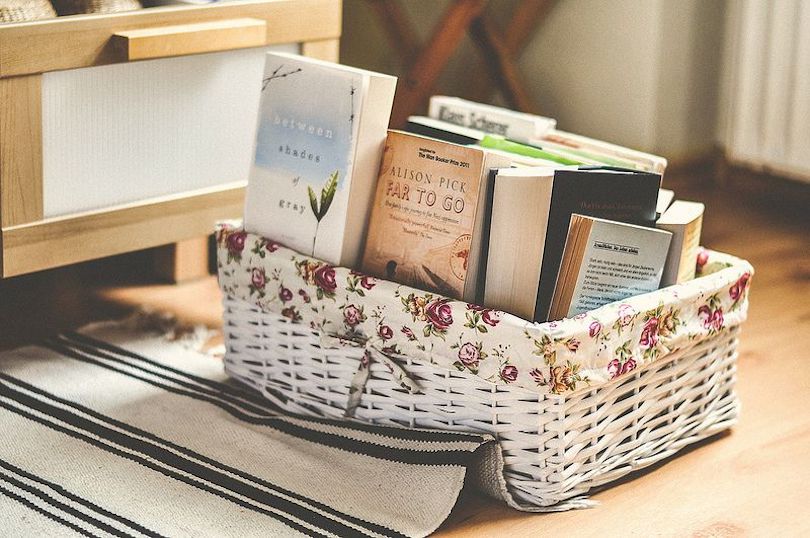 Similarly, you can use weaved baskets for organizing your books. This idea is great if you don't have much space to have a big bookcase. So, you can consider keeping books in small weave baskets. You can keep these baskets with books on your study table, bookcase, end table, or windowsill. Or you can keep new books in a basket and keep them on the shelf once you're done reading.
5. Try Horizontal Stacking To Organize Your Book Collection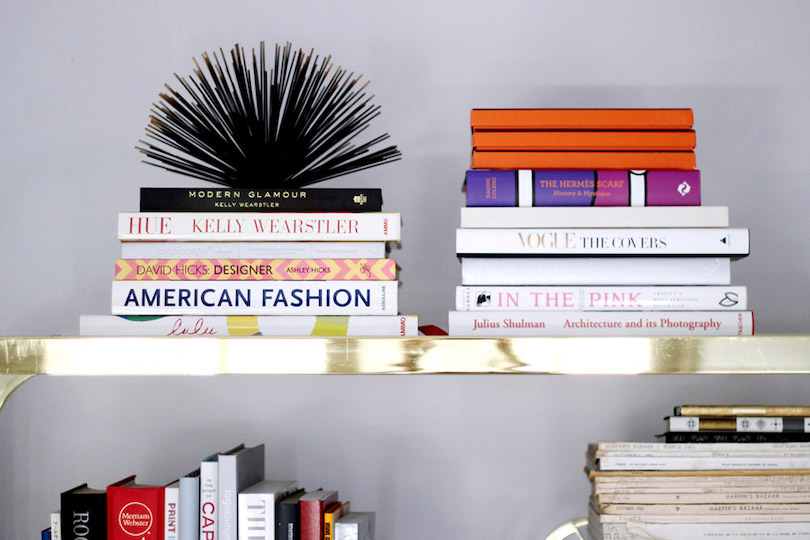 All books don't need vertical stacking. Some you can stack horizontally as well. It is a great way to form an exclusive parquet-like effect on a bookshelf while breaking up rows of different books. If you like, you may even add trinkets on a few shelves for a more textured feel. This way you can add an interesting touch to the bookshelf.
6. Mix Them With Display Pieces & Planters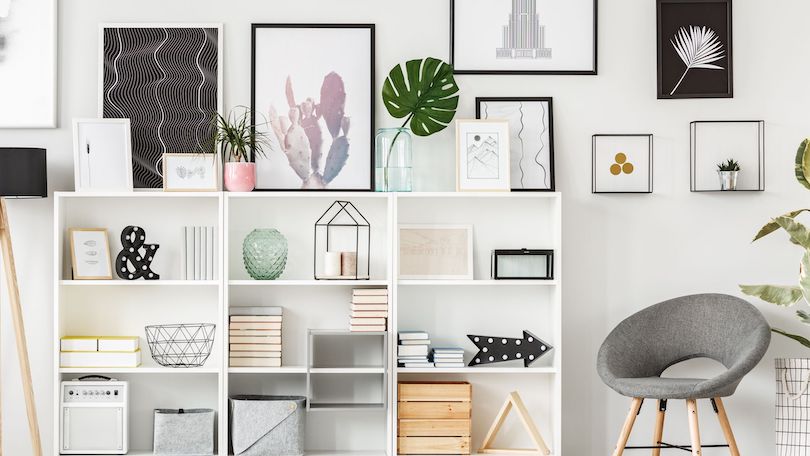 There is no need to dedicate an entire bookcase or bookshelf to books. For a minimalist approach, you can try mixing your favorite books with stunning decor pieces and planters. Whether you are an avid reader or just have a few books to display, this idea is great to deck up your room with tomes and decorative pieces.
7. Try Alphabetical Arrangement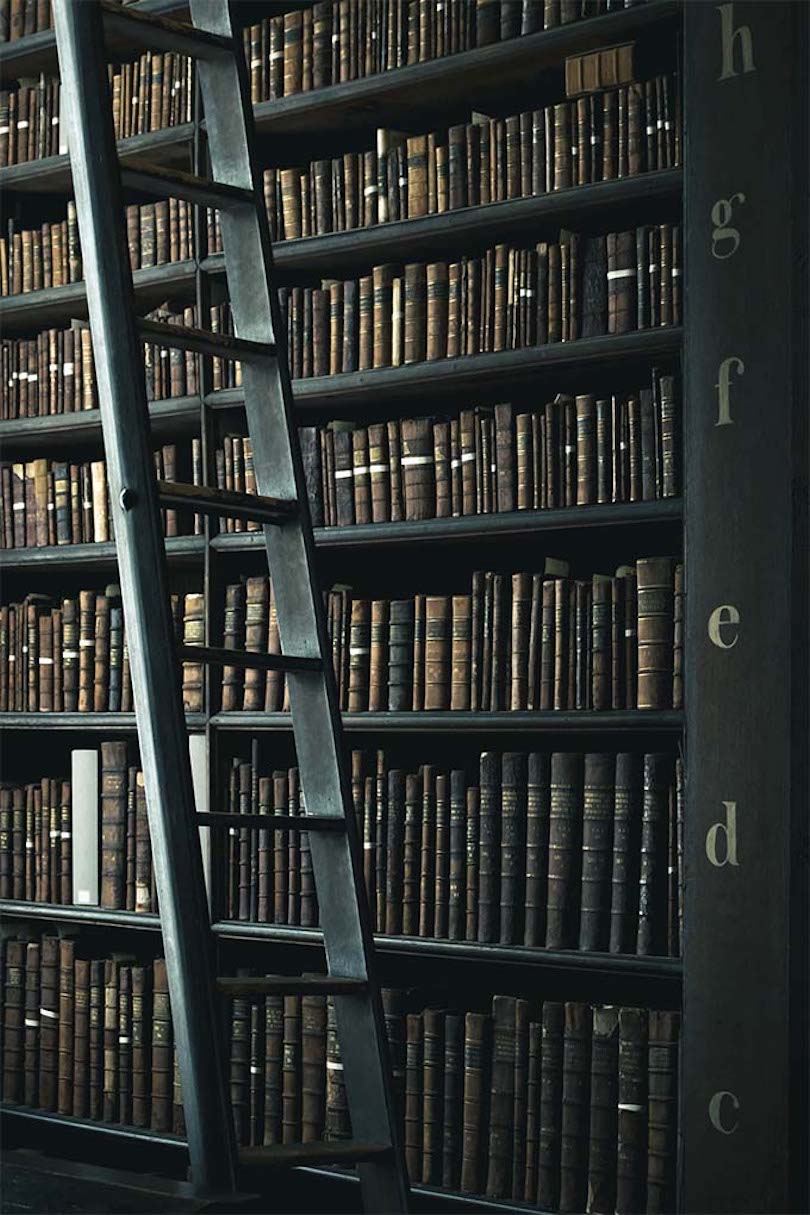 If you have a vast collection of books, you need to check out this picture above. In this book organization idea, you see alphabeticall book arrangement. It can be either by the author's first or last name. This way, you can easily find the book you want to read whenever you want.
8. Organize Books by Height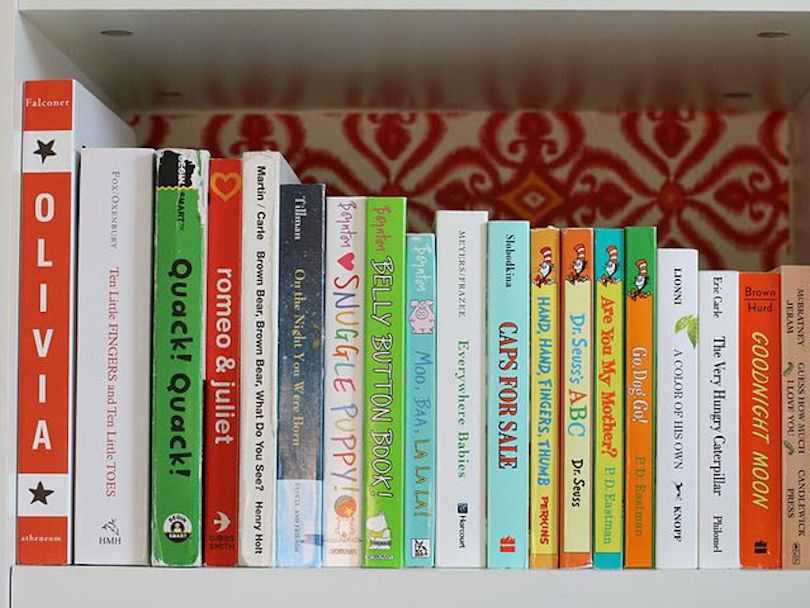 If you love you see books around you but in an organized manner, this idea is great for you. The books organized as per height look symmetric and soothing to the eyes. You can group similar height or sized books – from smallest to largest, or keep the largest books on the outer ends of a shelf for adding more visual interest.
9. Organize Books by Genre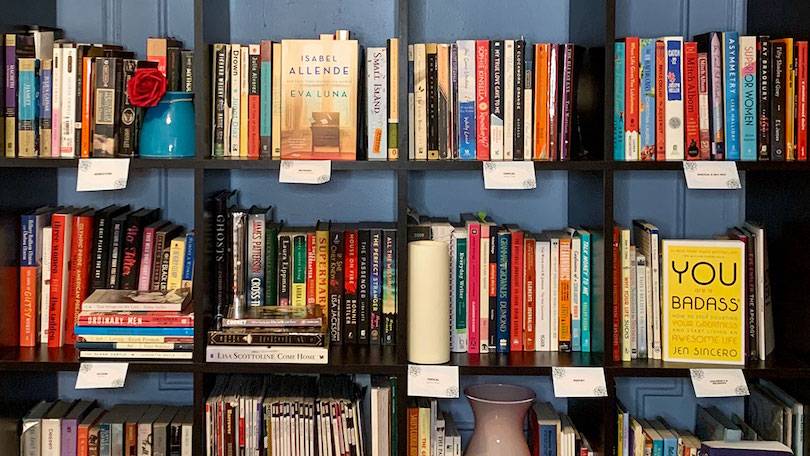 It is also an amazing way to arrange books is by genre. You can give your bookshelf a quick makeover by arranging tomes as per their titles based on a certain category. For instance, you can group mystery novels with other novels in similar genres, non-fiction with non-fiction, and more. It is a great idea to choose books as per the genre you prefer the most.
10. Place Large Books on Bottom Shelf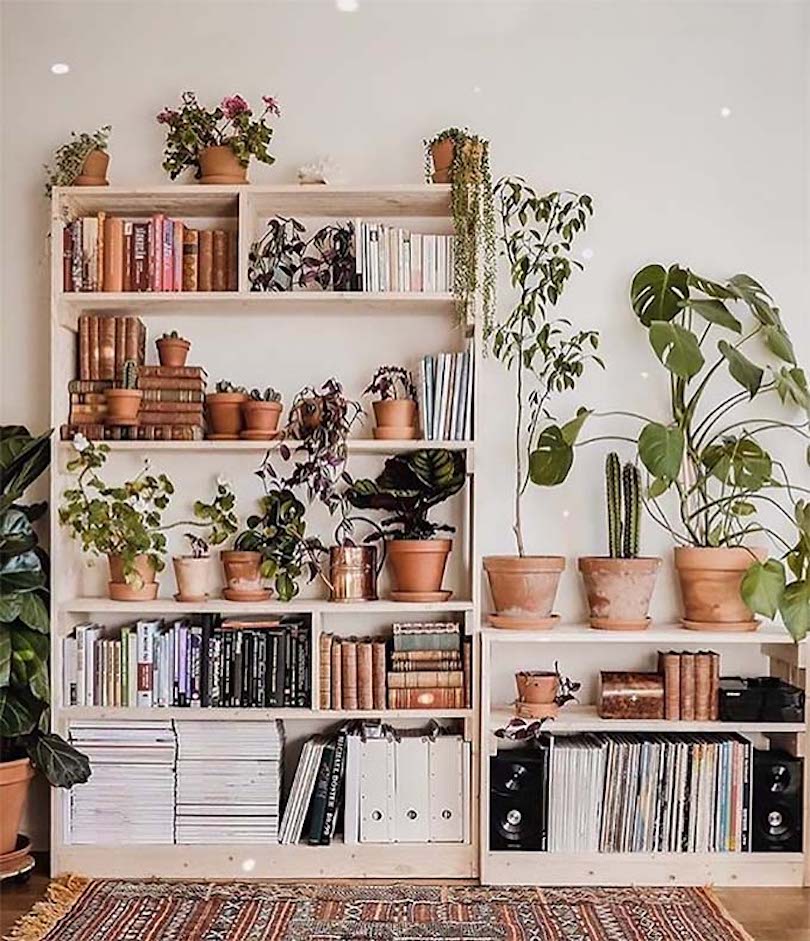 You can keep heavy or large books on the bottom shelf of a bookcase. Meanwhile, keep the small books on the upper shelves. This way, you can create balance on the overall bookcase along with the entire room space.
11. Arrange Sections For Mom, Dad, and Kids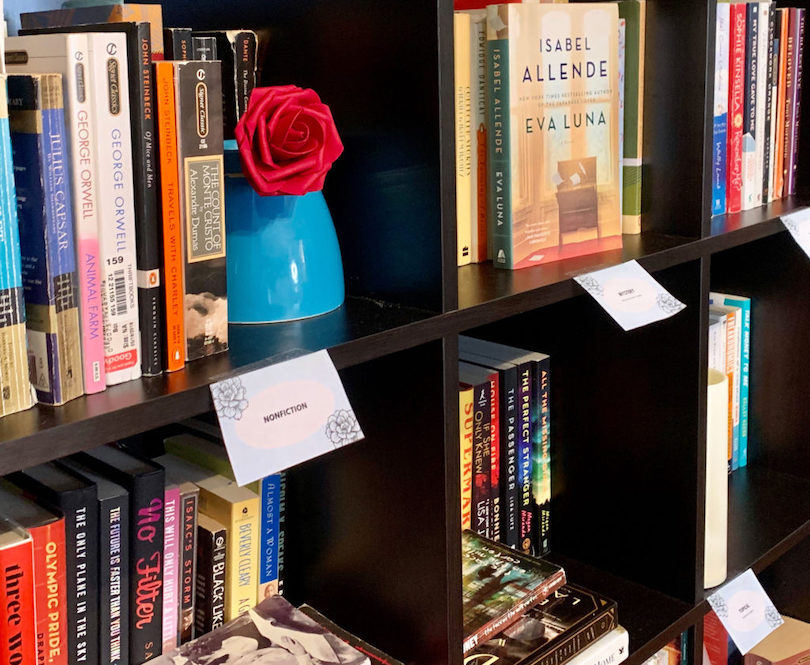 If all your family members are into books, you can follow this book arrangement method. You may consider splitting different sections for each family member. This system allows everyone in your home to get their respective bookshelf section. It also categorizes and separates books from your partner, kids, granddad, etc.
12. Instagram-Worthy Book Display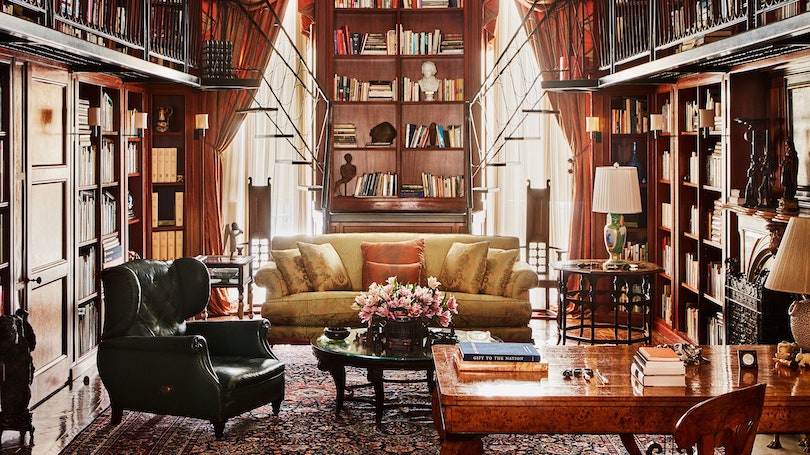 Since everyone loves to post pictures on Instagram to show off their lifestyle, you can do so to post images of your entire book collection. If you have a grand house like as shown in the image above, you can consider arranging your book collection in a similar Instagram-worthy style. Besides from Instagram, this method works well for those who loves visually-appealing bookcase.
13. Get Rid Of Dust Jackets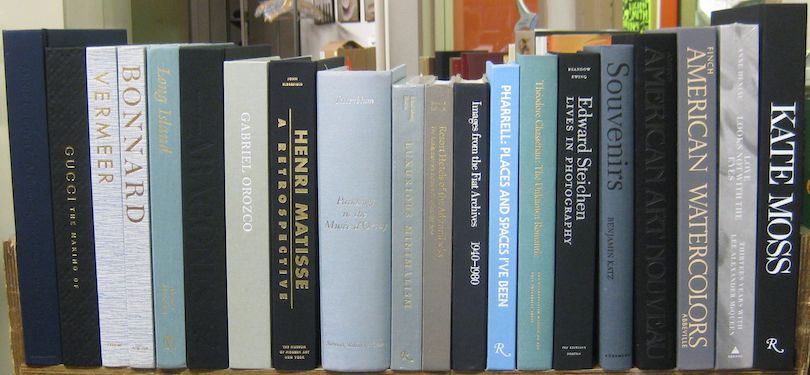 Do you have books with less appealing dust jackets, you can consider eliminating them. It's surprising to see how amazing your books appear after removing dust jackets. Generally, the hardcovers are the envelops for books. These come with strong color and have smart visual appeal.
But you have to consider certain things when you remove dust jackets. What to do with them? Will you change the arrangement after six months or put the dust jackets back? Will you keep the books or donate them? Consider all these things before keeping or removing the dust jackets from your books.
We usually prefer books without dust jackets, as we like to keep our books. But if you like to keep them one, you can do so. It's your choice in the end!
14. Fill Your Bar Cart With Your Book Collection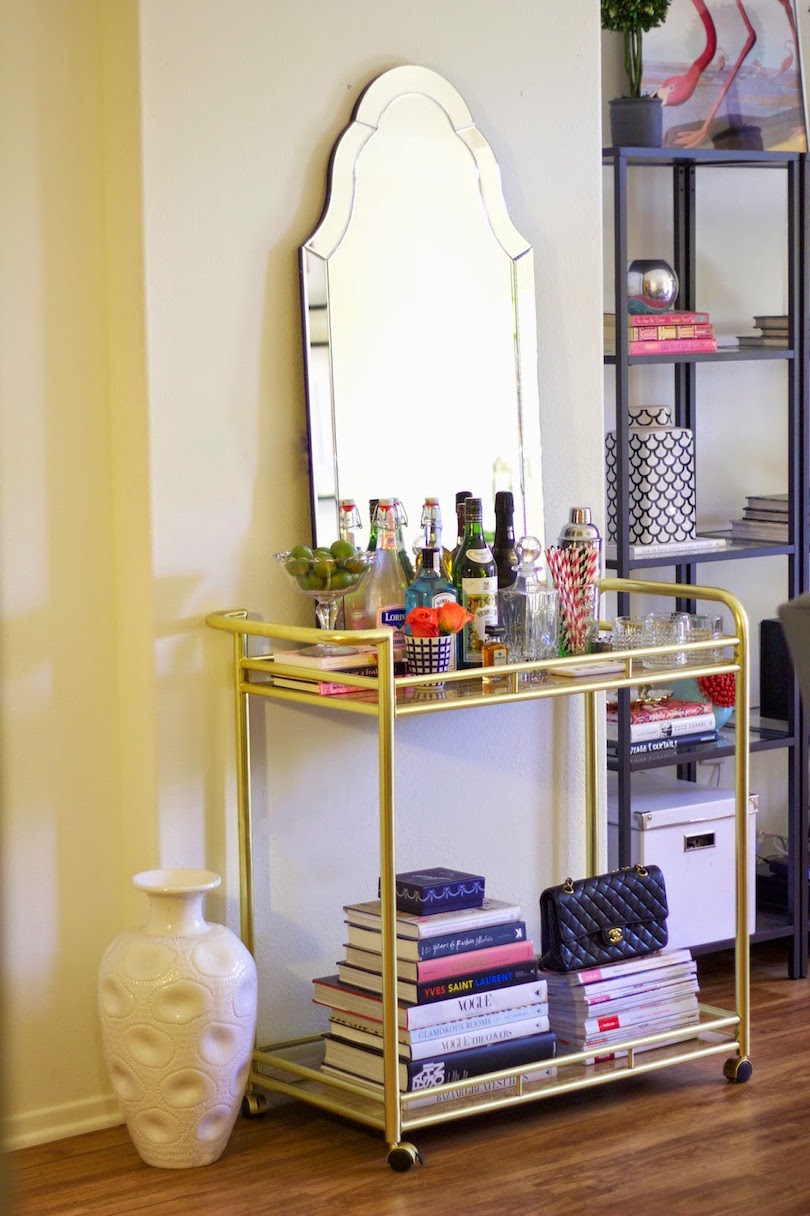 A bar cart is another interesting place to keep your books in a decorative style. This is a versatile decor piece for not just holding your drinks and glassware but also keeping your books. You can deck up the bar cart's top section with some trinkets and a few bottles of your favorite vodka or wine. And, on the lower shelves, you can add your favorite books along with a house plant or a small lamp for creating a portable library.
15. Add Two Rows of Books Per Shelf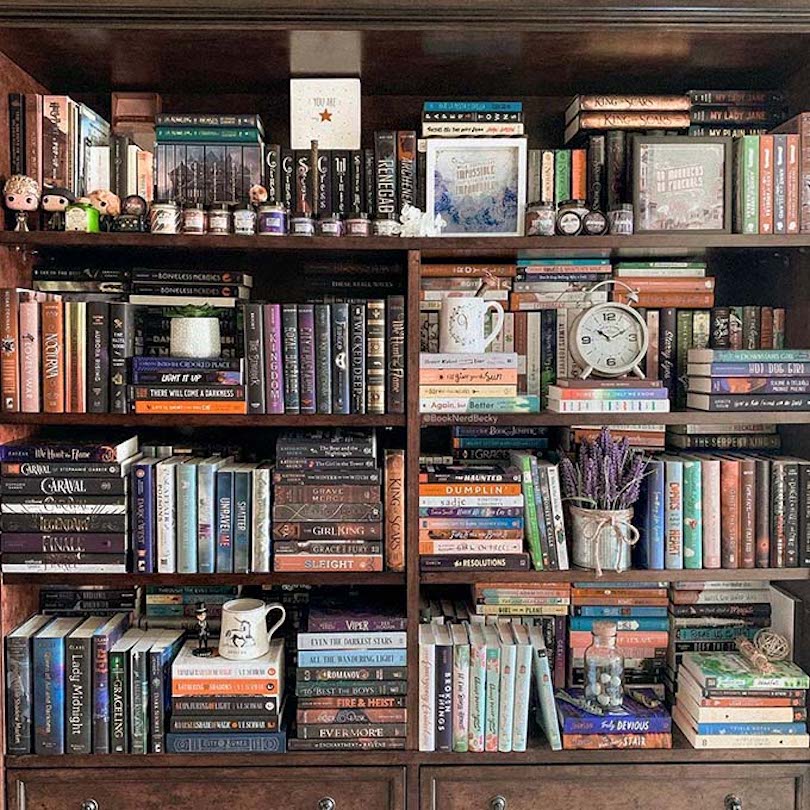 You can consider adding two rows of books on each shelf for maximizing your shelf space. It can help you create the beautiful look of layered books. A certain drawback for this arrangement is that the books in the back are difficult to access and see. But it surely gives you an aesthetic appeal. So, you can keep your least favorite books on the back.
16. Keep Your Books Below a Windowsill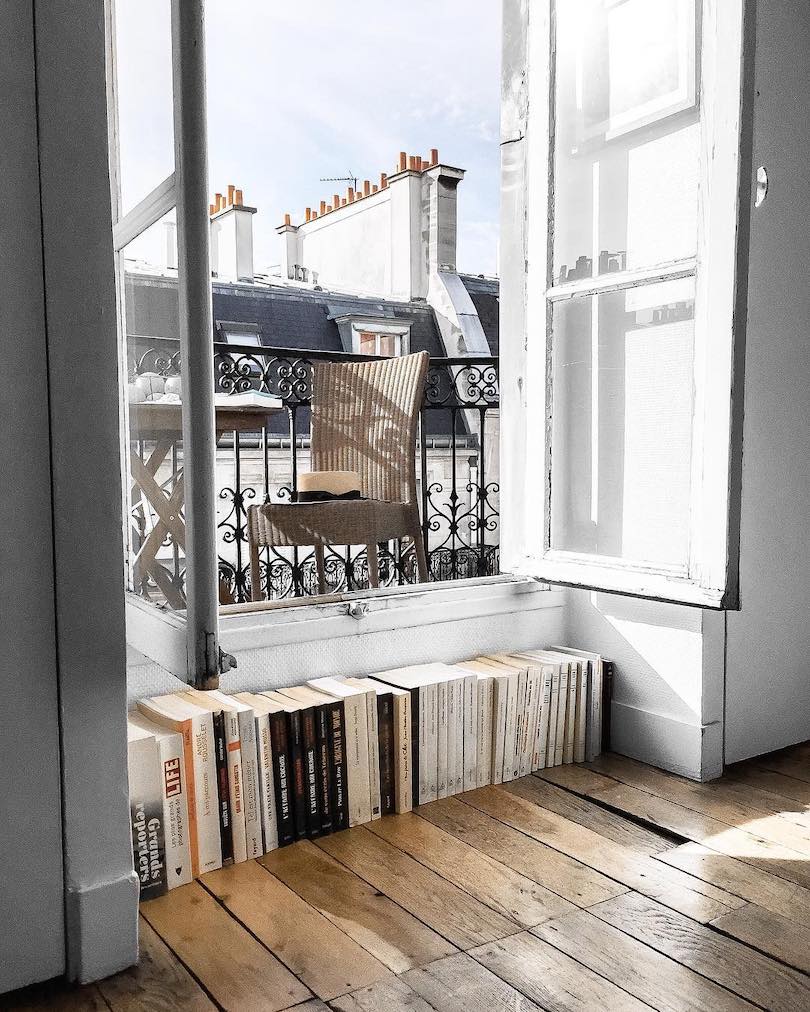 An amazing hack for keeping books in a small apartment is to store them under a windowsill. You can place them near a window with ample natural light. It can also be your great reading spot. If you have a large bookcase, you can pull out some of your favorite books off the shelves and display those near the window. It will keep your books at hand whenever you want to have a long reading session.
17. Keep Unread Books Together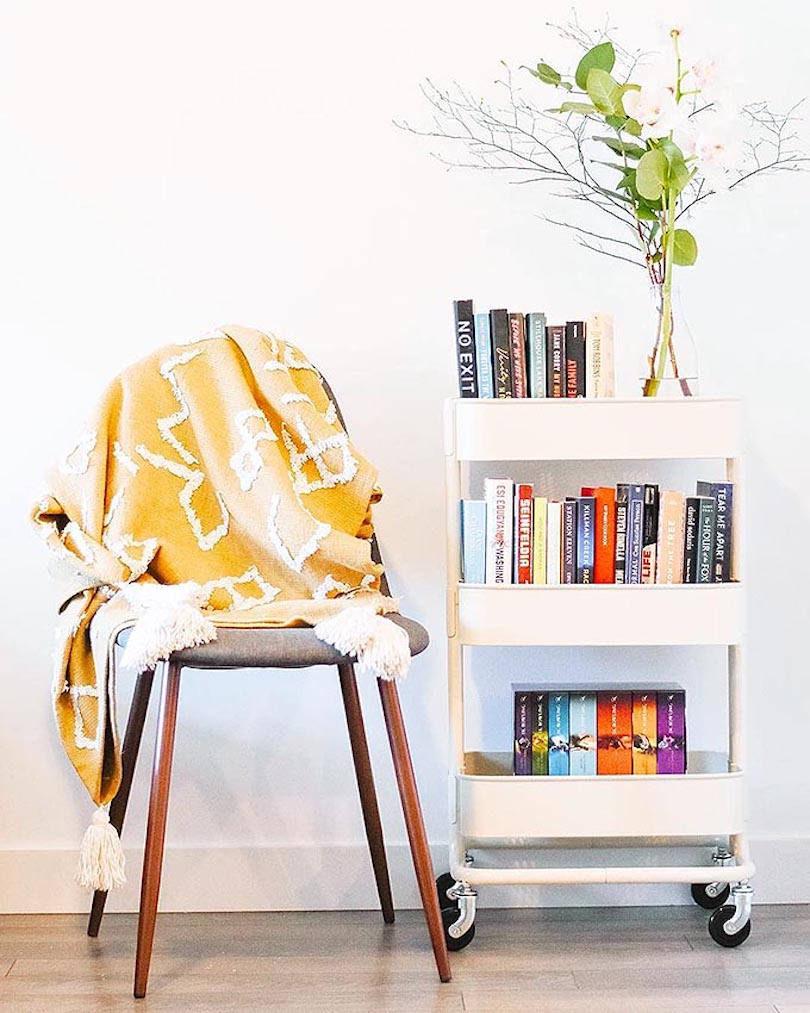 If you have some books that you haven't read yet, you can consider keeping them together in a portable unit. Make a dedicated section for unread books, newly bought books, or anything you want to read in the future. It is a great way to locate them easily without struggling hard to find them.
18. Industrial Book Storage Unit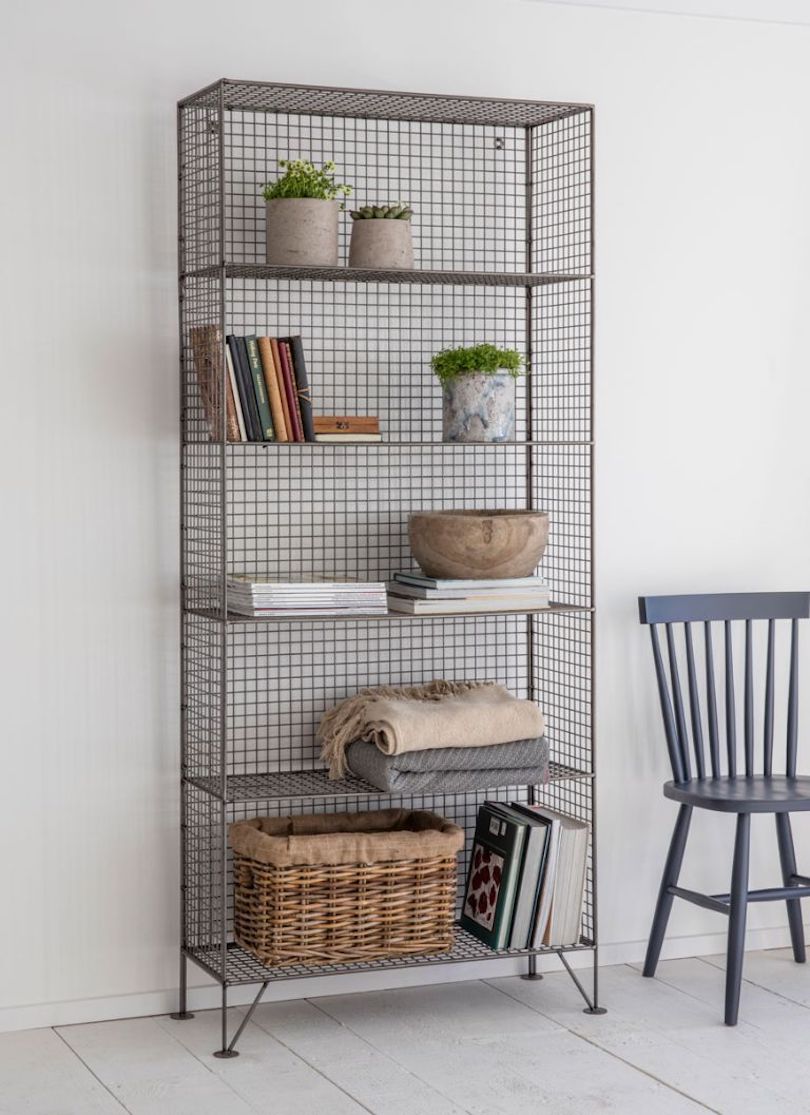 Bookcases can be quite heavy. And, it is not ideal for those who move a lot or like frequent reorganizing in their living space. So, consider adding a metal mesh storage unit for keeping books. It will create an instant vibe in the given space. By doing so there will also be more light in the given area. Meanwhile, the books will be easier to access.
19. Staircase With Built-In Bookcase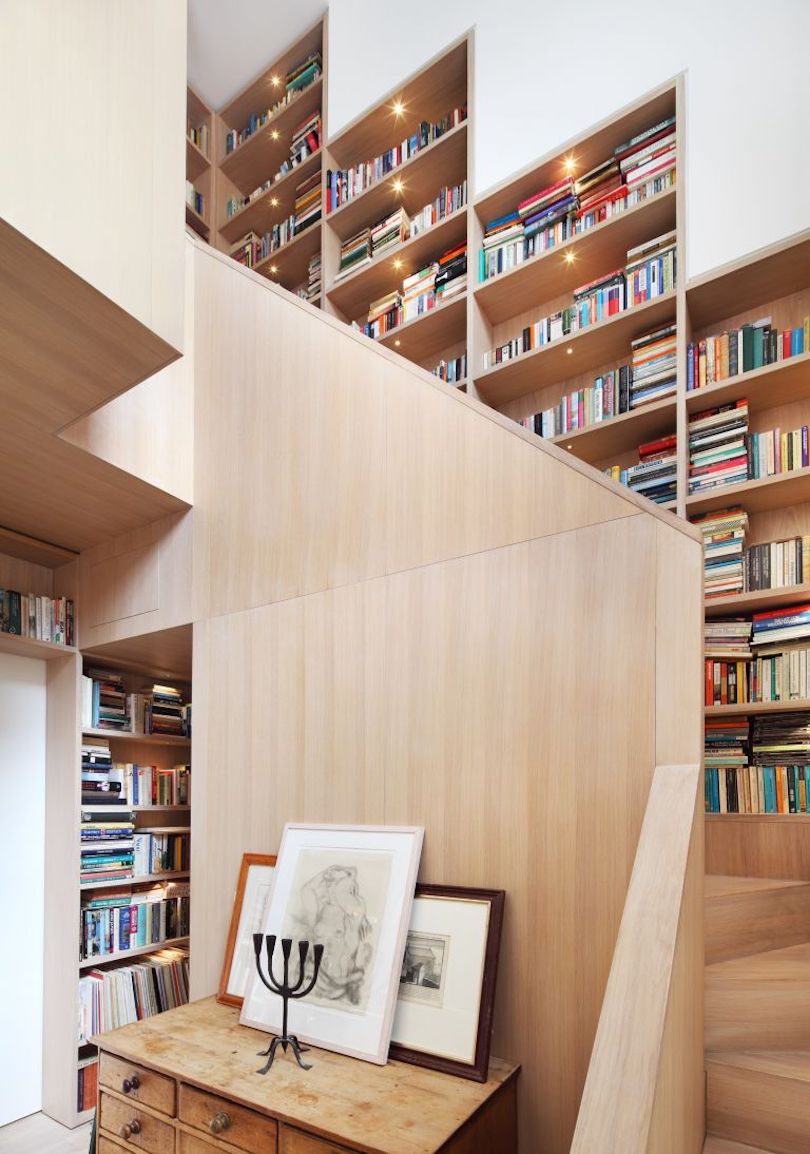 Hardcore book lovers who have a huge book collection will love this idea. This clever book storage idea can fully integrate your books into your home. And, your library will be leading in your living space or hallway through the staircase with built-in shelving. So, you don't even require a separate room to display your book collection.
20. Floor-To-Ceiling Bookcase Nook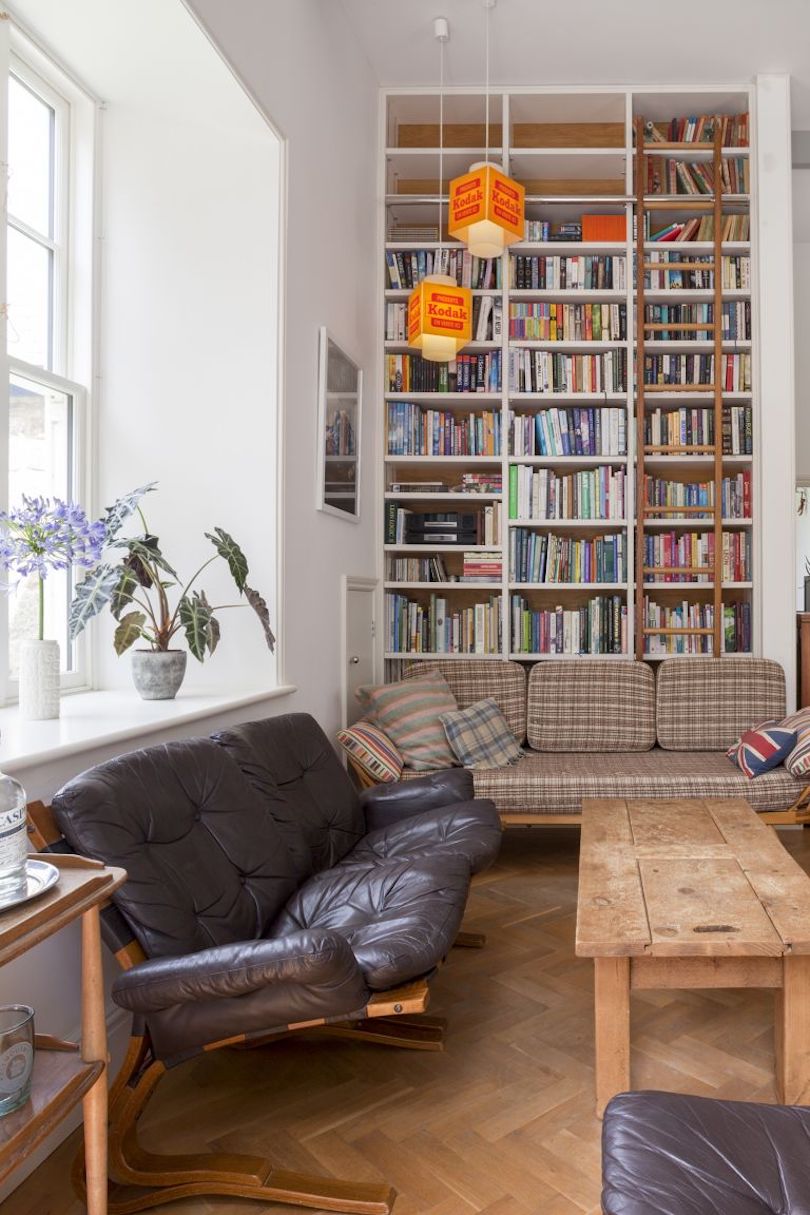 In open-plan homes, you can consider making a floor-to-ceiling bookcase nook. This reading zone can appears cozier with a comfortable chair and reading light. And, of course your small library is the highlight. This way you can easily add a cozy touch to any contemporary space. But try to keep the bookshelves, furniture, and walls in a neutral shade to let the colorful books be the center of attention in the given area.
So, these are some simple yet creative ways to organize your book collection or simply to show off your love of books. Which style did you like the most? Do share with us in the comments below.