3D Printing in Construction Industry – Benefits & Challenges
Over the past decade, 3D printing has become a major buzz in the construction industry. Although initially developed for prototyping purposes, the 3D printing technology can emerge to a point where it may become a key player in various industries. Clearly, 3D printing technology is highly beneficial in aerospace, medical, and tool-making areas. However, it's been widely used in the construction sector as well.
The 3D printers are capable of printing walls and even cement processing. Therefore, the technology may reshape construction as one knows it. But is 3D printing in this area is a fleeting trend? Or does it have some real staying power as an innovative technology for the long-term solution? Here we help you explore how 3D printing can make waves in the construction field while looking at the future scope.
History of 3D Printing in Construction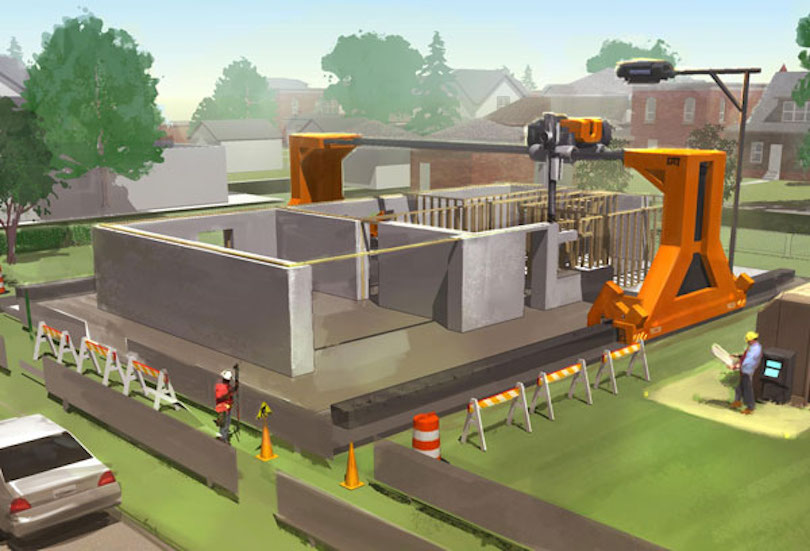 Before we discuss the 3D printing construction industry, it is essential to know about the time of the 3D printing origins. The roots of 3D printing date back to the mid-1980s when SLA (stereolithography) was done. SLA works well as a high-power laser while turning a liquid resin into good solid material. It's also an additive technology that involves itself in creating a product from the ground up in a layer-by-layer fashion.
Even today, SLA is an important 3D printing technology that's considered to create certain parts in an additive way. Some other popular additive technologies include the SLS (selective laser sintering), DMD (direct metal deposition), and FDM (fused deposition modeling). Furthermore, 3D printing is useful for accurate and quick creation prototypes. Being an additive process, its viable uses start to expand eventually. Before the adoption of BIM (building information modeling), 3D printing helps use architectural companies to build scale models. And, it was not very long before it was administered for various construction purposes.
Examples:
For over a decade, 3D printing is useful in various ambitious initiatives and certain construction projects, like
In 2004, a 3D printed wall was created by a USC professor. This is widely accepted as a technology's very first entry in the construction process.
In 2014, a complete canal showed up using 3D printing in Amsterdam.
If we talk about today, the 3D printing construction industry is still growing quickly. Furthermore, it is likely to reach $1.5 billion by 2024.
Growth of 3D Printing in Construction Industry
The emergence of 3D printing in the construction industry is still growing. Certain building aspects are likely to grow more than others.
Concrete is one of them. The concrete 3D printing sector has been estimated to reach a value of $56.4 million by 2021. This growth is mainly spurred by the amount of innovative, new projects that are well-planned in the construction. In February 2017, France's leading construction firm Vinci bought a stake in a French startup XtreeE, which specialized in concrete 3D printing structural elements.
Later in 2019, BAM started Europe's very first concrete printing center in the Netherlands. This factory has already delivered various 3D printed bridges all across the region. This is how Saint-Gobain and BAM are altering the future of infrastructure using scalable, sustainable, and reasonable 3D printing concrete solutions.
While 3D printing concrete boasts great potential, it is worth observing that technology is still quite an infancy. Many 3D printers processing concrete are underprocessed or under the testing phase. So, those are not perfect for manufacturing purposes. So, the potential there is to build additively everything from the basic foundation to the walls to individual blocks to bridges. And, all this is possible due to more affordable and faster, environmentally-friendly way as the technique begins to progress.
Interior Design and Renovations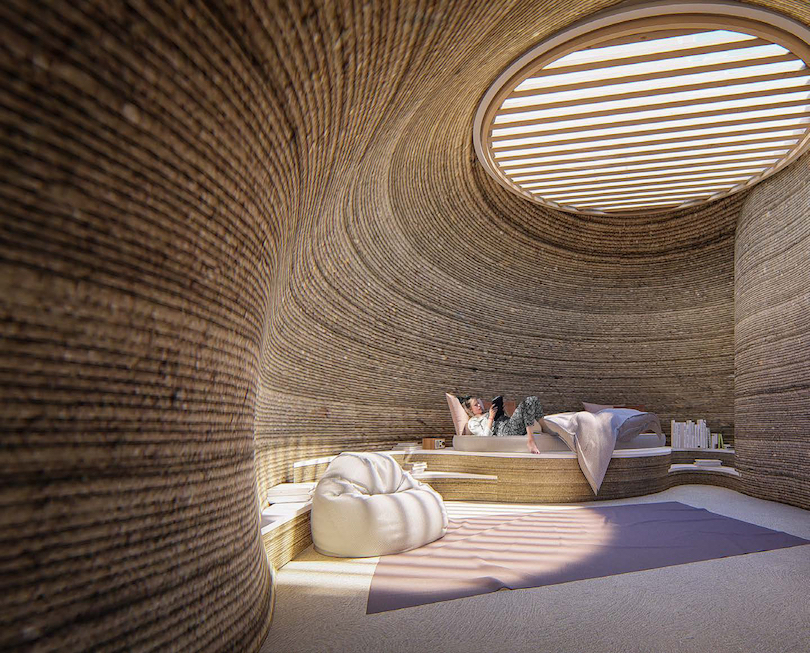 Some other topics that caught the eye of the readers in 2021 were home renovations and interiors. Even with no serious research on the matter, we are likely to assume that it's due to the impact of the COVID-19 pandemic within our lives. If we are likely to spend a good amount of time in homes, whether it's by choice or not, it's clear that we'll give importance to certain spaces where we reside. During the pandemic period, we even include activities, like sports, study, work, and others. Therefore, the 3D printing for interiors can create the desired customization as per the homeowners' current needs.
The confinement of 3D printed structures is hard and can or cannot be connected with nature. With all this in mind, we address various strategies to bring vegetation to the interior. After all, it helps in adding a lively touch to the given space. But most readers visioned it beyond a decor element. The translucent structures of greenhouses are in vogue along with the recognition of French duo Vassal & Lacaton with the Pritzker Prize. If you have ever dreamed of living in the middle of nature, you need to consider bringing nature indoors into a 3D printed concrete structure.
Also, with the popularity of remote work, the desire to practice in an urban living space has increased greatly. A collection of around 10 small cabins has been amplified with the fact that these are quite simple in their designs. Moreover, these are quite efficient and quick for assembly.
Nonetheless, a theme permeating others has stressed architects across the globe in the huge climate crisis. Therefore, 3D printing structures for construction needs to be integrated with active and passive strategies. All this further helps in improving the thermal comfort within the interiors. Furthermore, all this shows a paradigm shift concerning the construction industry, as well as its future.
Benefits of 3D Printing in Construction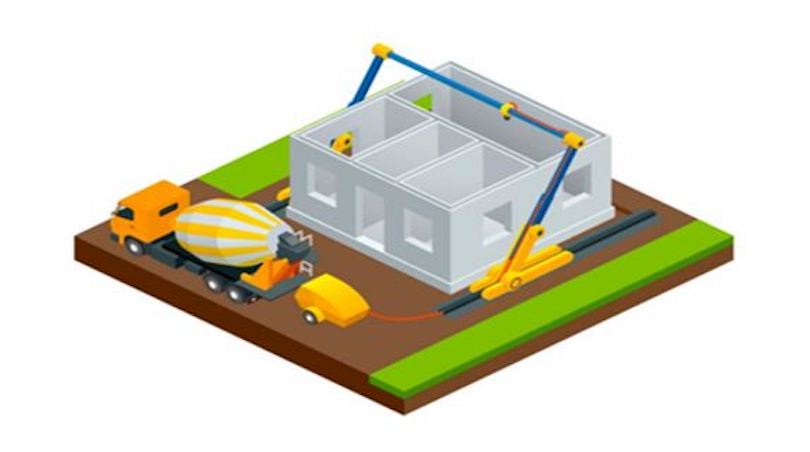 Wondering the main reasons behind so much buzz of 3D printing in the construction sector? Well, as the industry faces high pressure for meeting up the tight budgets and schedules, companies often look for innovations. All this further helps in filling the gaps. If we talk specifically about construction, it offers significant potential for increasing efficiency in the building industry, including the given ways.
Speed
3D printing in the construction industry has shown various ways it can build a house from the ground up within a few days. It is a significantly quicker and faster time frame compared to conventional construction. All this may take up months and years to fully construct a commercial property. As per Marco Vonk, Marketing Manager at Saint-Gobain Weber Beamix, homeowners and business owners can save around 60-percent of their time based on their job site and 80-percent on labor.
Reduction in waste
The worldwide construction waste increases by more than 1 billion tons every year. According to the Construction Diver, this specific number is likely to double up by 2025. Although 3D printing cannot solve all the waste and construction issues, it is still beneficial in many ways. It is mainly due to 3D printing in the additive manufacturing process. This process further users too much material as is necessary for structure creation. Everything pairs with more waste-reduction processes. So, the building methods are more like lean construction and prefabrication. So, the potential of waste-zero buildings is more likely than ever before.
Design freedom of 3D printing in construction
Another amazing thing about 3D printing is that it offers amazing design freedom. The architects also build complex designs, which are otherwise unattainable or labor-intensive, or too expensive for creating conventional construction means. It may further enable more creativity and innovation in the commercial construction space.
Vonk further mentions that 3D concrete printing helps take any shape. You can either bend it or make various angles to create virtually any desired organic shape you like. The final result comes out as a one-to-one copy of whatever one designs on a piece of paper.
Reduce human error
As per OSHA, over 5,000 workers get killed at construction sites each day. But with 3D printing, this number is likely to decreases significantly. It is because the construction process becomes automated and programmable with 3D printing. Moreover, there are fewer chances of human errors using this advanced technology.
Challenges of 3D Printing in Construction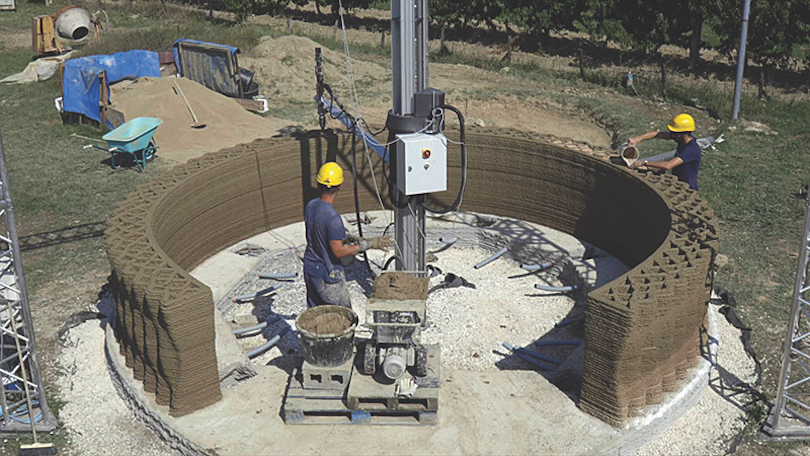 Despite the advantages and potential use of 3D printing in the construction sector, various factors can prohibit this technology from being mainstream. Given below are a few challenges of 3D printing technology in the industry:
High costs
The high cost is the major challenge in the 3D printing industry. Even the costs involved with logistics involve the use of large 3D printers for working at the construction sites. The 3D printers are very costly and their upfront purchase cost may not include maintenance or materials. Currently, it is quite difficult for construction experts to justify 3D printing costs over various technological advantages.
Labor shortage
The construction industry is increasing with full-pace because of the skilled workers in high demand. The only issue with this is that there are not many workers available for 3D printing.
Besides the labor shortage, 3D printing also needs more specific skills that may pull from a fewer group of candidates. The construction labor shortage is quite an issue, as it is not easy to find qualified workers for employing 3D printing environments for construction. And, all this could feel more challenging for the future.
Quality control
Weather cannot slow down the progress in the construction of 3D printing structures. But the environmental problems may increase with this technology. The environmental factors, weather, and other conditions may make 3D printing a problem in the commercial. Furthermore, quality control during construction is another tricky process. If not monitored constantly and neglected by real humans, the quality of 3D printing may end up being highly expensive.
Regulations
Another major drawback is the 3D printing regulations. While regulations in this technology have made the news cycle lately, it still does not leave a full impact on the construction industry. Moreover, there is the liability that can come with the use of printers instead of performing specific construction tasks. Recently, there is much more uncertainty in this 3D printing aspect of the construction. So, it is unlikely that 3D printing may make a certain mark in the construction field.
Future of 3
D Printing in Construction
Does 3D printing technology have a real staying power in the construction industry? From whatever we have seen, the promise is very strong. It's all possible as long as the firms like Saint-Gobain and BAM start innovating and pushing the boundaries even more.
Overall, the 3D printing potential is too good to ignore. While various industries may not reach a point to use this technology, it's just a matter of time before the technology improves and advances with time. All in all, 3D printing is a viable solution that aims to offer certain major benefits in environmental friendliness and cost savings for the building's future.