7 New Year Decoration Ideas To Impress Your Guests
2023 is approaching soon. With only a few days remaining, it's time to start preparing for New Year decorations and making your new year's resolutions. There are various things to consider when planning a party on New Year's Eve. You have to think about the perfect lighting, theme, food, and of course – the decorations. Even if you are planning to host a small party at home for family and friends, you must need creative new year decoration ideas. After all, a well-decked-up home is the first step to making your night more memorable.
So, just grab your wine glass and put on the dancing shoes as these decoration ideas will grab all the attention of your guests. Don't worry, if you are stuck somewhere. Always add some glitter to your decorations. It's one golden rule that never fails, especially during the New Year decoration ideas. Be it golden balloons, champagne, or a shiny dinner table, just add a bit of sparkle everywhere.
Here are our top New Year decoration ideas that you must consider for the last day of 2021:
Last Supper Inspired Dining Table – New Year Decoration Ideas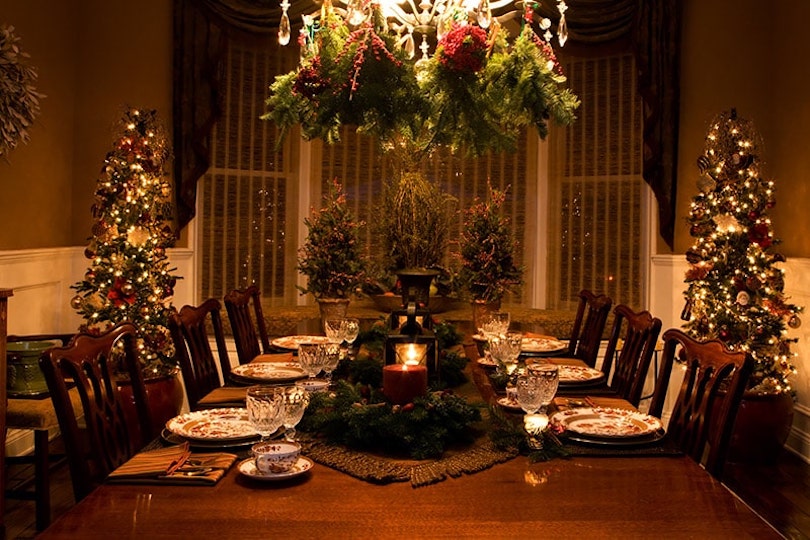 Make your New Year's evening dinner setting similar to that of the last supper. After all, it's the last meal of 2022! You can add a touch of glitter and gold for some elegance, as well as drama. For the festive and merry vibes, you can keep the Christmas decorations around. And, for a personalized touch, you can add special name cards on every seat.
Since the gold leaf is often known to bring fortune. It's a perfect symbol for the name cards. You can cut the leaves from some old greeting cards or draw and cut them yourself. Then, write down each guest's name and keep it on every plate. If you are not sure about the cutlery, China crockery is the best choice. It won't ever go wrong if you want a well-refined New Year dinner party.
With the decorations, as shown in the image above, you and your guests will certainly have the feel of the last supper. It would be dramatically exciting, isn't it? If you're thrilled to try it, consider it for your New Year decoration ideas.
A DIY Pinata – New Year Decoration Ideas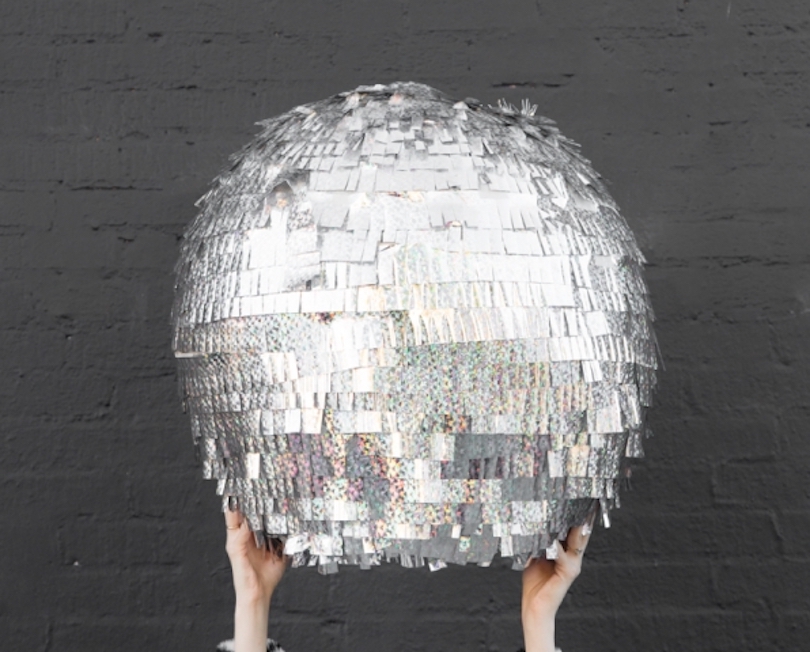 One of the amazing new year decoration ideas that never seem to fail is – DIY pinata. Isn't it always fun to watch a big disco ball? Or maybe more disco balls hanging around your living room during celebrations? If you feel so, you can consider making your DIY pinata. And you can add as much glitter as you want.
For kids, you can make a special breakable pinata filled with chocolates or small presents. This New Year decoration is crafty and quirky. It will surely be the center of attention for everyone in a room. You can create it with your kids to get them engaged. The result will surely be amazing to look at.
Once done, you can hang the DIY pinata anywhere in your house. At the entryway, living room, dining room, or any other area you like.
A Bubbly Bar – Decoration For New Year's Eve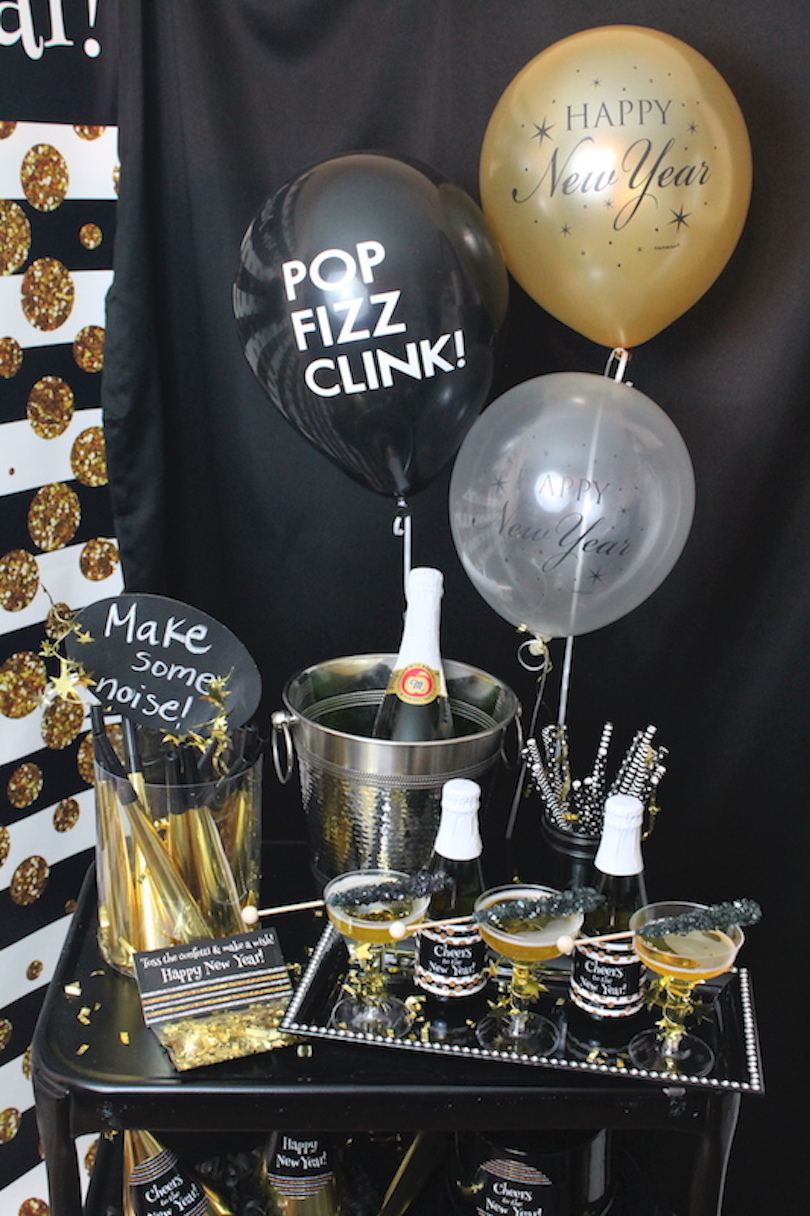 New Year's Eve is not complete with perfect champagne. So, why not create your small sparkling bar at home? For this, you need to put some Champagne bottles with elegant glassware and fancy decorations on an end table or corner table. You can add quirky party hats, drink labels, and other decorative elements to make the area more dramatic.
It's best if you consider adding black and gold decorations. This is because such decor style is dramatic and sophisticated at the same time. You can further add glitter balls on the table for adding glamour to the given space. And, don't forget to keep some gifts on the table to match the whole setup. This way, the entire decor speaks of a fun celebration time with your family and friends.
One important thing to note is that you can make the bar as small or large as you desire. Or how many guests are coming to your new year party.
Fun Photo Booth – New Year Decoration Ideas For Kids
Want to spend New Year's Eve with your children and some friends? But clueless on the New year decoration ideas? Fret not! There are various decorations and activities to make your kids happy. One simple way is to create a photo booth for your kids. You can even take their help to create a DIY photo booth. Also, add some whacky props to click some hilarious photos with them.
You can even make your guests part of this fun activity. All are going to enjoy it for sure. This will also help you make the last day of 2021 a memorable one. If you want, you can even get crackers for your kids to keep them busy. It's also a great way to bid goodbye to 2021 with some party poppers.
New Year's Is Not Fun Without Lights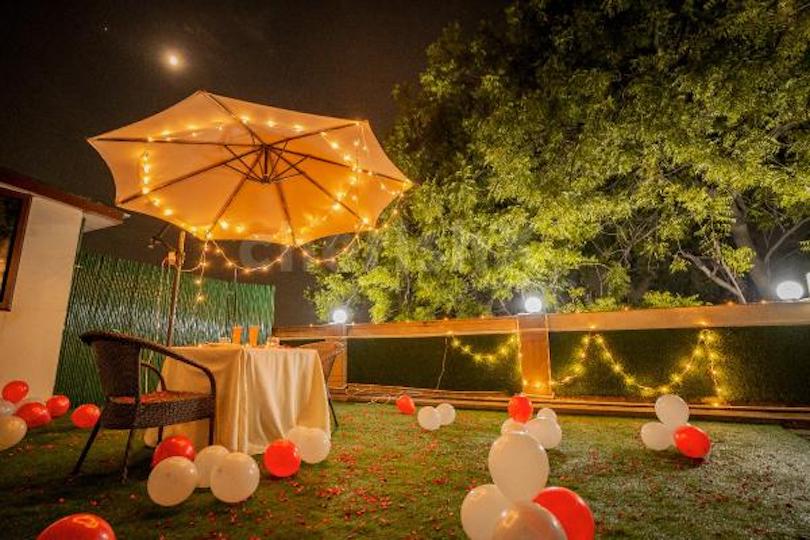 Besides sparkles and glitter everywhere, lighting also plays an important role in making New Year's Eve party a big hit. You can consider adding string lights and or discotheque effect to make your decorations fun yet wild. Or consider renting laser lights for a stunning ambiance. If you cannot get your hands on laser lighting, you can opt for paper decor and lanterns to attain the perfect indoor atmosphere.
The best part about lighting is that you can use it to decorate any area of your home. Whether you want to deck up indoors or outdoors, lighting won't disappoint you ever. So, you can go as crazy with lighting as you want on New Year's Eve. After all, New Year's is all about celebrations and having a good time. It's that time of the year when you leave all past things behind and celebrate to move forward.
So, welcome new opportunities and the New Year in your life with sparkling lights and wide open arms!
Tin Foil Balloons Decoration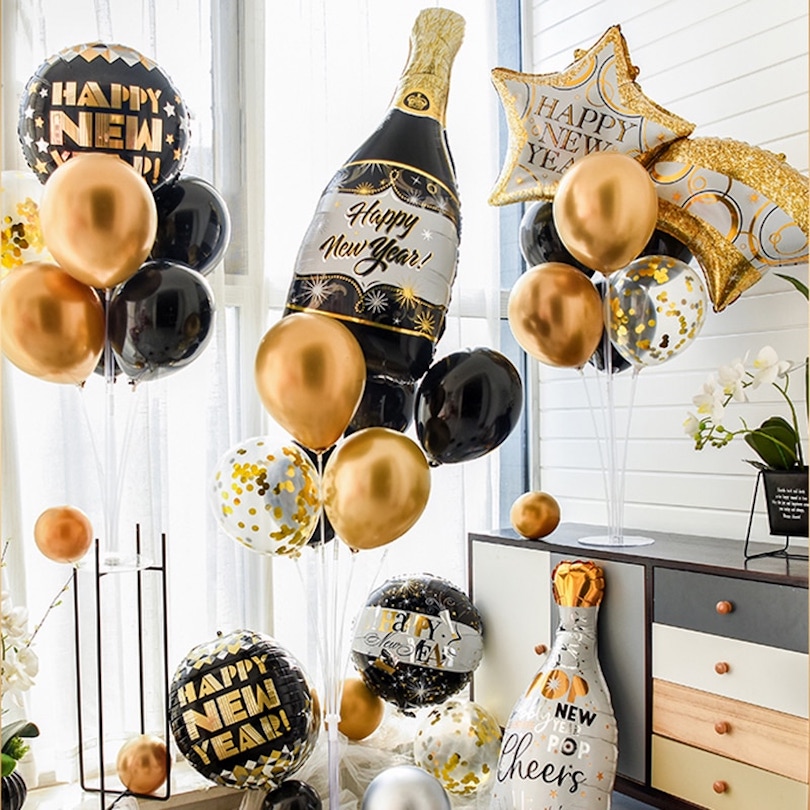 Balloons are one of the easiest ways to decorate your home for the new year. Tinfoil balloons are available in various sizes, shapes, and colors. So, you can choose the one that you like and start decking up your home. These shiny balloons are perfect to improve the aesthetics of your room. And, everyone will love it – be it kids or grownups.
If you are having a tiny get-together for friends, this balloon decoration idea is a great option for you. It is very easy to install and also worth your money. Furthermore, these are very easy to install and reuse for other parties as well.
You may even put up a balloon shaped in form of numbers to indicate the calendar change. And, for the personalized touch to your home decorations, it's best to arrange for a balloon with pictures of your family and close friends. There are so many possibilities to try with balloons. All you need to be is creative!
Hanging Wall Crafts – New Year Decoration Ideas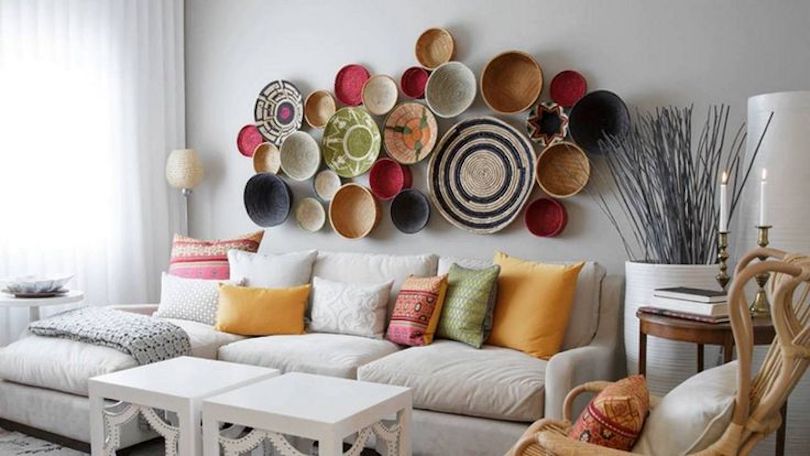 The wall crafts are very easy to prepare and also customizable. With a wall hanging decor, you can add creative effect to your otherwise shiny and sparkly decorations. If you are not up for glam New year decoration ideas, you can simply add wall-hanging craft made of bamboo or paper. Such decorative items are perfect to enhance the overall aesthetics of a room.
You can get wall-hanging craft items from any store near you. Or simply purchase it online. Or you can even make it at home with the help of your kids.
So, these were some interesting new year decoration ideas to try at home. You can be as creative as you want. We are sure you'll rock your party with these fun decoration ideas. The first day of the new year will bring you a lot of hope and positive energy when you end the previous year well. It's best to give your home a fresh start with stunning decorations.